7 Best Electrical Drawing Software in 2021
Every detail matters in an electrical drawing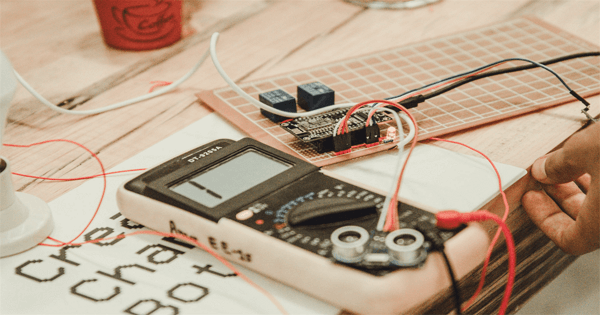 An electrical diagram or drawing is a pictorial form of presenting an electronic circuit visually. Hence, an electric diagram consists of different components: symbols, sizes, markings, etc. Electrical diagrams can be used in several situations by professionals such as engineers, builders, technicians, programmers, etc. The electric diagram helps understand the overall electrical plan, how much it will cost, and what material will be required.
There are many ways of making an electrical drawing, but online electrical drawing software is a quick, easy, and convenient option. Today, we will talk about 7 of the best electrical drawing software to use in 2021.
7 Best Electrical Drawing Software
Here are the top 7 electrical drawing software which you can use quickly and easily.
1. EdrawMax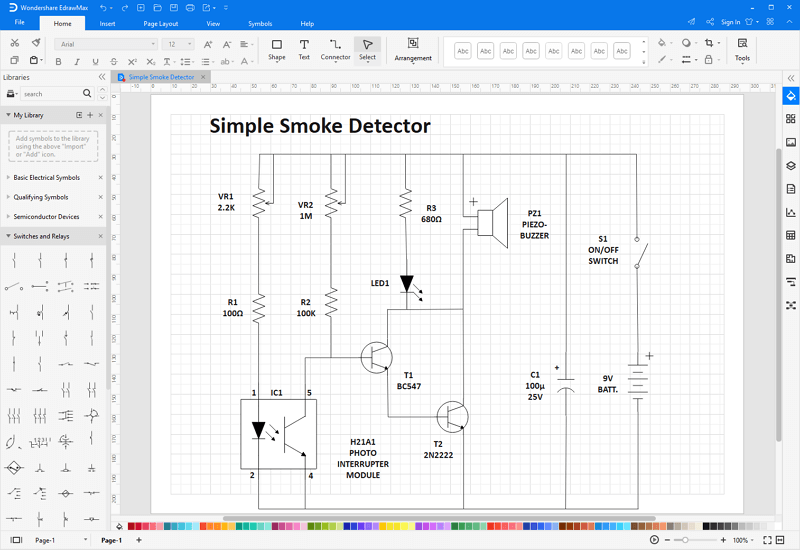 With the help of EdrawMax, you can create professional electric drawings, whether you are an electrician, engineer, programmer, or builder. Use the best professional electrical drawing software of Edraw and make electrical drawings quickly and easily. It contains all the essential tools and components needed to create a detailed professional electrical diagram. You can also use different templates.
EdrawMax is a user-friendly drawing tool available for all operating systems and accessible on all browsers. What makes EdrawMax one of the best electrical drawing software is that it is super quick, easy, and fun to use.
Wide range of drawing tools
Supports all terminals
Free and editable templates
Easy registration
Affordable pricing
Written and Video tutorials
Support to save documents in Google Drive and Dropbox
The watermark in free mode
Pricing:
Online Tool: Free
Perpetual License: $139
Lifetime License: $179
Annual Subscription: $99
Supported Systems: Windows, Mac, Linux, and Web.
Software Tool URL: https://www.edrawsoft.com/edraw-max/
2. ETAP
ETAP or Electrical Power System Analysis Software is an excellent tool for making electrical diagrams of different electric power systems. It contains many tools for automation, optimization, simulation, and analysis. With the help of ETAP, professionals can create detailed and lengthy electric drawings accurately.
As an excellent electrical drawing software, it contains CAD tools for advanced drawings. However, one drawback of ETAP is that it is only accessible on Windows and does not offer a free offline version.
Free trial available
Professional-level tools
Symbol library
Desktop App available
Not available for Mac or Linux
Not free
Pricing: Custom pricing.
Software Tool URL: https://etap.com/
3. AutoCAD Electrical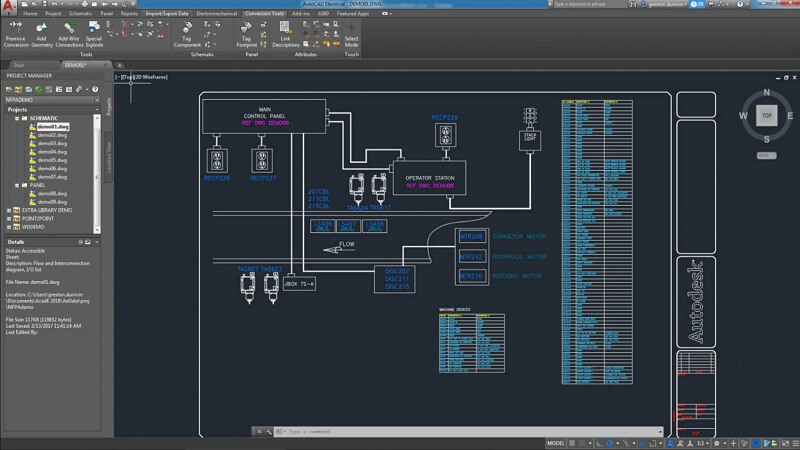 AutoCAD Electrical is a drawing tool by Autodesk to create a wide range of electrical drawings using specially developed drawing tools to enhance electrical engineers' productivity. Technicians and engineers use this tool to make a detailed drawing using different features of AutoCAD.
However, AutoCAD Electrical is a sophisticated tool not suitable for all users, especially beginners. It also lacks premade templates or samples. Hence, it is ideal for experienced professionals who are looking for a pro tool.
Professional-level tools
Available for Mac and Window
Complex for beginners
No templates
Expensive
Pricing:
Monthly: $200
Annual: $1,610
Three years: $4,345
Software Tool URL: https://www.autodesk.com/products/autocad/included-toolsets/autocad-electrical
4. SolidWorks Electrical Schematics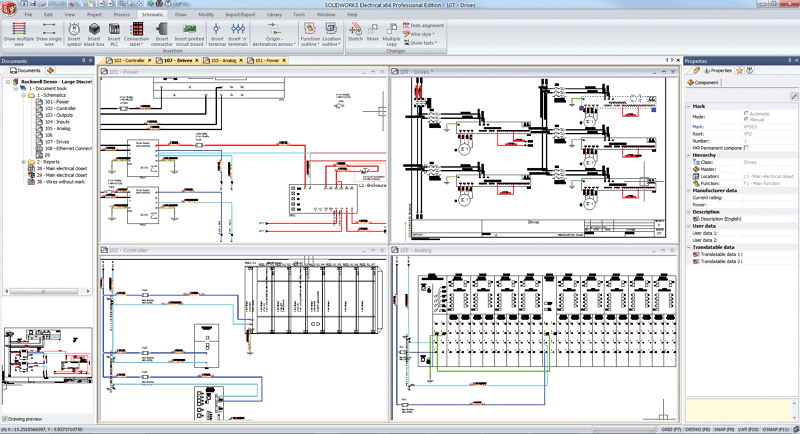 SolidWorks Electrical Schematics is a professional drawing software for collaborative diagram and design tools which can be used to make complete electrical systems. With the help of the symbol library, 3D manufacturing parts, and component models, you can create a pro electric drawing using this software.
SolidWorks Electrical Schematics offers no free version, but it does provide a free trial before you purchase this tool. All in all, it is an excellent tool with many positive reviews from its users.
Contains many tools
Available for Mac and Windows
Suitable for both beginners and professionals
Not free
Sign-up required
Pricing: Custom pricing.
Software Tool URL: https://www.solidworks.com/product/solidworks-electrical-schematics
5. Electra E8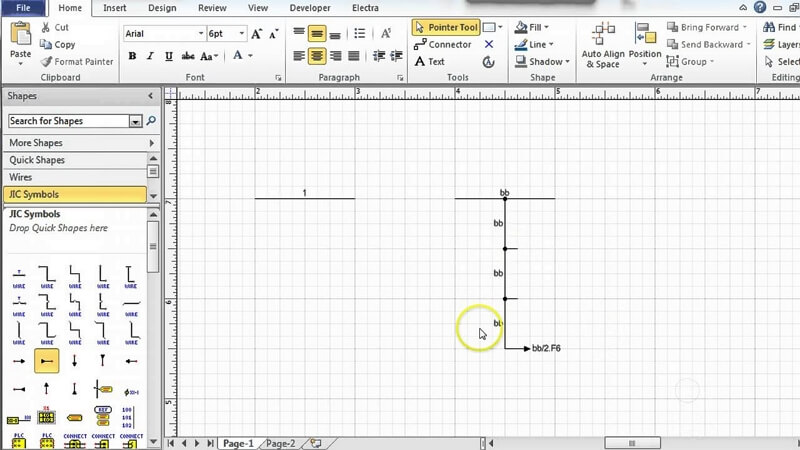 Electra E8 is an easy, rapid, and affordable tool for electrical dawning. This electrical drawing software very useful and powerful. It allows you to create professional engineering diagrams as easy as possible, whether it's electrical, pneumatic, or hydraulic.
Electra E8 is a paid tool that can be used on a desktop without any limitations. However, there is no online version, but you can get a free trial. This software also contains other CAD tools for all professionals.
Super quick processing
Free trial available
Great for engineers
No online version
Not free
Pricing:
Professional (Perpetual license): $2098 (one-time payment)
Enterprise (Perpetual License): $2398 (One-time payment)
Enterprise (Monthly): $79/month
Enterprise (Annually): $828/year
Software Tool URL: https://radicasoftware.com/index.php
6. ProfiCAD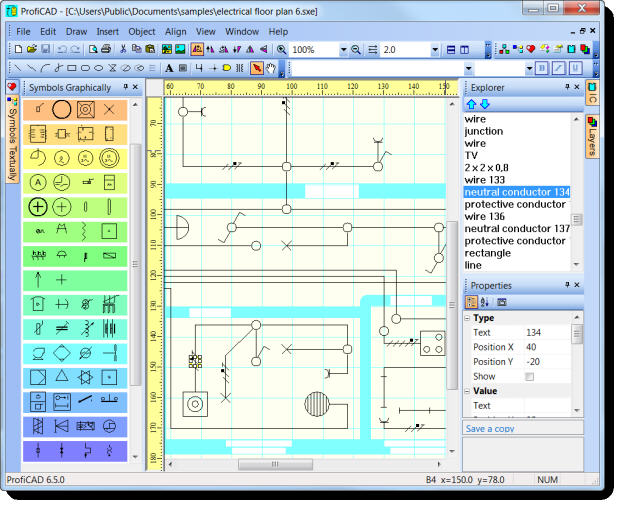 ProfiCAD or Electrical CAD Software is a drawing tool specially designed for electrical diagrams as it contains many drawing tools for circuit boards. This electrical drawing software is straightforward to use and comes with great features. With the help of ProfiCAD, you can create many technical diagrams, including pneumatics and hydraulics.
It is a great tool for beginners and students as all you have to do is add symbols and attach the connecting wires. Electrical CAD Software can be used at home as well as commercial software. Download the app to start using it.
Video tutorials available
Easy interface
Good for beginners
No online version
Not available for Mac or Linus
Pricing:
Single User: $277
School License: $277
Website License: $877
Software Tool URL: https://www.proficad.com/
7. SmartDraw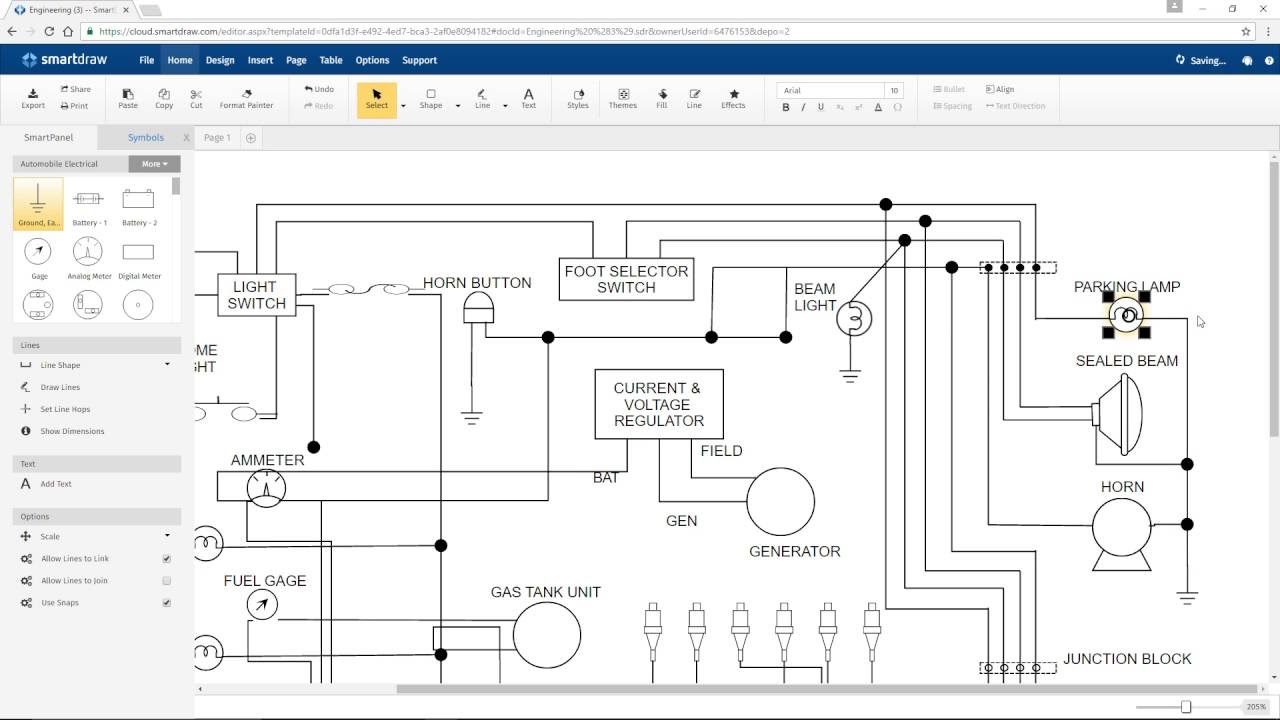 SmartDraw is a practical diagramming tool for all purposes, whether you want to create charts, graphs, infographics, or illustrations. You can use this multipurpose drawing tool to make professional-level content for any purpose. Similarly, you can also use SmartDraw to create engineering drawings such as electrical diagrams. Hence, SmartDraw also works as electrical drawing software.
SmartDraw has more than 4500 different templates and CAD-like drawing abilities. This circuit diagram maker is not free and requires account registration.
Wide range of drawing tools
Different templates available
Available online and offline
Expensive
No free trial
Not available for Mac or Linux
Pricing:
Single User: $277
School License: $277
Website License: $877
Software Tool URL: https://www.smartdraw.com/
Compare and Pick Up Your Electrical Drawing Software
As stated earlier, making an electrical drawing or any technical diagram on your own is quite hard. Such drawing is very complex and requires a high level of understanding. To create professional-level drawings, we have many useful digital tools today. Hence, there are also many electrical drawing software available out there, and we have listed the best ones for you.
However, picking the right one for you is not as easy as all the tools mentioned above come with their features and benefits. While some are great for all purposes, others are only suitable for engineering drawing. Similarly, some are good for beginners, while some are a better choice for professionals. With that being said, there is one tool in the list above that takes a slight edge over the others and that is, EdrawMax.
EdrawMax is the ultimate graphics tool for all your drawing needs as you can create any visual content using this tool – graphs, charts, diagrams, technical drawings, illustrations, storyboards, infographics, and more! The electrical drawing software of Edraw is free, comes with advanced drawing tools, a custom symbols library, free templates, and many beneficial features.
To put it in simple words, EdrawMax is the one-stop-shop for all your digital drawing needs!