Best 8 Mind Mapping Software to Visualize Ideas
Brainstorm ideas and capture the thoughts inside your head.
Mind maps have gained massive popularity lately as the means of channeling out your thoughts and innovating over new ideas. The best mind mapping software can help you think creatively rather than going linearly. Today we are going to take a look at some of the best mind mapping maker for imparting structure to your thoughts in a polished manner.
Features for a Superior Mind Map Maker
These are our choosing criteria, what should a great mind map software have?
The best mind mapping software converts brainstorming ideas into an ordered mind map.
Collaborative features are an absolute must for people working with a team. The learning curve of your chosen mind map maker needs to be an easy one so that it can be easily understood by a wider section of the audience.
Support a variety of import and export formats and devices for greater versatility.
The mind map creator needs to offer both sharing and publishing options on Google Drive, Social media and similar platforms.
Make attachment of external files an extremely easy affair. The best ones allow users to attach videos, audio files, links, and images.
Best 8 Mind Mapping Software
Now, choose one of them as you like. The most recommended software here is EdrawMind.
1. EdrawMind
EdrawMind can be termed as the best mind mapping tool as it allows the addition of ample information in the form of marks, relationships, callouts, summaries, hyperlinks, notes, and many more. You can effectively conduct group brainstorming sessions using the brainstorming mode. All you need to do is record your ideas using various colors on the left pane before dragging them to the right one for generating a mind map.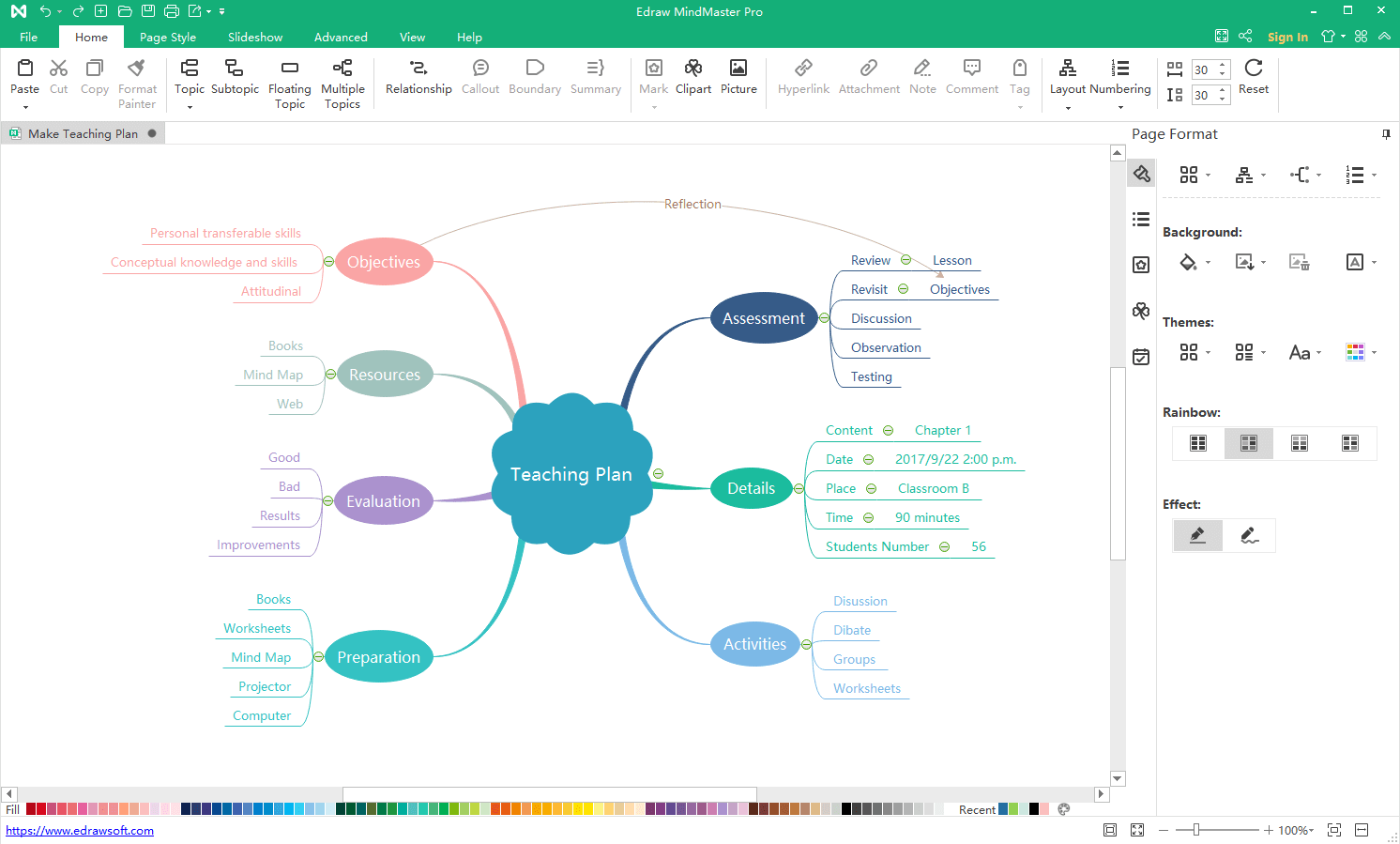 Key Features:
Allows users to convey their mind properly using its vivid illustrations
Offer 22+ mind map structures such as fishbone, treemap, bubble map, timeline, etc.
33 predefined themes make it possible to find a suitable style, makeing it stand out
Users can take their pick amongst 700+ stylish clipart's, helping them visualize ideas
Optimum customization can be exercised on various details such as colors, fonts, style, etc.
| | |
| --- | --- |
| Supported Platforms | Mac, Windows, Linux, Android, iOS, Web |
| Price | The individual subscription plan starts from $59 for one year. |
| Scores from Capterra | 5/5 |
| Official website | https://www.edrawsoft.com/edrawmind/ |
EdrawMind
Full-Featured Mind Mapping Software
33 predefined themes to make your mind map stand out
12 different structures to meet your need
Cross-platforms supported (Windows, Mac, Linux, Web)
Brainstorming mode and presentation mode
Group & real-time collaboration
Security Verified |
Switch to Mac >>
Security Verified |
Switch to Linux >>
Security Verified |
Switch to Windows >>
2. Boardmix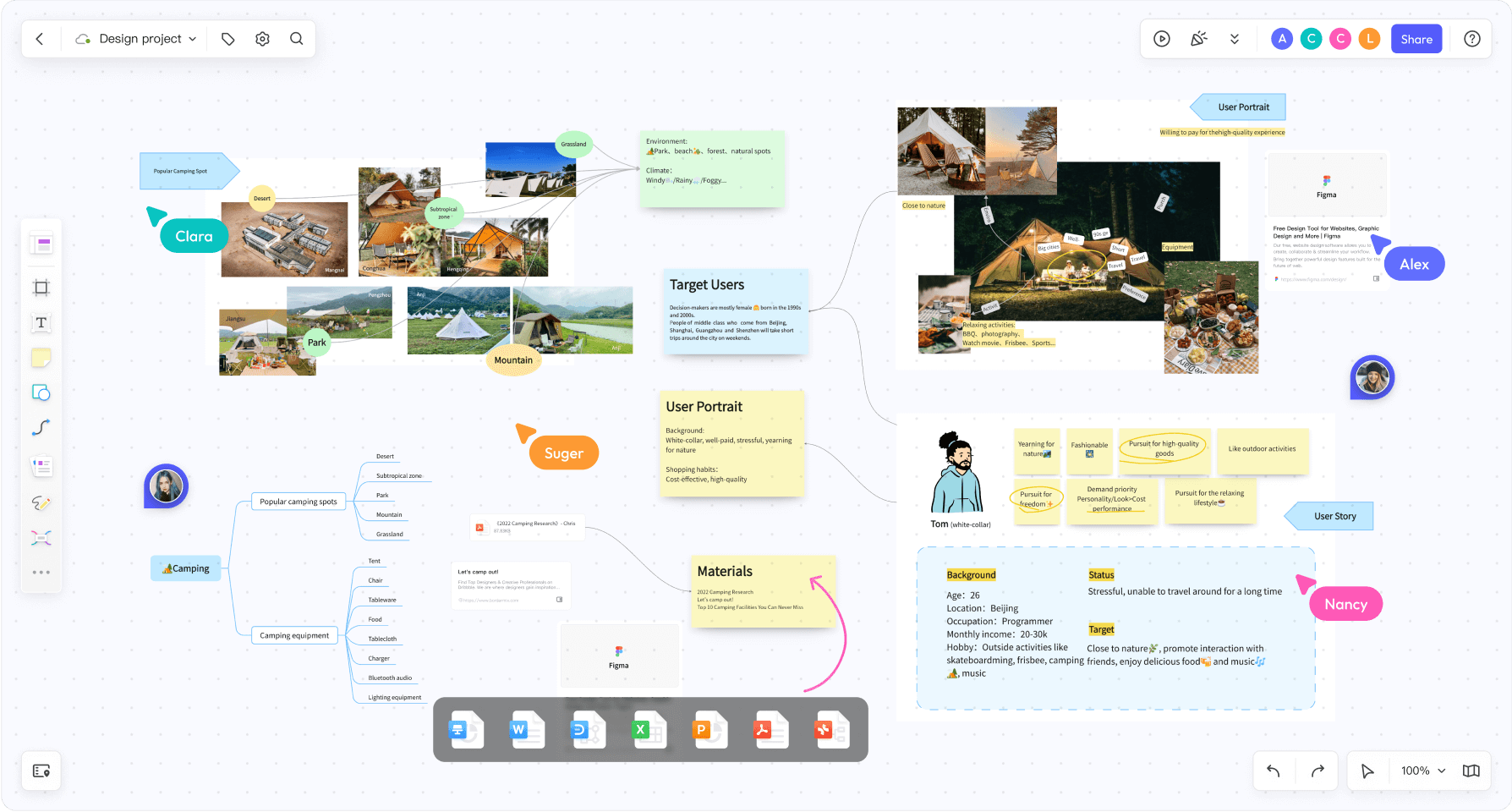 Boardmix is the leading digital collaborative whiteboard with the most versatile, powerful, and purpose-built tools for project management and communication. It is meant to get more work done in less time.
Boardmix incorporates a wide range of technologies to let teams get together and exchange ideas intuitively. It integrates the flowchart, mind map, Venn diagram, SWOT analysis, timeline, weekly Plan, reverse brainstorming, and many other tools that teams need to present and collaborate on ideas in real-time. It gives all the fundamental tools, such as pen, note, eraser, shape, frame, and similar others, to make it easier for users to organize ideas graphically, boost creativity and establish rapport through shared knowledge with clients or team members anywhere in the world.
Pros:
Very intuitive and user-friendly interface for even the beginners.
It is highly customizable.
Free plan offers great value.
Outstanding collaborative features.
Cons:
Features sometimes could be overwhelming.
3. Miro
You can bring your teams together at any place and any time using this intuitive mind map maker. Miro delivers an in-person collaboration experience on a real-time basis so that you can get your work done without experiencing any bottlenecks. You can integrate Miro with all popular tools of modern times such as JIRA, Google Suite, Dropbox, Sketch, and Slack for keeping the workflow under a scalable online whiteboard.
Pros:
Advanced administration controls and enterprise-ready security make it possible to collaborate with complete confidence.
Infinitely zoomable web whiteboard and canvas can help you unleash your fullest creativity.
Centralized information hubs can be created to keep all users in the loop with the developments.
Cons:
Editing the mechanics of tables is not up to the mark.
Adding videos to the Miro board is extremely difficult.
It does not rank high in terms of user-friendliness, as it presents a difficult learning curve.
| | |
| --- | --- |
| Supported Platforms | Online, SaaS, Web |
| Price | $10 per user per month billed monthly |
| Scores from Capterra | 4.8/5 |
| Official website | https://miro.com/mind-map-software/ |
4. MindMeister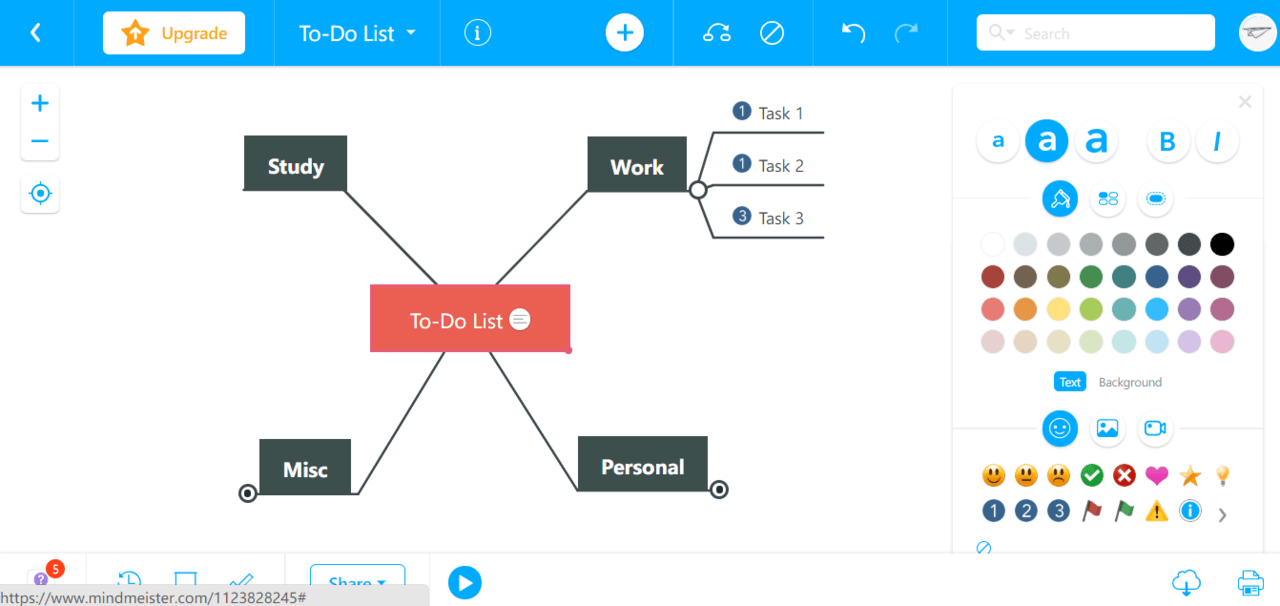 With a user base exceeding 7 million, MindMeister can surely serve you well while trying to come up with top-notch mind maps. This web-based portal is extremely helpful in conducting detailed research and creating better business strategies through adequate brainstorming. Integration with a variety of third-party applications further enhances your level of convenience.
Pros:
It makes it possible to translate the mind maps into understandable presentations coupled with the built-in presentation mode.
History mode makes it possible to playback all the steps involved in your work so that you can keep a tab over the alterations made.
Users can easily see who contributed and even undo certain actions that are not required for the task.
Cons:
The size of the Notes section is fixed, which cuts off various essential information.
Output options are limited in scope.
Not possible to set the privacy level of multiple maps simultaneously.
| | |
| --- | --- |
| Supported Platforms | Cloud, SaaS, Web, iOS, Android |
| Price | Personal version is priced at $4.99 per month. |
| Scores from Capterra | 4.8/5 |
| Official website | https://www.mindmeister.com/ |
5. Cacoo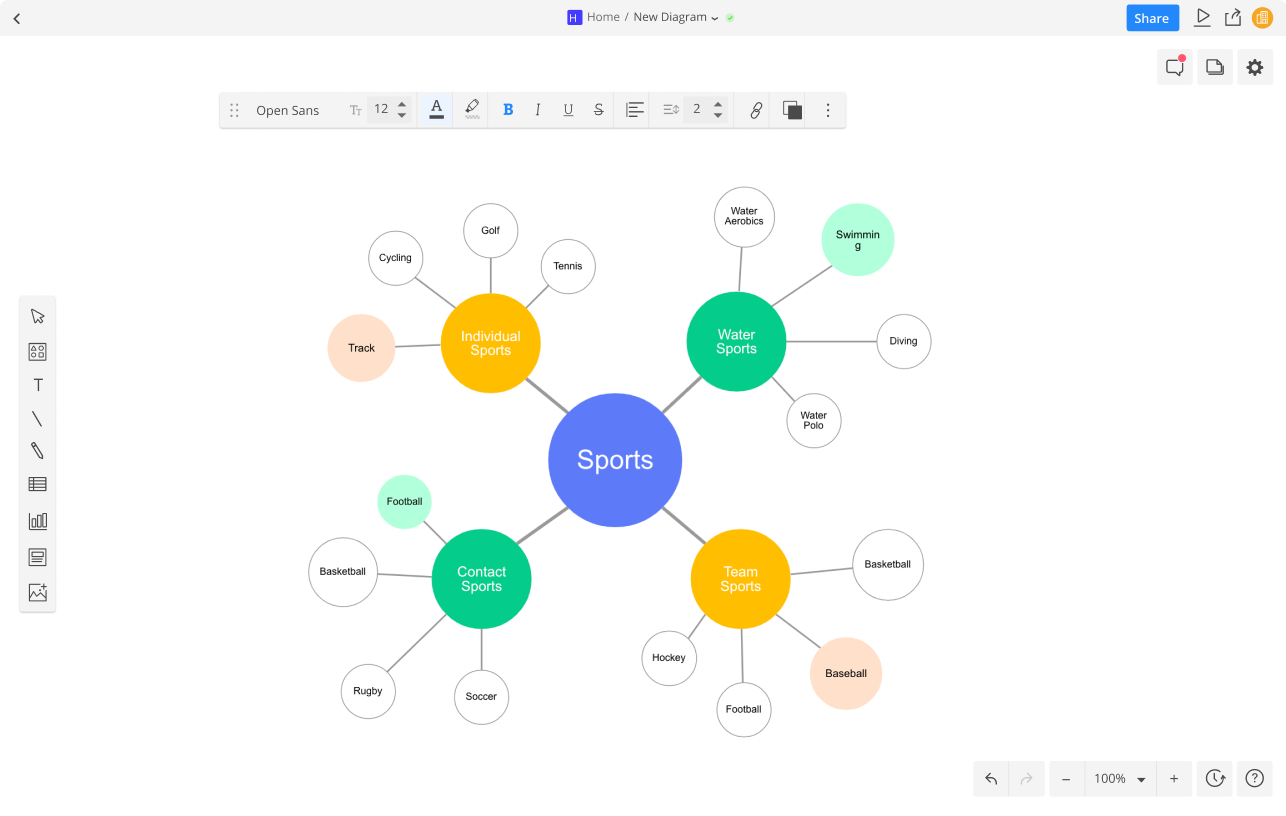 This cloud-based mind map creator allows users to come up with professional-grade wireframes, flowcharts, and diagrams. It offers state-of-art features like social media sharing, in-app commenting, multi-user editing, revision history tracking, and a lot more. It integrates seamlessly with Google Docs, Google Drive, Atlassian Confluence, Slack, and Typetalk for greater versatility.
Pros:
Previous versions of your mind mapping diagrams can be reviewed for tracking changes.
Users can both add and reply to comments appearing on the canvas.
Best mind mapping software to work on a real-time basis to pump up the creative workflow.
Cons:
It doesn't offer any straight forward way of grouping messages.
Diagrams created using the old Flash engine cannot be upgraded to the current one.
The number of diagrams is extremely limited for the free version.
| | |
| --- | --- |
| Supported Platforms | Web |
| Price | $5 per user per month. |
| Scores from Capterra | 4.7/5 |
| Official website | https://cacoo.com/ |
6. Creately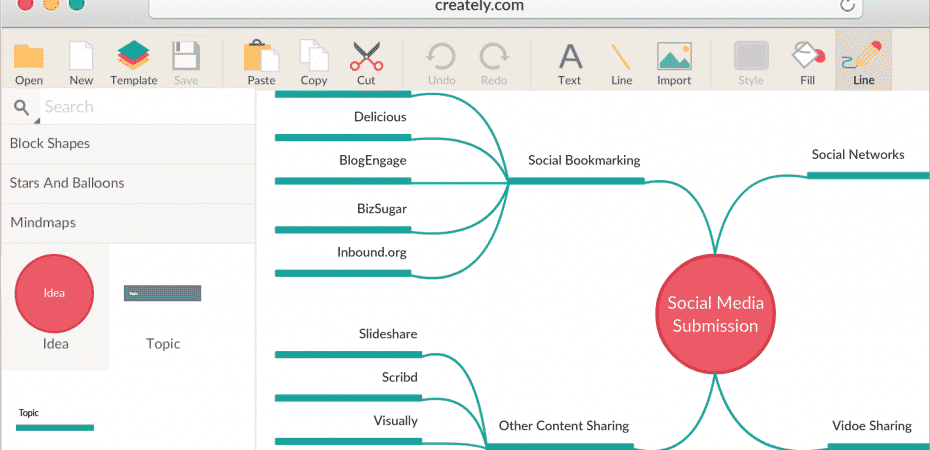 Creately is a mind map maker that can be integrated easily with other tools such as Google applications and JIRA for incorporating the same into your operations. When it comes to mind mapping technology, Creately has already been trying to ease out the diagramming process as users get to sync their work in the online and offline versions of this tool.
Pros:
Mind mapping software allows users with more than 1000 professional shapes and templates.
It offers seamless collaboration so that you can work remotely with teams and clients.
It has a drag and drop functionality which further adds up to its ease of use.
Cons:
Very difficult to import SVG records.
You cannot add a document directly from the dashboard.
It doesn't allow users to move diagrams from one folder to another.
| | |
| --- | --- |
| Supported Platforms | Mac, Windows, Cloud, SaaS, Web |
| Price | Price of the desktop version for personal use is one-timely $75. |
| Scores from Capterra | 4.4/5 |
| Official website link | https://creately.com/ |
7. Bubbl.us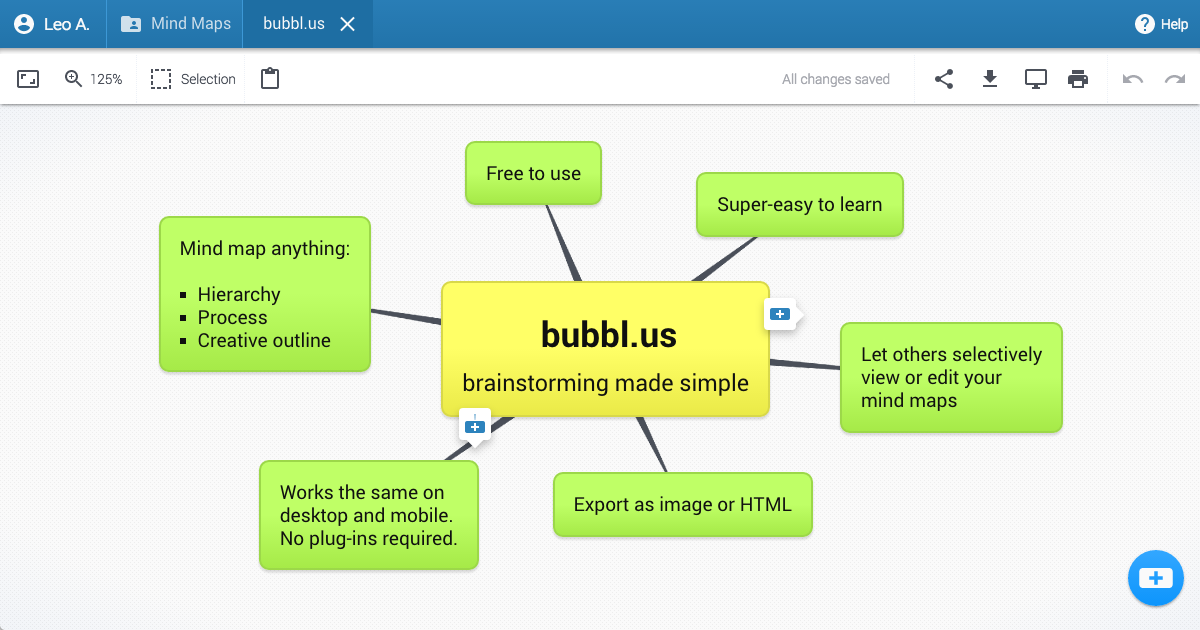 This web-based mind mapping tool can serve as the best bet for individuals always on the move. It can keep you buffered from the hassles of complex installation so that you can concentrate more on getting the work done. You can bank on this online tool to collaborate easily with colleagues by sharing files and brainstorming on ideas.
Pros:
The mind maps created can be saved in HTML or image format.
The best mind map tool can be accessed from any and every device as you have a stable internet connection.
The premium plan doesn't have any branding in its interface, making it possible to integrate the aesthetics of your company for customizing its look and matching it with your brand.
Cons:
It doesn't offer users the option of altering the color of the entire branch.
Users are not presented with any easy option of choosing multiple bubbles and moving all of them at once.
The free version doesn't offer real-time collaboration.
| | |
| --- | --- |
| Supported Platforms | Web |
| Price | Starting price is $6.00 per month. |
| Scores from Capterra | 5/5 |
| Official website link | https://bubbl.us/ |
8. SimpleMind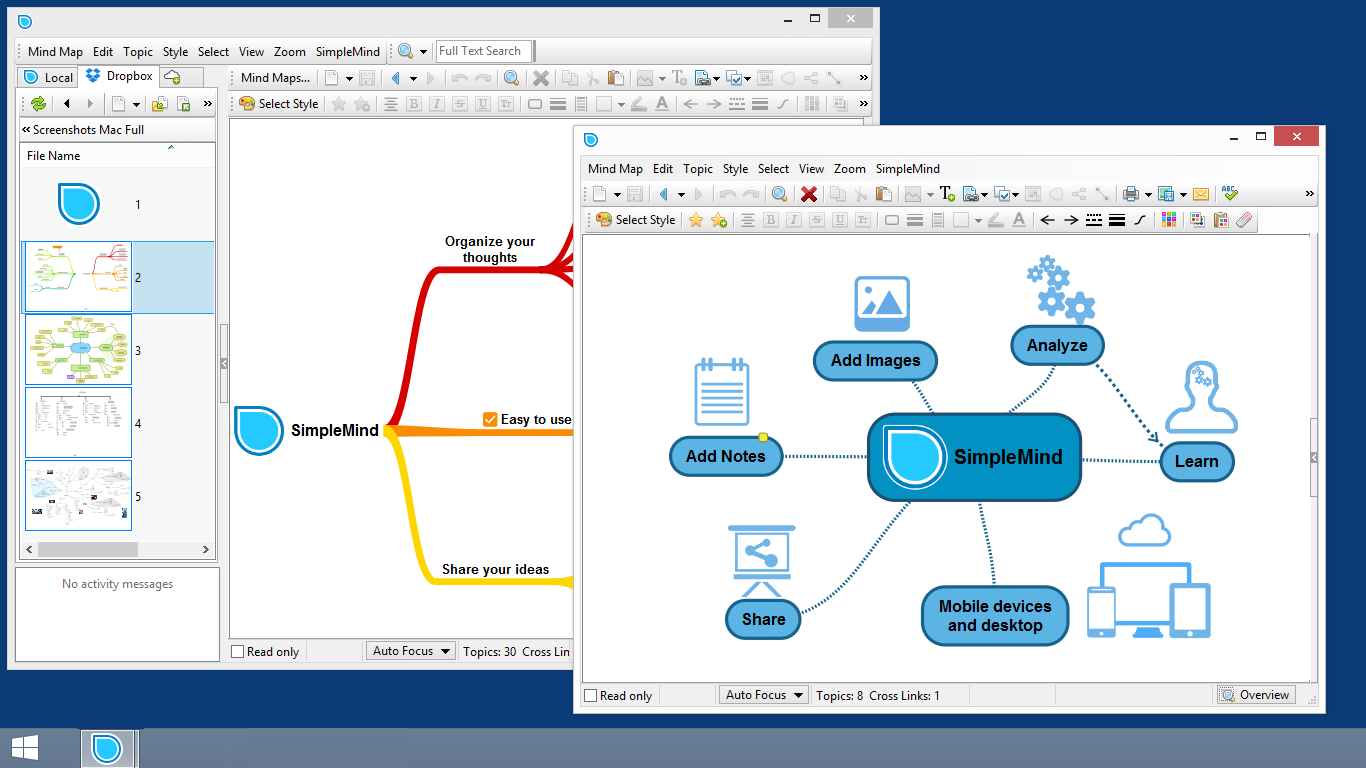 Analyzing and structuring your thoughts become super easy with this mind map creator, which offers vertical, horizontal, list auto, and top-down layout so that you can brainstorm optimally. The majority of the editing work can be done without having to hit any buttons. Users can also add images, video recordings, and voice memos to the mind map created.
Pros:
Mind maps can be stored and shared easily with external cloud platforms.
Topics can be edited easily by using colorful indicators.
It has an easy design interface making it well suited for amateur users.
Cons:
Transferring a license from one device to another can be very problematic.
Lacks team collaboration options making it less flexible than peer mind map maker tools.
Users need to reboot their mobile devices before sharing mind maps with others.
| | |
| --- | --- |
| Supported Platforms | Mac, Windows, iOS, Android |
| Price | The starting price of SimpleMind Pro Single user is $27. |
| Scores from Capterra | Not applicable |
| Official website | https://simplemind.eu/ |
Pick Up a Mind Mapping Software Suitable for You
Different parameters might come into play while determining a mind map creator. We have listed out four of the most important categories about the same:
Best Overall - EdrawMind is a versatile mind map maker that is compatible with a variety of platforms and devices. It allows team members to collaboratively work on a project while selecting their desired style, structure, colors, and themes.
Best Collaboration - Miro is an online collaborative whiteboarding platform that allows users to remotely organize, capture, and even structure their ideas on a real-time basis.
Best for Beginners - Bubbl.us is the best mind mapping software that presents an extremely easy to use interface wherein users can brainstorm new ideas, take notes, and even collaborate efficiently.
Best Online - EdrawMind is an effective mapping and brainstorming tool having a built-in presentation feature that can turn mind maps into dynamic slideshows and that too without having to download any bulky software.
EdrawMind Apps
12 structures & 33 themes & 700+ cliparts
Support Win, Mac, Linux, Android, iOS
Advanced import & export options
On-premises software for business
Enterprise-level data security
EdrawMind Online
12 structures & 33 themes & 700+ cliparts
Access diagrams anywhere, anytime
Team management & Project management
Conclusion
Coming up with new ideas and fine-tuning the same becomes possible with mind mapping creator. Although a simple piece of paper can assist you with the same, chances are high that you might end up losing the same. This is exactly where the 8 best mind mapping software can come to your rescue by helping users visually brainstorm ideas and back it up digitally.