Top 6 Work Breakdown Structure (WBS) Software for Project Management
Create WBS Diagrams With Easy-to-use Functionalities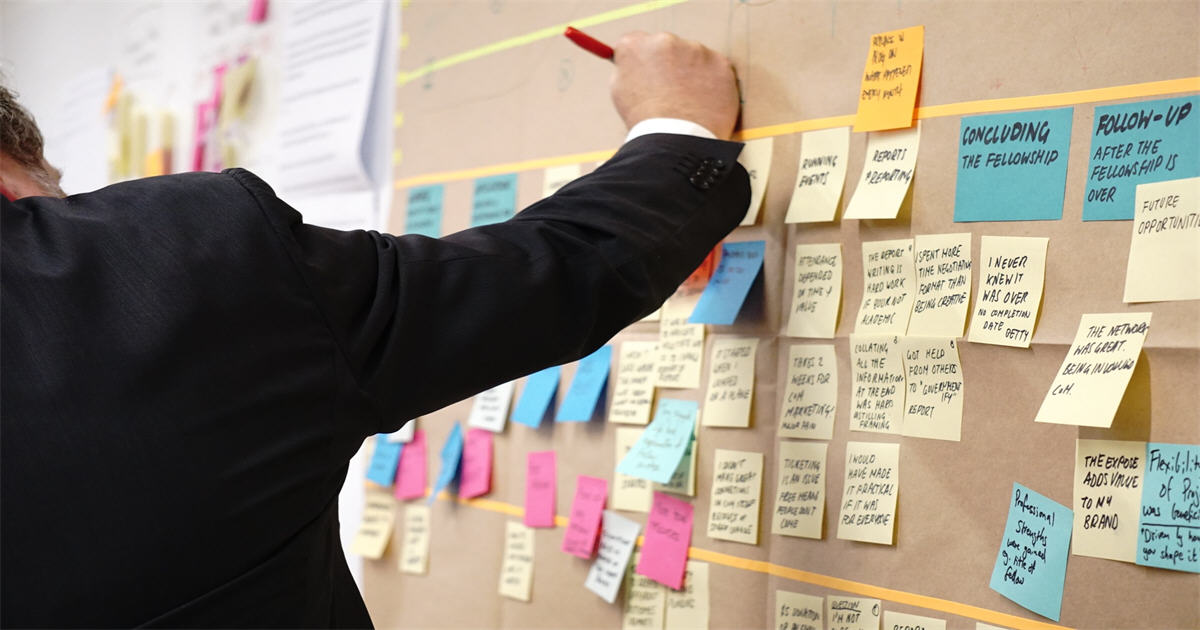 Handling projects can prove overwhelming, especially when you view a project as one huge, daunting task. When you approach a project as one whole complex task, rather than tempered bits and pieces of tasks, you'll ultimately feel overwhelmed.
But it doesn't have to be that way. Rather than approaching a project as a whole task, you can take that project and break it down into smaller navigable tasks, making the project easier to manage and execute. Now, this process of splitting and dividing a project into smaller, easy-to-execute tasks is called a Work Breakdown Structure.
A Work Breakdown Structure focuses on a project's deliverables. The way WBS works is that it splits a project according to its expected outcomes. That is to say, the WBS diagram can be described as a chart that breaks down a project plan by displaying a ranked order of what must be accomplished at each stage of a project.
List of the Best WBS Software
Creating a WBS diagram is a good way to get a project off the ground and ensure it is efficiently executed in record time. You can use software to create a Work Breakdown Structure for your project. Using software to create a WBS is especially valuable, as it is a simpler way of outlining the scope of a project and its deliverables. Below, we've listed 6 of the best WBS software to use for your projects.
#1 EdrawMax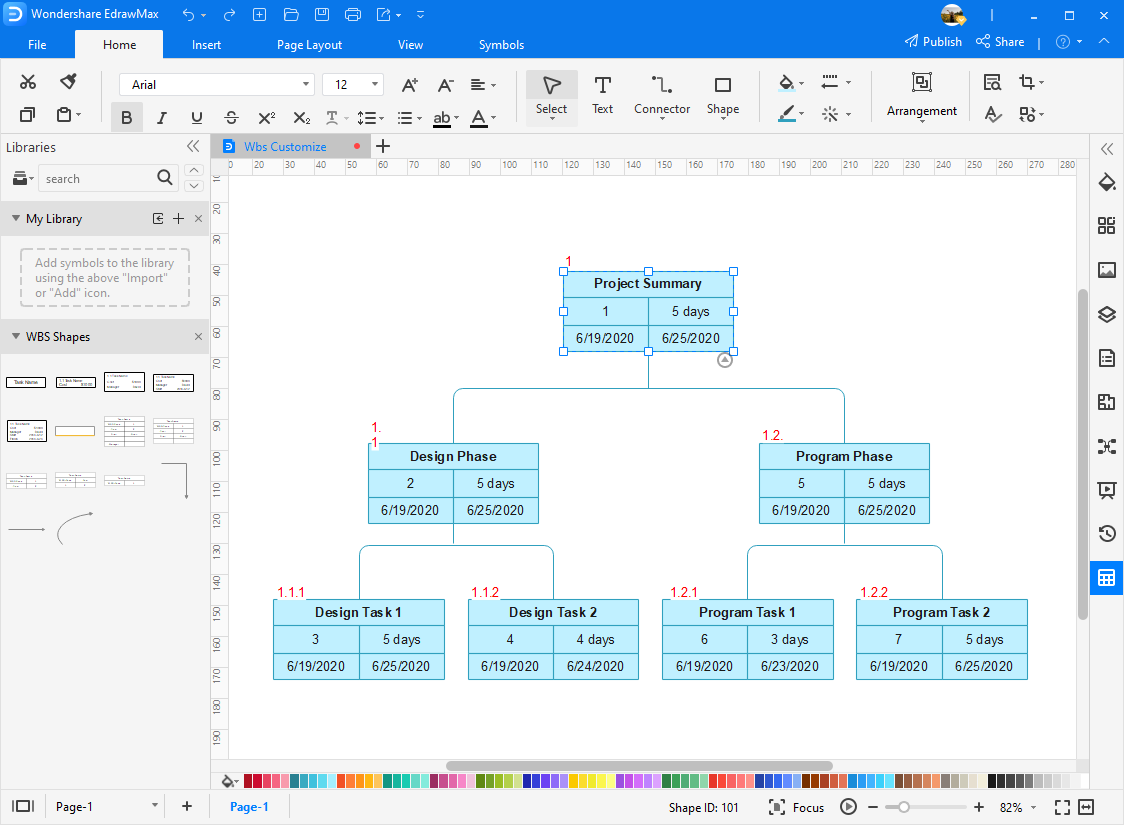 EdrawMax is a robust, multi-purpose diagramming software that offers users a wide range of diagramming features. It is the go-to diagramming software for professional diagrams and data visualization as it is equipped with an extensive gallery of templates, making it especially useful for users new to diagramming software.
Whatever your diagramming need may be, EdrawMax has a solution for you as it supports more than 280 diagram types, ranging from flowcharts to floor plans to workflow and business diagrams.
Pricing: $ 245 - Lifetime Plan/$ 99.0 - Annual Plan/Free to use
Extensive gallery of
templates
and symbols to enable you to design professional, share-worthy diagrams quickly.
Supports a large number of file formats for easy file exports such as Visio, PDF, Word, PPT, JPEG, Html, etc.
Supports more than 280 diagram visualization types, including infographics, presentations, charts, and concept maps, etc.
Supports a feature-rich online version to enable users to design on the go.
Available for Windows, Mac, Linux and Web.
Diagrams designed during trial period have watermarks.
EdrawMax
All-in-One Diagram Software
Create more than 280 types of diagrams effortlessly
Start diagramming with various templates and symbols easily
Superior file compatibility: Import and export drawings to various file formats, such as Visio
Cross-platform supported (Windows, Mac, Linux, Web)
Security Verified |
Switch to Mac >>
Security Verified |
Switch to Linux >>
Security Verified |
Switch to Windows >>
#2 Lucidchart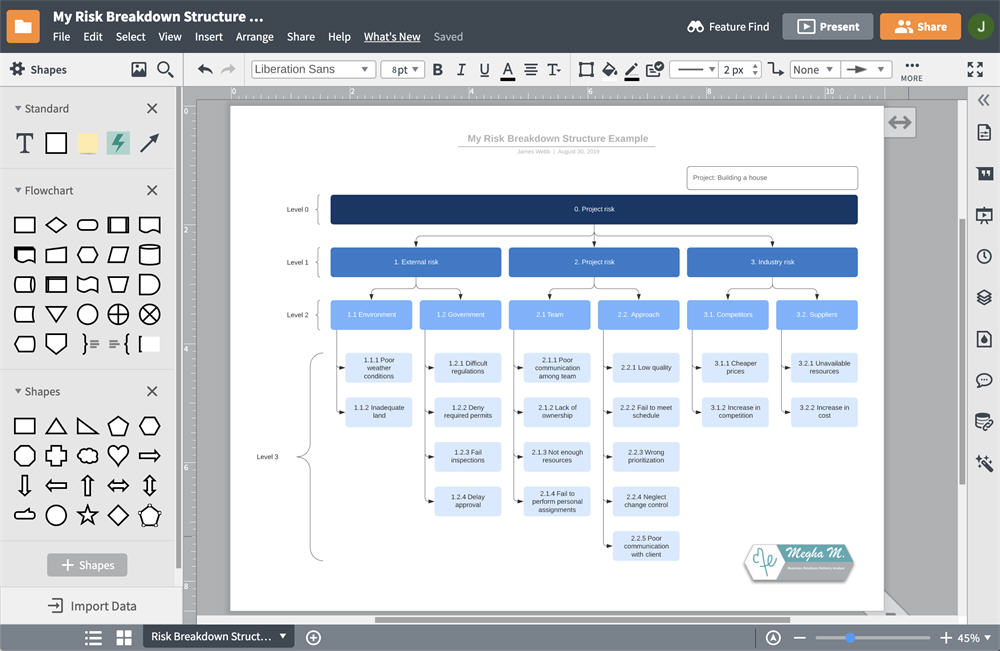 This is a feature-packed online diagramming and data visualization software that is both intuitive and easy to use. With Lucidchart, you can create crisp, professional diagrams and presentations in minutes with its massive library of ready-to-use templates and symbols.
Lucidchart is perfect for keeping project team members in the loop as it supports real-time collaboration.
Pricing:
Basic plan: $ 5.95/ month
Pro plan: $ 9.95/ month
Team plan: $ 24/ month
Enterprise plan: by quote
Equipped with a massive gallery of over 500 templates and symbols for quick diagram designs.
Supports smart automatic visualizations from data imported from Excel, Zapier, Salesforce, etc.
Supports real-time collaboration enabling team members to work together on a project remotely.
Integrates seamlessly with G Suite, Atlassian, Slack, Salesforce, and Microsoft Office.
Equipped with a mobile app available for Android and iOS.
There is no desktop app and it only supports online use on Web and mobile.
#3 SmartDraw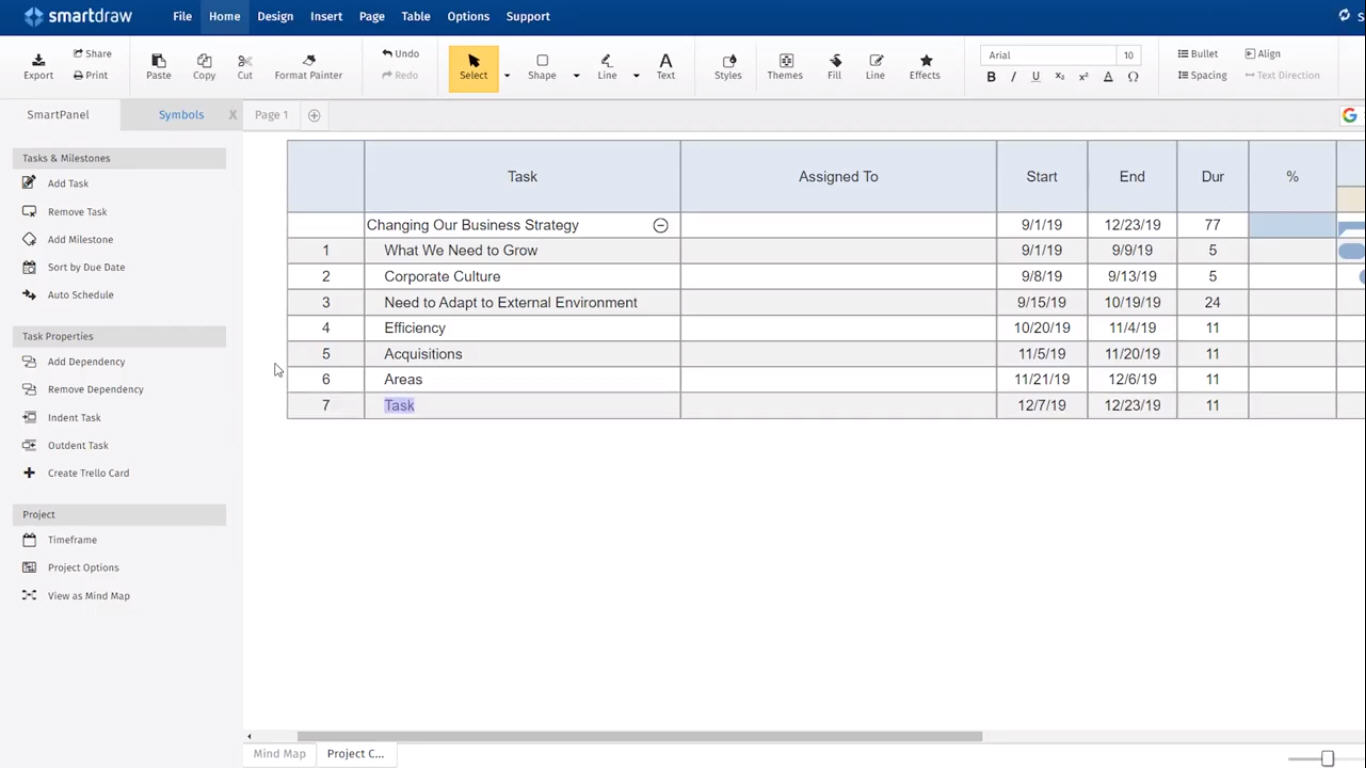 SmartDraw is a powerful diagramming tool that works great for technical and non-technical people. It is a user-oriented diagramming solution software that allows users to create diagrams of varying kinds, including floor plans, network diagrams, schematic diagrams, infographics, and flow charts, etc.
SmartDraw comes loaded with an impressive array of templates for quick and easy designs and supports collaboration and easy sharing among team members.
Pricing:
Online version: $ 9.95/ month for a single user and $ 5.95/ month for multiple users
Windows version: $ 297 - lifetime access fee
Users can create over 70 types of diagrams.
Seamless integration with G Suite, Microsoft Office, Trello, and Confluence, etc.
Supports easy exporting of diagrams to Dropbox and Box.
Supports collaboration enabling teams to work together on a project anywhere in real-time.
Available for use on Mac, Windows, and Web.
Not available on Android and iOS.
Not available on Linux
Full access is expensive
#4 Visual Paradigm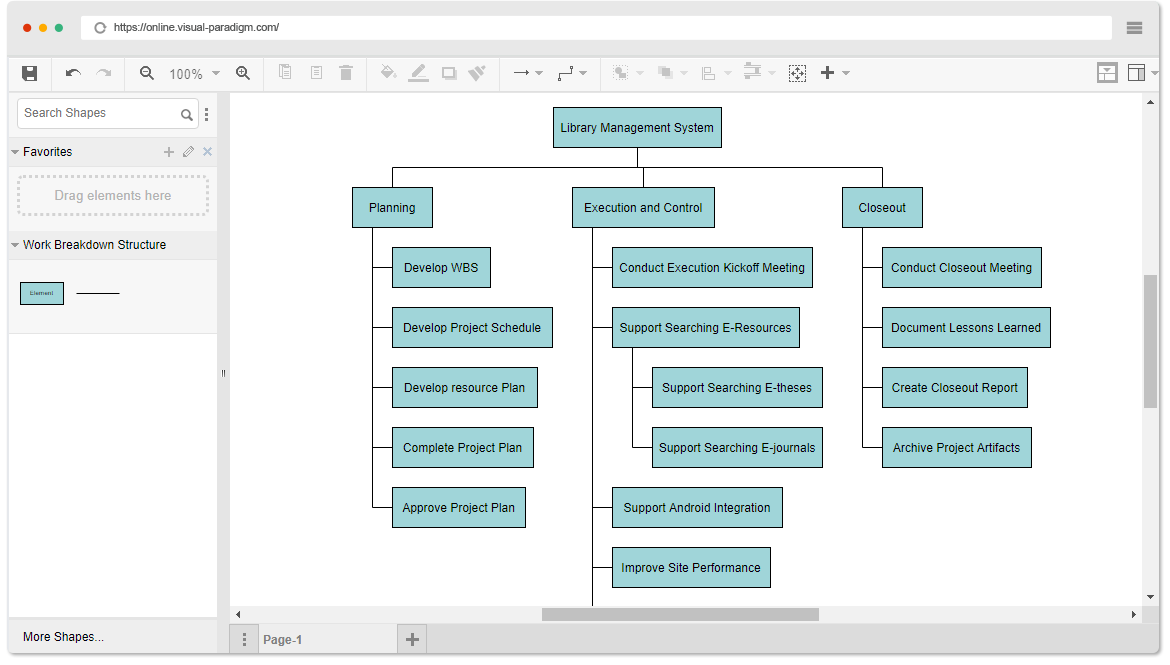 Visual Paradigm is a collaboration-oriented diagramming and modeling software that supports the design of multiple diagram types including flowcharts, chart-based diagrams, UML diagrams, SysML diagrams, ERD diagrams, analytical charts, and customer journey maps, etc.
Visual Paradigm is especially useful for the design and visualization of software as it helps software developers in modeling software and visually laying out the development process-flow.
Pricing: $99 - $1999 depending on category.
Support team collaboration.
Support a wide array of diagram types.
Support user experience design and storyboarding.
Useful across fields, including Strategy, Enterprise architecture, Project management, and Process modeling, etc.
Not very intuitive.
Steep learning curve and can take a user lots of time to understand it.
#5 Matchware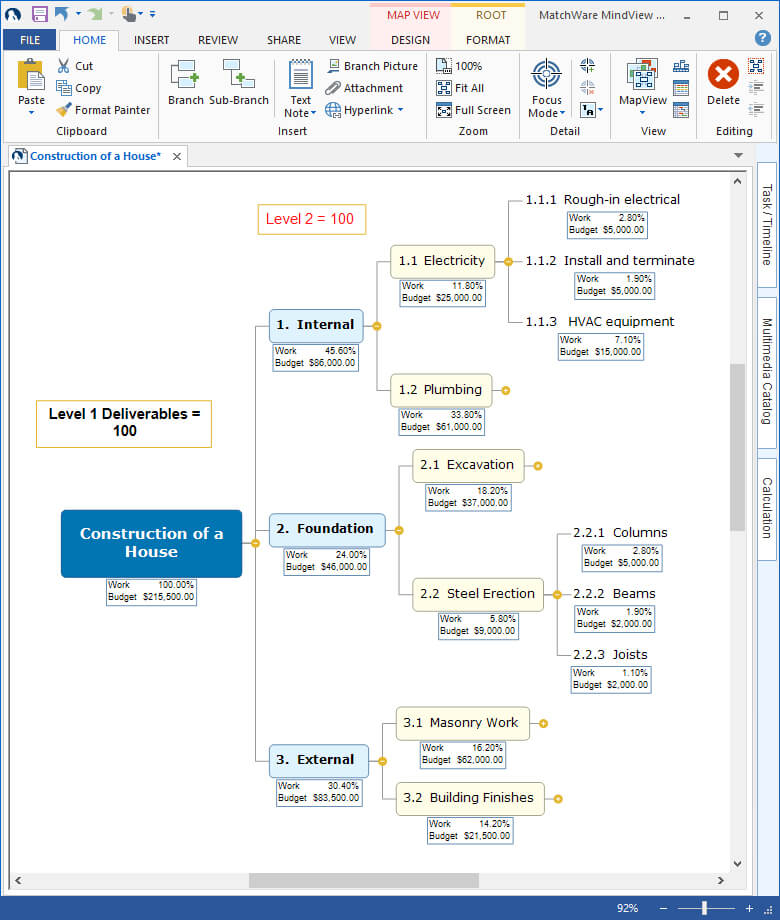 Matchware is great mind-mapping diagramming software that can be used to create a Work Breakdown Structure and mind maps as well.
Pricing: $379 for Windows single user.
Integrates seamlessly with Microsoft Office
Support exporting to MS Excel and MS Project
Equipped with different layout designs
Available on Windows and Web only.
#6 Creately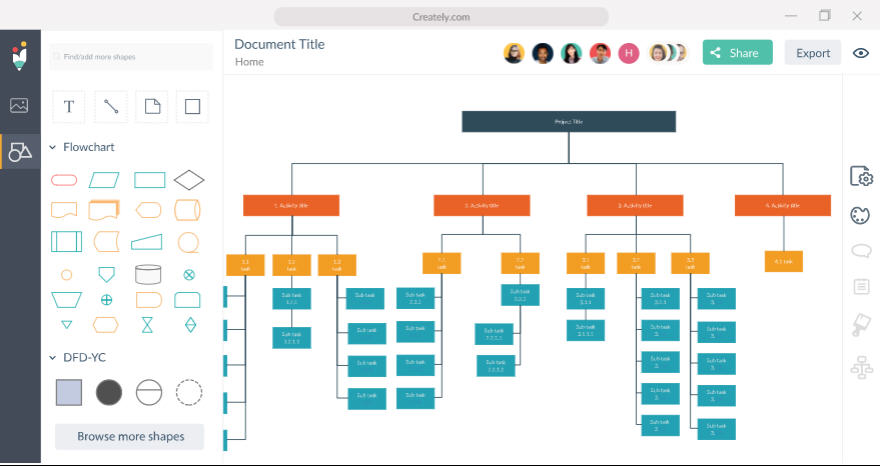 Creately is a crisp, well-designed diagramming software that is perfect for visualizing whatever concept or idea you have. Diagrams produced with Creately are visually appealing and presentation-worthy.
Pricing: start at $6.00 per month, per user
Equipped with a template library of over 1000 templates.
Supports collaboration and perfect for teams.
Supports drag and drop for fast design.
Supports exporting in different formats.
Useful for making flowcharts, organizational charts, wireframes and UI diagrams, etc.
Users cannot create or edit diagrams on the mobile app.
Can take some time to get used to it
Select a Perfect WBS Software
The perfect software for creating a Work Breakdown Structure will be one that's intuitive, uncomplicated, and easy to use with drag and drop functionality.
Above, we've listed some great software for WBS with awesome features, and of all the software, EdrawMax stands out as the right choice for making a Work Breakdown Structure as it is intuitive, simple, and easy to navigate for non-technical people looking for professionally designed WBS.
It's drag & drop functionality makes EdrawMax a trusted tool for when you need a fast turnaround in creating WBS diagrams. EdrawMax supports the display of unlimited fields on the chart, and users can save and export their charts in different formats such as PNG, BMP, JPG, PDF, Word, Excel, PPT, Visio and HTML.
A Work Breakdown Structure is the foundation of a well laid out and executed project because it takes into account the deliverables and milestones that must be achieved at every stage of a project. Creating a Work Breakdown Structure may seem like a difficult task, but with the right software and tool, you can create one in minutes, even if you're a total beginner.
EdrawMax Desktop
Create over 280 types of diagrams
Windows, Mac, Linux (runs in all environments)
Professional inbuilt resources and templates
On-premises software for business
Enterprise-level data security
EdrawMax Online
Create over 280 types of diagrams online
Access diagrams anywhere, anytime
Team management and collaboration
Personal Cloud and Dropbox Integration