6 Best Decision Tree Makers to Quickly Move Through Decisions
Get the easiest way to visualize and analyze your decisions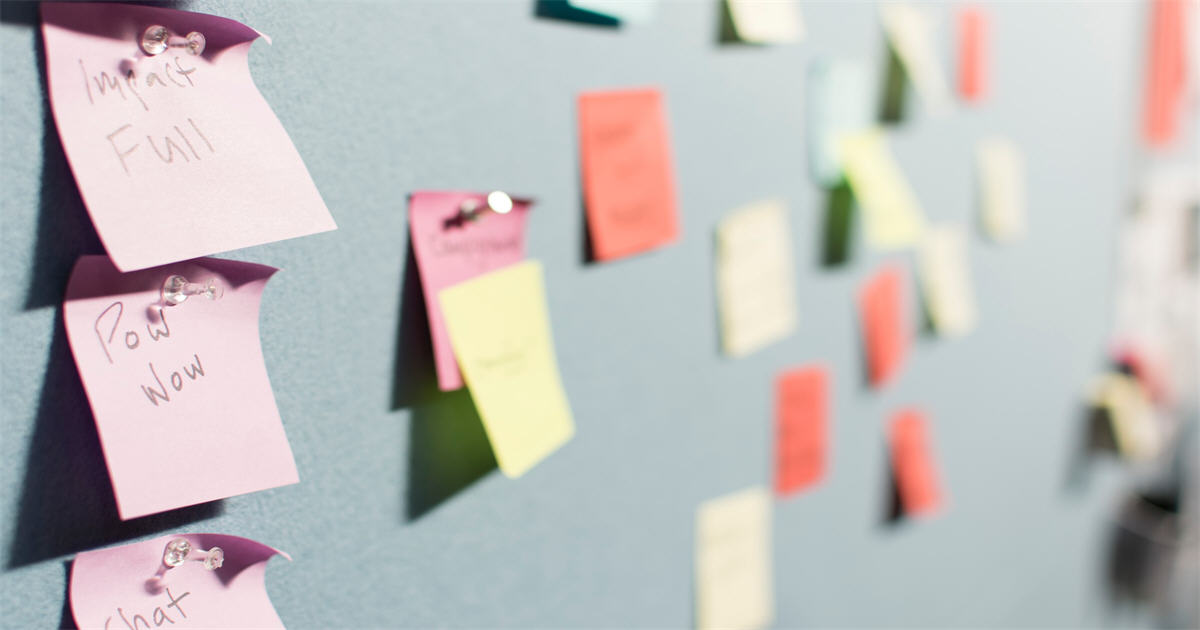 A decision tree is a type of flow chart used to express the decision-making process. It can be used for a wide range of purposes, so it is commonly used in different fields. Decision trees are made up of certain elements that, when combined, express the flow of how you reached a certain decision. To create a digital decision tree, you can use a decision tree maker as it is a quicker, easier, and more convenient option. There are different online tools available that can help you make decision trees from scratch or with the help of a template. Today, we will discuss some decision tree making software that you can use to create flowcharts and graphs.
Let's take a look at the 6 best decision tree makers and software.
6 Best Decision Tree Makers and Software
Here are the best decision tree makers you will find on the internet.
1. EdrawMax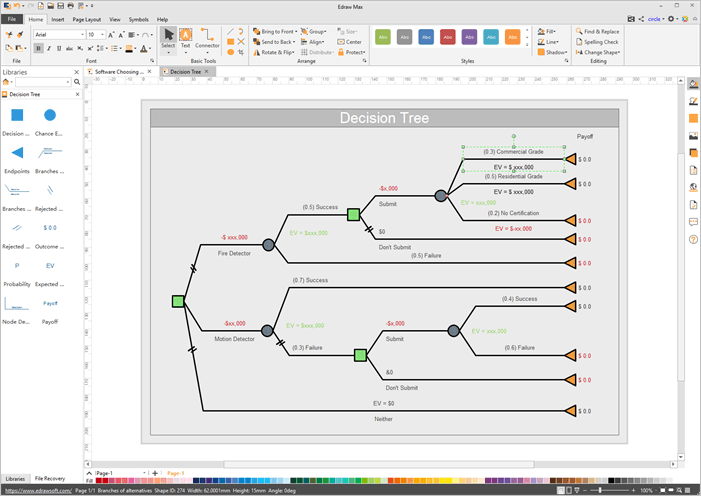 EdrawMax is a multipurpose online visual tool to create different types of graphical content. EdrawMax is home to thousands of templates and design tools which allow you to make flowcharts, graphs, illustrations, greeting cards, and much more. Hence, you can also use EdrawMax to make a number of different decision trees within a few simple steps.
Moreover, EdrawMax also supports cloud storage services and can be used on different operating systems. So, bring your creativity to life with this online diagrammatic tool.
Cheap subscription
Free and rich templates
Supports all terminals
Various drawing tools
Written and Video tutorials
Pricing:
Free to Use
Annual Plan: $99
Lifetime Plan: $245
Supported Systems: Windows, Mac, Linux and Web.
Software Tool URL: https://www.edrawsoft.com/edraw-max/
Learn how to create a decision tree with EdrawMax.
EdrawMax
All-in-One Diagram Software
Create more than 280 types of diagrams effortlessly
Start diagramming with various templates and symbols easily
Superior file compatibility: Import and export drawings to various file formats, such as Visio
Cross-platform supported (Windows, Mac, Linux, Web)
Security Verified |
Switch to Mac >>
Security Verified |
Switch to Linux >>
Security Verified |
Switch to Windows >>
2. SmartDraw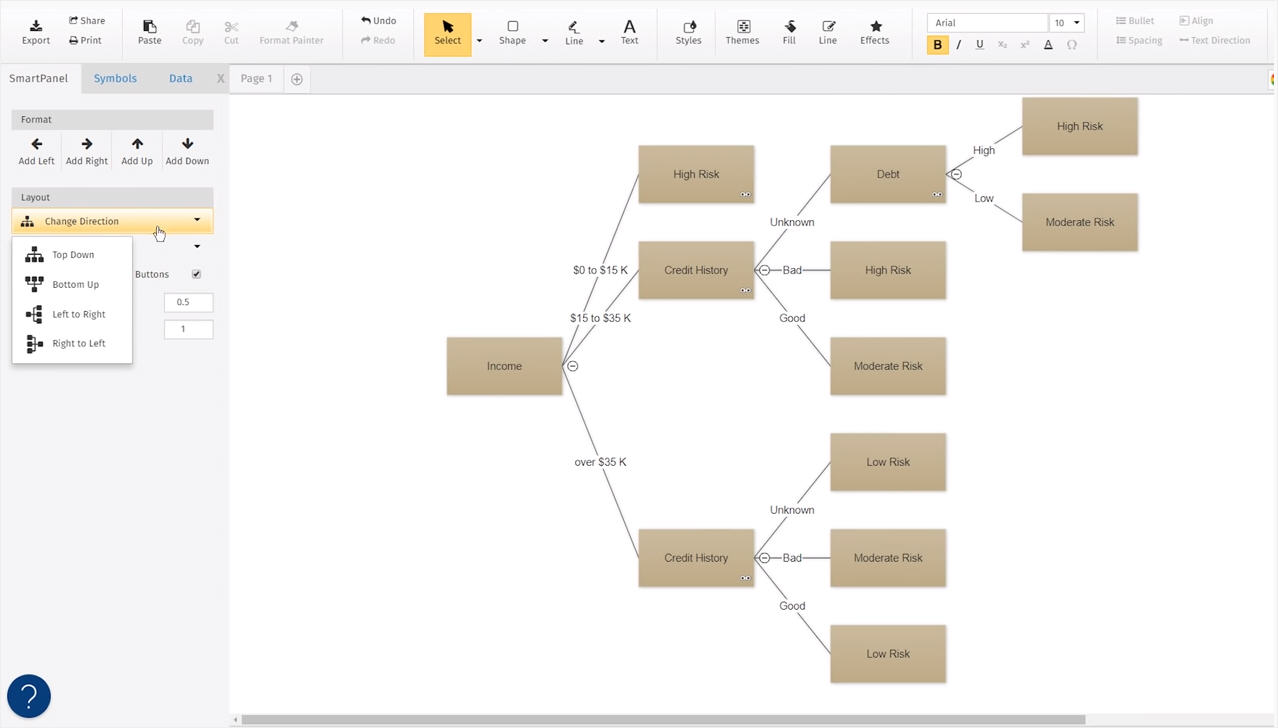 SmartDraw is a popular online tool for organizational charts and graphs. Therefore, it also allows you to create decision trees of any kind. It has CAD-like drawing abilities that will enable you to make high-quality graphic content. You do not need to be an expert to use this software as it is effortless to use and has a tutorial for your understanding. With tons of great features and thousands of free templates, use SmartDraw to make one of a kind decision trees within a few simple steps.
A Wide range of drawing tools
User-friendly Interface
Different templates available
Available online and offline
High prices
No free trial
Pricing:
Single User: $297 (one-time payment)
Multiple Users: $595 (annually)
Supported Systems: Windows and Web
Software Tool URL: https://www.smartdraw.com/
3. Creately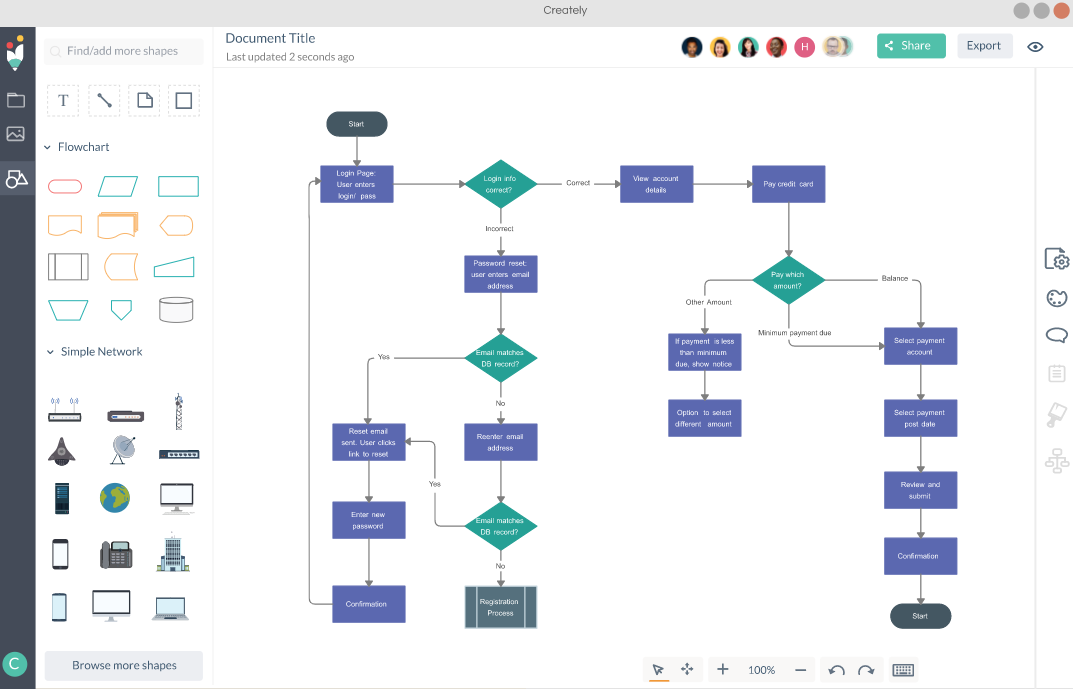 Creately is a popular platform for business diagrams and technical drawings. It can help you create several flowcharts and graphs, including decision trees. With intuitive drawing tools and plenty of styles to choose from, you can make unique content within minutes. Whatever plan, design, or concept you have in your mind, bring it to reality by using Creately online or offline. It offers three different plans, each with its own features and benefits.
30 money-back guarantee
Collaborative
Various themes and styles
Slow turnaround
Pricing:
Public: Free
Personal: $6 per month and $4 per month (annually).
Team: $15 per month and $144 per year.
Supported Systems: Windows, Mac, and Linux.
Software Tool URL: https://creately.com/
4. Lucidchart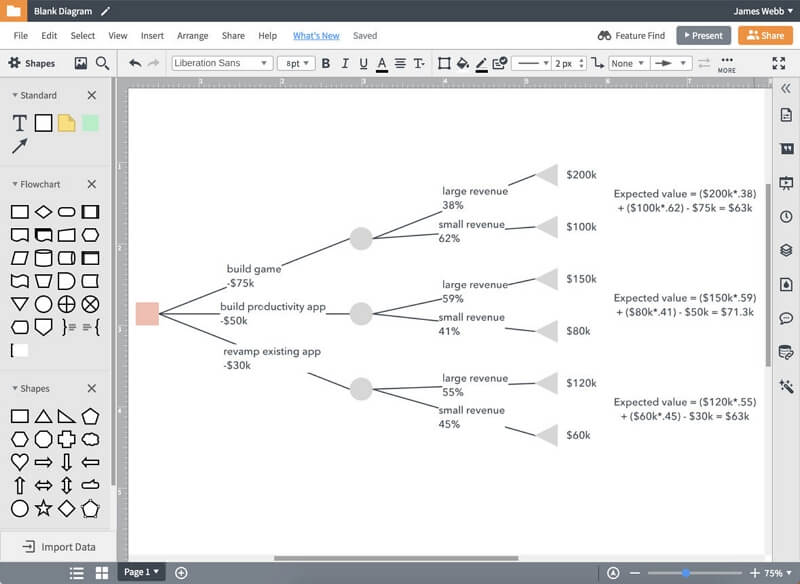 Lucidchart is a well-known platform for creating professional and business graphs and charts. It has different templates for IT, Marketing, Education, Engineering, Sales, and Project Management – that's only the tip of the iceberg. You can use Lucidchart to make different types of decision trees from scratch or using free templates. It has many tools and features to help you create the best visual content within a short time. To conclude, Lucidchart is a one-stop solution for a wide range of visual content.
Great reviews
User-friendly
Templates available
Registration required
Pricing:
Monthly: $9.95 per month
Annual: $7.95 per year
Supported Systems: Web, iOS and Android
Software Tool URL: https://www.lucidchart.com/
5. Visme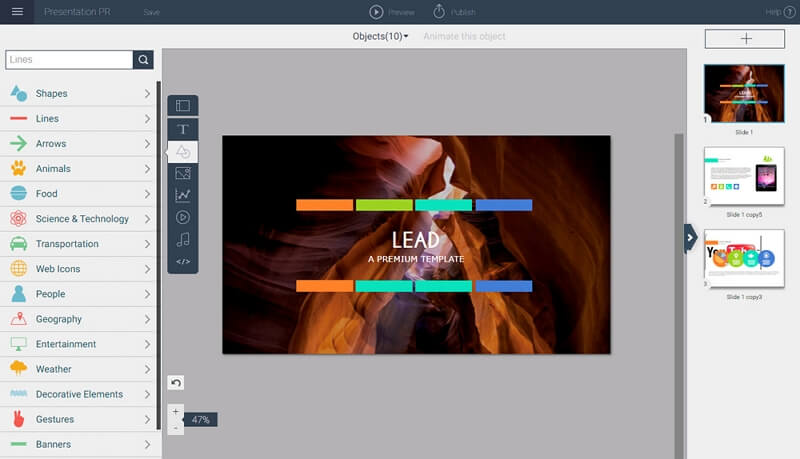 Visme is an interactive visual creator which is popular for creating engaging and attractive presentations. It helps you transform your ideas into creative and energizing visual content. Hence, Visme can be used as a decision tree maker as well. Moreover, it can be used for both business and individual needs and hosts more than 1000 free templates. So, save time and hassle by using Visme to create striking and eye-catching content easily and quickly. All in all, Visme is an excellent tool for team collaboration in official workspaces.
Web-graphics
Free templates
Online training
No app version
High prices
Limited templates in free mode
Pricing:
Individual: $14-$25 per month
Business: $25 -$75 per month
Education: $30-$60 per month
Supported Systems: No desktop app but compatible with all browsers
Software Tool URL: https://www.visme.co/
6. Visual Paradigm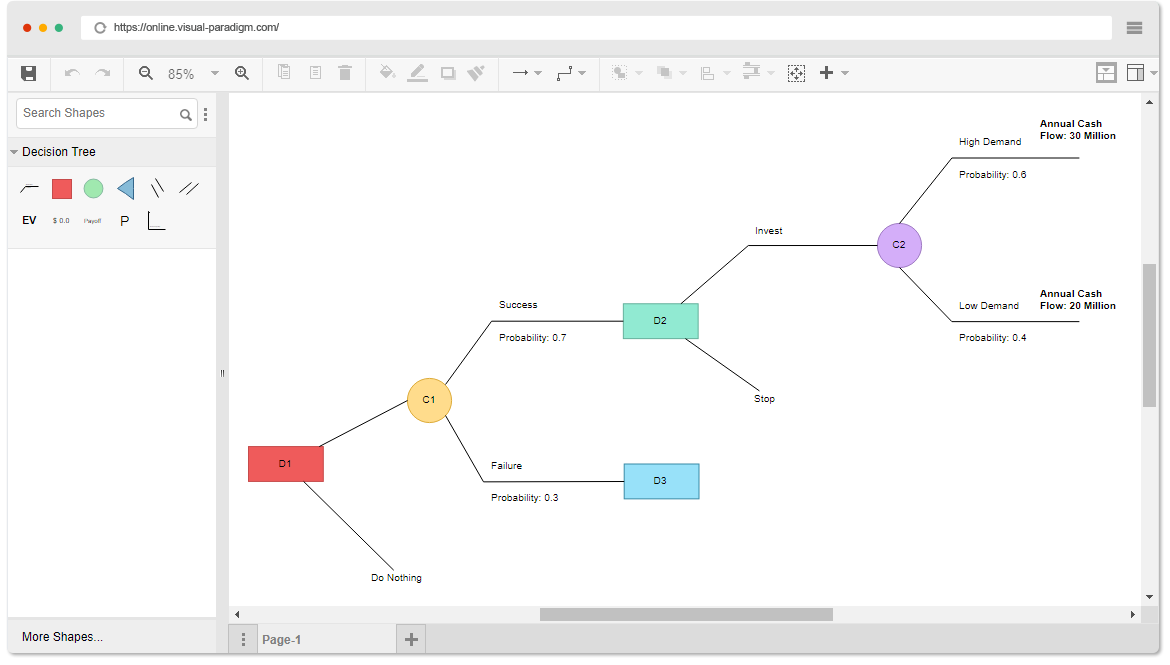 Visual paradigm is a very powerful decision tree maker because it is easy to use and has many amazing features. With the help of a wide variety of decision trees and free templates, you can make unique decision trees using this tool. Moreover, you can also add images, font, and illustrations using different formatting options. Visme supports cloud storage and enables image exporting as well. It also hosts tools for architectural drawings, project management, visual modeling, business diagrams and more. In short, it is a multipurpose drawing tool for professionals.
Free trials
Versatile tools
Templates available
Not suitable for beginners
Registration required
Pricing:
Modeler: $6 per month
Standard: $19 per month
Professional: $35 per month
Enterprise: $89 per month
Supported Systems: Windows, Mac, and Linux.
Software Tool URL: https://www.visual-paradigm.com/
Get Your Ideal Decision Tree Software
Every decision tree maker mentioned in this article comes with custom features. Depending upon these features and your requirements, you can pick the right one for yourself. For example, for business and organizational purposes Lucidchart, Visme, and Creately are better options as they provide interactive collaboration for teamwork. While for beginners and students, visual paradigm and SmartDraw is more convenient. With that being said, EdrawMax is the one app that is perfect for not only beginners but professionals as well. It combines the feature and benefits of all the other apps mentioned here and gives you an excellent user experience.
In short, EdrawMax is the best decision tree maker for all!