Best 7 Floor Plan Creator Of 2020 That Inspire You
Create scaled-down diagrams of rooms or buildings to show all the interior and exterior space.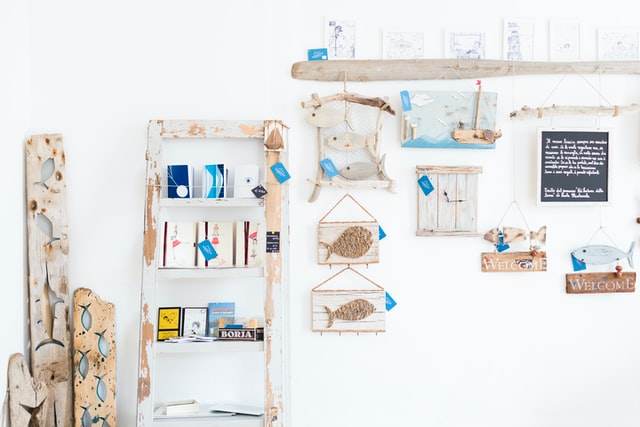 Millennial buyers fancy seeking out a comprehensive representation of their house blueprint. It needs to provide a correct visualization of the interior and exterior spaces so that a home buyer can gauge an accurate image of how the end product will look like. A floor plan helps in giving the correct representation of the space in terms of its dimensions, fixtures as well as spatial relationships. Today we are going to take you through some of the best floor plan creator which can be used in office space planning, venue management planning, facility plant floor planning, and similar avenues.
Factors to consider before selecting a floor plan software?
For starters, the floor plan needs to both look and feel excellent. Your customers will determine the viability of your company from the floor plan software. It needs to add value thus rather than take away the same.
The floor plan creator should be easy to use both on the laptop and mobile devices. While people used to use computers for accessing the floor plan previously, they are now shifting to mobile phones. The software you choose needs to be compatible with the same.
A blueprint maker needs to deliver basic floor plan functionality to users for helping them find a booth, an exhibitor, all exhibitors falling under a particular category, view the profile of all exhibitors along with their location and even book mark a booth.
A free floor plan design software needs to assist users in conducting the booth sales process. The floor plan should display all available booths along with their prices and sizes. An ideal floor plan maker will feature the Buy button so that payments can be processed without incurring any difficulty.
Last but not least, the floor plan maker needs to allow exhibitors to manage profiles all by themselves. They should be able to make basic modifications such as adding, merging and deleting booths.
7 Best Floor Plan Software
1. RoomSketcher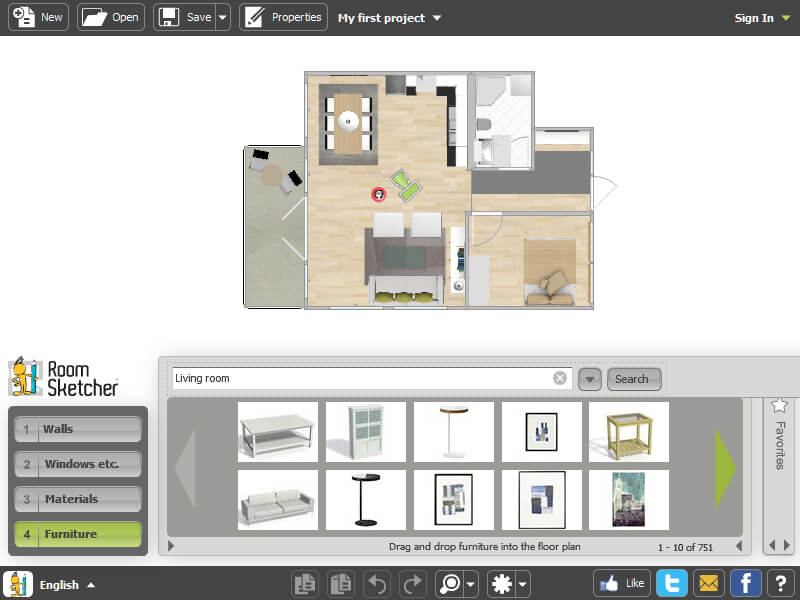 This cloud-based software is primarily meant for real estate agents, architects, and interior designers. It presents an extremely easy to use interface which is ideal for creating office projects, stunning floor plans, and real estate property designs. Users can even visualize their creations in 3D and panoramic views for gaining an idea about the end picture. You can easily edit the floor plans created using this blueprint maker by simply clicking and dragging the same.
Pros:
Home design can be customized with varying textures and colors.
Provides users with interactive 3D walkthroughs, which can prove to be useful irrespective of your skill level.
The floor plan creator allows users to view real estate projects and home designs in 360-degree views.
Cons:
Difficult to select a varying color of the fourth wall if the remaining three sports the same hue.
| | |
| --- | --- |
| Supported Platforms | Mac, Windows, Android tablets and iPad |
| Price | Price starts from $49.00 per year |
| Scores from Capterra | 4/5 |
| Official website | https://www.roomsketcher.com/ |
2. EdrawMax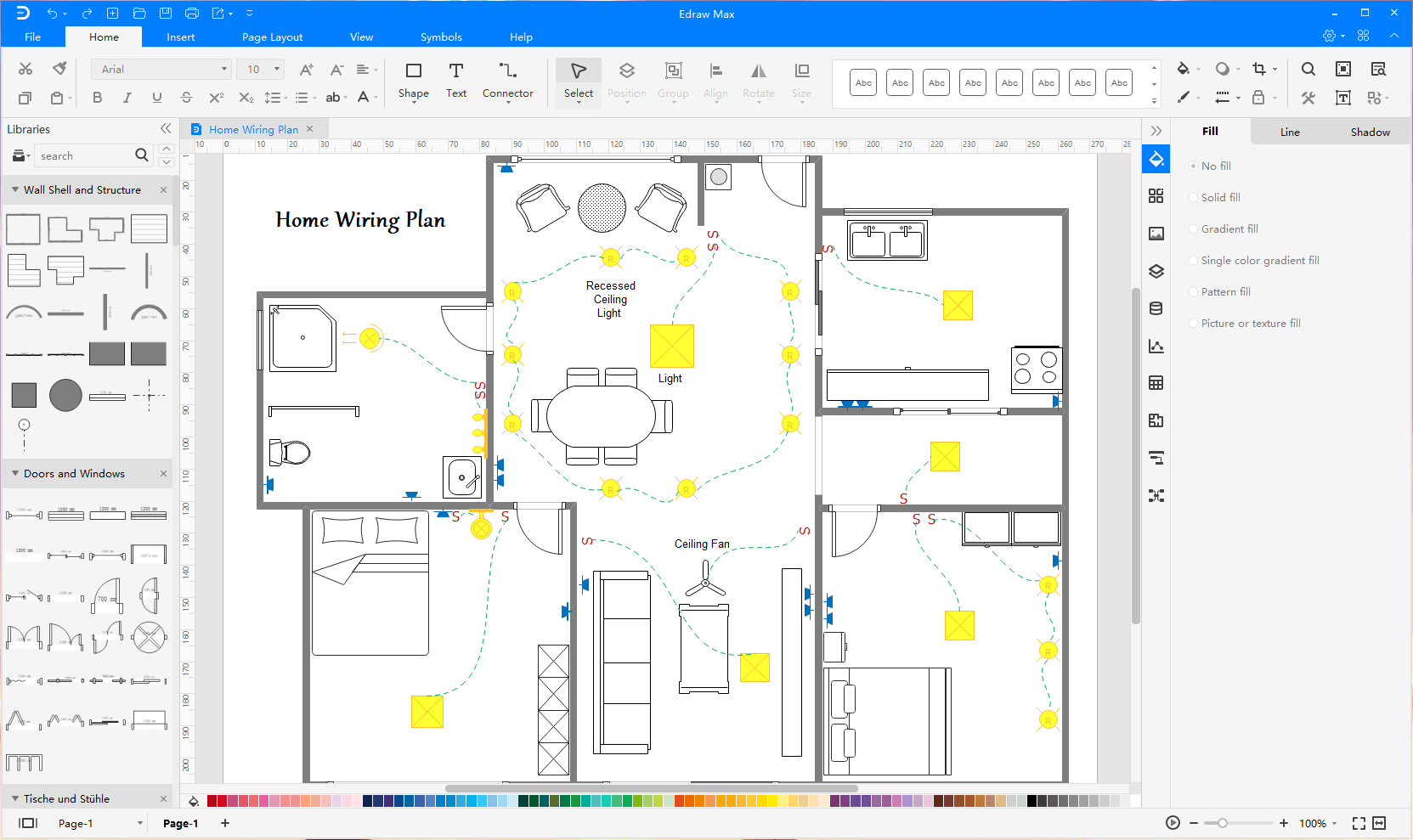 What makes Edraw floor plan creator different from its peers? It is much more versatile than many other floor plan creators considering you can create not only home plans, office layouts, or seating plans but also garden designs, electrical and telecom plans, plumbing and piping plans, and so on.
Pros:
Provides users with a variety of floor plan templates that can cater to a variety of requirements.
Extremely intuitive interface that can suffice users of all skill levels.
Affordable price with attractive free trial.
Cons:
EdrawMax - All in One drawing tool
Create over 280 types of diagrams
Intuitive drag-and-drop interface
Works on Windows, macOS, and Linux
Plentiful symbol libraries and templates.
Excellent Compatibility with Visio
Wide variety of options to export diagrams
3. AutoCAD
You can conduct architectural renovation with this power-packed floor plan maker, which can streamline your work with its industry-specific solutions. It presents users with specialized toolsets that help to create precise drawings in 2D and 3D format. Enforcing industry standards become a cakewalk with its rules-driven workflow.
Pros:
Room book feature helps in making useful room documentation.
It makes it extremely easy for users to define windows, walls, and doors.
Provide users with powerful detail and keynoting components.
Cons:
Interface seems very confusing for beginners.
The price is too high.
| | |
| --- | --- |
| Supported Platforms | Windows, Mac. |
| Price | Starting price is $1610.00 per year per user |
| Scores from Capterra | 4.6/5 |
| Official website | https://www.autodesk.com/products/autocad/overview |
4. Floorplanner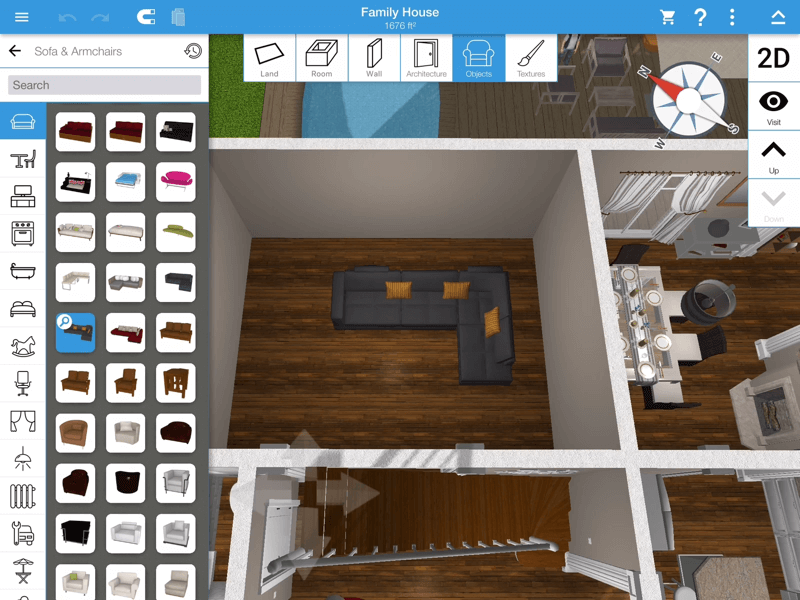 Interior designers and real estate agents are bound to feel delighted with this innovative floor planning application. It allows the creation of floor plans which can help in gauging the ultimate picture of how a remodelled room would look. Floorplanner is the best floor plan software for working seamlessly on all web browsers.
Pros:
Designs can be both imported and exported at the drop of a hat.
Interactive viewer helps in publishing the results easily.
Comes with an intuitive editor which has been optimized to help with fast and easy floor plan creation.
Cons:
Measurement tools are not up to the mark.
| | |
| --- | --- |
| Supported Platforms | Web-based only |
| Price | Starting price is $14.95 per year |
| Scores from Capterra | 3.8/5 |
| Official website | https://floorplanner.com/ |
5. Smartdraw
This all-in-one drawing tool can serve as a versatile organisational chart maker, floor plan creator as well as flowchart maker for architects, real estate agents, engineers and even project managers. It provides users with 4500 diagram templates and 34000+ architectural design symbols which helps in creating intricate visuals at the drop of a hat.
Pros:
Integrates seamlessly with OneDrive, Dropbox, Google Drive and the Box.
Comes with an easy-to-use online editor which can be accessed easily from anywhere.
Intelligent formatting helps in streamlining designs.
Cons:
Speed of online version undergoes heavy fluctuations at times.
| | |
| --- | --- |
| Supported Platforms | Windows, Cloud, SaaS, Web |
| Price | Starting price is $5.95 per month per user |
| Scores from Capterra | 4.1/5 |
| Official website link | https://www.smartdraw.com/ |
6. Space Designer 3D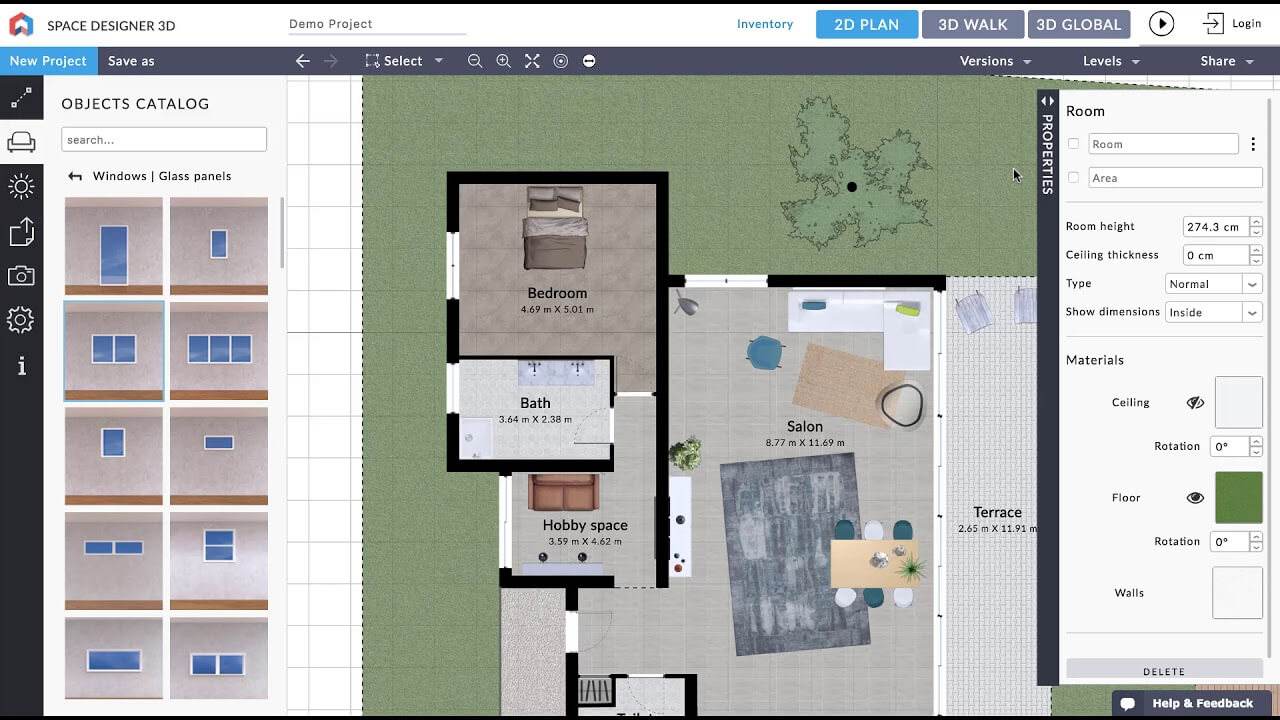 Drawing floor plans become super easy with this user-friendly tool which allows users to make optimum customization with 5000 plus design elements. You can implement this versatile application in both residential and commercial fields of use as it allows visualization of the end result on real-time basis in both 2D and 3D modes.
Pros:
Beautiful and modern interface makes the software well suited for beginners.
Projects can be edited and accessed remotely.
Drag and drop operation helps with easy placement of objects.
Cons:
Software doesn't offer much options pertaining to kitchen furniture.
| | |
| --- | --- |
| Supported Platforms | Web-based only |
| Price | Unknown |
| Scores from Capterra | 4.5/5 |
| Official website | https://www.spacedesigner3d.com/ |
7. Sweet Home 3D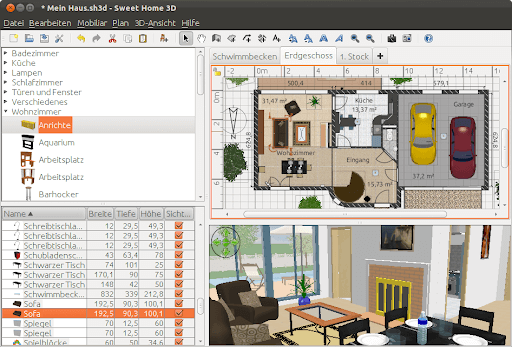 This free floor plan design software has already turned into the favourite of both interior designers and architects around the globe with its user-friendly interface. It allows making visual representations of your plan and even fiddling with the same in terms of wall color, texture, thickness and many more. You can even make changes in the orientation and location of furniture for more professional results. It comes in 27 different languages which further adds up to its versatility.
Pros:
Split screen feature makes it extremely easy to use and also helps with multi-tasking.
Can suffice users of varying skill levels.
Open-source software makes it possible for users to access the source code and modify the same for suiting your specific set of requirements.
Cons:
Tool option is not very exhaustive.
| | |
| --- | --- |
| Supported Platforms | Windows, Mac, Web-based |
| Price | Not provided by the vendor. |
| Scores from Capterra | 4.8/5 |
| Official website | http://www.sweethome3d.com/ |
Choosing The Best Floor Plan Maker
All of the floor plan software we have listed above come with their unique set of selling points. But your ultimate decision needs to be influenced by your specific requirements and how these tools can suffice the same. Therefore, we have listed several items below to help you pick up the best floor plan creator that is suitable for you:
Best for Ease of Use - EdrawMax serves as the best choice for users who are searching for an easy to use option. Its intuitive and clutter-free interface presents all the menus in such a manner that users can access the same easily. Presence of 260 plus diagrams help in analysing the information in a systematic manner.
Best Budget Blueprint maker – With a starting price of 5.95 dollars per month per user, Smartdraw definitely stands out as the most budget option. It can suffice your requirements if you wish to come up with professional results without blowing a hole in your wallet.
Best for Beginners - EdrawMax regains its numero uno spot once again for being the best floor plan maker which can cater to the requirements of beginners. It allows users to link shapes with data and even insert attachments as well as hyperlinks. All of these help in delivering premium grade results with just a few clicks.
Best 3D House Plan Maker – It now becomes possible to visualize superior grade 2D and 3D floor plans with RoomSketcher which offers users with an interactive floor plan that can be edited online.
Best Online Floor Plan Maker – You can create a visual imagery of your building from roof to basement with Space Designer 3D which is an extremely popular online floor plan maker.
Final Thoughts
All of the floor plan software we have listed above come with their unique set of selling points. But your ultimate decision needs to be influenced by The main aim of a floor plan creator is to provide users with a visual representation of how the place is going to look in terms of dimensions, fixtures, and spatial relationships. Interior designers, as well as architects, are increasingly using these tools for understanding whether the areas can suffice them well in terms of their intended purpose.