We know you are here because you are also fed up with simple and traditional resume templates and designs. We know simple resumes don't catch the eyes of recruiters. We all hear from career mentors that a resume is important for job hunting.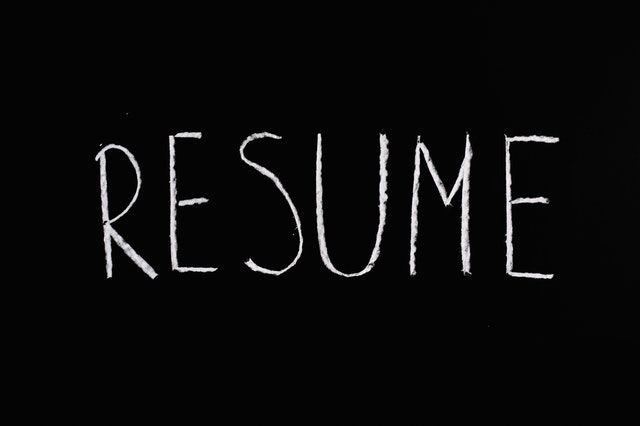 That is why they urge to make the resume unique that catches the eyes of an employer or recruiter. To make your resume that catches the recruiter's eye, you must break the typical barriers. Your resume must be short, concise, crispy, and major of all, it must have a color and design that attracts the recruiters. Modern resumes are extensively made on the infographic.
This article will tell you how you can make your resume unique and appealing. We will introduce you to the concept of an infographic resume. What is it? How to make it with free templates? And in the end, you will get the general way and rules to make it perfect.
What is an Infographic Resume?
Before jumping into the infographic resume, we must get a little overview of an infographic. An infographic is nothing but a piece of chart that represents some data, information, or knowledge in the form of colors, pictures, graphs, appealing fonts, and headings, etc.
An infographic resume is a modern concept that allows us to make our resume with beautiful templates, pictures, appealing fonts, colors, etc.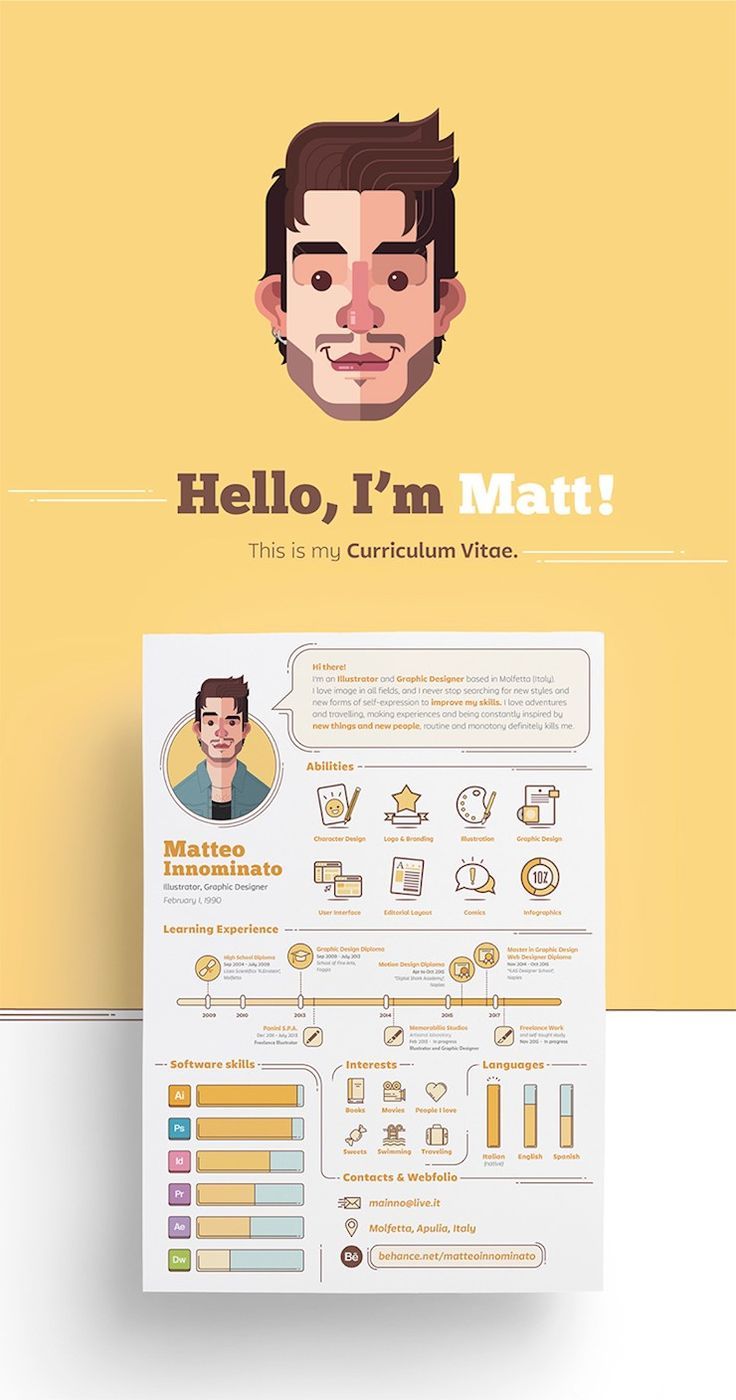 Image Source: pinterest
The basic concept of a resume remains the same. An infographic resume depicts all the information as match as the traditional resume does, but the difference is that an infographic resume is eye-catching.
When to Use an Infographic Resume?
An infographic resume can be great in many cases, but as a coin has two sides, an infographic resume also has. As mentioned above, an infographic resume can work in specific cases as a designer. Then, to showcase your skills, you can make an infographic resume.
Another downside is that some companies use artificial intelligence and machine learning models to detect resumes using special keywords. Still, the design and colors could hide those keywords in the infographic resume.
Only use infographic resumes when requested or when the recruiter in the company desires innovation. You can also use an infographic resume to post it on your LinkedIn profile or directly send it to the recruiter through email.
Basic Rules for Creating an Infographic Resume
You have to be very careful while making an infographic resume because anything wrong can put you at the risk of ignorance by the employer or recruiter. The infographic resume contains the same rules as the typical resume, so you have to abide by them. This section will tell you some of the primary rules that you have to keep in mind while making an infographic resume.
Easy to understand
Make your resume easy to understand. You will see it in the templates below. You will include all the topics like objective, work experience, education, skills, summary, etc., but they will be different from the typical resume.
Make your resume crispy
Your resume should be small, concise, and crispy. Give the relevant information and don't get out of the topic. The same rule follows in the typical resume.

Image Source: pinterest
Colors and design
Don't make your infographic resume like a rainbow. Stay professional and prefer the colors like black, dark blue for the theme of the resume. Too much design will make the recruiter drop your resume.
Don't lie
Keep your resume simple, don't lie about your skills and experience. It will simply create a huge gulf between you and the employer.
Great Infographic Resumes
If you are creating an infographic resume, something graphic, colorful, and creative that will catch the eye of a hiring manager. To design a killer infographic resume, title, charts, callout elements are the most useful elements you are about to use. Except that, you can also use the pre-made infographic resume templates to get a head start.
Title Types for Infographics Resumes
Charts for Infographics Resumes
Good charts can illustrate data in an attractive and easily digestible way.
Pie charts appear quite often in infographics, as they are quite useful when showing percentages of a whole. It's best to use pie charts when you want to show differences within groups based on one variable.
Bar charts, the length or height of the bar is equal to the quantity within that category.
Ring charts are extremely useful graphs in infographic design. You can always find ring charts in infographics.
Callout Elements for Infographic Resumes
You can choose any of them and amend the colors to fit your own infographic resumes theme.
Following infographic templates are totally editable. You can use any of them to start and save your time.
EdrawMax Desktop
Create over 280 types of diagrams
Windows, Mac, Linux (runs in all environments)
Professional inbuilt resources and templates
On-premises software for business
Enterprise-level data security
EdrawMax Online
Create over 280 types of diagrams online
Access diagrams anywhere, anytime
Team management and collaboration
Personal Cloud and Dropbox Integration
How to Create a Science Infographic?
In this section, you will get the opportunity to understand how to make a perfect infographic resume. You can take ideas from below and apply them to your resume.
Step 1: Understand the Structure
The first and the most important step for creating an infographic resume is to understand and plan the structure for your resume. Go to well-known online tools like EdrawMax, Canva, etc., to start making an infographic resume.
You can take the templates from there and start modifying them. Now, here you have to plan about the structure of your resume. What will you do? Would you put the work experience below the training or education above it? Would you want your brief description at the top? Or would you put the skills after the education section or before? etc.
You have to answer these types of questions to plan the structure of your resume. The best you can do is take the paper and pencil and design the basic structure of your resume on it.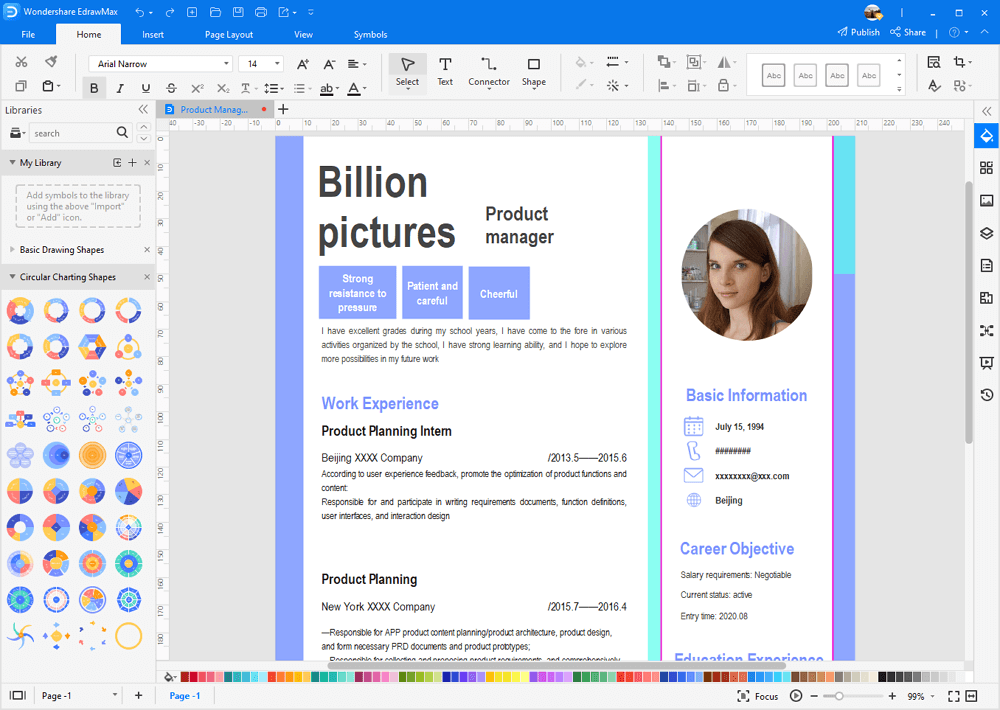 Step 2: Identify what you will include
Now, after deciding the structure of your infographic resume, pull out the existing resume or the resume of the person you inspire in your career area.
Take the ideas from them. Suppose you want to make your resume detailed by adding what you have done in the previous organizations. In that case, you will add about them in the description below the organization's name in the experience section. Put the benefits the previous company got because of your hard work.
Step 3: The color of your resume
Choose the eye-catching color for your resume. You can prefer black, dark blue, orange, yellow, etc. But don't choose distracting colors. Always consider using complementary colors.
After adding the color, you can show it to the person with experience in the company you are about to send your resume.
Step 4: Start with the best
Have the best starting point for your resume. Add a powerful opener. Include the major skills that you think will make the recruiter's eyeshine. For example:
I was excited to find an opening in human resources with Company Y because your work with XYZ (be specific) has been important to me for a long time. I am the perfect candidate for this position because it combines my experience with human resources and XYZ. (Taken from Glassdoor website)
Step 5: Utilize the design principles
Always remember to create balance in your infographic resume. Use contrast colors to highlight the points in your resume. To create a narrative, use movement. Always keep your composition's elements in agreement.
Key Takeaway
Now, in the end, remember that.
An infographic resume is not for every career so, be mindful before creating it. Do some research about the company where you would send the resume. ATS models sometimes fail to recognize the infographic resume. Don't add too many graphics. It would hide the details about you. Include all the information in the infographic resume in the typical one. Use tools like EdrawMax to create a perfect infographic resume.
EdrawMax
All-in-One Diagram Software
Create more than 280 types of diagrams effortlessly
Start diagramming with various templates and symbols easily
Superior file compatibility: Import and export drawings to various file formats, such as Visio
Cross-platform supported (Windows, Mac, Linux, Web)
Security Verified |
Switch to Mac >>
Security Verified |
Switch to Linux >>
Security Verified |
Switch to Windows >>