Recruitment Process Flowchart Complete Guide
Do You Want to Make Your Recruitment Process Flowchart?
EdrawMax specializes in diagramming and visualizing. Learn from this Recruitment Process Flowchart complete guide to know everything about the Recruitment Process Flowchart. Just try it free now!
One of the Human Resource division's primary duties is recruitment. It is a comprehensive procedure that includes all aspects of recruiting, engaging, evaluating, selecting candidates, interviewing, choosing, hiring, and onboarding people. The hiring process may be demanding, time-consuming, and stressful. Consequently, a recruitment process flowchart or hiring process flowchart is crucial for candidates and recruiters to understand what will happen during each hiring process. Many companies nowadays employ recruiting software to improve the effectiveness and efficiency of their hiring process.
Finding the appropriate and suitable person for the proper position at the right time is the goal of an effective recruiting process, which uses a sourcing model tailored to the firm. Recruiting outstanding individuals who can spur corporate expansion follows a step-by-step process. The demand to increase the workforce rises in tandem with economic expansion. However, due to the several phases involved, recruiting is anything but straightforward. To make hiring and recruiting easier, people have created a flowchat.
If you want to use recruitment process flowchart examples directly, click here to get them right now.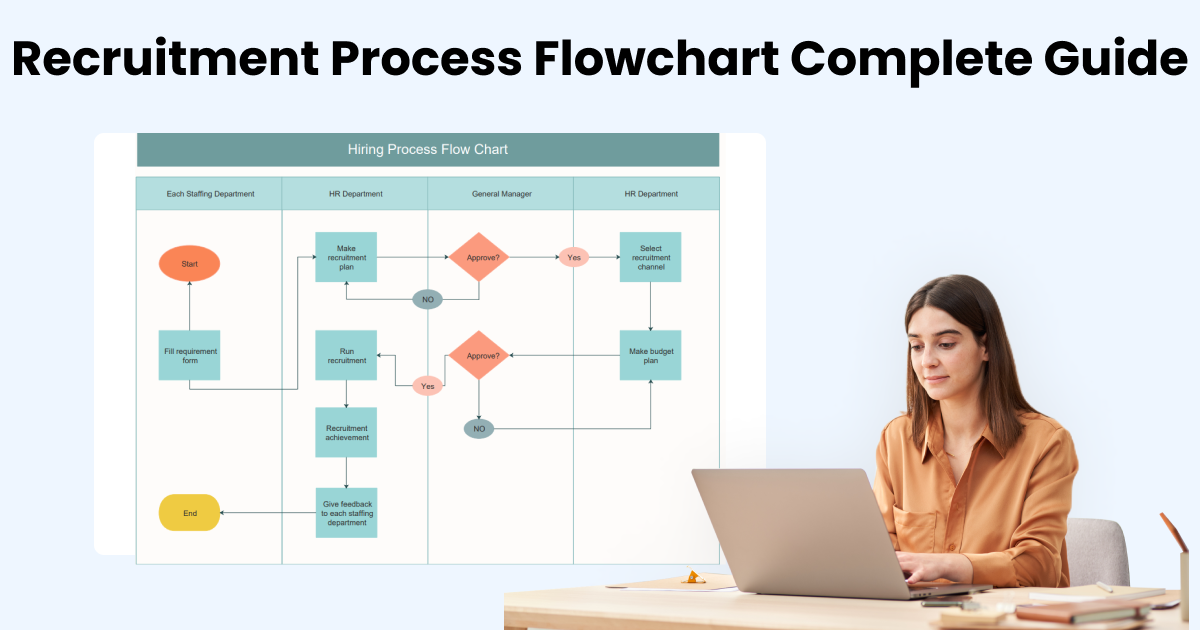 1. What is the Recruitment/Hiring Process Flowchart?
A recruitment process includes analyzing the requirements of job vacancies, finding candidates, receiving their applications, and selecting the suitable ones to fill the positions.
An ideal recruitment process is a well-defined process that follows different phases to accomplish the candidate recruitment, which includes planning, setting job requirements, searching for suitable candidates, interviewing with management, negotiating, and getting the right candidate.
A recruitment/hiring process flowchart shows how a business finds and hires new employees. It is the step using flowchart shapes like ovals, rectangles, diamonds, and arrows. Companies' hiring procedures are time-consuming. A suitable flowchart can ease the process for the applicants and recruiters.
2. Benefits of Recruitment Process Flowchart
Recruitment processes in companies are arduous, time-consuming, and fatiguing. However, they can be rationalized if you have a proper flowchart made for them. The recruitment process flowcharts aid in understanding and mapping out the whole process, simplifying things for the recruiter and the candidate.
A well-prepared flowchart can help you visualize the process and keep everything transparent. Understanding the process well and knowing the next step makes it easy for the team to search for potential candidates and filter out the best ones.
Recruitment process charts are an effective way to hire candidates based on merit and relevance. It will ensure consistency and a fairer hiring system for all. Recruitment in a company involves many people. Making a recruitment process flowchart will help improve communication between all the members and aid in keeping everyone aligned on the same page. Besides, it makes it easier to compare and finalize the candidates.
3. Recruitment Process Flowchart Symbols
Before creating a recruitment process flowchart, you should know the flowchart symbols first. With understanding of flowchart symbols, you can describe the recruitment process from start to finish better, then reach a particular goal.
There are various flowchart symbols used for creating flowchart. There are some process/operation symbols. You can click Flowchat Symbols to learn more symbols and more types.
Source: EdrawMax
EdrawMax
All-in-One Diagram Software
Create more than 280 types of diagrams effortlessly
Start diagramming with various templates and symbols easily
Superior file compatibility: Import and export drawings to various file formats, such as Visio
Cross-platform supported (Windows, Mac, Linux, Web)
Security Verified |
Switch to Mac >>
Security Verified |
Switch to Linux >>
Security Verified |
Switch to Windows >>
4. How to Make a Recruitment Process Flowchart in General?
To build the integrity of your business/organization, a transparent and fair recruitment process is necessary. Therefore, here are some recruitment process steps that should be added to your flowchart.
Identify The Hiring Needs

In organizations, recruitments are essential for taking new talent on board. A good innovative team gives chances to departments for growth and progress. Therefore, HR must consult the departments and identify the hiring needs before making the flowchart.

After deciding the recruitment positions, decide the skill set crucial for it and how the candidate will fit into this business. Connect with hiring managers to understand which positions should be prioritized and understand the job descriptions well.

Write A Job Description

Once the hiring positions have been decided, it is time to draft a job description for them. Job descriptions will build the company's first impression and so has to be good and attractive. It should portray your needs-required skills and responsibilities- but also tell what incentives to expect in return.

The description is concise but specifies all the requirements as well. Make sure to mention all these details in it:
Job Title
Location
Working Hours (part-time, full-time, shifts)
Preferred Qualifications and Experience
Interpersonal skills and communication
Brief description of position, responsibilities, company, and its mission
Salary package and other benefits
Find The Applicants
Now that the requirements and available vacancies are decided, it is time to execute your recruitment plan and find people to fill the slots. Use the different media outlets to advertise and convince the potential candidates to apply. You can give out your job description in newspapers, social media, career websites, or notice boards in the office. For a broader search, it can also be advertised in job fairs and campus visits.
Review The Applications
After the hiring news has been made public, applications will start flowing in. Some candidates will seem more qualified and experienced than others, while some won't fit into your job description criteria. Before you invest your time in interviews, it is time to narrow down the list and select the most potential candidates for that position.
However, the applications reviewing does not have to be very formulaic. Often the new candidates-with zero work experience- turn out to work better than someone else in a similar position. You can review the applications by seeing the following:
Does the candidate fit your job description?
Candidate's job history- progression and tendency to continuously work in a specific environment.
Is he overqualified for the position? (can you accommodate his salary demands and availability)
Interviewing and Assessment
When the applications have been shortlisted, the successful candidates will receive calls for interviews from the organization. This makes the most important part of the recruitment process flowcharts; interviews allow the recruiters and candidates to have a face-to-face interaction. The recruiter now gauges the abilities and working potential of the candidate and evaluates his skills. Ensure that you have the candidate's resume and other documents so questioning him about his skills and preferences is easier.
Finalize and Make Offers
This is the final part of the recruitment process. Assess the candidates on the merit of their applications and interviews and finalize your choice. Before sending out the acceptance letters, call the referees of the respective candidates and inquire about their working attitudes and achievements in previous workplaces. Once everything is positive, send out offers and acceptance letters to the successful candidates.
5. How to Make a Recruitment Process Flowchart?
Though it may seem complicated to create a recruitment process flowchart, flowchart maker tools can quickly help the designs create a recruitment process flowchart. Here are some easy steps that the designers and engineers can follow to create their flowcharts.
Step1
Open EdrawMax and Login
The very first step that you need to follow is to install EdrawMax in your system. Go to EdrawMax Download and download the Recruitment Process Flowchart software depending upon your operating system. If you need remote collaboration with your office team, head to EdrawMax Online and log in using your registered email address.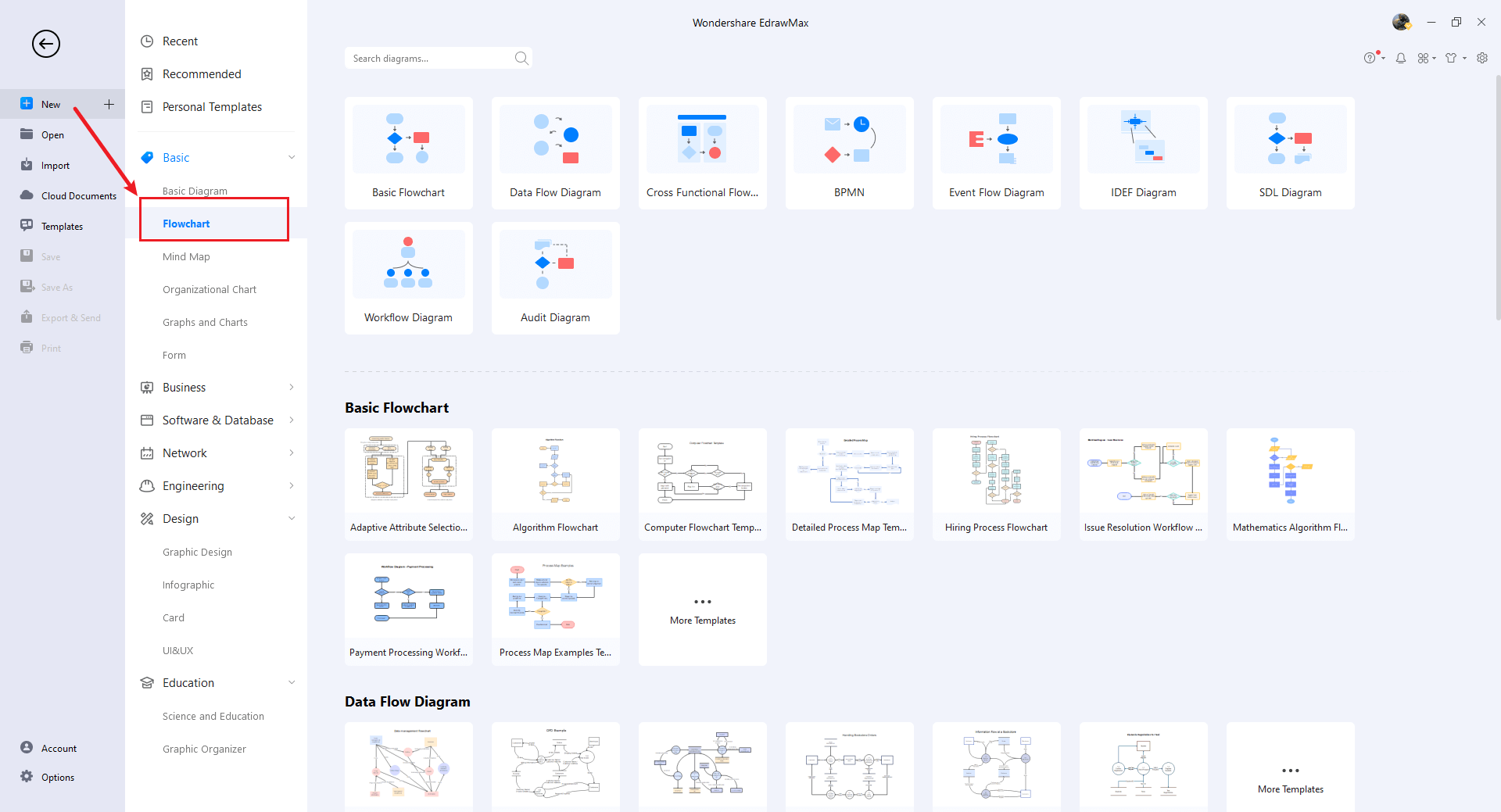 Step2
Select a Template
After launching, the Home screen opens by default. Head to the Template bar and search for Biology Diagrams in the search box. In-built templates specific to your search will appear on the screen. EdrawMax features a large library of templates. We have more than 25 million registered users who have produced thorough Templates Community for each design. Select the template you like and click Use Immediately to open it in a new window for customization.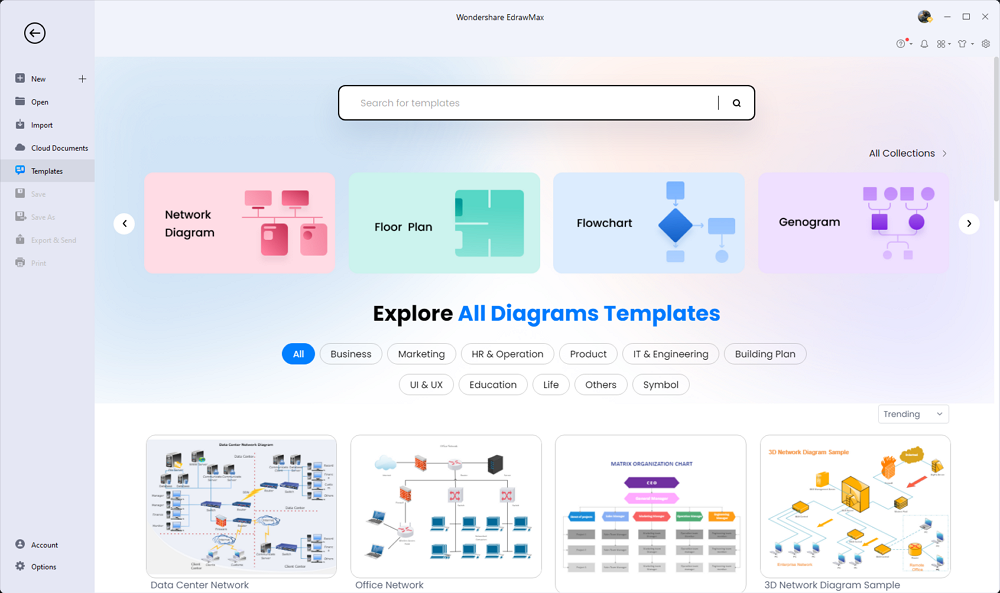 Step3
Create From Scratch
From the EdrawMax homepage, you will find the '+' sign that takes you right to the canvas board, from where you can start designing the Recruitment Process Flowchart from scratch. Coupled with your technical expertise, you can use a wide range of symbols to draw a detailed Recruitment Process Flowchart.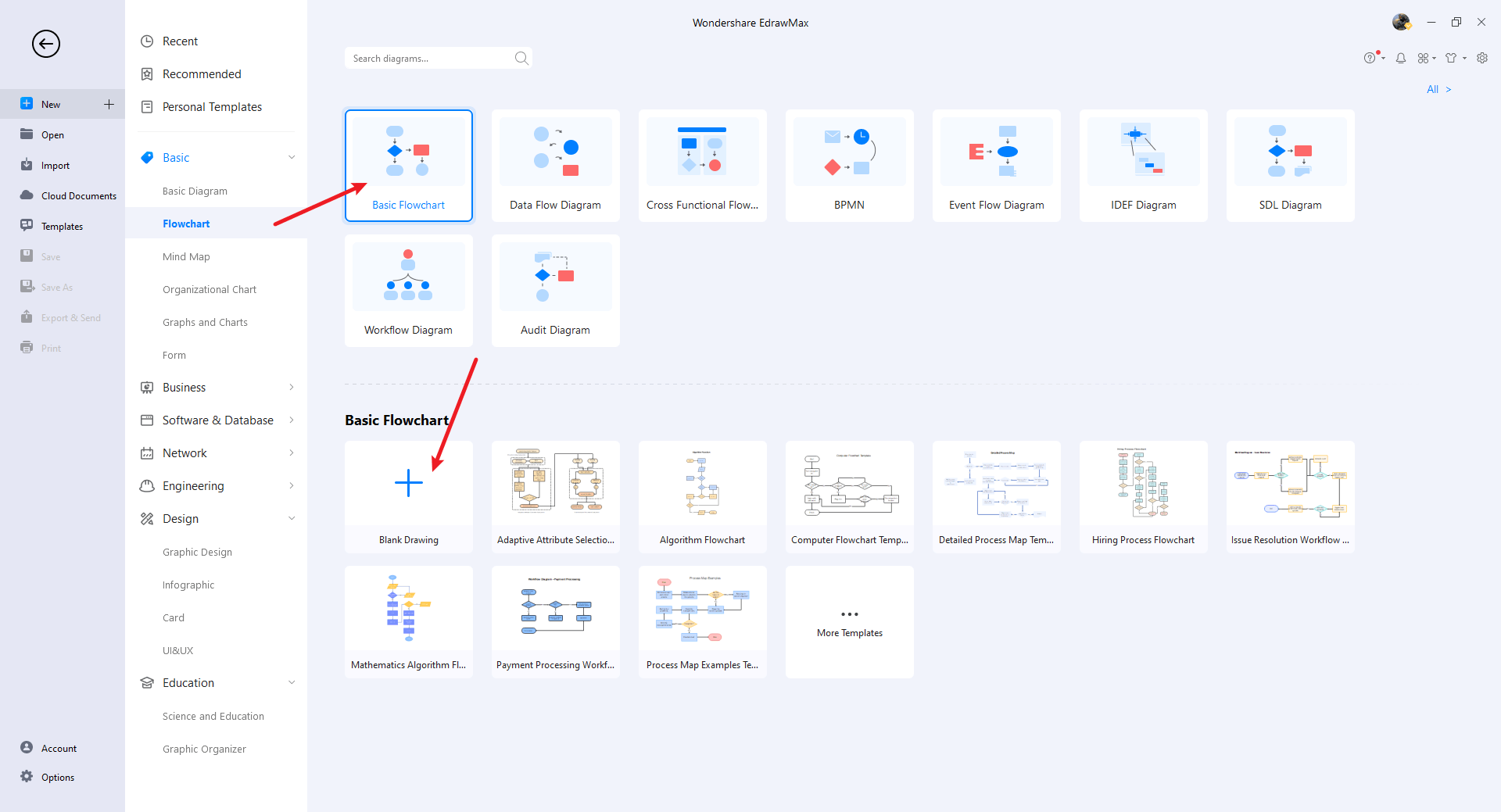 Step4
Select Symbols
EdrawMax includes a large number of symbol libraries. You may quickly build any type of diagram with over 26,000 vector-enabled symbols. If you can't locate the symbols you need, you can easily import some images/icons or build your own shape and save it as a symbol for later use. Simply go to the 'Symbols' part of EdrawMax and select the 'Predefined Symbol' section from the top toolbar. Hundreds of symbol categories are accessible for you to utilize and incorporate into your Recruitment Process Flowchart.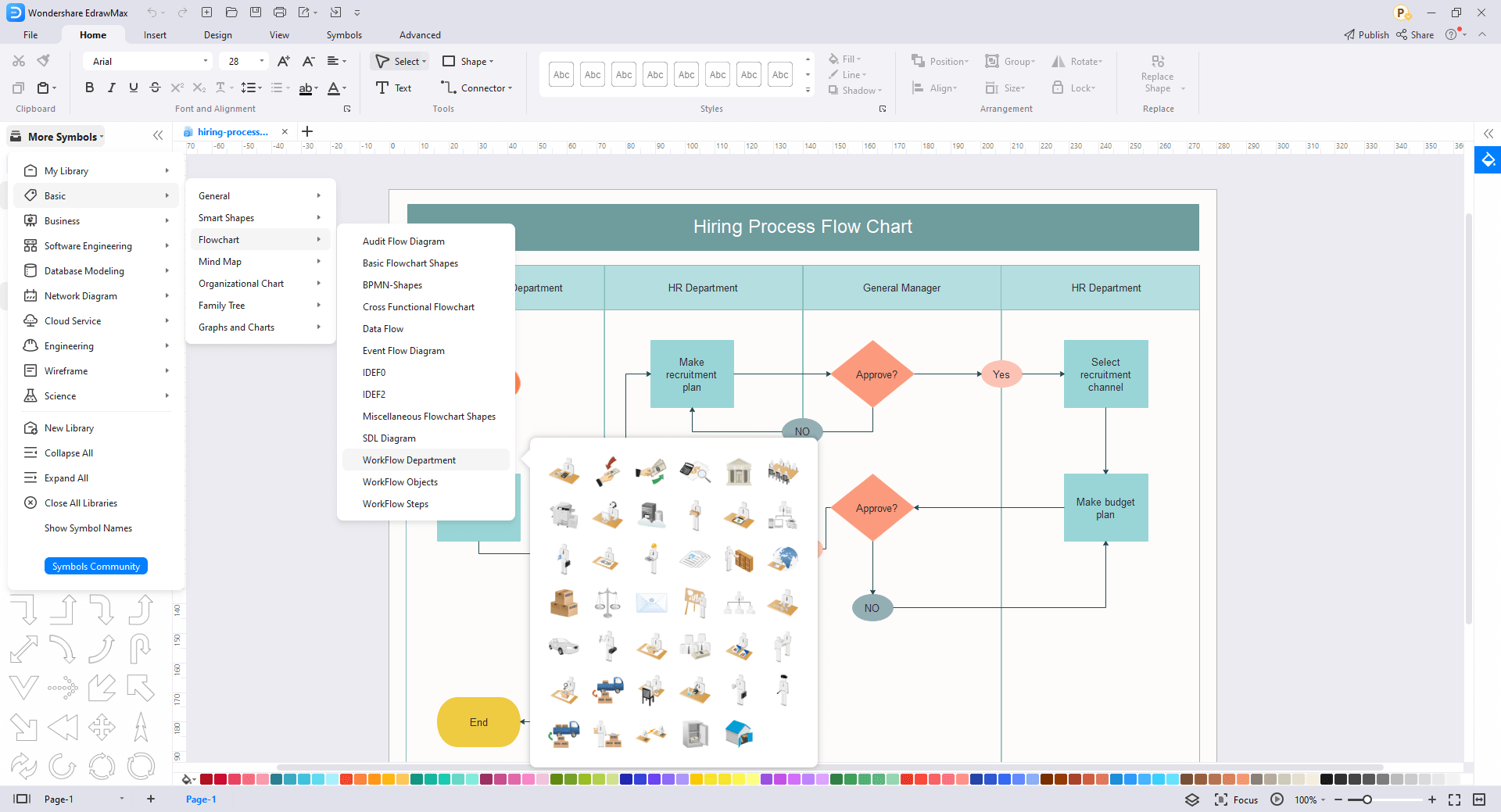 Step5
Add Components
After you have sketched out the basic pieces, you may customize the typefaces, colors, and other details by selecting the right or top menu to make your key design more visually appealing. Also, feel free to draw ideas from other layouts on Templates Community and transfer some of the photos or features that you think would go well with your key design.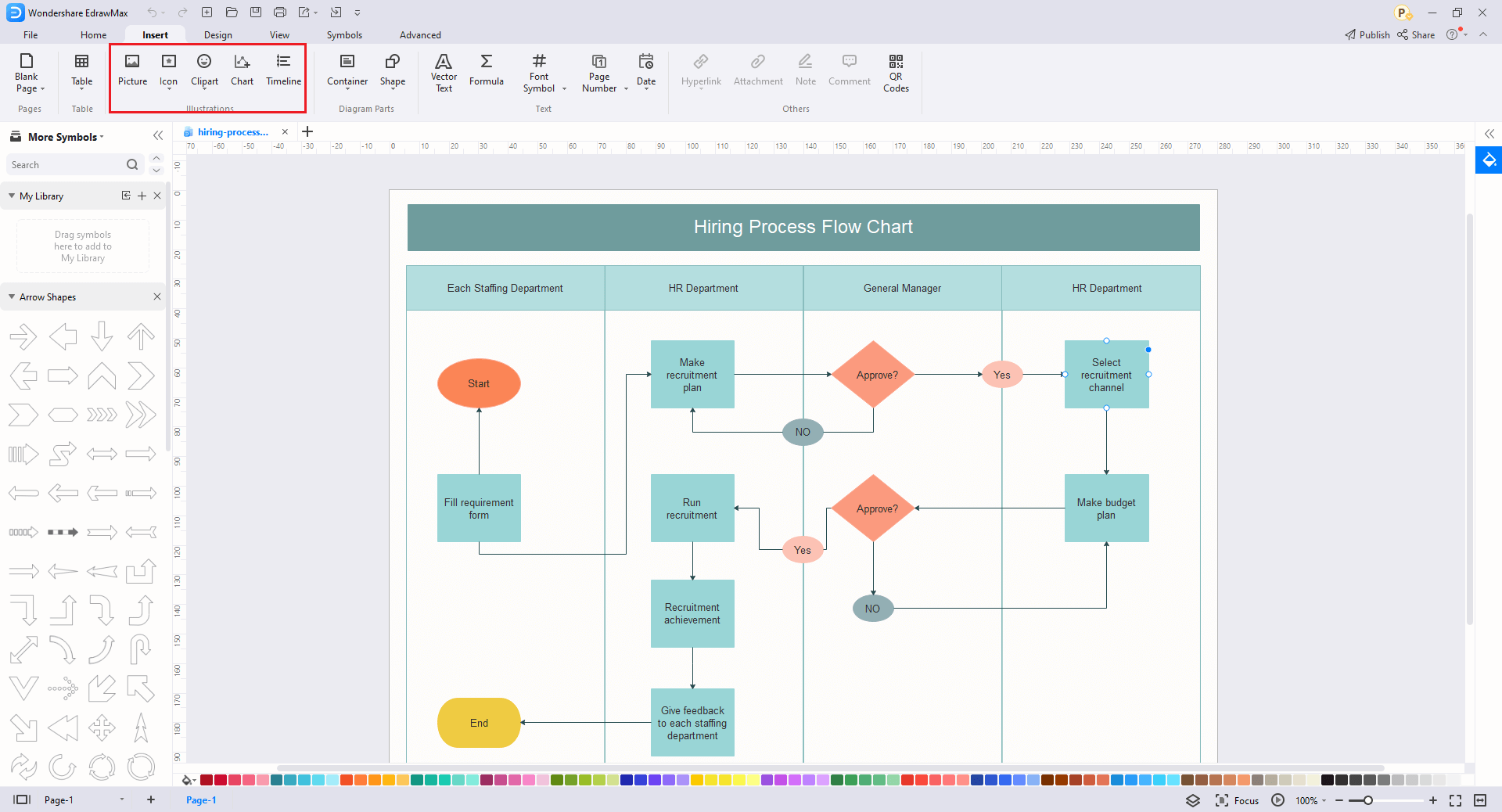 Step6
Wrap it up
Once the Recruitment Process Flowchart is complete, you may engage with your workgroup to get their feedback by using our Cloud-based files; EdrawMax supports exporting data into a variety of categories, including Graphics, Microsoft Office, HTML, PDF, Visio, and others. You can also share via social networks or emails. You can also print it or display it to others by utilizing "Presentation Mode."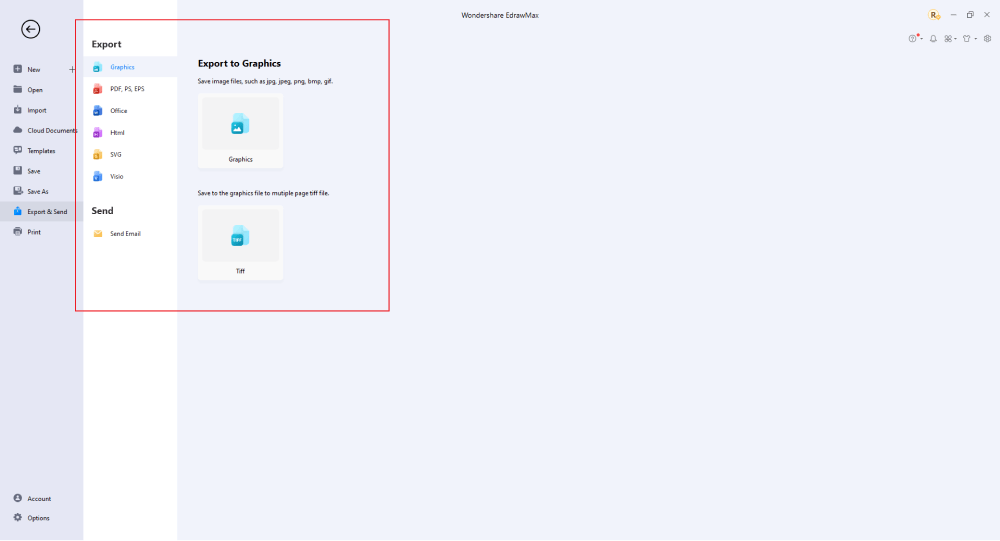 Basically, it is simple to create a Recruitment Process Flowchart in EdrawMax, just grab a template and keep customizing, drag and drop professinal Recruitment Process Flowchart symbols to make your plan better. If you are still confusing about how to make a Recruitment Process Flowchart in EdrawMax, you can find more tutorial videos from our Youtube.
6. Recruitment Process Flowchart Examples & Templates
Having decided to carry out the recruitment to fill a replacement or new position vacancy in your firm, you need to create the best recruitment process flowchart. It ensures a smooth handling of the process. However, the task of making the ideal hiring process flowchart can be a little strenuous and exhausting because you are supposed to find the perfect diagram design elements for the flowchart.
Here EdrawMax comes with plenty of recruitment process flowchart template for free use. All you have to do is to download EdrawMax for free and select a hiring process flowchart template to fit the recruitment requirements of your organization.
If you expect for more flowchart examples and templates, you can check this article Flowchart Examples to get more!
Example 1: Hiring Process Flowchart
As seen in this illustration, the employment department notifies the HR officer of the staffing requirement, following the VP of HR's permission. The department will review the resumes submitted in response to the job posting before referring the qualified applicants to the HR Officer for management-led interviews. After discussing compensation, the HR representative will greet the applicant and acquaint them with his division.
Example 2: Job Hiring Flowchart
Like in this illustration, the ED will identify the staffing need and pass it to the HR officer for the audit budget. They will gather resumes if it gets approved. The employment department will select suitable candidates. VP will interview the selected candidates that will prefer the candidate and determine the salary. The HR officer will welcome the candidate and introduce them.
Example 3: Hiring Process Flowchart
The production planning and control process template are one of the useful templates of EdrawMax. It allows you to make a flowchart for new products and equipment. You can also create developmental materials according to your business plans using this EdrawMax template.
7. Should I Consider Recruitment Process Outsourcing?
Viewing and evaluating recruitment process outsourcing flowcharts can be of great assistance in finding out how the process looks. It might be a little different from what you already have with some better enhancement. Before outsourcing recruitment process, the cost, technological preferences and your goals should be taken into consideration. The recruitment process flowchart outsourcing is the best choice you can make to ensure a productive and successful hiring process.
It saves a lot of time and money, ensures positive candidate experience, enhances consistency and efficiency ,and contributes majorly in the recruiting of the best candidates for the job position. The recruitment process outsourcing(PRO) provides the best and expertise recruiter team in their field.
The recruitment process can be a nerve-wracking experience both for you and the potential employees if not done appropriately. With the help of recruitment process flowchart, it becomes an enjoyable and positive activity in your organization. The recruitment process flowchart outsourcing service like EdrawMax templates is more manageable and less overwhelming. Better yet, the software is available for download freely! Therefore, don't cringe at the sound of recruiting activities, because EdrawMax has got you covered.
The Flowchart is a better way of presenting the steps of recruitment process. It provides a more effective analysis of the problem.
8. Free Recruitment Process Flowchart Software
It's time to make a recruitment process flowchart now that you know how they can simplify the hiring process. Knowing every phase of the hiring process would make it easy to create a flowchart that is suitable for your needs, and with EdrawMax , it becomes much more manageable.
EdrawMax is an all-inclusive diagramming tool that you can use to create not only a recruitment process flowchart but other graphical illustrations as well. With well-equipped rack symbols, fonts, and so much more, making server rack representations could be as simple as possible. Moreover, with EdrawMax, users can customize their diagrams and save their work in multiple formats.
The best EdrawMax features that can assist you in your Recruitment Process Flowchart:
EdrawMax Recruitment Process Flowchart Software is compatible with multiple devices including Windows, Linux, and Mac devices. So, you can access diagrams online anywhere and at any time.
Over 280 types of diagrams including flowcharts, tree diagrams, mind maps, architectural diagrams, wiring plans, and more.
You can download or export your desired file in different formats, including PDF, PNG, PPTX, MS DOCS, and JPEG.
EdrawMax provides a quick and easy construct, stunning and creative charts using a drag-and-drop user interface, various built-in flowchart symbols, data flow diagrams, and free workflow templates.
Advanced user-friendly UI. You will feel right at home even with no experience in design. A complete set of symbols and general art tools to help you to tailor your drawings according to your liking.
EdrawMax population has reached around 25 million people. They work and present unique templates using their creative minds and approaches. You can easily find maps, design models, organize charts, and create network diagrams.
EdrawMax Desktop
Create over 280 types of diagrams
Windows, Mac, Linux (runs in all environments)
Professional inbuilt resources and templates
On-premises software for business
Enterprise-level data security
EdrawMax Online
Create over 280 types of diagrams online
Access diagrams anywhere, anytime
Team management and collaboration
Personal Cloud and Dropbox Integration
9. Final Thoughts
EdrawMax is a Popular and user-friendly platform that makes it easy to generate various graphs, charts, and graphic representations quickly. You may construct various graphical depictions in addition to a recruiting flowchart using the all-inclusive diagramming application EdrawMax. The creation of flowcharts might be made as easy as possible with the help of a well-equipped road flowchart template, fonts, and other tools. Additionally, users of EdrawMax may edit their diagrams and save their work in various formats. There are many ways to create a creative flowchart, and you can develop some fantastic alternate strategies for getting the job done. The innovative flowchart offers a more appealing depiction than the conventional form. It is highly recommended and the perfect application for the recruitment process flowchart.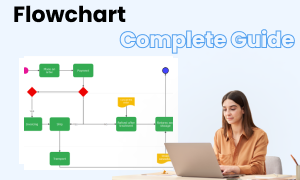 Flwochart Complete Guide
Check this complete guide to know everything about the flowchart, like flowchart types, flowchart symbols, and how to make a flowchart.