How to Build a Startup Organizational Chart
Do You Want to Make Your Startup Organizational Chart?
EdrawMax specializes in diagramming and visualizing. Learn from this start up organizational chart complete guide to know everything about the start up organizational chart. Just try it free now!
You are good at what you do and have started a company.
That's great.
But you can't do everything yourself if you want to scale. You will need to delegate portions of responsibilities to people who are at least as good at them as you are.
When more people are involved, you will need to establish some guidelines about the responsibilities of each person.
This is exactly where you will need a good startup organizational chart. In simple words:
An organizational chart defines the roles, responsibilities, and relationships between individuals within an organization.
This also clarifies all the activities and how the work is assigned, managed, and reported. Implementing decisions and getting efficient results is difficult when a proper structure is not defined.
This article briefly discusses everything you need to know to build your startup org chart with EdrawMax.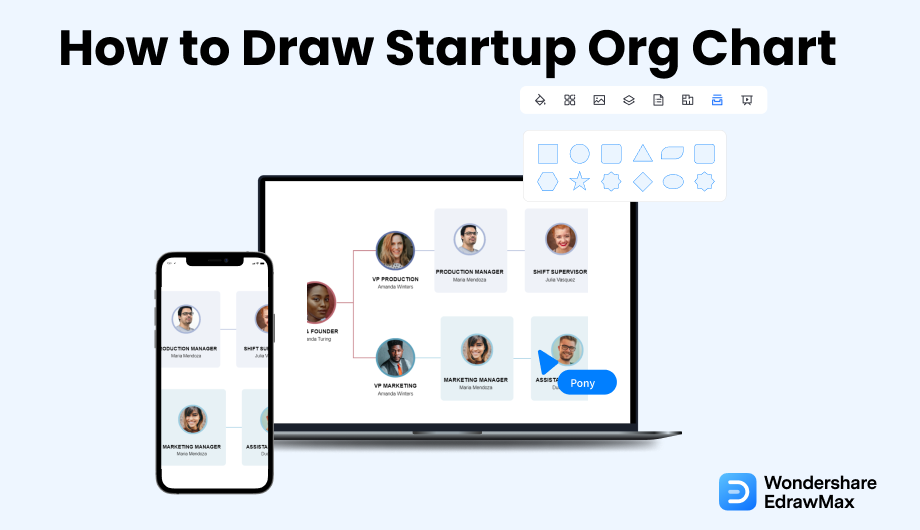 1. About Two Types of Organization Chart
While there are many types of organization charts, all of them come under two categories.
Organic or Natural or Flat Structure
Mechanistic or Bureaucratic Structure

Most Small Businesses Follow an Organic Structure
It has a flexible structure without hierarchy where every individual or section communicates directly with every other individual or section. It has cross-functional teams with a free flow of information and low formalization.
It has its perks, but there are also many downsides to it.
This only works well with small organizations but limits scalability. You will need a strong foundation to build an empire. Organic structure makes the chain of command somewhat vague. You might have to report to one person and, more often than not, work on multiple projects that might be different from what the team was designed to do.
Furthermore, it is decentralized and has loose departmentalization and low specialization. It becomes even more confusing when adding more people to the team.
Mechanistic Structure Follows the Top-Down Approach
It has a proper hierarchy that comes down from the highest position holder, who is most commonly the startup of the company. In your org chart startup, most likely, you would be the startup if you were the founder.
To keep things under control instead of just letting them flow, you will need to design a mechanistic structure where you are delegating most of your current responsibilities to other people.
The mechanistic structure has high formalization, specialization, and centralization.
Even if you have a small team, you should define a hierarchical structure that defines who will be taking additional responsibilities when you are scaling, which should look something like the image below.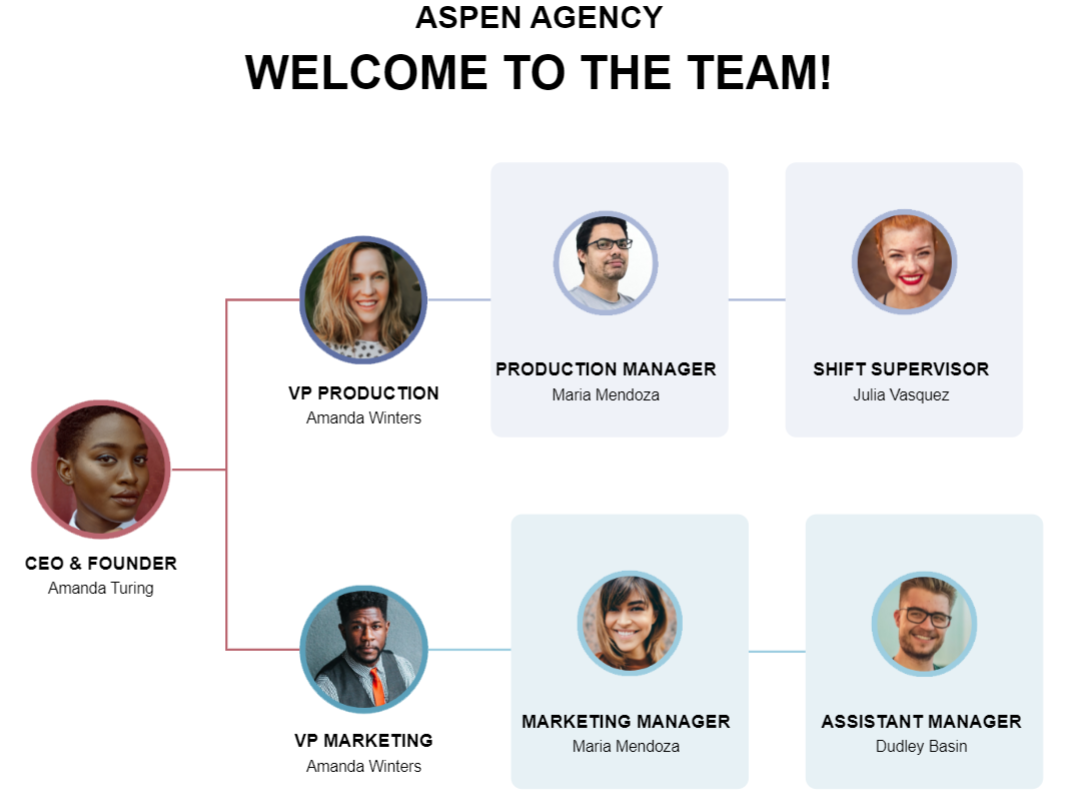 Click to download and use this templates.
While The
eddx
file need to be opened in EdrawMax.
If you don't have EdrawMax yet, you could download EdrawMax
free
from
below.
As a new business, you might have one person seeing one aspect of your business. With a startup org chart, you can give more team members to each person as you scale.
Depending on their skills, they could one day act as chief officers of your business. If you have an IT business, for example, your tech startup org structure could have you as the startup and the following managing entire divisions and reporting to you.
Chief Technology Officer
Chief Marketing Office
Chief Operations Officers
2. What to Consider Before Designing a Chart
You should consider a few aspects of your business before you design your startup org chart. You can't just name your team members and give them fancy titles. It's more about properly allocating responsibilities.
Operations
Outline all your business operations and the people responsible for them. If you are a service-based business, you must name all your services and each person leading the service. Furthermore, it's important to mention the people who have to approve or oversee each project.
Workflow
Create project life cycles to understand where each operation starts and where it ends. In a service-based tech startup org structure, you would have someone responsible for bringing sales which might share it with a project manager or team lead who will complete the task from a team under his supervision. Once the project is completed, it might go for quality assurance and then again to the sales representative, who will send it to the client.
Depending on the size and operations of the company, you might have one person doing both things.
You have to design the workflow and the startup organizational chart while considering how you would add new people to the teams.
Skillset
It's really important to understand the skills required for each task. There might be more than one person that looks qualified for the same responsibility, but you need to give it to some that make processes more efficient.
For example, you can have a PR person or team for reputation management. Alternatively, you can make your Head of Content the head of content and communication to do the same thing.
List all the important skill sets required to run your company and use them to define positions and their responsibilities.
The below image is an example of how you can list and allocate skill sets to each position before putting the right person on the job.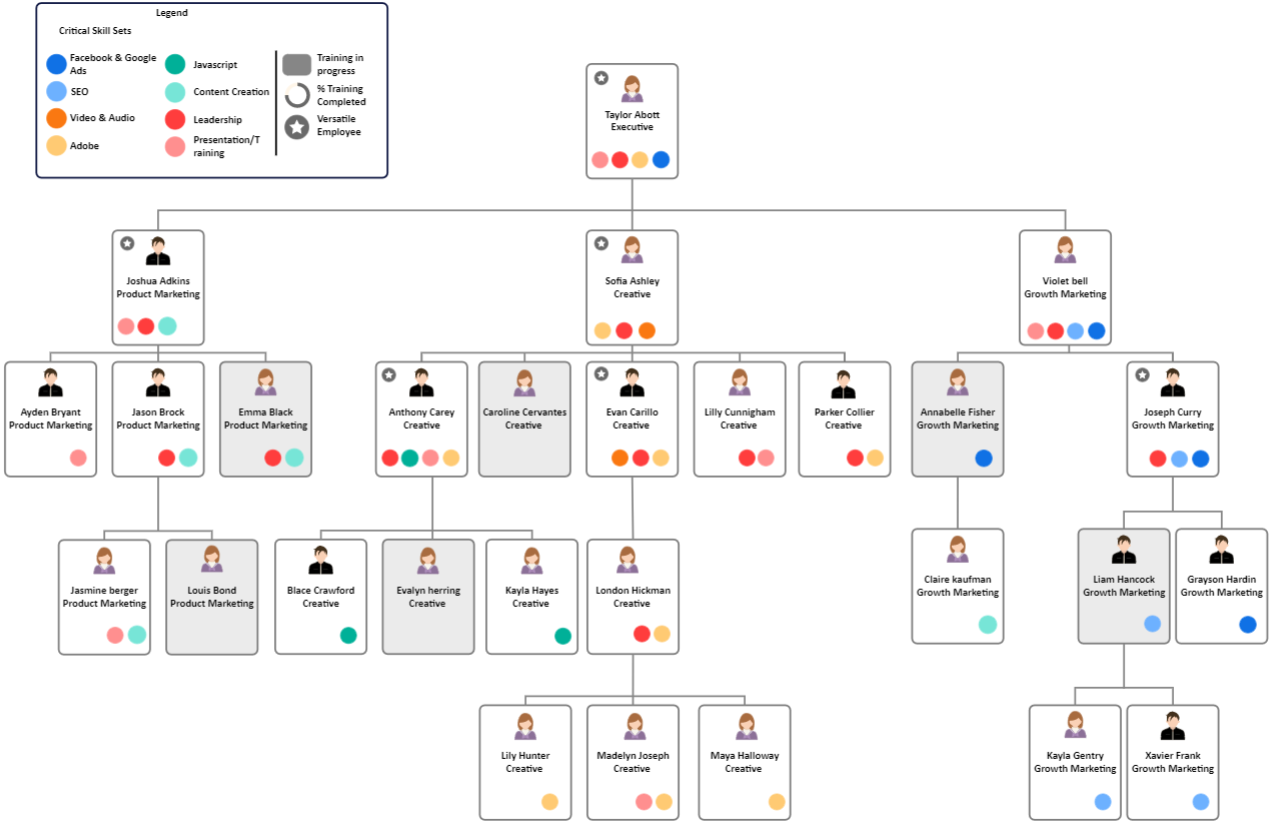 Click to download and use this templates.
While The
eddx
file need to be opened in EdrawMax.
If you don't have EdrawMax yet, you could download EdrawMax
free
from
below.
Goals
A startup org chart is designed according to the scalability goals. The right business plan outlines goals and growth. If you see that you won't be hiring many people for at least one year, you don't have to design a company structure that accommodates new people immediately.
Many companies create new divisions with new heads who report to one of the chief officers.
In addition to scalability goals, you also have to consider the values and culture of your company. Some might prioritize profiting for each sale, and some would prioritize customer satisfaction, even if it requires more resources.
3. How to Design an Organizational Chart?
After determining the operations, workflow, skill sets, and goals, list the members.
See who is taking or (will take) what responsibilities. Start assigning portions of business operations to each person and put them in a visual form. Even if you follow the organic org chart for your startup, having the role in writing will save you from several future problems.
Ultimately, your startup organizational chart should look more or less like the image below.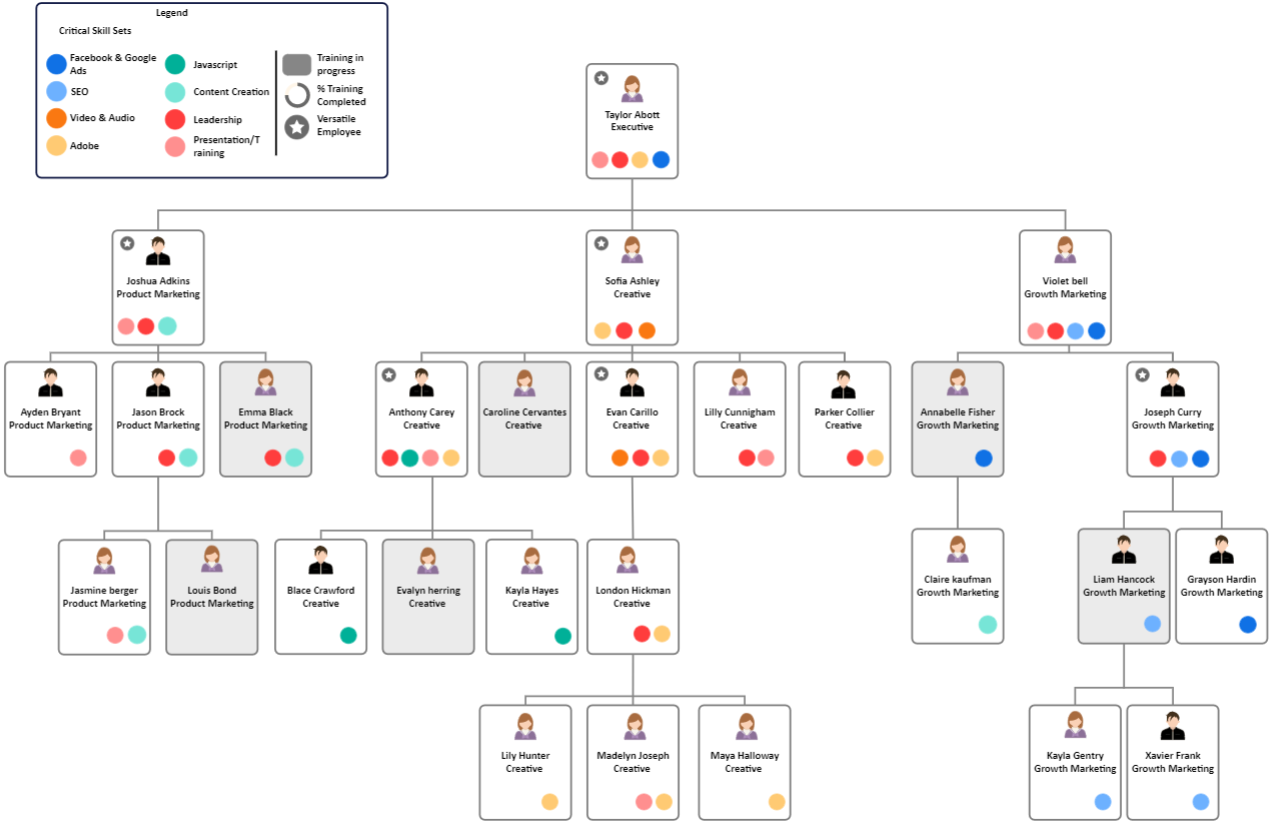 Click to download and use this templates.
While The
eddx
file need to be opened in EdrawMax.
If you don't have EdrawMax yet, you could download EdrawMax
free
from
below.
You can also easily visualize the structure of your company, like the shared example using EdrawMax. Several templates are available on its website that you can edit according to your needs. As a small business, your chart might not be as big and will likely vary according to your business operations and workflow.
EdrawMax
All-in-One Diagram Software
Create more than 280 types of diagrams effortlessly
Start diagramming with various templates and symbols easily
Superior file compatibility: Import and export drawings to various file formats, such as Visio
Cross-platform supported (Windows, Mac, Linux, Web)
Security Verified |
Switch to Mac >>
Security Verified |
Switch to Linux >>
Security Verified |
Switch to Windows >>
4. Free Org Chart Templates to Help You
Example 1. HR Org Chart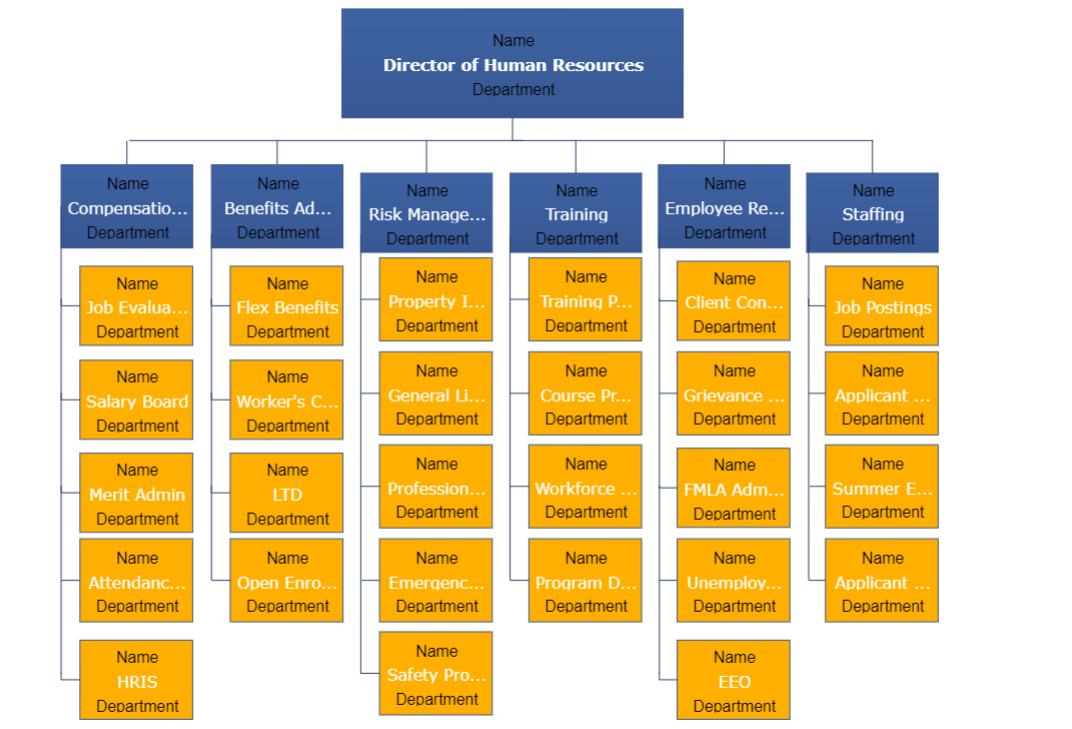 Click to download and use this templates.
While The
eddx
file need to be opened in EdrawMax.
If you don't have EdrawMax yet, you could download EdrawMax
free
from
below.
Example 2. Personal Org Chart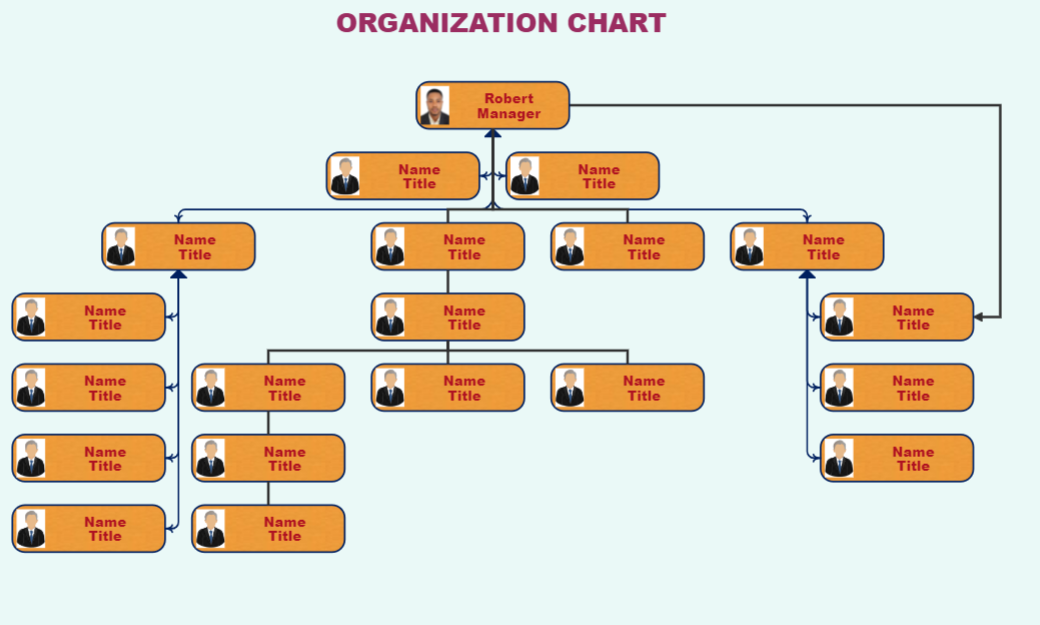 Click to download and use this templates.
While The
eddx
file need to be opened in EdrawMax.
If you don't have EdrawMax yet, you could download EdrawMax
free
from
below.
5. How to Find the Right People for Your Startup
Your startup org chart won't matter if you don't have the right people to fill the positions. Write down operations and skill set to designate to each position, and make sure you hire competent people who are overqualified for their jobs.
Write a Clear and Detailed Job Description
Don't leave any room for ambiguity; make sure you know what you expect of them. More than not, employees and employers have different ideas of what is expected of a position. You don't just want them to complete the assigned tasks but also help the company grow through ideas. Define key performance indicators but try to make them quality-centric instead of quantity-centric.
Don't Compromise on Skills and Competence
Offer shares if you can't afford them, but ensure you only get the best people for the job. This is a time taking process and requires a lot of patience. Compromising the team's skills means compromising the company's growth.
Pioneers Don't Have to be Chief Officers
The designation is about responsibility, not who was with you initially. If you want to value the pioneers, give them bigger shares and salaries and maybe a seat on the board. However, don't give them the responsibility they are not qualified for, or it will limit your company's growth.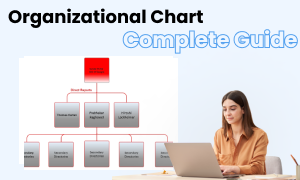 Org Chart Complete Guide
Check this complete guide to know everything about org chart, like org chart types, org chart symbols, and how to make a org chart.