6 Best Genogram Maker
Document your family story intuitively
By a family tree, we mean pedigree charts that represent various family relationships in the form of a tree-like structure. Genogram, on the other hand, is the more detailed format of a family tree depicting his medical history as well as family relationships. Genograms are used for finding out repetitive behavioral patterns and recognizing hereditary tendencies. Today we are going take a look at some of the best genogram makers and family tree creators that you can avail for using in the fields of psychiatry, medicine, social work, psychology, and even genetic research.
Differences Between Genogram & Family Tree
| Points | Genogram | Family Tree |
| --- | --- | --- |
| Purpose | Depicts interactions and relationships between family members. | Only depicts lineage. |
| Area of Use | Helps in evaluation of family systems such as physical problems, deaths, births, relationship conflicts, emotional and mental symptoms as well as educational achievement. | Used as a pedigree chart. |
| Detailing | Very detailed and is thus used in social work as well as medical fields. | Not very detailed |
What to Consider While Choosing A Genogram Creator?
While some of the genogram creators offer phone support; others are limited only to online use. You need to take the same into account before proceeding with your selection.
Genealogists often need to work with several software programs for coming up with an output. That is why you need to make sure that your genogram maker allows hassle-free export and import of data.
Backing up data is extremely crucial while working on big projects. Therefore, you need to make sure that your genogram maker is compatible with online storage platforms such as Google Drive or Dropbox.
Your chosen program needs to have ample fields so that you can add in all of the requisite information for more detailed output.
As the genogram maker often collate data about a variety of attributes related to your family history, it needs to maintain the safety of data so that it doesn't fall into the wrong hands.
What to Consider While Choosing A Family Tree Maker?
People often gift each other family charts for spreading nostalgia. Thus, you need to consider whether it can assist you in taking large print outs of the same before choosing a family tree maker.
You might either wish to share your research with the public or keep it to yourself. The second condition also holds true if you are thinking about publishing the same as a book or journal. Thus, if online sharing is important for you, then you need to select a program that will help you do the same.
Researchers often collaborate with other family tree makers across the globe for brainstorming on a particular issue. You will thus have to make sure that your chosen program is compatible with other ones and can easily read the information sent.
If you wish to print the results of your research in the form of a book, then you need to select a family tree maker that prints your source citations as bibliography or footnotes.
Last but not least, you need to proceed with a family tree maker that maintains the security of your information and prevents unauthorized access to the same.
Best Genogram Makers in the Market
1. EdrawMax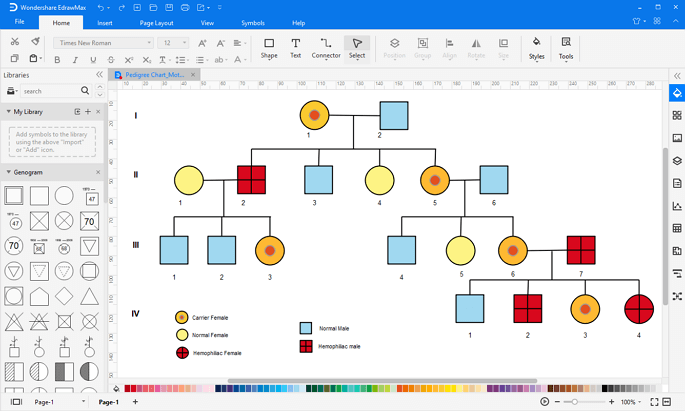 You can now effortlessly create a variety of genograms and present accurate information of your family using this genogram maker. This time-saving tool makes it possible for users to collaborate with partners on a real-time basis for greater co-operation. Its automatic tools can keep all of your data correctly aligned and organized so that you can enjoy an elegant layout at all times.
Pros:
Allow users to share the results with both team cloud and personal cloud.
It can help you come up with professional-grade genograms coupled with its built-in templates and symbols.
Drag and drop interface adds up to its user-friendliness.
Compatible with Vision, MS Office, PDF, and other file formats.
Every single detail can be further customized using dynamic toolkits.
Cons:
| | |
| --- | --- |
| Supported Platforms | Windows, Mac, Linux, Web |
| Price | Lifetime plan - $245.00/Annual plan - $99.00 |
| Scores from Capterra | 4.6/5 |
| Link of official website | https://www.edrawsoft.com/edraw-max/ |
EdrawMax Desktop
Create over 280 types of diagrams
Windows, Mac, Linux (runs in all environments)
Professional inbuilt resources and templates
On-premises software for business
Enterprise-level data security
EdrawMax Online
Create over 280 types of diagrams online
Access diagrams anywhere, anytime
Team management and collaboration
Personal Cloud and Dropbox Integration
2. GenoPro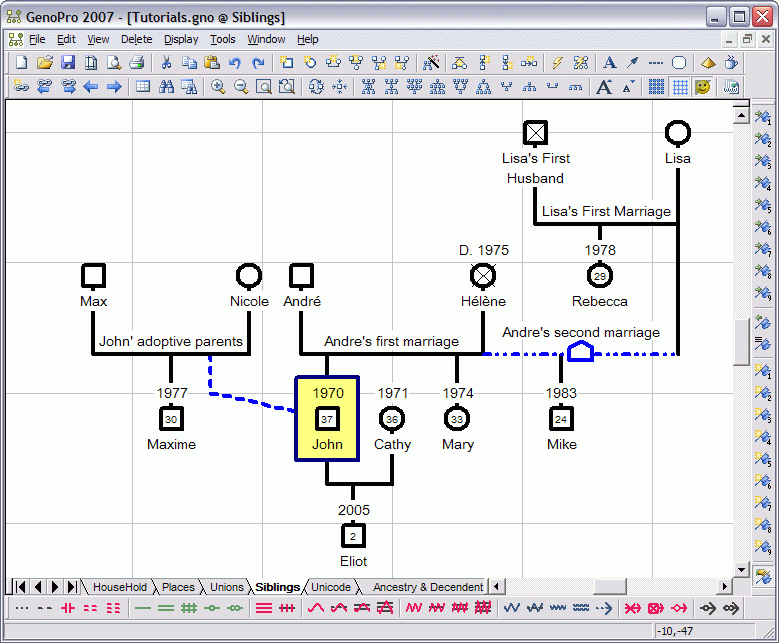 This intuitive genogram maker can help you present the relationship between individuals in a graphical format. It is increasingly used by sociologists, family therapists, doctors, genealogists, researchers, and social workers. You can easily find out problems in your family tree using its problem spotter that runs automatically in the background.
Pros:
Graphical portrayal splits a family under different branches to help with easy portrayal.
Users can navigate easily from one branch to another using the hyperlink connections.
Graphical schemes can be adjusted easily for taking a print out of the same.
Cons:
Faces difficulties in generating reports of huge family trees.
The graphical user interface is not up to the mark.
| | |
| --- | --- |
| Supported Platforms | Windows, Mac, Linux. |
| Price | Staring price is $49 per user. |
| Scores from Capterra | 5/5 |
| Link of official website | https://www.genopro.com |
3. Progeny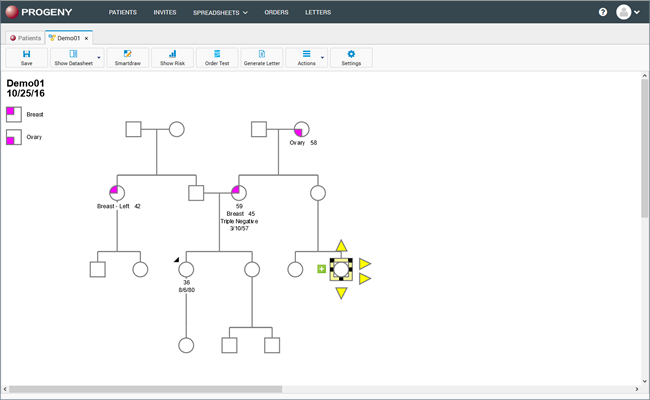 Progeny is a popular pedigree creator that can help you keep track of your family data in an intuitive manner. You can either use this genogram maker to make pedigrees on your own or bank on the ones generated automatically by indicating proband relatives. Drag and drop operation adds up to its ease of use as Progeny allows users to exercise maximum customization in terms of spacing, size, and look of each pedigree.
Pros:
The pedigree can be saved as an image for easy sharing.
Both individual and relationship attributes can be applied and modified.
Allows users to track 5 custom data fields for each individual.
Cons:
The complex features are not adequately intuitive.
If you need to change a relative from maternal to paternal, then you will have to redo the entire thing.
| | |
| --- | --- |
| Supported Platforms | Online |
| Price | Free |
| Scores from Capterra | 5/5 |
| Link of official website | https://www.progenygenetics.com |
4. FamilyEcho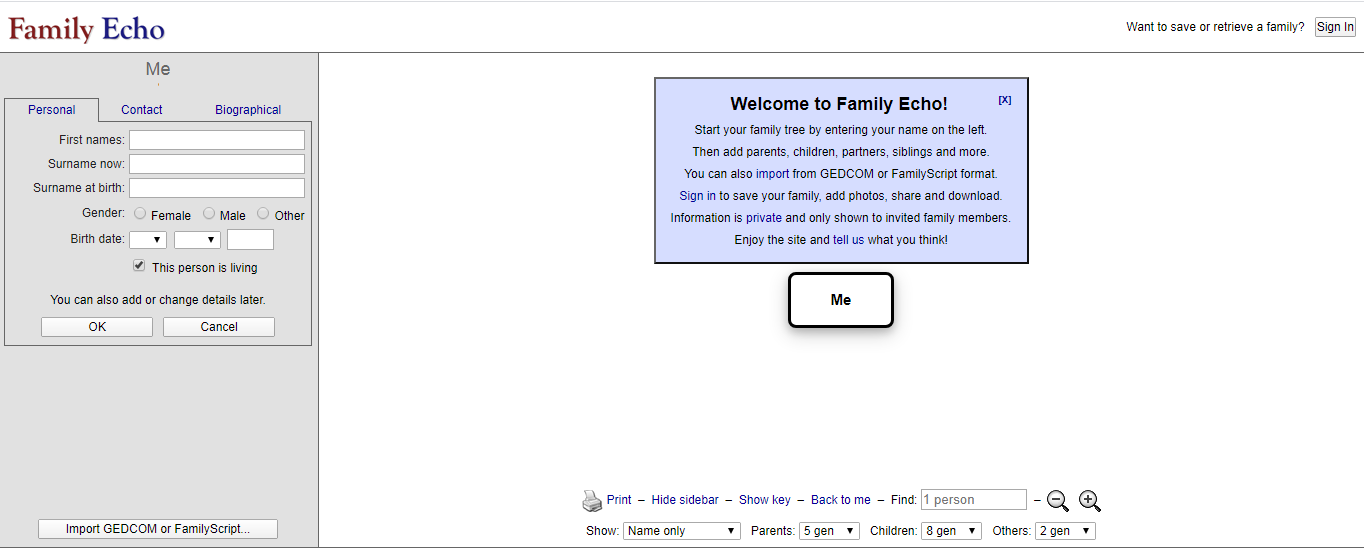 Building an interactive family tree becomes an extremely easy affair with this family tree creator, which allows various users to collaborate online for filling in the details. All the information entered in entirely private and can only be seen by members of the family.
Pros:
Pack in all the necessities like birth and death time, dates, and places for greater efficiency.
Results can be easily shared for further editing.
It can be operated even by amateur users having just basic knowledge about the browser.
Cons:
Difficult to collate everything together.
It lacks a match feature like most of its peer programs.
| | |
| --- | --- |
| Supported Platforms | Online, Mobile |
| Price | Free |
| Scores from Capterra | Not listed |
| Link of official website | https://www.familyecho.com |
5. Famberry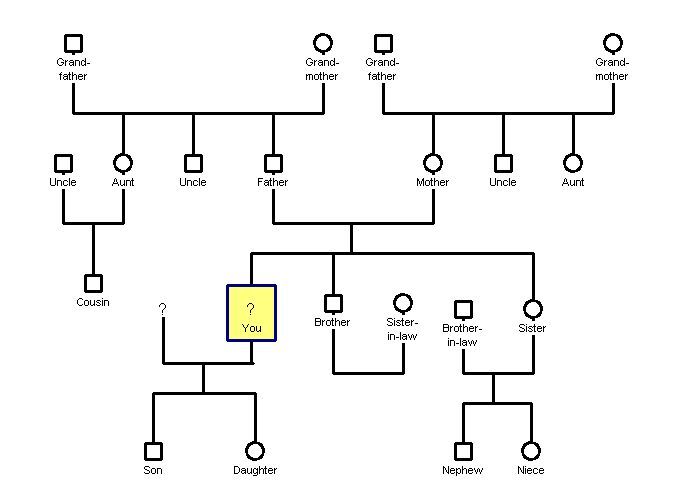 You can now build your legacy for being shared with your future generations with this free of cost family tree creator. Other family members can also be invited onboard for enriching the family tree in the form of biographies, videos and pictures.
Pros:
Easy to use family tree creator, which serves as the best bet for amateur users.
Allow users to store diverse information about the family.
Users are offered 2GB free storage space for storing family photos in either personal or central albums.
Cons:
Lack of adequate family tree themes.
Photo album features are not adequate.
| | |
| --- | --- |
| Supported Platforms | Online, Mobile |
| Price | Free |
| Scores from Capterra | Not listed. |
| Link of official website | https://www.famberry.com |
6. Creately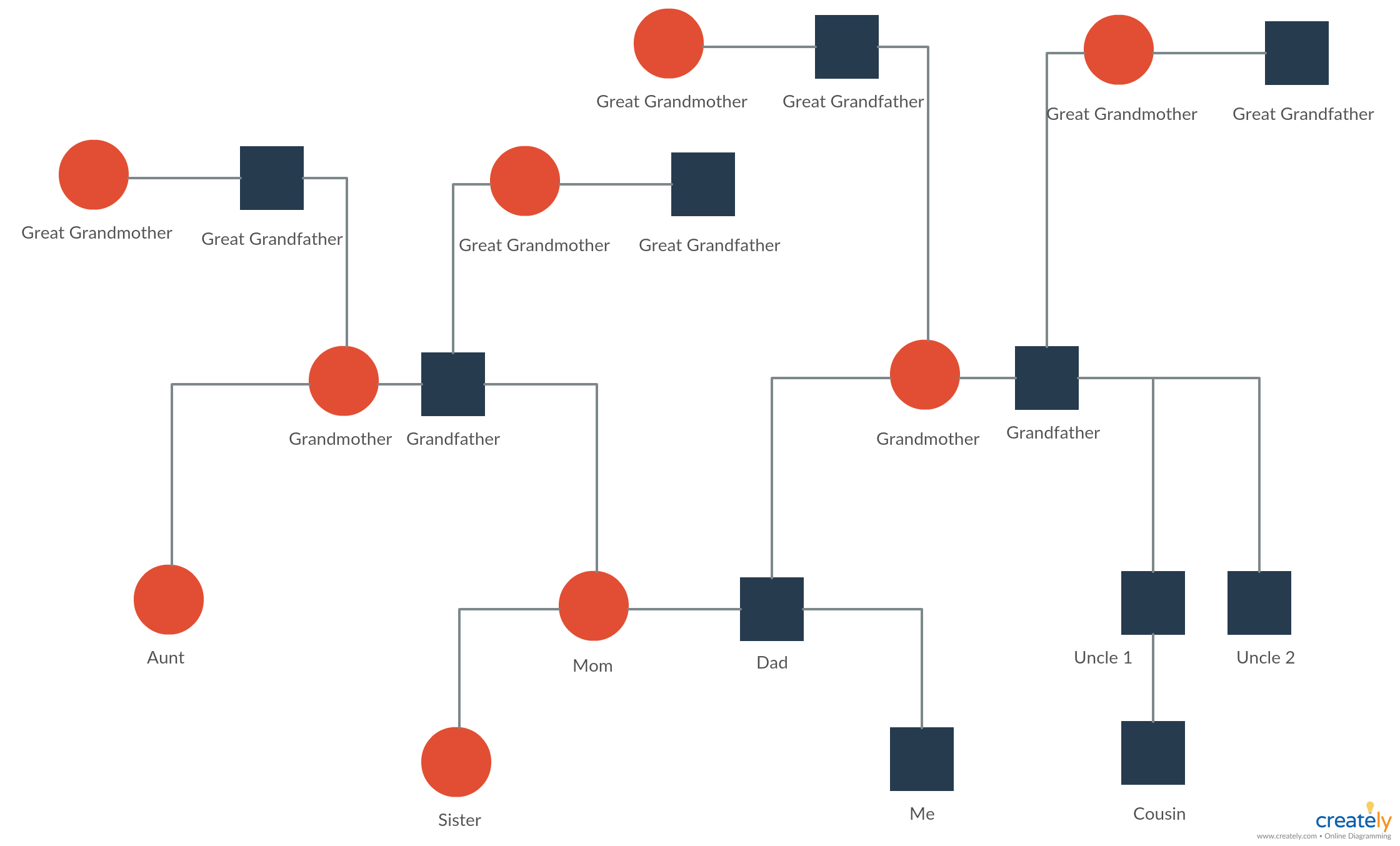 You can now visualize processes, ideas, and concepts in a simple manner using this family tree creator, which allows seamless collaboration with clients and teams. Its professionally designed shapes can speed up your drawing process and also make your content stand out from peers.
Pros:
Users can easily make out the changes made by others adding up to the level of efficiency.
Has a user-friendly interface supporting simple drag and drop mechanism.
The autosave option helps with the easy recovery of diagrams.
Cons:
Application tends to throw run time error and needs to be relaunched again.
Adding text to a line leaves behind an annoying white box.
| | |
| --- | --- |
| Mac, Windows, SaaS, Cloud, Web | Cloud, SaaS, Web, Mobile |
| Price | Starting price of personal desktop version is $75 which needs to be paid once. |
| Scores from Capterra | 4.4/5 |
| Link of official website | https://creately.com |
Pick up the Perfect Genogram Software
You can bank on the tools listed above like EdrawMax for creating complex genograms and family trees effortlessly. The results are bound to improve your overall productivity, no matter they are used in the field of education or for advanced research.
EdrawMax
All-in-One Diagram Software
Create more than 280 types of diagrams effortlessly
Start diagramming with various templates and symbols easily
Superior file compatibility: Import and export drawings to various file formats, such as Visio
Cross-platform supported (Windows, Mac, Linux, Web)
Security Verified |
Switch to Mac >>
Security Verified |
Switch to Linux >>
Security Verified |
Switch to Windows >>