6 Best Genogram Maker
Document your family story intuitively
By a family tree, we mean pedigree charts that represent various family relationships in the form of a tree-like structure. Genogram, on the other hand, is the more detailed format of a family tree depicting his medical history as well as family relationships. Genograms are used for finding out repetitive behavioral patterns and recognizing hereditary tendencies. Today we are going take a look at some of the best genogram makers and family tree creators that you can avail for using in the fields of psychiatry, medicine, social work, psychology, and even genetic research.
Differences Between Genogram & Family Tree
| Points | Genogram | Family Tree |
| --- | --- | --- |
| Purpose | Depicts interactions and relationships between family members. | Only depicts lineage. |
| Area of Use | Helps in evaluation of family systems such as physical problems, deaths, births, relationship conflicts, emotional and mental symptoms as well as educational achievement. | Used as a pedigree chart. |
| Detailing | Very detailed and is thus used in social work as well as medical fields. | Not very detailed |
What to Consider While Choosing A Genogram Creator?
While some of the genogram creators offer phone support; others are limited only to online use. You need to take the same into account before proceeding with your selection.
Genealogists often need to work with several software programs for coming up with an output. That is why you need to make sure that your genogram maker allows hassle-free export and import of data.
Backing up data is extremely crucial while working on big projects. Therefore, you need to make sure that your genogram maker is compatible with online storage platforms such as Google Drive or Dropbox.
Your chosen program needs to have ample fields so that you can add in all of the requisite information for more detailed output.
As the genogram maker often collate data about a variety of attributes related to your family history, it needs to maintain the safety of data so that it doesn't fall into the wrong hands.
What to Consider While Choosing A Family Tree Maker?
People often gift each other family charts for spreading nostalgia. Thus, you need to consider whether it can assist you in taking large print outs of the same before choosing a family tree maker.
You might either wish to share your research with the public or keep it to yourself. The second condition also holds true if you are thinking about publishing the same as a book or journal. Thus, if online sharing is important for you, then you need to select a program that will help you do the same.
Researchers often collaborate with other family tree makers across the globe for brainstorming on a particular issue. You will thus have to make sure that your chosen program is compatible with other ones and can easily read the information sent.
If you wish to print the results of your research in the form of a book, then you need to select a family tree maker that prints your source citations as bibliography or footnotes.
Last but not least, you need to proceed with a family tree maker that maintains the security of your information and prevents unauthorized access to the same.
Best Genogram Makers in the Market
1. EdrawMax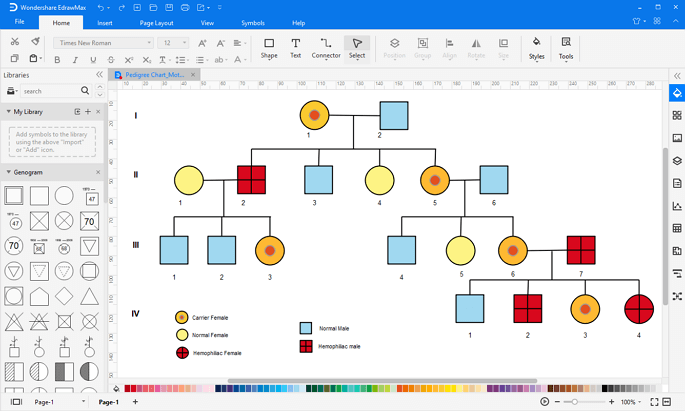 You can now effortlessly create a variety of genograms and present accurate information of your family using this genogram maker. This time-saving tool makes it possible for users to collaborate with partners on a real-time basis for greater co-operation. Its automatic tools can keep all of your data correctly aligned and organized so that you can enjoy an elegant layout at all times.