How to Create a Genogram Quickly

Do You Want to Make Your Genogram?
EdrawMax specializes in diagramming and visualizing. Learn from this article to know everything about genogram symbols, genogram examples and how to make a genogram. Just try it free now!
This page introduces how a novice can create professional genograms in minutes! With built-in vector symbols and free templates in powerful genogram software, you can create a professional and complete genogram just in 6 steps!
Part 1: What is A Genogram?
First developed in the 1980s by Monica McGoldrick and Randy Gerson in family therapy and clinical psychology settings, genogram has since gained more popularity. Notably, this growth in popularity has been realized majorly in the medical field.
So, when it comes to studying or tracking a family history, a genogram is an ideal representation diagram to use. This is because they help create an interactive picture of a person's family relationships and history, which is essential in the medical field. In simple terms, they help understand an individual's family relationships by visualizing patterns and psychological factors affecting them.
Wikipedia defines a genogram as a pictorial display of a person's family relationships and medical history. It is also named a McGoldrick–Gerson study, a Lapidus schematic, or a family diagram. Unlike a traditional family tree, a genogram allows the user to visualize hereditary patterns and psychological factors that punctuate relationships. Namely, a genogram goes deeper into revealing family information among all individuals.
In the genogram example below, the genogram could explain Michael's close friendship with Ann, Paul's hostile against Magan, Max's conflictual relationship with Vivian, Edison, and Sara's harmony.
Genogram comes with several benefits, which include:
a) Risk assessments. We are analyzing an individual family's hereditary patterns and psychological factors to determine the medical history and what to do.
b) It can be a behavioral research study tool.
c) We are helping mental health professions during counseling by gaining insights into what influences individuals' families.
d) It helps to know more about patience abuse.
e) It helps in finding the ideal therapy for an individual.
Part 2: What to Do before Creating a Genogram
The fact is, you can't just go ahead and create a genogram without first doing or knowing certain things. These things are key factors as well as core builders of any professional genogram. Therefore, here are what to do before creating a genogram.
1) Decide your purpose of making a genogram
What is the reason for creating a genogram? Always start by asking yourself this question because by knowing the purpose, you then know the next step. This is simply understanding what you are looking for, and you can do this by deciding on how many generations you need to represent in your genogram. Furthermore, you should develop a set of questions to ask yourself and your relatives.
2) Gather information about your family
Once you have decided on the purpose, start writing down what you know already. This is especially aimed at understanding what you are looking for by looking at your own history. To do this, you can talk to family members, search through family books, documents, and the internet (if ideal). After all, it is about knowing what kind of information you want to learn from that genogram.
3) Learn genogram symbols
A genogram is composed of various genogram symbols, which have comprehensive meanings in many aspects such as health status, family relations, emotional relations, and medical problems. The Genogram symbol carries the necessary information of a person: gender, birth, age, immigration, sexual orientation and pregnancy status, etc.
4) Learn emotional relationship symbols
Unlike family relationship symbols, emotional relationship symbols focus on describing the type of emotional bond between two people. For example, by using one of these symbols, you can tell whether a couple is in harmony, in love, in conflict, etc.
5) Learn family Relationship symbol
A family tree and a family relationship genogram are two different things -so, keep that in mind. The difference is family relationship genogram conveys more data than the family tree, thus making it more complicated. This genogram uses family relationship symbols to illustrate whether the couple is engaged, married, separated, divorced, and common-law.
Learn more symbols in EdrawMax.
EdrawMax
All-in-One Diagram Software
Create more than 280 types of diagrams effortlessly
Start diagramming with various templates and symbols easily
Superior file compatibility: Import and export drawings to various file formats, such as Visio
Cross-platform supported (Windows, Mac, Linux, Web)
Security Verified |
Switch to Mac >>
Security Verified |
Switch to Linux >>
Security Verified |
Switch to Windows >>
Part 3: How to Make a Genogram Quickly
Firstly, watch this video to know how to create a medical genogram.
The following instruction is about how to make professional genograms with our Genogram software - EdrawMax.
Step 1: Collect Information of a Family
Collecting information on a family should be the start of your creation as background work. First, decide how many generations you wish to display on your genogram. Next, look at a family that meets your demand generations to gather all the names, birthdates, and fundamental relations. You may interview some family members for family stories to fill in missing information and complicated ties. Keep the work done confidentially!
Step 2: Start Creating a Genogram
There are two methods of creating a genogram: hand-drawing and using easy genogram software.
A digital genogram is much more convenient for storing and future editing. Open EdrawMax, navigate to New →Science and Education → Genogram, then choose a pre-made genogram example or the plus icon to open a blank drawing page.
Step 3: Draw the Members of the Family in Each Generation
Starting with the oldest generation, you can represent your family members using the genogram symbols in the EdrawMax Symbol Library. Then, you can utilize the emotional relationships symbols to show the relationship between two specific family members. All you got to do is drag and drop/place on the right place. And by clicking Add text button, you can add text to name the shapes and Connector to link shapes.
1. Add Genogram Symbols
Our genogram maker, EdrawMax, offers a rich set of standard vector genogram symbols that depict necessary information, family relationships, emotional relationships, and medical facts of family members.
Open the symbol library of Genogram from the left of the canvas.
Drag-and-drop the selected symbol to the canvas.
2. Add Text
Go to the Home tab and click Text to use the text block tool.
Input your content in the text block.
Customize the attributes of your text in the Font pane under the Home tab.
Step 4: Set the Layout
Set the layout of your genogram and measure the size by using rulers, gridlines, and guidelines. It will be helpful to drag the gridlines to set the page's margins or divide the page into sections for accurate placement of texts and images.
You can go to the Page Layout tab and adjust the page setup and background.

If necessary, you may tick gridlines and rulers options on the View tab to set the margins of the page or divide the page into sections for accurate placement of elements and texts.

Step 5: Export, Share and Print Genograms
When you've finished the genogram, you can save and export it to various formats such as JPG, PDF, MS Office files, SVG, Visio, etc.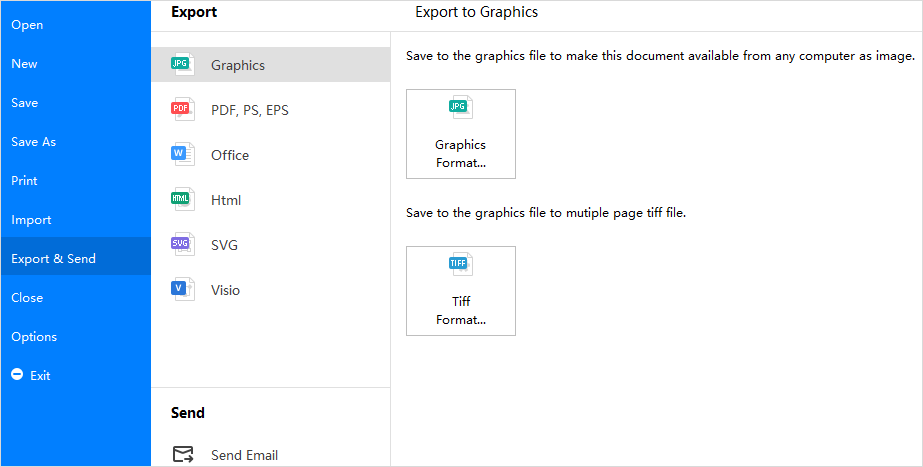 Go to the File tab and choose Print or click the Print button on the quick access bar. You can see the print preview in the print setup interface. If you want to see the overall effect on one sheet, click More Print Setup, and choose Fit to 1 Sheet.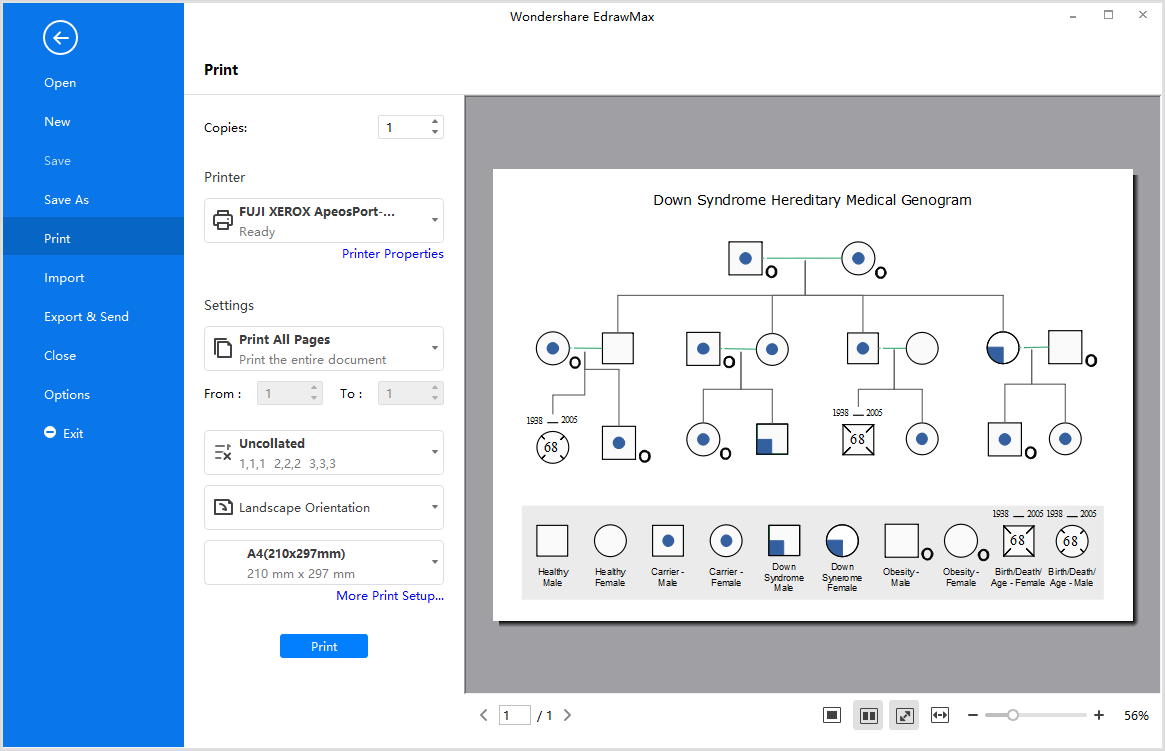 At the same time, in order to ensure that the genogram creation won't cause offenses, please bear the following cautions in mind.
Be careful with family members' perceptions and sensitive information.
Understand that there may be variations in stories and beliefs among different family members regarding specific issues. Use your observations and objective judgments if necessary.
Make use of clip arts, images, and pictures as well as letters.
If you need to interview someone for his information to create a genogram, treat that person and his/her family information with complete confidentiality.
Use standard genograms properly, including basic genogram symbols, medical symbols, family, and emotional relationship symbols.
EdrawMax Desktop
Create over 280 types of diagrams
Windows, Mac, Linux (runs in all environments)
Professional inbuilt resources and templates
On-premises software for business
Enterprise-level data security
EdrawMax Online
Create over 280 types of diagrams online
Access diagrams anywhere, anytime
Team management and collaboration
Personal Cloud and Dropbox Integration
Part 4: Genogram Examples
Before starting to create a genogram, here are some professinally-designed genogram examples that can help you get inspired if you haven't drawn such diagrams before.
Click the button below to download EdrawMax.
Part 5: Why and Who Use Genograms
Therapists
Family therapists use genograms to figure family relations, giving a whole picture of family relationships and patterns. Knowing the family relationships clearly, the therapist gets to analyze the family and help them deal with their current issues.
Couple
Genograms may help a husband and wife understand each other's learned patterns to respond to stressful situations, handle intimacy or conflict, or manage gender and cultural issues. It can contribute to a harmonious relationship.
Medical Professionals
Medical professionals often use genograms to better understand their patients' medical, genetic, and psychosocial history. In this case, they can give a more convincing diagnosis and offer appropriate treatment.
Teachers and Students
In schools and colleges, teachers and students can use genograms to learn the relationships between different historical figures, or systematically study the medical history of a human or creature's family to see how a genetic disease has emerged and developed.
Besides, anyone who is interested in better understanding family patterns and issues may use genograms as an aid.
Now, I guess you can't wait to create a genogram with EdrawMax. Get a free trial!
Part 6: How can EdrawMax- Genogram Maker Helps You
You might be asking yourself, "why should I use EdrawMax?" It's simple. Here are the benefits of using this genogram maker:
It is an easy-to-use software with its drag and drops features.
It provides you with all genogram symbols and relationships necessary for creating any kind of genogram.
It comes with pre-design templates that help users create a genogram efficiently by simply customizing them.
It allows you to share your work with others.
You can export your genogram diagram into high-quality images, PDFs, Microsoft Office files, etc.
Related Articles: