What is a WAN?
WAN (Wide Area Network) is a universe of Information unrespectable of any geography. It forms a bridge or a connection of multiple devices to assist sharing of information from device to device through a WAN provider around the globe.
WAN is used by businesses to interact and share between their multiple units located over far distances, to reduce this gap a bridge is formed using LAN connected via VAN. We might propose and setup Virtual Private Networks (VPNs) across the Public Internet, or more traditional Leased Circuits from telecoms companies. Alternative Frame Relay, ISDN, or other technologies may be incorporated dependent on usage and budget criteria.
LANs (Local area networks) are bound in a single location and are used to connect computers at a single location and reach WAN to connect outside, meanwhile WANs are operated globally. LAN has a high speed data transfer rate; WANs have low speed data transfer rate.
Pros and Cons of a WAN
Pros:
Data can be shared easily from one device to another and so on connected in a loop.
WANs cover far distances, for the same business operating at different geographies to connect on a single forum.
Updated files and data are shared across multiple geographies in a fraction of seconds.
Using Wan, users can access application software and other resources over the Internet.
Businesses who want to expand and operate globally can easily automate their activities using WAN.
Cons:
WANs are subject to more security issues and can face more cyber-attacks than LAN.
Setting up a WAN to automate your businesses across the globe is highly costly.
Due to poor signals or any other technical issues customers and employees often face slow internet plus the system can be down for some time.
Strong firewalls and high security are needed to ensure safe transfer of Information and for the protection of data.
Maintaining a WAN could be a troublesome task, a highly trained team is required to look after the technical issues.
EdrawMax
All-in-One Diagram Software
Create more than 280 types of diagrams effortlessly
Start diagramming with various templates and symbols easily
Superior file compatibility: Import and export drawings to various file formats, such as Visio
Cross-platform supported (Windows, Mac, Linux, Web)
Security Verified |
Switch to Mac >>
Security Verified |
Switch to Linux >>
Security Verified |
Switch to Windows >>
How to Create a WAN Diagram?
First brainstorm and map out the WAN diagram on a paper, depending on your business and its size choose a network topology. Join the routers, computers and servers via arrows or shapes. Label your network and then connect each component using lines.
Wan Diagram Examples
This section will see some practical examples of a logical network diagram that will open our minds about what we saw above. You can also take these templates to improve your diagrams.
Example 1: Wan Diagram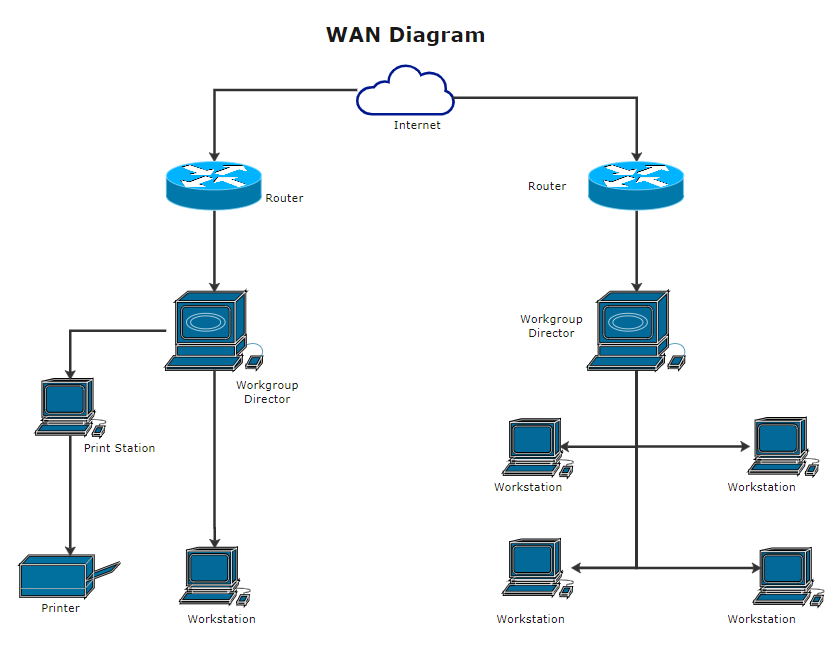 WAN diagram shows the connection of each device in a loop, across globe. From one station to another exchanging and sharing of information take place.
Example 2: Wan Network Diagram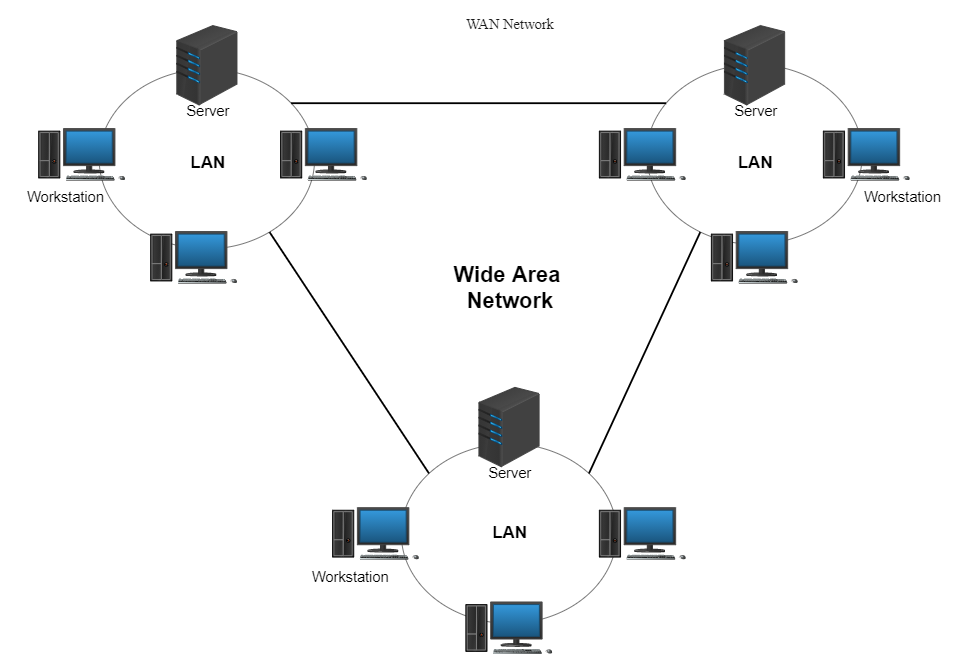 It represents how computer networks are connected operating in different geographies across the globe using a WAN, connecting one LAN to another for the transfer of data and exchange of Information.
Example 3: Education Ddeliver Network Diagram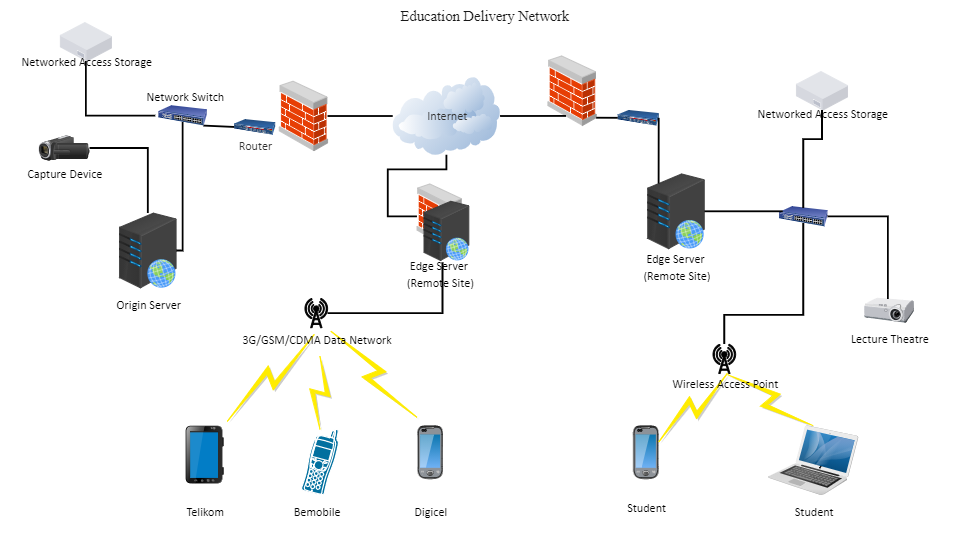 The network diagram represents transfer of data from student to student, or school to student over larger distances, Connected and learning at a single point.
Example 4: Internet Network Diagram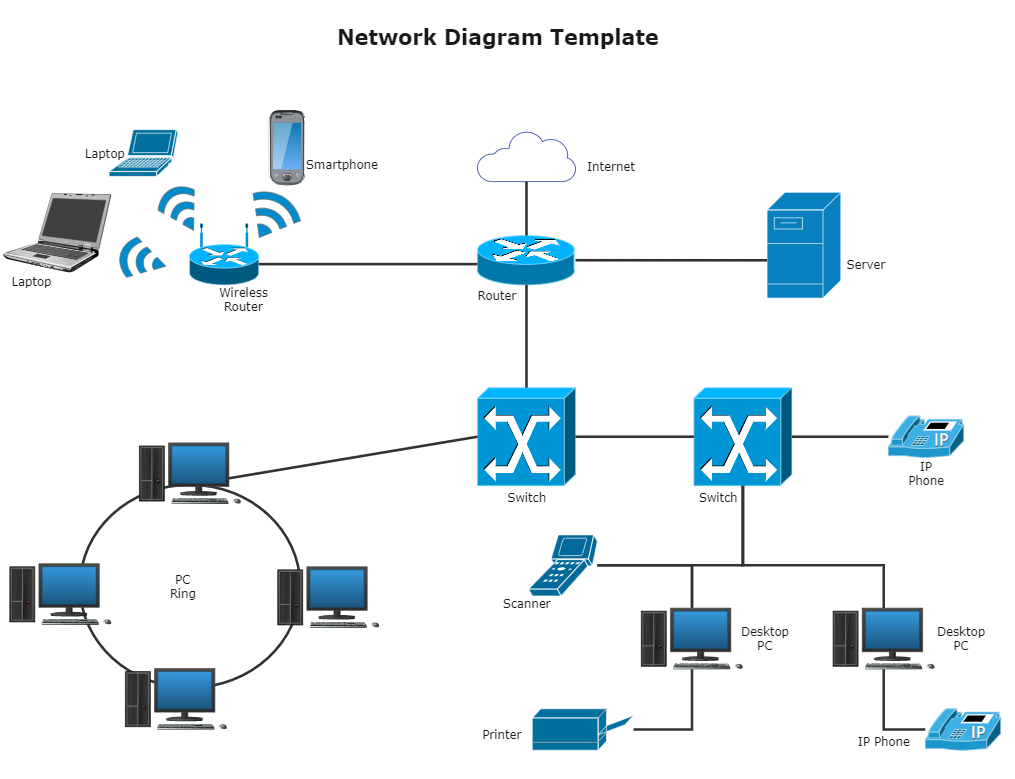 It shows a bridge connecting devices including modems, computers, routers on a single server, connected and sharing Information.
Example 5: Wireless Mesh Network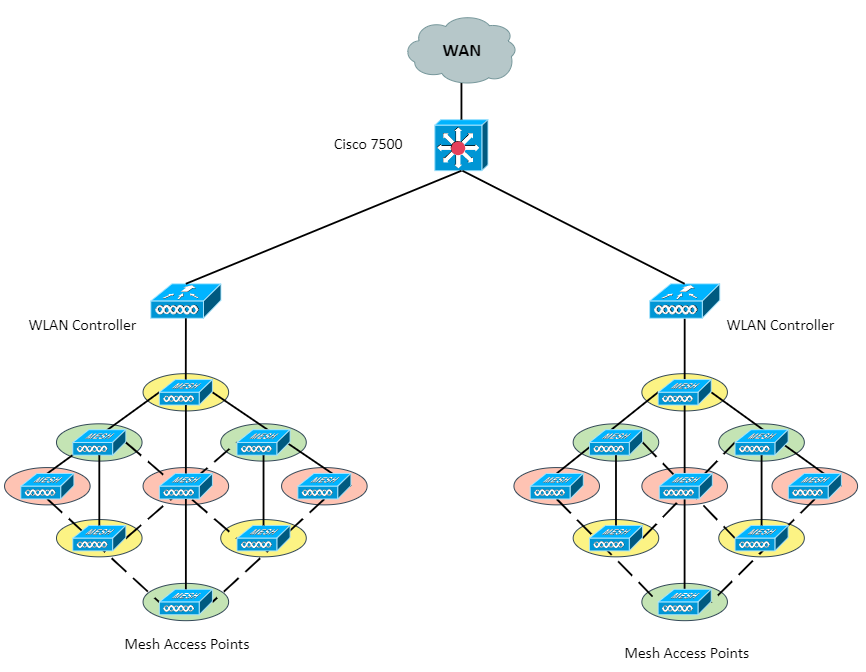 WMN, Wireless mesh networks is an interconnection or intercommunication of routers and gateways. It is created through connection of WAP; Wireless access points nodes installed at each network user's site.
WAN Diagram Software
Edraw Network Diagram is ideal for network engineers and network designers who need to draw wan diagrams. It had defined some common used WAN symbols in drawing WAN diagrams. Just drag and drop pre-drawn shapes representing computers and network devices. Double click and set equipment data. You can make a professional wan diagram in minutes with EdrawMax!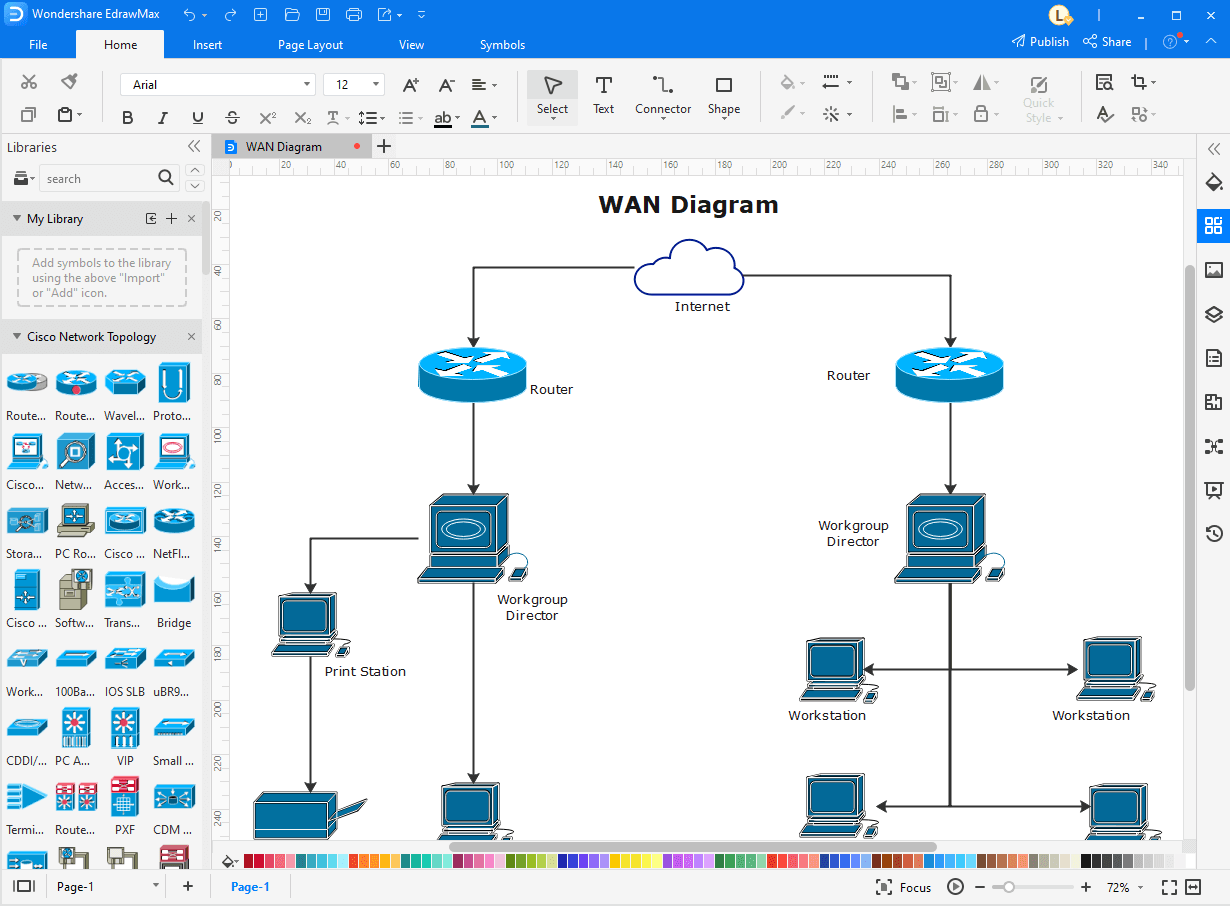 System Requirements
Works on Windows 2000/2003/2008/Vista/7/8/10 (32bit/64 bit)
Works on Mac OS X 10.10 and later
Works on Linux (Debian, Ubuntu, Fedora, CentOS, OpenSUSE, Mint, Knoppix, RedHat, Gentoo and More)
Supports to design on Web
Software Features
Vector-based shapes and templates that are pre-designed
An all-in-one diagram maker that can make over 280 types of diagrams and serve all of your purposes.
Easy to use with the drag & drop interface, abundant symbol libraries and automatic formatting tools
Run on common operating systems and work on different devices.
Seamlessly integrated with MS Programs
Accompanied by a plethora of well-designed templates and examples and premade symbols
Export documents into various file formats and has great compatibility.
More Related