Wide Area Network Examples & Templates
Do You Want to Make Your WAN Network Diagram?
EdrawMax specializes in diagramming and visualizing. Learn from this article to know everything about WAN network diagram examples and templates, and how to use them. Just try it free now!
WAN is known as the Wide Area Network, which reflects various networks of information on a large scale. It is not bounded to a particular region or locality. WAN is known for facilitating communications and sharing information between different devices all over the globe. An international company mostly uses this network for their businesses. Internet is known as the largest network all over the world or the largest WAN all over the globe. They differ from other networks in performance, security, price, reliability, speed, features, and range. WAN is usually set up by service allocators, who transfer these services to schools, agencies, locality, business, and government organizations at a particular cost. They use these services to store data, communicate globally, and stay updated.
A WAN example shows how these networks get linked to each source through various links like VPNs, lines, cellular or wireless networks, and internet access. These examples represent the pathway followed by wide networks to transfer data and services from one source to another. Certified professionals use them to manage and organize these network facilities in international companies or other IT sectors. In this article, you will see how we can create a simple WAN diagram using an application called EdrawMax. It offers different facilities that are important to building a perfect WAN diagram. Further, this article is about different examples of Wide Area Networks and their benefits.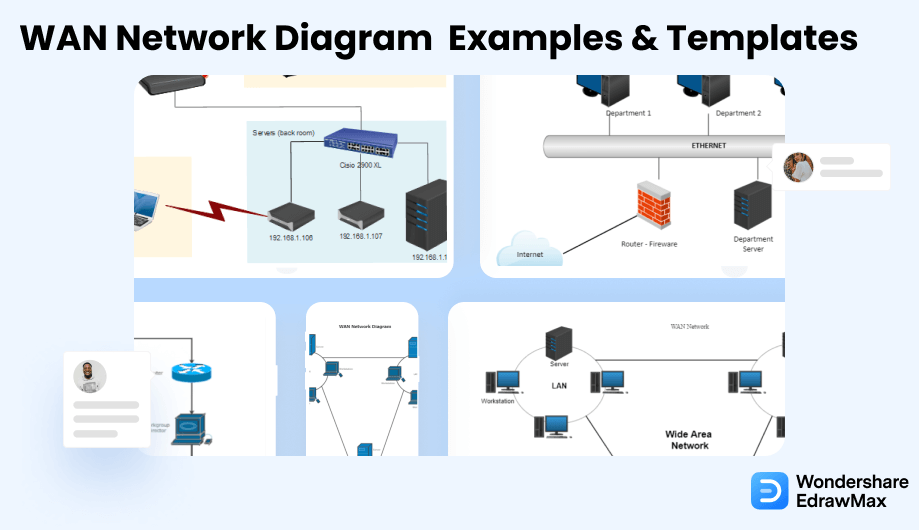 1. Free Wide Area Network Examples
WAN is the largest and the most expensive network type in this digital world. These networks are the reason why the world is connected. IF WAN doesn't exist, no country can communicate and transfer data to other countries. Not only countries, but then the connections will be limited to only a particular locality or region. LAN can't fulfill the need for a wide area network. Hence, it will be impossible for us to link with the globe.
WAN example represents a different type of wide-area network interconnected with different local area networks (LAN). An example of a Wide Area Network is an explanation of basic blueprints of these types of WAN networks. These examples are used to map networks within different geographical locations. Without them, it's hard to understand how everything is connected because of their high-level complexity. Different Wide Area Network examples may help you in gaining further knowledge:
1. WAN in Computer Networks
2. Low Power Wide Area Network (LPWAN)
3. Wireless Wide Area Network (WWAN)
4. World Area Network
5. Long Range Wide Area Network (LoRaWAN)
6. WAN Infrastructure
Example 1: WAN in Computer Networks
The above example shows three connected LAN networks. This is how wide-area networks operate. A Wide Area Network is a collection of different local area networks. Collecting several LANs together makes a big WAN network. In Computer Networks, these LAN diagrams consist of the main server and different workstations. These workstations may also connect with the server of different LAN networks, building a great network arrangement.
Example 2: Low Power Wide Area Network
Low power wide area network usually operates on low-bandwidth, lesser bit rates, and battery-associated devices with lesser speed. LPWAN has lower bit rates than WAN. These are cheap networks that operate for longer distances. Earlier, people were using old mobile networks. But after the implementation of low power WAN, their efficiency has been increased, and they work with more power. It supports a great network consisting of several connected devices. LPWANS are operational over different packet sizes ranging from 10 bytes to 1000 bytes. It possesses a speed of approx. Two hundred kbps ranging from 2 to 1000 km. They are based on Star topology, which is quite related to Wi-fi.
Example 3: Wireless Wide Area Network
Wireless WAN is a particular network that transmits wireless signals within a selected building or agency. As LAN connects devices and physical components like hardware within a particular area, WWAN is also limited to a specific network. Therefore, they use different signal transmitting technologies, and a wireless signal is sent to other sources on their bases. WLAN, Wireless Local Area Network, is enclosed in WWAN, which means Wireless Wide Area Network. The above example shows how a WAN network increases its range by LAN network.
Example 4: World Area Network
World Area Network is built on meshed network topology. Previously, private lines were used to allocate World Area Network, but now, packet-switched resources like MPLs and frame relay have taken their place with dominating ATM. In addition, carrier networks are further used to connect World Area Network with different sites and services. We know that WAN connections are quite expensive. Therefore, a mix of internet technology is also used to manage cost-efficiency. Different optimized methods are implemented in WAN like compression, abbreviated redundant database, duplication, caching, and closer end data to produce highly-efficient services.
Example 5: Long Range Wide Area Network
LoRaWANs that is Low range WANs is, the networks that operate on batteries and connect different devices through a gateway. They can be understood as an evolved form of a low-power WAN. They are handled on the concept of IoT. LoRa WAN is a technology that resolves issues regarding IoT and provides possible solutions. The ISM frequency band authorizes the frequency used by these networks. The above WAN example shows a Network Server connected to end devices through Ip networks and LoRaWAN gateways. The applications are connected through the internet to the main network server.
Example 6: WAN Infrastructure
A WAN infrastructure is a broad blueprint that involves every component related to a wide area network. WAN infrastructure is a basic and expanded view of how various components are physically or digitally connected to other components or devices. In the above example, you can see ISP as the main networking source. Satellites and Satellite modems are connected to it for monitoring and telecasting different things and information going globally. The telephone lines in different buildings are connected with ISDN and DSL. We can also see connected coaxial cable and wireless services to different receivers.
2. How to Use WAN Network Diagram Examples
EdrawMax is vector-based software that provides various templates for your WAN network diagram. It provides an easily understandable interface for its users to draw efficiently and helps users edit existing templates and layouts and make their designs or template. It also provides network diagram symbols to illustrate your WAN network diagram. There are two methods for creating a WAN network diagram by using WAN Network diagram examples:
2.1 Make WAN Network Diagrams from Desktop
Step1
Install EdrawMax
You can edit the templates directly from this page. First of all, when your mouse click to the templates on this page, you can download the EdrawMax easily, or you can download EdrawMax here.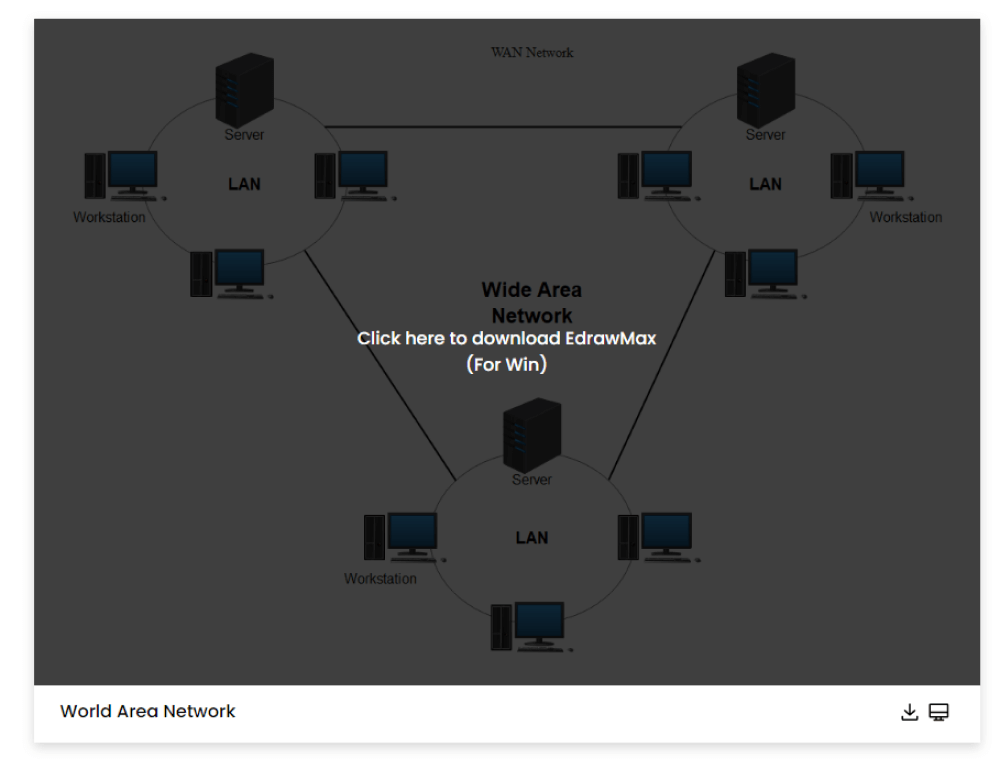 Step2
Download the Template
After installing EdrawMax, you can go and download the template by clicking on the bottom right corner or look for a template in the EdrawMax library without going online in desktop.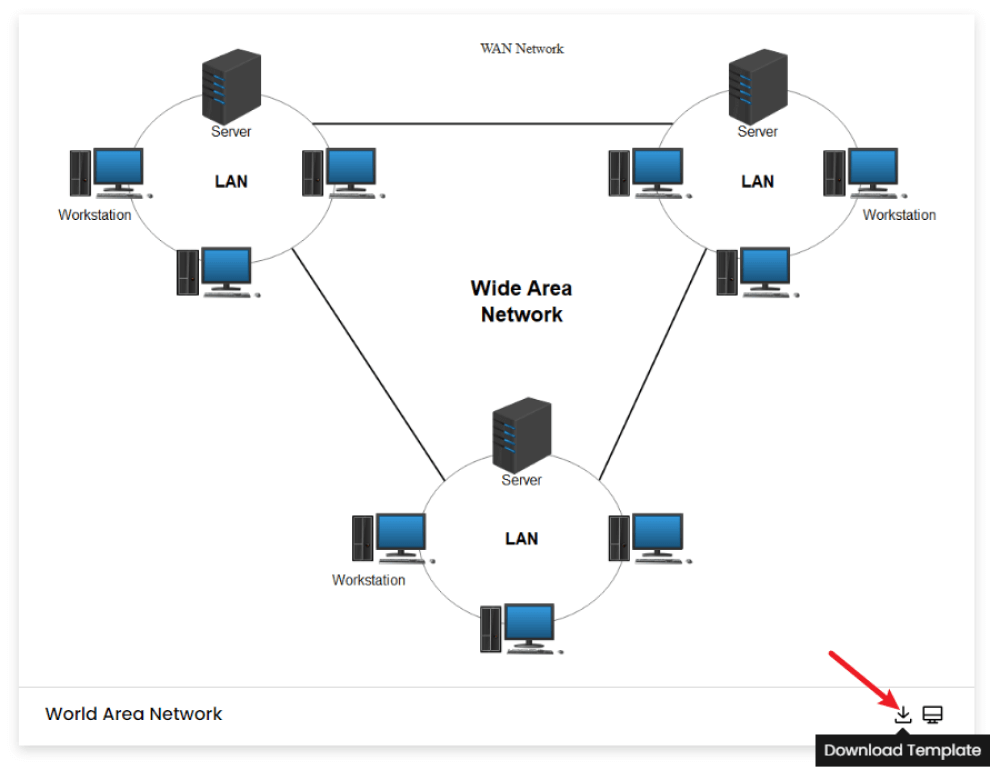 Step3
Open the Template
After downloading the template, you can double click to open it in EdrawMax diagramming software, or you can open EdrawMax beforehand and navigate to the template to open it.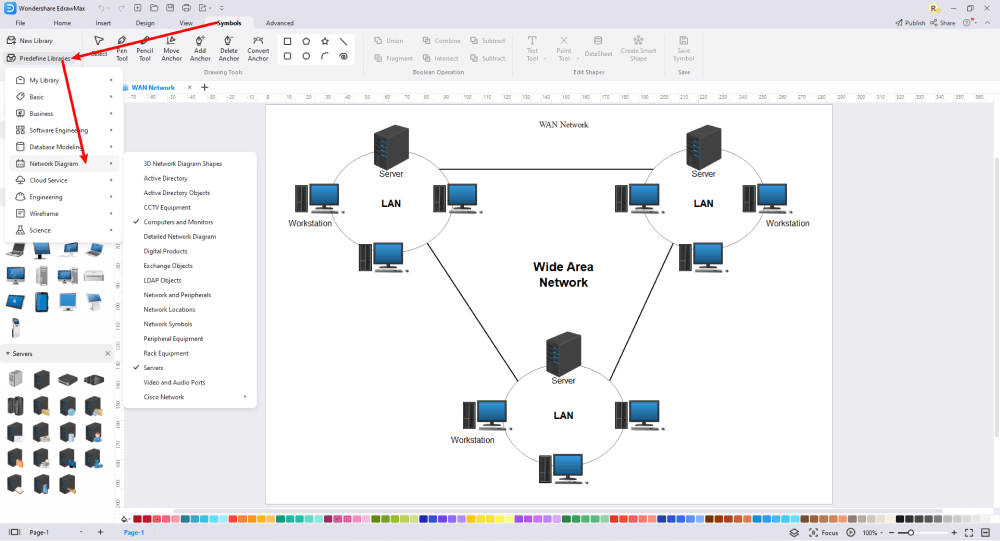 Step4
Customize the WAN Network Diagram Example
After opening it, the next step is to customize and edit the WAN network diagram example. EdrawMax gives you various unique diagramming tools that help you edit the template any way you want. You can change the color and the font liner of the template. EdrawMax features a comprehensive library with 26000+ professional symbols that you can use for free with an easy drag and drop.
Step5
Save or Export
After you customize the WAN network diagram example, the next step is to save or export your drawing. EdrawMax supports various document formats, which means you can export your drawing in any format you want, such as Microsoft Office, pdf, graphics, HTML, Visio, and many others. Export your drawing by going to the 'File' option in the top menu bar and clicking on 'export'. After that, select the document format and click 'ok'. You can also share your drawing on social media or print it directly from EdrawMax. EdrawMax also gives you a presentation mode that you can use to show your drawing to others or your team members.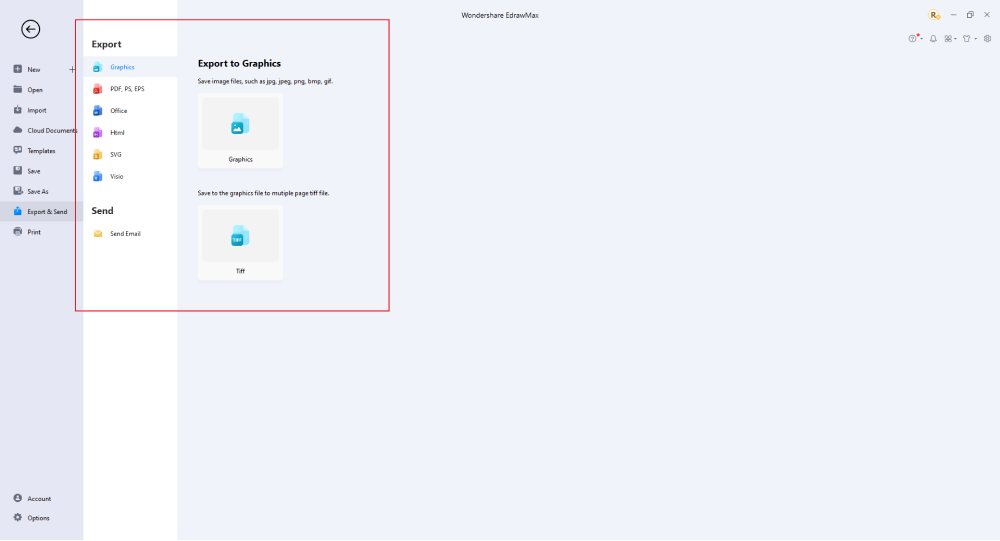 2.2 Make WAN Network Diagrams Online
The above process was for drawing WAN diagrams using the downloaded application. Here are the steps that you can follow to do the same thing with the online app instead. EdrawMax Online gives you free templates to select and customize and share without downloading. It also provides you with all the drawing tools in the EdrawMax software.
Step1
Click to Duplicate Online
Just click the right bottom corner to choose 'duplicate' template online, then you can go to the online EdrawMax template community. You can head to the network diagram page, and learn more or use directly.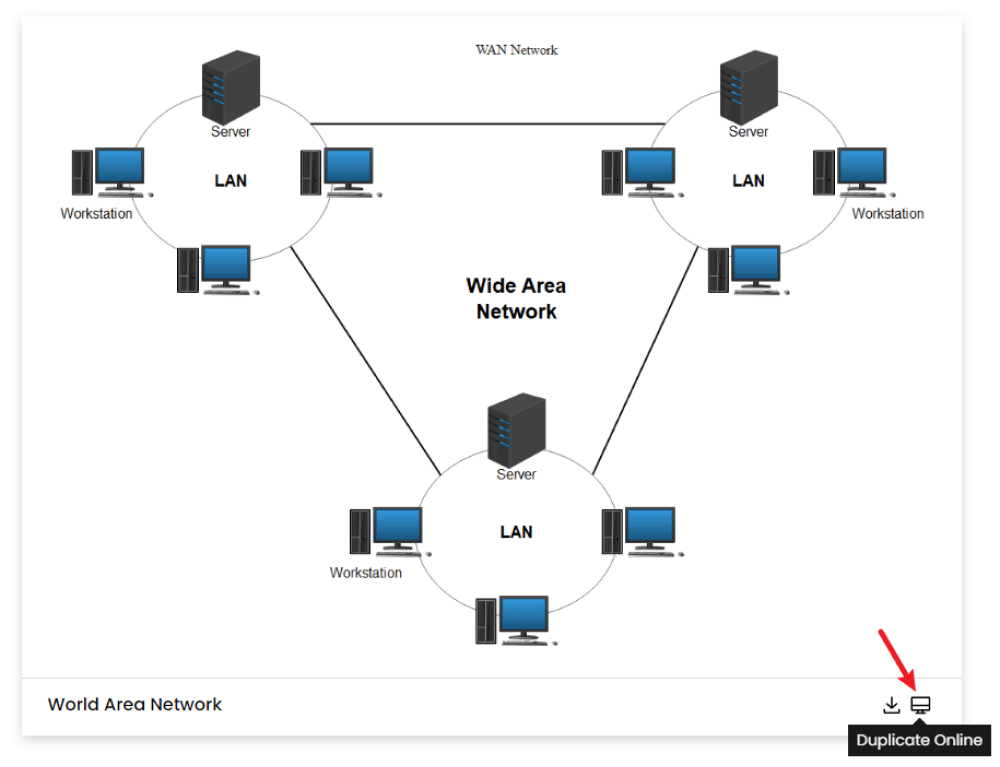 Step2
Search for More Templates
To search for more templates, go to the EdrawMax template community and search for the template you want. You can scroll down or search with the full name of the WAN network diagram template to get it quickly.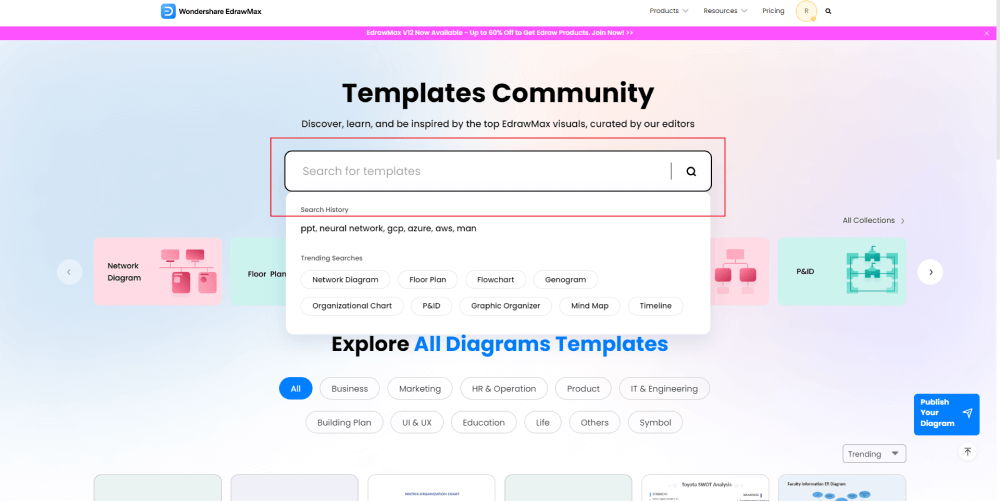 Step3
Open the Template
Open the template you want to customize and click on the 'duplicate' option. After clicking, the template will open with EdrawMax Online.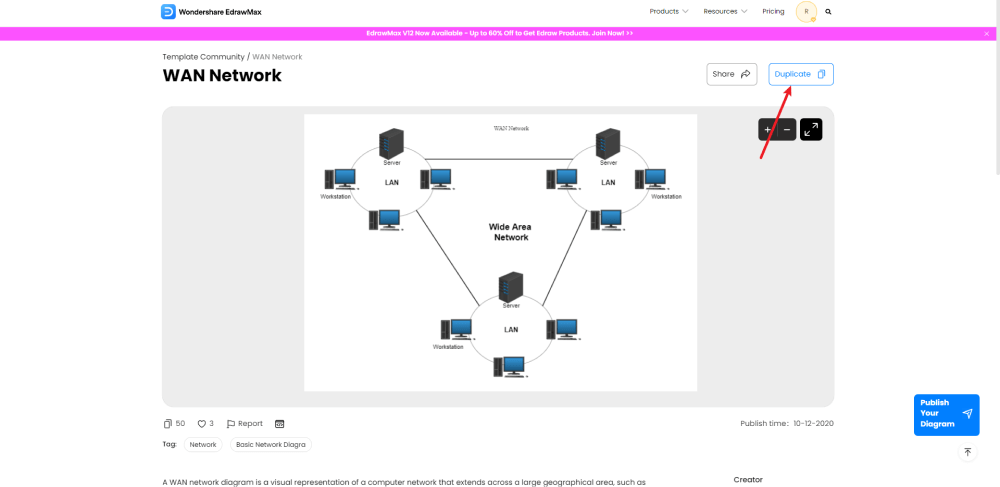 Step4
Edit the Details and Particulars
Customize and edit the WAN network diagram example after clicking on the duplicate option and getting the drawing canvas with the template you selected. EdrawMax features unique diagramming tools that help you customize the template and make whatever changes you want. You can change the color and the font liner of the template. EdrawMax also features a comprehensive library with 26000+ professional symbols that you can use for free with an easy drag and drop.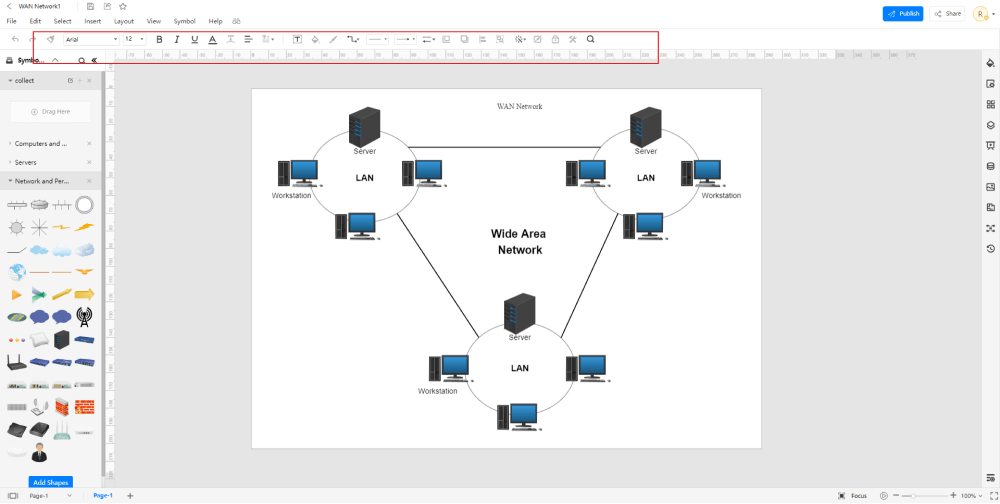 Step5
Save and Export
After your WAN diagram is complete, the next step is to save or export your drawing. EdrawMax gives you the same features as the EdrawMax diagramming software. It also supports multiple document formats so that you can export your drawing in any format. You can save and share your document in pdf, graphics, HTML, Visio, Microsoft Excel, and other popular formats. Click on the 'file' menu and go to 'export'. Click the format you want and enter. EdrawMax features a presentation mode and allows you to share your drawing on social media. Or you can "Publish" your WAN diagram in the template community.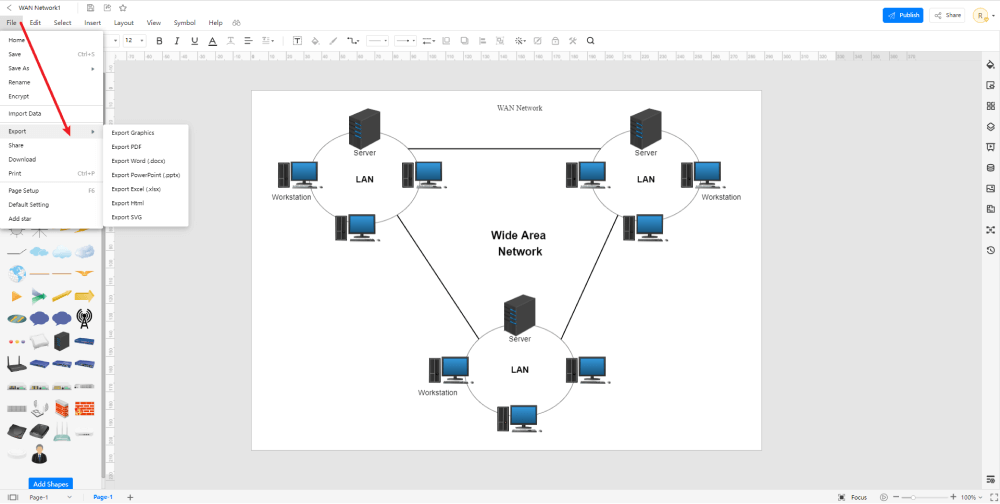 3. Free Network Diagram Tool
You can easily understand the visual representation of a database more fastly than a text representation of the same database. For example, the WAN network diagram has a complex infrastructure that must be depicted clearly in its design. Here are some basic key features offered by EdrawMax netowrk diagram software:
Regularly updated modern templates
Easy management and arrangement of files within the application
Instant backup for lost data files and designs
Restriction-free exchange of files between EdrawMax users
Basic as well as professional designing tools
Help sections and guide books for beginners
EdrawMax Desktop
Create over 280 types of diagrams
Windows, Mac, Linux (runs in all environments)
Professional inbuilt resources and templates
On-premises software for business
Enterprise-level data security
EdrawMax Online
Create over 280 types of diagrams online
Access diagrams anywhere, anytime
Team management and collaboration
Personal Cloud and Dropbox Integration
4. Final Thoughts
Anyone can access the EdrawMax account to craft various designs on different topics. For example, WAN network diagrams is an important part of computer networks and is compulsory to be understood by computer engineers. Thus, EdrawMax is a perfect solution for their complications, as it provides several WAN examples that they can use for illustration purposes. One can also sign up for a premium account in EdrawMax to gain more power and access to their files and tools.
EdrawMax is the best WAN network diagram software with its hundreds of free templates and creative drawing tools that helps you customize templates and create a diagram in minutes. EdrawMax supports multiple documents formats and is the first choice of professionals for its fast drawing, data automation, and symbol import features.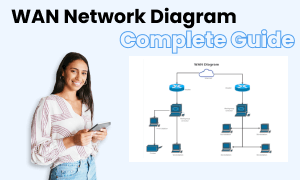 WAN Network Diagram Complete Guide
Check this complete guide to know everything about WAN network diagram, like WAN network diagram types, WAN network diagram symbols, and how to make a WAN network diagram.