How to Draw Lab Diagrams Easily
Draw scientific diagrams of common laboratory equipment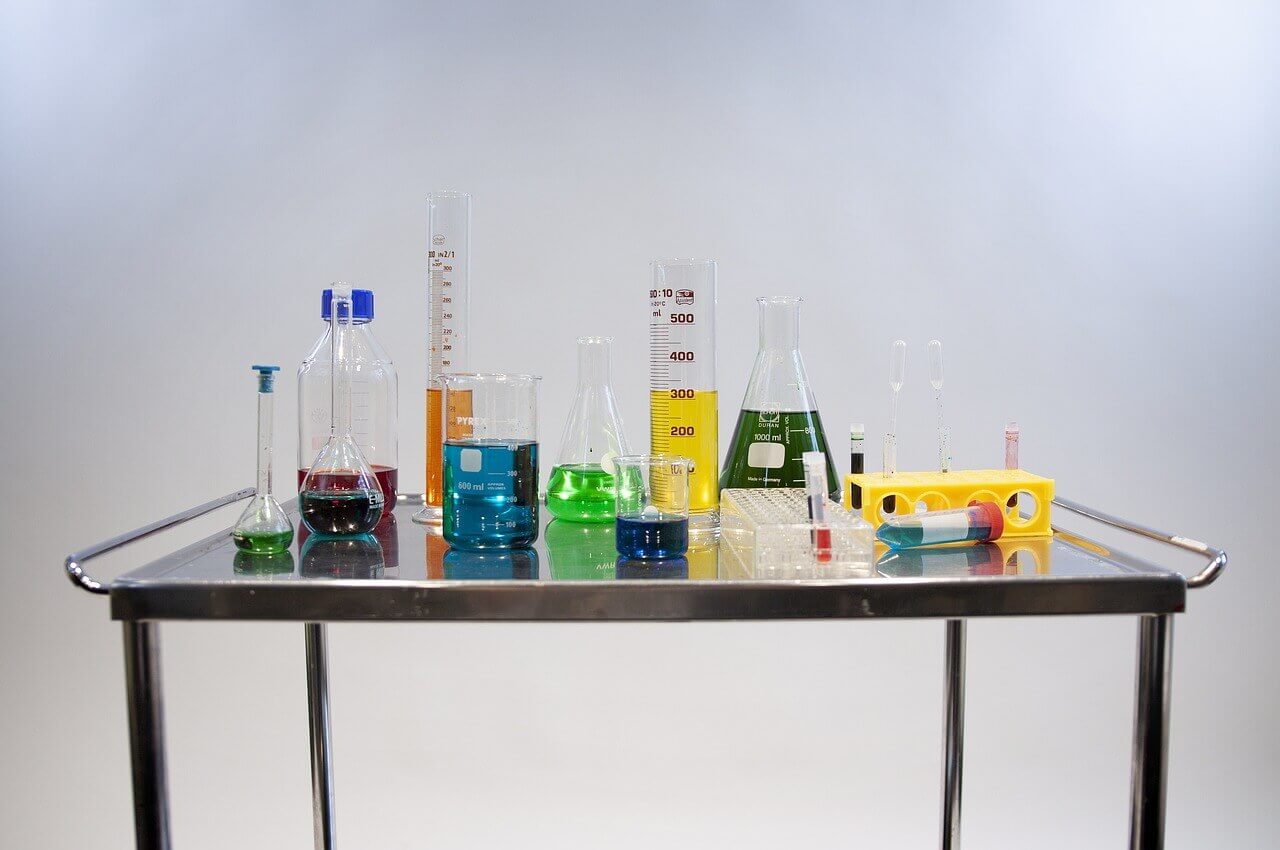 What is a laboratory diagram?
The laboratory is the place where the test is conducted. The laboratory diagram (Lab Diagram) is a graphic tool representing an experiment's specific description to give a clear image for people who want to figure out experiments or studies to help people understand experiments easily.
Das (2019) mentioned that the lab diagram helps the reader record information from examples. Thus, you can use this lab diagram to sort out knowledge points or exhibit knowledge for other readers when you are doing an academic experiment. It can be used in biology courses, chemical courses, and so on.
Image Source: researchgate.net
Basic Rules for Drawing Lab Diagrams
Having talked about the definition and where to use, next let us talk about how to draw a lab diagram. It is a good choice to download EdrawMax on your computer, an amazing and all-in-one diagram tool that serves all your purposes.
There are few tips for drawing a lab diagram.
Firstly, improvisation is not the right choice. You cannot use your imagination to draw laboratory diagrams because lab diagrams are quite academic, which should be neat, formal, and clear. You should draw what you see, not what you want to see.
Secondly, using a pencil and unlined sheet paper or a professional drawing tool to complete the lab diagram. You can revise when you are not satisfied with any situation, and lab diagram drawings should be done on unlined sheet paper to give a good experience for the reader.
Thirdly, as you can know, the lab diagram is a tool for the reader to learn things easily, so that when you are drawing a lab diagram, please keep its simplicity, write a few words on it, and do not mess up the lab diagram.
Next, please always remember that conspicuous is the key point for drawing diagrams. Then, labeling and positioning can help you manage your diagram well. Fixate the lab diagram in the middle of the paper, do not focus on the corner of the paper, and control the size of the diagram, do not let it too big or too small.
Last but not least, the technique is also a vital essential to draw a good diagram by hand. Make sure the lines are clear and the paper is clean. The title should be stated that focuses on the diagram that you create, use underline to emphasize the point.
How to Draw a Lab Diagram Easily
Step one: Open your EdrawMax from your desktop version, and find the template in Science and Eudcation > Laboratory Equipment.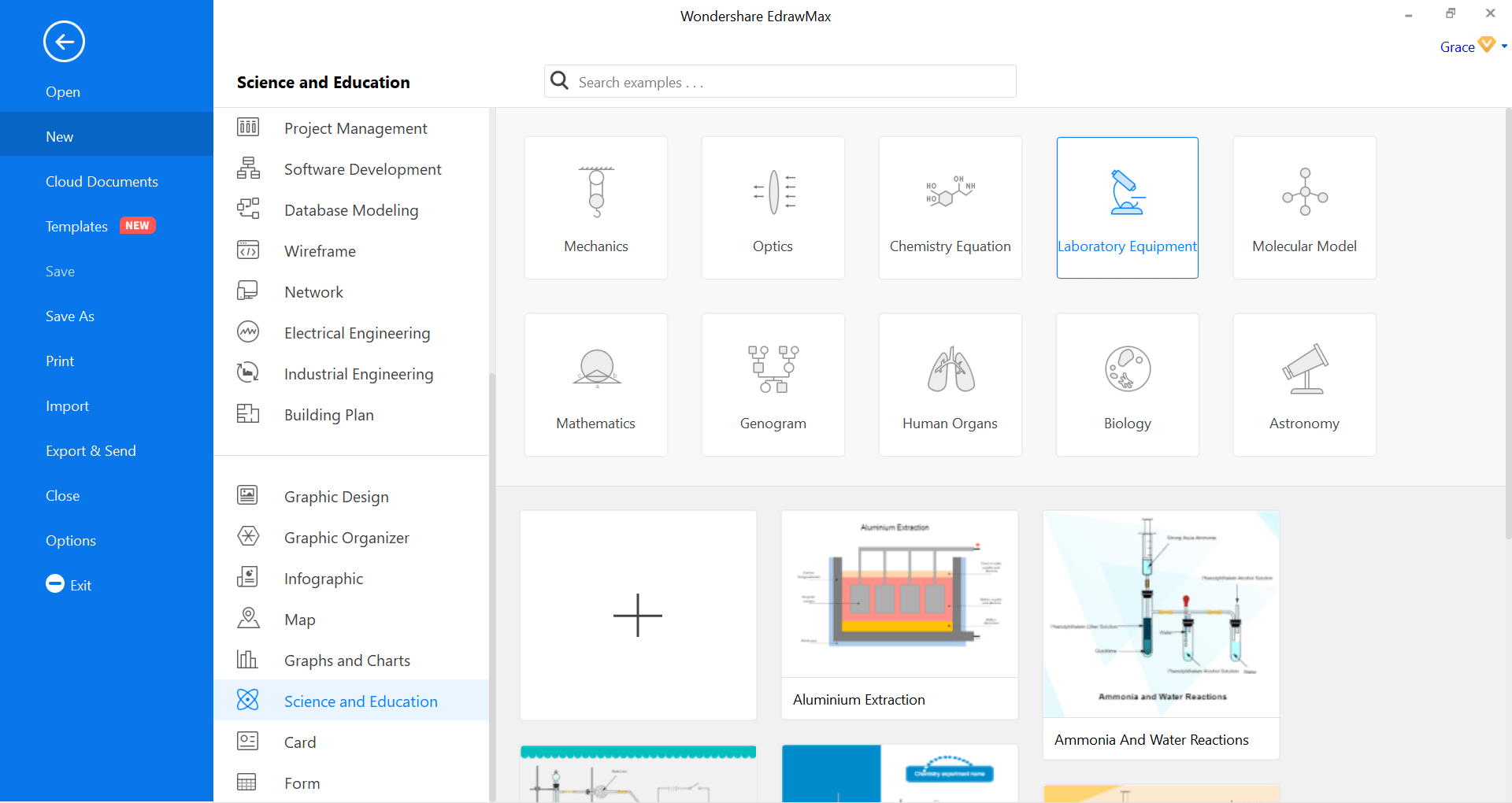 Step two: Then open a template or you can create a new one as you like. Before drawing your lab diagram, you should make sure the experiment materials are clear and correct that you will not make mistake when you are creating the lab diagram.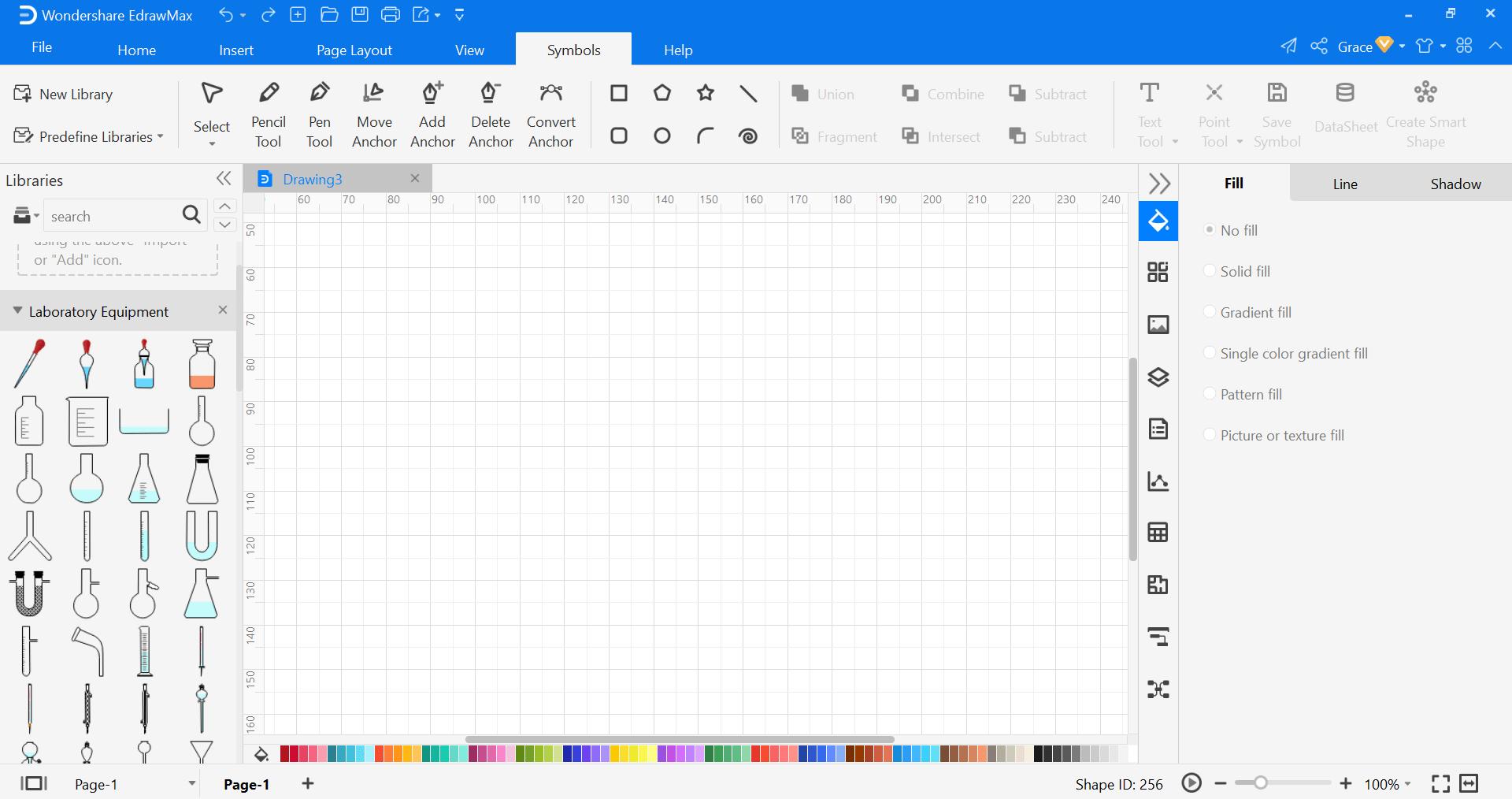 Step three: Select the symbol from the left side--- laboratory equipment. Click one and move it to the middle part. You can combine those symbols, and adjust the size whatever you like.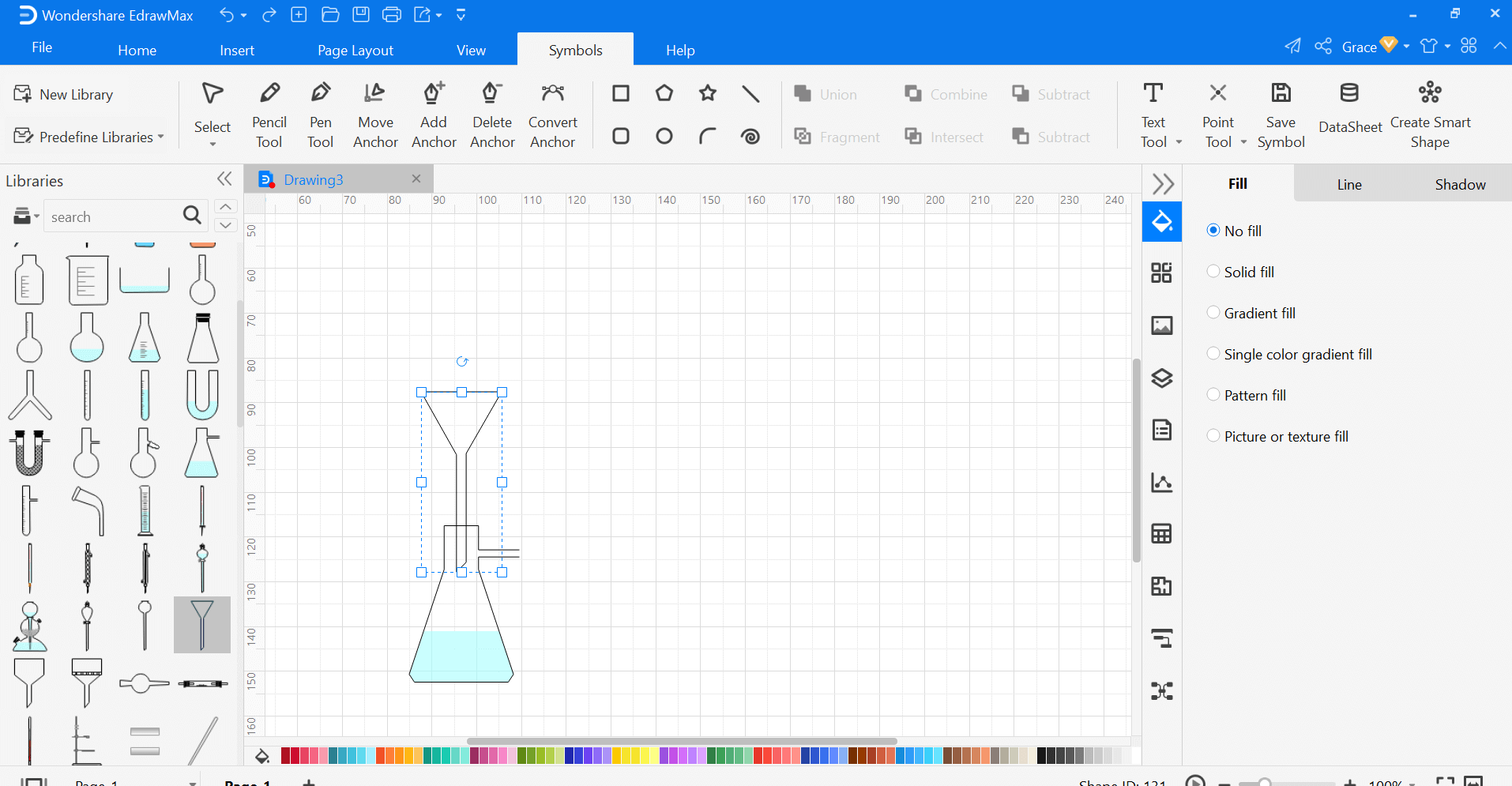 The next step is reviewing and revising. After creating the lab diagram which is based on your textbook or material, the reviewing is necessary to help you check leakage and fill a vacancy. After that you can share your lab diagram with your family or your friends, to gain suggestions from them. Or you can teach them as a teacher to show this lab diagram to them as a teaching material, to see they can understand it easily or not.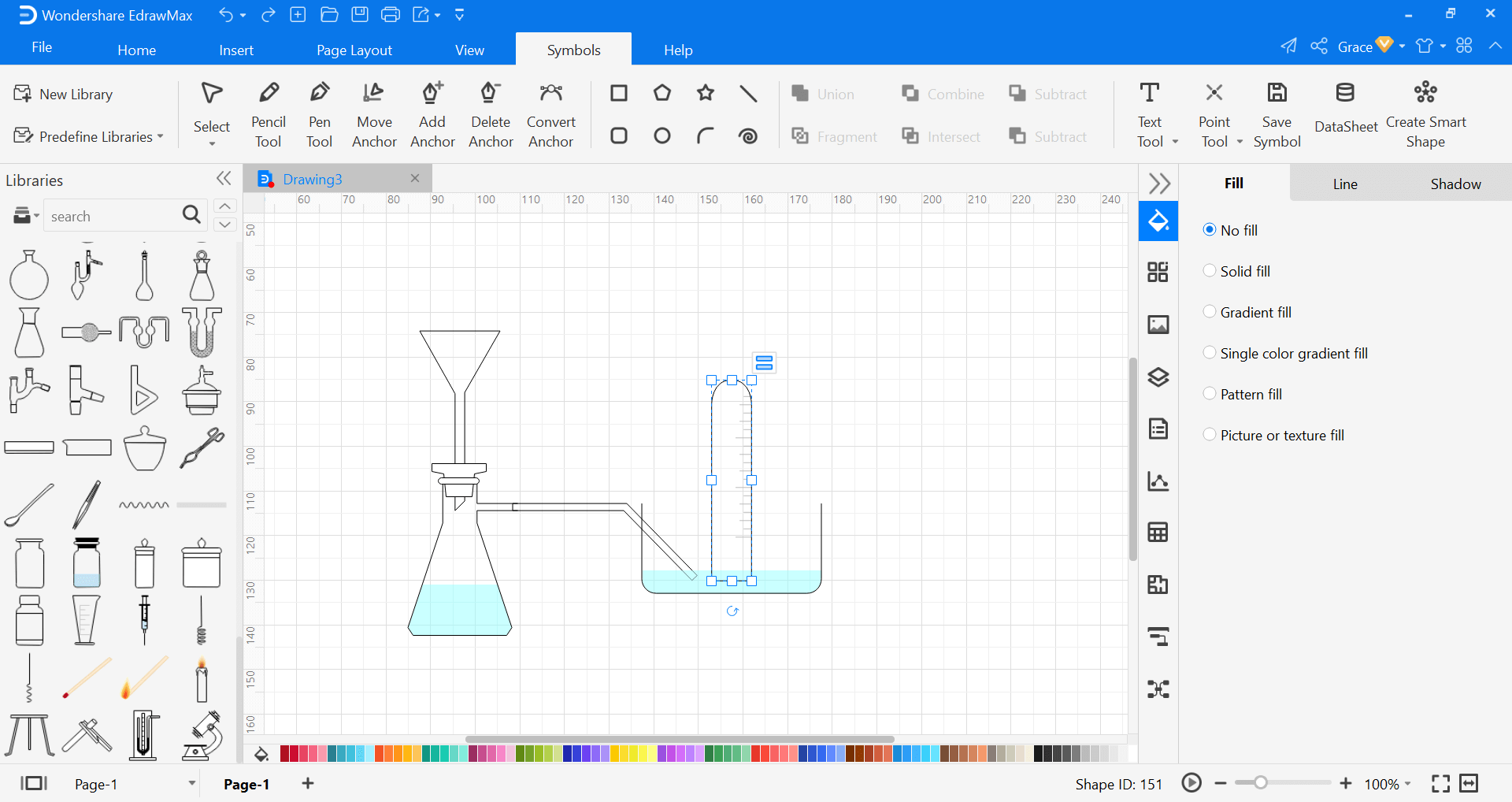 Last step: Click the save button to save it, and you can review or revise anytime you need.
Various Lab Diagram Templates
There are some templates from the EdrawMax website that deserve to introduce to you.
Example one:
This lab diagram is an illustration template about ammonia and water reactions, which is provided to the reader to download and print from the Edraw website. This lab diagram is conspicuous for the reader to understand what they want to express, and it is easy to use without any drawing academic skill required (Ammonia and Water Reactions Template, n.d.), which only need EdrawMax.
Example two: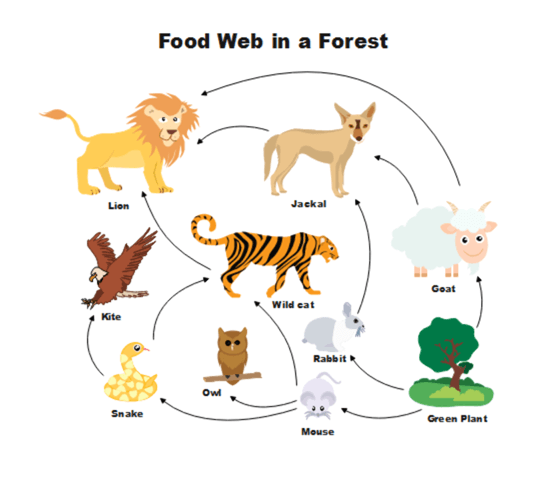 This lab diagram is a food web diagram template that you can take and print from the Edraw website. This food web science diagram pattern clearly shows the reader the fierce competition between wild animals. If you want to add or replace other new animal symbols that are based on your preference you can change it anytime(Food Web in a forest, n.d.).
Example Three: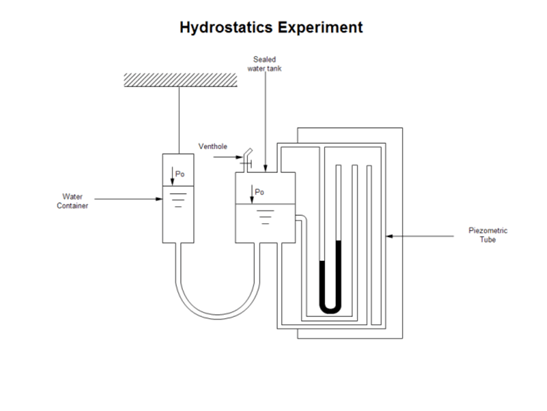 This lab diagram is a hydrostatics experiment illustration template that you can download and print from the Edraw page. It is also provided a re-editing function if you were adorable to this template.
Example four: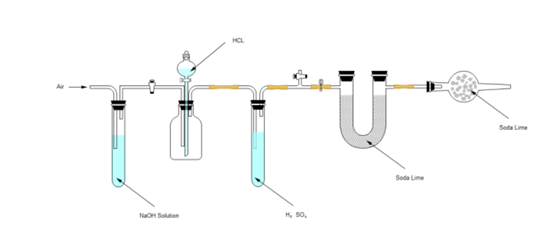 This lab diagram is a chemical experiment template that you can download and print from the Edraw page. It can quickly get a pre-start when creating a similar chemical experiment drawing (Chemical Experiment, n.d.).
Example five: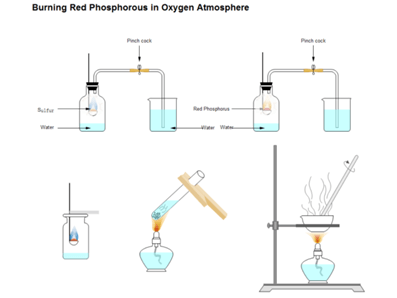 This lab diagram is burning red phosphorous in an oxygen atmosphere template that you can download and print from the Edraw website. This template often appears in the chemical textbook.
Example six:
Let us look at this biology eye diagram, you can learn the important components of the eyes of people in detail. If you like this science diagram for the texts or coursework you can download it from the link under the picture.
EdrawMax
All-in-One Diagram Software
Create more than 280 types of diagrams effortlessly
Start diagramming with various templates and symbols easily
Superior file compatibility: Import and export drawings to various file formats, such as Visio
Cross-platform supported (Windows, Mac, Linux, Web)
Security Verified |
Switch to Mac >>
Security Verified |
Switch to Linux >>
Security Verified |
Switch to Windows >>
EdrawMax, the application of making 280+ types of diagrams, is friendly to the users to create what they want to do. Many templates and patterns are provided in EdrawMax to the users and sharing good examples for the users. Furthermore, EdrawMax Application allows teamwork, which means it supports multiple-editing online at the same time so that the team can create wonderful diagrams together and successfully.