The Easy Guide to Gap Analysis (With Templates)
Assess the differences in performance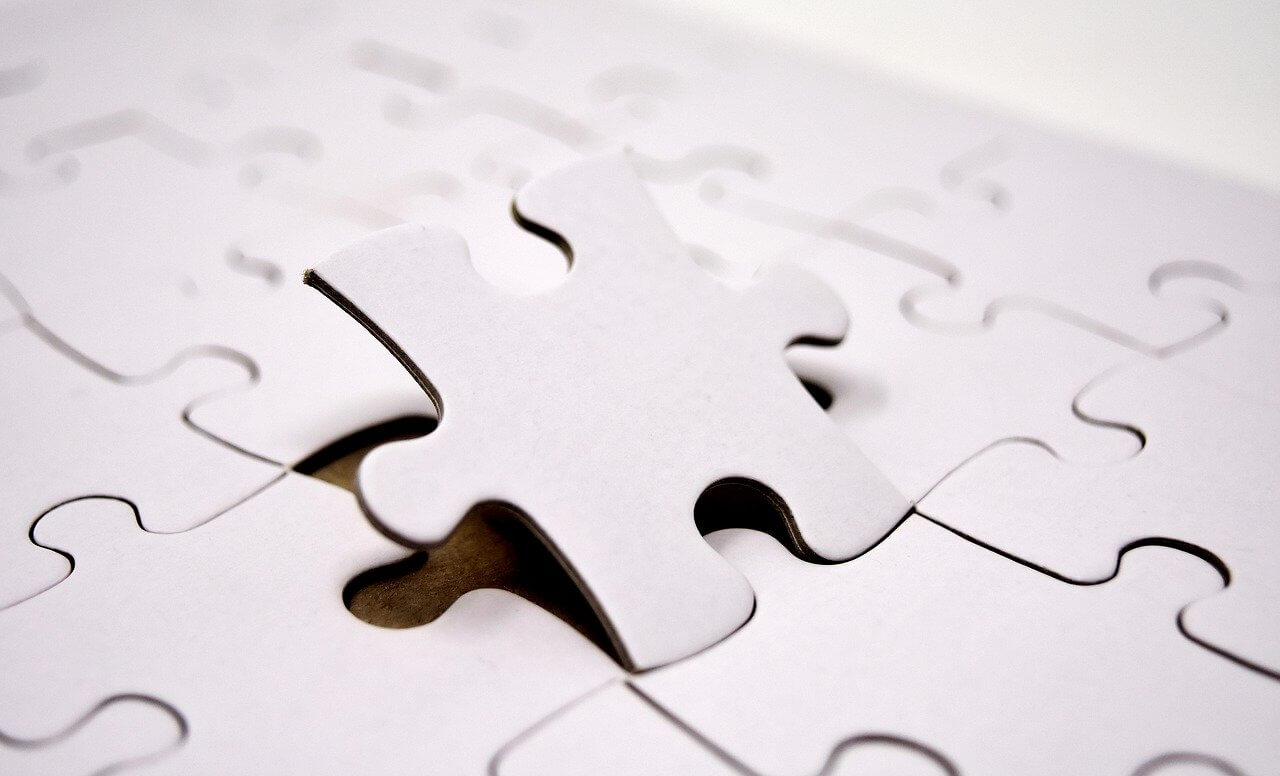 What is a Gap Analysis?
The gap analysis is the comparison of actual performance with the desired or potential performance of a business. It is an important and useful management tool, and its purpose is to help organizations determine how best to achieve their goals.
Any business that does not fully utilize its resources for forgoes investment in technology or capital will not perform at an idealized potential. This is where a gap analysis examines and assesses an organization's current position and highlights opportunities for improvement.
Thus, according to gap analysis meaning, by using this technique, you can identify and create missing structures, strategies, capabilities, practices, processes, skills, and technologies that will help the business meet its goals.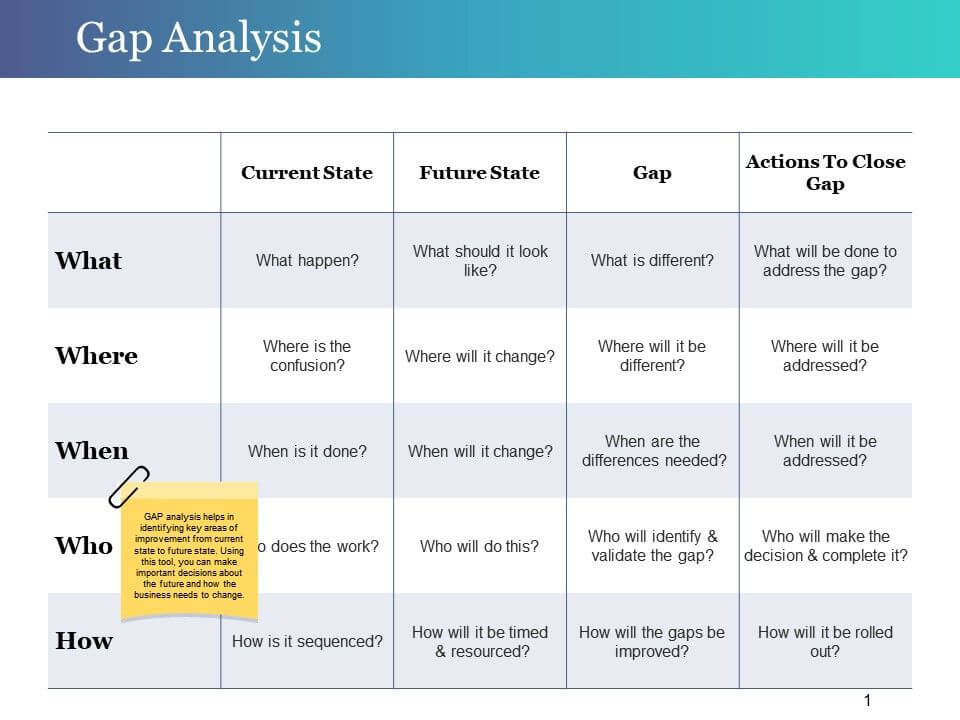 Image source: slideteam.net
Benefits and Challenges of Gap Analysis
Due to its numerous benefits, gap analysis is widely used across different businesses, but implementing gap analysis also comes with certain challenges. Let's take a lot at what these benefits and challenges are.
Benefits:
Ensure that the project requirements have been met
Identify the shortcomings and differences in projection vs. reality
Finding areas of weakness
Identifying the ideal spots to deploy resources and focus energy
Provide information to decision-makers for better decision making
Prioritizes Needs
Clear and easy results that drive change
Gives insight into areas that need immediate improvement like product processes, profitability efficiency, customer satisfaction participation performance, competitive advantage, etc.
Challenges:
Due to the rapidly changing business market, the analysis can sometimes be inaccurate as the ground is constantly shifting especially in large organizations.
Successful implementation and completion of a gap analysis depends upon the knowledge of the people involved in the process.
Gap analysis exposes shortcomings but if it does not go deep enough the solution will not be clear and it will not address the root cause of the problem.
For example, when analyzing sales performance, you may conclude that sales reps are not offering new products enough; however, you may not find out why.
There could be multiple reasons for underperformance on the sales reps part, so performing a more in-depth analysis will identify a problem's complexities.
Popular Gap Analysis Templates
There are many commonly used templates for doing a gap analysis that exists to help you bridge the gap. Let's take a look at the most popular gap analysis templates. By the way, all these diagrams can be made in EdrawMax.
1. Fishbone Diagrams
The fishbone diagram is used to identify and explore the possible causes of a root problem. It is also known as cause and effect diagram, a herringbone diagram, or as Ishikawa.
Fishbone diagrams are most commonly used to explore business categories like materials, machines, methods, environment, measurements, and employees.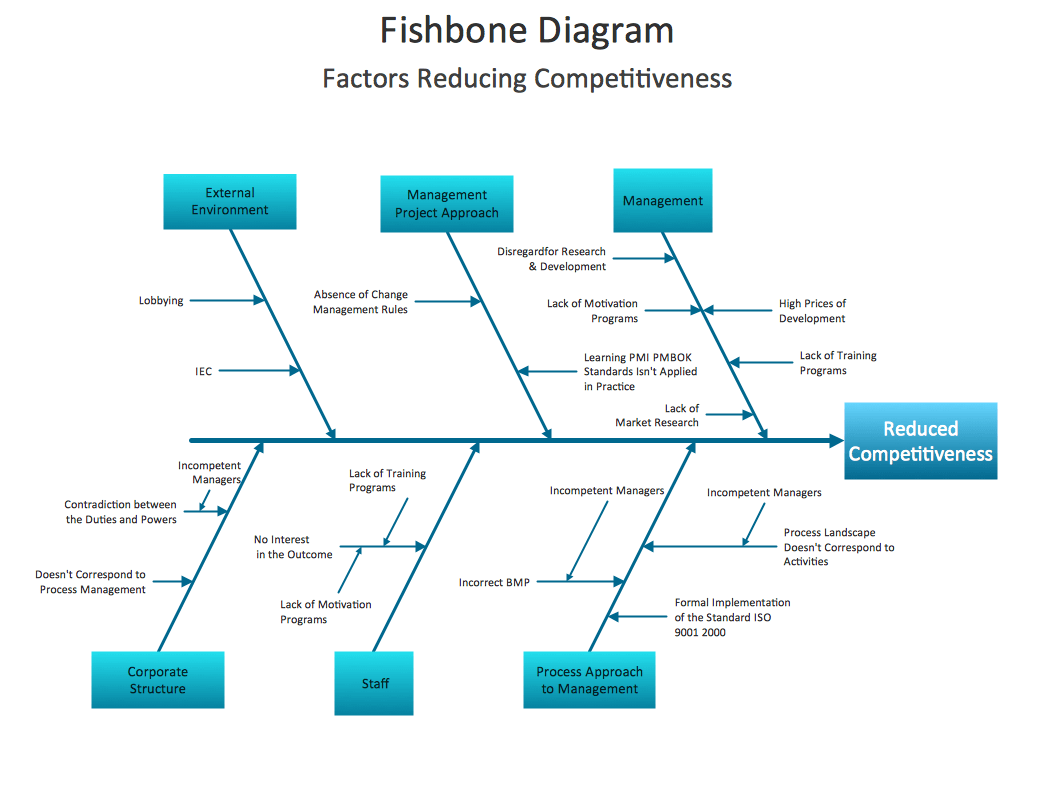 Image source: pinterest
2. SWOT Analysis
SWOT analysis is a commonly used marketing tool. SWOT stands for strengths, weaknesses, opportunities and threats. In this way, you will figure out the internal and external shortcomings of your organization and how you stand out from your competitors.
Thus, performing a SWOT analysis helps you identify and analyze both quantitative and qualitative aspects of the strengths, weaknesses, threats, and opportunities of a business.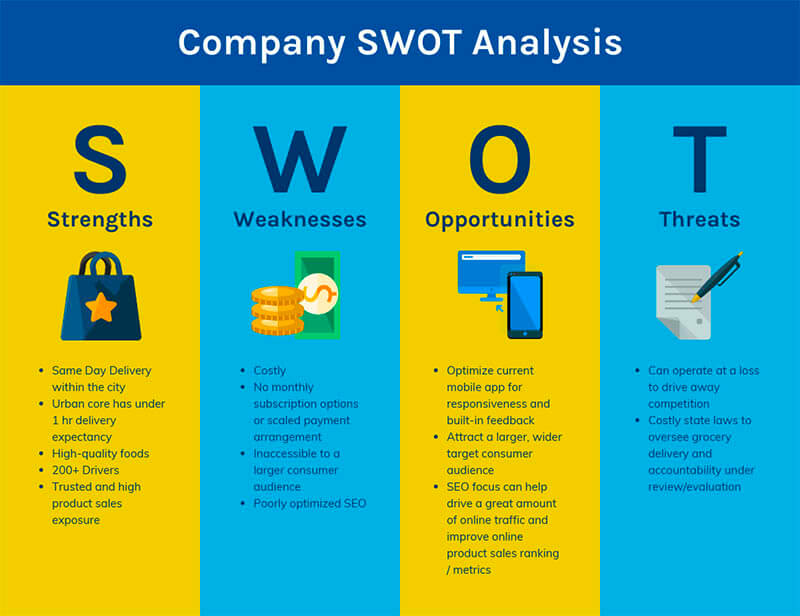 Image source: venngage.com
3. PEST Analysis/PESTLE Analysis
PEST or PESTLE stands for political, economic, sociological, and technological. PESTLE is a management method that describes a framework of macro-environmental factors that influence business operations to stand out against competitors.
Thus, pest analysis is best for an in-depth analysis of the market environment and how it impacts your business.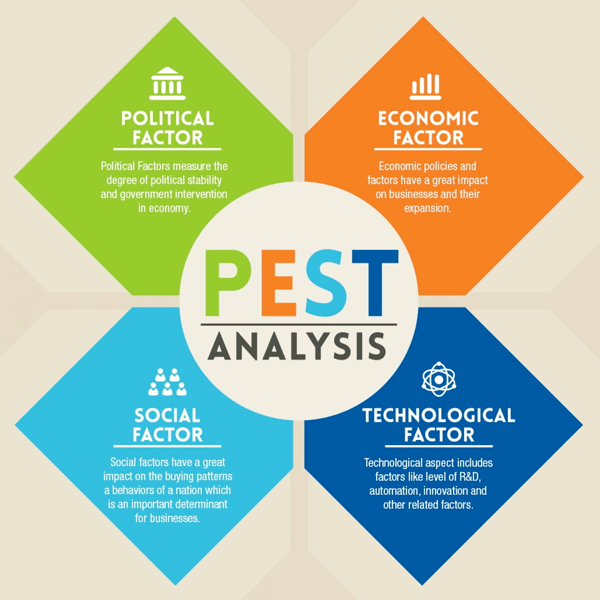 Image source:venturefounders.com
4. McKinsey 7s Framework
McKinsey 7s framework is a management model developed by a business consultant firm in the 1980s. The 7 Ss are:
Structure
Strategy
System
Skills
Style
Staff
Shared values
The first three categories are considered "hard," and the rest are considered soft. This gap analysis template helps determine whether a business is meeting expected goals.
Image source: intology.co.uk
5. Nadler-Tushman Model
The Nadler-Tushman Model breaks down business performance into four categories, i.e., work people structure, and culture. Forming an analysis of all four categories helps you find out how each business process affects others. It presents an overall image of how the organization's performance results from the way its elements work together.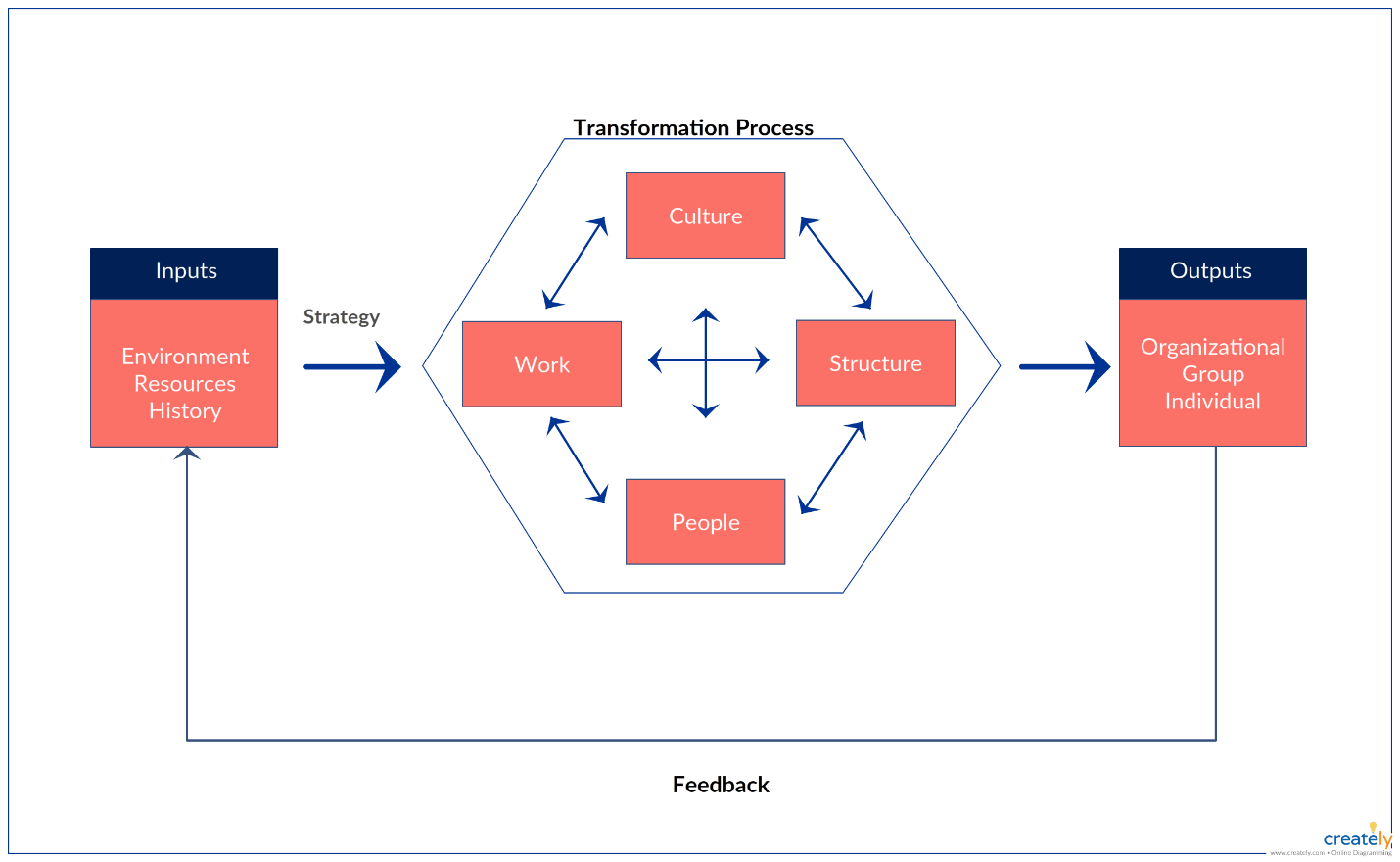 Image source: pinterest
EdrawMax
All-in-One Diagram Software
Create more than 280 types of diagrams effortlessly
Start diagramming with various templates and symbols easily
Superior file compatibility: Import and export drawings to various file formats, such as Visio
Cross-platform supported (Windows, Mac, Linux, Web)
Security Verified |
Switch to Mac >>
Security Verified |
Switch to Linux >>
Security Verified |
Switch to Windows >>
How to Conduct Gap Analysis?
The gap analysis falls under business management and is usually conducted by project managers, business analysts, process improvement teams, etc. However, anyone can perform a gap analysis with a little training and a well-designed template.
Follow the simple step by step guide for performing a gap analysis.
1. Analyze the current state
The first step of forming a gap analysis is to understand and analyze your current condition. Before you can plan for reaching the goals, you need to discover where your organization currently is and what to focus on.
For example, your company wants to grow its customer base, but your customer support team does not perform well and frustrates the customer.
Your product may not be the problem, and your support team may need more training and education on handling customer calls effectively. You will only know this until you perform an in-depth analysis by talking to team members, scrutinizing your systems, and gathering all relevant data.
Finally, to make sense of all the data, you need to visualize your current state with the help of a gap analysis tool.
Thus, the most important thing in this stage is understanding the root of the problem and conducting thorough research around it.
2. Identify the areas to be analyzed and identified the goals to be accomplished
Once you have identified the problem and its causes, it's time to analyze each problem and realize how you can find a solution to these problems in order to meet your goals.
You also need to set a target for yourself where your organization should be. Once you have identified your goals, you will be better able to assess your shortcomings and why you have not reached your goal.
When your current performance is short and needs to be improved, then instead of going blindly ahead, use the gathered information, and create useful strategies to overcome the shortcomings. With the help of the right gap analysis tool, you can brainstorm and visualize the solutions and their effects.
3. Establish the ideal futures state
This is a simple step where you create an ideal future image of your business. Imagine your business without any problems and weaknesses. Now, where would you be if everything works according to plan?
4. Find the gap and evaluate
Once you have identified the problems, set your goals, and established a future state, now you can compare the current state with the future state and highlight the missing factors.
Putting your current situation and goals together exposes what you are missing and how you can fully utilize your resources and potential to meet your goals. You also need to realize which solution will most effectively bridge the gap.
5. Create and implement a plan to bridge the gaps
Now you finally decide what needs to be changed and determine what steps should be taken to fix the problems and to overcome the shortcomings.
Create a clear strategy and actionable objective plan to help actualize the transition. Use a gap analysis template to communicate with the rest of the team where and how you can improve and what steps need to be taken.
In this way, you will streamline your operations for efficiency, cost-effectiveness, and for reaching full potential.