MAN Diagram Complete Guide
Do You Want to Make Your MAN Diagram?
EdrawMax specializes in diagramming and visualizing. Learn from this MAN diagram complete guide to know everything about the MAN diagram. Just try it free now!
A Metropolitan Area Network (MAN) is a colossal computer chain that spans a vast territorial area and includes many structures or the entire town (metropolis). The geographical region of the Metropolitan Area Network is more significant than that of the Local area network but shorter than that of the Wide area network. The metropolitan territory's LANs are connected to the Internet through Metropolitan Area Network, which contains various connecting devices.
Drafting a MAN network diagram is highly efficient in understanding the core concepts and the types of MAN network infrastructure of a particular territory. This guide will cover all the specifics of the MAN network diagram and how to effectively design a MAN network diagram using EdrawMax online. So, without further ado, let us get right into the crux of the article!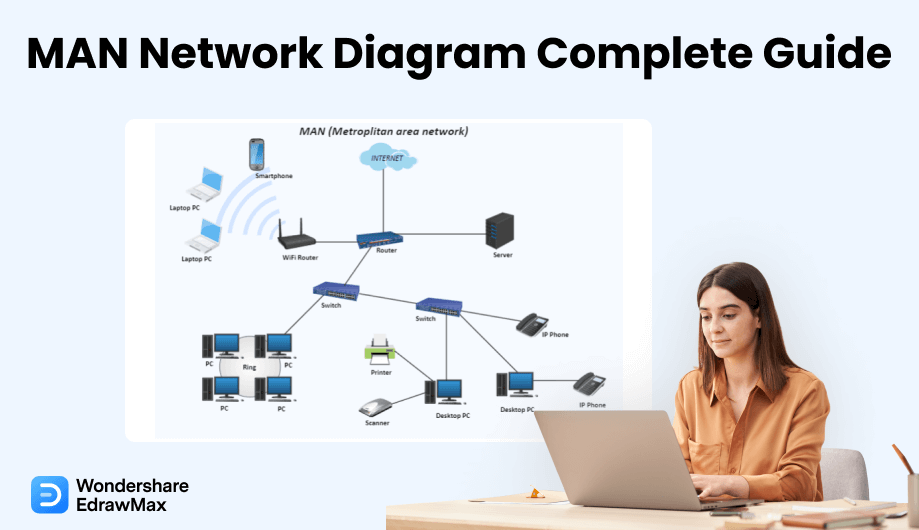 1. What is a Metropolitan Area Network (MAN)
The Metropolitan Area Network is a computing channel connecting individuals to a metropolitan region's computer services. The term MAN relates to consolidating multiple local area networks (LANs) inside a location into a unified, more comprehensive network that can conveniently link to a vast area network. The term can also be used to denote the usage of point-to-point connectivity to connect multiple LANs in a metropolitan area.
A Metropolitan area network is a network that is bigger than a Local area network but smaller than a Wide area network. It is often used to connect regionally dispersed Local area connections. As a result, the goal of the Metropolitan area network definition is to establish a network link across two distinct LAN hubs. A Metropolitan area network is often built with optical fiber. The network is built using switches and routers. A switch is a terminal that filters data frequently in a frame format. Every switch is dual-port equipment that filters information on one terminal and controls connectivity on the other.
A metropolitan area network diagram is used to depict the different local area networks and wide area networks (optional) connected to a specific region's solitary, territorial network.
What is the metropolitan area network (MAN) used for
There are several uses of metropolitan area network, and some of them include:
Building and deploying a networking platform that connects systems to transmit the connection used by governments and businesses so that they could engage in activities such as chatting, messaging, streaming, and several others.
There are several other networks, but the Metropolitan area network is the most often utilized to link cities. Telecom operators can link communications systems across long distances to build a Metropolitan Area Network (MAN).
The transmission will become even more productive, the business will be more straightforward, and the connection will be secure because of the Metropolitan area computer networks.
It is linked to a cable tv or broadcasting network and may transmit text and speech information.
The primary function of the Metropolitan Area Network is to integrate network services from one region to another.
2. Pros and Cons of Metropolitan Area Network (MAN)
Pros of using MAN:
Cost-effective: It is less costly to connect the Metropolitan area network than the Wide area network. The Metropolitan area network provides high data efficiency. Information is conveniently maintained and centralized in the Metropolitan area network.

Sending emails locally: You may send local emails quickly and for free on the Metropolitan area network.

Greater than WAN speed: Because the Metropolitan area network uses fiber optics, data speeds can often exceed 1000 Mbps. Information and database systems may be moved quickly.

Internet distribution: Individuals can split their internet service in some Metropolitan area network installations. As a result, numerous users can share a similar high-speed internet connection.

Converting from the Local area network to the Metropolitan area network is simple: The metropolitan area network is a quicker method of connecting two fast Local area networks. This is because links are configured quickly.
Cons of using MAN:
Challenging to regulate: When the Metropolitan area network grows, it becomes tough to handle. This is linked to a cybersecurity issue and further settings.

Internet speed disparity: Metropolitan networks cannot operate on typical copper phone cables. The performance will be extremely slow if the Metropolitan area network is put on copper lines. As a result, the initial installation of fiber optics was costly.

Hackers could launch an attack: Metropolitan area networks are more likely to be attacked by hackers than Local area networks. As a result, information may be leaked. Information can be safeguarded, but it requires highly skilled personnel and security equipment.

Technical personnel are needed to set up: To properly configure the Metropolitan area network, technical personnel are required. Network admins and technicians are among the technical personnel.

More wires are needed: Another issue with the Metropolitan area network is that additional cables are necessary to connect two Local area networks.
3. Differences Between LAN, MAN, and WAN
3.1 What is LAN and WAN?
LAN (Local Area Network)
A Local area network is a collection of multiple computers in a network that are connected inside a certain geographic area, such as a home, a facility, a workplace, an entire university, and so on. It is a frequently utilized network of devices that may be built in a confined geographical region at a low cost compared to other connections. In most circumstances, local area network is used to create a connection to share resources such as scanners, printers, or assets such as music, video, films, programs, games, and so on. A connection created between a pc and a printer within a home is the most basic type of Local area network example. It is often a medium for transferring data between devices in a restricted range zone.
Core advantages of LAN
Data may be moved without difficulty from one connected computer to the other.
Data can be saved securely on the server computer's sole storage drive. It will be far easier to safeguard data on a single drive than it will be on all the different drives. This is also beneficial for information management.
Administrators can use Local area network to maintain a unified internet connectivity among all connected devices.
Individuals from multiple systems can use the same program from the server's computer system across the connection instead of acquiring paid software for every device.
WAN (Wide Area Network)
A wide-area network (WAN) is a vital information system that spans a broad geographical territory. It can bridge the gap between states and countries. Wide area network is significantly bigger and more costly than Local area network or Metropolitan Area Network. WANs are not often held by a single enterprise due to their high cost and complicated configuration. Wide area networks are built by connecting numerous LANs through phone lines or radio frequencies. These systems are often built with high-end communication channels. The Internet, a type of open network, is the greatest wide area network.
Core advantages of WAN
Wide area network allows users to connect across a vast geographical region. This is beneficial for enterprises with several locations. They can simply interact with other locations.
The information is arranged centrally. It enables users to effortlessly access and manage information. This is beneficial whether working with mails, documents, or backup systems. Users are not required to purchase for these services individually for every branch or location.
Wide area network enables people to interact via instant messaging. Telegram, Skype, and WhatsApp have made it simpler for people to communicate with their friends / family.
Organizations operate on the live server over Wide area network. As a result, engineers and developers get rapid accessibility to the modified files.
People may arrange their businesses internationally over the Internet thanks to a public network.
3.2 Differences between LAN, MAN and WAN
MAN: The metropolitan area network serves a broader geographical area than that of the local area network since it includes significant cities, towns, and so on. A Metropolitan area network links two or more devices that are in the same or separate cities. Metropolitan area networks are costly and should not be held by a single entity.
LAN: A local area network enables users to interact with other devices that are linked to it. Rather than just the private, public ownership governs what you may do with a local area network. Local area network has a shorter transmission latency than Metropolitan area network and Wide area network. As a result, it reaches even the most remote locations, such as schools, colleges, and institutions.
WAN: Wide area networks span a larger geographical region than local area networks and can potentially span an entire nation or continent. They are costly and should not be administered by a distinct group. Wide area network often transmits through satellite and PSTN.
There are also significant contrasting elements when looking at the lan, man, wan diagram infrastructures. We will be going through them later in the article. Now let us have a brief comparison between the three networks.
| LAN | WAN | MAN |
| --- | --- | --- |
| LAN is the short form of local area network. | WAN is the short form of wide area network. | MAN is the short form of metropolitan area network. |
| LAN can have only private ownership. | WAN cannot have a solitary single organization ownership. | MAN can have both public and private ownership. |
| The data and information transmission on LAN takes place in a far quicker pace. | The data and information transmission on WAN takes place in a slower pace. | The data and information transmission on MAN takes place in an average pace. |
| LAN produces least propagation delays comparatively. | The propagation delays on WAN networks takes longer intervals. | The propagation delays on the MAN networks are quite moderate. |
| LAN tends to have the least congested networks. | WAN tends to have even more congested systems than MAN networks. | The MAN servers are mostly congested. |
| LAN networks have the least maintenance and functionality protocols comparatively. | WAN networks have the highest maintenance and functionality protocols. | MAN, networks are not harder than WAN to maintain and function. |
| LAN networks have high fault tolerance. | These networks have the least fault tolerance levels. | The fault tolerance levels on these networks are moderate. |
4. How Does a Metropolitan Area Network Work
As it is larger than a Local area network and smaller than a Wide area network, the objective of the Metropolitan area network is to provide a telecommunication bridge between two autonomous Local area connections. A metropolitan area network is a channel that connects geographically scattered Local area connections by combining a wide area network and a local area network. Now, let us understand how the Metropolitan area network functions:
Step 1: The beginning point
Optical fiber is commonly utilized as a communication medium in Metropolitan area networks. Switches and routers enable data delivery via their terminals. A switch oversees filtering the information that is transmitted in frames.
Step 2: The data transmission
Switches function as dual-port devices because they filter information at one endpoint while managing links at the other.
Step 3: Receiving the transmissions
Routers also play a vital role in network connectivity since they determine the direction communication packets should take. In other terms, a router monitors data transit. Metropolitan Area Network coverage often extends up to 50 kilometers.
5. How to Draw a MAN Diagram in EdrawMax
As you have noticed and realized by now, creating a MAN network diagram requires time and hard work. Therefore, if you develop it on sheet of paper or using tools that is too complex or exorbitant, you will either discard your MAN network diagram or spend much too much money on your artist to create one for you. Rather than wasting time drafting a MAN network on a sheet of paper, seek for an easy technique to construct an effective MAN network diagram. EdrawMax is well-suited to creating the perfect MAN network diagram you desire. There are merely a few procedures you need to take to easily make it, such as:
Step1
Open EdrawMax and Login
The very first step that you need to follow is to install EdrawMax in your system. Go to EdrawMax Download and download the MAN network diagram software depending upon your operating system. If you need remote collaboration with your office team, head to EdrawMax Online and log in using your registered email address.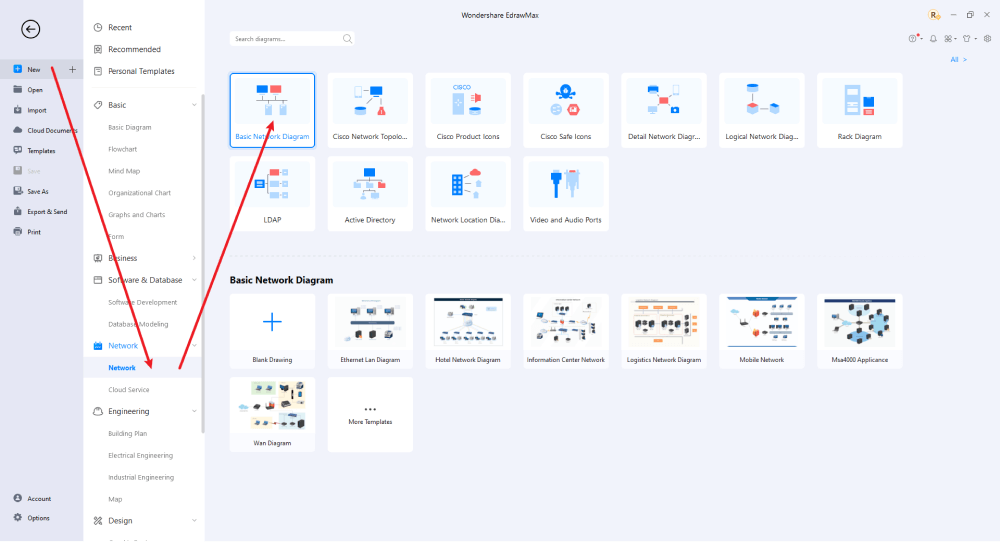 Step2
Select a Template
After launching, the Home screen opens by default. Head to the Template bar and search for MAN Network Diagrams in the search box. In-built templates specific to your search will appear on the screen. EdrawMax features a large library of templates. We have more than 25 million registered users who have produced thorough Templates Community for each design. Select the template you like and click Use Immediately to open it in a new window for customization.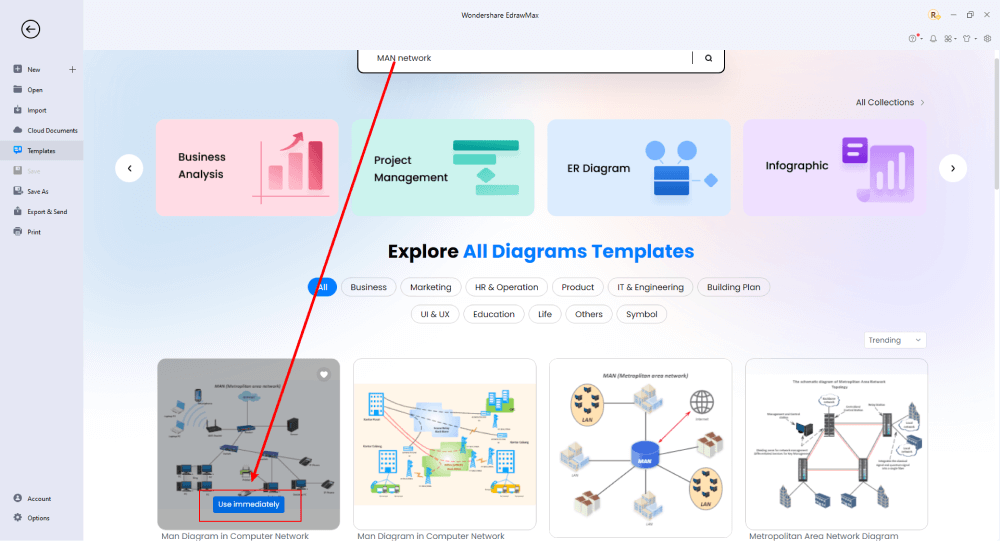 Step3
Create From Scratch
From the EdrawMax homepage, you will find the '+' sign that takes you right to the canvas board, from where you can start designing the MAN network diagram from scratch. Coupled with your technical expertise, you can use a wide range of symbols to draw a detailed MAN network diagram.
Step4
Select Symbols
EdrawMax includes a large number of symbol libraries. You may quickly build any type of diagram with over 26,000 vector-enabled symbols. If you can't locate the symbols you need, you can easily import some images/icons or build your own shape and save it as a symbol for later use. Simply go to the 'Symbols' part of EdrawMax and select the 'Predefined Symbol' section from the top toolbar. Hundreds of symbol categories are accessible for you to utilize and incorporate into your MAN network diagram.
Step5
Add Components
After you have sketched out the basic pieces, you may customize the typefaces, colors, and other details by selecting the right or top menu to make your LAN network design more visually appealing. Also, feel free to draw ideas from other layouts on Templates Community and transfer some of the photos or features that you think would go well with your LAN network design.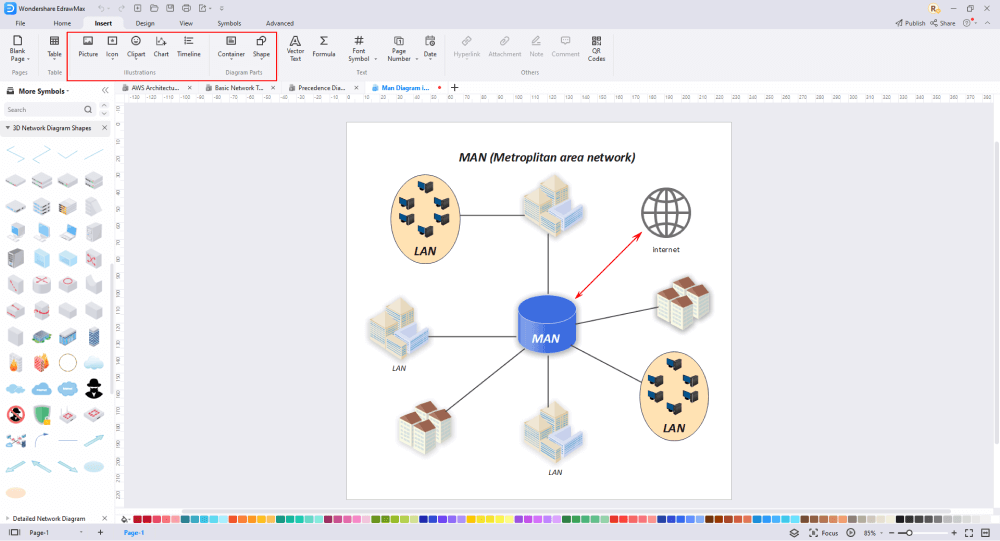 Step6
Finalizing the Plan
Once your MAN network diagram is ready, you can collaborate with your team to consider their opinion using the Cloud-base files. EdrawMax allows up to 100M free cloud storage. It supports files in several formats, including HTML, PDF, Graphics, Visio, Microsoft Office, etc. It is not a complicated process to create a MAN network diagram in EdrawMax. You can take a template and continue customizing it to suit whatever design you want. EdrawMax has several templates with fantastic designs for a MAN network diagram for your organization.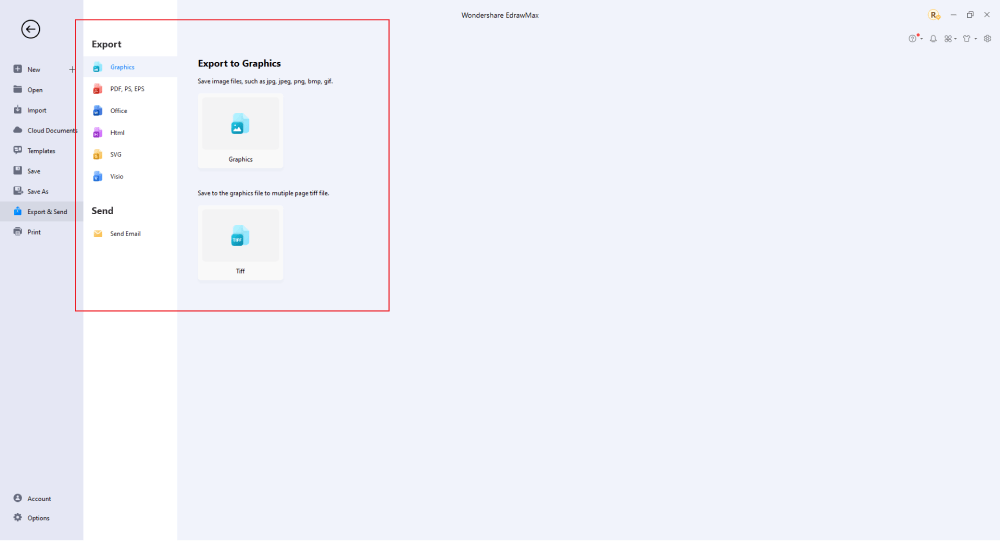 Basically, it is simple to create a MAN network diagram in EdrawMax, just grab a template and keep customizing, drag and drop professinal network diagram symbols to make your plan better. If you are still confusing about how to make a MAN network diagram in EdrawMax, you can find more tutorial videos from our Youtube
6. Metropolitan Area Network Examples
EdrawMax offers you Metropolitan Area Network examples and templates. Just click the image to download EdrawMax, and download the templates accordingly. Then double click to open the templates and customize as your prefer. Or open the templates from EdrawMax Templates Community, and duplicate the templates.
Example 1: Metropolitan Area Network Diagram
The above metropolitan area network diagram depicts the functioning chart of a MAN network through basic symbols and icons. This is what a standard diagram should look like. It is also easily understandable even for someone new to MAN networks. As mentioned earlier in the article, the MAN network is the centralized component of many local area networks connected.
Example 2: MAN Diagram in Computer Network
The above MAN diagram in computer networks is designed only by connecting several symbols through lines and interconnecting all to a vital component. Though this diagram may seem very straightforward, this is the best way to explain how several computers and other devices are connected to the metropolitan area network. To be precise, several laptops and other devices connect to a router, which is then connected to the centralized component - the Metropolitan area network.
Example 3: Wireless Metropolitan Area Network
A computer and network layout are a wireless metropolitan area network subclass. Wireless network layouts are utilized in WLAN systems engineering, administration, and management. Designing a Wireless Network Diagram includes several unique steps, all of which may be managed with EdrawMax. Wireless networks are divided into four categories: wireless metropolitan area networks, wireless local area networks, and wireless wide area networks, wireless personal area networks, each having a distinct role.
7. Free Network Diagram Tool
EdrawMax is an extraordinary MAN network diagram tool that can depict network structure, LAN connecting signals, WAN and LAN relationships, WAN network diagrams, LAN network diagrams, and other applications. EdrawMax Online includes over 290 graphical template types, including infographics and flowcharts. You may mix several layouts and visually contextualize them with text and icons. It also has lots of carefully designed layouts. Anyone may use the tool to export and convert files to Word, HTML, PDF, Visio, and PowerPoint. You may also export to image mediums like jpeg and png. Every type of MAN network diagram has built-in frameworks. While all layouts must adhere to certain requirements, the symbols themselves may be readily changed by modifying their line styles.
Here is why you should use EdrawMax instead of other tools for your network diagram drawing projects:
Easy to Use: To create a network diagram with less time, EdrawMax realizes it is important to simplify the process through pre-made shapes and automatic floating buttons. Therefore, you can save time to work efficiently and everything in EdrawMax network diagram maker is simple, smart and intuitive.
Abundant Network Diagram Symbols & Templates: Using standard and polished network diagram symbols will help produce accurate and presentation-quality network diagrams. EdrawMax includes thousands of symbols for network diagram design which are divided into 30 separated libraries. You can load any library as you please and close those you don't need. EdrawMax also offers you tools to personalize the symbols or create custom symbols on your own.
Editable Exported Files: EdrawMax network diagram software is easy and powerful. It is not only capable of exporting the created files to the most common formats. Moreover, those files are editable and sharable. Unlike other network diagram creators only exporting uneditable files, EdrawMax network diagram software makes itself stand out.
Network Diagram Maker on All Platform: EdrawMax is a great Diagram Software. It's used as a powerful, fast and easy-to-use network diagram drawing program, which lets you layout your home network, cisco network, wan network, AWS network and other network graphic visualizations with premade high quality symbols. It's really cheap yet with premium quality. Many users have embraced it as the ultimate network diagram desktop program for Mac, Windows, Linux and Online.
EdrawMax Desktop
Create over 280 types of diagrams
Windows, Mac, Linux (runs in all environments)
Professional inbuilt resources and templates
On-premises software for business
Enterprise-level data security
EdrawMax Online
Create over 280 types of diagrams online
Access diagrams anywhere, anytime
Team management and collaboration
Personal Cloud and Dropbox Integration
8. Final Thoughts
Finally, a network employs telecommunications infrastructure to connect systems so that they may communicate and share resources. Without the need for a network, firms would have been unable to exchange resources and boost production. On the other hand, the metropolitan area network covers a greater population than the local area network because it links cities, towns, and other significant communities. Metropolitan area networks are expensive to manage and need the collaboration of several companies. So, initially, drafting a MAN network diagram is extremely crucial.
EdrawMax is a one-of-a-kind application that includes fantastic illustrations for various uses. It enables people to utilize its multiple templates to design, analyze, and communicate on their layout live. If you want a high-quality MAN network diagram, we highly recommend EdrawMax!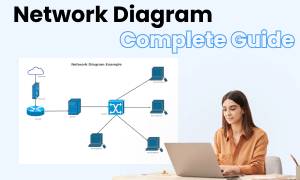 Network Diagram Complete Guide
Check this complete guide to know everything about the network diagram, like network diagram types, network diagram symbols, and how to make a network diagram.