Tips
What's New in EdrawMax V11.5.5?
Know it All about EdrawMax
Our latest update - EdrawMax V11.5.5, brings everything from the stunning template community to greatly improved open speed and intelligent diagramming features to boost your productivity. Let's Go!
Increased Cloud Storage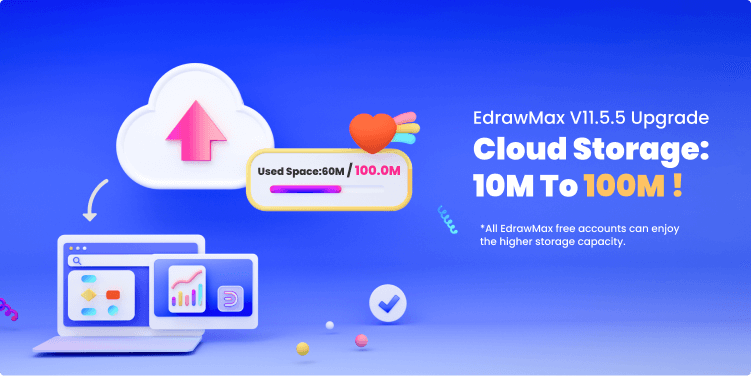 Now, all EdrawMax free accounts can enjoy a higher storage capacity. Users can get 100MB cloud storage for saving beautiful and professional diagrams. With EdrawMax's infinite canvas, increased storage, and unlimited document creation, you can easily take advantage of the power of visualization.
EdrawMax Desktop
Create over 280 types of diagrams
Windows, Mac, Linux (runs in all environments)
Professional inbuilt resources and templates
On-premises software for business
Enterprise-level data security
EdrawMax Online
Create over 280 types of diagrams online
Access diagrams anywhere, anytime
Team management and collaboration
Personal Cloud and Dropbox Integration
New Appearance
Dark Mode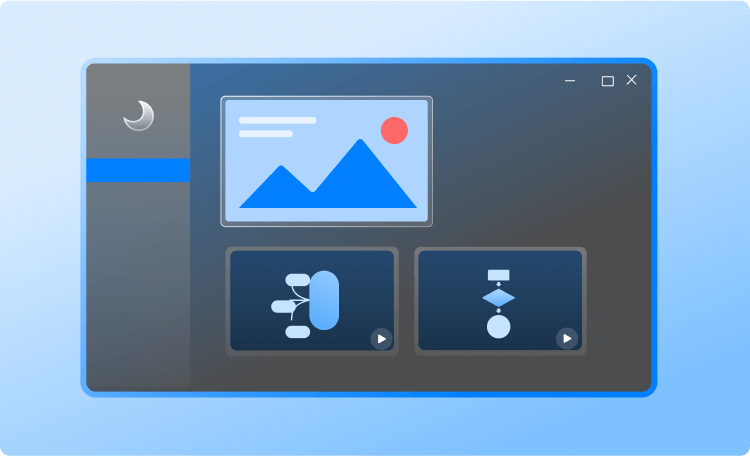 Try the new dark mode to take it easy on your eyes and help reduce eye strain. The new look is rolling out to EdrawMax V11.5 only! Users can now seamlessly switch between light and dark modes according to their preferences to enjoy a more comfortable drawing experience in low-light environments.
New Designs & Resources
New Template Community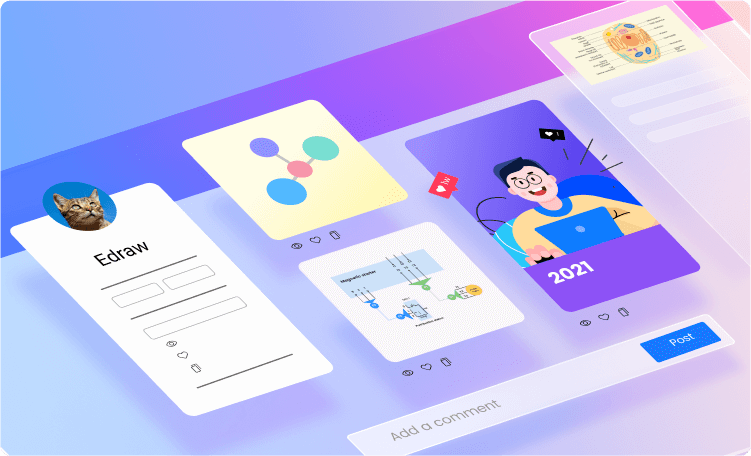 No matter who you are or what you do, you can find whatever you want in the refreshed Template Community. The user-generated community has templates of over 7000+ diagrams related to education, engineering, business, and other domains. You can also follow any creator and communicate with them via comments. Have fun in the new Community!
Visit the Template Community >>
New Diagram Types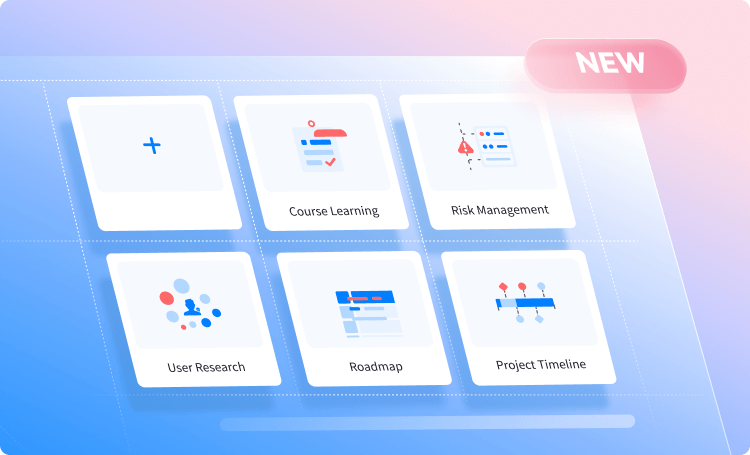 EdrawMax V11.5 introduces five new diagram types: roadmap, project timeline, user research, risk management, and course learning. Each diagram type comes with a set of professionally designed templates and symbols for you to get started quickly.
New Icons & Symbols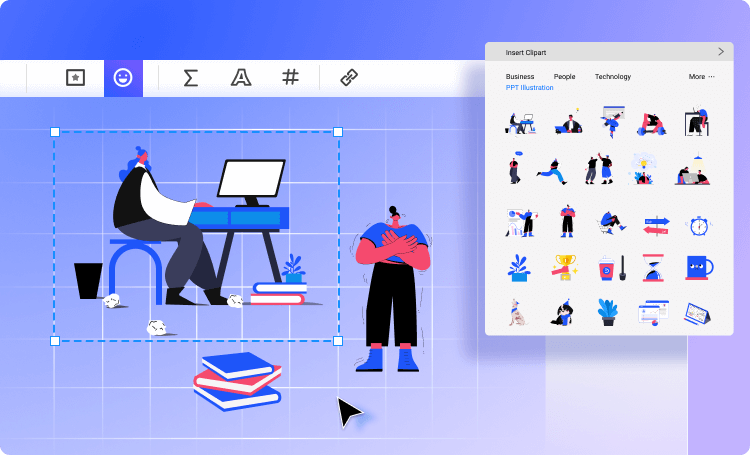 EdrawMax 11.5 has added 80+ new PPT icons, and it updated symbols for organizational charts, calendars, lists, Gantt charts, project timelines, and matrix diagrams. It also updates the way of searching and sorting icons and clipart libraries to manage more elements better. Free download or upgrade now to find more figures with no hassle.
New Gantt Chart Themes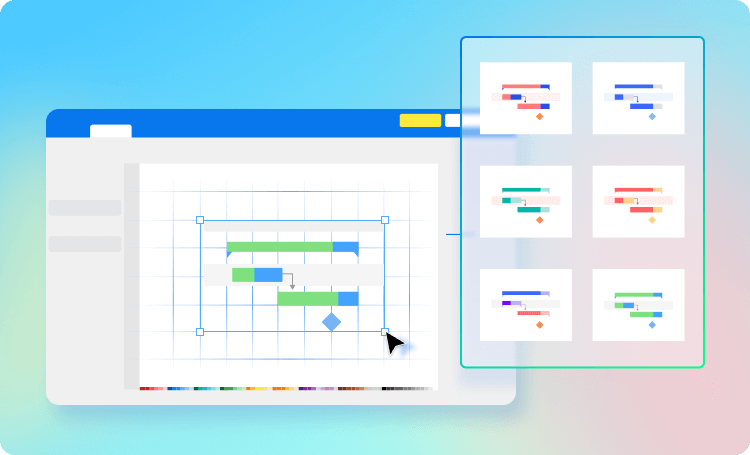 Make your Gantt Charts look more stunning with EdrawMax 11.5. You can browse and try a wide range of beautiful and aesthetically pleasing themes to spice up your Gantt Charts.
EdrawMax
All-in-One Diagram Software
Create more than 280 types of diagrams effortlessly
Start diagramming with various templates and symbols easily
Superior file compatibility: Import and export drawings to various file formats, such as Visio
Cross-platform supported (Windows, Mac, Linux, Web)
Security Verified |
Switch to Mac >>
Security Verified |
Switch to Linux >>
Security Verified |
Switch to Windows >>
Improved Experiences
Faster Startup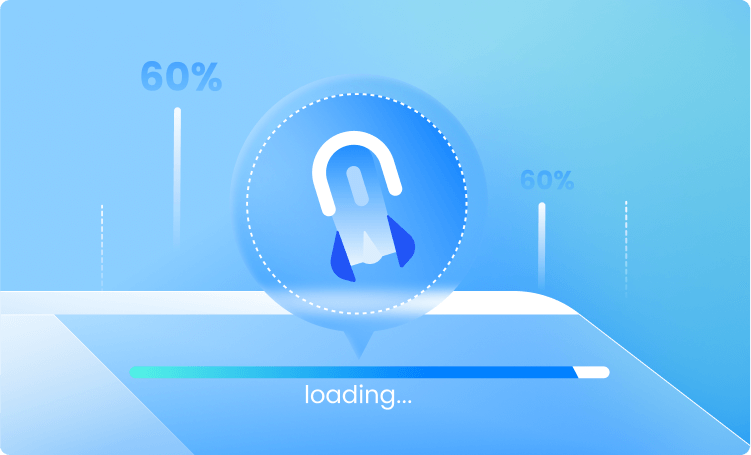 Be frustrated by waiting for the slow boot of EdrawMax? The latest version of EdrawMax speeds up the startup by 60%. Now, all the time of staring at a load screen can be saved for being more productive!
New Organizational Chart Boxes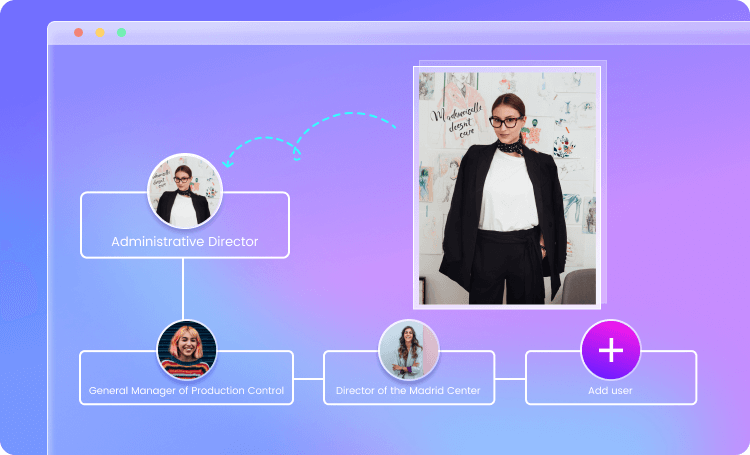 Add more good-looking organizational chart boxes in EdrawMax V11.5, now you can come up with visually appealing organizational charts in seconds. The new boxes will let you add images directly and automatically scale them to fit the shapes.
Auto-draw Connected Points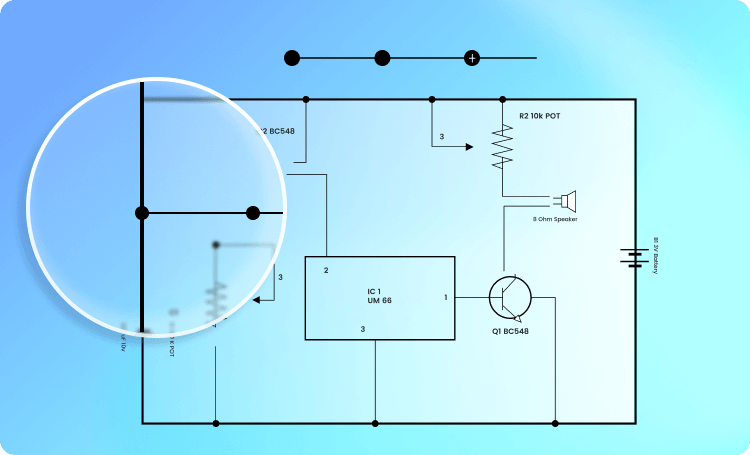 EdrawMax 11.5 will let you draw all kinds of electrical diagrams with ease. The new version has an improved drawing experience, allowing users to draw out points from the end or any other location of the circuit line. This will give you the freedom to create even complex electrical diagrams in minutes.
Repeat Command
EdrawMax now makes it even easier for you to repeat a command many times by pressing the F4 key. So now you can enjoy the flexibility of repeating objects and commands and manage the drawings with just one touch.
Watch the video below and know more details about the new features. ↓ ↓ ↓
Key Takeaways
With these improvements and changes, EdrawMax has now evolved into one of the best diagramming tools available, with its extensive set of assets packed in a user-friendly interface. For the latest EdrawMax news and updates, please visit our website www.edrawsoft.com/edraw-max/ or follow us on YouTube, Pinterest, Facebook, and Twitter.
Related Articles
Check the new features of EdrawMax V11.5.5