Diagram
5 Best Brainstorming Tools for Creative Teams
Know More about Brainstorming Tools
Brainstorming is essential when you are working on a new strategy, trying to come up with new ideas, striving to find a solution to overcome an issue that arose all of a sudden, etc. Earlier, when everyone used to sit together with a cup of coffee, putting all the brains into the matter was simple. However, things are not that straightforward during these COVID and post-COVID times, as most people prefer staying at home to maintain social distancing and when connecting remotely. This is where efficient brainstorming tools come into play.
With that being said, the following sections discuss various aspects of brainstorming, what characteristics must a decent brainstorming app possess, and how you would pick the best program that suits your needs according to the job profile and the industry you belong to.
Brainstorming Tool FAQs
What is brainstorming?
In general, brainstorming definition means "anything that needs a lot of thinking, dry runs, probabilities, cross-questioning, doubts, and their clarifications, etc., before agreeing upon a final approach that needs to be taken is called brainstorming.".
How to brainstorm with your team?
As discussed above if everyone in your team is vaccinated for COVID, you all can sit together to discuss over a cup of coffee, share your views and ideas, and then agree upon a common approach that needs to be followed. All the processes involved in such a practice are the part of brainstorming where you argue, disagree, perform dry runs, talk about pros and cons, etc.
What is the purpose of brainstorming?
One of the main questions that many people ask is, what is the purpose of brainstorming during the development of an action plan? The answer is simple. If you want to have a foolproof plan to implement something or design a strategy that is highly unlikely to backfire, a lot of brainstorming is required to be done. When you think deeply, you come up with the new ideas, the flaws they may have, you shortlist some and reject plenty of them, and then decide upon a correct approach that must be taken to avoid the mishaps.
Brainstorming Tool Comparison Criteria
When it comes to picking a brainstorming app, there are several options present in the market with their pros and cons. At this stage, it is up to you to decide which functions are crucial and must-have and which of them could be skipped to get the best bang for the buck.
Therefore, while choosing a program, you must crosscheck it with the following criteria:
User Interface (UI)
This is the first thing that you must see in a program. If the interface of the software is not user-friendly, it will become quite challenging for you to interact with the app. As a result, you will end up having a frustrated temperament and delayed decisions.
Usability
The next thing that you must check is how useful the tool is, how helpful its technical support team could be when an issue arises, the availability of the technical support team, and if there are enough video and text guides present for the users to learn the application. You must also check how many types of diagrams the software can create, what scenarios does it support, and how many symbols and icons are present in the built-in library.
Features & Functionality
The features of any application play a vital role in its success. While picking a brainstorming app, you must check if:
It can have multiple Canvases.
It has history mode so you can get back to the previous state if something goes wrong along the way.
It has sufficient options to manage the project and can it handle multiple projects at the same time.
It is convenient to share your creations with your team using the tool.
It has enough export options.
It can present the produced outputs correctly and professionally.
It allows multiple team members to work on the Canvas simultaneously, and if so, how many concurrent remote connections can be established.
It has some built-in templates to make your task easier, and if so, how many are there and for which kinds of scenarios.
Supported Platform(s)
It is equally important to see which platforms the software you are about to pick supports. Can it be used on the web interface, is it a desktop application, does it support mobile and other smart devices, or if is it a cross-platform tool? Depending upon the platform compatibility, it would be way easier for you to decide which app would be best for your requirements.
Value (in USD)
At the end of the day, everything narrows down to one point, MONEY. Therefore, it is imperative to check the price the software is available at and whether it falls within your budget.
Keeping these criteria in mind, you can go through the overviews of some of the best brainstorming tools suggested in the following section and choose the one that checks all the boxes.
Overviews of the best brainstorming tools
A couple of brainstorming tools that are considered the best in the market are listed here. You can check the following and a few others before deciding upon an app that fits your needs:
1. EdrawMind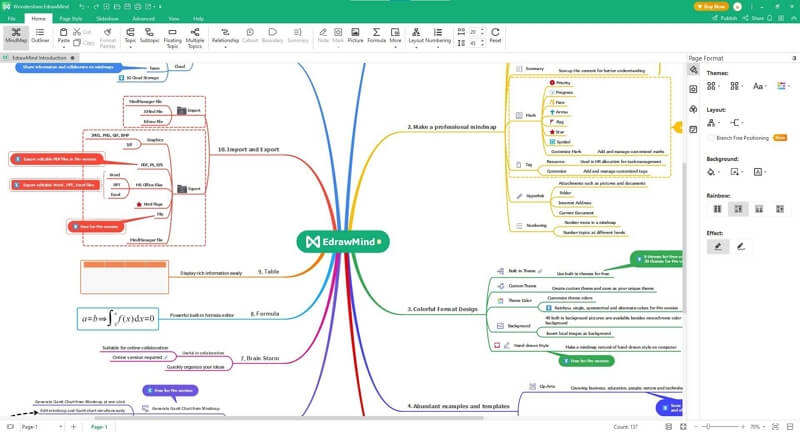 EdrawMind is a product by a leading IT company, Wondershare, and it is by far one of the best brainstorming tools that you can have for your thought processes. The software is equipped with several built-in libraries, each of which has a plethora of symbols and icons to create not only brainstorming illustrations but also mind mapping diagrams, Gantt charts, etc., for almost all kinds of scenarios. The program can also be switched to the brainstorming mode for better results. Furthermore, the most recent version of the app also has a new feature called 'Outliner' that enables you to generate outlines for your writing projects.
Pros:
Free to use online and on desktop
Available for Windows, Mac, Linux, Web, Android, and iOS
Intuitive interface
Easy to work with
24 x 7 technical support
Dedicated brainstorming mode for low-stress thought processes
Populated with a plethora of templates
Cons:
It cannot be used as a full-fledged diagramming tool as is the case with its elder sibling, EdrawMax
EdrawMind
Full-Featured Mind Mapping Software
33 predefined themes to make your mind map stand out
12 different structures to meet your need
Cross-platforms supported (Windows, Mac, Linux, Web)
Brainstorming mode and presentation mode
Group & real-time collaboration
Security Verified |
Switch to Mac >>
Security Verified |
Switch to Linux >>
Security Verified |
Switch to Windows >>
2. IdeaBoardz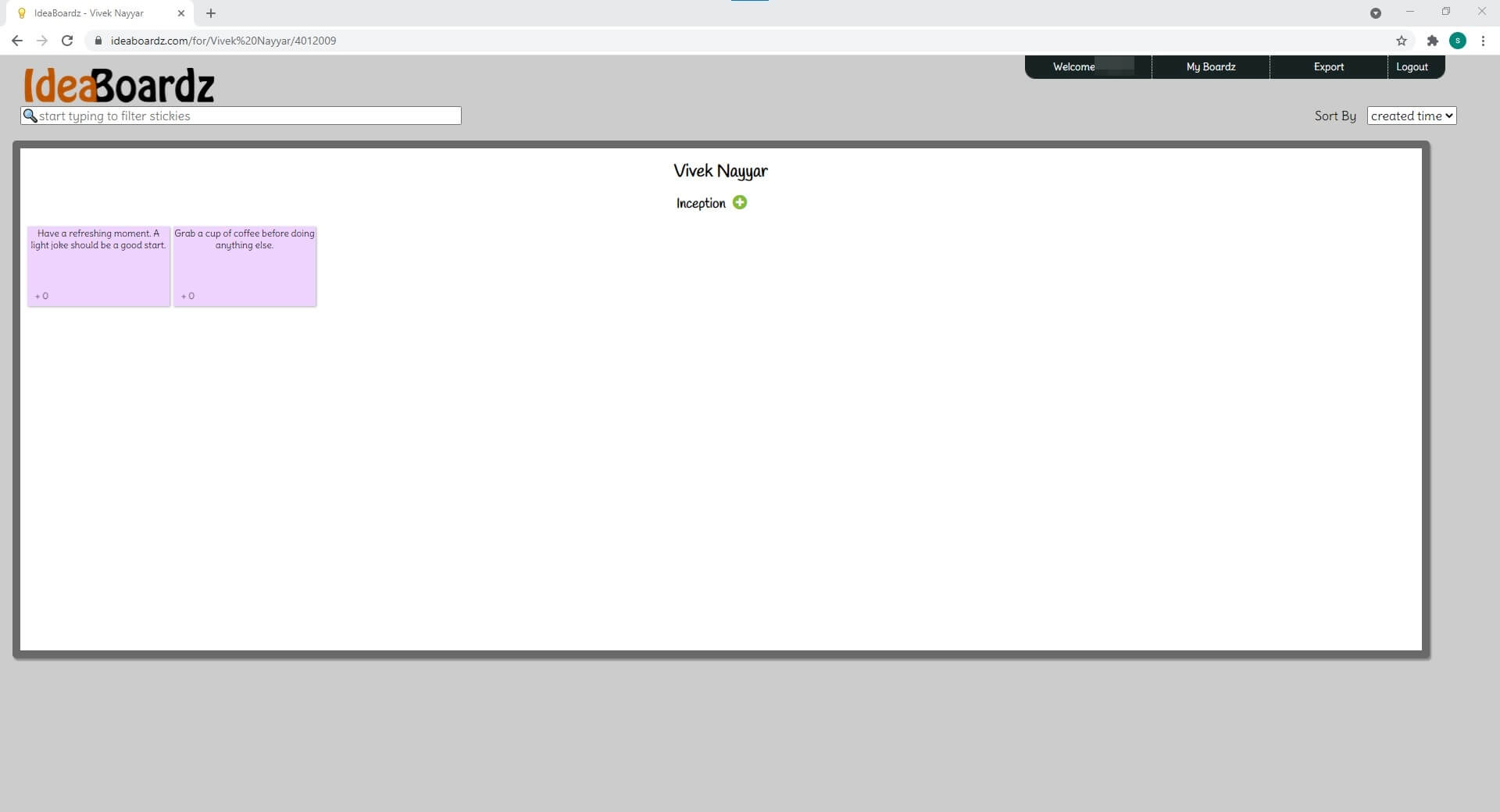 IdeaBoardz offers a clean interface with only one button with a + sign that appears at the top-center when you are creating a new project. The app allows you to add multiple blocks on the Canvas, each of which may contain an activity that needs to be performed in a particular sequence. With such kind of UI, brainstorming becomes convenient for the group members.
Pros:
Allows others to upvote the blocks you add to the Canvas
Free to use
Allows others to upvote the blocks you add to the Canvas
Cons:
The interface could be confusing for the new users
No templates available
No desktop or mobile version is available
Merely an email ID is given for technical support, or the issues can be reported via Twitter
3. Google Docs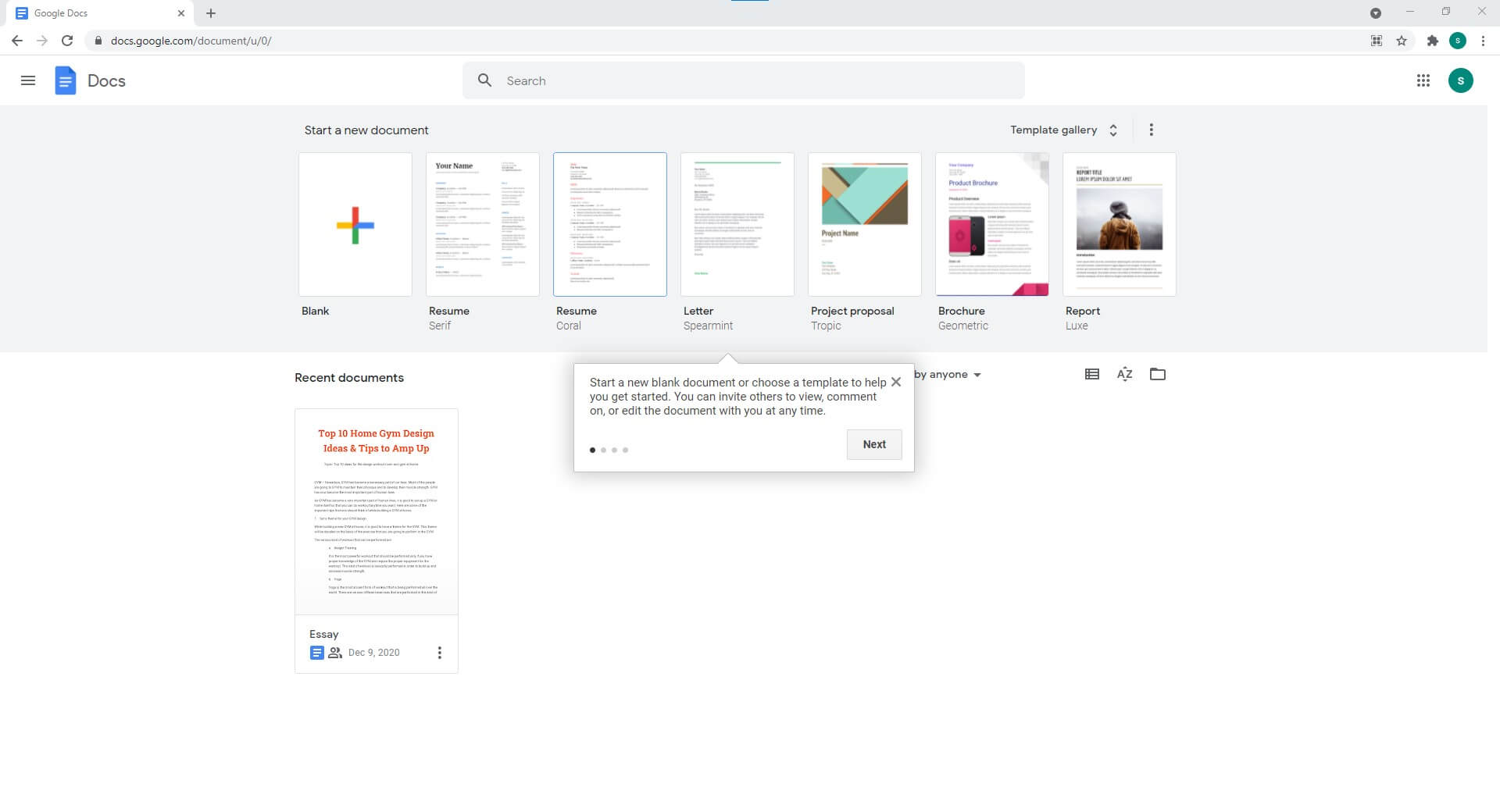 This is something probably everyone has heard of and has used somewhere sometime. The interface is almost similar to that of MS Word, and therefore, if you have access to the Microsoft Office package, you'll feel at home while using Google Docs. You can access Google Docs for free as long as you have a Google account and can sign in to it.
Pros:
Has plenty of templates to start your projects from.
Free to use. Only a Google account is needed.
Google Sheets and Google Slides are also available in addition to Google Docs. These can be used if your PC doesn't have Microsoft Excel or Microsoft PowerPoint.
Cons:
No specific brainstorming templates are present
All the blocks and icons must be created from the scratch
4. Microsoft Teams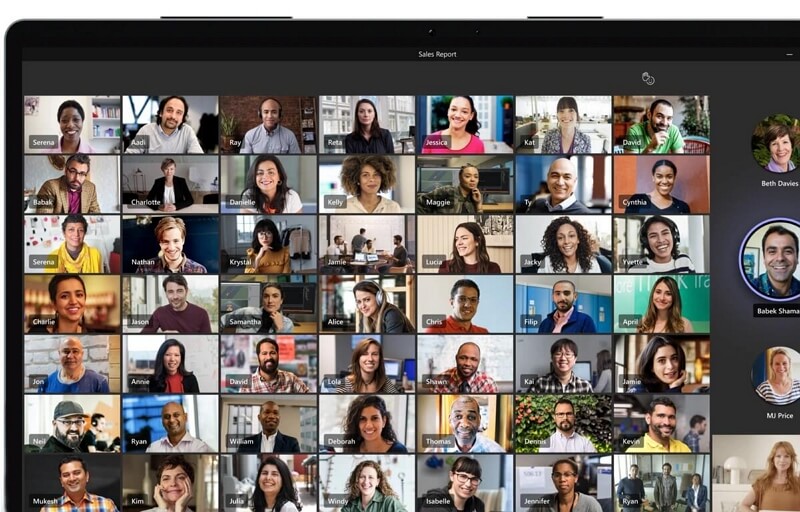 Microsoft Teams is a desktop and mobile software for virtual meetings and conferences. Although the tool isn't specifically designed for brainstorming, it can be used to have remote discussions over your preferred topics. The application can be downloaded from the official website, and a Microsoft account would be required to use the tool.
Pros:
Free to use
Intuitive interface
It can be used for brainstorming, educational purposes, corporate meetings, and conferences, etc.
Available for Android, iOS, and Microsoft platforms.
Cons:
Lacks relevant templates
Isn't a full-fledged diagramming tool that is specifically designed for brainstorming
5. Lucidspark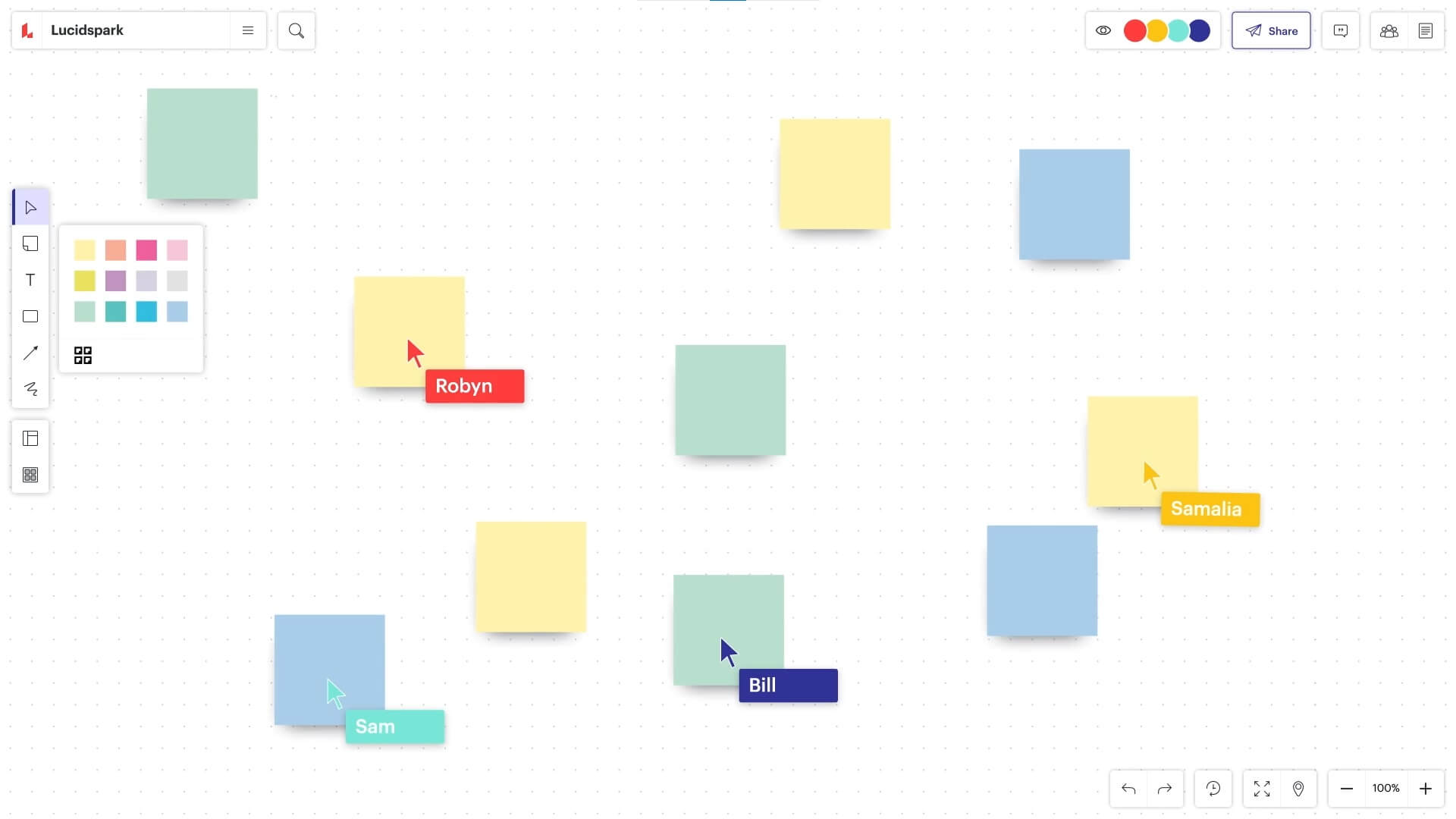 Lucidspark is yet another web app with a clean and intuitive interface to do some brainstorming for your new strategies. The tool enables you to add blocks on the Canvas, and if need be, annotate them to make the icons and symbols more descriptive and show relationships/connections. In addition, this online application can also be used to draw concept maps.
Pros:
Free to use
Intuitive interface that works with almost all major web browsers
Can export your creations to Google Drive
Can share the diagrams with your team on Slack
Cons:
The free account allows only up to 3 boards
A paid subscription is needed to unblock the advanced features of the tool
Pick Up a Brainstorming Tool Suitable for You
Although there are several brainstorming tools available in the market, most of them are either paid or lack many important features that are necessary to create mind maps and do some serious brainstorming. Therefore, to rescue you from this dilemma, EdrawMind came up with a lightweight application called EdrawMind that has been specifically designed for the purpose and can be obtained and used for free.
Related Articles
Create a brainstorm with EdrawMind. Try it Free!