Process Mapping: How to Choose the Right Tool
Quick & easy to use process map software

Individuals utilizing process mapping software want to improve their organization's performance. These processes are combinations of sequential events leading up to the desired end. Therefore, process mapping is an exercise that accounts for all the steps and decisions made during a particular process.
These identified steps are in the form of a diagram, making it remarkably easier to pinpoint opportunities for improvement within an organization. Let's examine, in summary, the use of process mapping in businesses.
System changes made without knowledge of how they are performing are costly, especially in the long-run. Using map processing sheds light on these processes for informed decision making.
Measuring processes leads to better management of the said processes.
Once processes are clearly defined, it is easier to pinpoint drawbacks such as bottlenecks and waste.
Acts as a reminder that a chain is only as strong as its weakest link; therefore, weak links need to be identified and strengthened or eliminated.
Highlights what decisions need to be made at what point along the process chain.
Factors to Consider Before Choosing a Process Mapping Tool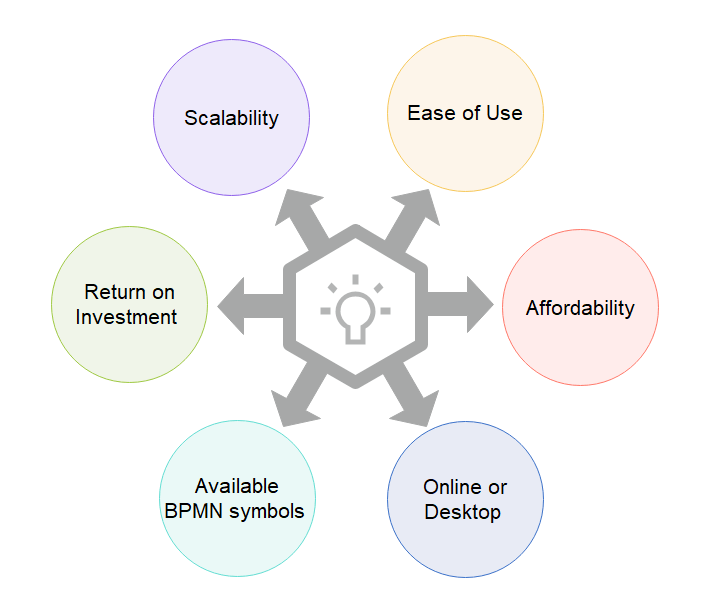 Created by Edraw
1. Ease of Use
Considering that the tool will be utilized as frequently as possible, vital changes need to be user-friendly to facilitate necessary changes. Having software that requires intense training and upgrading takes time away from productive processes.
2. Affordability
Maintaining these tools is not a walk in the park. Therefore, following the company's budgetary requirements, choose a design or package that fits your financial standing.
3. Online or Desktop
In-house as opposed to online software may be better with a fully skilled maintenance crew. If, however, your IT team is wanting you should consider a web-based platform. The service provider handles all your maintenance needs, and it's cheaper.
4. Available BPMN symbols
Some tools may have ready-to-use templates with symbols and status sections to boot. Imagine having to download these afresh or create them from scratch. These handy templates are editable to be customized according to company needs.
5. Return on Investment
How much will it cost in the long run? If it seems like the company will, at the very least, break-even in terms of costs and productivity, it may be a worthwhile investment.
6. Scalability
If you plan to expand your business sooner or later, will the selected software still be relevant? As your business grows, so do your resource needs and requirements. Select software that will seamlessly grow along with the business.
8 Best Process Mapping Tools in the Market
1. Visio
A sophisticated tool from Microsoft, it comes with an abundance of features.
It gives users the option to download and/or use the application online. Visio is not available on mobile devices and can only be used under a Microsoft Platform with OneDrive (online) storage.
Prices: range from $5 to $ 15 per month, depending on the features selected.
Rating: 5 Stars on G2Crowd.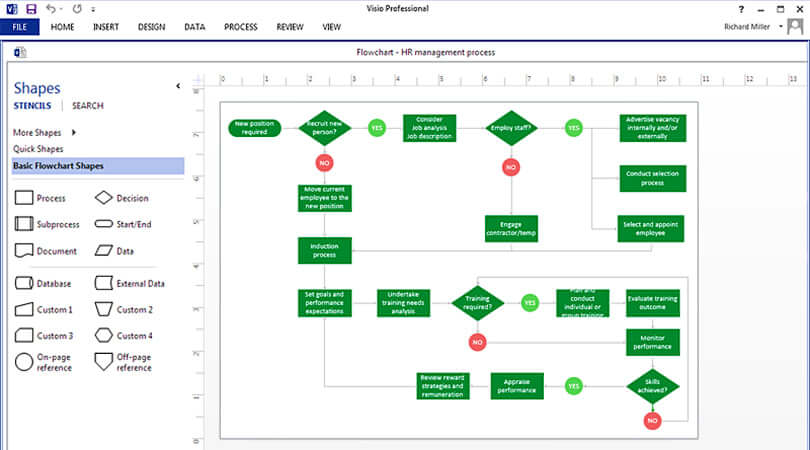 Image Source: transformationdash.com.au
2. EdrawMax
Easy to use software with seven menus, including File, Home, Menu, Insert options as well as View and Help. This tool works on Windows, macOS, and Linux platforms. Perfect for experienced users but a tad overwhelming for beginners.
EdrawMax is available for desktop and online usage.
Prices: An annual license costs $99 while paying monthly rounds off to about $8.25. EdrawMax Web is free for basic uses.
Rating: 4.5 Stars on G2Crowd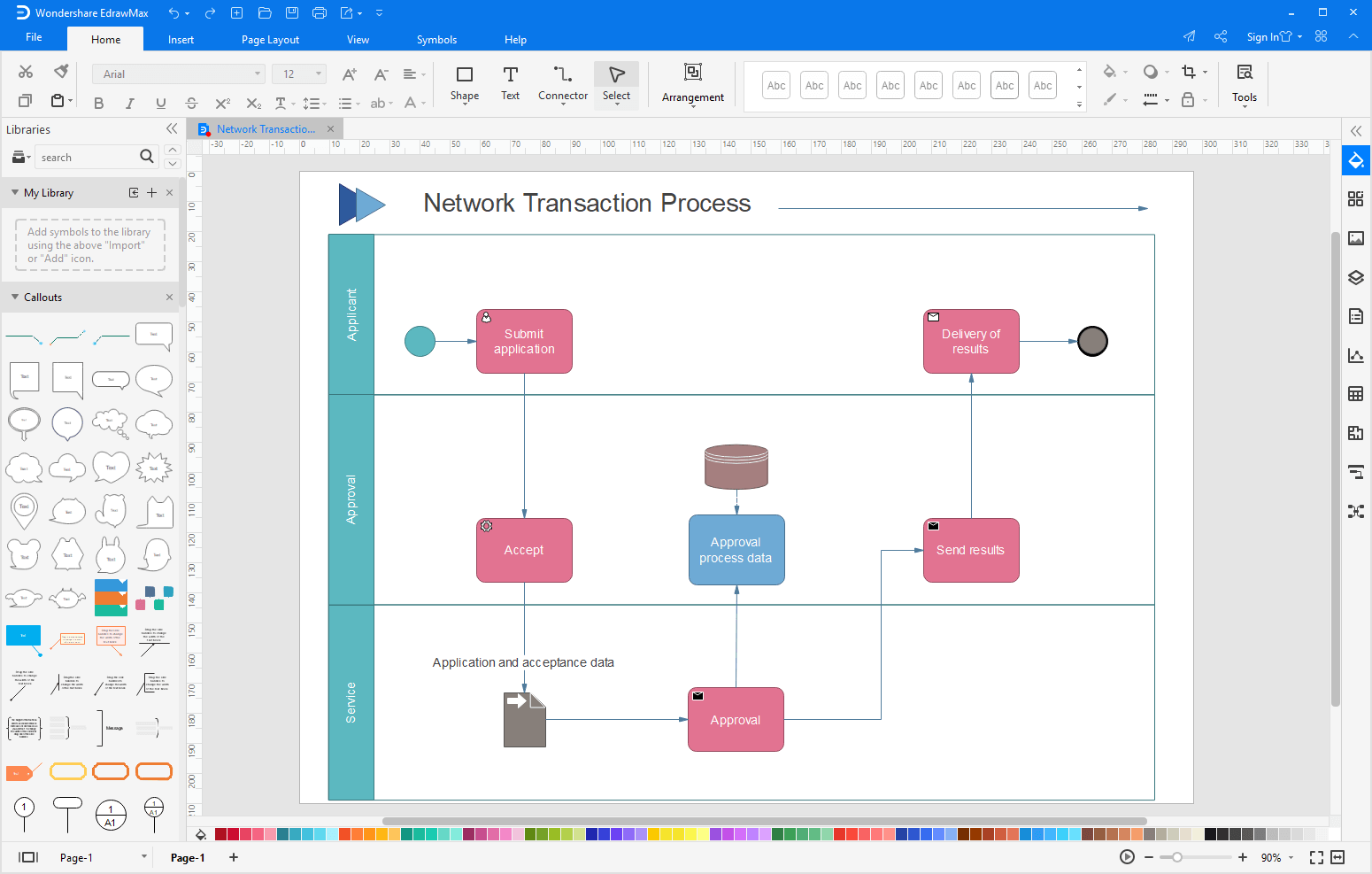 Image Source: Edraw
EdrawMax
All-in-One Diagram Software
Create more than 280 types of diagrams effortlessly
Start diagramming with various templates and symbols easily
Superior file compatibility: Import and export drawings to various file formats, such as Visio
Cross-platform supported (Windows, Mac, Linux, Web)
Security Verified |
Switch to Mac >>
Security Verified |
Switch to Linux >>
Security Verified |
Switch to Windows >>
3. Lucidchart
Easy to use, online diagramming tool. It is typical for complex designs like API Sequencing and system component diagrams. Boasts a simple to use sharing and collabo option. Free trials are available.
It is a web-based application so no app is available for download.
Prices: Starts at $ 7.95 per month, with a free trial, free version option.
Rating: 4.5 Stars on G2Crowd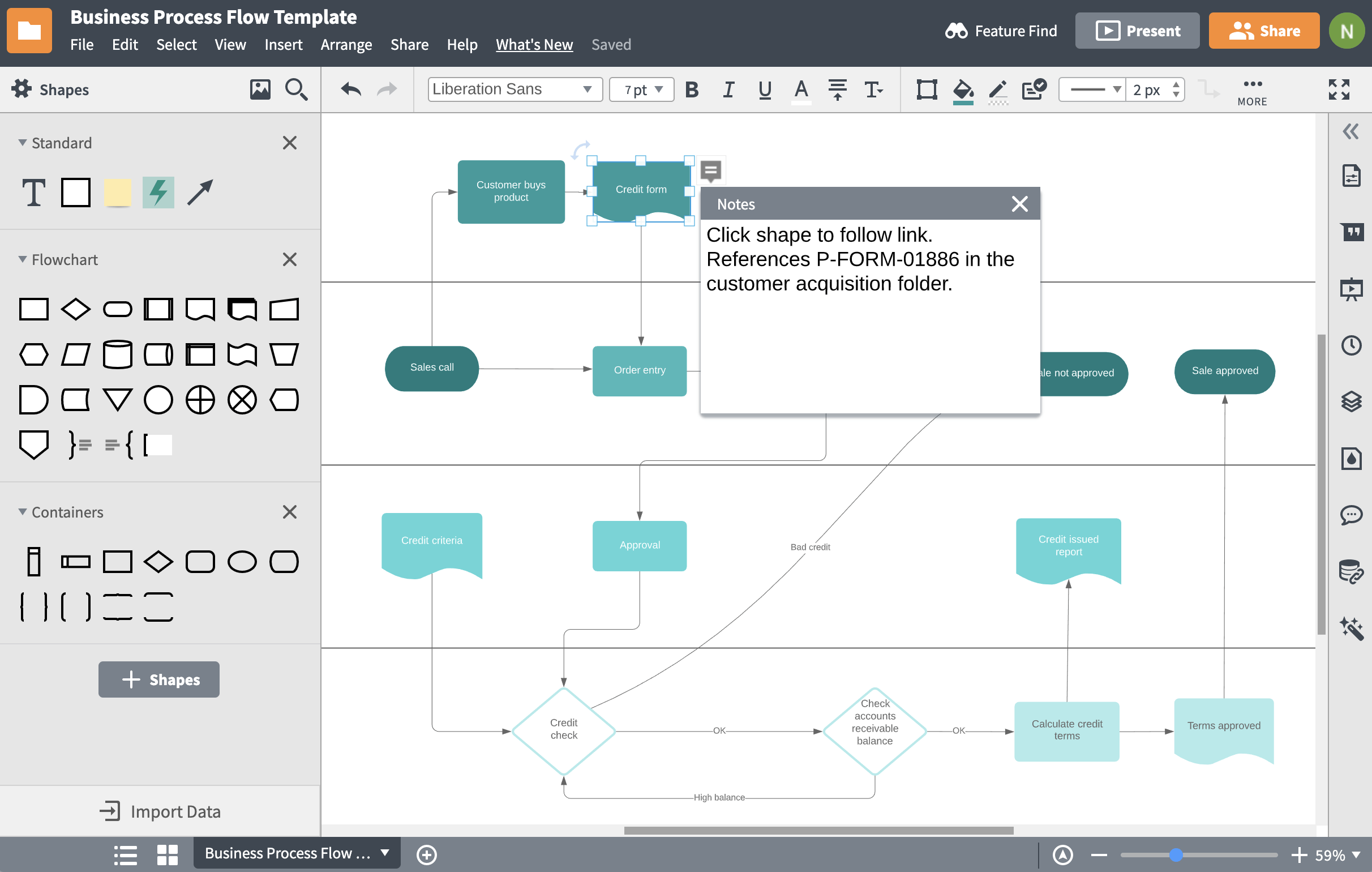 Image Source: lucidchart.com
4. Smartsheet
Use it to delegate tasks, send out instructions to partners, and check out your project's progress. It is exceptionally versatile, allowing cross-department data integration, along with automated workflows between spreadsheets. The learning curve is relatively steep.
It is a web-based application, with templates available online for download.
Prices: Starts at $14 per month, with a free trial but no free version.
Rating: 4 Stars on G2Crowd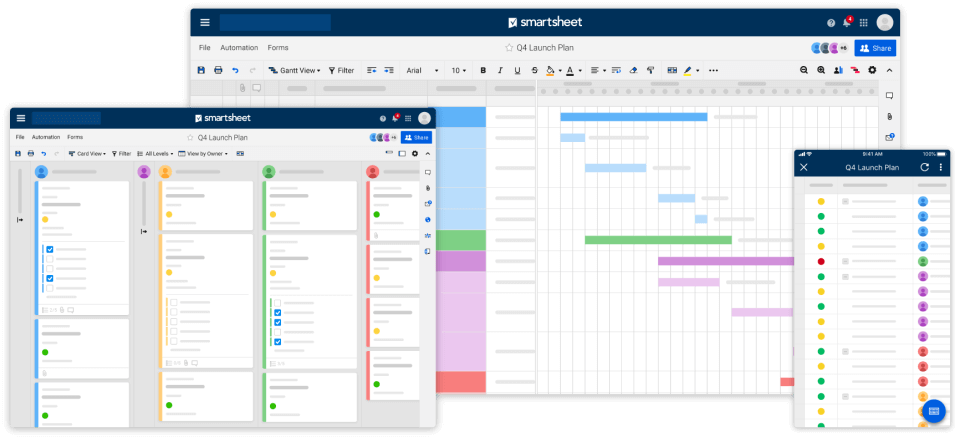 Image Source: capterra.com
5. Tallyfy
Coined as a tool for creating digital processes, not just process diagrams, the tool assigns tasks automatically to specified employees. Automated facilitation of most processes, including storage of files on a server. Diagrams are created automatically too, and employees have to run it constantly for it to be effective.
This is a web-based application; no desktop version or free versions available.
Prices: Plans start at $15 a month per user; a free trial is also available.
Rating: 5 Stars on G2Crowd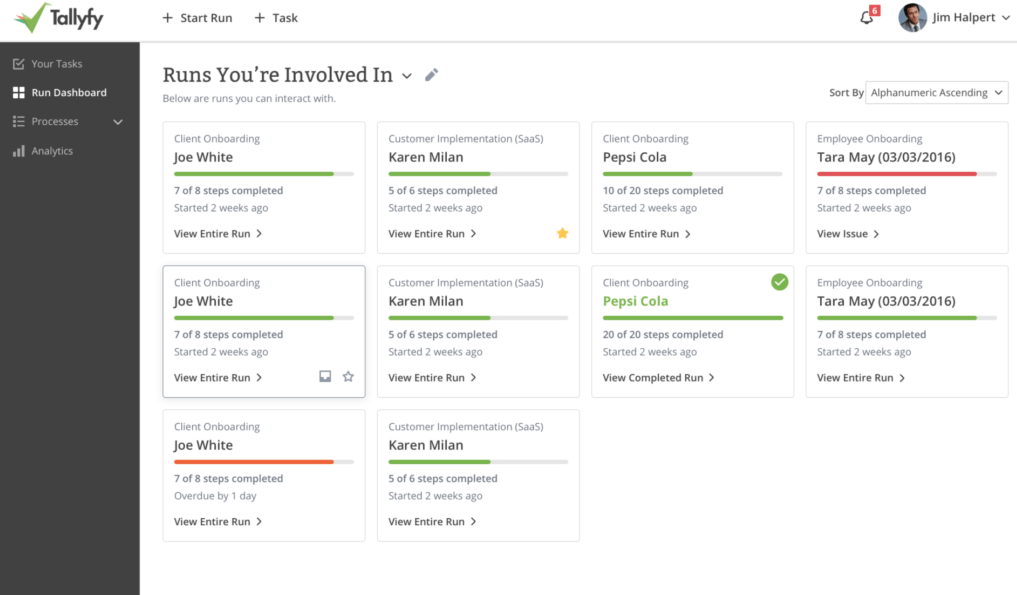 Image Source: tallyfy.com
6. Draw.io
Very easy to use and a dream for novice process mapping businesses. This online tool is completely free for use, and storage is possible on DropBox, GitHub, or a hard drive.
It is an entirely web-based process mapping tool.
Prices: Free-to-use
Rating: 4.5 Stars on G2Crowd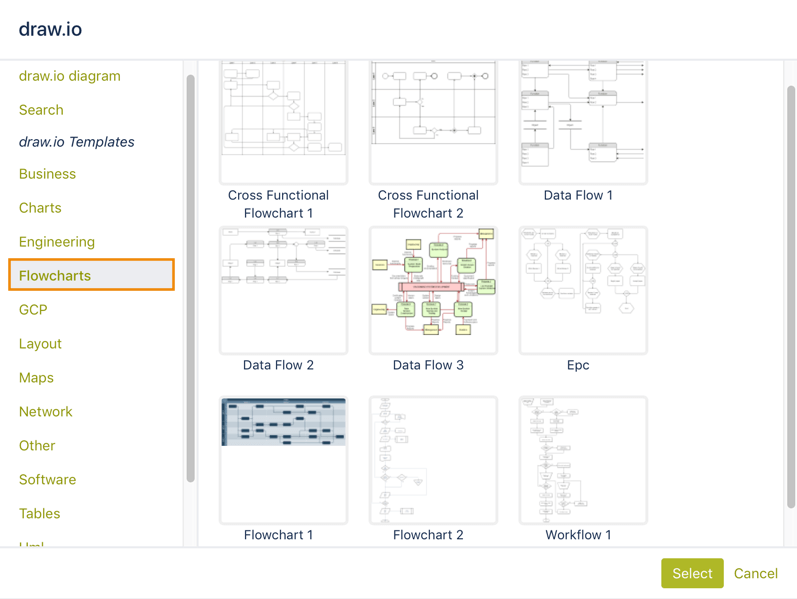 Image Source: draw.io
7. Creately
Developers focused on an easy-to-use interface, with colorful diagrams for illustration purposes. It's perfect for anyone seeking a Visio alternative, although it doesn't offer as much versatility in terms of documents. It can be used on Windows, macOS, and Linux platforms.
It is available for use on and offline.
Prices: Free use for five diagrams, after which subscription starts at $4.95 a month for the online version (to pay annually)
Rating: 4.5 Stars on G2Crowd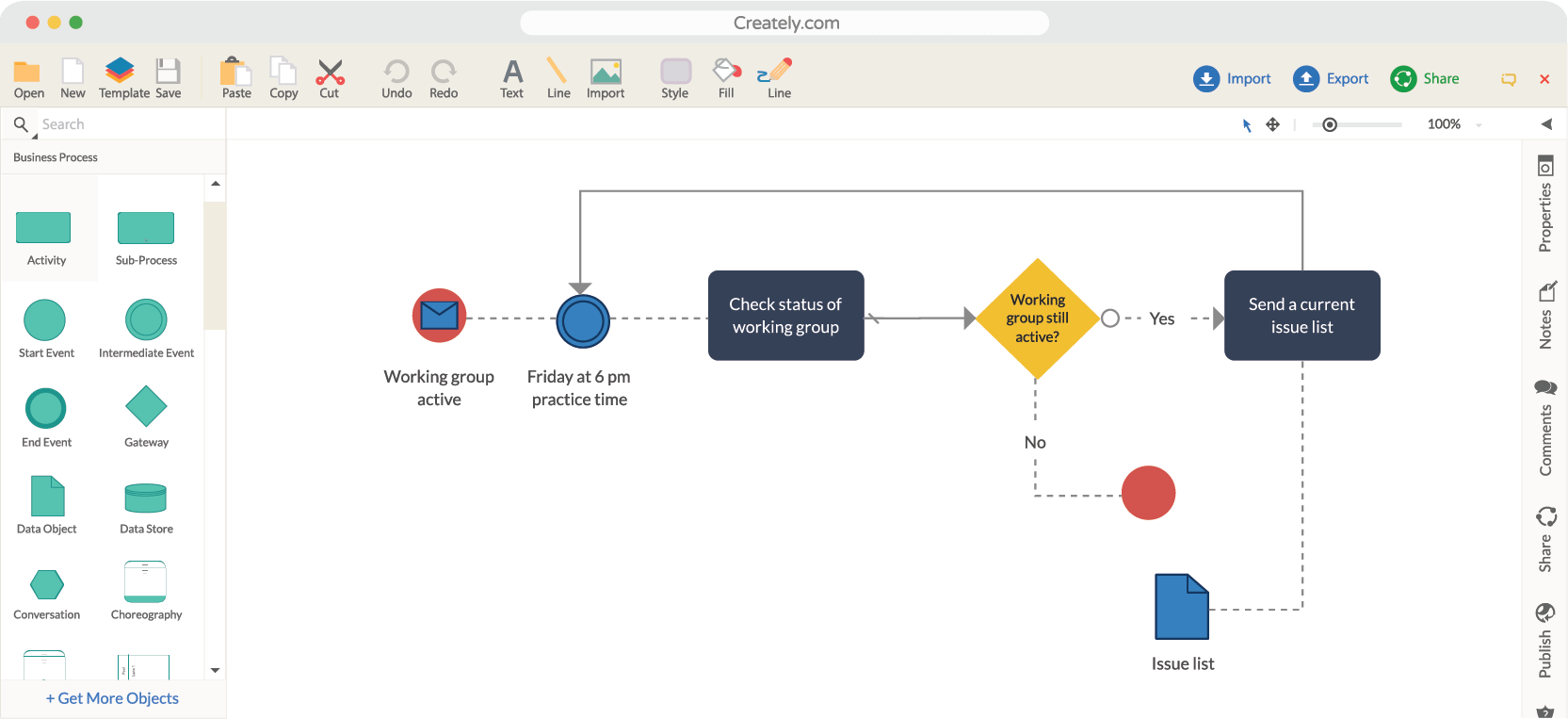 Image Source: creately.com
8. Gliffy
An online diagramming tool that helps you create flowcharts, Floor Plans, and even SWOT analyses. You can drag and drop items easily on your browser, then share them online using a URL. Users get 5 free, introductory diagrams.
It is a web-based diagramming tool.
Prices: After five free diagrams, the price starts at $ 7.99 per month (to pay annually).
Rating: 4 Stars on G2Crowd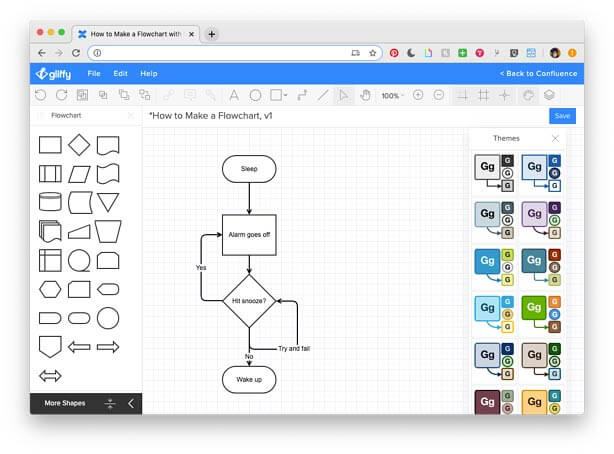 Image Source: gliffy.com
Pick up your Favorite Process Mapping Tool
All things considered, there is no BEST process mapping tool. What may work for you may be entirely useless for someone else. Factors to consider fall under the following categories.
Price
Are you on a budget and alone? If so, use a web-based platform like EdrawMax Web, Gliffy or Creately. These offer handy features for a giveaway price – free.
Hosting
If you have an up-and-running business with competent workers, why not utilize an in-house package, like Visio or EdrawMax. These offer absolutely everything you would need for process mapping at a fee. However, with skilled members on your team, you are set to make a healthy return on investment.
Ease of Use
Is the platform you seek to buy user-friendly? If you are a beginner with these types of diagramming tools, select from the cheaper, basic options to get yourself up and run. The costlier ones also higher, steeper learning curves. Draw.io may be the best choice for someone looking for a diagramming software that falls somewhere in between. It is free and user-friendly.
Bottom Line
With that said, the best choice falls between what a user wants from their processing tool. However, other factors like pricing, web-based or downloaded software, and storage will factor in your choice. For students, EdrawMax, Draw.io and Creately are top options, while executives are better placed to use Smartsheets and Lucidchart.