List of Easy Dichotomous Key Makers
Only two options at each step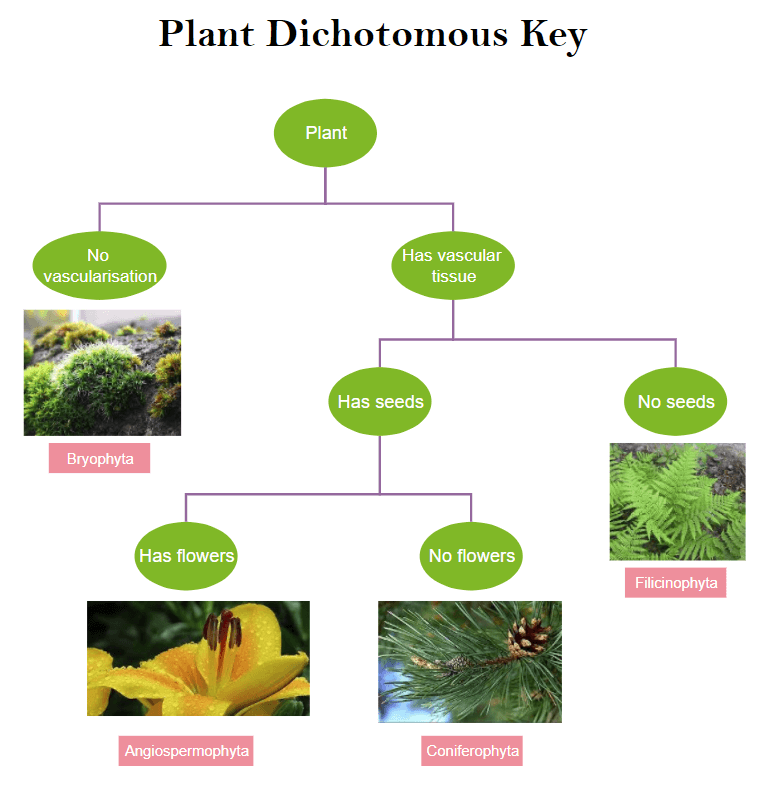 In laymen's terms, we split stuff into two, with both parts having exclusive features, not inherent in both. Think of trees, animals, rocks, and even fishes. A dichotomous key, thus, enables a user to identify different things in the natural world.
These lead us to identify names or each factor specifically. In a nutshell, a dichotomous key will provide dual options in every step. To put this into better perspective, you may need to identify a tree. Using a dichotomous key, each subsequent step of identification will give the user two options until you reach the point of naming the tree.
5 Easy Dichotomous Key Makers in the Market
A 2D software application that can be used to produce flowcharts, workflow diagrams, and organizational charts. It's an affordable and easy-to-use diagramming tool for professionals and beginners.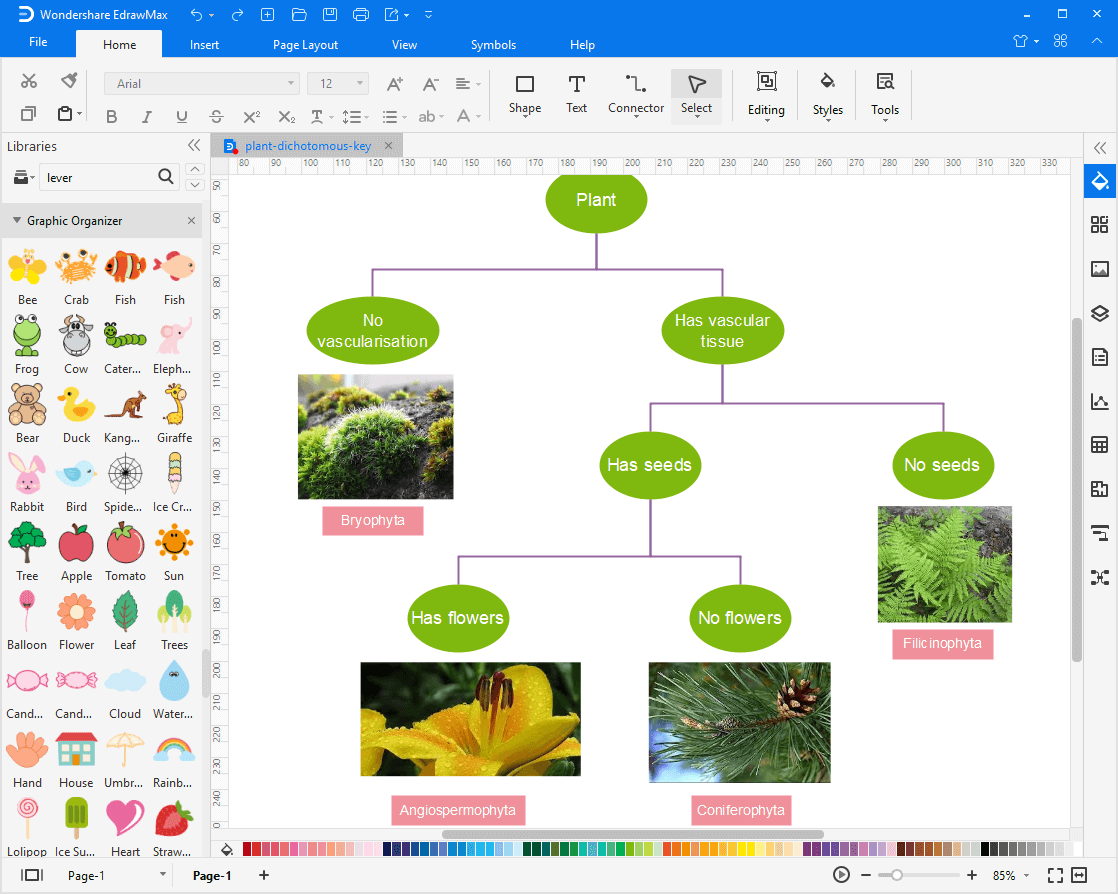 Features of the software include:
Intuitively designed software.
Sound mapping and flowchart designing.
Friendly interface.
Plenty of diagram templates and symbols.
File compatibility and advanced export options.
Over 280 types of diagrams are available.
Pricing Plan:
Free trial available.
Single User Perpetual License - $139.
Single User Lifetime License - $179.
All Platform - $99/year and $245 for lifetime.
Support Platforms: Windows, Linux, and Mac OS with cloud hosting.
2. Microsoft Office
Using Microsoft Word or PowerPoint, a user can create dichotomous keys for different organisms. The product is used by taxonomists primarily for the identification of insects, and trees. The easiest to use, it requires little or no pricing options because the features come preloaded on most laptops and desktop machines.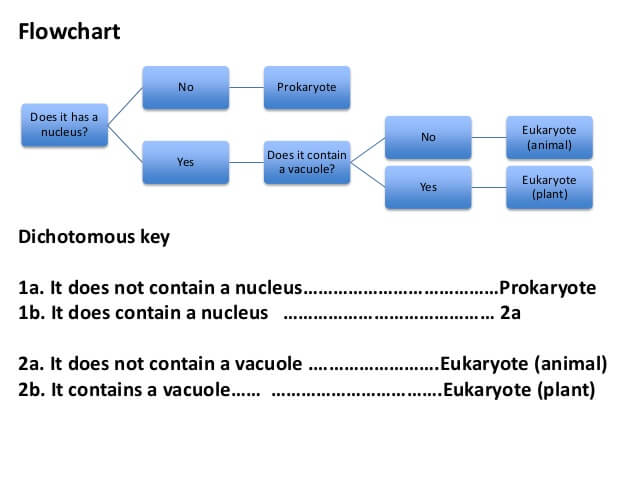 Image Source: slideshare.net
Features of the software include:
The abundance of templates makes for the easy creation of illustrative pieces.
Simple to use interface makes this dichotomous key maker perfect even for beginners.
Slide master lets you constantly update designs.
Smart art features or templates are perfect for dichotomous keys creation.
Pricing Plan:
Microsoft 365 Family – Free trial = one month.
Annually $ 99. (Includes PowerPoint, Word, and Excel)
Monthly $ 9.99 per month.
Support Platforms: Windows.
3. Creately
Useful for drawing and collaborating on concepts and procedures. It's the great dichotomous key maker as it has numerous templates with fantastic, easy to use features. The user interface is intuitive and graphically appealing, so is the quality of work created.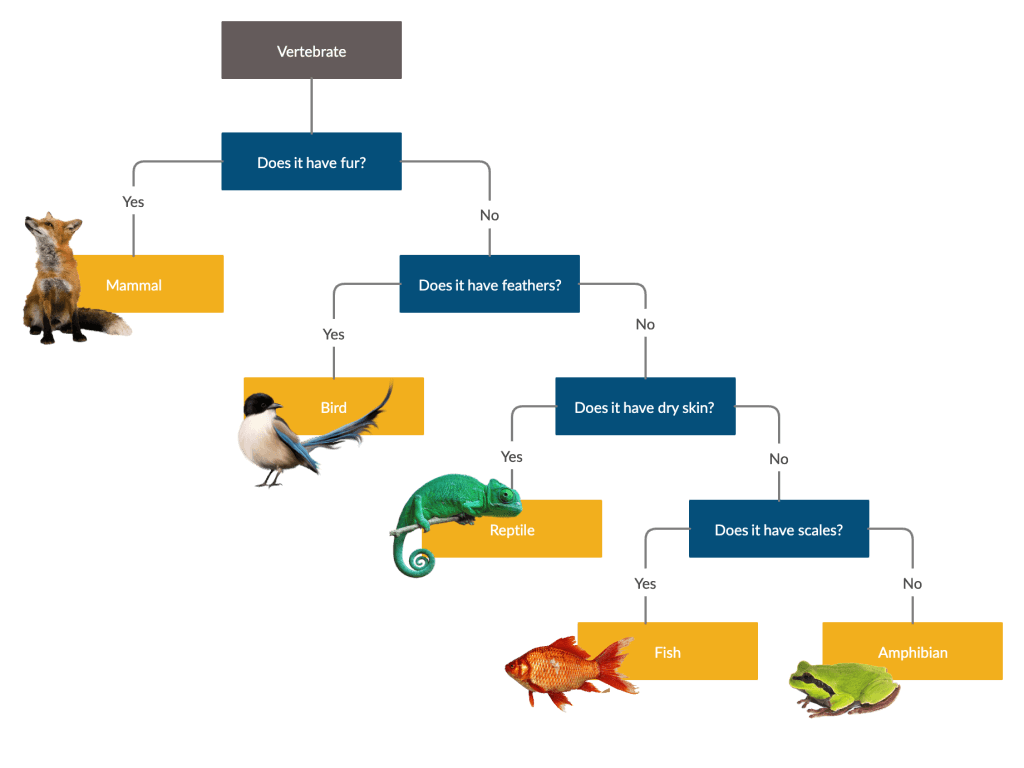 Image Source: creately.com
Features of the software include:
Capability to import images.
Easily find diagrams using a browser.
Nifty drag-and-drop user interface.
Google image works hand-in-hand with icon finder search.
Pricing Plan:
Free use available.
Single user@ $6.95 per month.
Team of 3 @ $24 per month.
Custom pricing for enterprises.
Support Platforms: Web, Windows, Mac, and Linux.
4. Google Drawing
Part of Google Docs suite, this handy web-based diagramming tool lets users collaborate for several projects. These types of projects include organizational charts, flowcharts, mind maps and of course, dichotomy diagrams.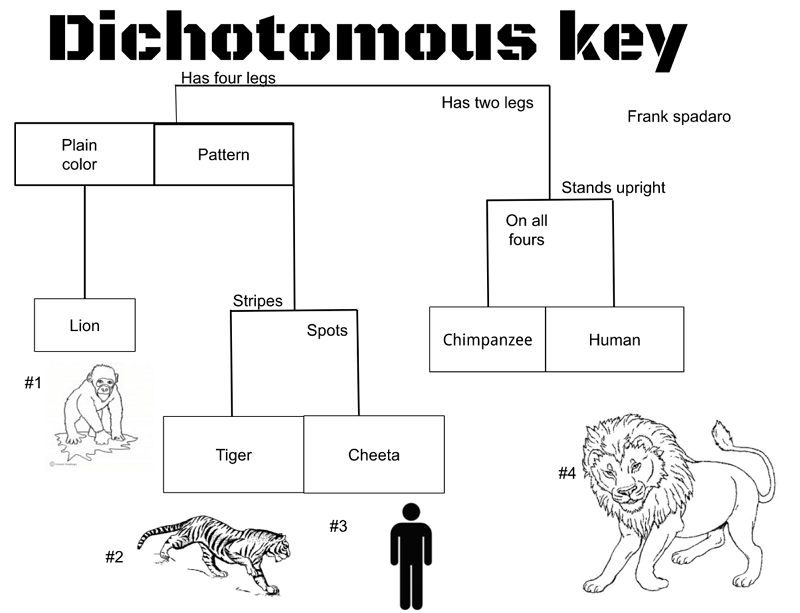 Image Source: docs.google.com
Features of the software include:
Insert videos into Google Drawing.
Insert pre-designed images.
Add lines, texts, and images to designs easily.
Pricing Plan:
Support Platforms: Web based.
5. Visual Paradigm
Users get to collaborate using cloud hosting to access and edit work from anywhere around the globe. This is made easier because the software is supported in several languages. Companies like Toyota, HSBC, and NASA are claimed to have used this software.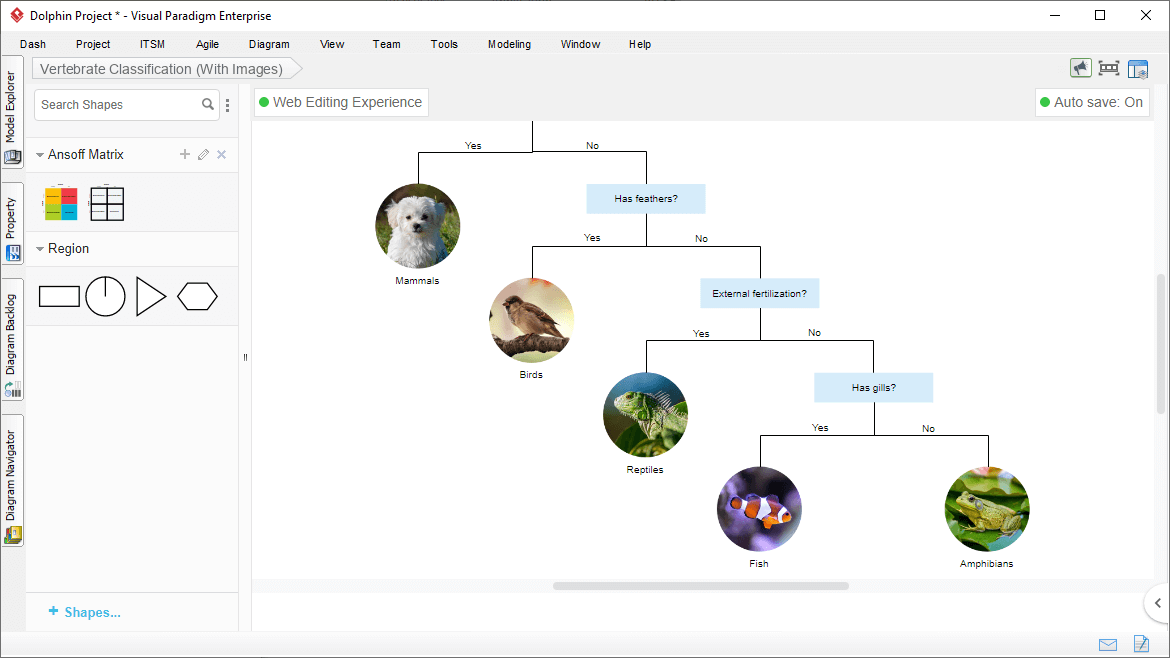 Image Source: visual-paradigm.com
Features of the software include:
Diagrams can be connected in real-time.
Use cloud collaboration et al. features to update your designs from anywhere.
Perfect diagrams are possible on the go. No need to worry about creating distorted or semantically odd designs.
Modeling tools include BPMN, DFD, ERD, ArchiMate, and SysML.
Over 100 types of diagrams are available.
Pricing Plan( Subscription):
Free to use.
Enterprise - $ 89 per month.
Professional - $35 per month.
Standard - $19 per month.
Modeler - $6 per month.
Support Platforms: Web, Windows, Mac OS, and Linux.
Steps in Making Dichotomous Keys
Identify a template you want to use on any of the software mentioned earlier, and follow the steps below.
List specific characteristics of each item, or specimen, for instance.
Jot down these factors in order – for instance, some insects may have feathers; others legs.
Specify with words – does it have legs? Or feathers – no feathers.
Break it down further – some may be birds with feathers, others have no feathers at all.
Divide these even further – animals with no feathers can be broken down to 'with fur' and 'no fur'.
Create your dichotomous diagram using texts or visuals. The choice may be influenced further based on the software used. For example, EdrawMax or PowerPoint may be used for textual representation, while Google Drawing and Creately make for better visuals.
Test it out. See if the steps lead you to a sound conclusion, otherwise, revise your diagram.
Recommendations
Pick up the best dichotomous key maker based on factors like usability and pricing. Creating a dichotomous diagram requires key features to ensure online collaboration, easy editing, and even easier creation of content. Visual paradigm lets you try out its templates from the onset – on its homepage. Others require elaborate pricing and online tutorials to get you started. In the case of dichotomous keys creations, most affordable software will do the trick, including Google Drawing software from google docs.
However, if you need software that meets you in between in terms of performance and affordability, EdrawMax and Creately make great options. EdrawMax does, however, have an abundance of templates to choose from. It also boasts handy modification and editing tools, live collaboration for its users, and exportation of work in various formats.
EdrawMax
All-in-One Diagram Software
Create more than 280 types of diagrams effortlessly
Start diagramming with various templates and symbols easily
Superior file compatibility: Import and export drawings to various file formats, such as Visio
Cross-platform supported (Windows, Mac, Linux, Web)
Security Verified |
Switch to Mac >>
Security Verified |
Switch to Linux >>
Security Verified |
Switch to Windows >>