Diagram
5 Best Tree Diagram Makers
Know More about Tree Diagram Makers
Being in a corporate world, it is highly unlikely that you haven't come across the term 'tree diagram.' While the chart is easy to prepare, it might be daunting for many to pick the best tree diagram maker tool that fits their needs.
There are a couple of things that must be kept in mind when choosing an appropriate diagramming program, and your target must be to get an application that ticks most, if not all, of the listed points to exploit all the features of the app to the full.
With that said, the following sections discuss the key features that a decent tree diagram maker must have, along with the names of some of the popular tools for you to consider while deciding upon which chart maker would serve the purpose well.
Tree Diagram Maker FAQs
What is a tree diagram?
A tree diagram is a hierarchal structure that represents categories, subcategories, and other lower branches of a system. The diagram can be drawn to depict organizational hierarchy, tasks, and associated subtasks, probabilities, outcomes, etc. For example, in a home with a large number of members, a family tree diagram is created for quick reference. Because the entire illustration has a tree-type structure, the figure is called so.
How to make a tree diagram?
In order to learn how to make a tree diagram, it is imperative to collect all the facts and list them in the correct order. Next, grab your computer, install an efficient diagramming tool, choose a template or start from scratch, and you're good to go. Although the illustration, e.g., a probability tree diagram, can be drawn on a piece of paper manually, the process is pretty tedious and time-consuming. Therefore, it would be a good idea to get a decent and intuitive application and leave the rest to it.
When will people use tree diagrams?
Any time there is a need to illustrate a hierarchy, categories, and subcategories, probabilities, or outcomes of a system, a tree diagram is drawn. For instance, to show the entire family structure, a family tree diagram is prepared. Likewise, to depict the probabilities, a probability tree diagram is created. Here, the important point is, you must have all the data to do the tree diagram math before taking the structure to the creation stage.
Tree Diagram Maker Comparison Criteria
While choosing a tree diagram maker, there are few important points that you should consider in order to get the best bang for the buck. An efficient diagramming tool must have the following:
User Interface (UI)
Make sure that the UI of the tree diagram maker that you plan to choose is intuitive, and the options and buttons it contains are self-explanatory, so you don't have to invest your time in navigating through the help files or searching for the videos and tutorials to learn how to use the program.
Usability
It is also important to do some homework before deciding upon a tree diagram maker. You must ensure that:
Is the interface intuitive (as mentioned above)
Is the tech support available? If so, for how many hours a day
How many types of diagrams can the tool create
Is the program useful for multiple scenarios, or it can merely create a tree diagram
Features & Functionality
You must even check if the app you are planning to use for the long run is fully functional and serves most of the purposes well. For instance, does the tool:
Offer drag and drop functionality
Have several tree diagram template types
Comprise enough symbols and icons to draw charts and diagrams for multiple scenarios
Allow you to save the projects on your PC or Cloud
Support enough formats to export the diagrams
Platform
It is also equally important to know where the app could be installed so you can use it seamlessly. You must check whether the tree diagram maker is available for:
Web interface and works online
Desktop or laptop computers. If so, which operating systems does it support?
The most common operating systems such as Windows, macOS, Linux, etc.
Mobile devices, those running Android and iOS/iPadOS operating systems
Value (in USD)
One of the most important factors is pricing. You must check the cost of the application and see if it falls within your budget. Even though some programs might be free, they may not be as robust as the paid ones. Therefore, a tree diagram maker that has all the required features and is cheap at the same time is something you must consider while deciding upon a tool.
Overviews of the Best Tree Diagram Makers
Considering the points discussed above, some of the best tree diagram maker programs are listed as follows:
1. EdrawMax
One of the most versatile diagramming tools that are capable of creating more than 280 different types of illustrations for various scenarios is EdrawMax by Wondershare. The program is equipped with more than 26,000 symbols segregated under their relevant categories populated with around 1500+ templates in all. It is pretty easy to prepare a tree diagram using EdrawMax, and the process of drawing one is given below:
Step 1: Pick a Relevant Template
After downloading EdrawMax, and installing it on your PC, launch the program. On the main interface, make sure that New is selected in the navigation bar on the left, click to select Organizational Chart from the center pane, and from the right window, click your preferred tree diagram template that best suits your requirements.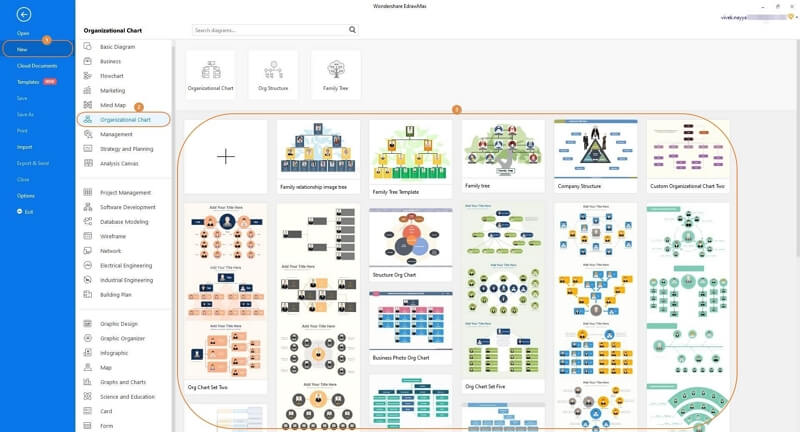 Step 2: Customize and Prepare the Diagram
On the Canvas, double-click the first placeholder text, and replace the content with a suitable caption. Repeat this process for all the objects the illustration has to fully personalize the diagram. If required, add more symbols from the libraries on the left, and decorate each icon using the tools present in the right pane.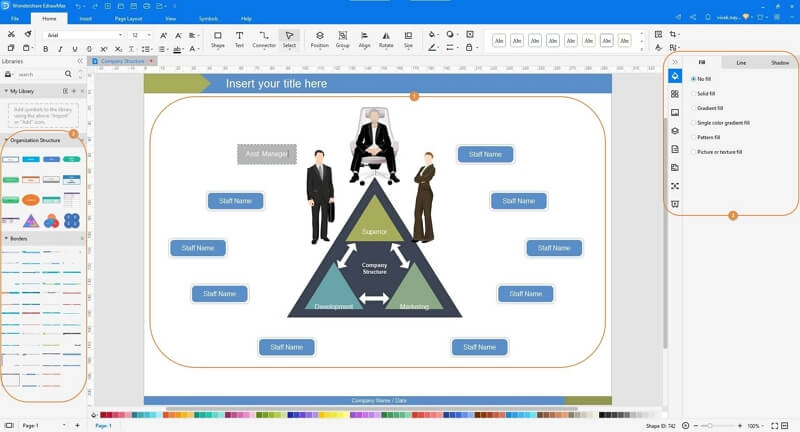 Step 3: Save and Export the Tree Diagram
Click the Save (Floppy) icon from the quick access toolbar present at the top-left corner of the interface to save the diagram. Next, click the More button on the Export icon, and click your preferred format from the menu to export the chart for distribution.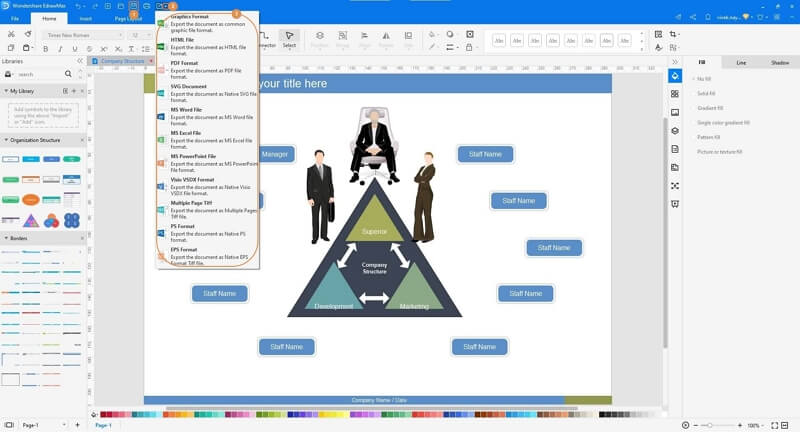 Pros:
Intuitive interface
Self-explanatory icons and buttons
Fully customizable 1500+ templates
More than 26,000 icons and symbols
Free to download and use on PCs and online
Saves projects on your local computer or Wondershare's personal cloud
Available for Windows, Mac, Linux, and Web
Cons:
Some templates are available with the paid subscription plan
EdrawMax
All-in-One Diagram Software
Create more than 280 types of diagrams effortlessly
Start diagramming with various templates and symbols easily
Superior file compatibility: Import and export drawings to various file formats, such as Visio
Cross-platform supported (Windows, Mac, Linux, Web)
Security Verified |
Switch to Mac >>
Security Verified |
Switch to Linux >>
Security Verified |
Switch to Windows >>
2. EdrawMind
EdrawMind is yet another tool by Wondershare and is majorly used to draw mind mapping charts and diagrams. Furthermore, the icons in the app can be aligned smartly to create detailed and complex tree diagrams. In addition, the software also has a built-in outline generator to help you create outlines for your writing assignments.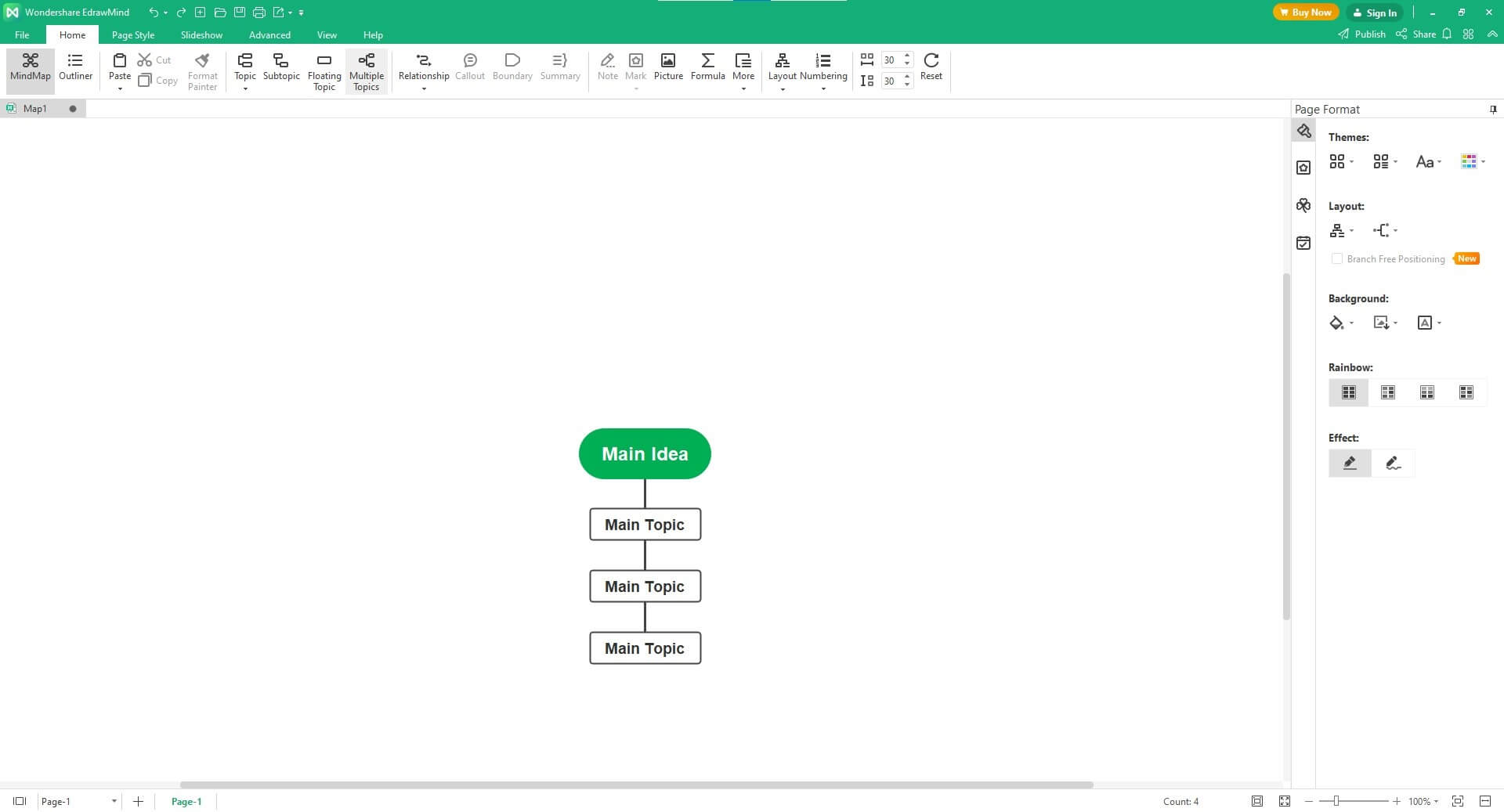 Pros:
Clean and intuitive interface
Free to use
Populated with several templates and examples to start your projects with
Saves your projects on your local computer, Dropbox storage, or Wondershare's personal cloud
Available for Windows, Mac, Linux, Android, iPhone, iPad, and Web
Cons:
Doesn't have as many templates as there are in EdrawMax
EdrawMind
Full-Featured Mind Mapping Software
33 predefined themes to make your mind map stand out
12 different structures to meet your need
Cross-platforms supported (Windows, Mac, Linux, Web)
Brainstorming mode and presentation mode
Group & real-time collaboration
Security Verified |
Switch to Mac >>
Security Verified |
Switch to Linux >>
Security Verified |
Switch to Windows >>
3. SmartDraw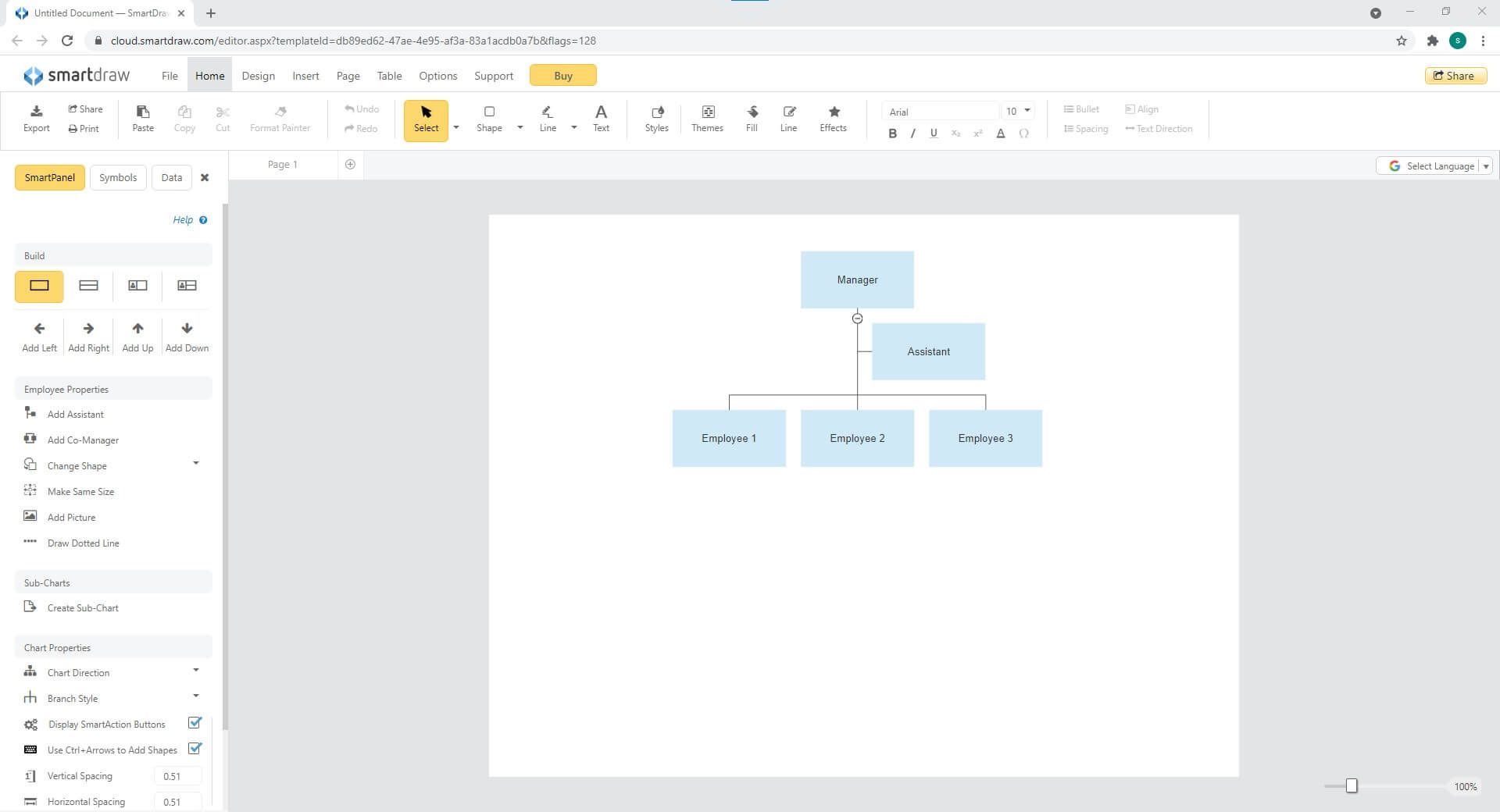 SmartDraw mainly relies on its built-in templates not only as a tree diagram maker but also to create any type of illustration and chart. Earlier, the program was available for desktop computers as well. However, recently, only the web version of the app is there, which makes the tool platform-independent.
Pros:
Templates to generate diagrams for more than 70 scenarios
Allows single sign-on (SSO) for seamless access to different services and platforms
Cons:
No PC version is available. Earlier variants can be downloaded from the third-party sites
4. Visme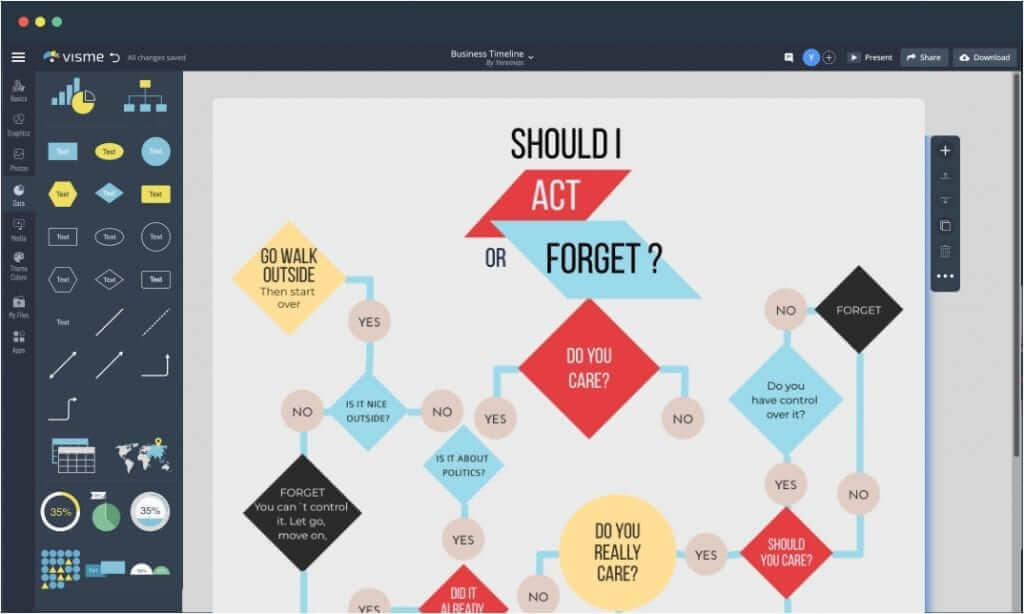 Visme is another online tree diagram maker that also helps you create charts and vector-based illustrations. In addition, several templates are available to prepare brochures, e-books, logos, flyers, and even proposals for your new prospects. The web app is most suitable for marketing personnel, HR people, sales teams, trainers, consulting agencies, etc., i.e., for the organizations that deal with a large number of people and want everyone's inputs while working on the projects.
Pros:
Free to sign up and use
Versatile web app for almost all scenarios including graphic designs, logo creations, flyers, brochures, e-books, etc.
Populated with several templates, including those to prepare tree diagrams
Also creates presentations
Cons:
Free version offers only up to 5 projects, 100 MB of storage, and access to only fewer templates
Only web version is available at the time of this writing
5. Creately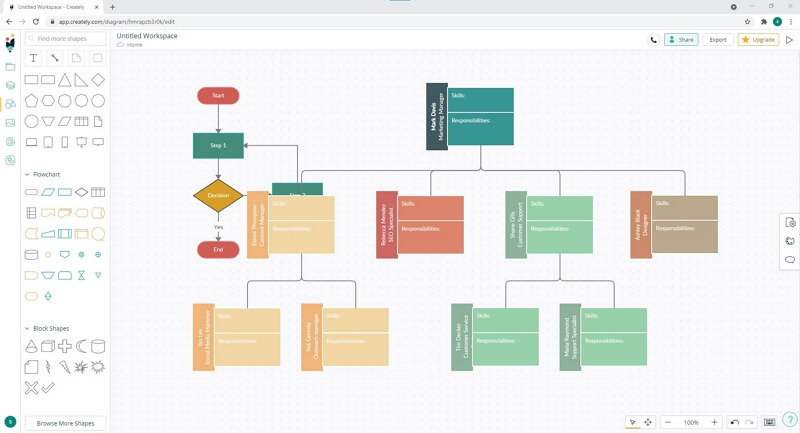 Creately, as with others, is also an online app for creating charts and diagrams for various scenarios. The web tool is populated with templates for IT & Networking, HR, Engineering, Strategy, Operations, and much more. With all those stencils, it becomes extremely easy to come up with a professional illustration in no time.
Pros:
Several thousands of templates available
Millions of diagram examples available
Suitable for both individuals and teams
Free to use
Cons:
No PC or mobile version available
Free accounts have limited features and access to fewer resources
Pick Up a Tree Diagram Maker Suitable for You
As explained earlier, a good diagramming tool is one that can be installed on your PC, smart devices and can also be accessed via web browsers. Because some of the tree diagram maker programs discussed above are available only for online use, all you are left with are EdrawMax and EdrawMind by Wondershare. These two programs are populated with several templates, available for almost all PCs, mobile devices, and web browsers, and above all, these are free to use.
Related Articles
Create a stunning tree diagram with Edraw. Try it Free!