Diagram
6 Best Outline Generators
Know More about Outline Generators
Have you ever noticed that every time you are asked to write something from the start, you stay blank for a while and stare at the computer screen with nothing displayed on it? This is the case with most people regardless of the industry they belong to. Such congestion is the lack of proper outlines that define the structure of final piece. This is where outline generators come into play.
An outline generator is a computer-based or web program that takes inputs about the topic you are planning to write on and produces the outlines out of them. These outlines serve as a guiding path, so you don't have to think about the sequence and/or flow of the subheadings and points that need to be covered as the app does all the legwork for you.
With that said, listed below are the six best outline generators, along with their details that you can use to decide which one of them best fits your requirements.
Outline Generator FAQs
1. What is an outline?
In terms of writing, an outline is a list of topics that need to be covered. A well-defined outline works as a guide or route map for the writers to complete their piece in a correct sequence and come up with a properly structured output.
2. What is an outline generator?
An outline generator is a tool, typically a computer program, that helps you generate outlines based on the inputs you provide. For instance, as a scholar, if you are asked to write an essay on a particular topic, an essay outline generator can be used to produce a list of subheadings and points in the correct sequence that can help you write a well-structured essay.
3. When will people use outlines?
As discussed above, when you are unsure how to start with a new piece and don't know which part of the topic should be placed in what sequence, you will need an outline generator. A good example could be a person who has been asked to address the audience on the stage. For such a spokesperson, a speech outline generator may work as a boon as it would help them list all the topics in a proper sequence that they can follow while addressing the masses.
Overview of the Best Outline Generators
Keeping the criteria discussed above in mind, the following are some of the best outline generators that you can consider choosing to generate outlines for your writing projects/assignments:
1. EdrawMind
EdrawMind is a product by one of the leading IT companies, Wondershare. Although the application is designed to prepare mind mapping projects for various industries and scenarios, one of the newly added features in the latest version of the app is Outliner that works as an efficient outline generator and enables you to prepare the outlines for your writing tasks.
Step 1: Pick Outliner from the Main Interface
After downloading EdrawMind from the official website (link given above), launch the program. Ensure that New is selected in the navigation pane on the left, and from the upper section of the right window, double-click Outliner.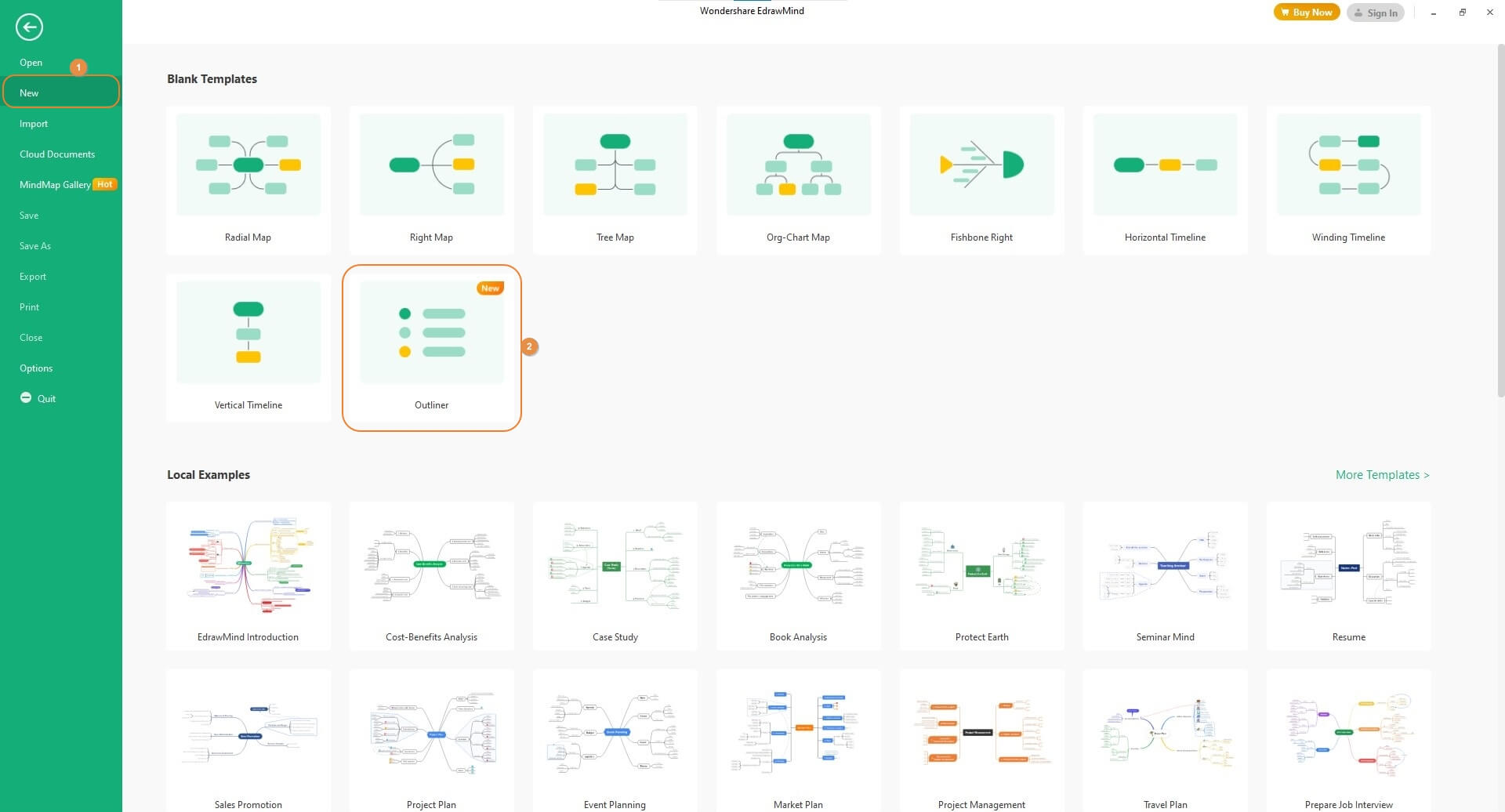 Step 2: Create Outlines
On the next window that opens up, replace the placeholder text with the main topic at the top. Next, replace the other placeholder texts with the subheadings that needed to be covered. To add further subcategories, enter a subcategory, and click [Increase Indent] from the top of the window. To convert a subcategory into a subheading, click anywhere between the text, and click [Decrease Indent] from the top.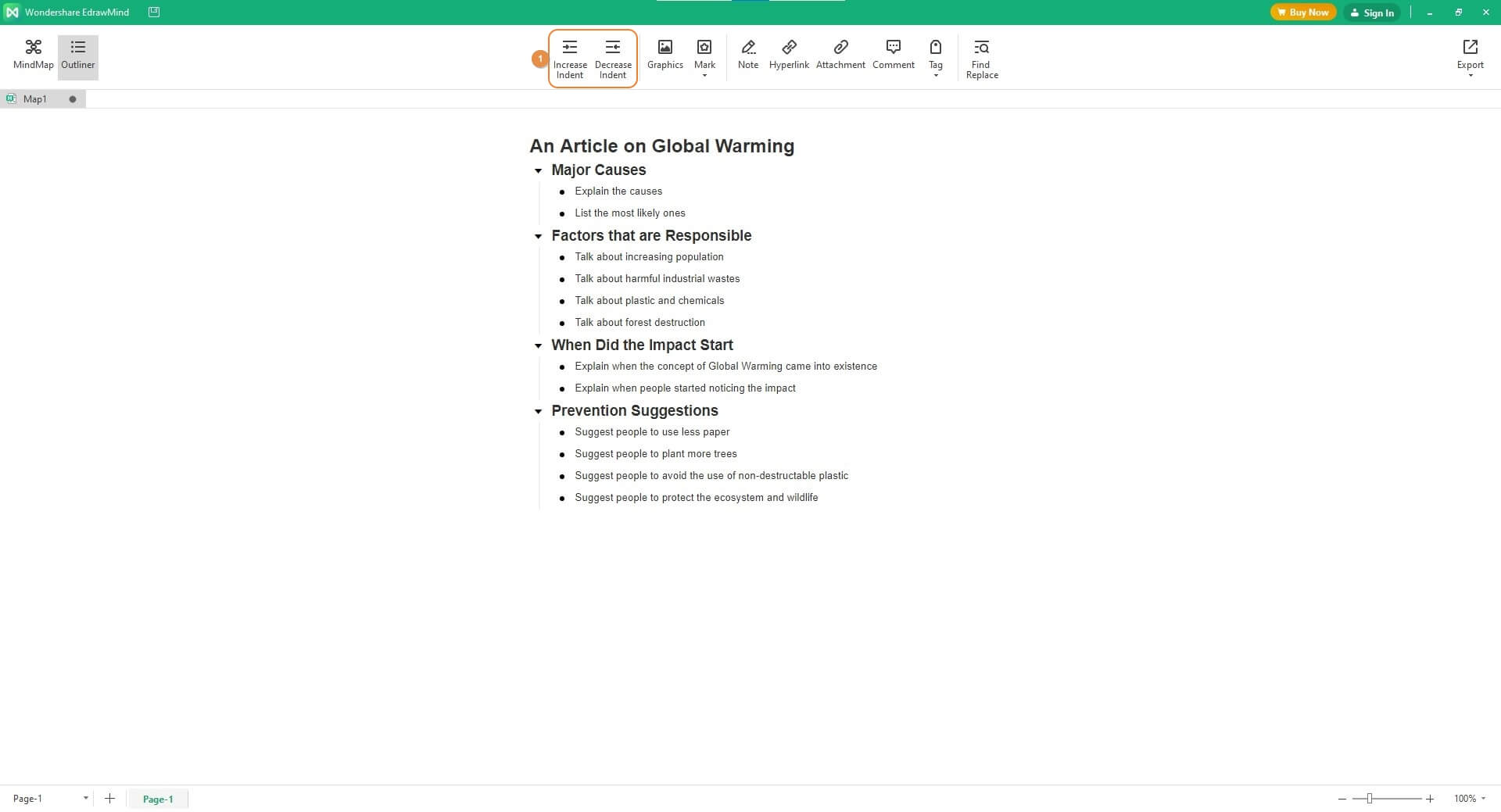 Step 3: Decorate and Mark the Outlines
Click at the end of the subheading or subcategory you want to decorate or make more elaborative, click Graphics from the top, and import an image from your PC. Furthermore, you can mark the content to define priorities, show progress, or add smileys to make the outlines look livelier. The other tools, like Note, Attachment, etc., can be used to add as many details to the outlines as you want.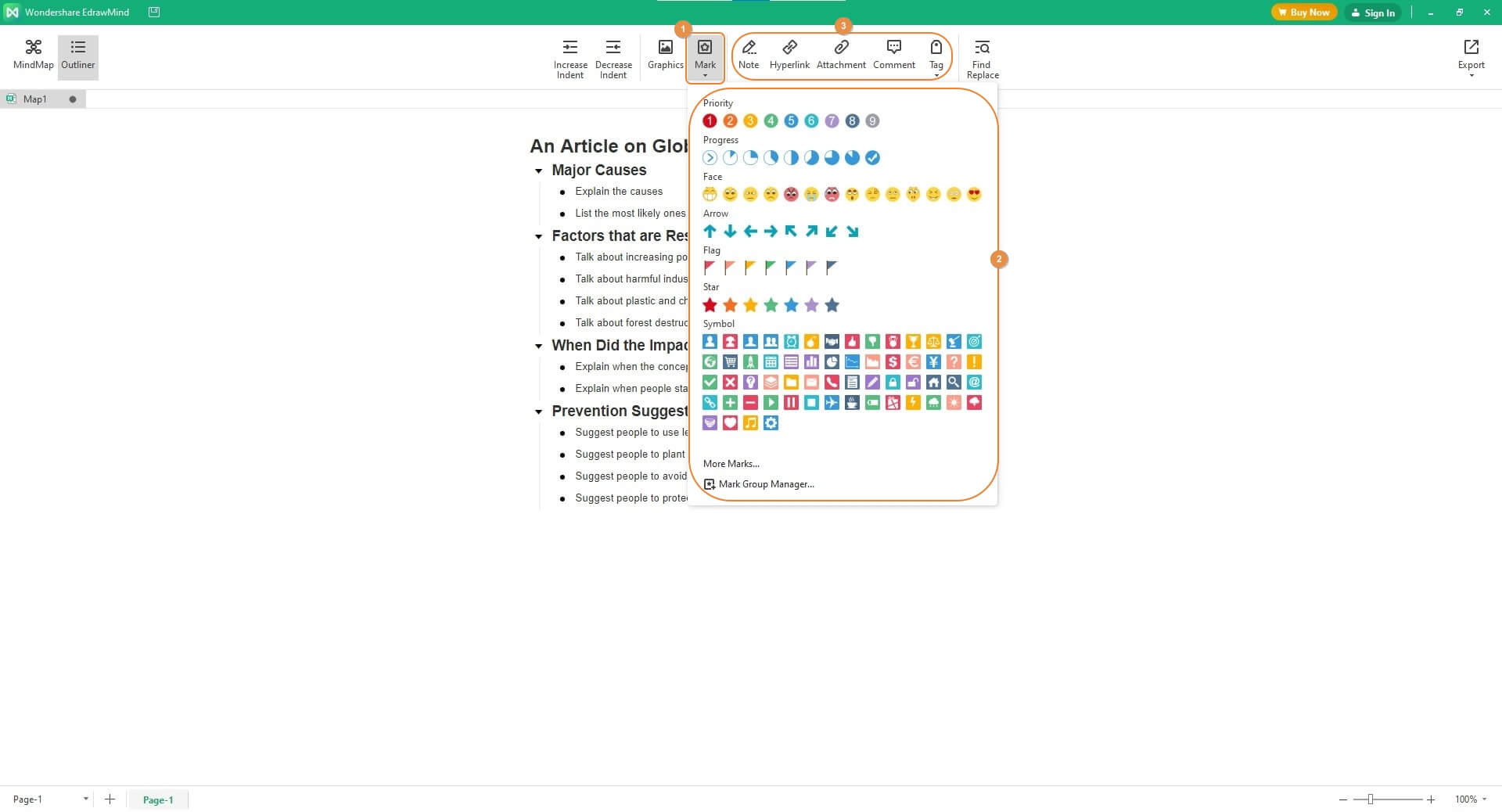 Step 4: Save and Export the Outlines
Once you are done preparing the outlines, click Save from the top-left corner of the interface, and on the Save As box that comes up next, choose your preferred location such as your local storage drive, your personal Cloud on the Wondershare's server, or to your Dropbox account. Once you are back on the main window, click Export from the top-right corner, and choose your preferred format to export the outline for printing and/or further distribution.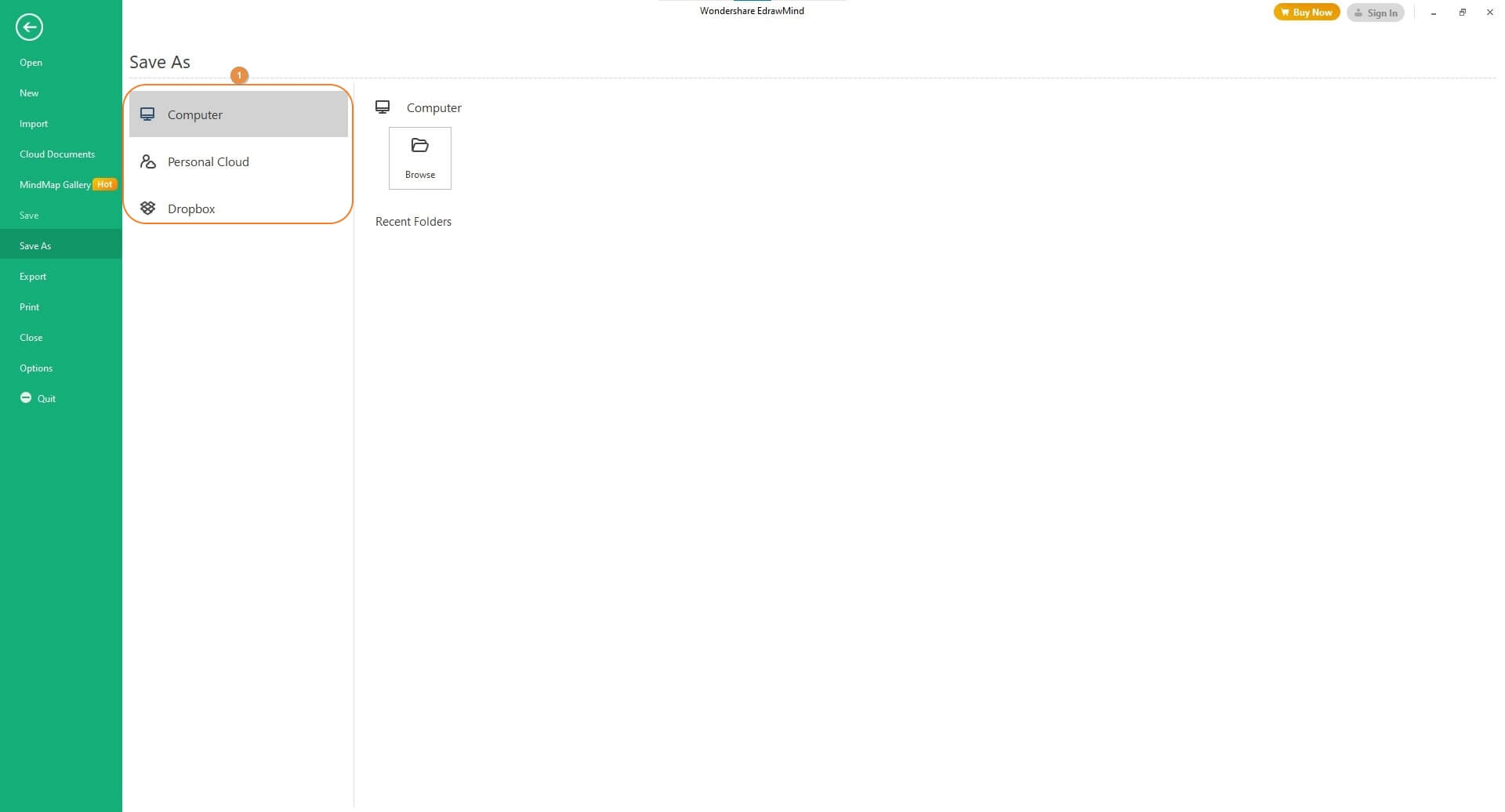 Pros:
Intuitive interface
24 x 7 technical support
Can add graphics and set priorities
Available for Windows, Mac, Linux, iOS, Android, and web interface
Can save project files to Edraw cloud, your Dropbox account, or on your local computer
Free to use
The app has a built-in spell-checker
Cons:
The free version adds watermarks to the exported documents
EdrawMind Apps
12 structures & 33 themes & 700+ cliparts
Support Win, Mac, Linux, Android, iOS
Advanced import & export options
On-premises software for business
Enterprise-level data security
EdrawMind Online
12 structures & 33 themes & 700+ cliparts
Access diagrams anywhere, anytime
Team management & Project management
2. CRLS Research Guide
Cambridge Rindge and Latin School or CRLS is a web-based outline generator that can be accessed via any browser of your choice (Google Chrome, for instance). The landing page has several input fields that you can populate with the relevant data you want to write about. If need be, additional subheadings/points can be added to make the piece more detailed.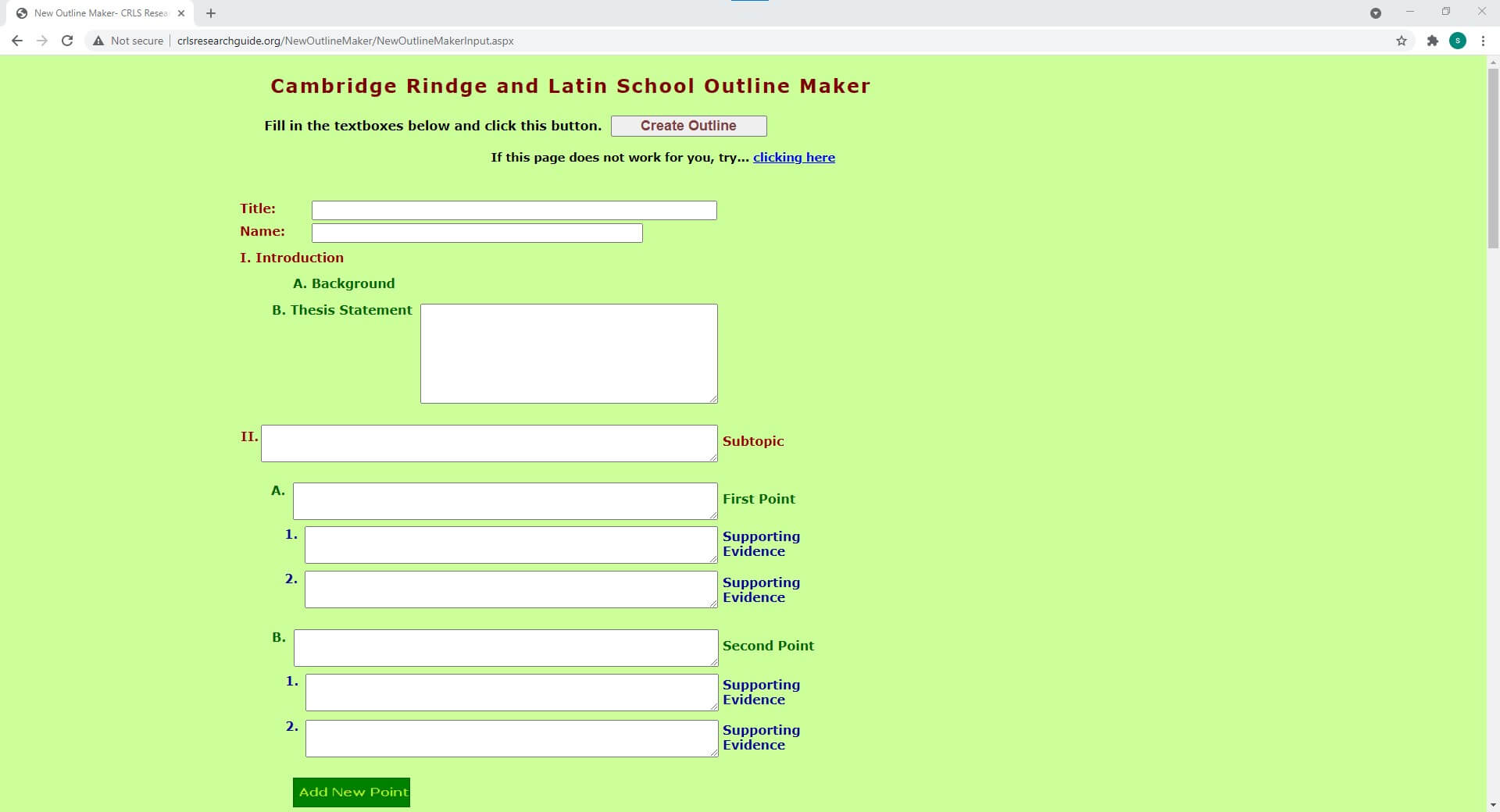 Pros:
CRLS is a web-based tool so no downloading or installation is needed
Free to use
No paid or free subscription required
Cons:
Doesn't allow you to add graphics or other decorative elements
Doesn't let you export the outlines to different formats. Supports only plaintext
Doesn't offer any technical support. Merely a survey form is available for your feedbacks
No templates available
3. APA Format Generator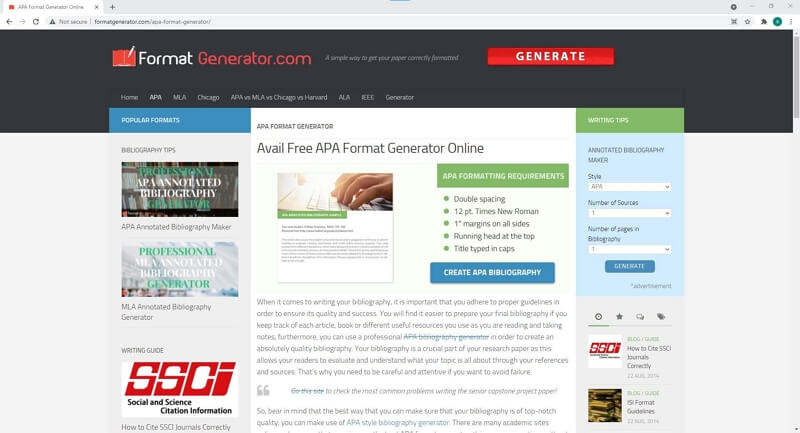 APA Format Generator is majorly developed to ease creating a bibliography after you are done writing. Such references are crucial to avoid any legal challenges and/or copyright issues. Because preparing a bibliography manually is a tedious and time-consuming task, a tool like APA Format Generator can be used to simplify things without any hassle.
Pros:
Free and paid subscriptions
This is a web-based tool so no downloading and/or installation is required
Intuitive interface
Cons:
Requires specific format
Novice and amateur users might find it daunting when it comes to choosing a category
The correct buttons are hard to locate due to excessive confusing adverts on the webpage
4. MindMeister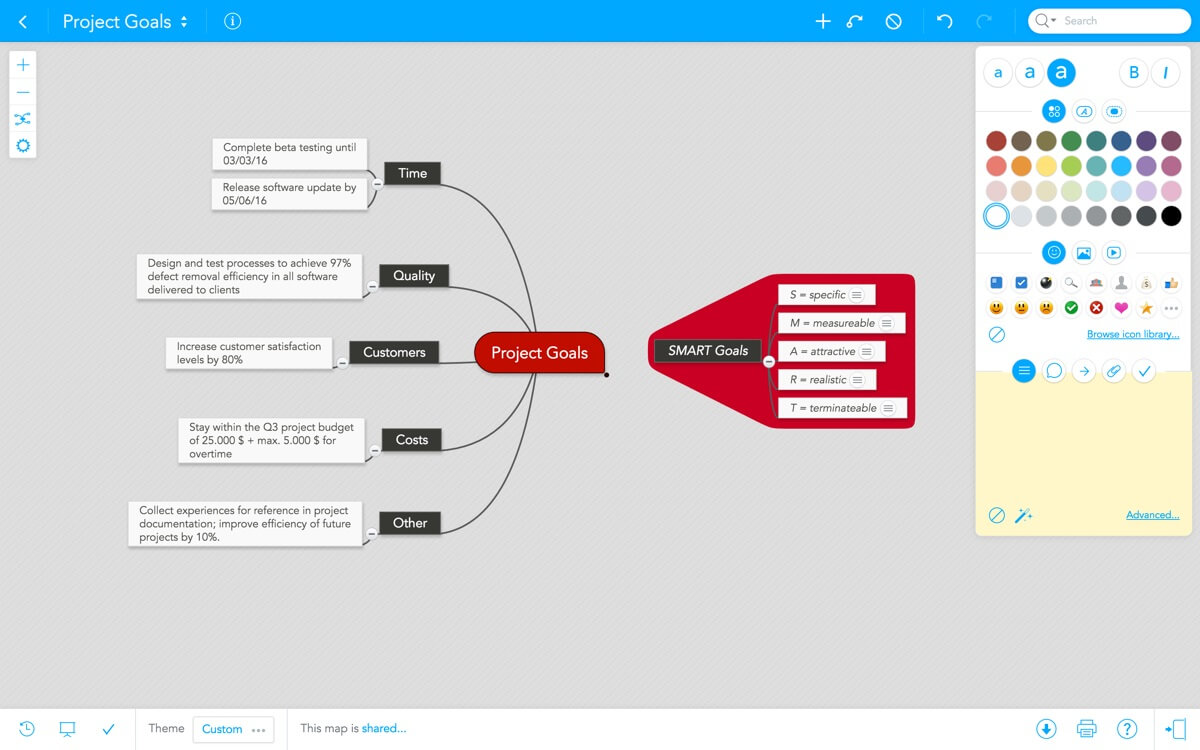 MindMeister is yet another online tool. However, unlike others, this web app mainly focuses on mind mapping projects that you create on your browser and then share with your team members and associates to seek their inputs. In simple words, MindMeister is a perfect tool for collaborative structure forming. Because mind mapping is somewhat identical to outline generation, any of the available templates can be customized to prepare the outlines for your writings.
Pros:
Offers a free plan to create up to 3 mind maps
Allows you to pick a template and then customize it as needed
Prompt and global and region-specific technical support for Austria, USA, and Germany
Cons:
Requires you to sign up before you can start using the web app
You must purchase a paid subscription create more than 3 projects
5. BubbleUp Classroom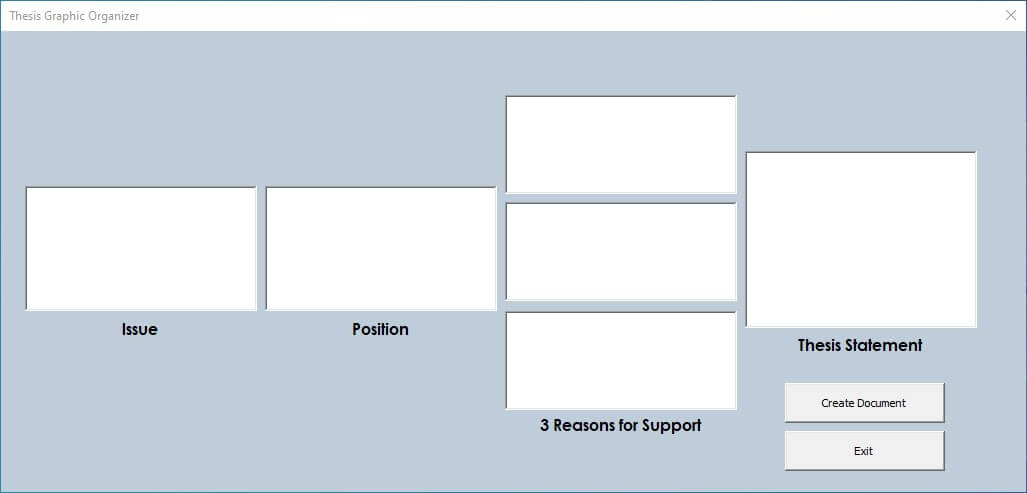 This is probably the simplest tool available on the Internet. The link provided on the landing downloads a standalone macro-enabled MS Excel file that, when opened, allows you to enter the values in the input fields and then generates the outlines for you to start with the writing part. BubbleUp Classroom is majorly used by the kids to prepare outlines for the essays.
Pros:
Free to use
Offers intuitive interface with only the most-needed buttons
Self-explanatory input fields
Offline program; uses MS Excel to start the macro-enabled file.
Cons:
Requires MS Excel to be installed on your PC
Requires MS Word to be installed on your PC
No format choice while exporting. The generated outlines are automatically exported to an MS Word file
No templates available
6. GitMind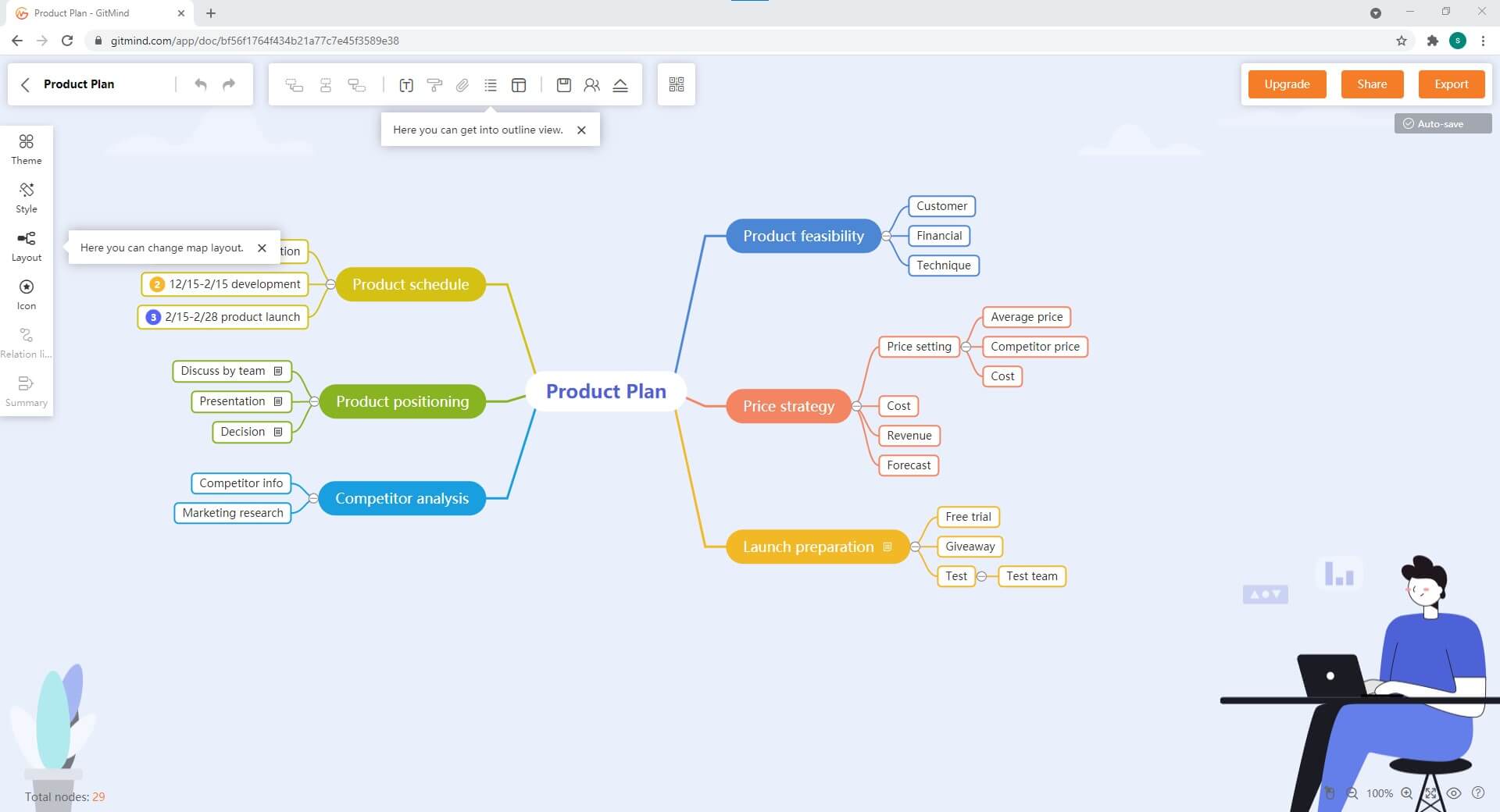 GitMind is an online outline generator that is also available for offline usage but only for smartphone users, i.e., for Android and iOS devices. The user interface is intuitive, and the tool is populated with several templates for almost all kinds of industries and scenarios. Furthermore, the video tutorial that the landing page has gives you a complete insight into the program to make it easier for you to understand and use.
Pros:
Free to use
Available for the web interface, and also for Android and iOS platforms
Equipped with templates for almost all industries and scenarios
Allows you to export your projects to various formats like PDF, SVG, JPG, PNG, etc.
Cons:
A paid subscription is required to gain access to all the features offered by the tool
No PC version of the program is available at the time of this writing
Essential Components a Good Outline Generator Should Have
Because there are several outline generators available in the market today, you must check and compare a few things while choosing the one that best suits your requirements. The criteria of evaluating a good outline generator are listed below:
1. Clean & Fresh User Interface (UI)
This is the first thing that you must check while picking the right outline generator for your tasks. Because you will be interacting with the program via UI itself, software, or a web app with an intuitive one will save the time that you would otherwise spend in understanding the locations of the key elements such as tools, menus, settings, preferences, etc. To evaluate the UIs, you may have to check the YouTube videos, screenshots of the interface from the vendor's website, or sometimes you may even have to download and install a trial instance on your PC to get the first-hand experience of using the application.
2. Easy-to-Use
Usability works in conjunction with the UI. The more intuitive the user interface is, the easier it will be to learn the program and exploit all its features to the full. A few other key points that this umbrella term covers include:
How prompt and learned the tech support team is?
How informative the help file and/or the know-how tutorials are?
What kinds of scenarios the tools the application has can cover (E.g., Can it prepare outlines for research papers, essays, stories, speeches, etc.?)
3. Features & Functionality for Outline
Yet another important aspect while picking an outline generator for your tasks. It is imperative to understand what functions each of the programs offers and will those options be useful to you. It is also necessary to check what unique features every program has and how helpful those could be for you. Some of the key elements that you may want to look in an efficient outline generator would be:
Availability of templates
Availability of the icons, shapes, symbols, etc. in the built-in libraries
How efficiently the symbols are categorized so it is convenient for you to find and use them in your projects
Whether the symbols and shapes are editable, and if so, up to which level
Is there any way to save the drafts online, i.e., on the Cloud or some other third-party online storage like Dropbox, Google Drive, etc.
What formats does the app support when it comes to exporting the projects
4. Cross Platform Accessible
One of the crucial aspects of any program these days is to check the platform it supports and works on. For example, you must know whether an outline generator of your choice is available for Windows, Mac, or Linux PCs, it can be used on Android or iOS devices, or is it an online program that can be accessed via web browser and uses an active Internet connection.
Pick Up a Mind Mapping Software Suitable for You
The fact is, depending on the purpose and the industry you are in, your preference for picking an outline generator may vary. There are a couple of factors, such as the type of interface, availability of the templates, technical support, pricing, etc., that make an outline generator considered to be a good one. However, it would be a good idea to pick a versatile program like EdrawMind that is capable of covering a wide range of scenarios for almost all types of industries.
EdrawMind Apps
12 structures & 33 themes & 700+ cliparts
Support Win, Mac, Linux, Android, iOS
Advanced import & export options
On-premises software for business
Enterprise-level data security
EdrawMind Online
12 structures & 33 themes & 700+ cliparts
Access diagrams anywhere, anytime
Team management & Project management
Related Articles