List of Best Drafting Software to Download – Free and Paid
Replace the paper, pencil with a computer screen and a mouse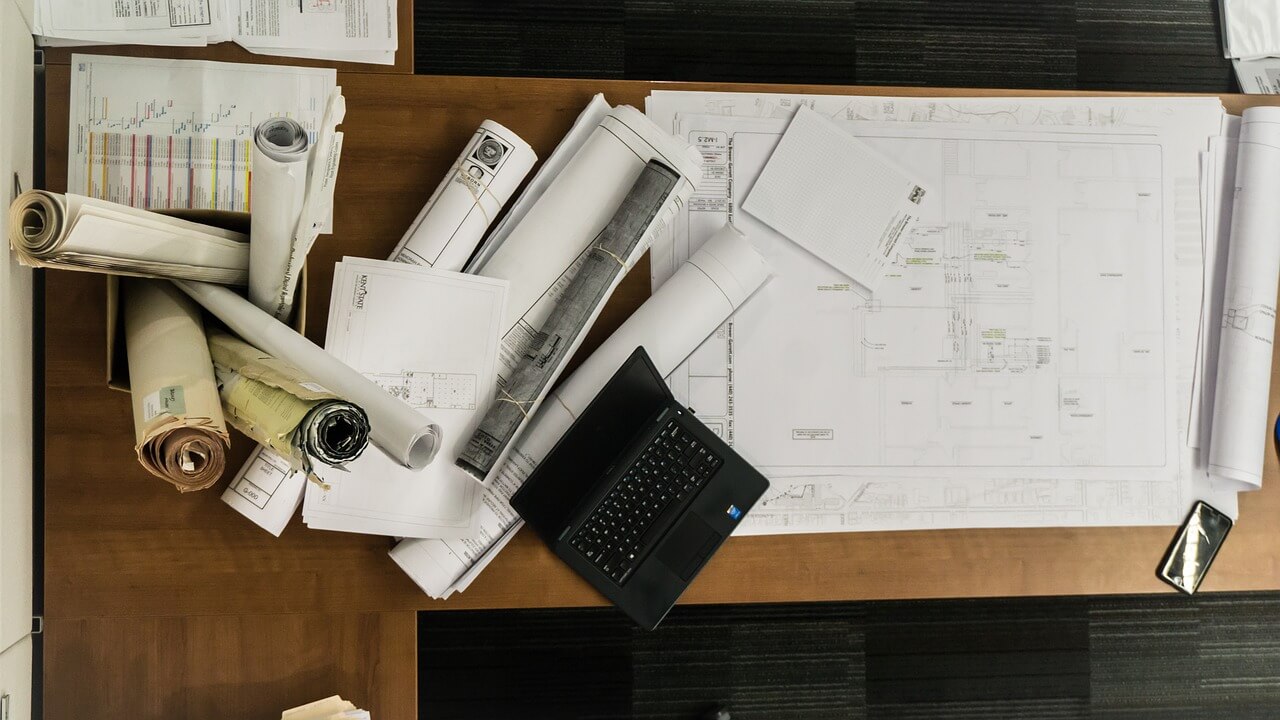 Drafting a blueprint for a small room, a table, and perhaps even chairs used to require an eye for details and some penmanship. This procedure would take considerable amounts of time, meaning the transition from concept to realization needed to be shortened.
Enter the world of 2 and 3D diagramming. Drafting, or draughting, as it's known to some, involves symbols and measurements, as opposed to basic lines, and numbering.
Drafting is usually carried out by engineering students or professionals. It spans a few sectors, including electronics, manufacturing, construction, architecture, and civil engineering. Conceptualizing and working to realize these concepts requires sound drafting software.
List of Recommanded Drafting Software
1.

EdrawMax
Slightly easier to use than its alternative AutoCAD, this software is available as a downloadable option. Users cannot make use of it online, allowing for less cloud storage issues.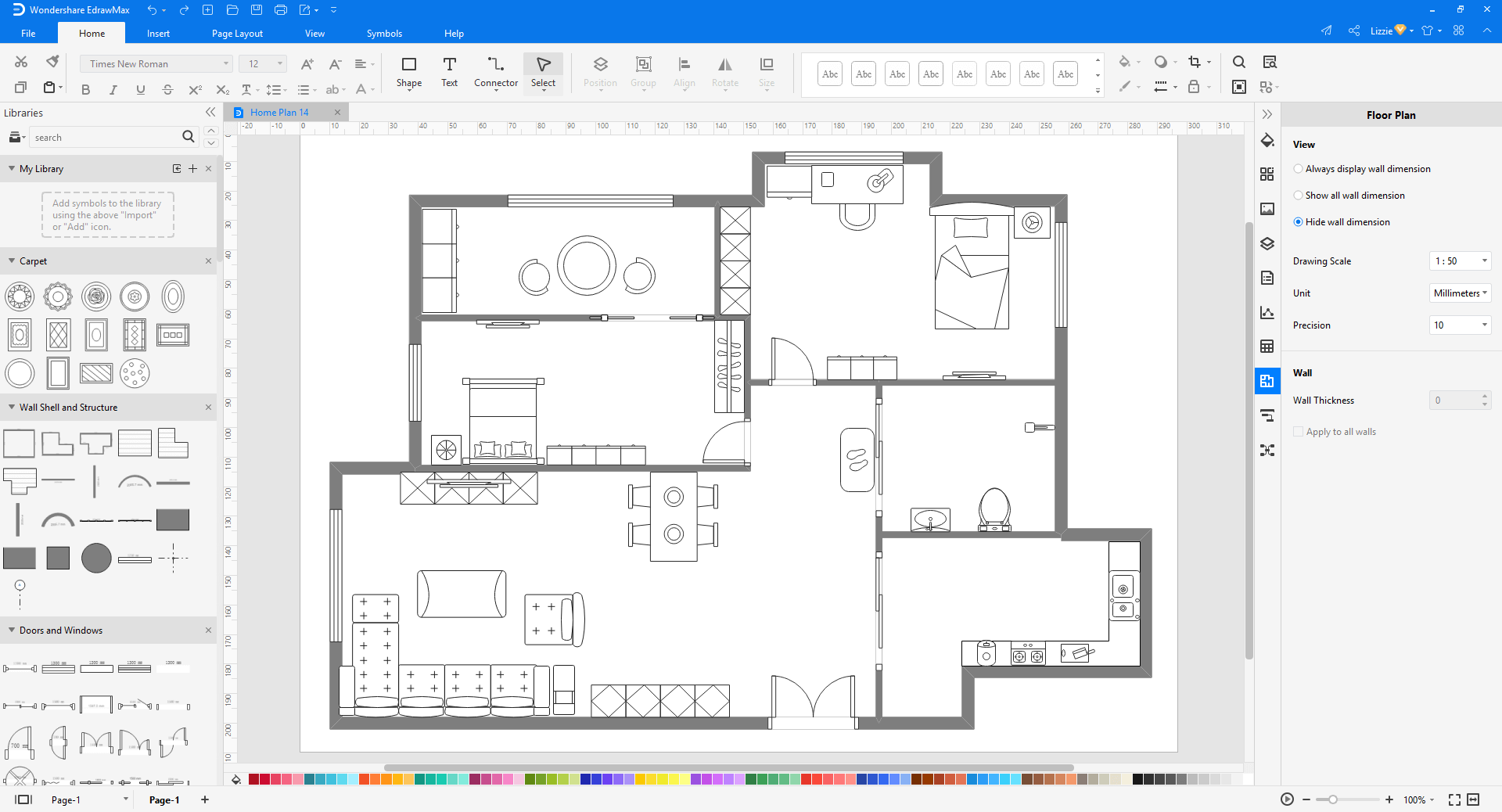 Created by EdrawMax
Suitable For: Beginners.
Develop Projects: 2D Technical Projects.
Pricing Plan: Annually $99.
Support Platform: Microsoft Windows, Mac OS, and Linux. A web-based app is available.
Pros:
Light in its features yet offers amazing themes, templates, and forms.
You can connect real-time images and graphics, then convert them to different formats.
Several tutorials are available on the modern interface.
Cons:
Not built to validate IDEF rules like Visio.
EdrawMax
All-in-One Diagram Software
Create more than 280 types of diagrams effortlessly
Start diagramming with various templates and symbols easily
Superior file compatibility: Import and export drawings to various file formats, such as Visio
Cross-platform supported (Windows, Mac, Linux, Web)
Security Verified |
Switch to Mac >>
Security Verified |
Switch to Linux >>
Security Verified |
Switch to Windows >>
2. AutoCAD
Easy to use with a downloadable app, this software is perfect for working with diagrams. It's sophisticated design and working makes it suitable for engineers.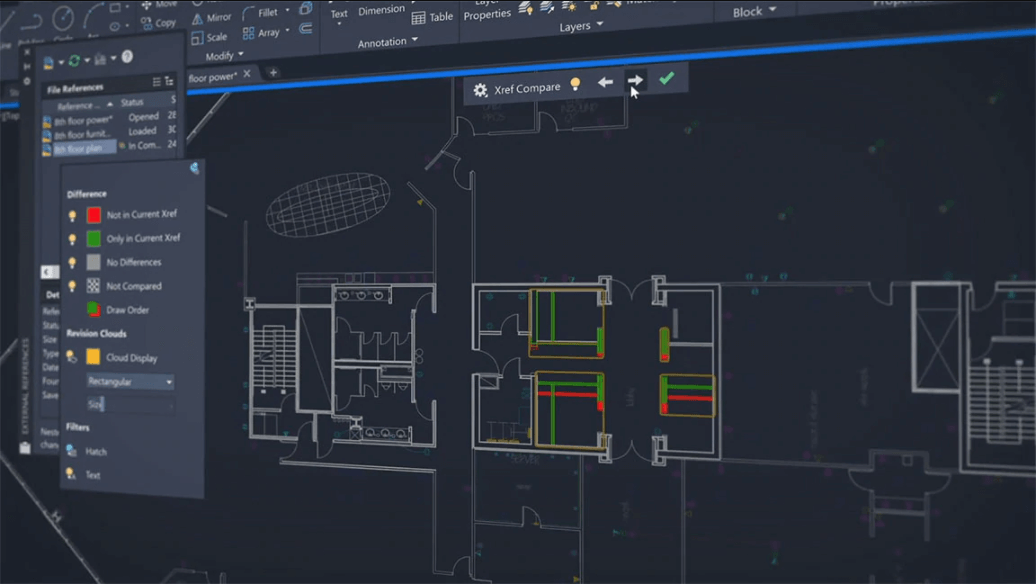 Image Source: autodesk.com
Suitable For: Experienced users – specifically: engineering, construction, and architectural projects.
Develop Projects: Perfect for 2D and 3D modeling.
Pricing Plan: Free trial available for a limited time.
Monthly subscription - $210.
Annually - $1,690 ($141 per month).
3 years - $4,565 ($127 per month).
Support Platform: Windows, Mac OS, iOS, and Android.
Pros:
Time-saving software. Manually creating business plans would take much longer.
User-friendly. It takes new users a short period to understand its workings.
2D/3D options. Creating 3D images is easier on AutoCAD than it is to create manually.
It can be used in multiple sectors, including architecture, chemistry, and electronics.
Different drafting tools available including geometric, mechanical, and texture symbols.
Accurate editing options let you perfect ideas before implementation.
Cons:
A bit pricey for budget-oriented, first-time users.
It requires ample computer processing power (RAM).
3. SketchUp
This nifty software application has a wide range of uses, including interior designs, landscape architecture, civil/mechanical engineering, and game designing. It was first released in 2000.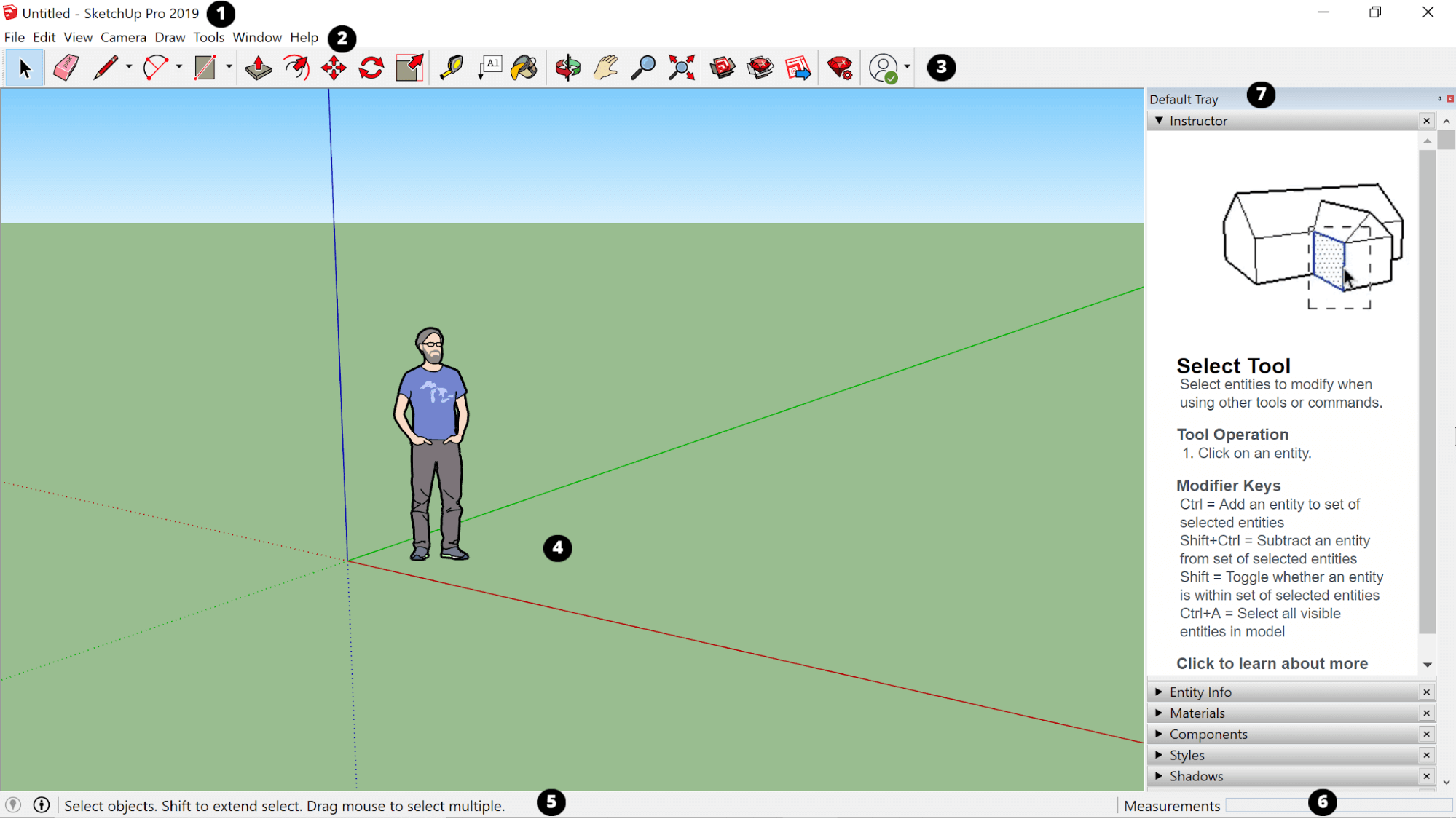 Image Source: sketchup
Suitable For: Experts.
Develop Projects: 3D modeling.
Pricing Plan: Free version and free trial available.
Paid plans include:
SketchUp Studio – Annually @ $ 1,199.
SketchUp Pro – Annually @ $299.
SketchUp Shop (Web Only) – Annually @$119.
Support Platform: Microsoft Windows and Mac OS. A web-based app is available.
Pros:
Easier to use than most other 3D modeling programs.
Plenty of 3D components.
Easy to update in real-time.
Time-saving application.
Easy to render certain shapes to use in other programs.
Cons:
Uses plugins a bit too much as opposed to in-built programs.
Navigating the platform can be a tad difficult compared to AutoCAD.
4. CorelDraw
Released in 1989, the stable version was introduced in 2020. This is a vector graphics application used to edit graphical images in a two-dimensional format.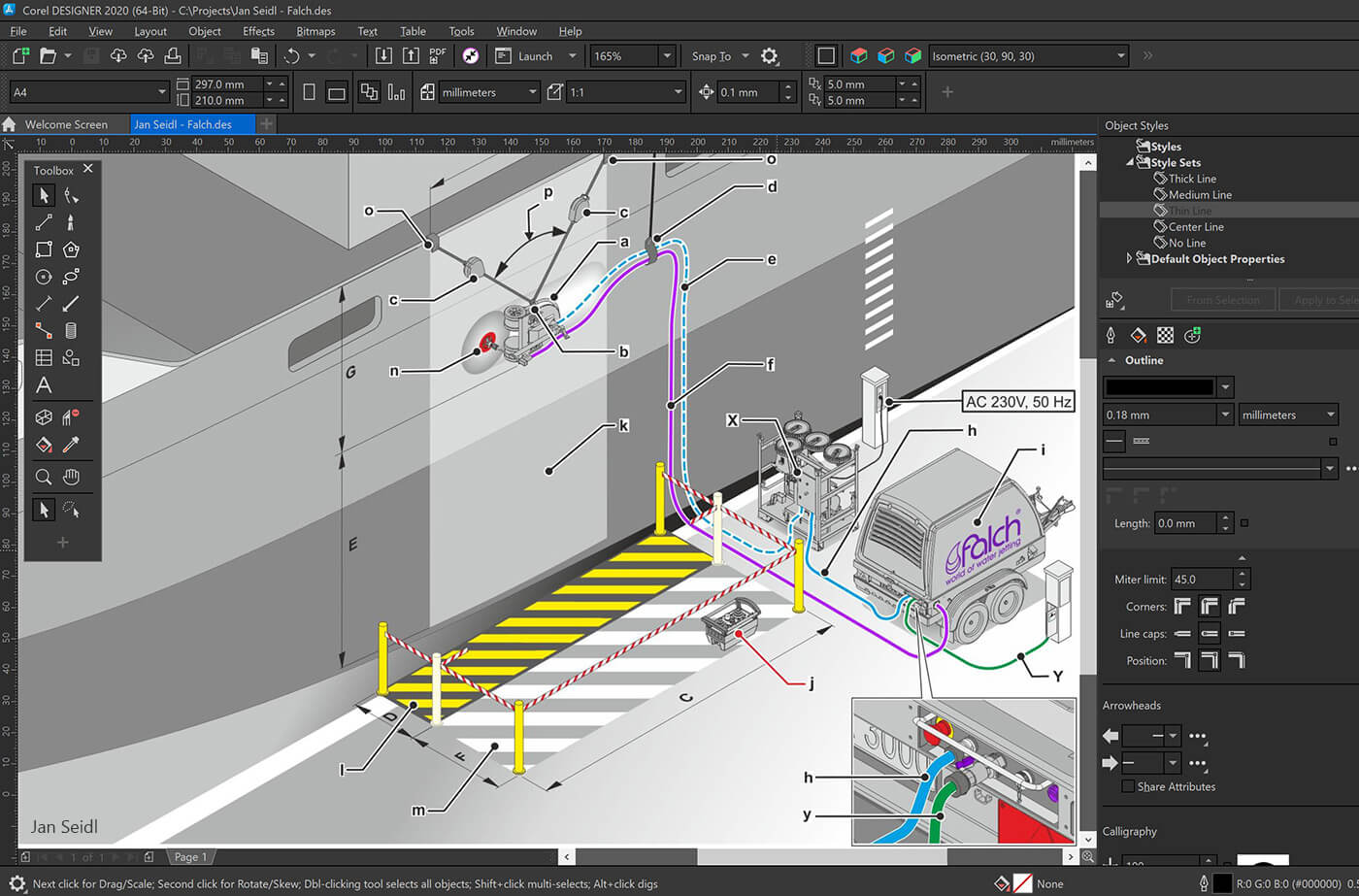 Image Source: coreldraw.com
Suitable For: Beginners and Experts.
Develop Projects: 2D and 3D designing.
Pricing Plan: 15 days of a free trial
Annual Enterprise Plan - $198.00.
Full Version - $669.00.
Support Platform: Microsoft Windows and Mac OS. Downloadable, not web-based.
Pros:
Easy to move graphics within the interface.
Customizable suite to fit most uses.
The intuitive interface makes it easy to navigate and use the site.
Auto bitmap tracing.
Less pricey compared to competitors.
Cons:
The trial version offers limited utility.
As you drag and drop, certain colors cause issues leading to restarting of the software.
Vector editing can be perplexing.
5. SmartDraw
A popular alternative to Visio, it's used to create visual business concepts and create project charts. The stable version came out in 2018, and it's useful for diagramming everything from simple algorithms to Gantt visuals. Its coolest feature is it's available in 100 languages.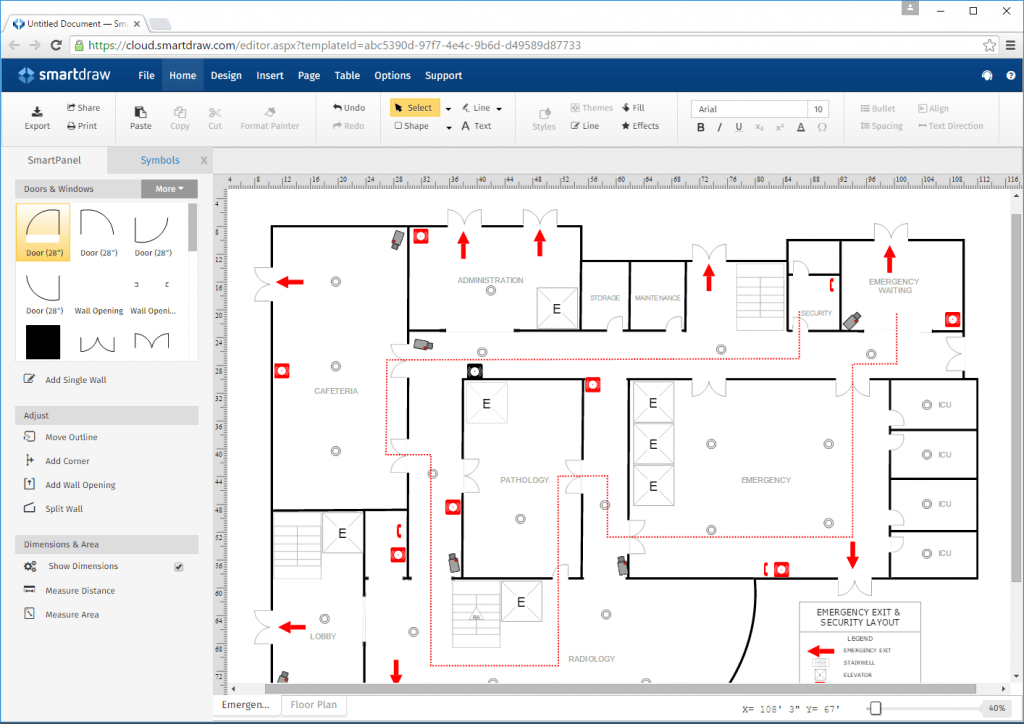 Image Source: machow2.com
Suitable For: Beginners.
Develop Projects: 2D.
Pricing Plan:
Annually @ $9.95 per month (online).
Once-off Payment @ $297 (downloaded).
Support Platform: Windows, Mac OS, and Web-Based App.
Pros:
The Smart panel is quite handy.
Useful in helping to bring one's ideas to life.
Large database of cool templates for layout designs and more.
Easier to use than Visio.
Cons:
It can be quite pricey.
The online version can be unstable.
Conversion from other software to Smartdraw format may not be 100 percent.
Customer care and troubleshooting need revamping.
How to Choose Suitable Drafting Software – All to Know
For starters, you need to steer away from paying for software of any kind unless you need to. Specific software, in this case, the drafting kind, is available for free downloads. On that note, there are a few guidelines for choosing suitable drafting software.
1. What's your Competence Level?
If you happen to be an experienced engineer or project developer, you probably already have a certain program in mind. However, inexperienced users need to search for features of the software before using one. Don't purchase software meant for professional engineers if you are just learning ropes. Our review lists a few products that may interest novices & professionals.
2. What's your Preference for Platforms?
Some software may work better on smartphones and tablets, while others perform much better on desktops. For example, AutoCAD has a nifty mobile app for designers on the go. It's worth noting which app works better on android, iPhone, or desktop, depending on your choice of operating systems.
3. How often will it be Utilized?
A one-time project that seems overwhelming from the outset may not need as much investment as you think. Buying expensive drafting software to use once is uneconomical. Be sure you plan to make use of it on an ongoing basis. If not, continue to draft manually, or seek a free, downloadable alternative.
4. What are your Requirements?
Different sectors, like the ones mentioned earlier, require varying degrees of utility. As you select the right software, remember your needs concerning 2D and 3D visualizations or simulation models. Having a complicated idea to draft may not require the most expensive software, preferably the right software.
It may be best to focus on what you require of said software as opposed to how much they cost. The variations in prices may not be as important as the different features offered. Once you've jotted down your requirements, consider this drafting software for your next project.
Bottom Line
Deployment of certain software may be a factor in determining your choice of drafting software. For instance, it may be a sound choice to stick to web-based platforms to maintain data easier. However, depending on your usage requirements, it makes sense to pick one based on pricing options. As the review highlights, some of the pricier options tend to be less user-friendly. For instance, Smartdraw switched from Microsoft-only platforms to web-enabled diagramming. This has made it less accessible to some users due to upped prices, with little added value.
That being said, EdrawMax seems to offer the most value or money based on features, ease of use, and deployment options.