5 Best P&ID Software and Tools
Fast visualize your piping instrumentations with professional P&ID software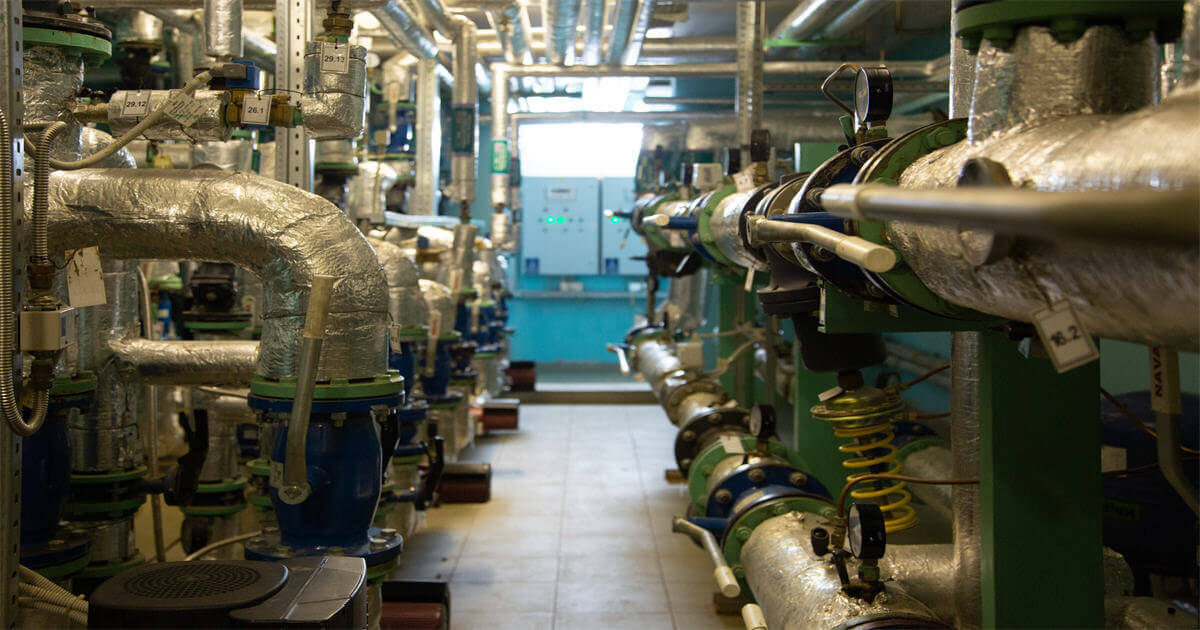 Piping and Instrumentation Diagram (P&ID) or Process Engineering Flow Scheme (PEFS) is a detailed drawing that consists of control devices, piping, process equipment, and instrumentation in the form of a diagram. This type of technical drawing is commonly used in practical fields such as engineering and process industry. P&ID drawings help industry professionals easily design, modify, and monitor a process from start to finish. However, such technical drawings are not everyone's cup of tea because it is hard to draw them. One simple and convenient way of making a P&ID diagram is by using P&ID software.
Today, we will talk about the 5 best P&ID software which you can use to create complex technical diagrams.
List of the Best P&ID Software and Tools
Here are the top 5 P&ID Software.
1. EdrawMax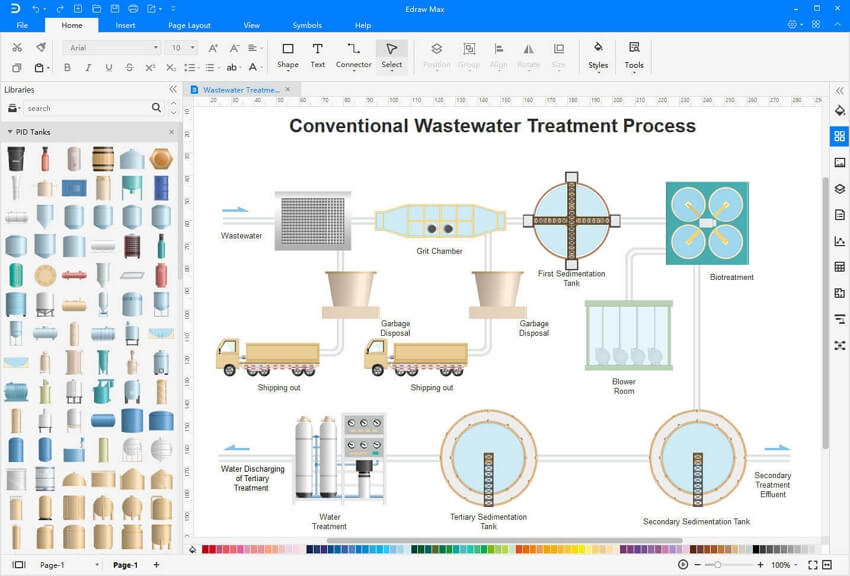 EdrawMax is a very handy graphic tool for all. This one software contains multiple drawing tools for all your artistic needs. Whether it is technical drawings, illustrations, graphs, charts, or diagrams, EdrawMax can do it all. Hence, EdrawMax also has P&ID software which helps you design a wide range of P&ID diagrams.
The best thing about this software is that it can help you create visual content rapidly using a free customizable template. Moreover, you can also create unique content from scratch. Edraw supports various file formats and can be used across different operating systems such as Linux, Mac, and Windows.
Easy sign-up
Different templates available
Supports various file formats
Available for different terminals
Affordable price
Supports cloud storage services
Watermark in free mode
Pricing:
Online Tool: Free
Lifetime Plan: $245
Annual Plan: $99
Supported Systems: Windows, Mac, Linux and Web
Software Tool URL: https://www.edrawsoft.com/edraw-max/
EdrawMax Desktop
Create over 280 types of diagrams
Windows, Mac, Linux (runs in all environments)
Professional inbuilt resources and templates
On-premises software for business
Enterprise-level data security
EdrawMax Online
Create over 280 types of diagrams online
Access diagrams anywhere, anytime
Team management and collaboration
Personal Cloud and Dropbox Integration
2. Lucidchart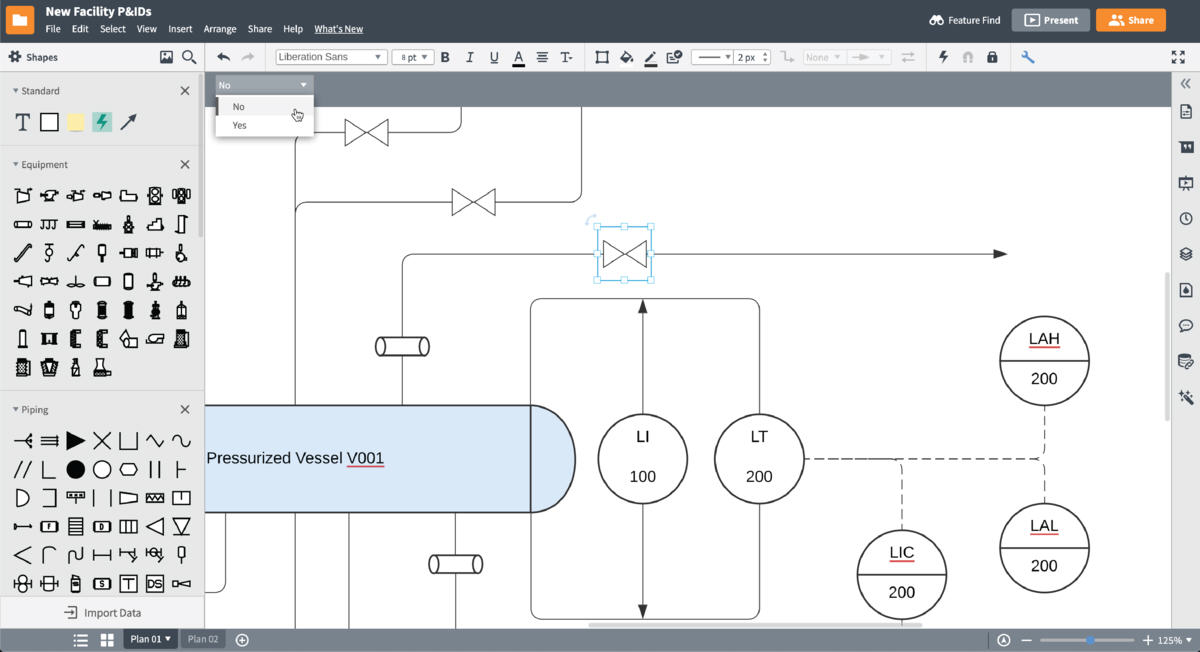 Lucidchart is a popular visual tool to create a wide range of graphs and charts. It can be used for diagramming and data visualization to create unique content for both individual and business purposes. Similar to Edraw, Lucidchart also contains different types of templates for IT, marketing, Management, Engineering, Project Management, and Operations. Therefore, you can also use this tool as a P&ID software.
Anyone can get lucidchart to create professional content for meetings and presentations. Moreover, it is simple to use and can be used on a shared basis for teamwork.
Easy to Use
Supports cloud storage
Collaboration
No desktop app
Limited templates in free version
Pricing:
Basic (Single user): $4.95/month
Pro (Single user): $9.95/mo
Team: Starting at $27/month
Enterprise: Quote
Supported Systems: : No desktop app but compatible with most browsers
Software Tool URL: https://www.lucidchart.com
3. SmartDraw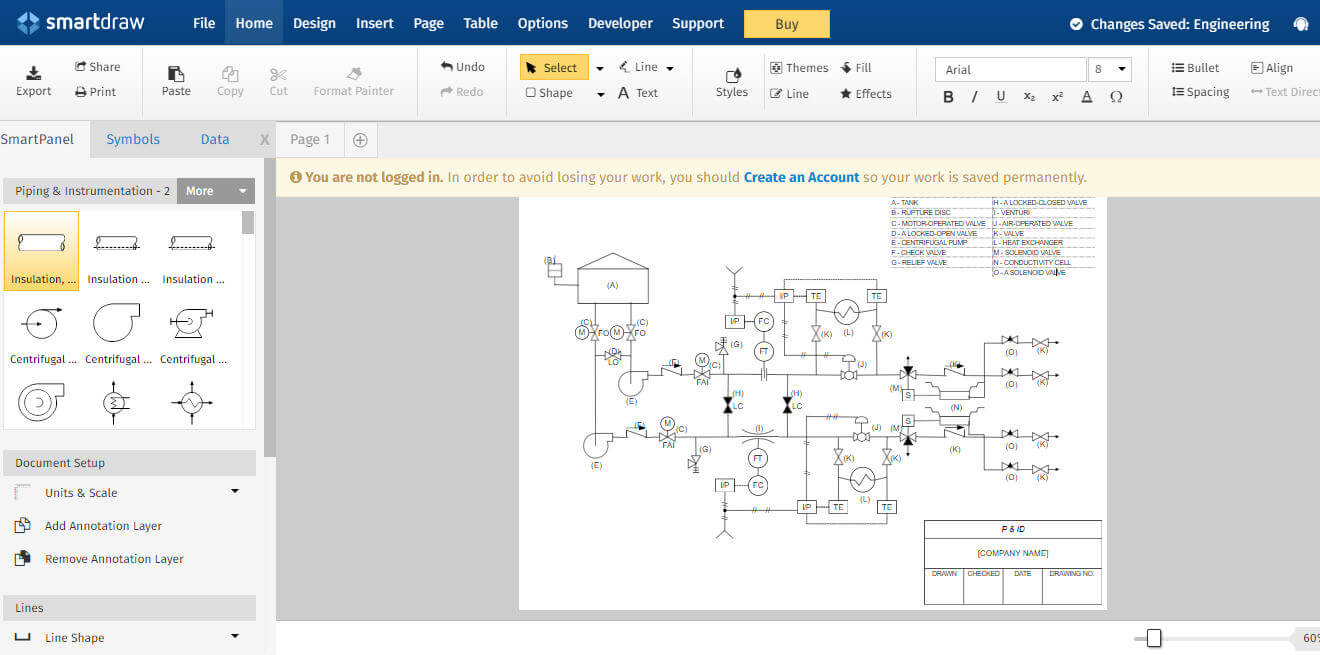 SmartDraw is a very useful organizational chart maker that can be used to produce many technical diagrams, graphs, and charts. It can also be used to make P&ID diagrams from scratch or with the help of templates. It has a number of amazing features to make designing and illustration easy for you.
SmartDraw is used by numerous successful businesses around the world. However, it is not available for Mac or Linux, limiting it to only Windows. With that being said, the online version can be used on any browser.
Templates available
CAD-like abilities
Cloud support
Collaborative
Not user-friendly
Pricing:
Single User: $297 (one-time payment)
Multiple Users: $595 (annually)
Supported Systems: Windows and Web
Software Tool URL: https://www.smartdraw.com/
4. Visual Paradigm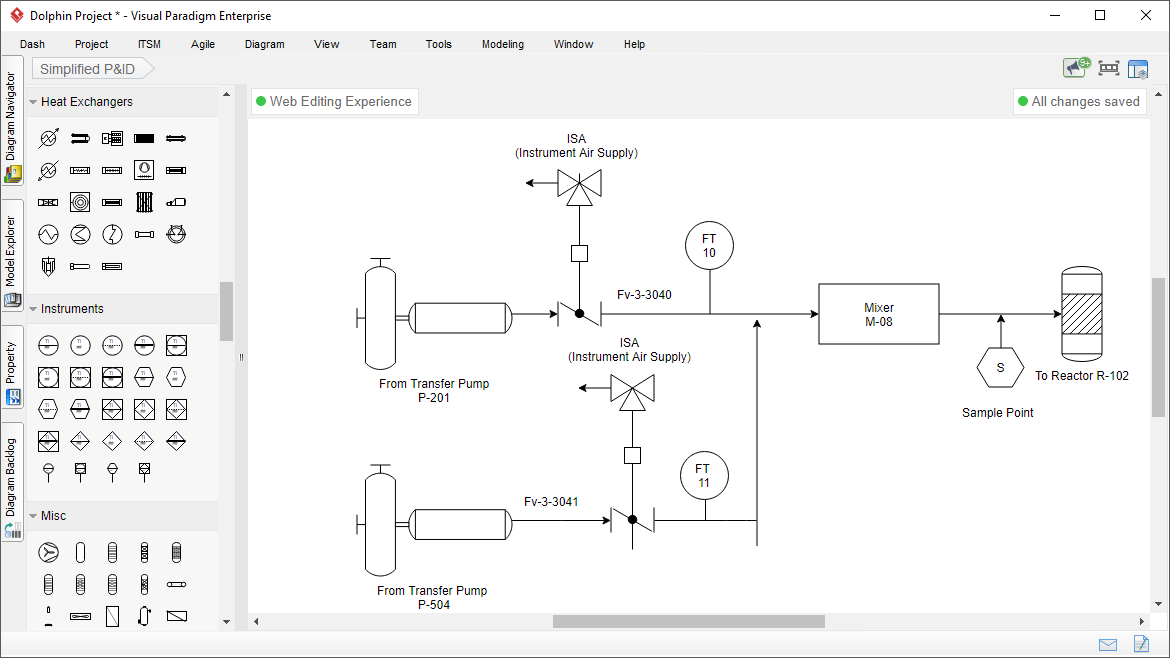 Visual Paradigm is System Modelling design software with many technical drawing tools. It can be used to create different visual blueprints quickly and easily as it comprises of UML, DFD, SysML, SoaML, and ERD. Hence, you can use Visual Paradigm to create professional P&ID drawings.
Moreover, Visual Paradigm is used by students, educators, and industry professionals. It offers numerous great features. However, it is a paid tool, and you can only access limited features in the free trial.
Free trial
Cutting-edge features
Templates available
Complex for beginners
Sign-up required
Pricing: According to its licensing options
Supported Systems:Windows, Mac, Linux, and Web
Software Tool URL: https://www.visual-paradigm.com/
5. PROCAD P&ID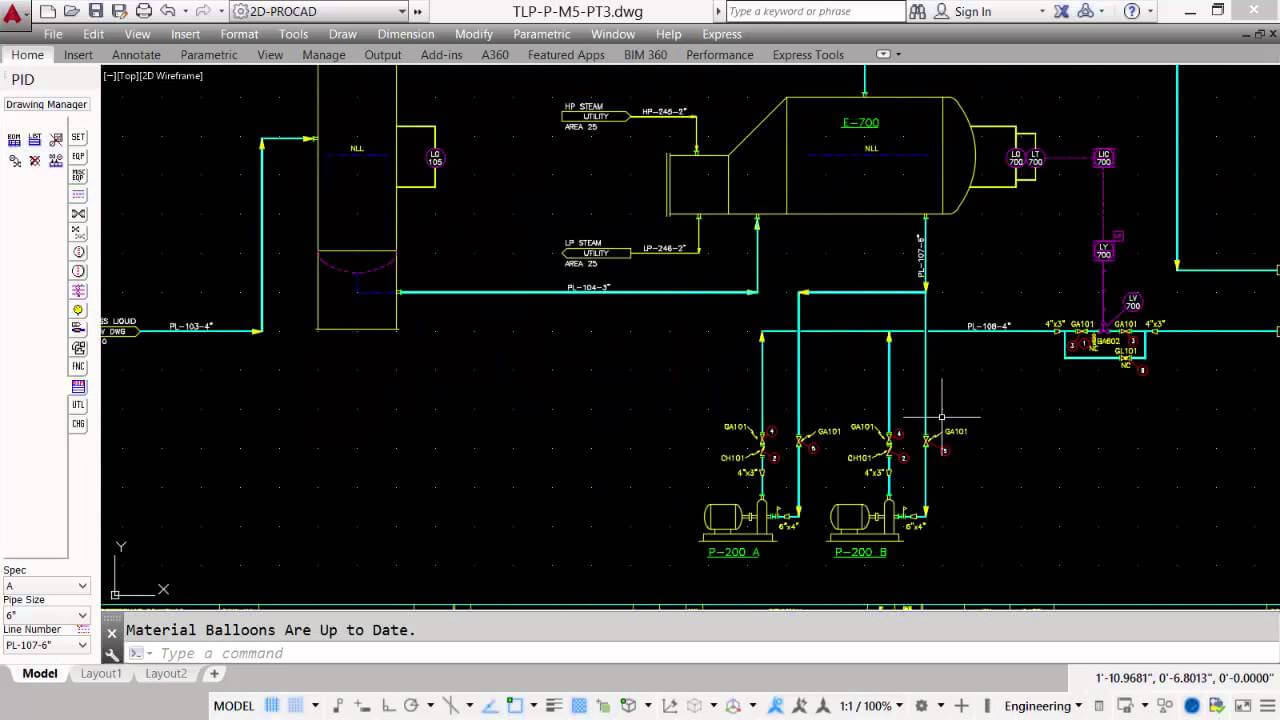 ProCAD is a specialized piping design CAD software. It also supports electrical drafting petro-chemical plant design using PapriCAD 3D, PapriCAD 2D, 2D DESIGNER, and 3DSMART. With the help of this one tool, you can make any P&ID drawing in full detail and professional-grade finishes.
This P&ID software is excellent for all professional engineers to create P&ID easily without spending a lot of time on documentation. It comes with a symbol library, automation feature, piping spec, and industry-specific valve and instruments. You can use it on your desktop; however, the free online version is not available.
Free trial
Amazing CAD features
Tutorials available
Only suitable for professionals
No free online version
Pricing:
Monthly: $75
1 Year: $595
3 Year: $1,345
Supported Systems:: Windows
Software Tool URL: https://www.procad.com/products/pid/
This was all about the five best P&ID software's available. Now let's take a look at which one will suit your needs more accurately.
Get Your Ideal P&ID Software
P&ID software is an amazing invention as it does the job of creating industrial drawings easy, efficient, and convenient. With so many great tools to choose from, it can be a puzzling task to pick the right one for your needs. As stated above, these five distinct P&ID software tools have their own unique features and benefits. For example, PROCAD has many drafting qualities ranging from 3D to 2D, which makes it a great tool for professional use. Whereas Lucidchart is a decent program for organizational visuals, it has mediocre P&ID tools.
While there is one software in the list which does not only work as a versatile organizational chart maker, but it is has a dedicated symbol library for P&ID tools, including custom tools and features. In short, EdrawMax is a visual creator that can be used for any type of drawing, whether for individual or professional use. So, download it today and start making P&IDs easily and quickly!
EdrawMax
All-in-One Diagram Software
Create more than 280 types of diagrams effortlessly
Start diagramming with various templates and symbols easily
Superior file compatibility: Import and export drawings to various file formats, such as Visio
Cross-platform supported (Windows, Mac, Linux, Web)
Security Verified |
Switch to Mac >>
Security Verified |
Switch to Linux >>
Security Verified |
Switch to Windows >>