Top 7 Birthday Invitation Makers: Design Creative Invitation Cards
Get a perfect birthday invitation card maker that always covers your needs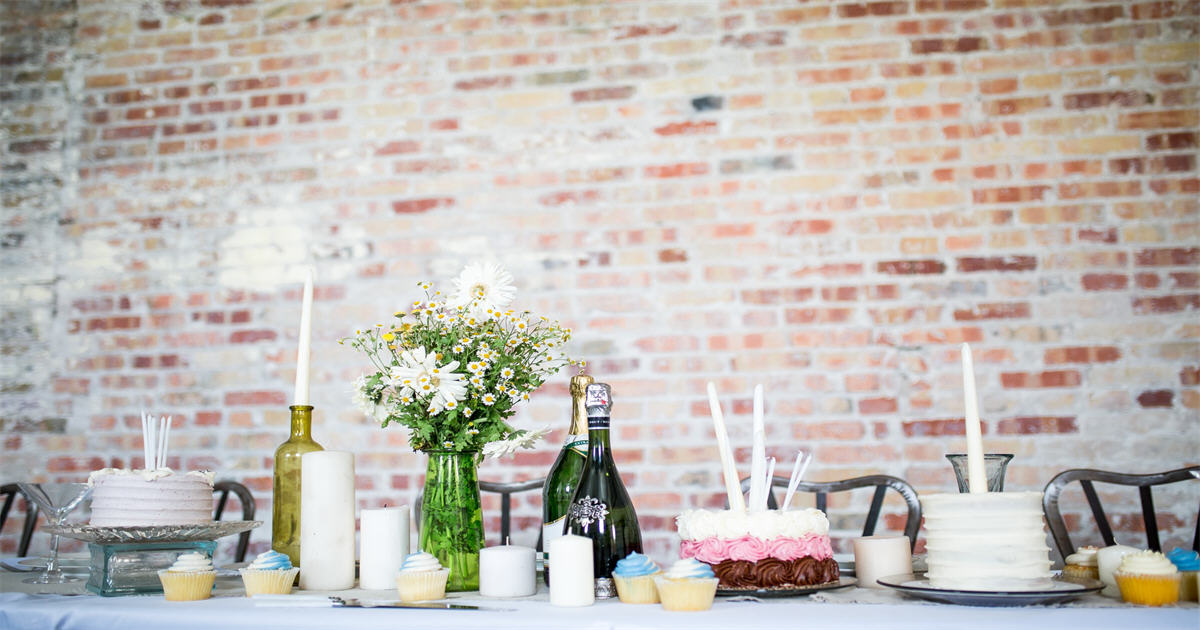 Planning a birthday party can be a tedious and strenuous task. It takes genuine effort and emotion to design creative invitation cards for friends and family. Birthday invitations need to be fun and attractive, but not everyone has the creativity of the artistic skills to create a stellar birthday invitation themselves. It is why many people look for apps to help them. Gone are the days when MS Publisher used to be our go-to app for multimedia creation as now we have better and more fun options. There are many birthday invitation makers online, which allow users to create unique and customized invites in just a few minutes!
To help you pick one for your big day, here is a list of the top 7 birthday invitation makers.
7 Best Birthday Invitation Makers & Apps
The best 7 birthday invitation makers to design creative invites are:
1. EdrawMax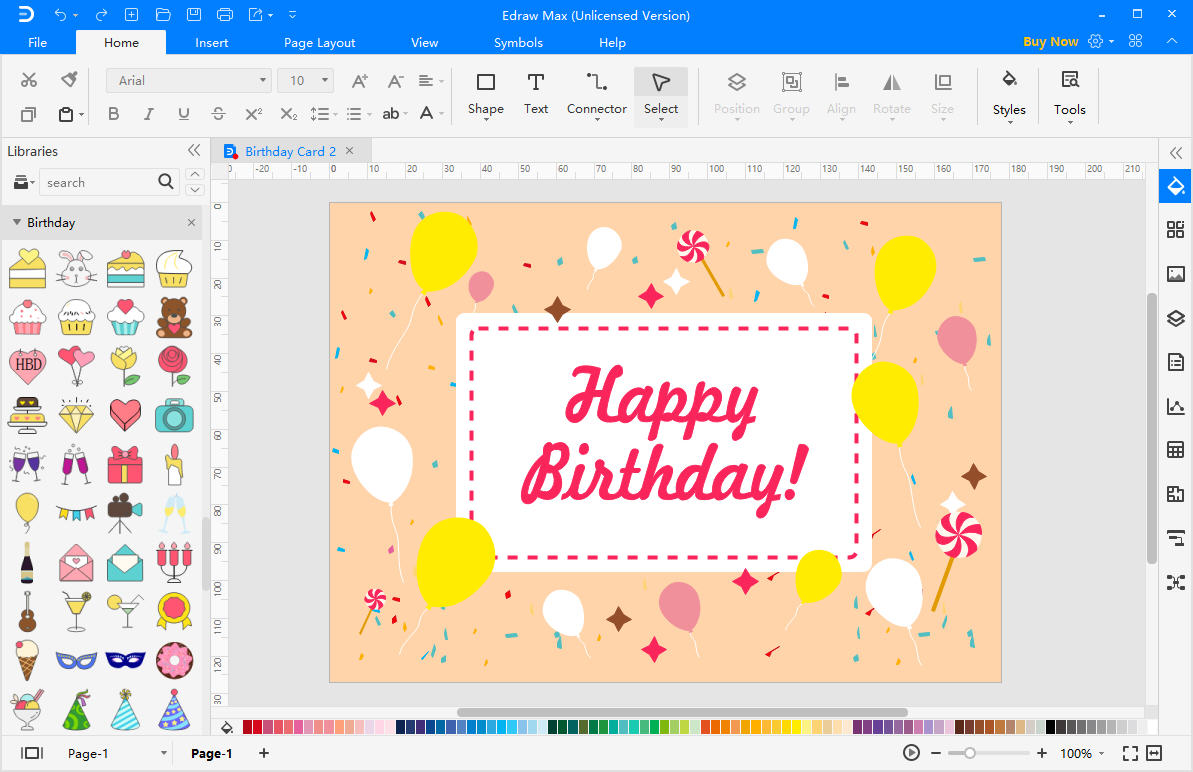 Whether you want to create a birthday invitation or a wedding card, EdrawMax is the ultimate solution. With thousands of free templates and custom features, you can create many stunning cards and invites for any occasion and event. That's not all, EdrawMax also contains different drawing tools and symbol libraries to help you make technical diagrams, illustrations, infographics, organizational charts, etc.
By using EdrawMax you can create a wide range of multimedia from scratch or by using a free template. Moreover, Edraw is free to use but also has premium features that can only be accessed after the subscription sign-up.
Many powerful formatting tools
Thousands of templates
Easy-to-use interface
Fun and creative user experience
Cloud storage service
Watermark in free version
Pricing:
Perpetual License: $139
Lifetime License: $179
Annual Subscription: $99
Supported Systems: Windows, Mac, Linux and Web.
Software Tool URL: https://www.edrawsoft.com/edraw-max/
EdrawMax
All-in-One Diagram Software
Create more than 280 types of diagrams effortlessly
Start diagramming with various templates and symbols easily
Superior file compatibility: Import and export drawings to various file formats, such as Visio
Cross-platform supported (Windows, Mac, Linux, Web)
Security Verified |
Switch to Mac >>
Security Verified |
Switch to Linux >>
Security Verified |
Switch to Windows >>
2. Greetings Island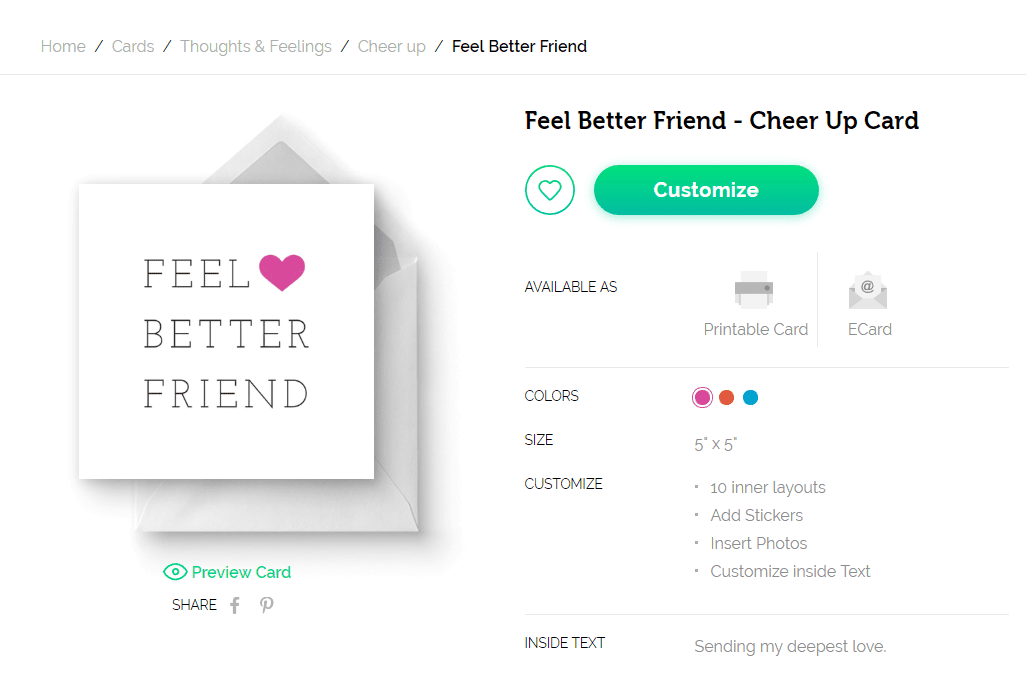 Greetings Island is a website that is home to hundreds of greeting cards. All these cards and invites are easily customizable for any event – birthday, wedding, baby shower, corporate event, etc. Moreover, you can use easily download, print and send the invites online within a few seconds. Not only is Greetings Island time saving but also very easy to use. To use this platform, all you have to do is log-in and you're good to go!
Available in multiple languages
Supports online sharing
Free tools and templates
No other multimedia options
No desktop app
Pricing: Free
Supported Systems: Apple iOS and Android
Software Tool URL: https://www.greetingsisland.com/
3. PosterMyWall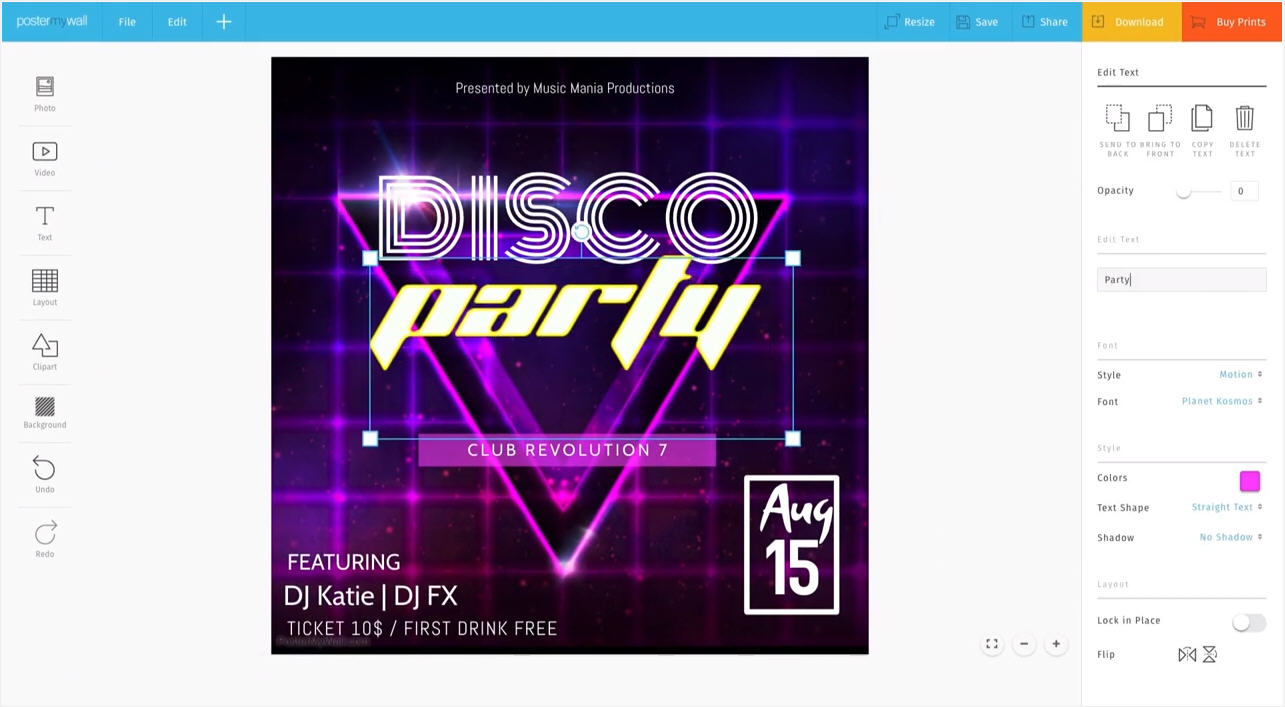 Poster My Wall is a great website that enables you to create posters, graphics, and videos for your business. It has thousands of free templates and design tools that can help you make amazing visual content, including invitation cards. Moreover, with the help of this online tool, you create professional-level content effortlessly. All in all, Poster My Wall is a useful app for multimedia creation.
Thousands of posters, videos & graphics templates
User-friendly interface
Great for businesses
No desktop version is available for Lucidchart
Limited options in free
Pricing:
Quarterly Premium: $29.95 per quarter
Quarterly Premium Plus: $89.95 per quarter
Annual Premium: $99.95 per year
Annual Premium Plus: $319.95 per year
Supported Systems: Web
Software Tool URL: https://www.postermywall.com/
4. Canva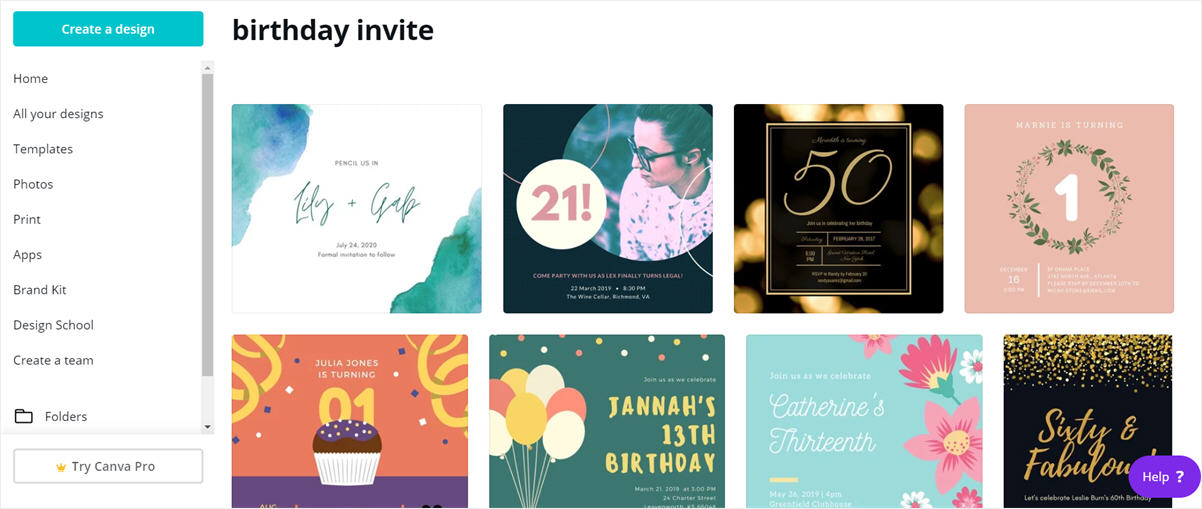 Canva is a very popular designing tool these days. It is used to create different multimedia and graphic content such as social media posts, infographics, posters, illustrations, and a lot more. Canva has quickly become a favorite cult app for visual content because of its easy interface and unique stock. It can also be used to create custom invitation cards for different occasions. Hence, it works as a fun birthday invitation maker. Canva is free to use, but it does offer a premium version with bonus features.
Many templates
Video tutorials
User-friendly software
Great for social media graphics
Watermark in the free version
Not suitable for organizational or technical visuals
Pricing:
Pro: $9.99 per month billed annually
Enterprise: $30 per month billed annually
Supported Systems: Web, iOS and Android
Software Tool URL: https://www.canva.com/
5. Evite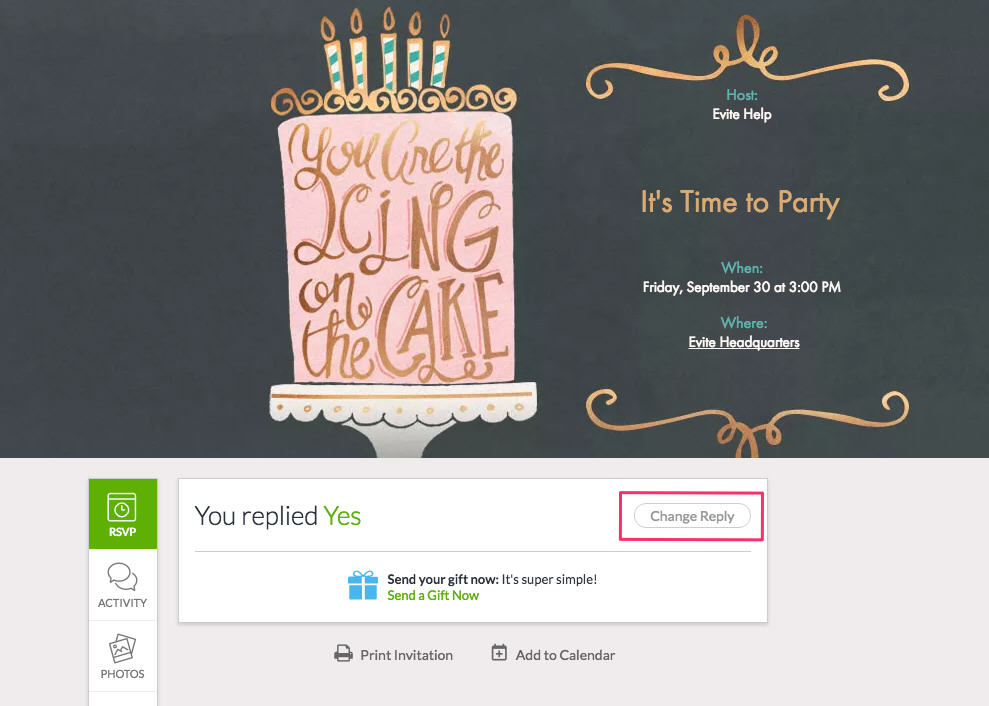 Evite is a one-stop-shop for all your invitation planning. You can design and create your own custom invites for birthdays, weddings, parties, and any special occasion. Moreover, it allows you to create custom cards and calendars as well. With Evite, users have the chance to create free invitation anywhere using the handy mobile app. Evite is a free birthday invitations maker, but it also offers a pro version for professional card designers.
Free templates
Mobile app
Free trial
No desktop app
Annoying ads
Pricing: $249.99 per year
Supported Systems: iOS and Android
Software Tool URL: https://www.evite.com/
6. Adobe Spark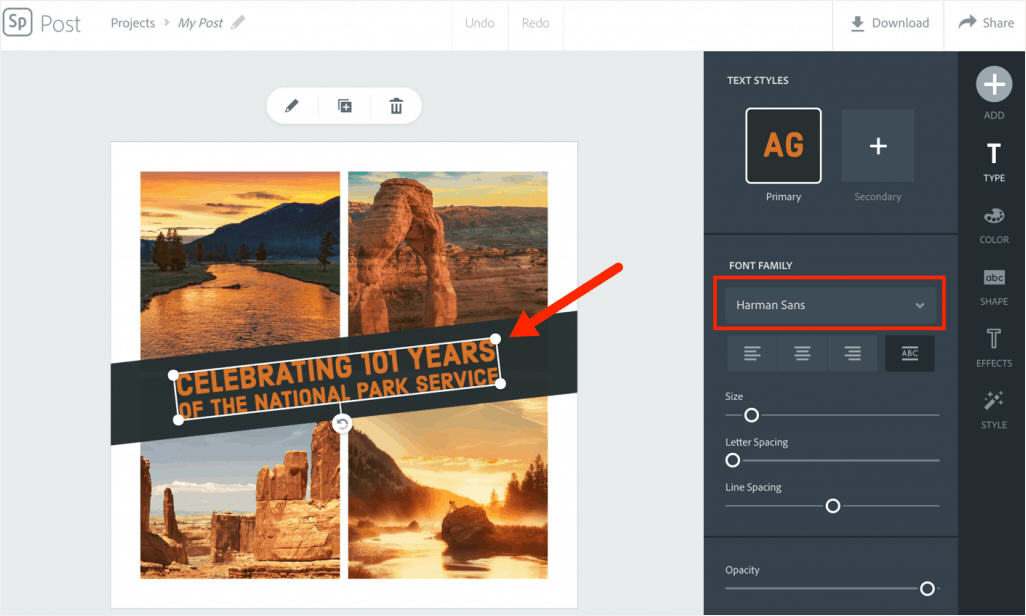 Adobe Sparks is cutting-edge software for creating graphic content and video editing. It can also be used as a birthday invitation maker to create invites. Additionally, Adobe Sparks contains professional themes, designed fonts and thousands of photos to help you make memorable cards and invites. It is easily accessible on all browsers and supports cloud storage services such as Google Drive and Dropbox. To put it briefly, Adobe Sparks is a great app for all your graphic and web page designs.
Advanced formatting tools
Video editing available
Mobile app available
Complex for beginners
High prices
Pricing:
Individual: $9.99/month and $99.99/year
Team: $19.99/month and $239.88/year
Supported Systems: Windows and Mac
Software Tool URL: https://spark.adobe.com/
7. FotoJet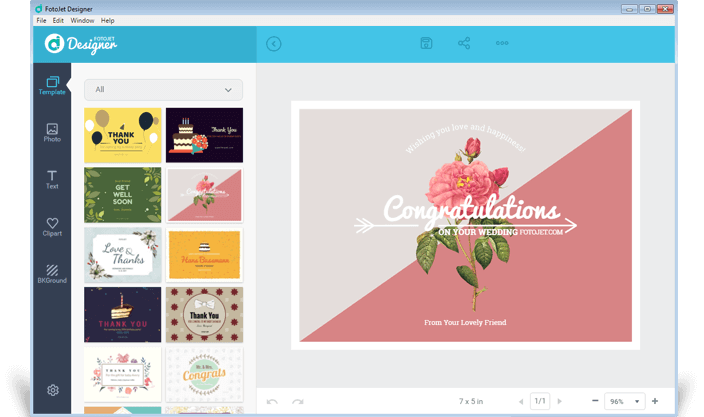 FotoJet is a collage maker, photo editor, and graphic designing tool which also allows you to create invitations, logos, infographics, brochures, covers, cards, posters, etc. It has thousands of templates for birthday, wedding, love, family, school, and more. With the powerful tools available in FotoJet, you can design and customize anything you like, and however, you want to. It can be easily used on a desktop, but the mobile app is not yet available.
Rich templates
User-friendly
No Sig-up required
No mobile app
No organizational visuals
Pricing:
Basic: $3.99 per month
Plus: $6.99 per month
Supported Systems: Windows and Mac
Software Tool URL: https://www.fotojet.com/
Select Your Ideal Birthday Invitation Maker
With so many amazing birthday invitation makers, it is quite hard to pick one. However, every software mentioned in this article has certain benefits and features, so depending upon those, you can figure out which one you should pick. For example, for professional graphic designers or event planners who frequently need to create invites in batches, a professional tool such as Evite, PosterMyWall, or Greetings Island is the best. While for individual use, Canva, Adobe Spark, or FotoJet are more convenient to use. Some of these tools are more efficient, some have advanced features, and some are more affordable. Nonetheless, there is a tool in this list that is fast, affordable and has top-notch features, i.e., EdrawMax.
EdrawMax is a multi-purpose graphics software that can not only help you make attractive and fun birthday invites, but you can also create business cards, brochures, storyboards, posters, and a lot more! Moreover, unlike other tools in this list, Edraw allows you to make technical and organizational diagrams as well. Hence, EdrawMax is the best birthday invitation maker for you!