6 Best ER Diagram Tools
Draw ER Diagrams easily and quickly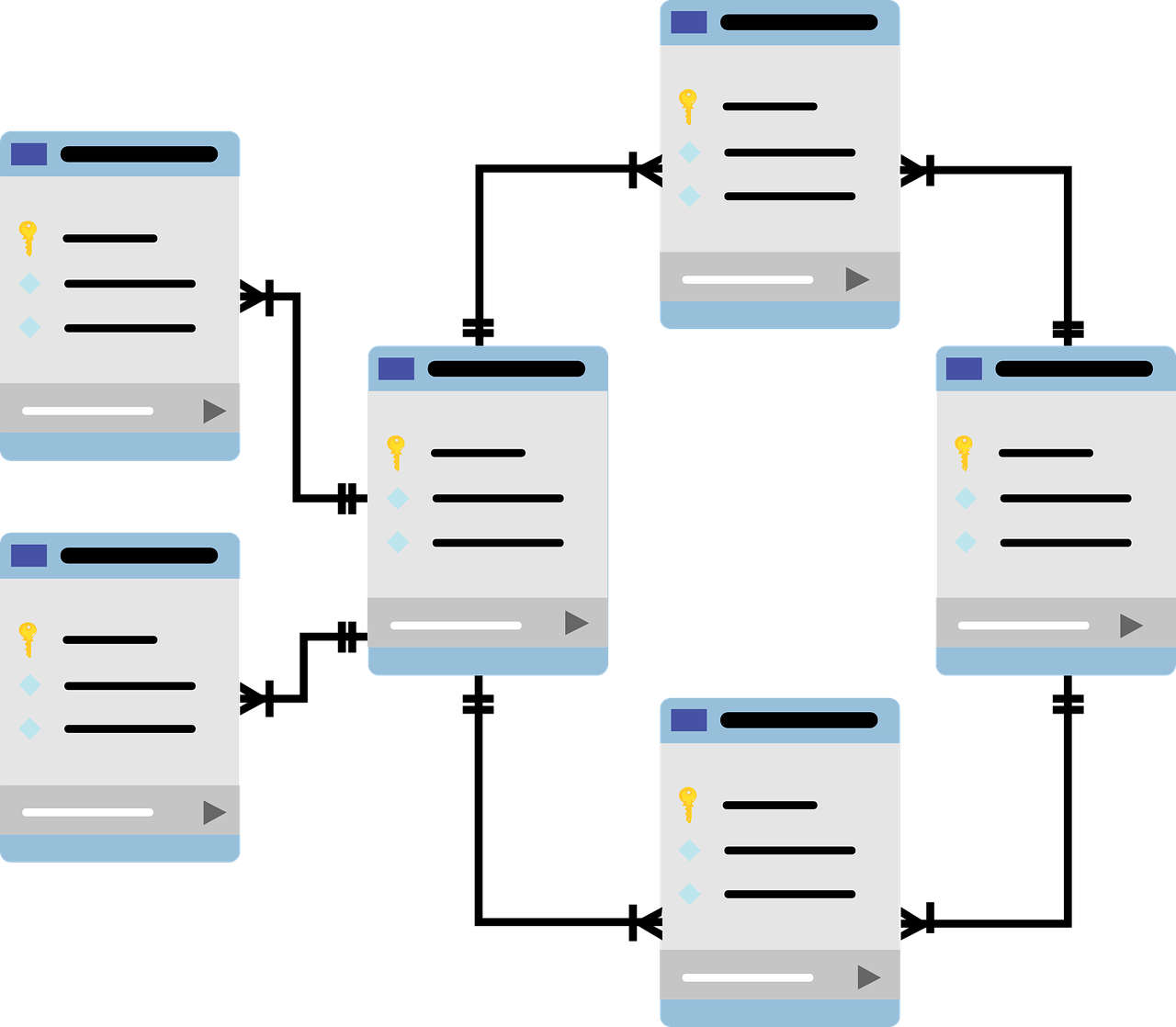 What is an ER Diagram and Used For?
In any database, there are two types of data we observe, 1. Object or Entity and 2. Attribute. An object can be anything, any real-world entity, and the attribute data are the properties of the object that describes the entity. The diagram that represents various objects with their attributes and how the entities are related to each other is known as ER Diagrams.
In complex business processes, when we try to create, design, formulate or analyze database, an ER Diagram helps to do that for better understanding of the entire process and the whole structure. It can be helpful in finding out if there has been any drawback in the model. So, we can say that ER Diagrams help troubleshoot a business workflow and analyze which entity is related to which and how they are connected. That is the reason, organizations that deal with sophisticated data management use ER Diagram Tools to find out loopholes in database.
Let's find out some of the top ERD diagram tools available in the market using which you can quickly illustrate the logical structure of the database.
1 Best ER Diagram Tools in the Market
EdrawMax is one of the best ERD diagram tools that are available in the industry. The main advantage of this tool is its multi-functionality. You can use EdrawMax not only to create an awesome ER diagram but also a lot of other things such as powerful infographics, flowcharts, org charts, UML diagrams, engineering drawings, building plans, marketing plans, business process modeling, Gantt charts, etc.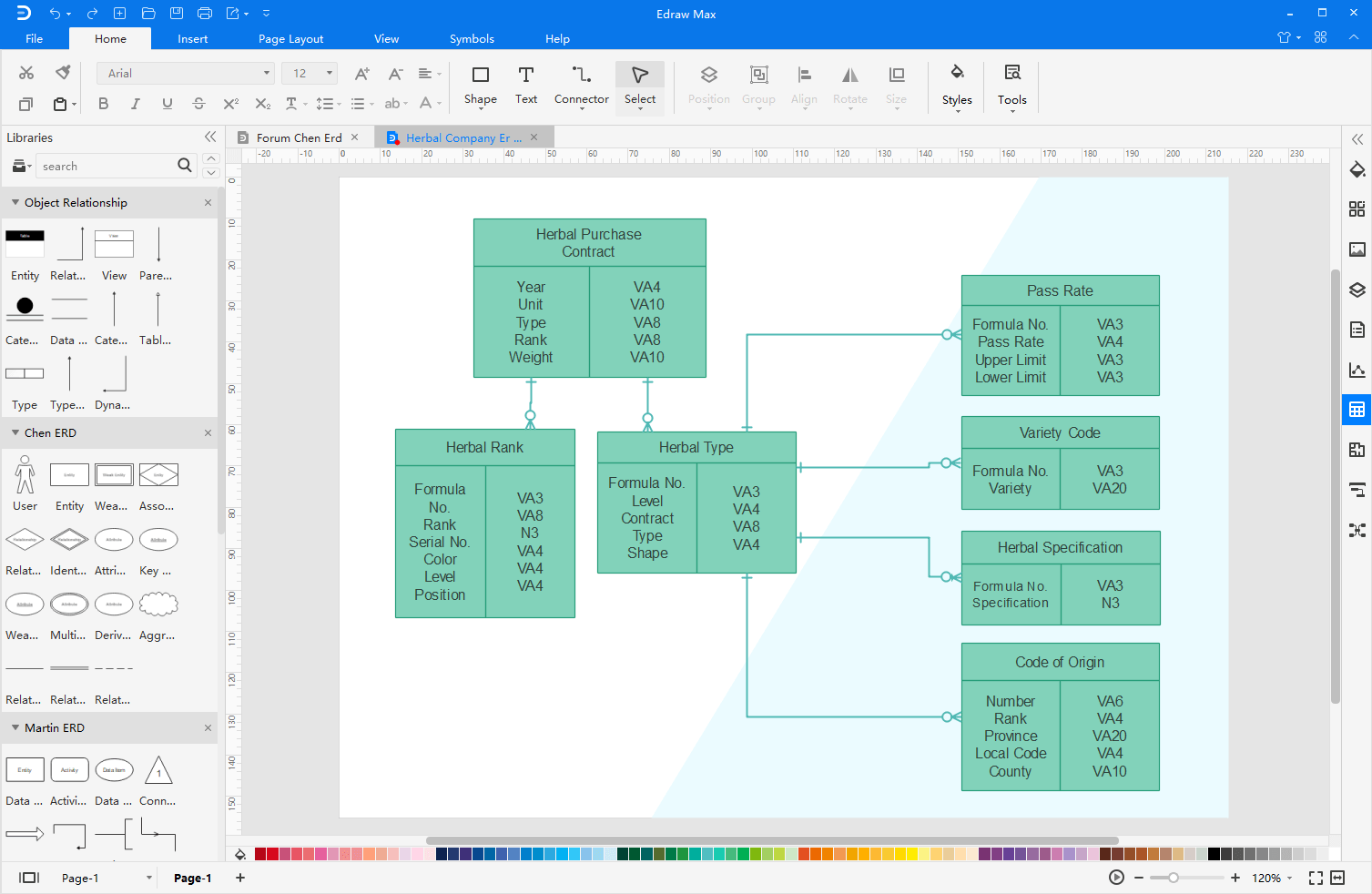 Features
A cross-platform tool to work on Windows, macOS, and Linux.
Available online and desktop editions.
User-friendly interface with drag-and-drop functionality.
Abundant professionally-design templates and symbols.
Robust file compatibility to switch between different applications.
2. Lucidchart
This software is one of the popular online ER diagram tools which allows you to create not only basic ER diagrams with in-built templates but provides more useful functionalities. You can add images, infographics, clipart, special symbols, icons, and more.
Features
Customize a template with the inbuilt symbols and notations.
Automatically create diagrams with data import feature.
Collaborate and share diagrams with anyone, from anywhere, at any time.
Integrations with Google, Atlassian, Microsoft, and others.
Price
Free for basic usages and provides 3 different pricing plans for advanced features.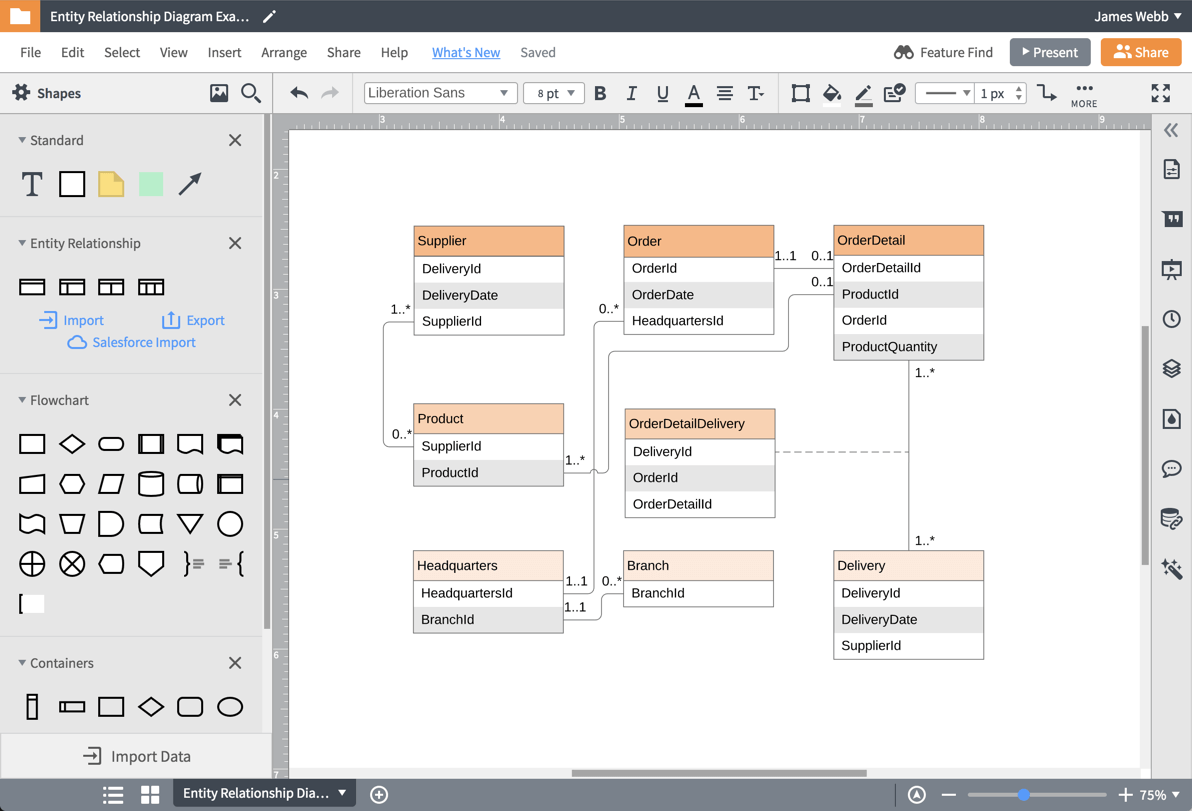 3. ERDPlus
This software is mainly a web-based data modeling ER diagram tool which easily represents relational database drawings and makes complex database structures to be easily understandable.
Features
Automatically convert ER Diagrams into Relational Schemas.
Export standard SQL.
Include all the shapes required to denote each & every item in an ERD.
Price
Easily sign up and use this tool for free!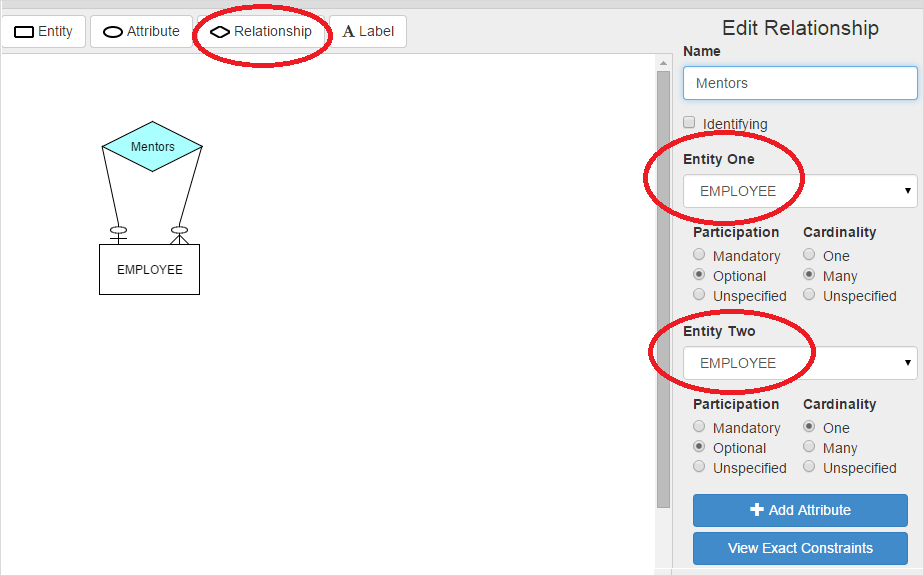 4. Visual Paradigm Online
You can use this software to create powerful ER diagrams, but the software is mainly developed to create various technical or business diagrams. Let us find out the features of this awesome ER diagramming tool.
Features
Hundreds of ready-to-use templates to give you some inspiration.
Drag and drop shapes to create stunning diagram in a few clicks.
User-friendly interface.
Support to import Visio files and integrate with MS Office products.
Price
VP Online Express Edition is free. The Starter and Advance editions are paid annually or monthly.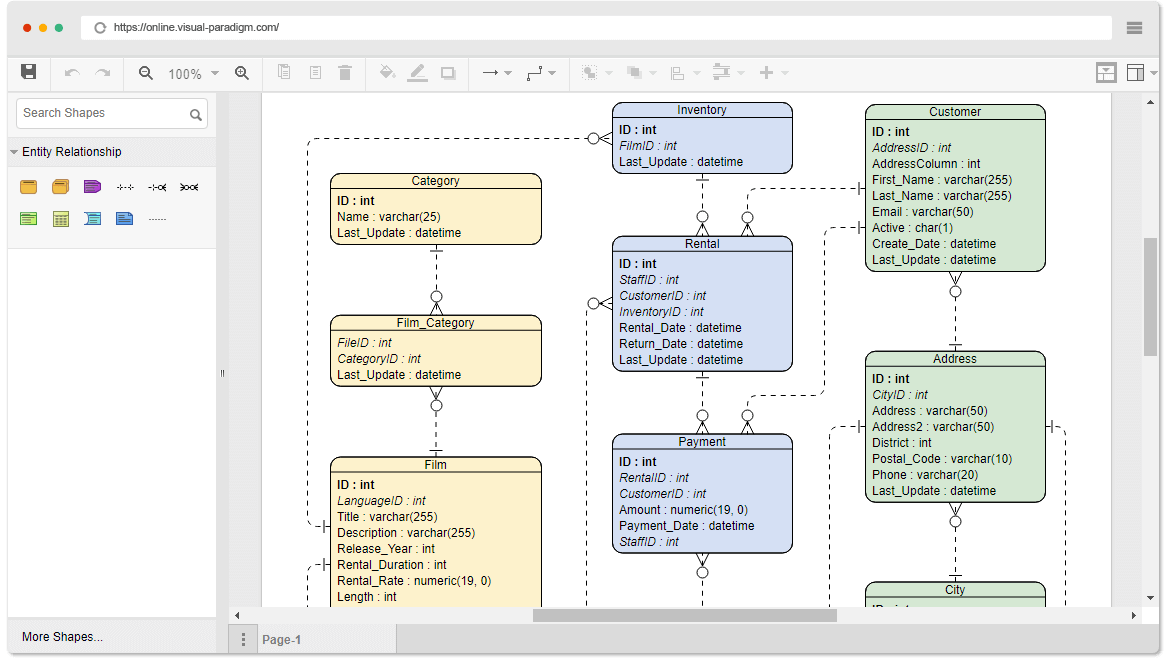 5. SmartDraw
SmartDraw can create a visual representation of your database automatically with Automatic ERD Database Extension. Once generated, you can edit your ER diagram with intuitive tools.
Features
Built-in ER diagram templates and powerful tools.
Effortless collaboration using Google Drive, Dropbox or OneDrive.
Extensive output options and smart integration.
Price
A free trial is available. The paid plan starts at $297 for a single user with a lifetime validity. For a team of 5+ users, it is billed as $595 per year.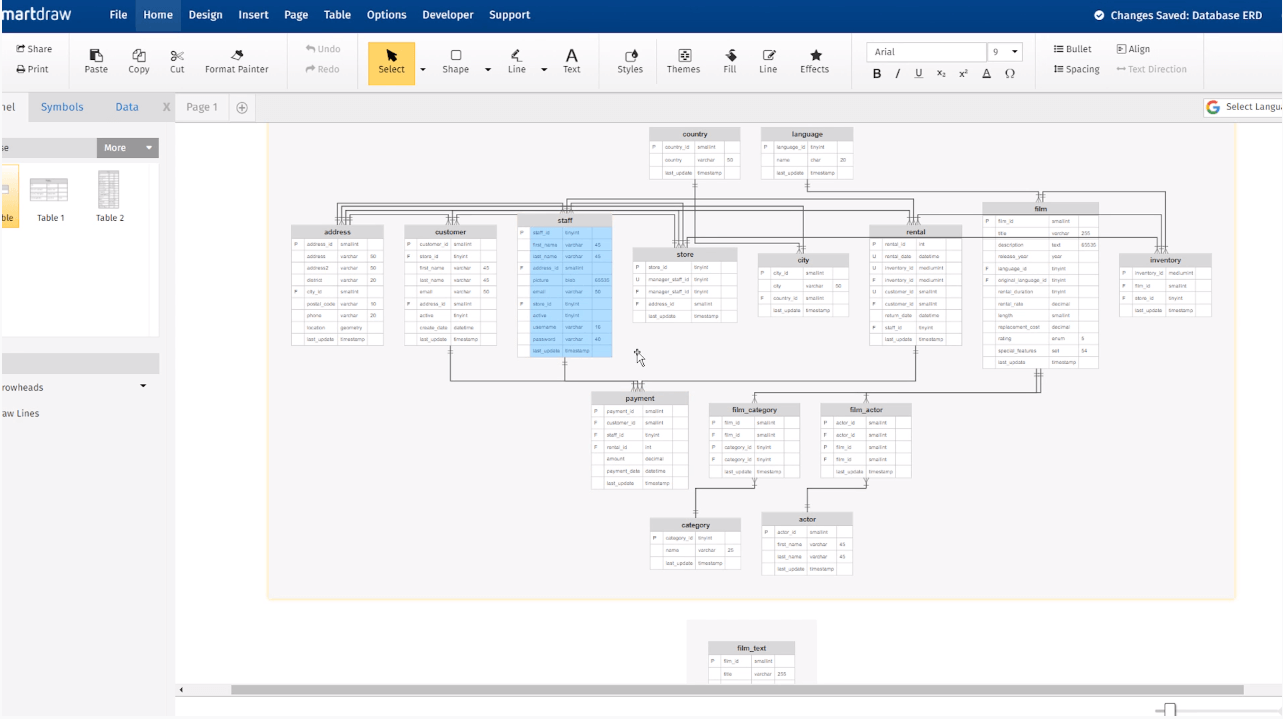 6. Creately
You can quickly visualize and organize data with the help of this powerful diagramming tool. It will allow you to create flowcharts, business models, complex architectural drawings, building plans, mind maps, Gantt charts, org charts, and a lot more.
Features
Professionally-designed ER diagram templates.
One-click drag and drop shapes on the canvas.
Special themes and color palettes to design your own creativity.
Seamless collaboration with teams and clients.
Price
It has a free plan with limited features. The paid plans start at $4 per month for individual and team users.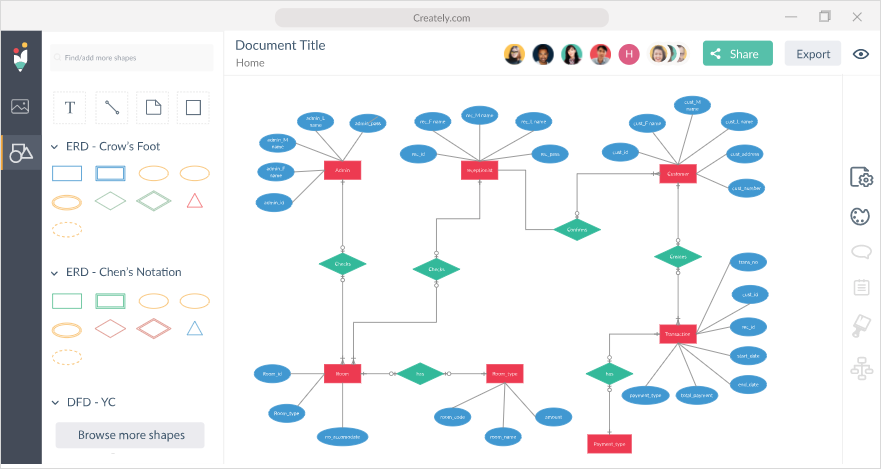 Pick up the Right ER Diagram Tool for Yourself
When you choose an ER diagram tool, please check with the following:
Prefer online diagramming tool or a stable desktop edition.
See whether this tool can create more than ER diagrams.
The tool would better be team collaborative or extensively compatible, so you can save and share your diagrams with your team or friends.
If there's a free trial available for the ERD diagramming tool, check the functionalities and features.
Compare the price of the selected tool with others that have similar functionalities if you have a budget on buying software.
The above-mentioned ER diagram tools are the best tools available in the industry, which you can leverage to create ER diagrams and other complex drawings.