Top 5 Organizational Chart Makers to Create Org Charts Easily
Design an organizational chart for your company or organization
An organizational chart is a visual way of presenting an organizational structure. It is also called an organigram, organogram, and org chart. This type of diagram is like a flowchart that shows the relationships, ranks, and hierarchy within an organization. Therefore, org charts are commonly used in businesses, governments, and other organizations for planning, management, and monitoring. An excellent organizational chart shows work responsibilities, manages growth, and improves communication throughout different reporting lines. There are four main types of org charts, i.e., Functional Top-Down, Divisional Structure, Matrix Organizational Chart, and Flat Organizational Chart. To create org charts efficiently, you can use an organizational chart maker.
There are many online org chart makers that you can use to create different types of org charts for business organizations. To help you decide which one to choose, we have combined a list of the top 5 organizational chart makers to create org charts easily.
Top 5 Organizational Chart Makers in 2020
Here are the 5 best organizational chart makers available online.
1. EdrawMax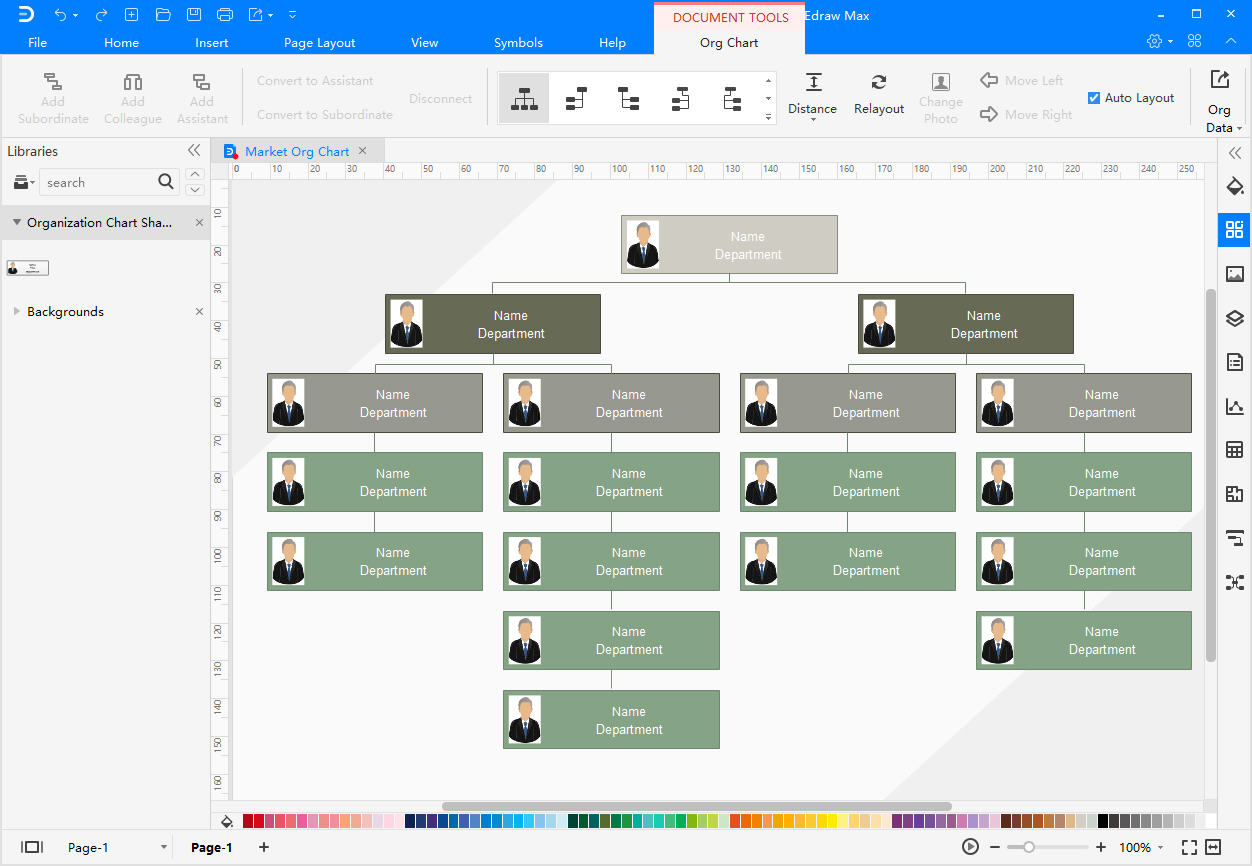 EdrawMax is a versatile drawing tool that can be used to create many different types of organizational charts as well as storyboards, technical diagrams, graphs, and much more. EdrawMax contains many tools and customizable templates that allow you to create org charts swiftly and correctly. It is a very useful tool for all professionals as it has fantastic pros such as cloud sharing, collaborative interface, advanced formatting, etc. Save extra effort, reach higher productivity, and create legible organizational charts and graphs using EdrawMax.
Easy sign-up
Different templates available
Supports various file formats
Available for different terminals
Affordable price
Supports cloud storage services
Watermark in free mode
Pricing:
Online Tool: Free
Perpetual License: $139
Lifetime License: $179
Annual Subscription: $99
Supported Systems: Windows, Mac, Linux and Web.
Software Tool URL: https://www.edrawsoft.com/edraw-max/
EdrawMax
All-in-One Diagram Software
Create more than 280 types of diagrams effortlessly
Start diagramming with various templates and symbols easily
Superior file compatibility: Import and export drawings to various file formats, such as Visio
Cross-platform supported (Windows, Mac, Linux, Web)
Security Verified |
Switch to Mac >>
Security Verified |
Switch to Linux >>
Security Verified |
Switch to Windows >>
2. Organimi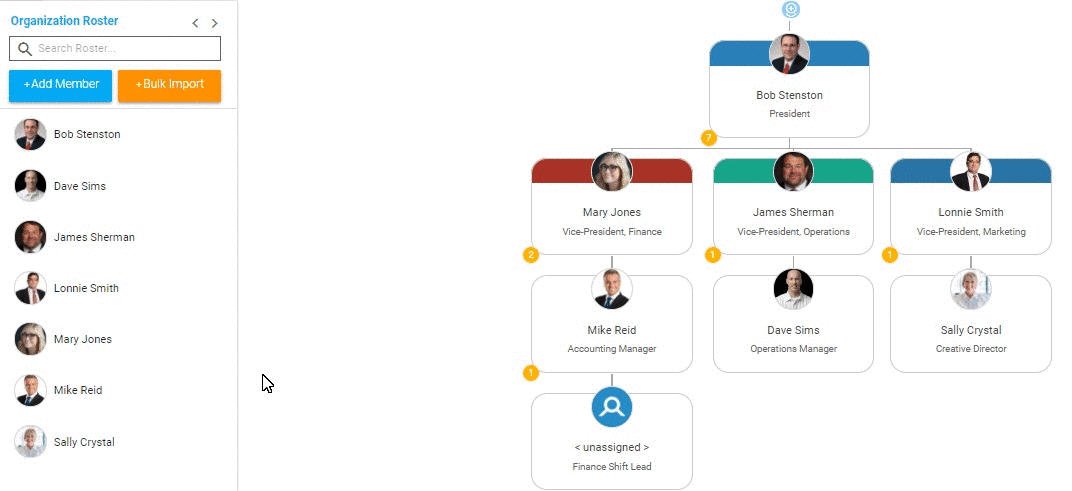 Organimi is a unique tool for creating, modifying, and sharing organizational charts easily and quickly. With plenty of features and formatting options to play with, you can make attractive org charts using this organizational chart maker. Organimi has a simple 3-step process to create any chart as quickly as possible. Hence, it is great for busy professionals. Moreover, it supports online sharing and can be easily used by any organization around the globe.
Photo boards included
Easy to use
Print and export option
High prices
Limited charts and graphs
Pricing:
Personal: $125 per year
Team: $250 per year
Planner: $350 per year
Supported Systems: No desktop app
Software Tool URL: https://www.organimi.com/
3. Creately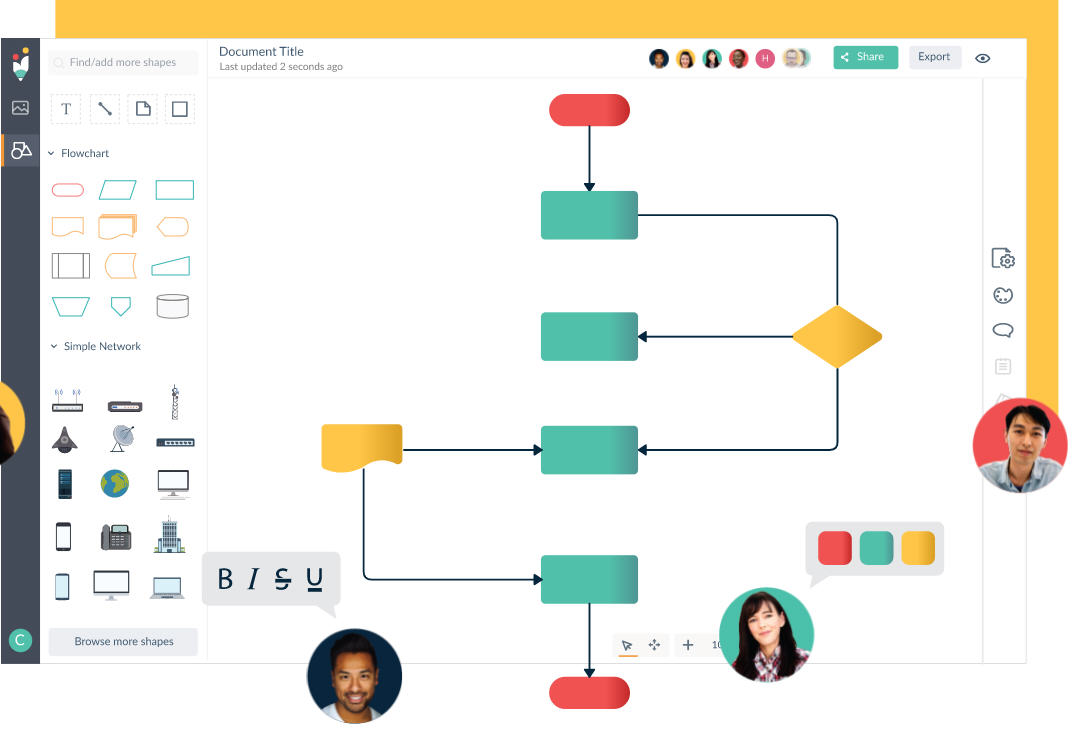 Creately is an intuitive and easy to use tool for visual collaboration, and it is utilized by a lot of professionals. Creately can also help you make organizational charts with the help of its unique features. The key highlights of Creately include a simple interface, collaboration for teamwork, professionally designed templates, and much more. It contains both drawing tools and shape & symbol library for added content. All in all, Creately provides a convenient and comfortable platform to create org charts.
Multiple styles and designs
30 money-back guarantee
Collaborative
Not user-friendly
Pricing:
Public: Free
Personal: $6 per month and $4 per month (annually).
Team: $15 per month and $144 per year.
Supported Systems: Windows, Mac, and Web.
Software Tool URL: https://creately.com
4. Lucidchart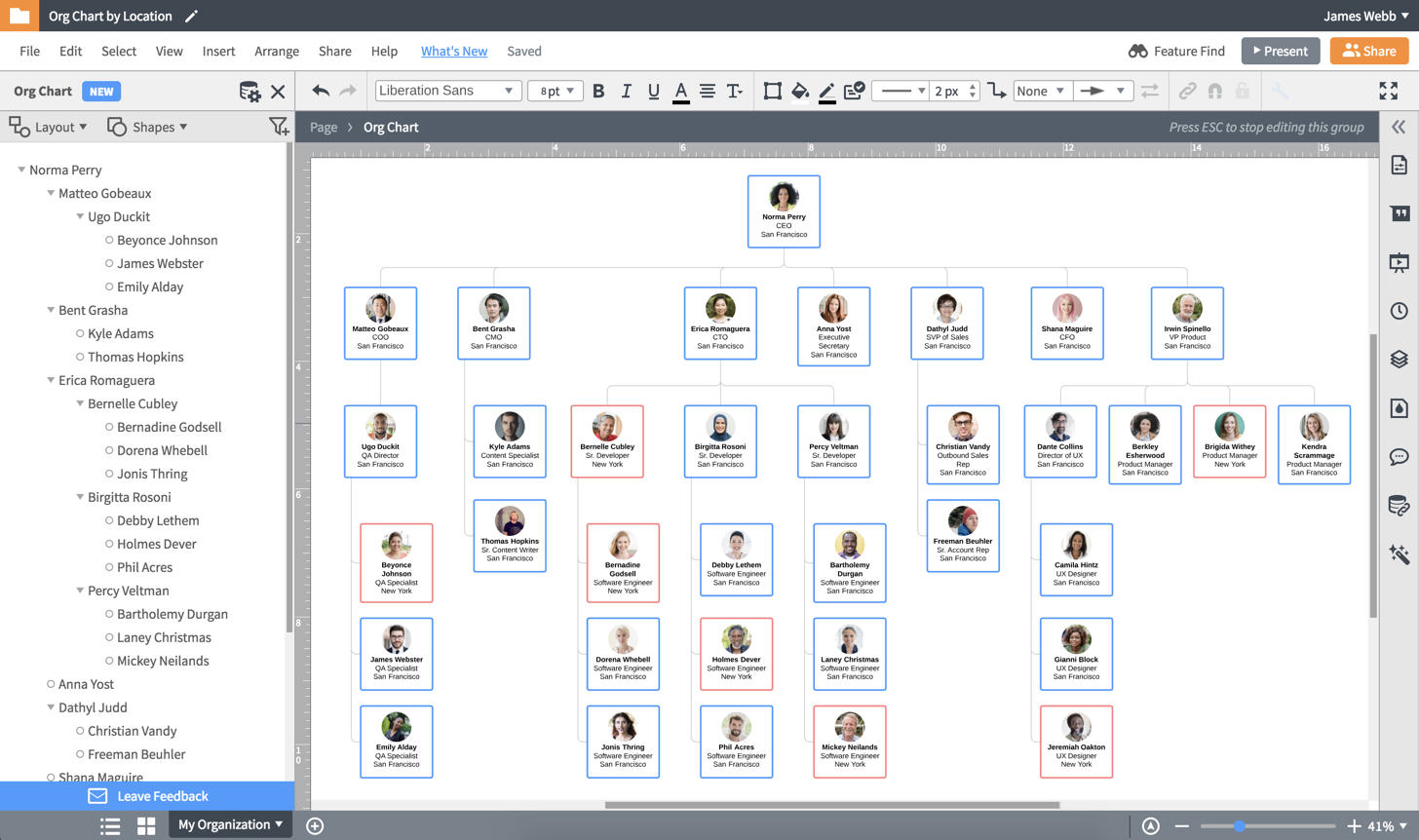 Lucidchart is a very useful tool for small businesses and professionals to create organizational charts. For those looking for a tool to help them create, design and edit diagrams should use Lucidchart. The reason behind the popularity of Lucidchart is the user-friendly interface, as it is very simple to create organization and flow charts using this app. Moreover, you can also make UML, technical drawings, and wireframes with the help of Lucidchart. It is easily compatible with different operating systems, which makes it a great app for collaborative teamwork across networks.
Easy to Use
Supports cloud storage
Collaboration
No desktop app
Weak sharing option
Pricing:
Basic (Single user): $4.95/month
Pro (Single user): $9.95/mo
Team: Starting at $27/month
Enterprise: Quote
Supported Systems: : No desktop app but compatible with most browsers.
Software Tool URL: https://www.lucidchart.com
5. Vizzlo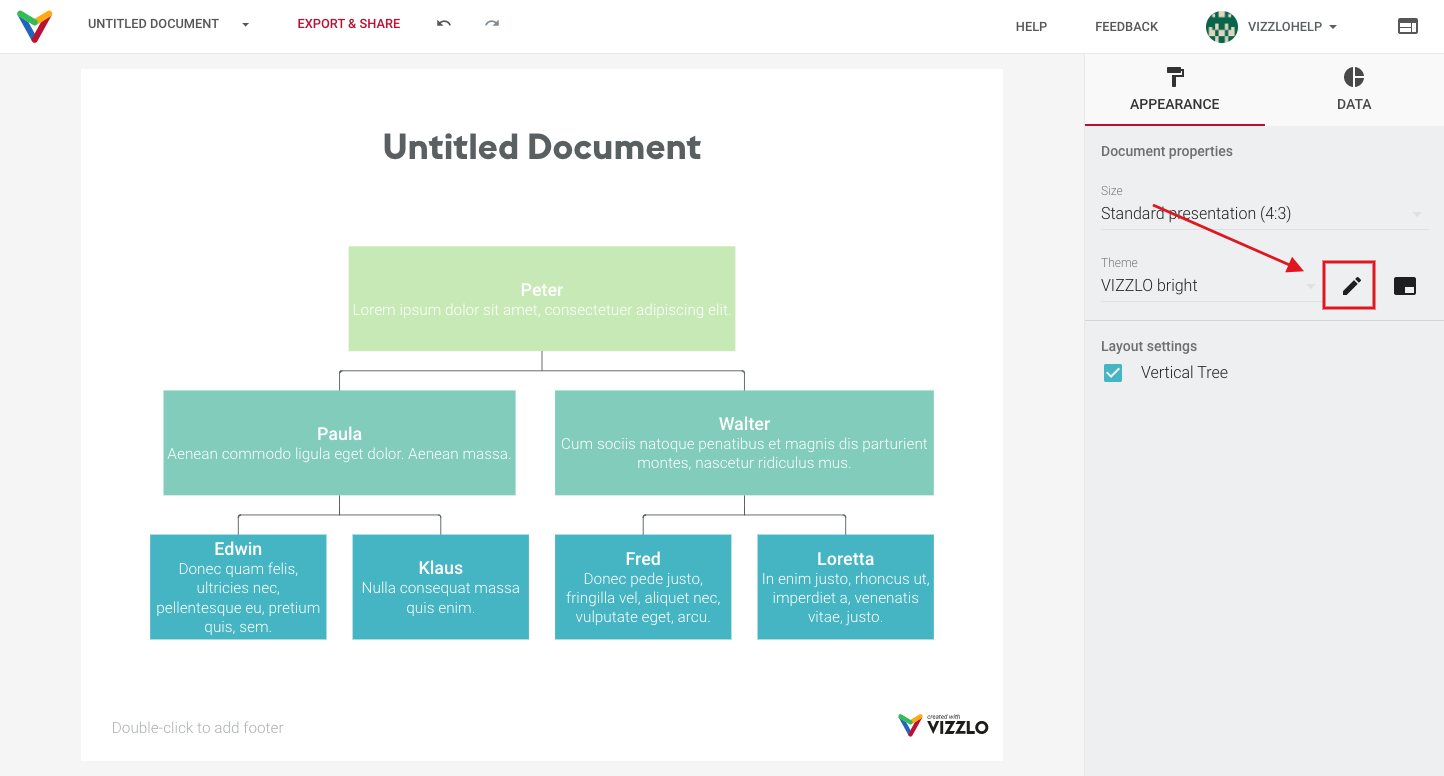 Vizzlo is a chart creating platform which contains more than 100 types of high-quality charts. It is a very powerful organizational chart maker that allows users to work on both personal and shared files. With the help of Vizzlo's advance features, collaborative integration, and impressive designs, you create a variety of visual content. Vizzlo also offers a desktop app which is compatible with popular MS software such as PowerPoint and Publisher. Moreover, it supports cloud services, including Google Drive, Dropbox, and One Drive.
Online support
Social sharing
Supports cloud storage services
Sign-up required
Not free
Pricing:
Public: Free
Personal Monthly: $11/month
Teams Monthly: $45/month
Enterprise: Quote
Supported Systems:: Web
Software Tool URL: https://vizzlo.com/
Pick Up a Perfect Org Chart Maker
The Internet plays a crucial role in our lives today; hence, everything is quickly becoming digital, including visual content. In today's modern age of online tools and software, digital multimedia programs have become very useful. Online diagrammatic tools make the process of designing, editing, and creating visual content very easy and simple. Therefore, more and more people prefer using professional online software now.
While some of these tools mentioned in this article have a decent reputation and affordable rates, they come with their own set of problems such as limited designs, poor quality templates, slow turnaround, or high subscription charges. A great online organizational chart maker is free of all errors in Edraw Max.
Edraw Max offers multiple free online tools to design, edit, create, and share organizational charts. It also comes with many tools to create different graphs, charts, drawings, and diagrams. Furthermore, Edraw is quick, free, and reliable as it delivers a great user experience.