Top 10 Flowchart Makers - Online and Desktop
When it comes to project management, flowcharts can serve as your ultimate nirvana. You can use these graphical tools for presenting ideas in an attractive manner, organizing communication, and even mapping the product lifecycle from its idea incubation to market launch. Today we compare and evaluate 10 of the best flowchart makers so you can easily take call without having to rattle your brain.
7 Requisite Features Of Flowchart Maker
The graphical interface serves as the primary point of consideration of a flowchart maker. It should ideally be clutter-free and yet guide users towards the next step in an attractive manner.
Since the flowchart maker is a visual tool, it needs to be easy to comprehend. Users also need to enquire about after-sales support as well as training and tutorials, which are readily available at hand. A proper flowchart software needs to provide users with ready-made templates that can help them get started.
While searching for a highly efficient flowchart maker, you need to make sure that it possesses the drag & drop feature, because it can help users in arranging lines, shapes, and grids intuitively in turn. The entire process gets faster and better with the presence of auto-snap and auto-align features.
Ideally, a flowchart creator needs to provide users with a variety of objects. You should thus be able to work with both standard shapes like diamonds and ovals apart from connectors. But it always pays to invest in a flowchart software, making it possible for users to exercise complete customization in terms of shapes and images.
Templates are another important attribute of a flowchart maker as it allows users to put the tool to use instantaneously. The template library needs to be such that users can navigate easily for browsing through the available options.
The diagrams and flowcharts created won't be of any use if you can't share them with others. Your chosen flowchart creator needs to allow exporting the end results in a variety of formats.
Last but not least, the online flowchart maker should allow multiple users to collaborate on a particular project so they can implement changes on a real-time basis. It is helpful for remote teams who wish to work together on one project.
Top 10 Flowchart Makers
1. EdrawMax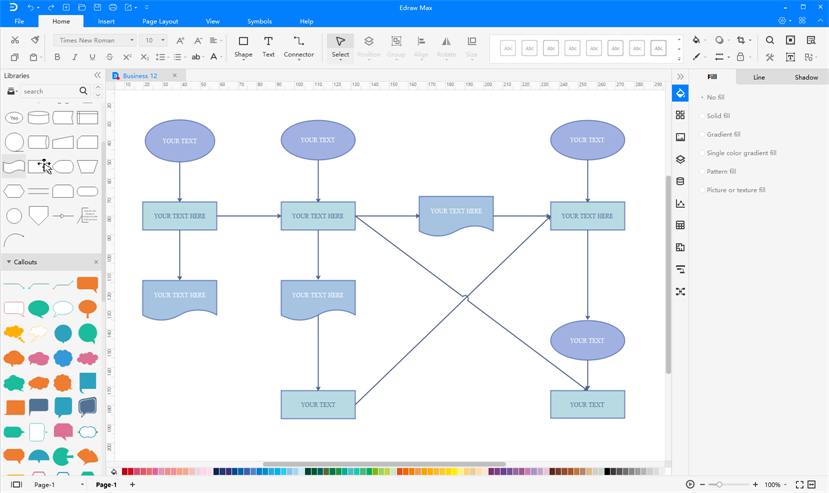 You can get on with your flowcharting in a hassle-free manner coupled with this intuitive software, which is bound to delight users with its professionally designed templates. More than 50000 built-in vector graphics can ring in massive time savings and help you excel in a fast-paced work environment.
Pros
Helps to proceed with document construction in an effortless manner.

Allows users to produce necessary visualization for product management, software development, marketing support, and many more.

Offers users with a large pile of icons, templates, and shapes for attaining greater functionality.

Offer both lifetime licenses and subscription license.
| Supported Platforms | Price | Scores from G2 | Official website |
| --- | --- | --- | --- |
| Mac, Windows, Linux, Web | Starting price is $99 per year and only $245 for lifetime usage | 4.6/5 | |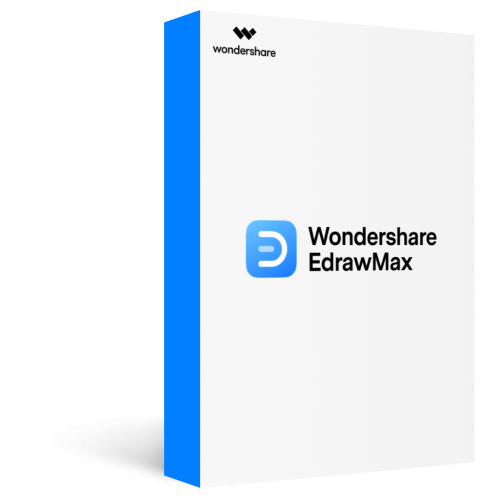 Create more than 280 types of diagrams effortlessly

Start diagramming with various templates and symbols easily

Superior file compatibility: Import and export drawings to various file formats, such as Visio

Cross-platform supported (Windows, Mac, Linux, Web)
2. Lucidchart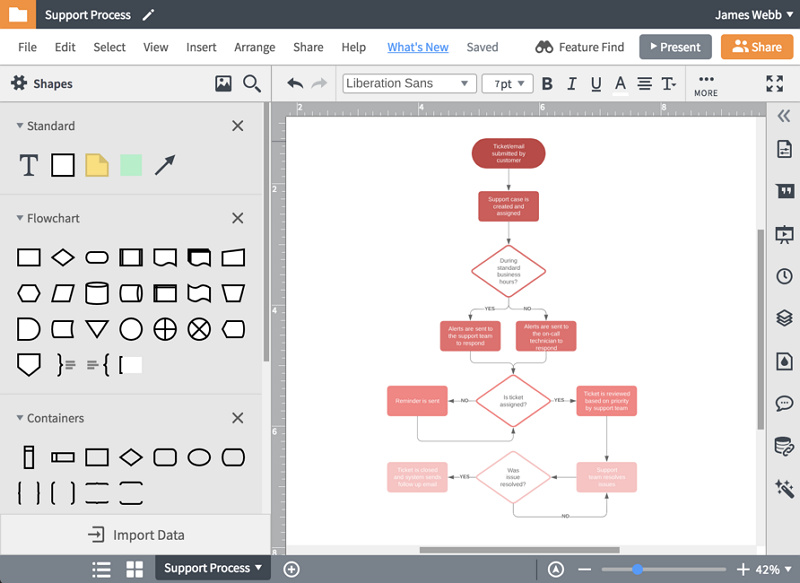 You can create diagrams easily by manually taking your pick amongst 500 plus templates or generating a diagram using an automated layout from existing data of this flowchart software. Lucidchart is a visual workplace helping users in striking the perfect harmony between data visualization, diagramming, and collaboration for driving up innovation.
Pros
Offers users more than 500 templates that helps in customizing the diagram.

Users are presented with a variety of download formats.

Allows users to import data from Zapier, Excel, LinkedIn Sales Navigator, Salesforce etc.
Cons
Library doesn't stock adequate themes outside the purview of software development.

Difficult to integrate with other engines like BPM.
| Supported Platforms | Price | Scores from G2 | Official website |
| --- | --- | --- | --- |
| Web | Starting price is $9.95 month-to-month. | 4.5/5 | https://www.lucidchart.com/pages/ |
3. Visio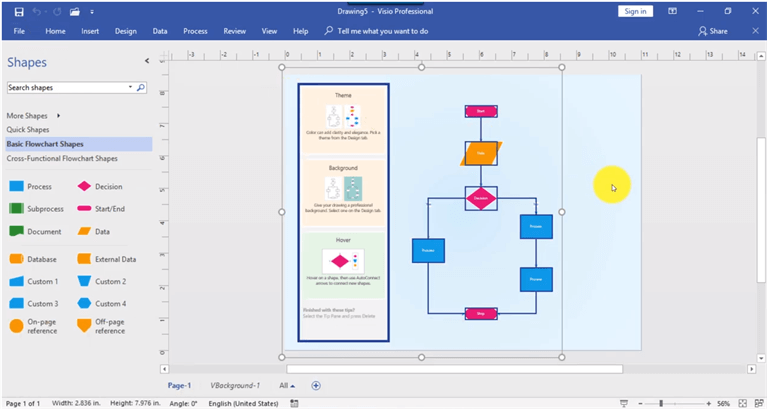 It now becomes possible to make diagrams, flowcharts, engineering designs, floor plan and many more using this intuitive software. The flowcharts can even be connected with real-time data for inflicting changes to the applied shape formatting by making alterations in underlying data.
Pros
Process improvement ideas and workflows can be demonstrated easily.

Offers users with complete flexibility for catering to their charting requirements.

Simple interface makes it ideal for users who do not wish to deal with a stringent learning curve.
Cons
Certain design elements are not adequately intuitive.

Might seem expensive for intermittent users.
| Supported Platforms | Price | Scores from G2 | Official website |
| --- | --- | --- | --- |
| Windows, Web | Starting price is $280 per User | 4.2/5 | https://products.office.com/en-us/visio/flowchart-software |
4. Smartdraw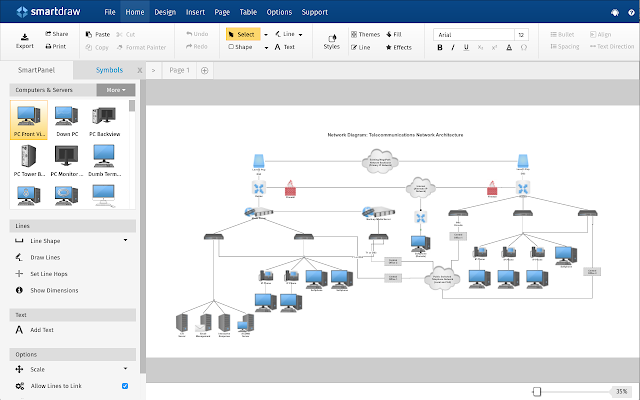 This robust diagramming tool allows intelligent automatic formatting so that users can enjoy complete customization in their work. Users can either proceed with their desktop or online edition as per work requirements. It is easier and more powerful than the standard drawing tools and allows us to create the perfect layouts within seconds.
Pros
Allows the drawings to be integrated into PowerPoint, Word, Excel.

Integrate easily with Google, Microsoft, Jira, Confluence, Dropbox, WordPress, Box, and Trello.
Cons
The speed of the online version undergoes massive fluctuations.

Collaboration features are not up to the mark.
| Supported Platforms | Price | Scores from G2 | Official website |
| --- | --- | --- | --- |
| Windows, Web | Starting price is $5.95 per month and per user. | 4.1/5 | https://www.smartdraw.com/ |
5. Draw.io
You can bank on this online flowchart maker to undertake chart building in an easy and intuitive manner. It presents users with a vast library of available shapes as well as templates which can be both imported and exported in an array of formats.
Pros
Allows creation of diagrams in a simple, fast and intuitive manner.

Can be executed in real-time so that multiple collaborators can design simultaneously.

Offers integration with GitHub, Dropbox, OneDrive, Google Drive and many more.
Cons
Dark theme makes it difficult to make out the box outlines while working with a grid.

Provides users with a limited number of templates.
| Supported Platforms | Price | Scores from G2 | Official website |
| --- | --- | --- | --- |
| Web | Starting price is $5.00 per month. | 4.6/5 | https://drawio-app.com/ |
6. Creately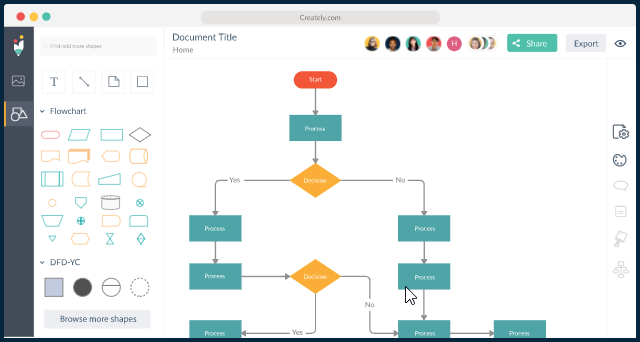 Creately can definitely be termed as a robust option for creating diagrams and flowcharts coupled with its precision controls and intuitive drawing tools. Users can easily redesign projects and run process mapping with multiple clients and teams simultaneously by banking on its agile technologies.
Pros
Online flowchart maker can be used without undergoing chaotic security setup or downloads.

Changes made by one user can be easily perceived by others.

Drag & drop work mechanism of the flow chart creator makes it extremely easy to use.
Cons
Application throws run time error and need to be relaunched.
| Supported Platforms | Price | Scores from G2 | Official website |
| --- | --- | --- | --- |
| Mac, Windows, Web | Starting price is $6.00 per month per user. | 4.4/5 | https://creately.com/ |
7. Visme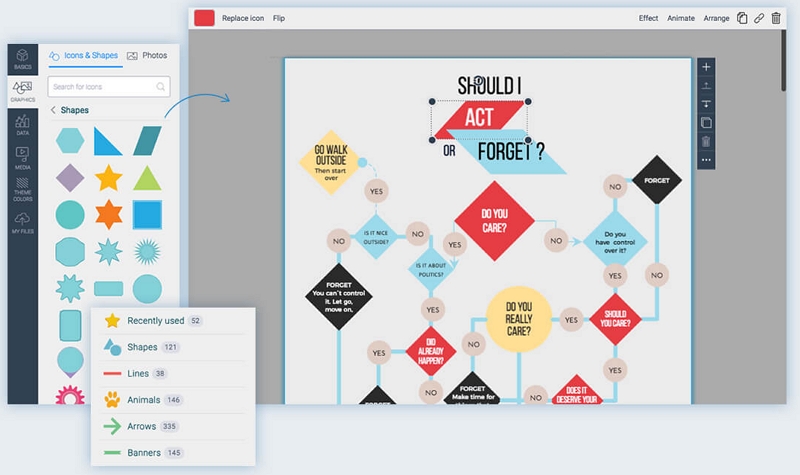 If you love working on pre-set templates, then you are bound to feel elated with the Visme flowchart maker. This intuitive online tool can cater to the requirements of both amateur users and professionals in an effective manner. Users can even upload their own audio and video files to come up with compelling results.
Pros
Allows users to create a variety of content ranging from presentations to infographics.

The slideshow making process becomes pretty interesting courtesy the vast template library.

Drag and drop operation of this flow chart creator adds up to its lucrativeness.
Cons
User interface might feel a bit difficult to get used to.

Has limited options for free users.
| Supported Platforms | Price | Scores from G2 | Official website |
| --- | --- | --- | --- |
| Only web-based | Starting price is $12.00 per month per user. | 4.5/5 | https://www.visme.co/ |
8. Gliffy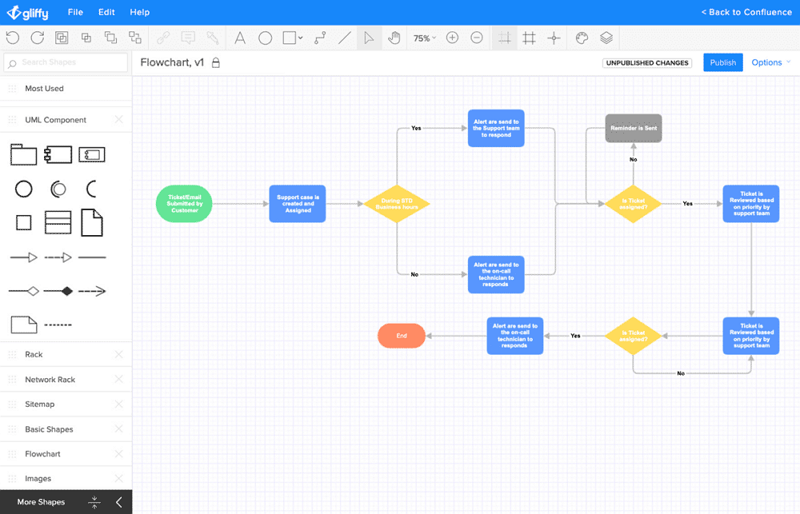 Gliffy Diagram provides users with enterprise-grade functionality and allows them to both sketch and share the flowchart ideas without facing any hiccups along the way. You can ring in massive time savings coupled with its large number of themes and templates.
Pros
Well organized software which provides users with a diverse array of shapes to work with.

Flowchart maker helps with online capture and collaboration of feedback.

Pricing is comparatively reasonable than peer softwares available in the market.
Cons
A new version of your diagram gets created on clicking the Save button even when it has no changes from the predecessor one.

Does not provide users with the option of downloading diagrams in different formats.
| Supported Platforms | Price | Scores from G2 | Official website |
| --- | --- | --- | --- |
| Mac, Windows, Web | Starting price is $3.80 per month. | 4.3/5 | https://www.gliffy.com/ |
9. Cacoo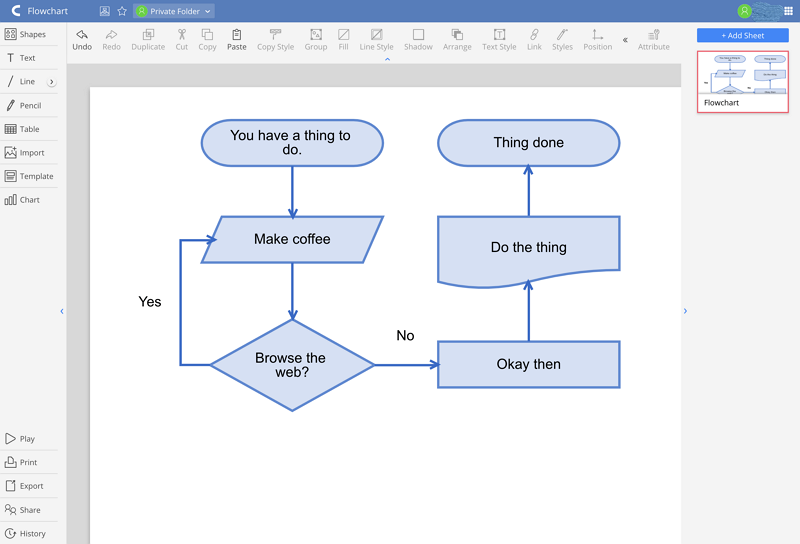 You can now both edit and share flowcharts at the drop of a hat with this highly collaborative diagramming software. It has been specially designed to have your back in a competitive work environment by keeping all of your team assets organized. Cacoo also receives brownie points for its intuitive interface and easy usability which makes it a top pick of users around the globe irrespective of their technical know-how.
Pros
Provides adequate accuracy in terms of making graphical mockup.

Diagrams and flowcharts can be exported in PDF format for being shared easily with others.

Versioning systems makes it possible to edit a diagram 'n' number of times without worrying about losing anything in the way.
Cons
Difficult to group assets and images with this flowchart maker.

Diagrams constructed using old flash engines have not been upgraded to the present one.
| Supported Platforms | Price | Scores from G2 | Official website |
| --- | --- | --- | --- |
| Web | Starting price is $5.00 per month per user. | 4.4/5 | https://cacoo.com/ |
10. Visual Paradigm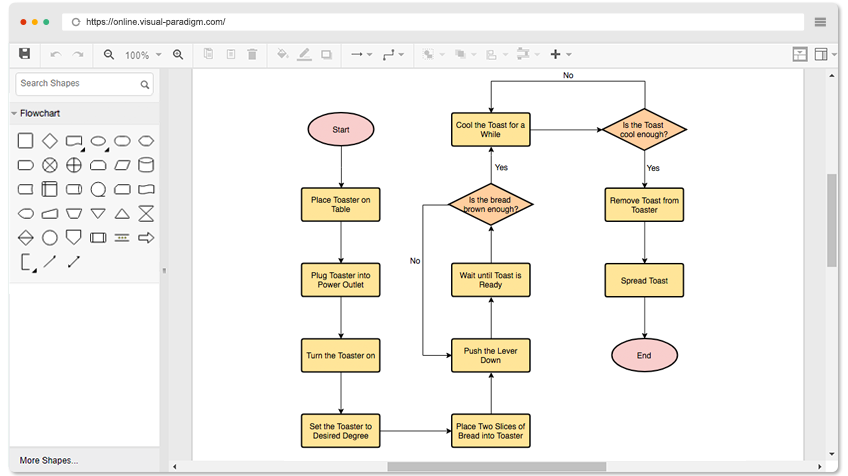 Software development becomes a hassle-free affair with this software which can transform vague ideas into accurate designs. All you need to do is drag and click your selected lines and shapes for building a flowchart. The alignment guide also serves an extremely crucial role of putting everything in the right place. All the data entered is interpreted by the spreadsheet like editor into visual representations.
Pros
This flowchart maker allows the creation of visual blueprints in an effortless manner.

Users can work collaboratively with either its self-hosted or cloud server.

Drag-and-drop diagram editor presents users with an array of formatting options.
Cons
User interface is not adequately intuitive.

Presents users with a steep learning curve.
| Supported Platforms | Price | Scores from G2 | Official website |
| --- | --- | --- | --- |
| Mac, Windows, Web | Starting price is $6.00 per month. | 4.4/5 | https://www.visual-paradigm.com/ |
The Most Suitable Flowchart Software
01
Best Affordable Flowchart Software – EdrawMax
This cross-platform flowchart software allows users to deliver professional-grade results coupled with its large selection of free flowchart templates and examples. Users can easily access the full set of flowchart symbols from the predefined library. You need to follow a drag and drop operation and connect the symbols using the smart connectors. Despite ranking high in terms of features, EdrawMax comes with an affordable price that you can use it in a lifetime with only $139. Besides, EdrawMax also offer subcription plan with a monthly fee of $8.25 per month in the case of annual commitment. Users can renew the subscription license thereafter by paying a monthly fee of $5.75.
02
Best Visual Design Flowchart Software – Visme
It becomes possible to create concept maps, eye-catching flowcharts as well as decision tree diagrams within minutes using this intuitive tool. Users can quickly visualize complicated processes such as hierarchal structure and even help their target customers make a decision with the help of tree-like diagrams. Visme also allows users to develop a concept map for plotting relationships between characters.
03
Best Collaborative Flowchart Maker – Lucidchart
Lucidchart flowchart maker allows users to deliver powerful visuals that can have their back during project management as well as the brainstorming process. Scoping projects properly helps in keeping the entire team informed about its advancement until it reaches the finish line. Both roles and responsibilities can be clarified to help contributors understand their territory. Secure sharing, real-time collaboration, cloud-based diagrams, stress-free version tracking, and cross-functional sharing helps users in staying organized even while working with remote participants.
04
Most Professional Flowchart Software - Visio
Making diagrams become super simple with this Microsoft tool. It presents users with a large number of templates and shapes that may feel similar to working with MS Office. You can collaborate with multiple users while creating flowcharts using Visio. It helps in accumulating the insights collected from all the stakeholders so that you can come up with error-free and professional-grade results.
Conclusion
Whether you are developing workflows, ideas or project designs, a proper flowchart maker can simplify the entire process for you. We understand that taking your pick might seem a bit intimidating given the large number of flow chart creators vying for your attention. This is why we have reviewed the top 10 softwares and have also provided our recommendations for the numero uno slot in four different departments. So, take your pick and get ready to unleash your complete potential with seamless collaboration and sharing.
What do you want to do with flowcharts?
I want to create my own flowchart on EdrawMax.