Best 6 Spider Diagram Maker to Weave Ideas
Spider diagrams are effective ways to visualize different concepts, solutions, and ideas. Many software programs are effective diagram makers in this regard.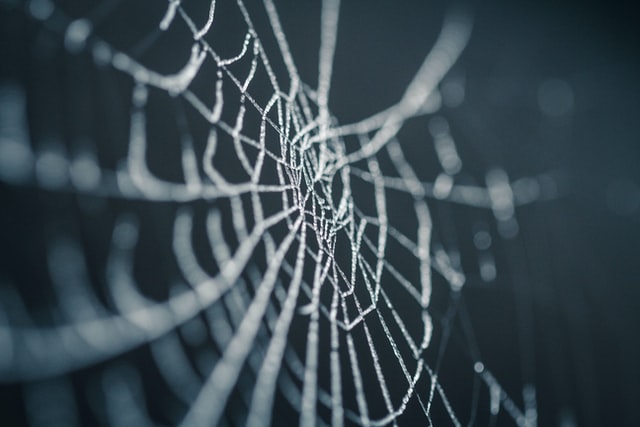 Spider diagram maker programs are effective tools for visualization that help one organize data with logical flows. Usually, main concepts are laid out and they are linked to each other by lines. Ideas are shown as different branches and one can find different solutions or ideas to a central theme or problem laid out in this manner.
Best 6 Spider Diagram Maker
To create an effective spider diagram, here're some effective spider diagram creator tools. The main features, pros, and cons and overall rating and price details are shared below.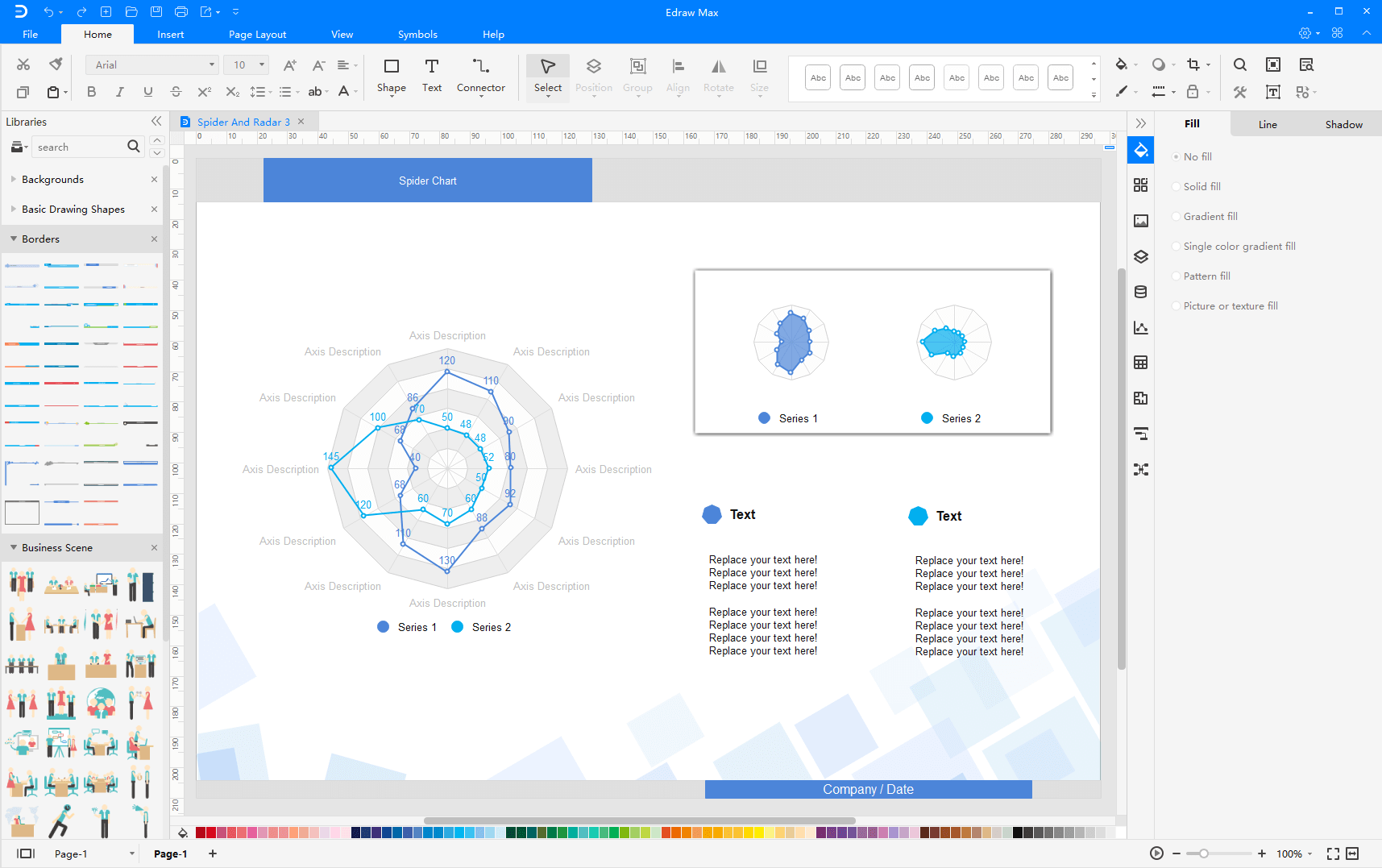 This software is most popular when it comes to creating effective illustrations or diagrams. The software finds use in social and education projects as well as for businesses.
Features of the software are several such as:
Whether it is spider diagrams, flow charts, floor plans or network diagrams, this software suite has a comprehensive gallery from where one can choose templates from; the choices ranges above 250.
The UI is user friendly and the software has similarities with ms word that makes it familiar and easy to operate.
Advanced elements exist for creating complex diagrams with ease.
It offers compatibility with windows and iOS as well as with file formats like Visio.
The software comes for $99 annually. It has a high review rating, 4.8/5. For more details one can visit the official site: https://www.edrawsoft.com/edraw-max/
EdrawMax
All-in-One Diagram Software
Create more than 280 types of diagrams effortlessly
Start diagramming with various templates and symbols easily
Superior file compatibility: Import and export drawings to various file formats, such as Visio
Cross-platform supported (Windows, Mac, Linux, Web)
Security Verified |
Switch to Mac >>
Security Verified |
Switch to Linux >>
Security Verified |
Switch to Windows >>
2. Lucidchart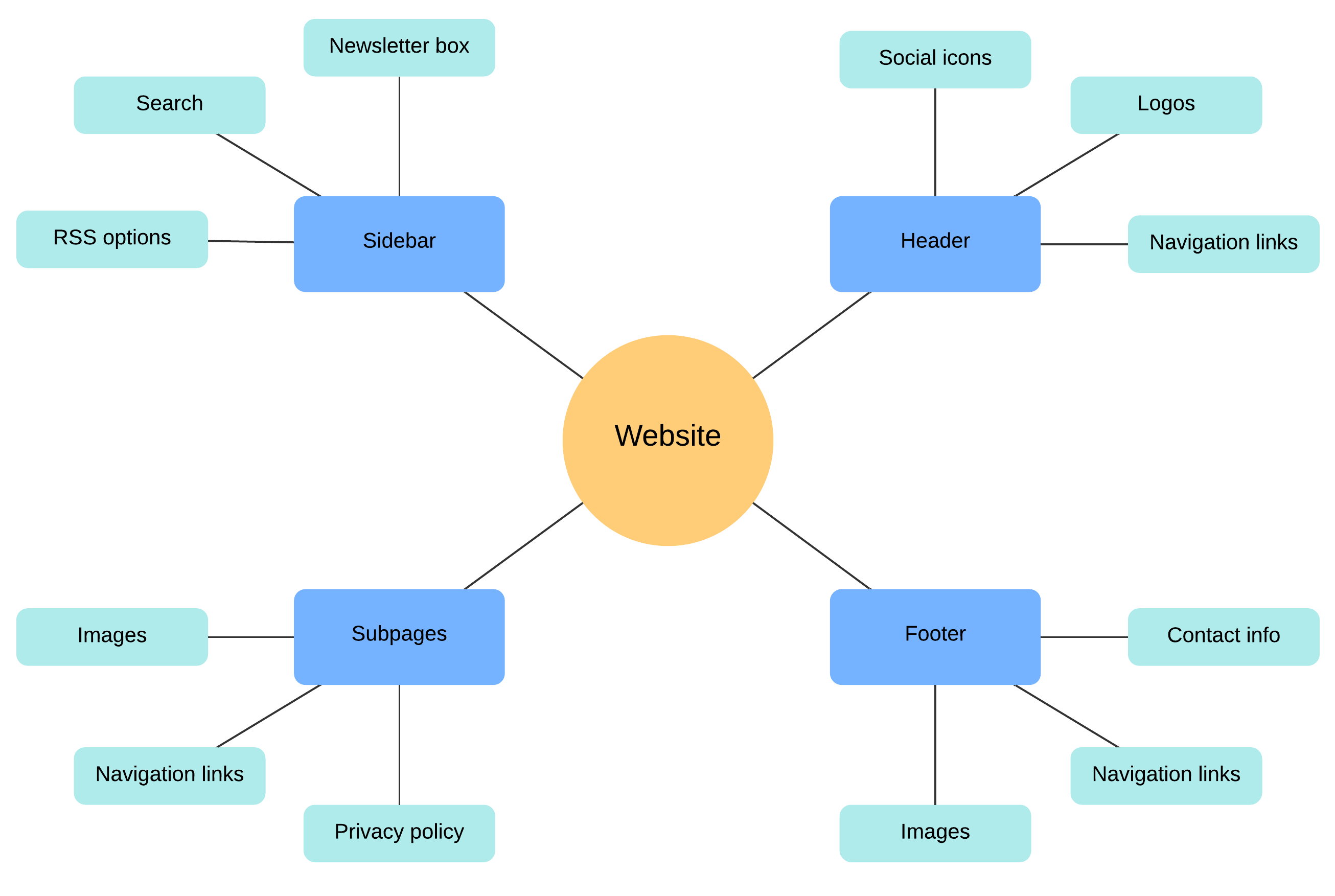 Lucidchart is another effective visualization tool that one can use for creating a spider diagram. There are several features that it offers to make such presentations easy to create:
There are several templates that one can start within this spider diagram creator.
It is easy to open the templates and start filling in information.
One can easily customize the boxes, lines, and texts as per their preferences.
It is easy to drag and drop in shapes from other sources to create a diagram from scratch on a blank canvas.
Pros:
There is the ease of use with the drag and drop feature.
It is easy to save in different formats.
Many find the sharing options helpful.
Cons:
It being independent software, it is best used offline than online.
Many find the software to be sluggish.
Many have given this software a high rating and on average, its industry score is 4.7/5. It comes with a basic monthly price of $9.95 for the Pro version. Those who wish to know more can visit: www.lucidchart.com
3. MindMup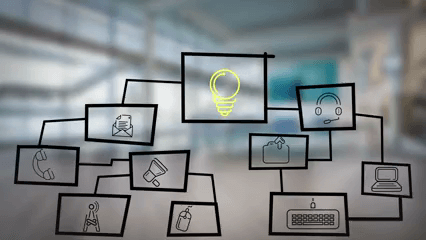 This particular software is a favorite of many businesses; it acts as an effective spider diagram maker besides different kinds of visual maps, project plans, and storyboards.
Features of this software are several:
It is ideal for small teams that work on building and publishing social media or mind maps online.
It is ideal for presentations as well as for brainstorming sessions.
It provides several, options for sharing or publishing.
There is a large repository of templates to choose from.
Pros and Cons
The main advantage of this tool is its nominal fee which makes it the cheapest radar chart maker in its category. At the same time, its web-based functions are reliable to use, whether it is to create maps and diagrams by collaborating online or to share on different platforms.
The main limitation is that it does not work on Mac or mobile iOS devices.
It has an industry average rating of 4.1/5. The subscription price is less than $3per month. For more details, one can visit: https://www.mindmup.com/.
4. Visual Paradigm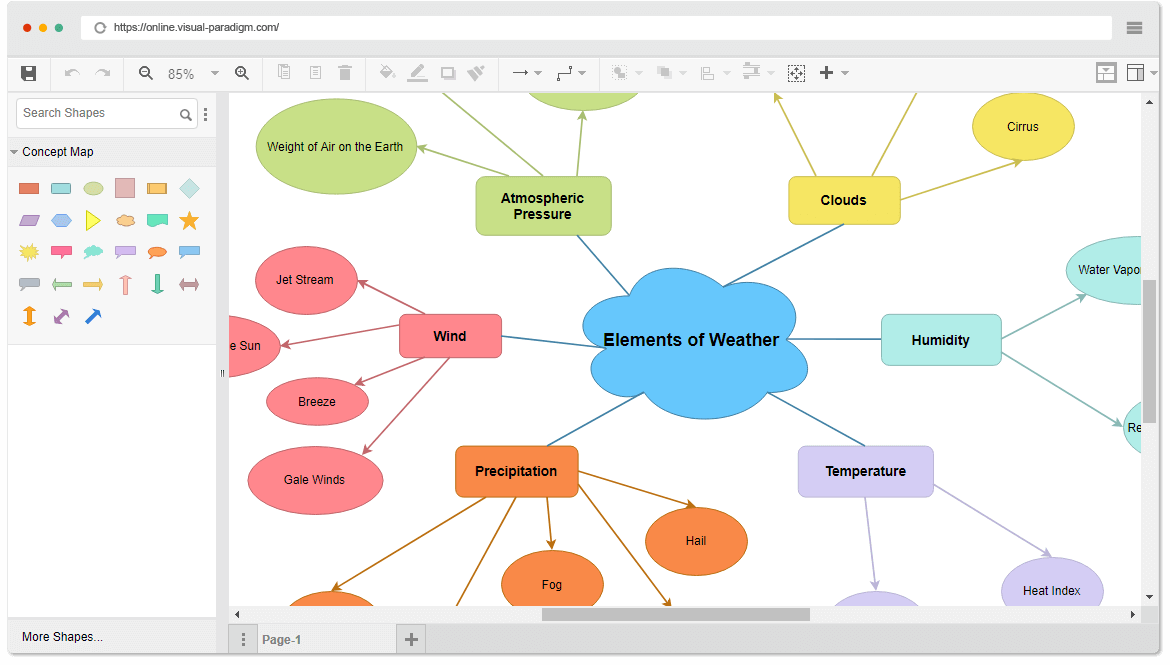 This software is an effective tool for creating illustrations or diagrams for teams in software development. Features of Visual Paradigm are the following:
It helps capture requirements and transforms the same into software design.
Easy drag and drop function.
Process mapping features are present.
It offers ease of collaboration.
There is a large template repository present.
Pros and Cons
The software is ideal for software project design specialist. It is built for working on Windows as well as Mac OS. It comes as a trial version only and is not ideal for basic educational projects.
This free software has a reliable industry rating of 4.4/5. Those who wish to know more can visit its official website: https://www.visual-paradigm.com/.
5. Mindjet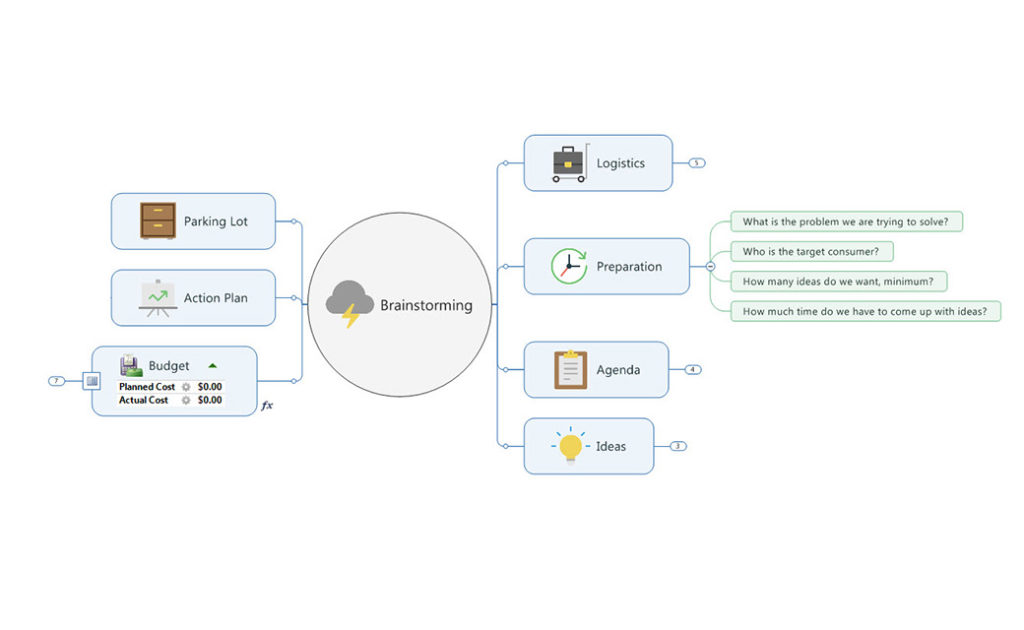 This is yet another useful radar chart maker that helps to create different illustrations or visualizations including spider diagrams. Its distinct features are the following:
It has a large variety of templates and images to offer.
Ease of planning projects and management of the same.
The diagrams can be easily integrated with apps like Onedrive, Google docs or asana.
It offers functions that make it easy to share, store and retrieve projects.
Pros and Cons
It is versatile diagramming software with ease of use, compatible with different platforms and a large repository of images for use. It is, however, more relevant for businesses than for individuals or students.
In the category of diagrammatic software, it has a high rating in the industry, about 4.5/5. It comes for a high subscription price, $249 annually. One can know more at www.mindjet.com.
6. SmartDraw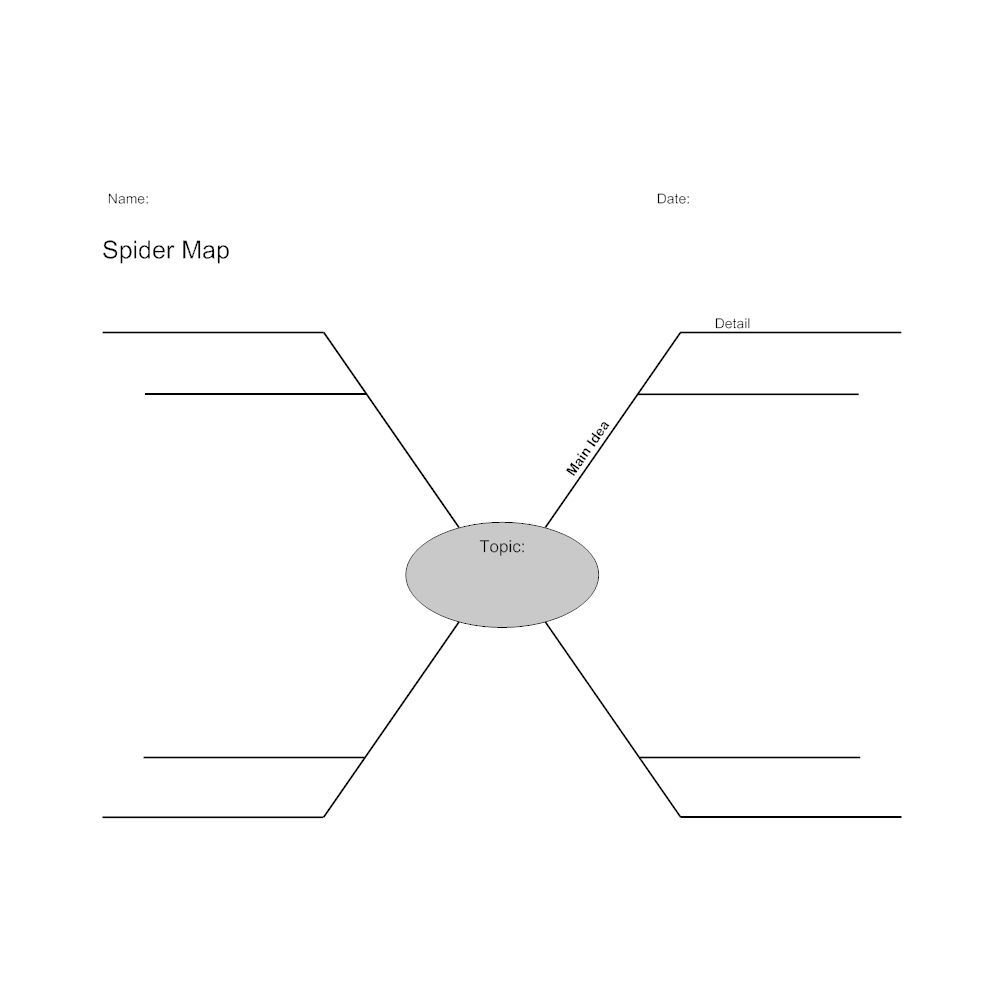 SmartDraw is a versatile tool that allows anyone to create a diagram easily or use it as radar chart maker. There are several features that it offers which make it effective:
It can be used by project managers, business executives, architects, and contractors.
It offers a large library with thousands of symbols, tools, and templates.
It is easy to use for creating cad drawings, floor plans, org charts, spider diagrams, and others.
Pros and Cons
It is versatile software that comes of use for different businesses and professionals. It works on Windows and Cloud platforms but is not compatible with Mac or iOS.
This software has a reliable industry rating of 4.1/5. The per month individual subscription price is $5.95. One can visit this link to know more: https://www.smartdraw.com/.
Spider Diagrams vs Mind Maps
Mind maps are graphical representations of data or ideas that are shown in a radial or non-linear manner. Mind maps are useful for visualizing, classifying ideas and act as study aids. Spider diagrams consist of a central idea or topic in a circle in the center with different lines or ideas that emanate from it.
Similarities between spider diagram creator and mind maps are the following:
Both have central images.
Both have nodes that branch out with main or sub-branches.
Both comprise of several sentences and phrases.
Differences also exist in both visual tools such as:
Spidergrams rarely use colors or curved lines such as in mind maps.
Mind maps make use of more images than spidergrams.
Spidergrams usually have boxes or bubbles around nodes.
Either tool can help improve the quality of logical thinking or brainstorming; in certain cases, one could use mind mapping as a logical step that follows from spidergram.
What does a Versatile Spider Diagram Maker Include?
Spider diagrams are visualization tools that help one to comprehend an idea or topic well. If there is complex information, it is easy to organize the different connected outcomes or ideas with the help of such a diagram. An effective spider diagram maker has the following features to offer:
Several templates to choose from.
Easy user-friendly and intuitive software that one can use step by step to complete such diagrams.
There are different customization options to change colors, fonts, bubbles and connecting lines as desired.
A finished project can be easily previewed, saved and shared with others.
Versatile software in this category will provide an option for exporting to different linked applications and can be saved in different formats.
Conclusion
The above software applications offer diverse options for creating effective spider diagrams. One can easily choose one as per the kind of features they are looking for and the pricing models.