Metropolitan Area Network Examples & Templates
Do You Want to Make Your MAN Network Diagram?
EdrawMax specializes in diagramming and visualizing. Learn from this article to know everything about MAN network diagram examples and templates, and how to use them. Just try it free now!
The Metropolitan Area Network (MAN) allows a larger area, such as a city, to be connected to the WAN. Several LANs are connected by specific backbone connections in most cases. It can also refer to a municipality's or region's public-use networking infrastructure. It is bigger than a local area network (LAN) in a single building but not wide enough to be labeled a wide area network (WAN). In simple terms, it is a network that encompasses a city or a city range. The size typically spans from 5 to 50 kilometers. A campus network is formed when all the buildings are located on a single parcel of land that is contiguous. A MAN can link to an internet transit point for a high-speed connection between MAN & the public internet, and it can employ a local telephone carrier to provide connections between LANs.
In this article, we will look at metropolitan area network examples that will help you create a comprehensive MAN diagram. We will also learn how to create a professional metropolitan area network diagram with EdrawMax. Other drawings like - Basic Network Diagrams, Cisco Network Topology, Cisco Product Icons, Software & System Planning, Org Chart Design, Strategy & Project Planning, and other professional drawings can all be created with EdrawMax.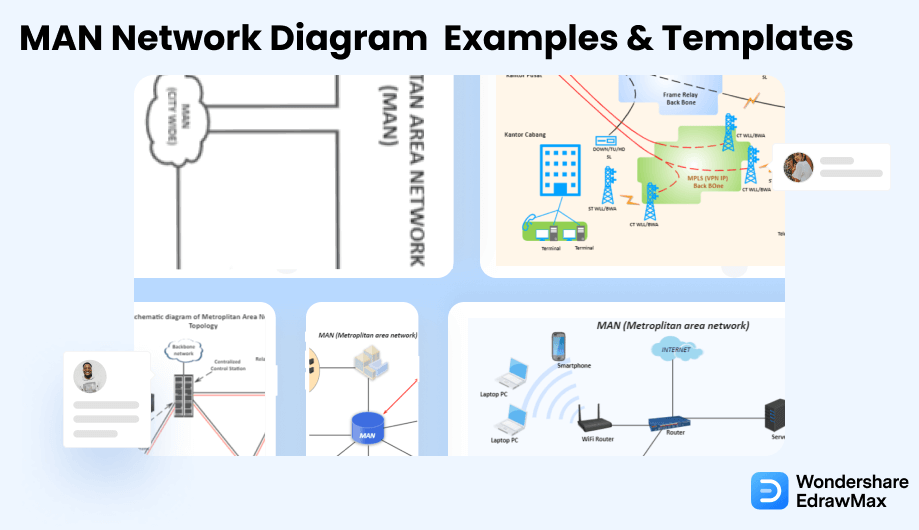 1. Free Metropolitan Area Network Examples
Using MAN examples makes it easy to construct a network diagram that enhances your diagram's message, gives you confidence that you are doing the right thing, and adds to the value of your diagram. With these examples, you may create your diagrams by visualizing your ideas to see how your diagram will convert. Form, bulk, color, texture, and other network design elements are all included inside the EdrawMax diagram library.
EdrawMax provides six distinct types of metropolitan area network examples to help you visualize your network in a way that effectively communicates your message to your audience.These are the six metropolitan area network examples:
1. Metropolitan Area Network Diagram
2. MAN Diagram in Computer Networks
3. Wireless Metropolitan Area Network (WMAN)
4. Ethernet Metropolitan Area Network
5. Metropolitan Area Network PPT
6. Metropolitan Area Network Topology
Example 1: Metropolitan Area Network Diagram
The fundamental MAN system linking users within an area greater than a local area network (LAN), including the wide-area network, is depicted in a metropolitan area network diagram. It is created by combining many LANs and connecting them via point-to-point connections in an organizational computing system. It is a big computer network that spans a vast geographic region, encompassing numerous buildings or the whole city (metropolis). This Metropolitan Area Network example includes a large number of connecting devices and provides Internet access for the metropolitan area's LANs and WANs. Network communications are provided by both (MAN) and (WAN) over greater geographical areas. The most significant distinction between the two is the scope of the regions served. To be clearer, let's take the case of a campus network. A campus network connects users in 2 or more facilities or the open area around those buildings to the Internet and a local area network (LAN). The campus network is typically found on a university's campus, but the same planning and architecture can be used for other reasons.
Example 2: MAN Diagram in Computer Networks
A MAN, a computer network system, joins multiple LANs to build a bigger network, allowing computer resources to be shared. This network has a broader coverage area than a LAN but is smaller than a WAN, which is geared to covering the entire city. It can span a range of 5 to 50 kilometers and can transport data from a single building to the entire city. Because the failure rate throughout this network is quite low, the MAN networks offer high reliability in this case. In most instances, a group of consumers or a provider who accepts responsibility for the service owns the connecting parts and other equipment. Quality of service is negotiated in advance, as well as various warranties. MAN is frequently used as a faster network for distributing regional assets (like a big LAN). It is also common to employ a WAN connection to provide an officially open connection to other networks.
Example 3: Wireless Metropolitan Area Network (WMAN)
The Wireless Metropolitan Area Network (WMAN) is a form of Metropolitan Area Network with wireless connectivity. It serves a range of more than 100 meters and encompasses many places within a geographic area. It is wireless networking that covers a region the size of a city and includes both Back Haul (business connection) and Last Mile connections (temporary network). Because it uses the IEEE 802.16 standard, it is commonly referred to as a Radio Local Loop (RLL). Only authorized users can access the Wireless MAN. It has a range of 30 miles and can connect several structures or university campuses inside the city. A single entity, such as an ISP, a government agency, or a major enterprise, normally owns a WMAN. The most popular form of WMAN is WiMAX.
Example 4: Ethernet Metropolitan Area Network
The metro area network, or MAN, is meant to fill the coverage gap between the limited and specific LAN and the wide-ranging WAN. While MAN networks are commonly used in cities to connect multiple networks and ensure that technology exists, this type of Ethernet network may be found in any town or geographic location and interconnects a range of networks within a single region. Ethernet is being pushed from local area networks to metropolitan and wider area networks due to substantial advancements in Ethernet technology. Ethernet Metropolitan Area Network is a metropolitan area network (MAN) based on Ethernet standards. It can also be referred to as metro Ethernet network, Ethernet MAN. It is frequently used to link subscribers to a bigger internet or service network. Metropolitan-area Ethernet can also be used by businesses to connect their workplaces. A digital circuit hierarchy or plesiochronous digital hierarchical interface with the same capacity is usually more expensive than an Ethernet interface. Due to the widespread use of Ethernet in residential and corporate networks, another significant benefit of an Ethernet-based network is that it may easily be connected to the customer network.
Example 5: Metropolitan Area Network PPT
The Metropolitan Area Network PPT is a fully configurable presentation that allows you to demonstrate the computer network connecting a certain geographic region. This fully configurable deck can be used by network engineers to demonstrate the advantages of adopting a MAN network, such as cost savings, increased security, increased speed, and ease of transition from LAN into MAN, among other things. You can also show the aim of a metropolitan area network, as well as its benefits and drawbacks. This PPT is the finest option for presenting boring information to an audience in an engaging manner. The great images, delicate background, and fantastic layouts allow you to flawlessly communicate your ideas.
Example 6: Metropolitan Area Network Topology
In loop and bus constructed local area networks, the throughput per user falls linearly with the number of users, according to the Metropolitan Area Network Topology. These networks could not be expanded to a large metropolitan region. The throughput of standard local area networks is increased by reducing the fraction of network capacity required to transfer data between a supply and a destination. Multiple pathways boost network resilience, and point-to-point links can serve a metropolitan region. Mesh networks, in general, necessitate complicated store-and-forward nodes that can also route messages, manage data flow into the network, resequence transmissions at the recipient, and recover packets with mistakes. However, there are features of the metropolitan or local region that make these functions easier to perform.
2. How to Use MAN Network Diagram Examples
EdrawMax is vector-based software that provides various templates for your MAN network diagram. It provides an easily understandable interface for its users to draw efficiently and helps users edit existing templates and layouts and make their designs or template. It also provides network diagram symbols to illustrate your MAN network diagram. There are two methods for creating a MAN network diagram by using MAN Network diagram examples:
2.1 Make MAN Network Diagrams from Desktop
Step1
Install EdrawMax
You can edit the templates directly from this page. First of all, when your mouse click to the templates on this page, you can download the EdrawMax easily, or you can download EdrawMax here.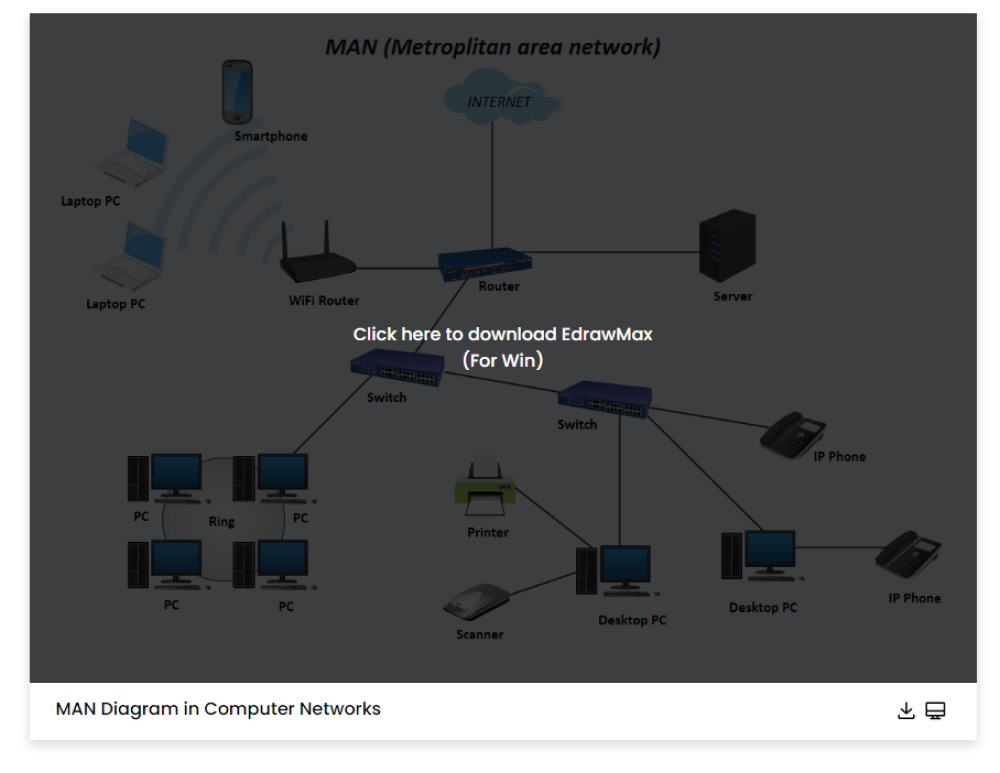 Step2
Download the Template
After installing EdrawMax, you can go and download the template by clicking on the bottom right corner or look for a template in the EdrawMax library without going online in desktop.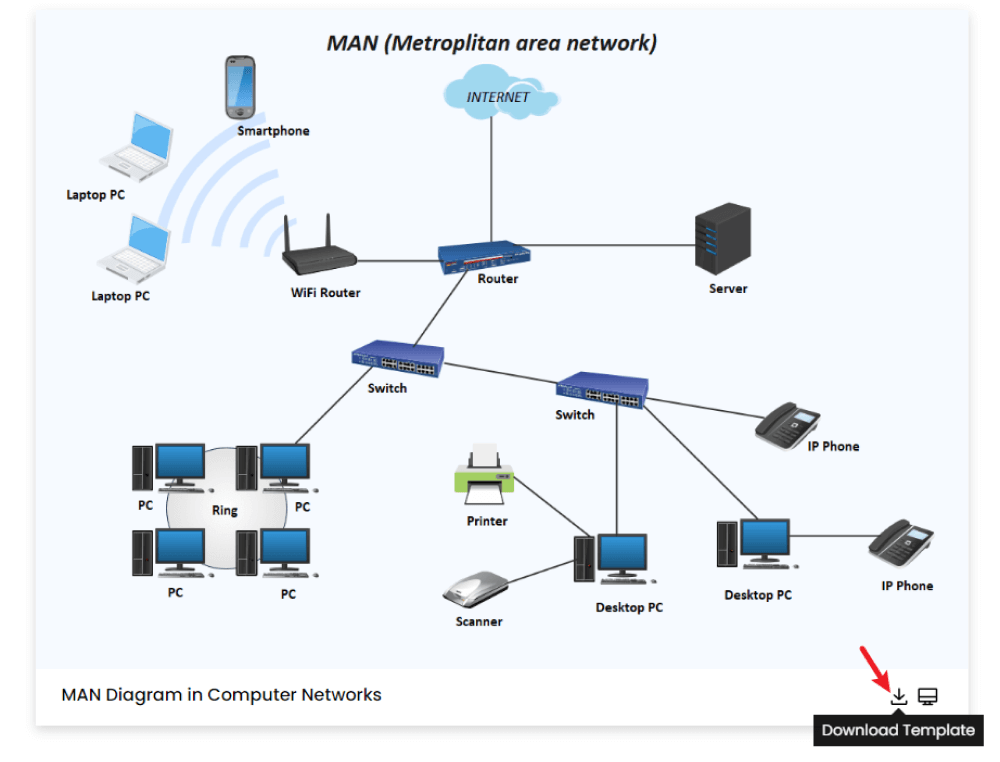 Step3
Open the Template
After downloading the template, you can double click to open it in EdrawMax diagramming software, or you can open EdrawMax beforehand and navigate to the template to open it.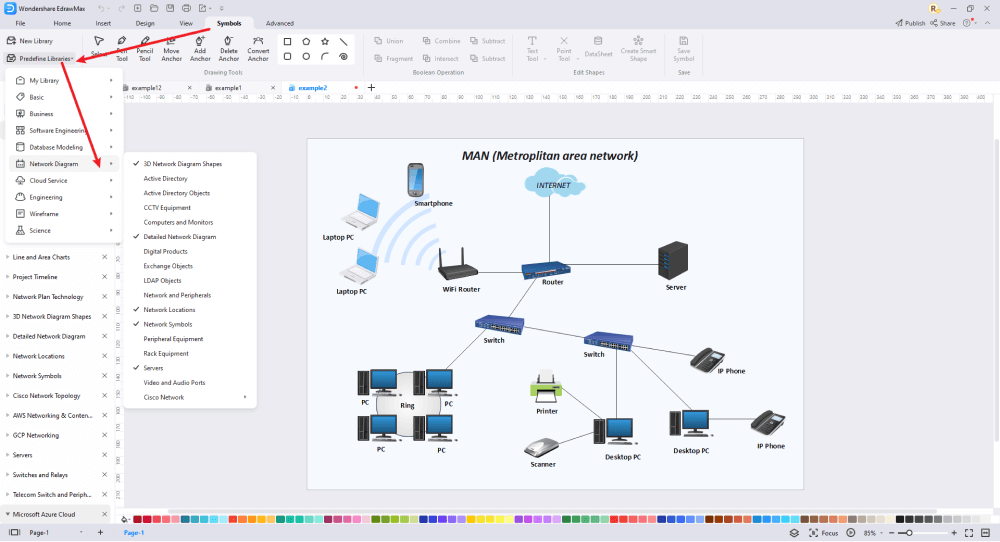 Step4
Customize the MAN Network Diagram Example
After opening it, the next step is to customize and edit the MAN network diagram example. EdrawMax gives you various unique diagramming tools that help you edit the template any way you want. You can change the color and the font liner of the template. EdrawMax features a comprehensive library with 26000+ professional symbols that you can use for free with an easy drag and drop.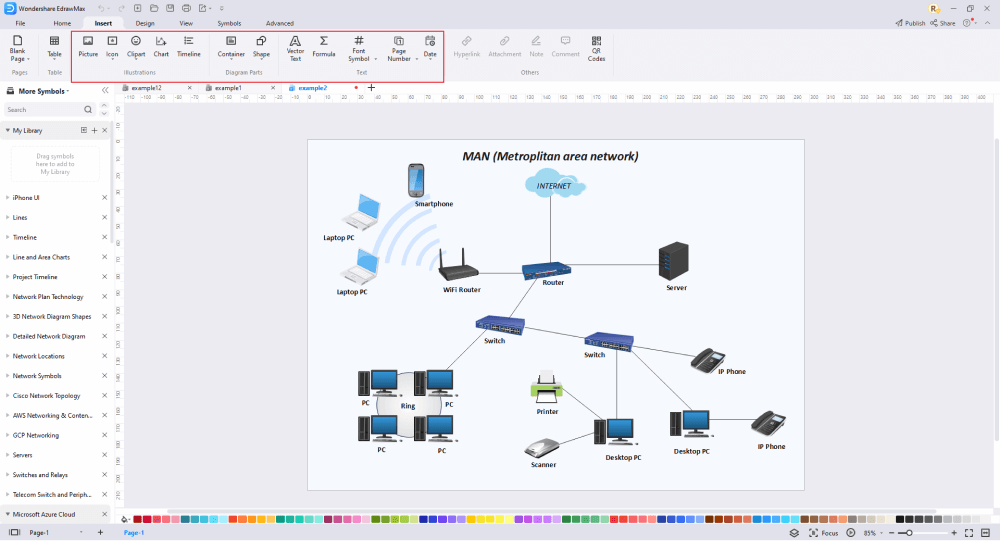 Step5
Save or Export
After you customize the MAN network diagram example, the next step is to save or export your drawing. EdrawMax supports various document formats, which means you can export your drawing in any format you want, such as Microsoft Office, pdf, graphics, HTML, Visio, and many others. Export your drawing by going to the 'File' option in the top menu bar and clicking on 'export'. After that, select the document format and click 'ok'. You can also share your drawing on social media or print it directly from EdrawMax. EdrawMax also gives you a presentation mode that you can use to show your drawing to others or your team members.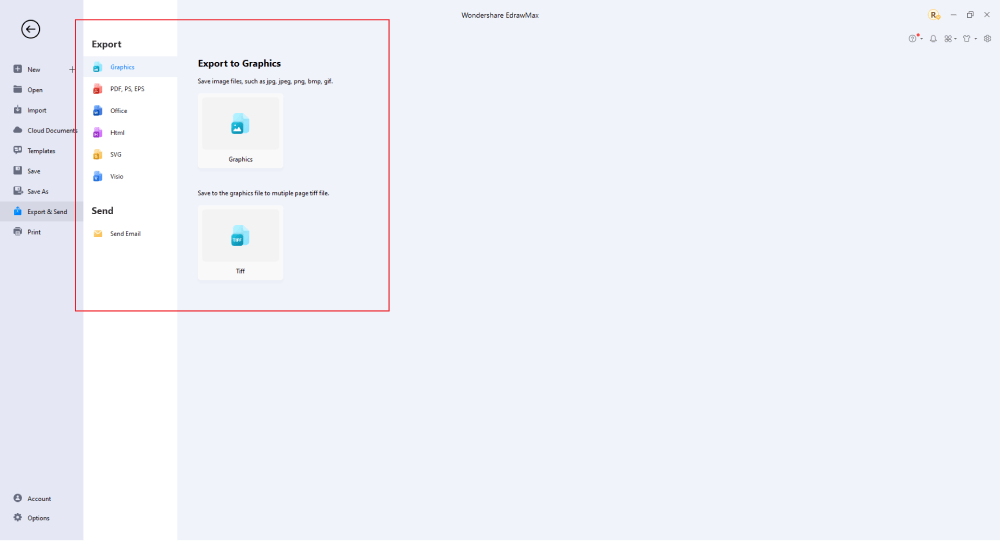 2.2 Make MAN Network Diagrams Online
The above process was for drawing MAN diagrams using the downloaded application. Here are the steps that you can follow to do the same thing with the online app instead. EdrawMax Online gives you free templates to select and customize and share without downloading. It also provides you with all the drawing tools in the EdrawMax software.
Step1
Click to Duplicate Online
Just click the right bottom corner to choose 'duplicate' template online, then you can go to the online EdrawMax template community. You can head to the network diagram page, and learn more or use directly.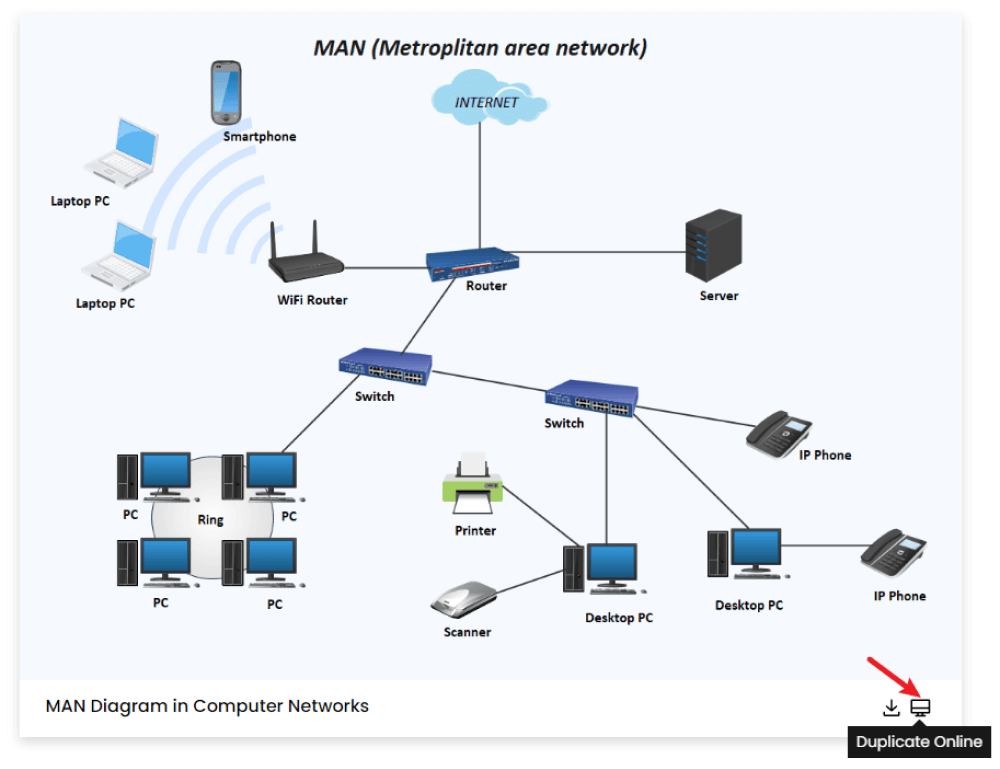 Step2
Search for More Templates
To search for more templates, go to the EdrawMax template community and search for the template you want. You can scroll down or search with the full name of the MAN network diagram template to get it quickly.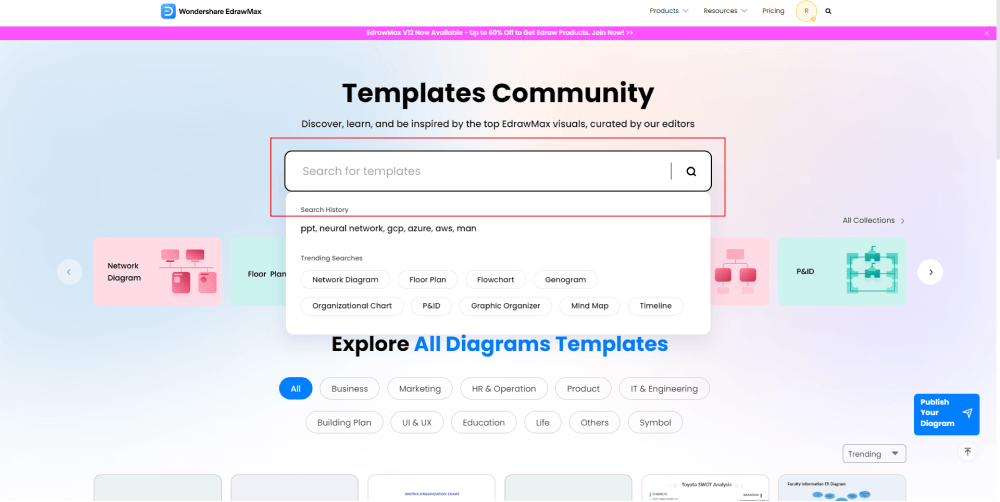 Step3
Open the Template
Open the template you want to customize and click on the 'duplicate' option. After clicking, the template will open with EdrawMax Online.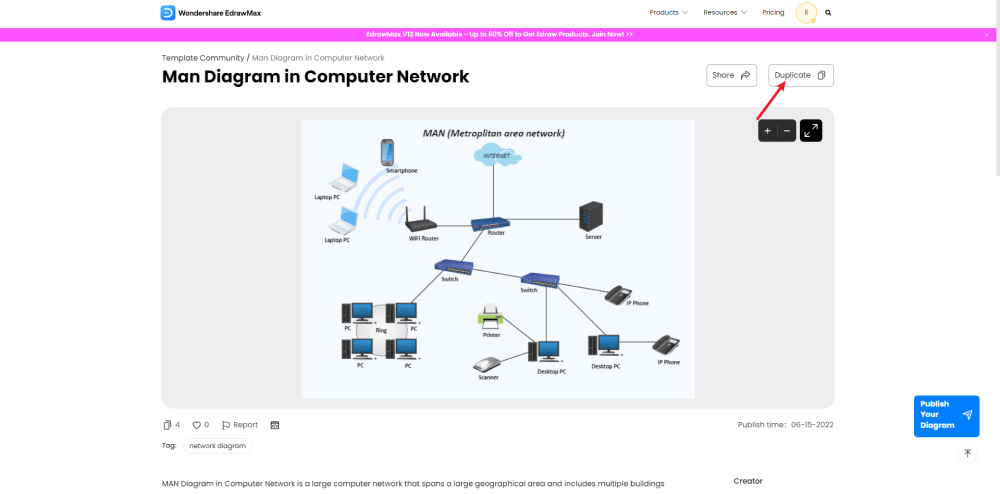 Step4
Edit the Details and Particulars
Customize and edit the MAN network diagram example after clicking on the duplicate option and getting the drawing canvas with the template you selected. EdrawMax features unique diagramming tools that help you customize the template and make whatever changes you want. You can change the color and the font liner of the template. EdrawMax also features a comprehensive library with 26000+ professional symbols that you can use for free with an easy drag and drop.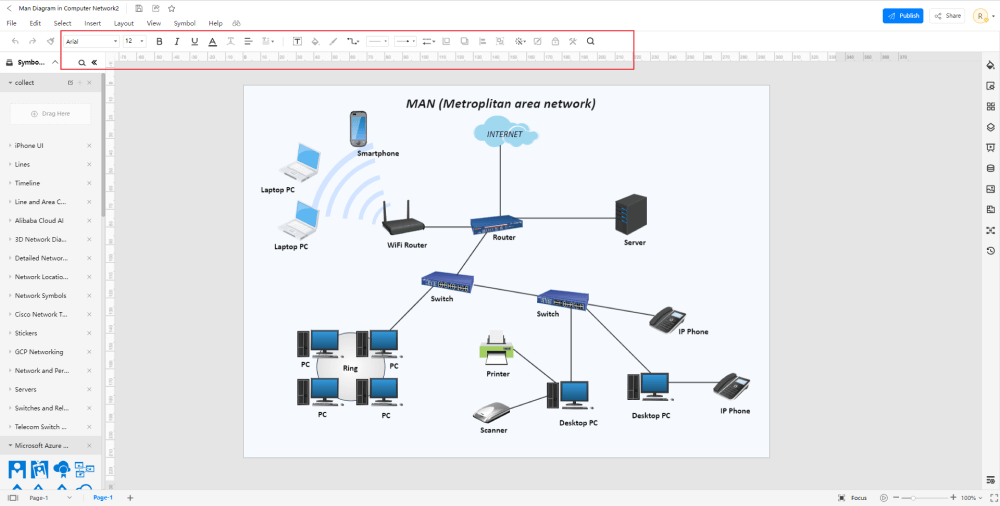 Step5
Save and Export
After your MAN diagram is complete, the next step is to save or export your drawing. EdrawMax gives you the same features as the EdrawMax diagramming software. It also supports multiple document formats so that you can export your drawing in any format. You can save and share your document in pdf, graphics, HTML, Visio, Microsoft Excel, and other popular formats. Click on the 'file' menu and go to 'export'. Click the format you want and enter. EdrawMax features a presentation mode and allows you to share your drawing on social media. Or you can "Publish" your MAN diagram in the template community.
3. Free Network Diagram Tool
If you are looking for network diagramming software that uses innovative technology for producing network diagrams, don't look any further than EdrawMax. EdrawMax is the most user-friendly all-in-one diagramming software available. You can easily build network diagrams as well as any other sort of diagram. Making network diagrams might be as straightforward as feasible with the help of comprehensive network diagram elements, symbols, and clipart. It also allows users to export their work in a variety of formats and share it with others. Here are six fantastic EdrawMax features that will make your drawing experience even better:
The "Visualize Then Actualize" feature with EdrawMax provides over 280 diagram types, ranging from charts and graphs to circuit diagrams to network diagrams, to fulfill any visual requirement.
You may create a real-time synchronized cloud workspace with the help of the "Equals Innovation" feature so that everyone is on the same page visually.
Social media has now transformed into an idea creator, trend analyzer, and strategic compass in all dimensions, thanks to the "Sharing" option.
You may collaborate and co-create with cross-functional stakeholders using the Visual "Workplace" feature.
All the licenses in all three tiers get complete access to all program functionalities and 280 distinct types of diagrams.
There were, which was before, libraries containing symbols of industry-standard for each form of design, allowing you to customize and create a visually attractive diagram.
EdrawMax Desktop
Create over 280 types of diagrams
Windows, Mac, Linux (runs in all environments)
Professional inbuilt resources and templates
On-premises software for business
Enterprise-level data security
EdrawMax Online
Create over 280 types of diagrams online
Access diagrams anywhere, anytime
Team management and collaboration
Personal Cloud and Dropbox Integration
4. Final Thoughts
Finally, with above mentioned metropolitan area network examples and metropolitan area network diagram and application, we understand that a MAN network employs telecommunications infrastructure to connect computers in such a way that communication and resource sharing are possible. Without a network, businesses will be unable to exchange resources and boost production. Companies may access the internet from a large region, hold video conferencing meetings across the nation, and share information over the LAN with the help of WANs. The man network diagram, on the other hand, illustrates the connection between cities, towns, and other big communities.
EdrawMax is the best MAN network diagram software with its hundreds of free templates and creative drawing tools that helps you customize templates and create a diagram in minutes. EdrawMax supports multiple documents formats and is the first choice of professionals for its fast drawing, data automation, and symbol import features.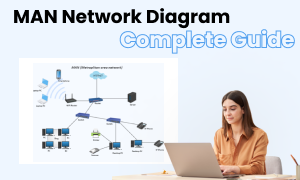 MAN Network Diagram Complete Guide
Check this complete guide to know everything about MAN network diagram, like MAN network diagram types, MAN network diagram symbols, and how to make a MAN network diagram.