With Edraw, you can quickly create a rack diagram using network equipment symbols to design and document a rack system.
Introduction to Rack Diagram

The Rack Diagram is a graphic representation of a rack system, often used as a server and designed to be installed in a framework. A rack diagram is a metal frame used to hold various hardware devices such as servers, Router, Raid, UPS, hard disk drives, modems, and other electronic equipment.
Rack Diagram Software
Using Edraw pre-drawn network equipment symbols, you can quickly and easily create a rack diagram. Simply drag and drop the symbols you need to your page, and design the diagram through Edraw smart tools. You can choose a pre-defined theme, or you can customize your drawing through colors, lines and styles setting. Edraw tries its best to provide the most simple-to-use drawing method, which enables everyone to draw freely, no matter you are experienced or occasional users. A professional-looking rack diagram could be done in just minutes.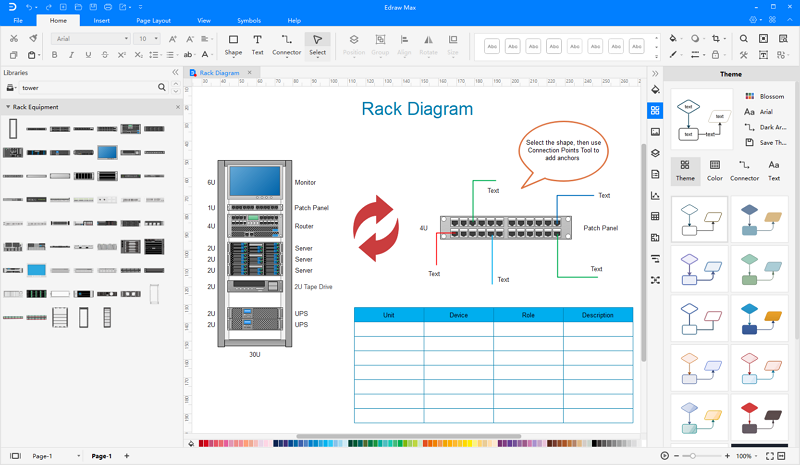 EdrawMax
All-in-One Diagram Software
Create more than 280 types of diagrams effortlessly
Start diagramming with various templates and symbols easily
Superior file compatibility: Import and export drawings to various file formats, such as Visio
Cross-platform supported (Windows, Mac, Linux, Web)
Security Verified |
Switch to Mac >>
Security Verified |
Switch to Linux >>
Security Verified |
Switch to Windows >>
System Requirements
Works on Windows 2000/2003/2008/Vista/7/8/10 (32bit/64 bit)
Works on Mac OS X 10.10 and later
Works on Linux (Debian, Ubuntu, Fedora, CentOS, OpenSUSE, Mint, Knoppix, RedHat, Gentoo and More)
Supports to design on Web
Advanced Features of Edraw Rack Diagram Maker
State of the art
Vector-based shapes and templates that are pre-designed
An all-in-one diagram maker that can make over 280 types of diagrams and serve all of your purposes.
Easy to use with the drag & drop interface, abundant symbol libraries and automatic formatting tools
Run on common operating systems and work on different devices.
Export documents into various file formats and has great compatibility.
Symbols of Rack Diagram
The rack equipments templates include specialized serial devices, router, ups, bridge, monitor, rack, raid, tape drive, switches, and lots of new devices for use in diagramming your rack environments.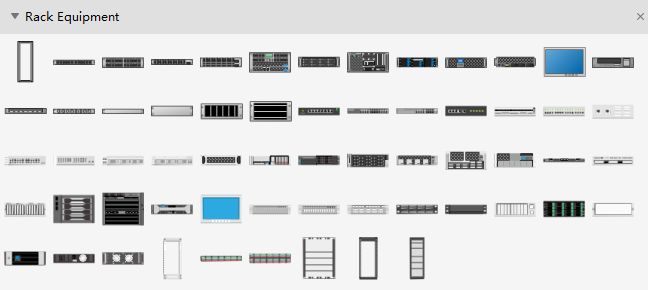 The following figure represents a part of rack diagram symbols which are designed to fit together precisely, and their connection points make them easy to size and snap into place. After they are connected, they remain together, even when you move them.
You can store data with the rack equipment, such as serial number, IP address, device role, equipment information and location. After you've associated data with the symbols, you can generate detailed reports.
Examples of Rack Diagram
The rack diagram below shows the equipments in a data centre for creating device and server diagrams. You can find more rack diagram examples in Edraw Template Center.
More Related