McKinsey 7s Model: Sound Business Model for Optimum Results
Analyze your firm's organizational design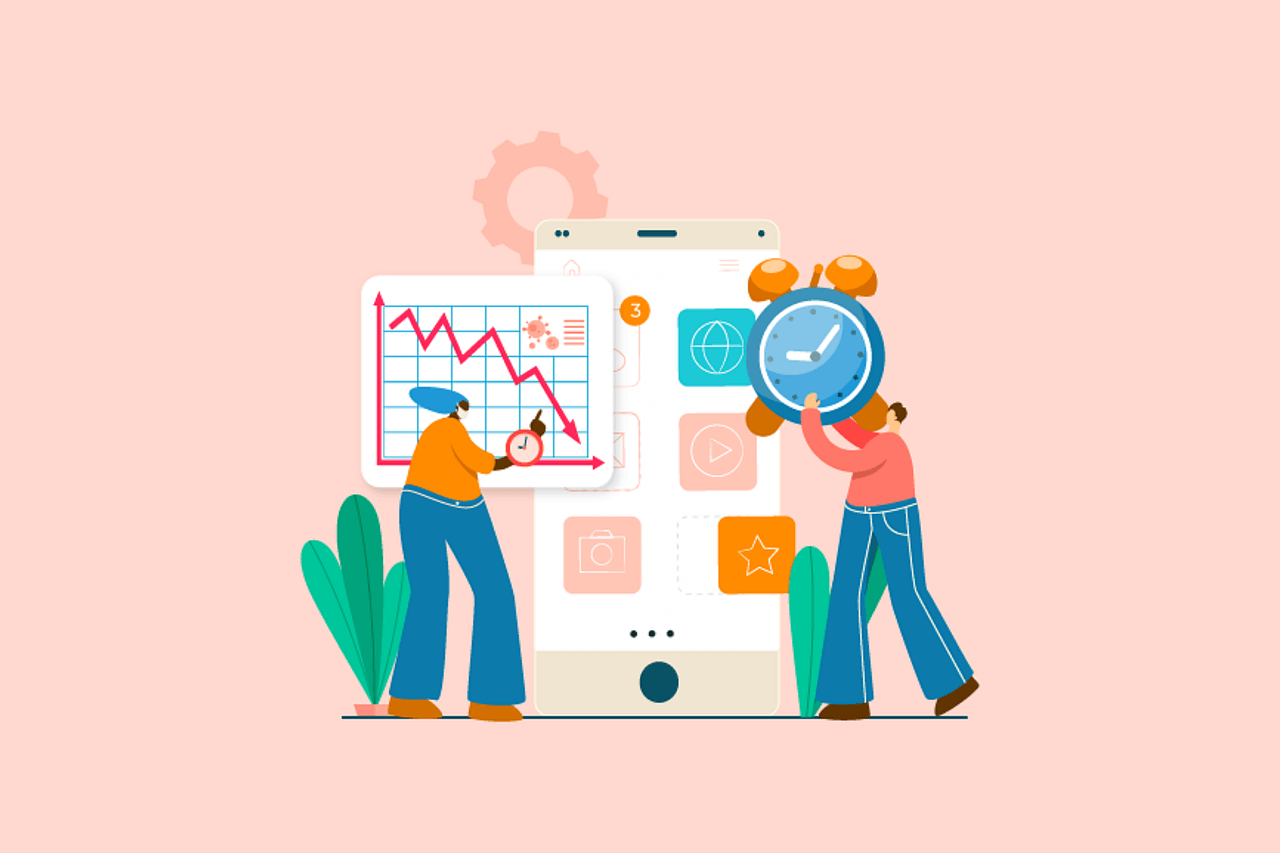 Whether you run a sole proprietorship, partnership, or conglomerate, a few things remain standards for a healthy running company. Human and capital resources need to be aligned almost to perfection to realize profits and, more importantly, minimize losses.
This article highlights the importance of the McKinsey 7s model for businesses. Since its inception in the 70s, this framework has proven to be a crucial addition to organizations. It fosters healthy marriage of different elements, 7 to be exact, which works in unison to realize a company's full potential.
Introduction to McKinsey 7s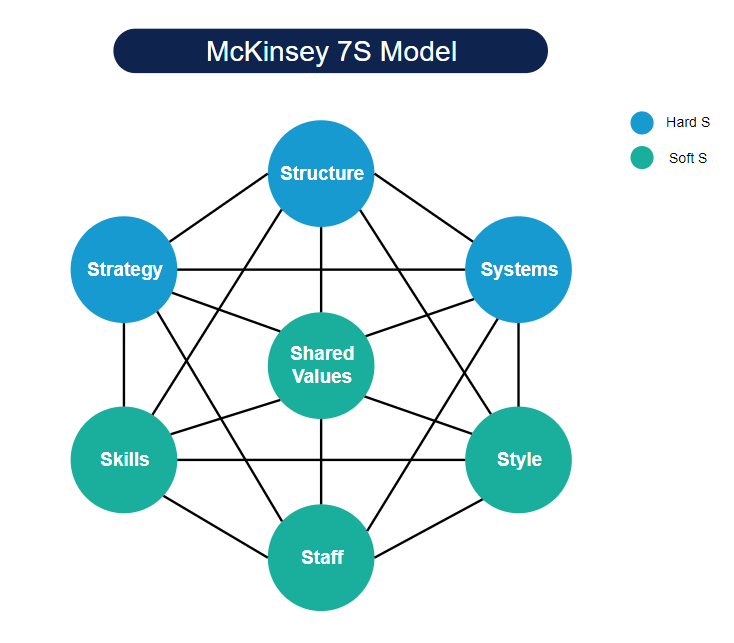 Created by Edraw
The above diagram illustrates the McKinsey 7s Model in summary. In a nutshell, this conceptual framework delves into the very core of any up and running business. Factors under consideration are the organization's structure, the skill sets of employees, shared values, or organization culture. Once reinforced, these elements work harmoniously in helping a company realize its goals, which is precisely what the model was created for.
The model is a brainchild of two individuals who were at one point employees of the McKinsey Consulting firm. Thomas Peters and Robert Waterman developed this model to help organizations gain much-needed insight into any dormant potential. Thus, the 7 elements highlighted above need to either be altered, better aligned, or reinforced to make headway in an organization's goals. These hard or soft elements cover the hardware and software of any form of the organization if you will.
7 Elements of the McKinsey 7s Framework
These factors cover what the organization stands for in terms of culture and how it's structured.
Hard elements are essentially tangible bits of the company, including crucial documents such as organizational and strategic plans.
Hard Elements
Strategy
Where is the company heading? What is the purpose of the opening shop every day? In practice, these strategic plans should guide the company as it seeks to leverage itself relevant to market competitors.
Structure
Simply put, who's who in the company? The organization structure is examined, dealing with job descriptions, delegations, and who supervises, or is governed, by whom.
Systems
The internal processes and the collective manner in which people perform their duties within the organization. The processes have to be related to how tasks are carried out.
The next set of factors are soft elements. These are innate traits in all individuals, slightly harder to quantify. However, they do need to be analyzed and factored into the goings-on of the company.
Soft Elements
Shared Values
These values are crucial for the harmonious execution of work-related tasks. They include personal and group-oriented beliefs and work ethics, aiding employees to work in unison and perform optimally.
Style
Closely related to organizational culture, it refers to the methods used by managers, and select employees, to perform business operations.
Staff
The talent pool a company has managed to assemble. This covers all employees from the ground up, including receptionists, drivers, and of course, supervisors.
Skills
What are the skills sets evident in the company? It encompasses the unique or distinguishing competencies of the organization's workforce.
EdrawMax
All-in-One Diagram Software
Create more than 280 types of diagrams effortlessly
Start diagramming with various templates and symbols easily
Superior file compatibility: Import and export drawings to various file formats, such as Visio
Cross-platform supported (Windows, Mac, Linux, Web)
Security Verified |
Switch to Mac >>
Security Verified |
Switch to Linux >>
Security Verified |
Switch to Windows >>
How do You Use the McKinsey Model?
Applying McKinsey 7s in a Business
Essentially, when one part or element is deemed ineffective, it implies that the rest of the factors will inevitably become affected. All parts need to work together to facilitate sound completion of tasks and realization of company goals. These steps cover:
An analysis of how the business seeks to attain its goals is short-term or long-term targets.
Leveraging the business for optimal performance and productivity.
The steps required to combine different departments in case of mergers seamlessly.
Analyzing how changes within the company will affect company operations.
Applying policies and procedures that will help employees fully realize their potential.
Steps to Using this Model
As mentioned previously, these elements have to work together for optimum performance. A new tactic that facilitates less downtime yet doesn't factor in employee-related skills needs revision. Changes, in this case, may be related to structural elements or a change in strategy.
1. Analyze before implementing steps
Strategy

What does your strategy entail, and how will resources be applied to achieve the said goals? How dynamic is the company in relation to changes in the market, and what distinguishes your organization from others?

Structure

Who oversee who? How does information flow within the company and how do employees fit into the company's strategic plan?

Created by Edraw

Systems

How does your financial system facilitate mergers and/or payroll? What about internal controls, headhunting procedures, and key performance indicators?

Shared Values

Are there overarching beliefs and work ethics that govern the performance of employees? How are they pan out daily?

Style

Is there a recognized leadership style? Are employees in tandem, or are there never-ending conflicts and discord? Do people work well in groups, or are there solos?

Staff

Maybe the skill sets recruited make a decent talent pool, but does the organization have a large enough workforce to accomplish targets?

Skills

Is your staff fully equipped to help the organization achieve its objectives? Which competencies need a boost? Also, is there effective monitoring and improvement of these skill sets?
This analysis should streamline the process of checking for gaps in the talent pool. It will also help you identify strengths and weaknesses.
2. Pick the Best Organizational Design
One company's advantage can be another's downfall. Selecting what works for your company in terms of organizational structure is tantamount to optimal productivity.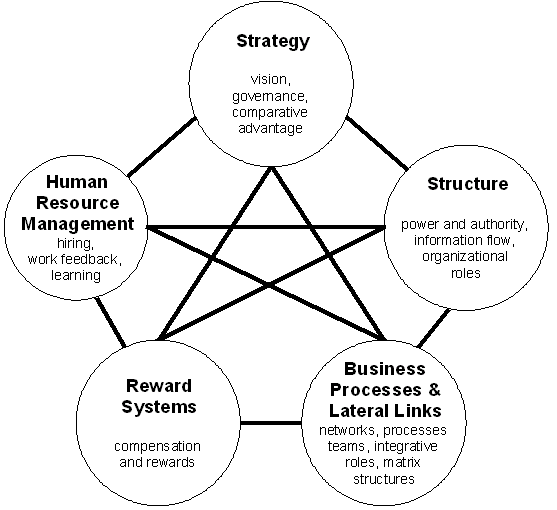 Image source: wikiquote.org
3. Find the Business Changes you need
The family operated business may be laissez-faire, while managers pursue money-making approaches. When the two are in conflict, changes will realign objectives with skill sets and work ethics. A flowchart easily highlights these changes and how they may affect the company.
Created by Edraw
The flowchart above can make it easier for employees to incorporate new ideas once they visually accept the challenges and see what could be.
4. Apply these New Changes
Implement these new strategies with caution. If the changes cause massive upheavals and overhauls, take slow steps, adding and removing steps accordingly. This can be done in phases, without overwhelming an already struggling company.
5. Constant Reviews of Framework
While implementing the McKinsey 7s Framework may help an organization realize positive results, ongoing reviews are necessary. Changing one element and employing new tactics may adversely affect another part of the equation. Constant reviews help companies avoid setbacks.
Pros and Cons of McKinsey 7s
Parts are connected, meaning you will cover and fix all aspects simultaneously. It is a sound way to analyze and diagnose organizational challenges, giving necessary insight into the same. The model connects academic research with organizational practices and provides foresight related to the effects of future organizational changes.
These advantages are met with a few drawbacks.
Changing one part inevitably affects another bit of the model because they are correlative. The model doesn't cover any external factors, and it does not mention key factors such as innovation, knowledge, or customer-oriented service.