How to Make a Floor Plan in PowerPoint
Do You Want to Make Your Floor Plan?
EdrawMax specializes in diagramming and visualizing. Learn from this article to know everything about how to make your floor plan in PowerPoint and easier way. Just try it free now!
In architecture studies, every aspiring student is taught how to make a floor plan that resonates with their client's requirements. Architects and builders create floor plans to help their clients know how their dream house or commercial complex will look post-construction. Clients often require a detailed presentation of the floor plan if there are multiple floors in the building. In such cases, one should know how to make a floor plan in PowerPoint or other similar presentation formats.
In this detailed floor plan guide, we will help you understand the primary steps you need to take if you make the floor plan in PowerPoint. Simultaneously, we will walk you through EdrawMax's floor plan symbols and templates that let you create a floor plan in PPT format in just a few minutes.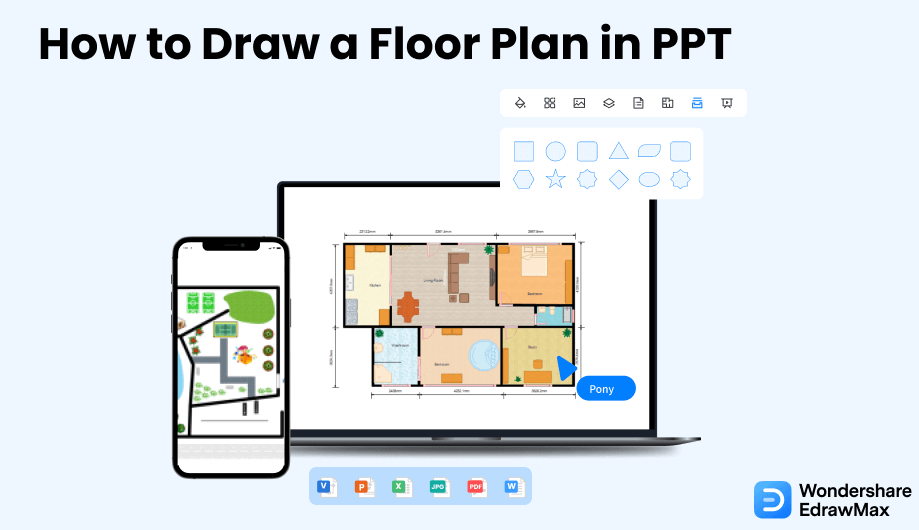 1. How to Create a Floor Plan in PowerPoint
PowerPoint is a great presentation tool, and now we will show you how you can use it to create a floor plan.
Launch the application and open a blank PowerPoint slide:

First, open the application. Go to the bottom left corner of your screen and click on the Start button and click the option for PowerPoint to open up, or you can click on the application shortcut icon on your taskbar or desktop. Go to the File tab, click on new to select maps and floor plans icon from the list of available templates, and select 'Create' to get started.

Create exterior and interior wall structures:

In the PowerPoint templates, there is a massive assortment of room outlines. Drag one of the outlines to lay out rooms on the drawing page.

Resize the rooms by taking advantage of the dynamic dimension to gain the desired size of the individual room. Drag exterior wall shapes onto the drawing slides and resizes walls by dragging an endpoint of one wall to another. When the walls are affixed, the endpoints turn red. In the case of creating interior wall structures, follow the same method. Drag the wall shapes and position them inside the exterior wall structures. The outcome is a PowerPoint slide that is perfect for a floor plan.

Add structural elements:

Add doors and windows by dragging them on the top of the walls. They rotate automatically to align with the walls and glue neatly to the wall. Add stairs, columns, and more onto the drawing slide from the vast array of structural elements. Then from the electrical stencil, add a wall switch, outlet, and wall fixtures on the wall shapes. You can even drag ceiling fixture shapes, such as ceiling fans, on the slide.

Dimension lines for walls:

To adjust the size and position of the drawing area, right-click a wall. After that, click on Size and Position, select the dimension shape and type the measurements. Finally, click away from the dimension shape. Drag the control handle, and reposition the same.

Save the file:

Now, you know how to make a floor plan in PowerPoint. The final step is to save the drawing slide. Go to the File tab, select Save As option and insert the file name and desired location. Click on the Save button option, and your professional floor plan is available with a single click.
How to Make an Floor Plan in PowerPoint:
Launch the application and open a blank PowerPoint slide;
Create exterior and interior wall structures;
Add structural elements;
Dimension lines for walls;
Save the file.
2. How to Create a Floor Plan in EdrawMax
Now that you have seen the complicated steps, let us show you the easiest way of creating a floor plan in EdrawMax.
Step1
Open EdrawMax & Login
The first step in creating a floor plan is downloading and installing this 2D floor plan maker in your system. Head to https://www.edrawsoft.com/edraw-max/ to download the system file as per your operating system. We offer different versions for Windows, macOS, and Linux. Register to the EdrawMax dashboard if you are using it for the first time; else, log in to the system using your email address.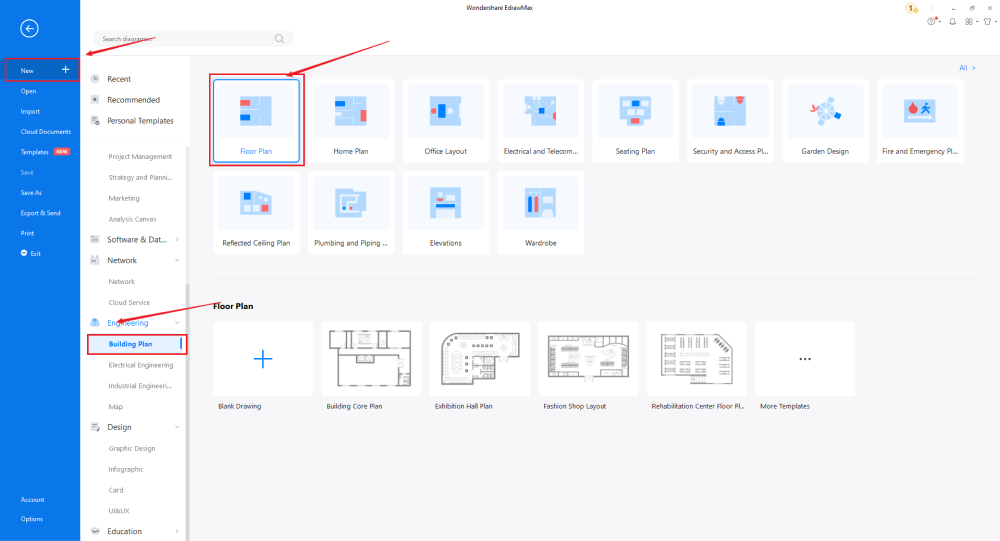 Step2
Template Selection
EdrawMax comes with over 3,000 free templates for different drawings. Go to the 'Template'section on the left side of this floor plan software and look for 'Floor Plan'. EdrawMax will present all the user-generated templates you can instantly import to customize. Some of the most common templates are Basement Floor Plan, Open Floor Plan, Laboratory Floor Plan, and Floor Plan Blueprint.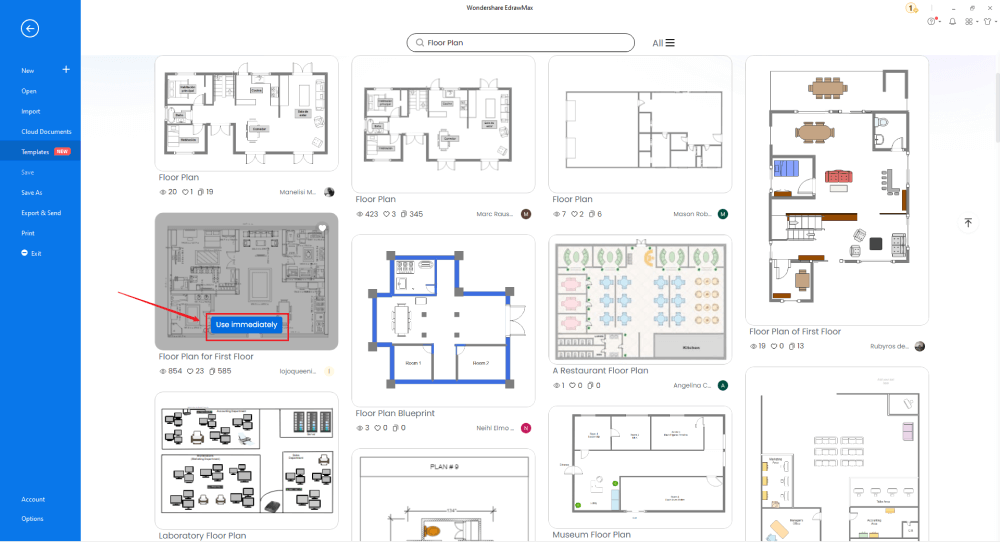 Step3
Create From Scratch
If you are technically equipped and possess the skills required to create floor plans, head to the Building Plan section and click on the '+'sign. You will be navigated to the EdrawMax dashboard, which offers built-in features like dimension, scale, metric system, and more. Make desired changes and start working on the floor plan outline.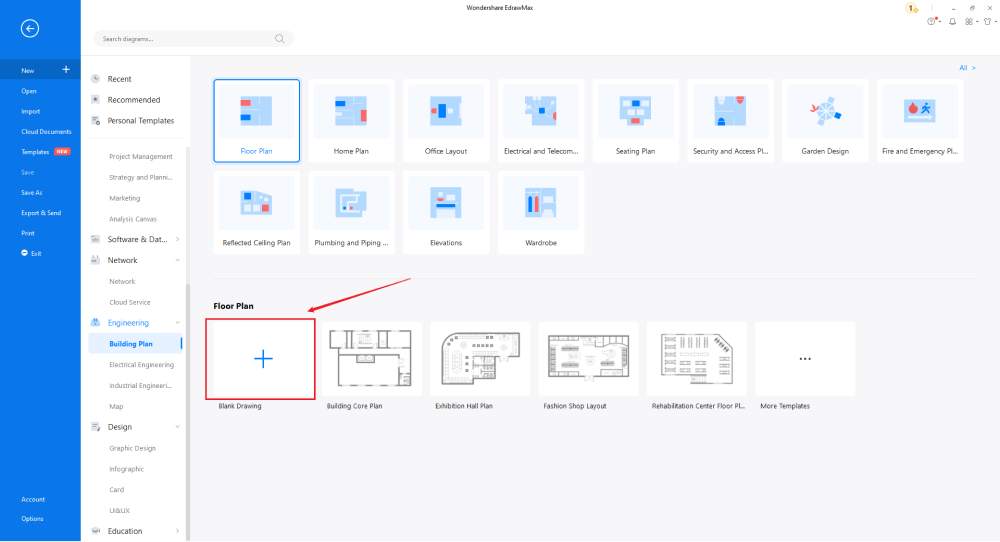 Step4
Select Symbols
On the toolbar, you will see 'Predefined Symbols'. Click on 'Floor Plan'to import all the relevant symbols of the floor plan design. Once they are imported, you can start placing them in the floor plan outline you have just created in Step #3.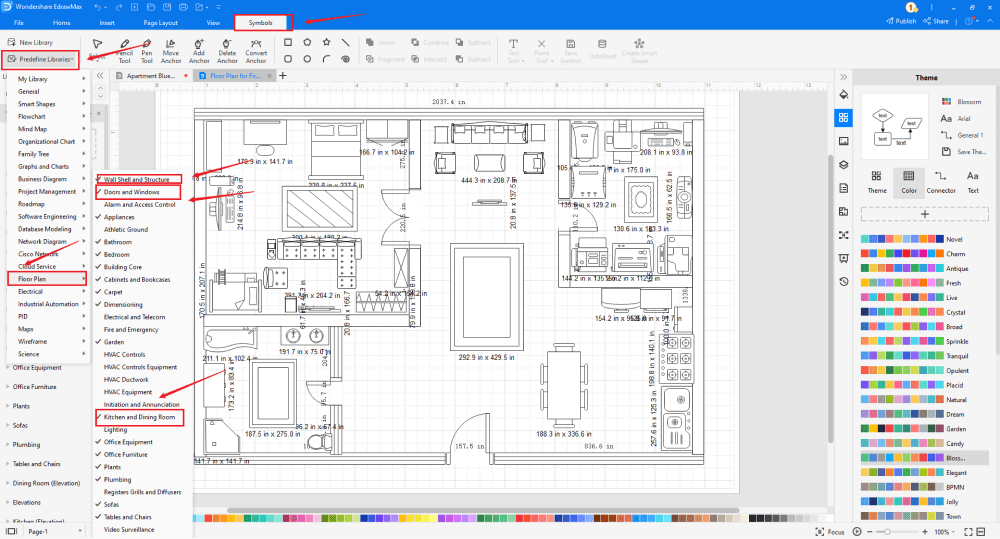 Step5
Add Components
After creating the outline and adding bedroom walls and windows, you can start adding the basic components of the floor plan, like Slide Door Left, Slide Door Right, Fire Break Glass, Emergency Ambulance, and Emergency Access.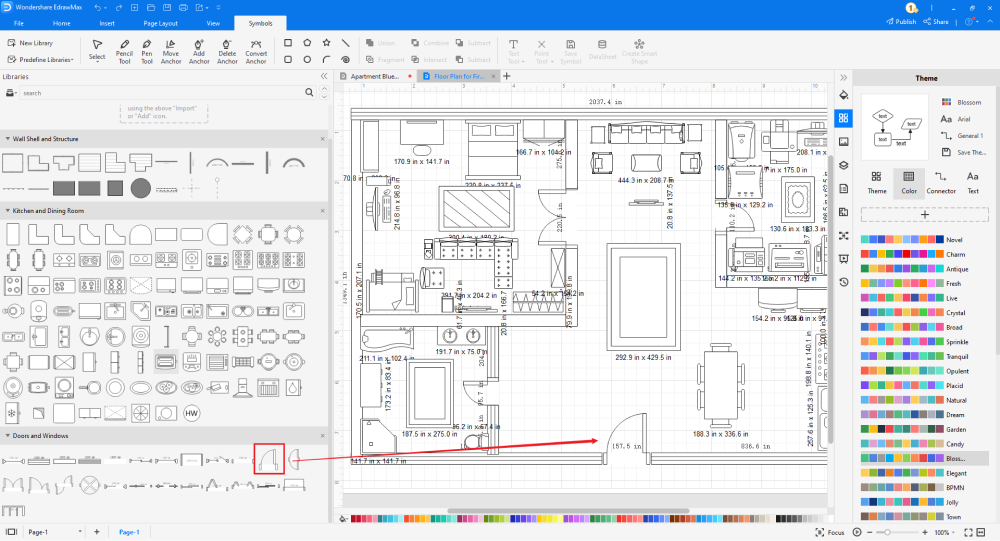 Step6
Export & Share
After creating the floor plan, you can export it into PPT formats and other important formats, like JPG, PNG, Docs, and more. This 2D floor plan also lets you share your floor plan design on different social media platforms, like Twitter, Facebook, LinkedIn, and Line. In addition to this, you can present the floor plan right from the dashboard.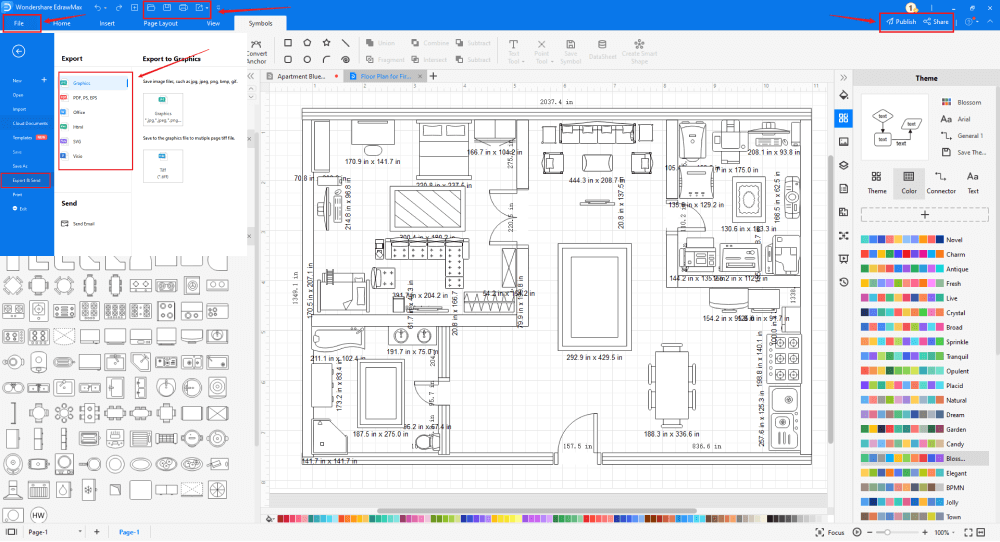 Basically, it is simple to draw an floor plan in EdrawMax, just grab a template and keep customizing, drag and drop professinal symbols to make your plan better. If you are still confusing about how to create a floor plan in EdrawMax, just check this floor plan drawing guide, or check the video below.
3. EdrawMax vs. PowerPoint
Some of the most common differences between EdrawMax and PowerPoint are:
PowerPoint comes with Microsoft Suite, with an annual renewal price starting at $69.99. Most students or beginners cannot pay this hefty amount every year. However, EdrawMax offers free support for all users, and if you need to access all the amazing features, like a personalized cloud, thousands of templates, and more, you will need to pay a one-time nominal fee and get the updates for life.
PowerPoint is predominantly a presentation tool that has several great features for creating presentations. The same cannot be said when it comes to designing floor plans or other building plans in PowerPoint. EdrawMax is designed to work on complex floor plans. The 2D floor plan software offers a wide range of features that help in creating and sharing floor plans.
PowerPoint is an offline tool, and you cannot invite your remote team members to get together and collaborate in real-time. To access such features, you might have to share a screen using other tools like Google Meet or Zoom. EdrawMax comes with a free online version that easily lets you collaborate with your remote team.
Unlike other tools, EdrawMax has a vast collection of symbols. From basic outlines to complex structures, you will find over 50,000 shapes and icons in EdrawMax. While creating a floor plan, you will require some of the most basic floor plan symbols, like:
Dimensioning: Horizontal, Align Even, Vertical, Aligned Uneven, Radius Outside.
Electrical & Telecom: Electrical Switch Box, Single Pole Switch, 2DP Switch, Electrical Panel.
Fire & Emergency: Slide Door Left, Slide Door Right, Fire Break Glass, Emergency Ambulance, Emergency Access.
Sofas: Sofa, L-Shaped Sofa, Round Sofa, Curved Sofa, Sectional Sofa With Arms, One Seat Sofa, Two Seat Sofa, Three Seat Sofa.
Plumbing: Boiler, Heat Exchanges, Heater/Cooler, Heater/Cooler Horizontal, Bath (Side).
EdrawMax has global users who are constantly updating the template community. Head to the template section if you are connected to the Internet and look for Floor Plan. The system will generate floor plan templates that are created by our professional users. Some of the most common templates that you will find in the vast template community are Basement Floor Plan, Open Floor Plan, Laboratory Floor Plan, Floor Plan Blueprint, etc.
Create a Floor Plan in PowerPoint:
The floor plan in PowerPoint will not be editable. Nevertheless, the files exported in the EDDX format from EdrawMax are fully editable.

PowerPoint files usually have a large file size, making them difficult to share online.

PowerPoint files cannot be modified unless one uses paid versions of Acrobat Reader or other online tools that put your file at risk.
Create a Floor Plan in EdrawMax:
With built-in templates, you can create the evcuation plan in just a couple of minutes.

You do not have to worry about finding the relative symbols, there are over 26,000 symbols for every field and more resoucres to empower your design.

EdrawMax supports to export file into multiple formats, you can create floor plans in EdrawMax, and export as Word, PPT, Excel, and more to meet your needs.
4. Free Floor Plan Software
EdrawMax is one such tool that is created by professionals, keeping beginners and amateur designers in mind. Some of the most amazing features of having this free floor plan software are:
You can create a floor plan, blueprint, elevation plan, HVAC plan, reflected ceiling plan, garden plan, and kitchen plan all in one single dashboard.
This free floor plan software offers an in-built architect's scale that helps create perfect dimensions and scale for the floor plans.
With the help of EdrawMax, a user can create vector-enabled diagrams, which means they can print them in any size as they wish without compromising the formatting and layout of the floor plan.
EdrawMax Online offers real-time remote collaboration.
This free floor plan software comes with over 3,000 user-generated templates and 50,000 vector-enabled symbols and lets you create over 280 different types of diagrams.
EdrawMax Desktop
Create over 280 types of diagrams
Windows, Mac, Linux (runs in all environments)
Professional inbuilt resources and templates
On-premises software for business
Enterprise-level data security
EdrawMax Online
Create over 280 types of diagrams online
Access diagrams anywhere, anytime
Team management and collaboration
Personal Cloud and Dropbox Integration
5. Final Thoughts
Creating a floor plan might look like a very complicated task if you use a tool that has design limitations. Most students use PowerPoint only for presentation purposes, and even if they have to make a floor plan in PowerPoint, they might end up installing third-party add-ons.
Instead of going this way, we highly recommend that you use EdrawMax. This free floor plan software comes with thousands of symbols and has a variety of pre-built templates. Now you do not have to rely on third-party tools as EdrawMax is a power-packed software well equipped to handle all of your diagramming needs. EdrawMax also has an online version, allowing you to present your designs. So, what are you waiting for? Download EdrawMax tools and start making professional-looking floor plans.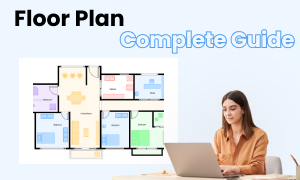 Floor Plan Complete Guide
Check this complete guide to know everything about floor plan, like floor plan types, floor plan symbols, and how to make a floor plan.