How to Create a Wardrobe in PowerPoint
Do You Want to Make Your Wardrobe?
EdrawMax specializes in diagramming and visualizing. Learn from this article to know everything about wardrobe symbols, and how to make your wardrobe plan. Just try it free now!
A wardrobe plan is a visual representation of a horizontal plane that depicts the view from above. With wardrobe design, you will know the exact position of the closet in your room. In addition to this, you will know whether you will use two sliding doors or prefer a hinged one.
PowerPoint is a great presentation tool, and in this article, we will help you understand how you can do your wardrobe planning in PPT. At the same time, we will introduce you to EdrawMax -- the free wardrobe planning software that easily lets you create a wardrobe plan by accessing over 3000 templates and 50,000 vector-enabled symbols.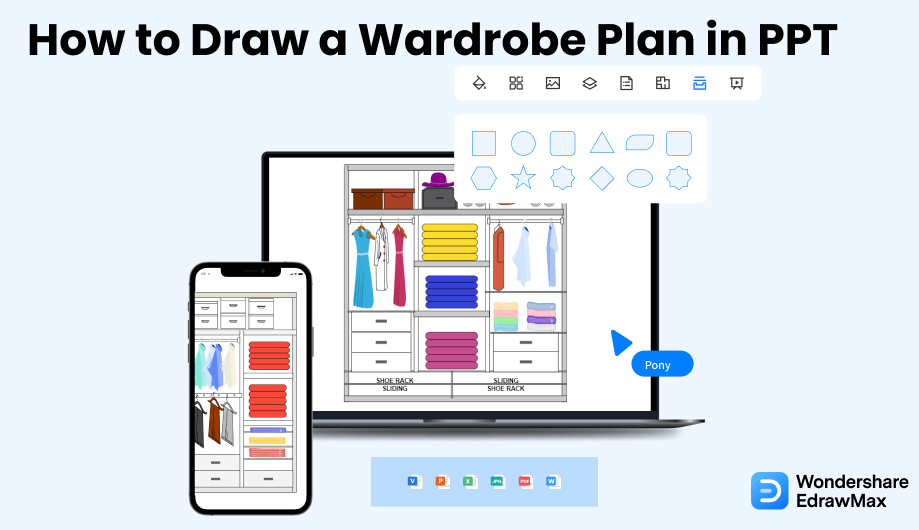 1. How to Create a Wardrobe Plan in PPT
Make a Plan:

To make a perfect wardrobe planning PPT, it is a must to sketch the design before you start working on it. It will allow you to have a clear idea about creating the most use of the given space while increasing the wardrobe design functionality you are making.

Open PPT:

Once you complete your basic sketch, you can start working on your design by opening PowerPoint software on your computer. Get a new slide that has space for the title and content. You can change the slide format by clicking on the layout drop-down of the Home tab. Select the Title and Content one and add the name of your design to the slide title.

Take the Shapes:

You have to click on the content part of the slide to start with your design. The Shapes drop-down of the Insert tab has multiple shapes, like lines, boxes, and curves. You can take a combination of them to make the compartments, shelves, drawers, lockers, and other significant parts of your wardrobe. Your knowledge about the area measurement should be complete and accurate. Moreover, your idea about wardrobe placement should be perfect. It will help you to generate an apt design. You may use lines of different points to distinguish between the main quarters and sub-quarters of the wardrobe.

Add Labels:

After you are all set with your design, you can add labels to the wardrobe while mentioning extra details like measurements and materials. You may also include additional comments on the wardrobe design on the slide. Check the entire thing to see if the wardrobe planning PPT is accurate.

Save and Print:

Finally, you can save the file or print it out. You may also present the wardrobe planning PPT to your team members.
How to Create a wardrobe Plan in PPT:
Sketch the design before you start working;
Start working on your design by opening PowerPoint;
Take a combination of them to make the compartments;
Add labels to the wardrobe while mentioning extra details like measurements and materials;
Save the file or print it out.
2. How to Draw a Wardrobe Plan in EdrawMax
Step1
Open EdrawMax & Login
The very first step that you need to follow is to install EdrawMax in your system. Go to https://www.edrawsoft.com/edraw-max/ and download the wardrobe plan software, depending upon your system's technical specifications. Every account of EdrawMax comes with a free online version that allows you to have great remote collaboration.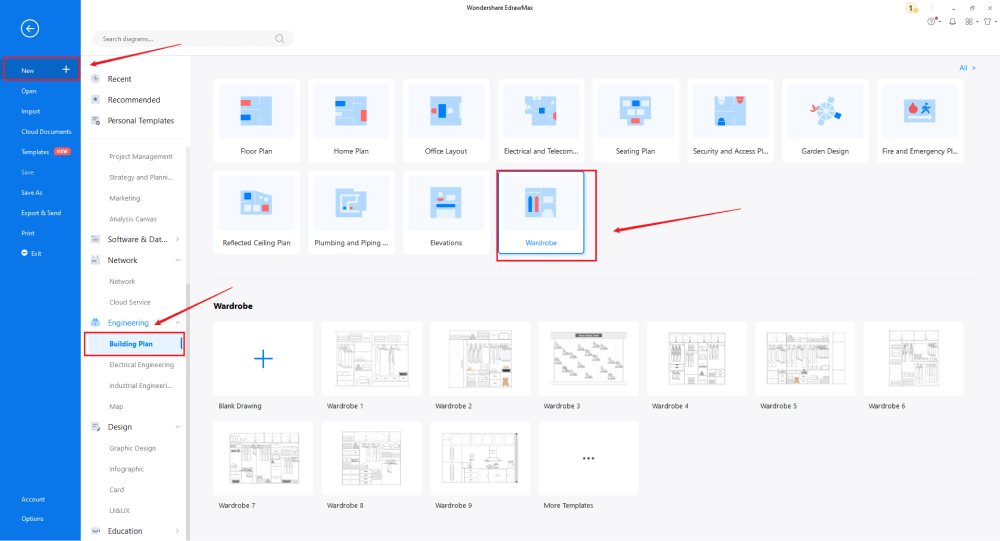 Step2
Template Selection
After logging in, go to the 'Template' section on the left of EdrawMax to access all the wardrobe plan templates. You will see user-generated wardrobe templates in the template community. You can duplicate all the user-generated templates and even merge the components of multiple templates into one design.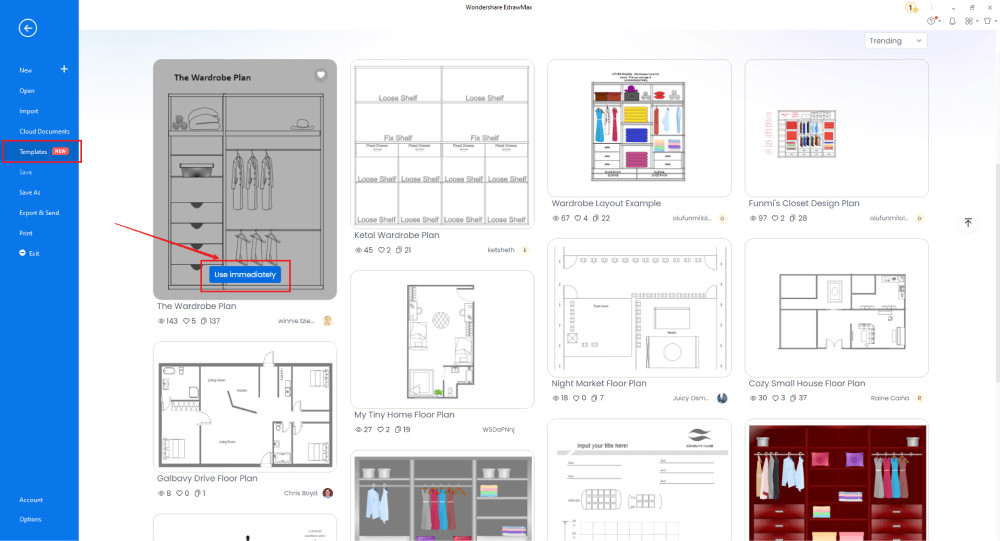 Step3
Create From Scratch
From the EdrawMax homepage, you will find the '+' sign that takes you right to the canvas board, from where you can start designing the wardrobe plan from scratch. Start by creating the basic outline and then add partitions to create shelves and cabinets. In order to go creative, you can add boxes, towels, clothes, and shoes to see how the wardrobe design will look in real life.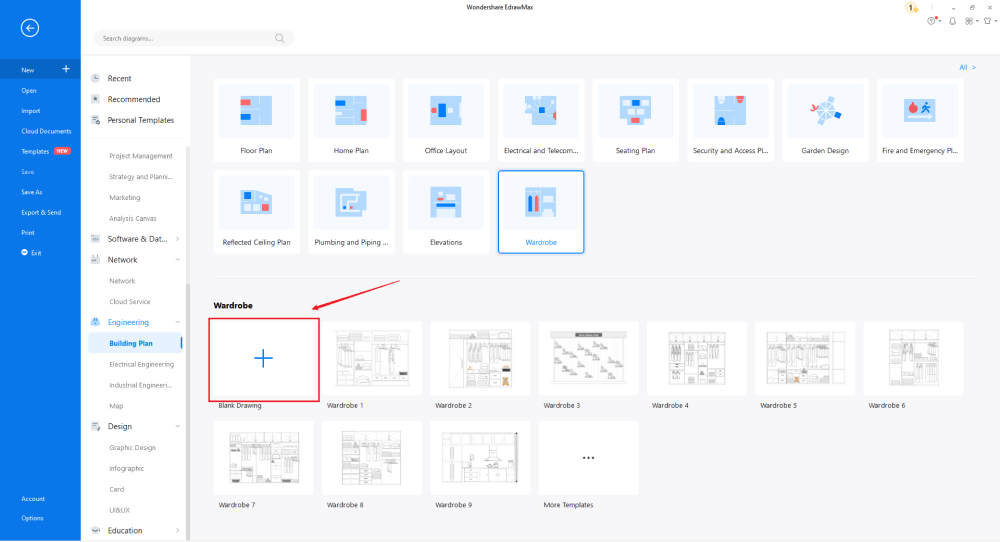 Step4
Select Symbols
In order to use the wardrobe plan symbols, you need to select the 'Symbols' tab from the toolbar. Click on 'Predefined Libraries'> 'Floor Plan,' and then head to the elevation section at the bottom and click on 'Wardrobe' to access all the pre-built wardrobe symbols.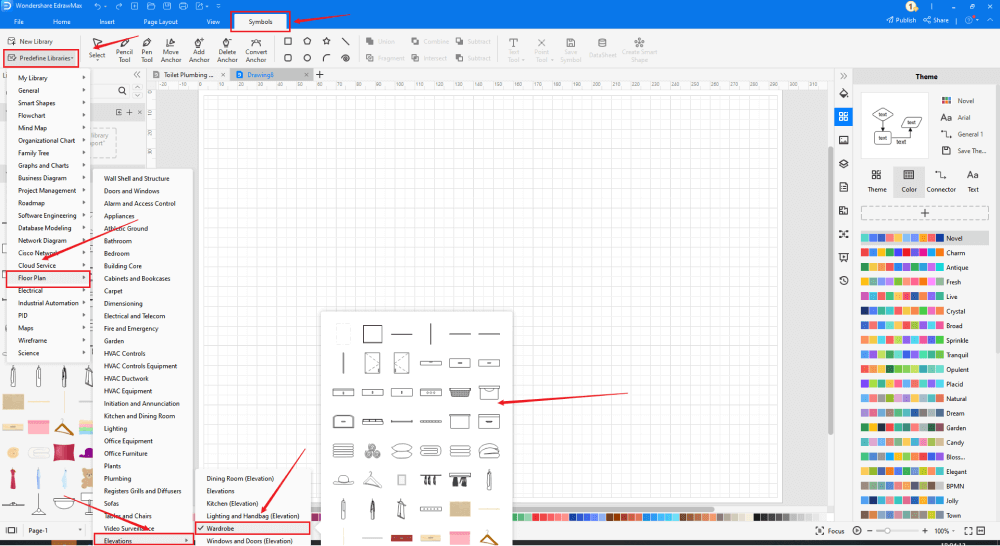 Step5
Add Components
After creating the outline, you can start adding the basic components of the wardrobe plan, like Vertical Board, Chest, Drawer, Hanger, Jackets, Box, Frame, Double-door, Desk lamp, and more.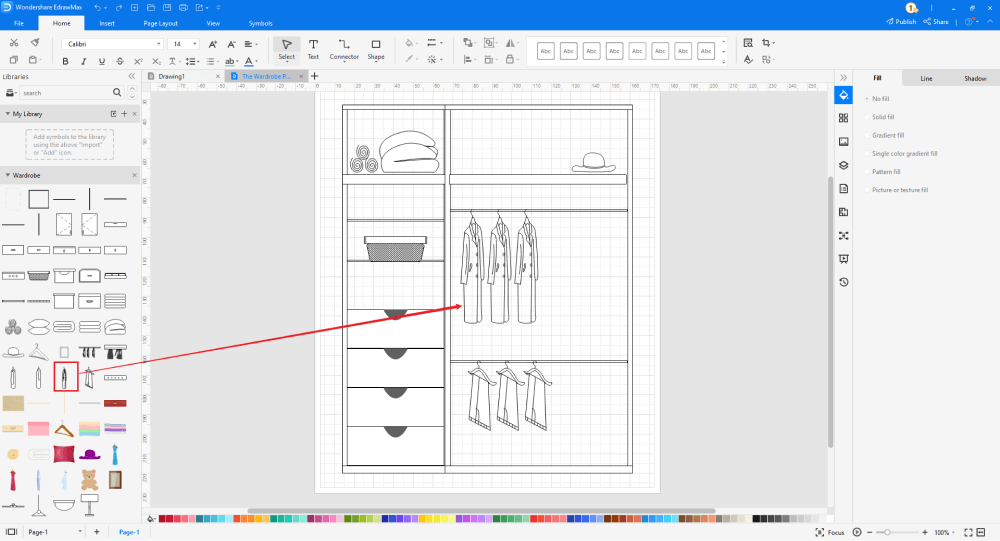 Step6
Export & Share
Once you are satisfied with your wardrobe plan, you can export it into multiple Microsoft formats, like PPT, and other graphics formats, like JPG, PNG, etc. EdrawMax also lets you give presentations right from the screen, ensuring you do not have to rely on other tools for your presentation needs.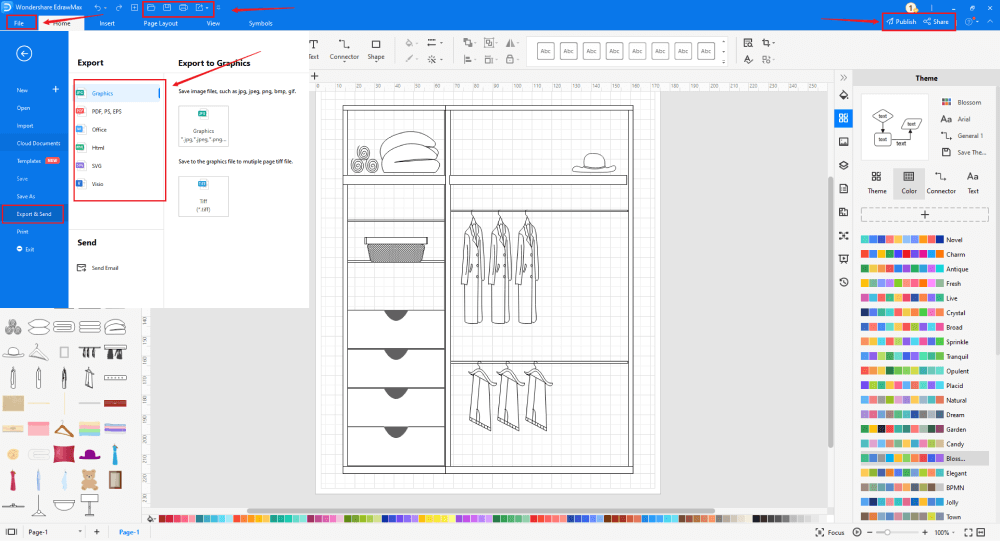 3. EdrawMax vs. PowerPoint
PowerPoint and EdrawMax are all together with two different tools and differ on multiple levels, like:
PowerPoint has very limited drawing options, as it provides basic shapes like boxes, circles, rectangles, stars, and such. EdrawMax hosts over 50,000 symbols that let you easily customize any wardrobe design.
PowerPoint is an offline tool, and you might have to use third-party applications like Gmail to share your designs. EdrawMax has an in-built option to share your design via mail or on different social media platforms.
Microsoft Suite, which includes Word, Excel, and PowerPoint, is a costly tool that most students cannot afford. EdrawMax offers a free version to all users, which also provides access to private cloud storage.
EdrawMax includes a large number of symbol libraries. You may quickly build any type of diagram with over 26,000 vector-enabled symbols. If you can't locate the symbols you need, you can easily import some images/icons or build your own shape and save it as a symbol for later use. EdrawMax's vector-enabled wardrobe plan symbols can be readily enlarged, reshaped, recolored, and reformatted to meet your needs. Simply go to the 'Symbols' part of EdrawMax and select the 'Predefined Symbol' section from the top toolbar. Hundreds of symbol categories are accessible for you to utilize and incorporate into your wardrobe plan.
Moreover, EdrawMax features a large library of templates. We have more than 25 million registered users who have produced thorough Templates Community for each design. Simply go to the left panel's template section and type any template you're looking for into the search bar. It will bring up hundreds of pre-built templates that you may utilize right away to meet your needs.
Make a Wardrobe Plan in PPT:
PowerPoint is the best tool to create presentations, but it is hard to create wardrobe plans with beautiful icons or symbols.

PowerPoint lacks of substantial free templates and free symbol resources, which can simplify the steps of making wardrobe plans.

PowerPoint has limited canvas to make huge wardrobe plans, instead of simple easy wardrobe plans.
Make a Wardrobe Plan in EdrawMax:
With built-in templates, you can create the wardrobe plan in just a couple of minutes.

You do not have to worry about finding the relative symbols, there are over 26,000 symbols for every field and more resoucres to empower your design.

EdrawMax supports to export file into multiple formats, you can create wardrobe plans in EdrawMax, and export as Word, PPT, Excel, and more to meet your needs.

EdrawMax has presentation function, with one click, you can show your wardrobe plan in front of others like PowerPoint.
4.Free Wardrobe Plan Software
Creating a wardrobe plan in EdrawMax is not only efficient, but the process is highly creative. Some of the most amazing features of this free wardrpbe plan software are:
EdrawMax automatically switches between light mode and dark mode according to your current time zone.
This free wardrobe plan software supports adding a watermark on the top layer of the diagram.
In EdrawMax, you get a focus mode that allows you to work on your designs without distracting yourself.
All the files exported from EdrawMax are completely robust in nature and are completely platform-independent.
EdrawMax comes with 50,000 vector-enabled symbols and has over 3000 user-generated wardrobe plan examples & templates.
EdrawMax Desktop
Create over 280 types of diagrams
Windows, Mac, Linux (runs in all environments)
Professional inbuilt resources and templates
On-premises software for business
Enterprise-level data security
EdrawMax Online
Create over 280 types of diagrams online
Access diagrams anywhere, anytime
Team management and collaboration
Personal Cloud and Dropbox Integration
5. Final Thoughts
Wardrobes are one of the most important pieces of furniture in a house. As you learned here in the wardrobe planning guide, a closet remains an inseparable part of every household. So, when you work on wardrobe design, ensure that you have all the right tools with you. You can either go with such tools that let you create some basic wardrobe designs, or you can opt for EdrawMax, which helps in creating the wardrobe design in just a couple of minutes. From creating floor plans to bedroom elevation plans, you can create all the different types of diagrams in this tool, and more importantly -- you can use the presentation feature to instantly share the wardrobe design with your carpenter or client. Head to the download option and start working on your wardrobe planning from today.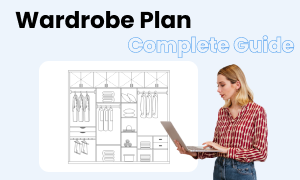 Wardrobe Plan Complete Guide
Check this complete guide to know everything about Wardrobe plan, like wardrobe plan types, wardrobe plan symbols, and how to make an wardrobe plan.