SWOT Analysis Example for Small Business
SWOT analysis, short for Strength, Weakness, Opportunities, and Threats, stands for a comprehensive four-quadrant analytical tool that helps to start any business enterprise or to address any situation to improve the same.
What is SWOT Analysis?
The analysis procedure usually comprises of a matrix that is drawn as a square. It is divided into four different quadrants where each represents one of the four elements, Strengths, Opportunities, Weaknesses and Threats.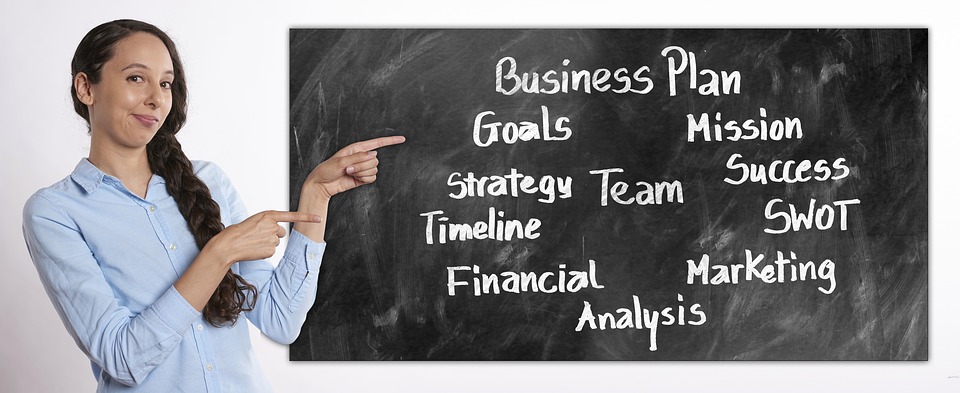 Once the matrix is drawn each quadrant needs questions to be written down as per the focus area. Here are some relevant questions that a user can ask in each quadrant, as per the situation. Here sample questions are posed as for startups:
Strengths
This section should highlight why business is being considered in a particular domain:
What are your specific skills or experience?
What expertise do you have from a prior job or business?
What can you offer that is unique in the given market?
How can it prove to be profitable?
Weaknesses
The quadrant focuses on the limitations that exist or could impede the development of your business:
What resources are lacking?
What areas of your business need to be developed?
What level of uncertainty lies about the business's profitability?
What further resources would you need to invest in?
Opportunities
In this quadrant, you need to address external conditions that would help your business achieve its objectives. Pertinent questions here would be:
How does the surrounding economic environment support your business?
How to choose retail or business space and proximity to the right clientele?
How can local business laws help you reach your business potential?
What are related businesses or services that can help grow your business?
Threats
In this quadrant, you need to think of external conditions that can damage the performance of a business. Questions to ask here are:
What obstacles exist in local norms or laws?
Are rental spaces for businesses high?
How many competitor businesses are in the vicinity?
How is the local or pertinent demand and would it go down?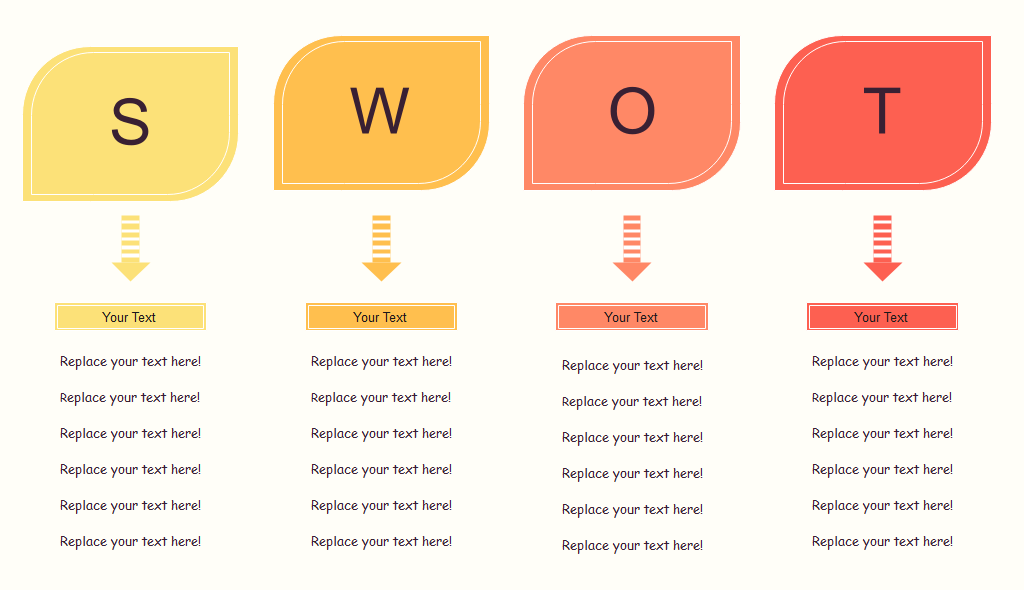 Why SWOT Analysis is Important for Small Business?
When one is planning to start a business, especially a startup, it will help compile necessary data to decide on the strategies to use as well as goals that would be set for one's business.
Benefits of using SWOT analysis are shown below:
It helps to create a plan for building the strengths of a business.
It will help list out what kind of weaknesses exist and how to overcome the same.
Smart goals can be set for opportunities identified.
Plans can be devised for using strengths to reduce the risks of threats.
Once the data is listed in the different quadrants one can then combine the same for more insights:
One can combine opportunities and strengths to form new strategies for one's business.
Threats can be countered by strengths and listed accordingly.
Opportunities and weaknesses can be areas for improvement that one can focus upon.
Common pitfalls become apparent from such an analysis and need to be avoided.
Once the SWOT data is compiled it can be used in the above ways to form useful business strategies, focus areas to work upon. It can be used in different stages of a business so that one can explore the different opportunities and improve the process of decision making.
Examples of Small Businesses Conducting a SWOT Analysis
When you are planning a startup, you need to consider SWOT analysis. There would be obvious reasons to start it that would entail expertise in having run a similar enterprise, availability of retail space, lucrative business options. Weaknesses will comprise of competitors in the segment, high rentals, lack of experience of the entrepreneur if you are doing it for the first time. Opportunities would determine the potential clientele and demand for the products to be sold, whereas threats would comprise of any obstacles that one might face in setting up the retail store.
If you are going to set up a tutorial center, you need to have the necessary credentials and a pool of students. To begin with, these would comprise the strength of the startup. Weaknesses would be an uncertain flow of students to the center, inadequate infrastructure to accommodate students or the right number of teachers not available. Opportunities would involve flexible work schedules and the opportunity to engage more teachers and students. Threats could be competitor tutorials in the region.
Here are 4 small business examples and how SWOT analysis method applies to each:
3.1 SWOT Analysis of a Brewery Setup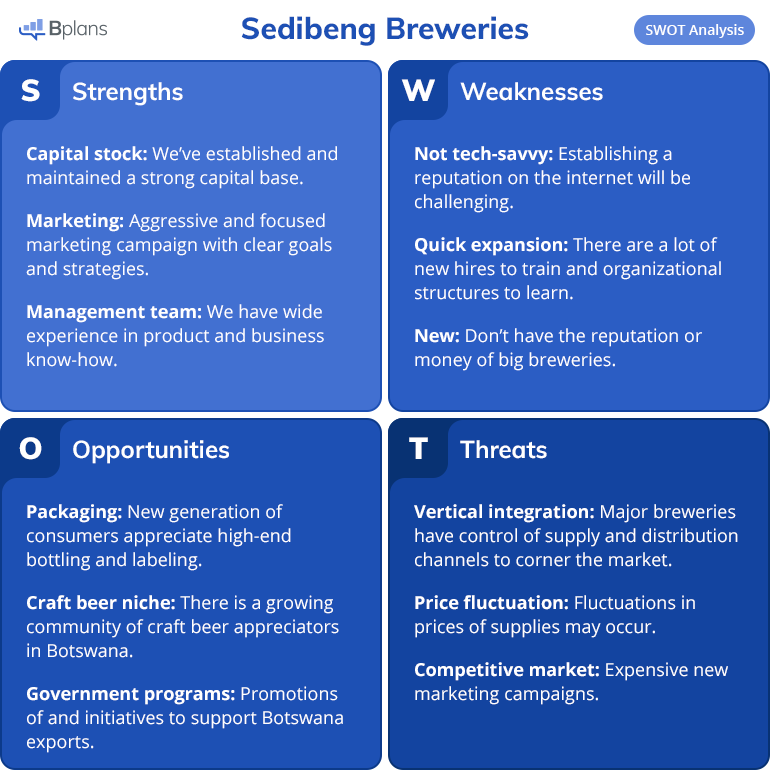 Image Source: s3.amazonaws.com
Strengths are analyzed to be capital stock, management expertise and marketing strategies that have been formed. Weaknesses include needing to invest in the right technology for forming a microbrewery. Opportunities include a growing market for novel brews that brings in crowds to most microbreweries. The niche identified is lucrative in terms of government support as well.
3.2 SWOT Analysis of a Startup of Vintage Hats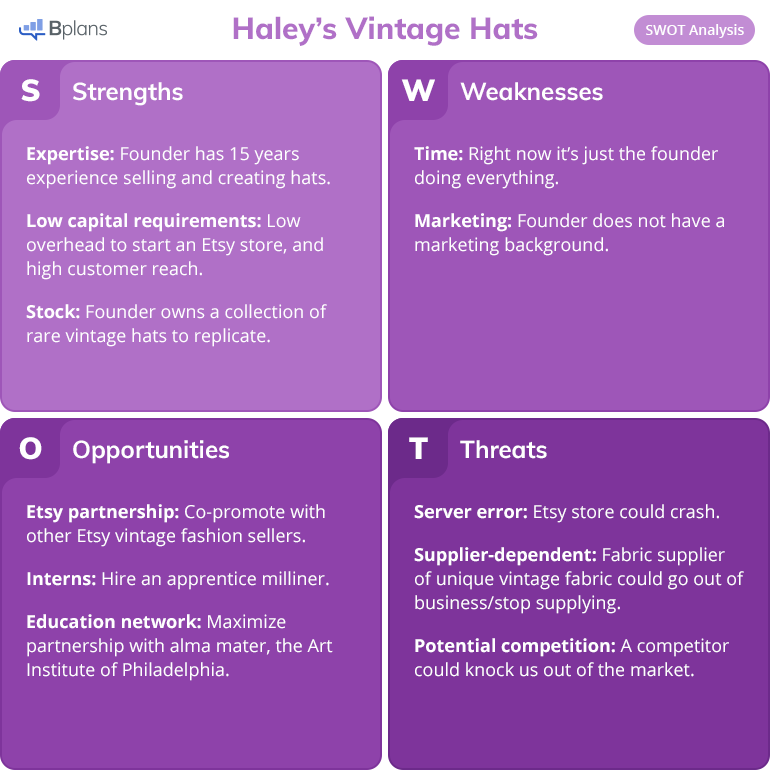 Image Source: s3.amazonaws.com
Here the strengths include the expertise of creating unique and quality hats; the capital requirement is low and expertise of the founder. Weaknesses would be a competitive retail and mass production market. Opportunities for such a business would be a choice of the right retail location as well as innovative marketing approaches as well as partnerships. Threats would comprise of a narrow product range.
3.3 SWOT Analysis of a Medical Supplies Business Startup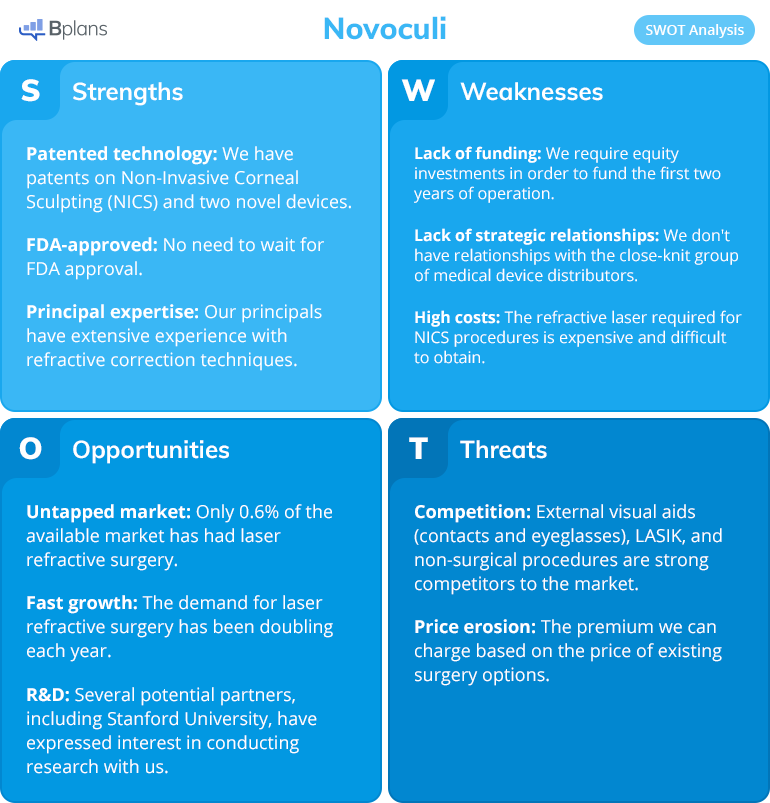 Image Source: s3.amazonaws.com
Strength would include a niche with a patented technology that is FDA approved. At the same time, such a business requires potential funding and can be a high cost which is weaknesses. Opportunities include an untapped market with growth in demand. Threats could come in from competition and price reduction.
3.4 SWOT Analysis of American TV Show - "2 Broke Girls"
This is an American televised sitcom aired between 2011 to 2017. The series was the production of Warner Bros Television and creators were Whitney Cummings and Michael Patrick King. The storyline involved the lives of two girlfriends, Caroline, and Max who end up working in a diner. Caroline comes from a wealthy background while Max had a poor upbringing; that brings in differing perspective in both. However, they work together at a dinner in New York City and plan to start a business of selling cupcakes.
SWOT analysis of the show can be done in the following ways:
Strengths
Sitcom with two attractive girl waitresses guaranteed viewers.
Smart dialogues and funny scenes kept up attention.
The on-screen chemistry between the two lead girl characters was great.
Weaknesses
Characters had limited versatility.
Show theme or plot could not progress beyond a point.
Opportunities
Unique show theme separated it from other shows.
Different circumstances in each season or the episode kept up novelty factor.
Threats
The novelty of the theme wore off.
Competing for new shows came up.
Many criticized stereotype humor that was portrayed repeatedly.
Some said that it was sexualized humor.
With the above analysis, it becomes evident that the show had limited potential for growth. It was taken through six seasons in total after which its production was stopped.
EdrawMax
All-in-One Diagram Software
Create more than 280 types of diagrams effortlessly
Start diagramming with various templates and symbols easily
Superior file compatibility: Import and export drawings to various file formats, such as Visio
Cross-platform supported (Windows, Mac, Linux, Web)
Security Verified |
Switch to Mac >>
Security Verified |
Switch to Linux >>
Security Verified |
Switch to Windows >>
Tips and Suggestions to Make a Better SWOT Analysis
Those who wish to use this analytical method for better decision making needs to do the following:
Leverage on the strengths.
Avoid pitfalls or set up barriers to threats.
Workaround weaknesses.
Prepare for trends to plan growth accordingly.
Besides, using a SWOT analysis maker like EdrawMax will help you save a lot of time and improve your work efficiency.
Discover More SWOT Analysis Templates
Select one of the following SWOT analysis templates and start doing your own analysis right away. All of them are editable and free.
Summary
SWOT analysis is a useful tool, especially for a business startup entrepreneur. Even after the initial stage of strategies and planning one can use this tool to analyze different stages of a business.