PEST Analysis is an important term when it comes to Political, Economic, Social, and Technological issues. Basically, to know about PEST analysis, you should know about these four factors first. In this article, we have provided full details about what PEST analysis is, what are the purpose and benefits, when you need to do it, its components, how to create it, and helpful tips. So without wasting any time, let's dig into the details of this term and know what it really means and what it can do for you.
What is PEST Analysis?
PEST stands for Politics, Economic, Social, and Technology. PEST analysis means theoretical and experimental tools about politics, economics, social and technology. Now PEST analysis is an important fact for business. How your business can perform for the political, economic, social, and technological environment. An industry and a successful business must work in the field, and to get the audiences, you must make a good reputation in society, politics, economics, and technology.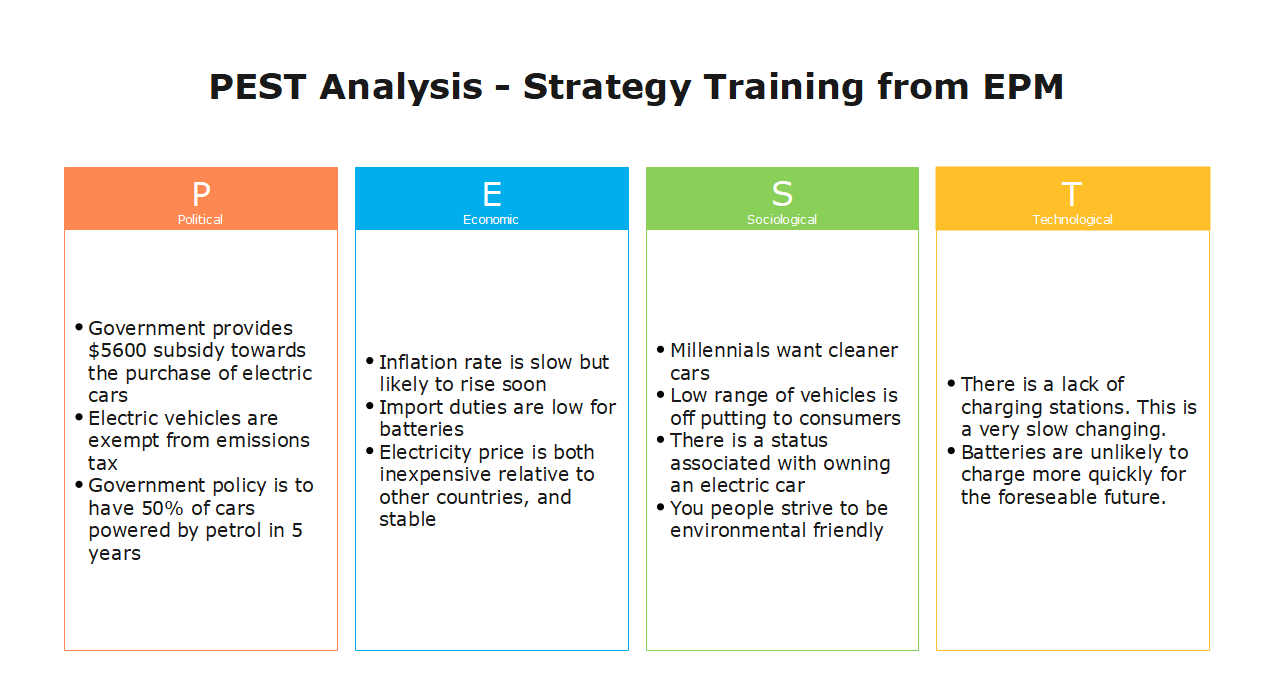 Purpose and Benefits of PEST Analysis
As mentioned, PEST Analysis is the biggest asset for the business market. Besides this, there is a lot of purpose and benefits of a PEST analysis. For this purpose, PEST analysis helps to make the best decision for the business. How a business can perform in the upcoming year and what would be the market strategy, from the PEST Analysis, you will be able to decide it. Besides this, PEST Analysis helps to understand how your organization and business can be affected by external forces. These external forces can build an opportunity or can be treated to your business, but with PEST Analysis, you can also analyze it.
EdrawMax
All-in-One Diagram Software
Create more than 280 types of diagrams effortlessly
Start diagramming with various templates and symbols easily
Superior file compatibility: Import and export drawings to various file formats, such as Visio
Cross-platform supported (Windows, Mac, Linux, Web)
Security Verified |
Switch to Mac >>
Security Verified |
Switch to Linux >>
Security Verified |
Switch to Windows >>
Components of PEST Analysis
There are four components of PEST Analysis which are political, economic, social, and technological. These four components have different meanings and purposes, which helps to create a PEST diagram and start a new business. PEST Analysis is suitable for large businesses or projects.
Political Factors:

The P stands for Political in PEST Analysis. The political factors will help you learn about the government policy which can affect the economy. Every year, the government makes budgets for the business market, which may affect the market price of your product. Now in Political factors, five things are included which are, tax policy, labor law, environmental law, trade restrictions, and tariffs. To have a successful and profitable business, first, you must analyze these facts.

Economic Factors:

The E stands for Economic in PEST Analysis. The economic factors will help you to understand the country and the world economy. Since the business market mostly depends on the bank and stock market, you must keep an eye on the bank policies and the government's economic changes. The economic factors have four facts that you should keep your eyes on, and those are economic growth rates, interest rates, exchange rates, and inflation. With PEST Analysis, you can understand these facts and work with them.

Social Factors:

The S stands for Social in PEST Analysis. PEST Analysis also analyzes the social trends and culture. To get customers and sell your product, you must follow the social norms and cultures. In this modern time, to get an audience, you must flow with the social trends and culture. Social pressures can impact your business, so you should analyze these social facts: cultural aspects, health consciousness, population growth rates, age distribution, and career attitudes. Before starting a business, make a plan to go with these social trends and cultures.

Technological Factors:

Last but not least is technology. The T stands for technology in PEST Analysis. In this modern era, you cannot reach a high position in the marketplace and get an audience if your business is not innovative. To make your product innovation with good marketing, you must follow the technical factors. There are four things, including the technological factors and those are R&D activity, automation, technology incentives, and the rate of change in technology. Technologies are upgrading day by day. So, you have to upgrade your business and yourself with this change of technology.
Learn more about the differences between PEST chart and SWOT analysis
When to do PEST Analysis?
The PEST Analysis is the best way to understand the business strategy without any risks. While making a business plan, you must know the best timing of PEST Analysis.
When you are about to start a new business, do your PEST analysis. It will help you to understand the current market situation. So, do your little research about current politics, economics, social, and technology situations.
In business, there are a lot of ups and downs. When you face any type of business problem, it is the best time for a PEST Analysis. It will make it easier for you to understand the problem and help you to get a solution.
The whole world is changing day by day. Now, if you need to change your business pattern, make a move with PEST Analysis.
How to Create a PEST Chart?
After understanding the PEST Analysis, it's time to create a PEST diagram. Many of you get stuck while making a diagram. So, here is the best solution to create a PEST diagram. You can use EdrawMax to build a diagram. EdrawMax is a diagram-making tool that you can use online for free or download the application for offline version. There are many templates, tools, and grids available, which will help you to create and customize your diagram. Follow the guidelines step by step to learn how to create a PEST diagram in EdrawMax
Step 1:Download EdrawMax - PEST diagram maker
First, you need to visit the website. You can download it for your Windows computer or MacBook. You can copy the link and paste it into the search bar.
Step 2: Login or Sign Up
After visiting the websites, you will see many templates for the PEST diagram. If you want, you can edit those templates with your information for analyzing the PEST. For that, you must sign up first. You can sign up by using your mail address or Facebook account.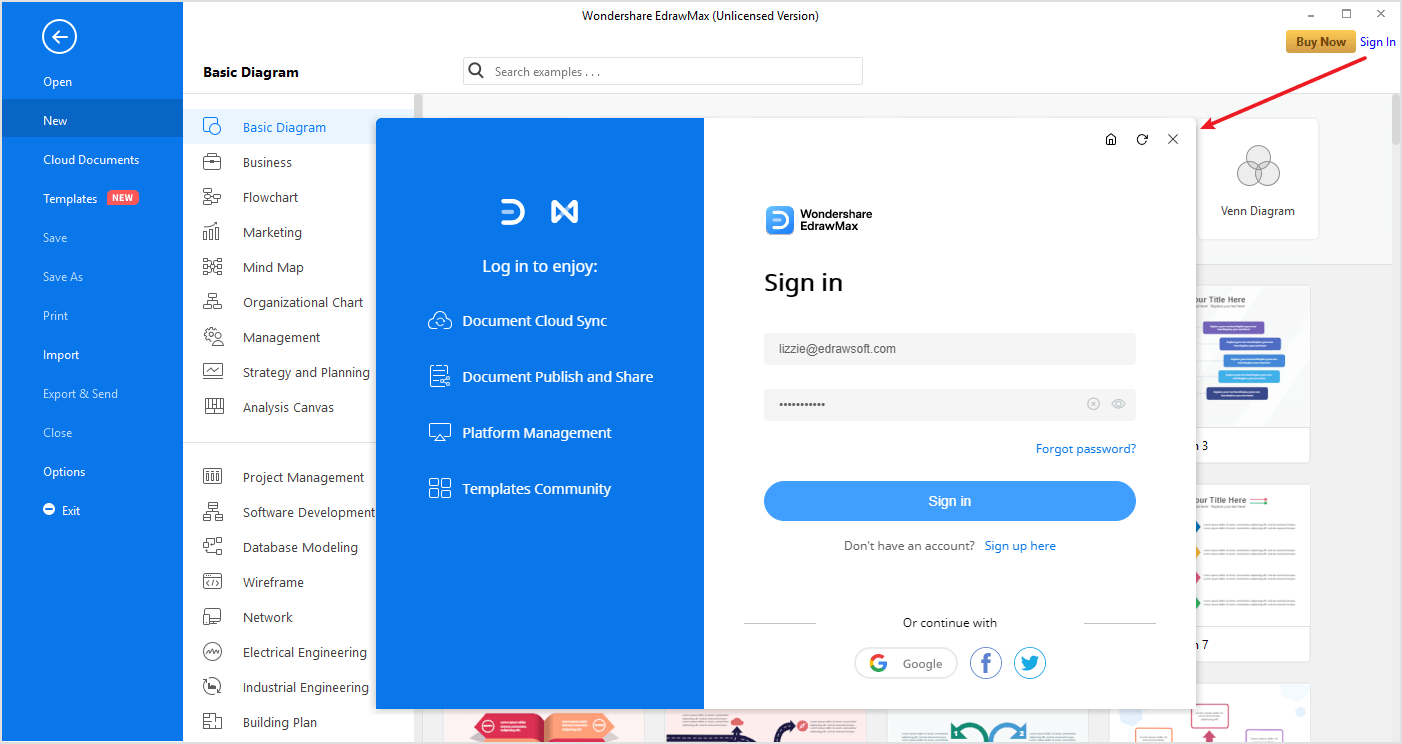 Step 3:Choose a Template
To start editing your template, you need to select a template. Click the "New" icon to create a new project. Now, click the "Strategy and planning" from the project categories. After that, click the "PEST analysis" option to select the templates. To make your diagram, you need to gather all information about political factors, economic factors, social factors, and technology factors.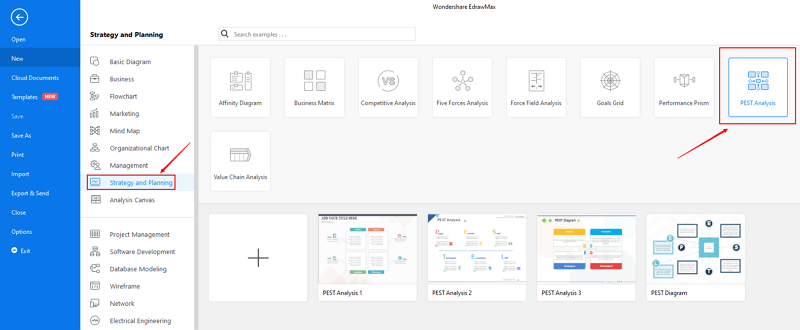 Step 4:Customize the Template
To edit or customize your templates, you can use the tools. To use the tools, click "Symbol library" and choose the business option. Then click the "PEST" to show up all the PEST chart symbols and tools.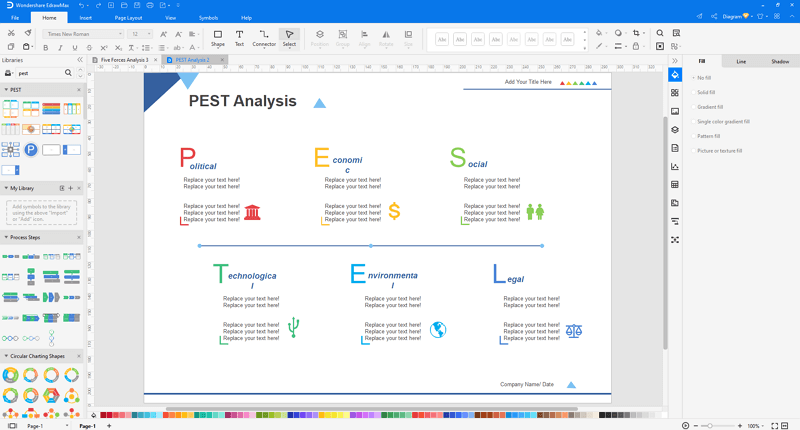 Step 5:Save and Export
Now, put all your data and information to build a PEST Analysis in the text fields of the diagram. After finishing the design and customization, you can save and export your diagram. For this, you need to click the "Floppy disc" icon to save the diagram. To download it, click the download button and download it. After downloading, you can print your PEST Analysis diagram.
Tips for PEST Analysis
Some tips to help you in PEST Analysis:
Use for a purpose:

PEST Analysis is a powerful tool to analyze the business strategy and performance. For this, you must have all the information and data. It's quite a difficult job but effective for a beginner. So, use the tool for a large project or business.

Know your industry:

The best option to know your industry is PEST Analysis. Through the PEST analysis, you will know what your organization needs, and you can perform according to it.

Better future:

From the PEST Analysis, you can understand the business but also understand the future of your business. You can plan for the next five years through the analysis.
PEST Diagram Example
Here is a PEST analysis of the potential in electrical vehicles, which illustrates from the persepctives of politics, economics, social and technological factors.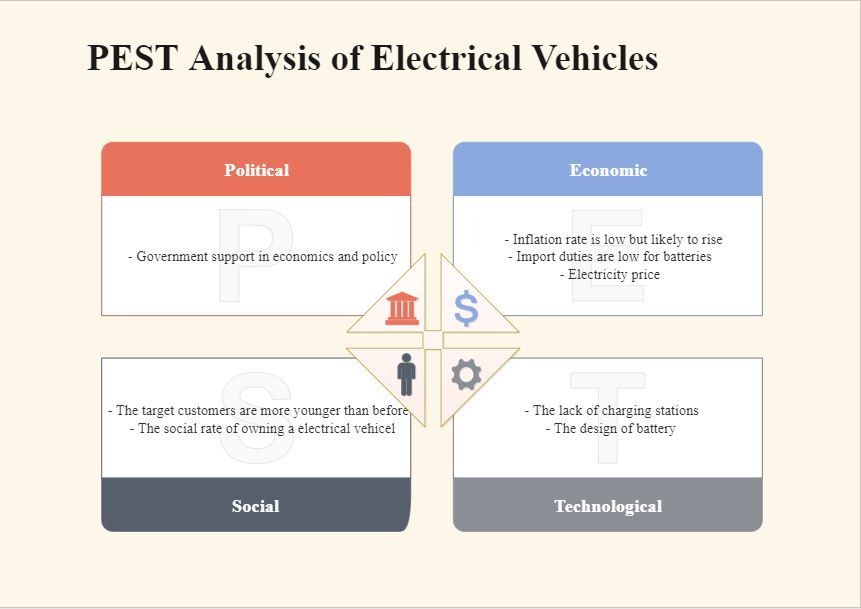 See more PEST chart templates and download for free.
Conclusion
To reach the final line, PEST Analysis is one of the best tools for an entrepreneur. Before starting the business, you must analyze the current situation of the business market and others. With PEST Analysis, you can understand the business performance and the effect of politics, economic, social, and technology. But it's up to you how you can grow your business by using this tool. Hopefully, this article can clear your doubts.