Part 1: What is SWOT analysis?
First, SWOT alone is a mnemonic or acronym that stands for Strengths, Weaknesses, Opportunities, and Threats. However, SWOT analysis is an analysis framework used in accessing four aspects (strengths, weaknesses, opportunities, and threats) of every business. Basically, it helps in developing a strategic plan by evaluating the company's competitive position.
You can use this tool to give your organization the best advantage by exploring your strengths and eliminating threats. With it, you can limit the chances of failures by avoiding threats that would have otherwise got you unawares as well as exploring your business' full potentials.
Part 2: What are the purpose and benefits of SWOT analysis?
SWOT analysis has wide applications, and by utilizing it for you or your business' gain, you be sure to enjoy several benefits. In this section, we will highlight some of the SWOT's analysis purposes as well as their benefits:
Purpose
To study the company's internal and external environments
To identify factors influencing the function of a business/company
To provide useful data for the strategic planning process
Helps determine the company's underlying opportunities and evade possible threats.
Benefits
It is a cost-effective analysis tool
It provides you will be detailed visuals overview of all factors
It is well detailed that it offers great insights about what's being analyzed
It grants an analyst with a better opportunity of integrating and synthesizing diverse data
It has a wide range of applications
Fosters collaborations as well as promoting discussions among employees putting them on the same page
It is ideal to use it when setting objectives for strategic planning
Part 3: When to use SWOT analysis?
SWOT analysis has proven to be highly beneficial to most individuals and organizations. The good thing about it is that I can be applied or utilized in almost every kind of firm or project irrespective of their fields'. Here are some possible scenarios on when to use SWOT analysis :
a) Marketing: Every company search for a future-proof marketing strategy that will help them hit their new limits and goals. SWOT analysis can therefore help with that by analyzing, identifying, and evaluating new opportunities while optimizing the available resources.

b) Competitor analysis: Well, every business will like to identify their competitors' strengths and weaknesses so as to exploit and be on top of the game. With SWOT analysis table, you can easily do that.

c) Website redesign: Most businesses nowadays have or are venturing to online/internet space to exploit numerous opportunities that come with it. However, threats can pop up anytime in the online market, and therefore you can use SWOT analysis to analyze where you are performing well as well as where you are failing. Furthermore, you evaluate opportunities or weaknesses that exist or may arise in the future.

d) Corporate planning: When it comes to designing a whole new environment for a corporate firm, much planning and testing are needed. Therefore, SWOT analysis will help to analyze, test, and draw conclusions for the proposed plan. This helps identify loopholes, new opportunities, and so much more. Good examples for this are exploring investment opportunities or potential partnerships.

e) Financing: Utilizing available resources and minimizing or avoid possible threats is the key to a successful business. And that's why this tool is extremely beneficial in finance too.

f) Business strategy: Well, successful businesses usually ride on strategic and data-driven decisions. Without having an overall picture of the organization, you can manage risk nor explore all available opportunities. Thus, it is essential to use SWOT analysis to help identify numerous strategies that will help you or your organization make better decisions. For example: expanding into a new market.
NOTE: These are just a few of many available options on where and when you can use SWOT analysis to influence or boost performance.
Part 4: Components of SWOT analysis
SWOT analysis comprises four main components: strengths, weaknesses, opportunities, and threats. They are also known as Elements of SWOT analysis – opportunities and threats in these elements are used to evaluate whether a business' external factors or environments are favorable. On the other hand, strengths and weaknesses are used in evaluating internal factors or environments in a business.
We will discuss and explain each component to help you understand them better as well as know how they work.
Strengths

Strengths represent the key attributes unique to you or your organizations and can put you in an advantageous position from your competitors.

Weaknesses

This refers to the internal forces that limit your business performance, which is also considered as threats. This can either limit you or your business from attaining possible full potential.

Opportunities

Opportunities refer to external factors, chances, or occasions that will lead to your growth and advancement if or when utilized.

Threats

Threats refer to factors that may compromise or endanger the prosperity of your business but are external to you or your business.
Part 5: How to do SWOT Diagram in EdrawMax
The difference between failure and success is always trivial; however, conducting SWOT analysis can boost your chances for success. So, to help with that, here is a step-by-step guide for making a SWOT diagram with EdrawMax.
Step 1: Essential Data Collection

A complete and effective model requires enough information. Therefore, it is essential that you carefully research, brainstorm, and collect data for SWOT analysis .

Step 2: Open EdrawMax Software

When all data are available and ready for analysis, open up your Edrawmax Software and sign in to your account. But if you've no account yet, don't worry; it is simple and easy to create one. Just go to https://www.edrawsoft.com/ and sign up, then download the software.

Step 3: Create from scratch or choose a template

Well, there are two options at this point from which you can select when creating your SWOT diagram. You can either scroll through the available template by following these steps: Click [New] scroll down, then select [Strategic Planning] > [Business Matrix], and then choose your favorite template from the ones given there (click to select).

You can create from scratch by clicking on [+] sign, and a new page will open with Symbol's library and other features to help you.

Step 4: Adiing Information

Regardless of your choice, you will be expected to add the necessary information for SWOT analysis . These are the information you gathered in the first step of the process.

Step 5: Editing and customizing your diagram

EdrawMax is a tool that can allow you to edit your diagram in almost any way you like. For example, adjusting color, size and font used to give your desired final look. All the styling tools are included in this software, so be sure to explore them.

Final Step 6: Save, export, and print your diagram

Well, EdrwaMax allows you to save and export your final document in different formats, including JPG, PNG, SVG, PDF, MS Word, PowerPoint, and Excel. Furthermore, you can print it or share it with your group or departments for further inspection and editing.



EdrawMax
All-in-One Diagram Software
Create more than 280 types of diagrams effortlessly
Start diagramming with various templates and symbols easily
Superior file compatibility: Import and export drawings to various file formats, such as Visio
Cross-platform supported (Windows, Mac, Linux, Web)
Security Verified |
Switch to Mac >>
Security Verified |
Switch to Linux >>
Security Verified |
Switch to Windows >>
Part 6: Tip for Creating an Awesome SWOT Analysis
Here some of the essential tips that will help you come up with better SWOT analysis results:
Ensure you are well versed about anything related to SWOT analysis before you create one. You can study several examples to teach yourself.
When doing analysis, always focus on the bigger picture
Keep in mind that SWOT analysis is meant to assess the present, not the future or the past.
Focus on the technique instead of the stepwise process
Ensure to create inclusive matrix segments. Meaning weakness can become listed threats while strengths can lead to new noted opportunities.
Create a quantitative list of all available factors and carefully arrange them
Part 7: SWOT Analysis Example
Th SWOT analysis diagram below has clearly defined the company's strengths, weaknesses, opportunities, and threats. Keep in mind that strengths should relate to opportunities, and so do weaknesses and threats. For example:
In strengths, the product enjoys high quality and reputation, which can increase brand image in the opportunities section.
Also, in weaknesses lack of new marketing channels like TikTok may affect brand image, which is a threat.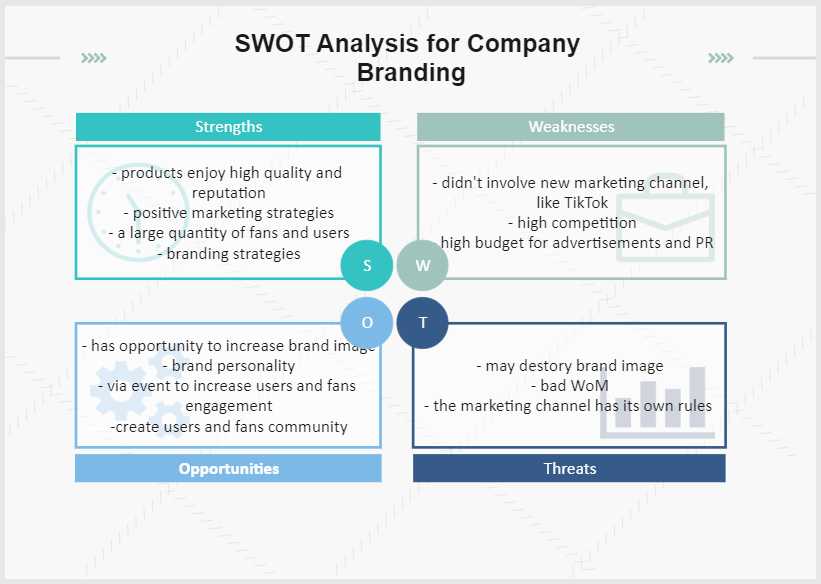 Part 8: SWOT Analysis Templates
Edraw Max is a quick and easy SWOT analysis tool with free pre-drawn templates and more than 5000 vector symbols, so drawing couldn't be easier!
SWOT analysis is a very simple process that can offer powerful insights into the potential and critical issues affecting a venture.
Most managers and workers have expertise in areas that are not known by other members of the group. Organizing the expertise in a SWOT analysis helps in making informed decisions and provides better results. SWOT analysis is so clear that all people involved with the operation become more aware of the performance and goals of the operation. It also allows you to immediately see where you can take action to improve your weak areas, capitalize on your strengths and opportunities, and defend against threats.
More Chart Types