Best 6 Storyboard Creators - Desktop, Online & Apps
Record every shot with the best storyboard creator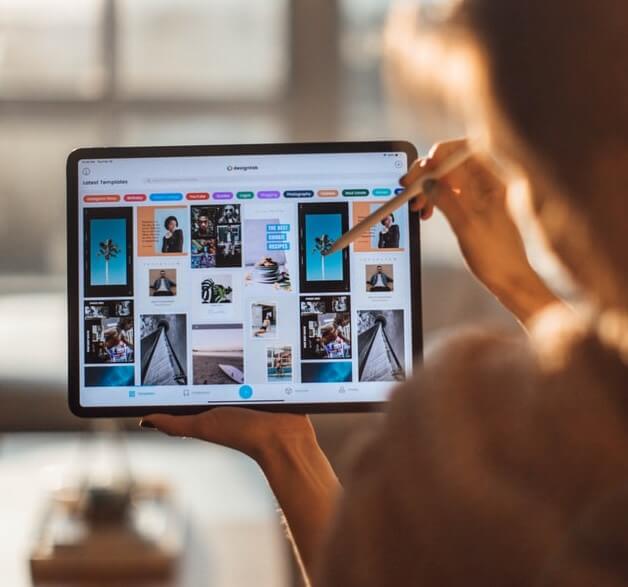 The power of visual content is indomitable! Speak of a sector, be it business, marketing, fashion designing, movie-making or media and you will realize that the particular industry is almost incomplete without the same. Experts believe that people retain in memory only 10% of what they hear, whereas 65% of the information get cemented in one's mind through a relevant image. This is probably what gave birth to storyboarding – a sequence of illustrations graphically representing how a video unfolds.
With hand-drawn shots and scriptwriting turning out to be a passé, people are perpetually seeking revolutionary software and apps for the purpose. If you are one of them, looking around for the best graphic organizers to help you with a project, this write-up here will bring you the most recommended ones. Let's go through them one-by-one and you can select whichever deems more usable. But prior to that, don't you think it's important to check out what makes a great storyboard maker? If you are nodding your head to it then the next section will apprise you of a checklist to tally before finalizing your choice of online storyboard creator.
What to Consider before Picking up a Storyboard Creator?
No matter what draws you to storyboarding, always ensure the software you are using, allows you the inclusion of the following key elements:
Shot pictures
also recognized as individual panels depicting the course of action through 2D diagrams.
Shot number
representing the timing of a shot.
Actions
happening in the shots.
Narration
playing in the backdrop.
FX
like sound and special effects describing the creation of a shot.
Best 6 Storyboard Creator of 2020
1. EdrawMax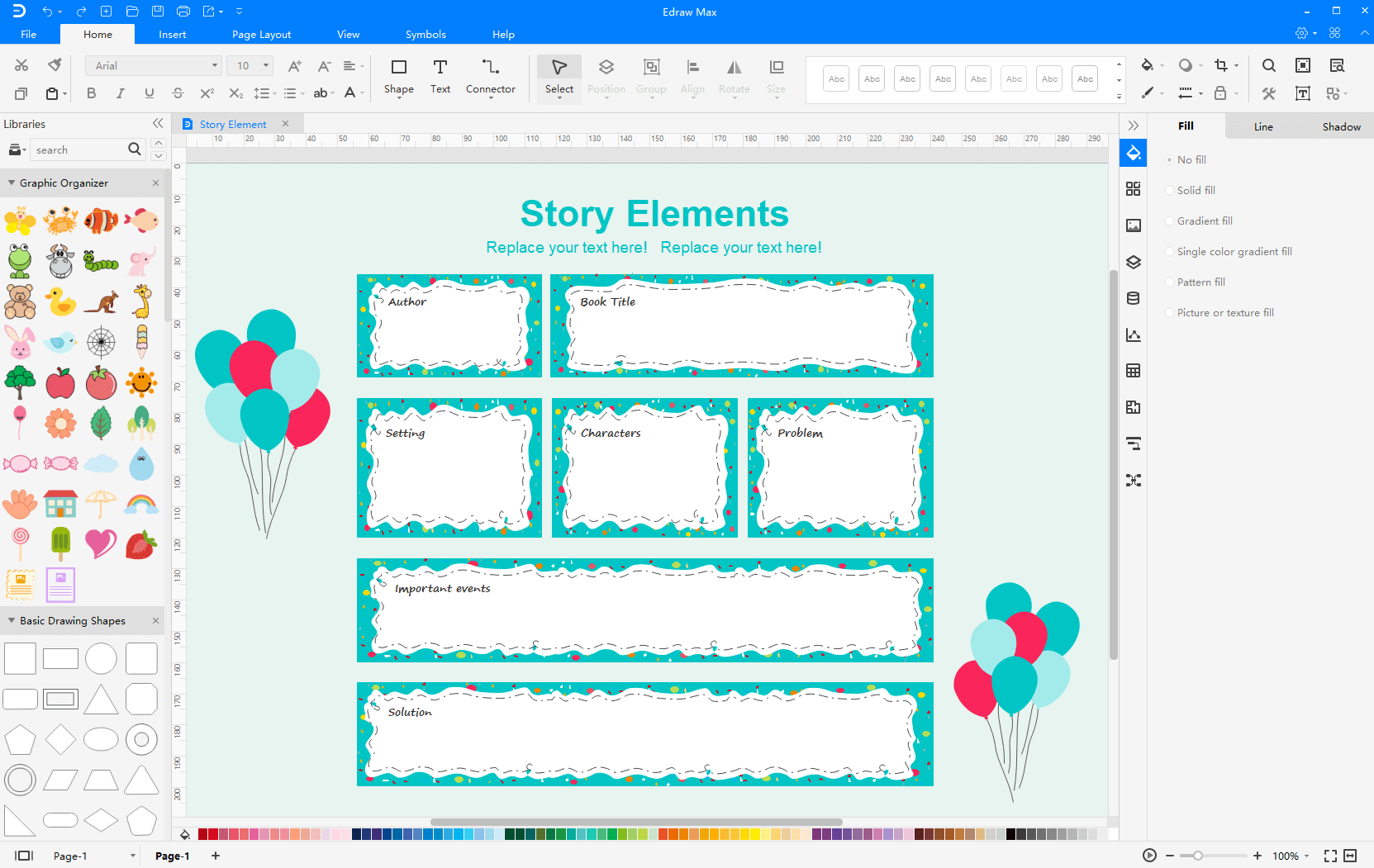 So, the first one in our list is Edraw Max, an amazing storyboard diagram creator, packed with built-in symbols and templates. Available in two distinct versions – Professional Editable and Free Viewer, it empowers all to finish a storyboard diagram with ease.
Thumbs up:
Intuitive and user-friendly
Prepares a professional-looking storyboard in just a few clicks
Best for business and academic use
Makes free templates available
Provides access to 1000+ predefined templates of superb quality
Allows customization
A plethora of export formats like Word, PPT, HYML, Excel etc are available
Thumbs down:
| | |
| --- | --- |
| Supported Platforms | Windows, Mac, Linux, Cloud, SaaS, Web |
| Price | Pricing of perpetual license starts from $139. |
| Scores from Capterra | 4.6/5 |
| Link of official website | https://www.edrawsoft.com/edraw-max/ |
EdrawMax
All-in-One Diagram Software
Create more than 280 types of diagrams effortlessly
Start diagramming with various templates and symbols easily
Superior file compatibility: Import and export drawings to various file formats, such as Visio
Cross-platform supported (Windows, Mac, Linux, Web)
Security Verified |
Switch to Mac >>
Security Verified |
Switch to Linux >>
Security Verified |
Switch to Windows >>
2. Penultimate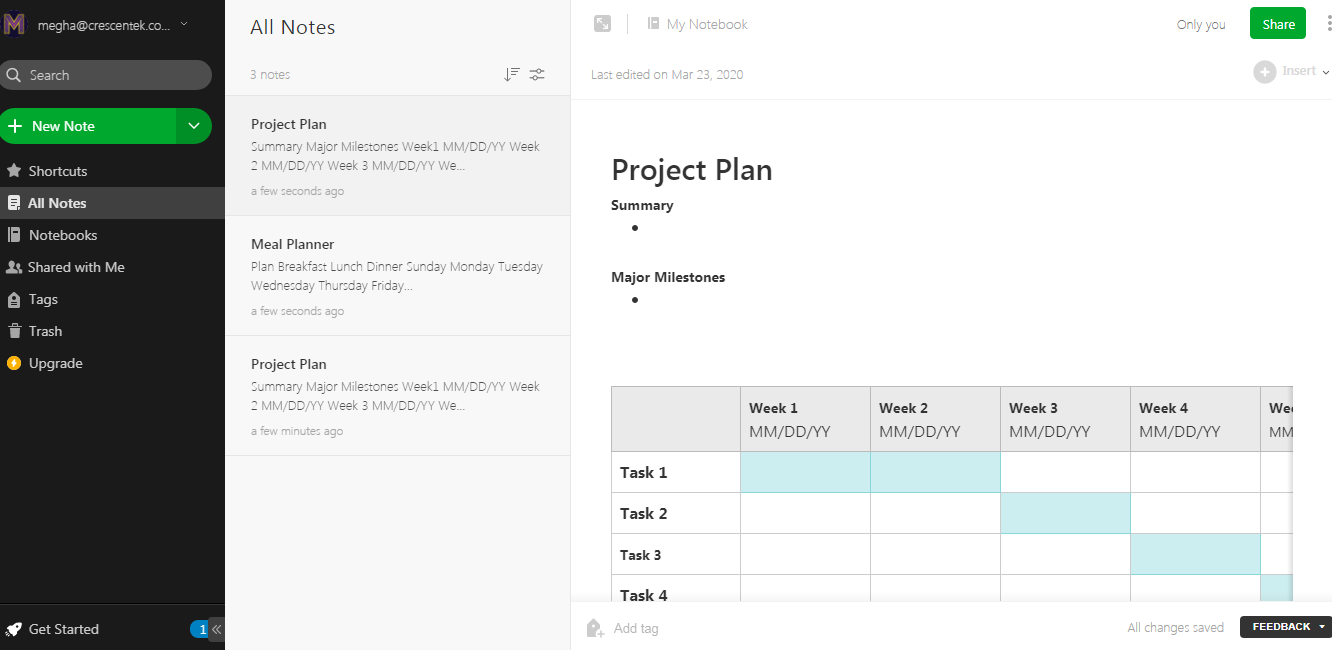 It's a great app from Evernote to sketch elementary storyboards by going paperless and share the shots via an assembly program. Suitable for iPad users, it's a wonderful way to stick to a handwritten text by optimizing the note-keeping powerhouse of its parent company Evernote.
Thumbs up:
Enables users to organize notes during a meeting
Allows users to search for texts in a handwritten font
Easy zoom in zoom out features
Thumbs down:
Doesn't support Excel
The features are a tad confusing
Tables lose its format when viewed from the phone app
Burdens users with its dual task management systems
| | |
| --- | --- |
| Supported Platforms | It's cross-platform compatible and works on MAC, Windows, iOS and Android. |
| Price | $190 per month |
| Scores from Capterra | 4.4/5 |
| Link of official website | https://evernote.com/products/penultimate/ |
3. Boords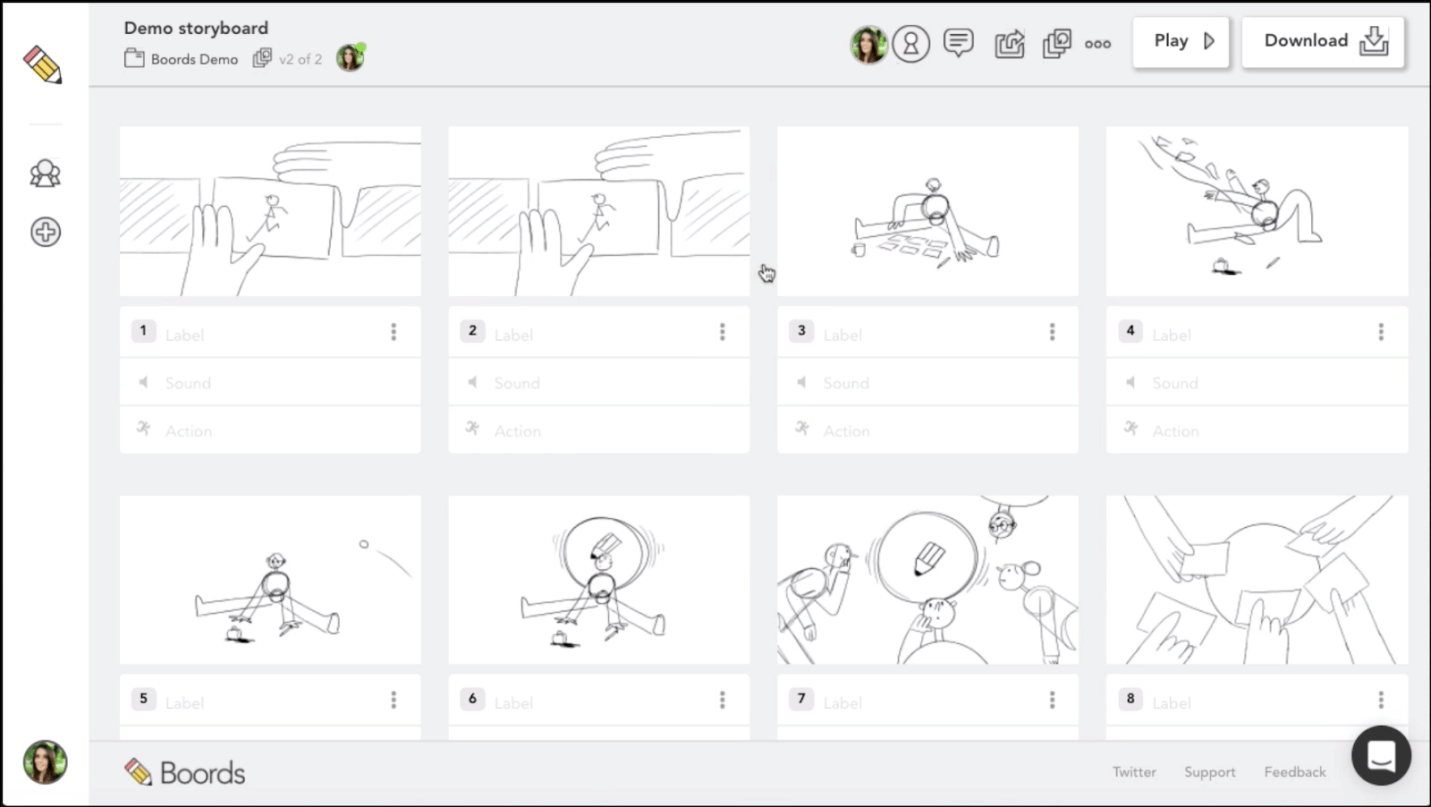 It's an all-inclusive free storyboard creator loaded with flexible frames, Animatic Tool, After Effects plugin and drag-and-drop tools, where it enables users to share any animatic or storyboard with the client for valuable feedbacks.
Thumbs up:
Simplifies pre-production process
Allows reassembling of storyboards
Shareable with clients and colleagues
Thumbs down:
Works only on Windows
Data import error messages are less detailed
Confuses users with layers of configurations
It's not entirely free of cost.
| | |
| --- | --- |
| Supported Platforms | Only for Windows |
| Price | $12/month |
| Scores from Capterra | 4.5/5 |
| Link of official website | https://boords.com/ |
4. StudioBinder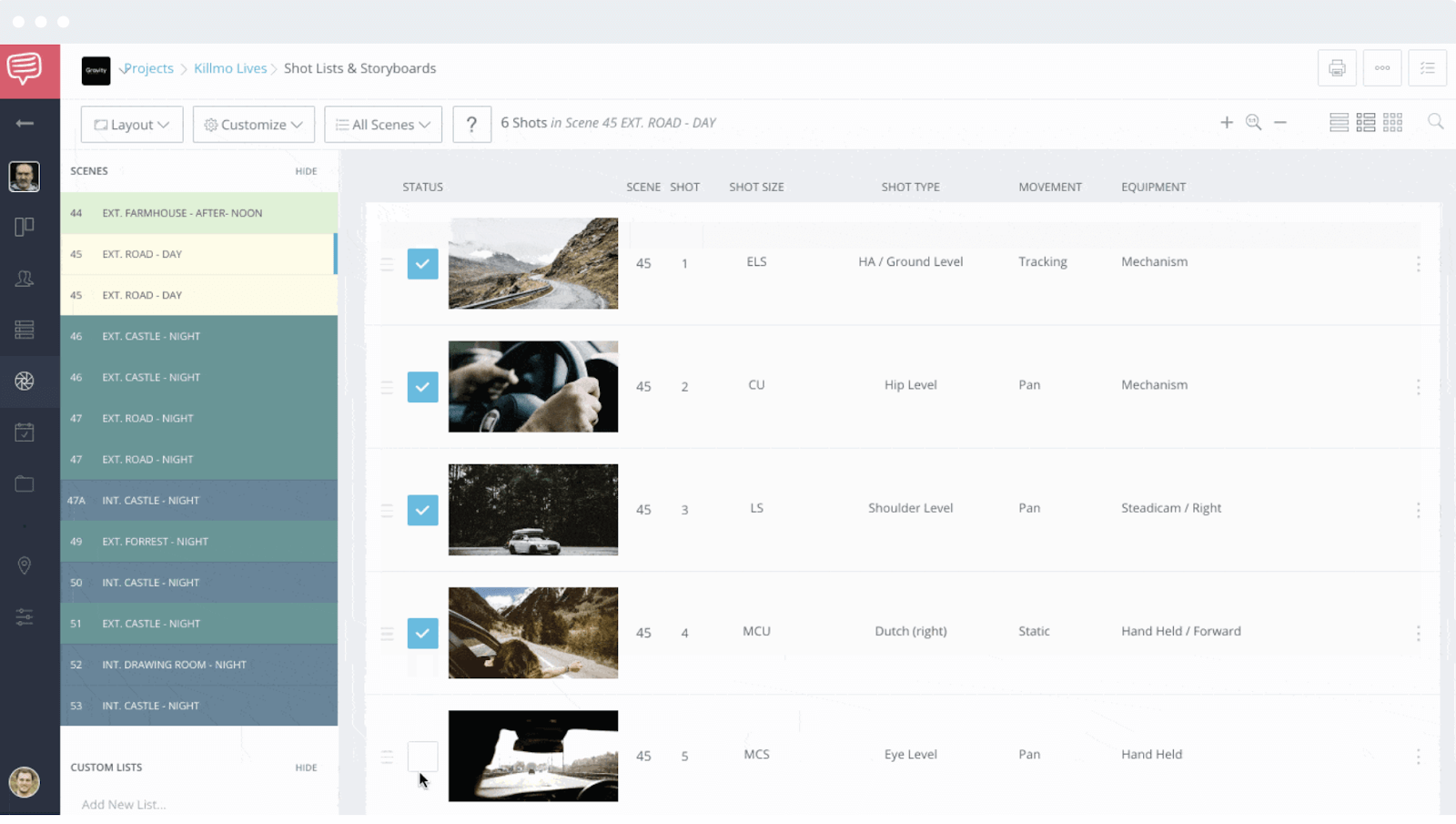 A superb alternative to the above-mentioned online storyboard creators, surprising users with innumerable tools like adjustment in scene sequence, modifications in aspect ratio, image uploads, filter columns, etc. There's more like easy collaboration and presentation mode for professionals.
Thumbs up:
User-friendly interface
Intuitive layout
Packed with project management features
Thumbs down:
Expensive for small companies
Non-availability of customer support on a weekend
| | |
| --- | --- |
| Supported Platforms | Cloud, Web and SaaS |
| Price | $29 per month for 10 projects |
| Scores from Capterra | 4.7/5 |
| Link of official website | https://www.studiobinder.com/ |
5. Canva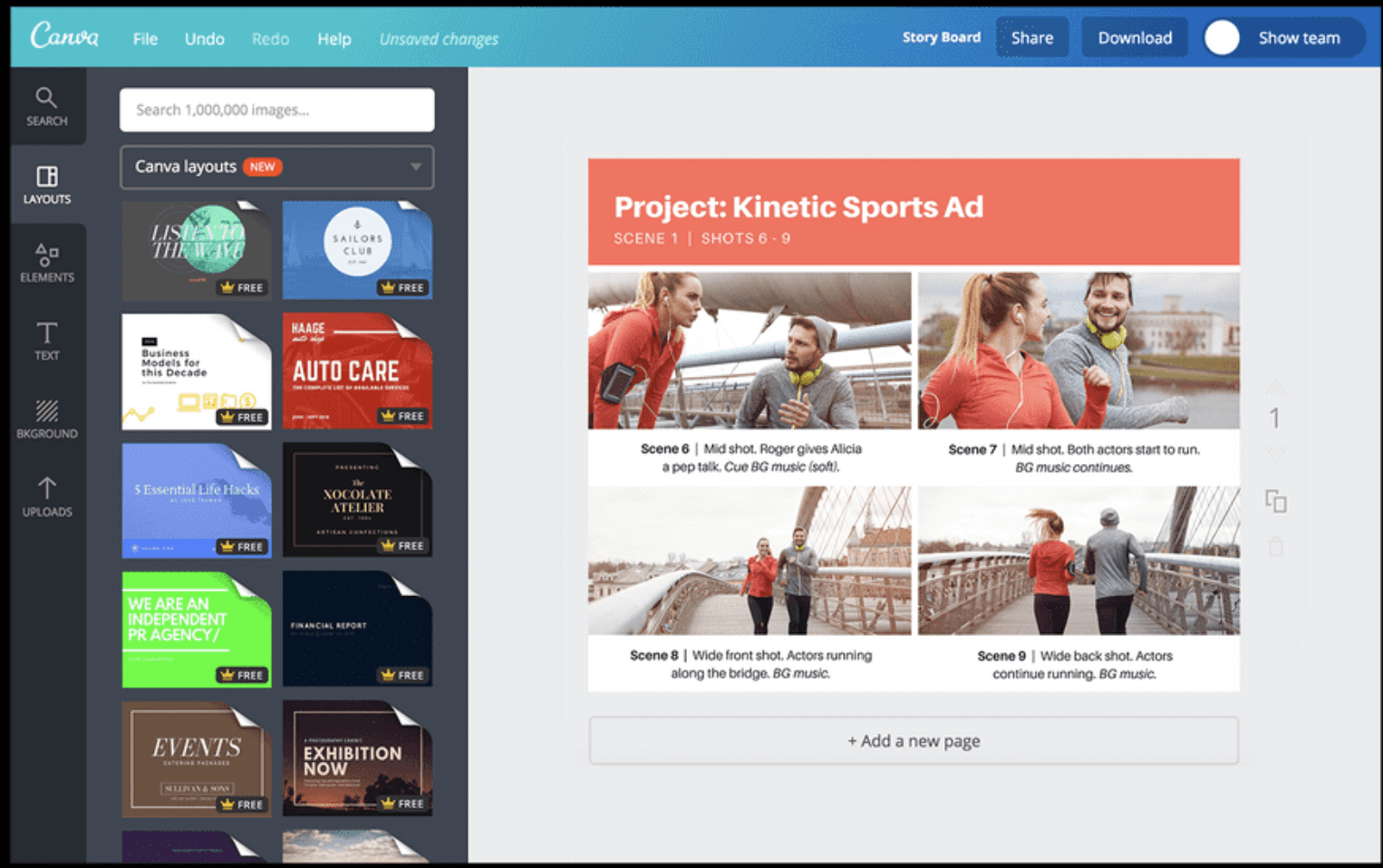 It's a software that takes away the stress from storyboarding with its simple interface, a huge collection of templates and millions of stock images. Also, it's a fantastic way to collaborate with your team members and prepare something dynamic.
Thumbs up:
Beginner-friendly with easy drag-and-drop format
Innumerable templates that save you from starting from scratch
Thumbs down:
The pre-built designs are very common
Design customization is a tad difficult
Not compatible with Windows
| | |
| --- | --- |
| Supported Platforms | Android, iOS, Cloud, SaaS, Web |
| Price | $12.95 per month |
| Scores from Capterra | 4.7/5 |
| Link of official website | https://www.canva.com |
6. Procreate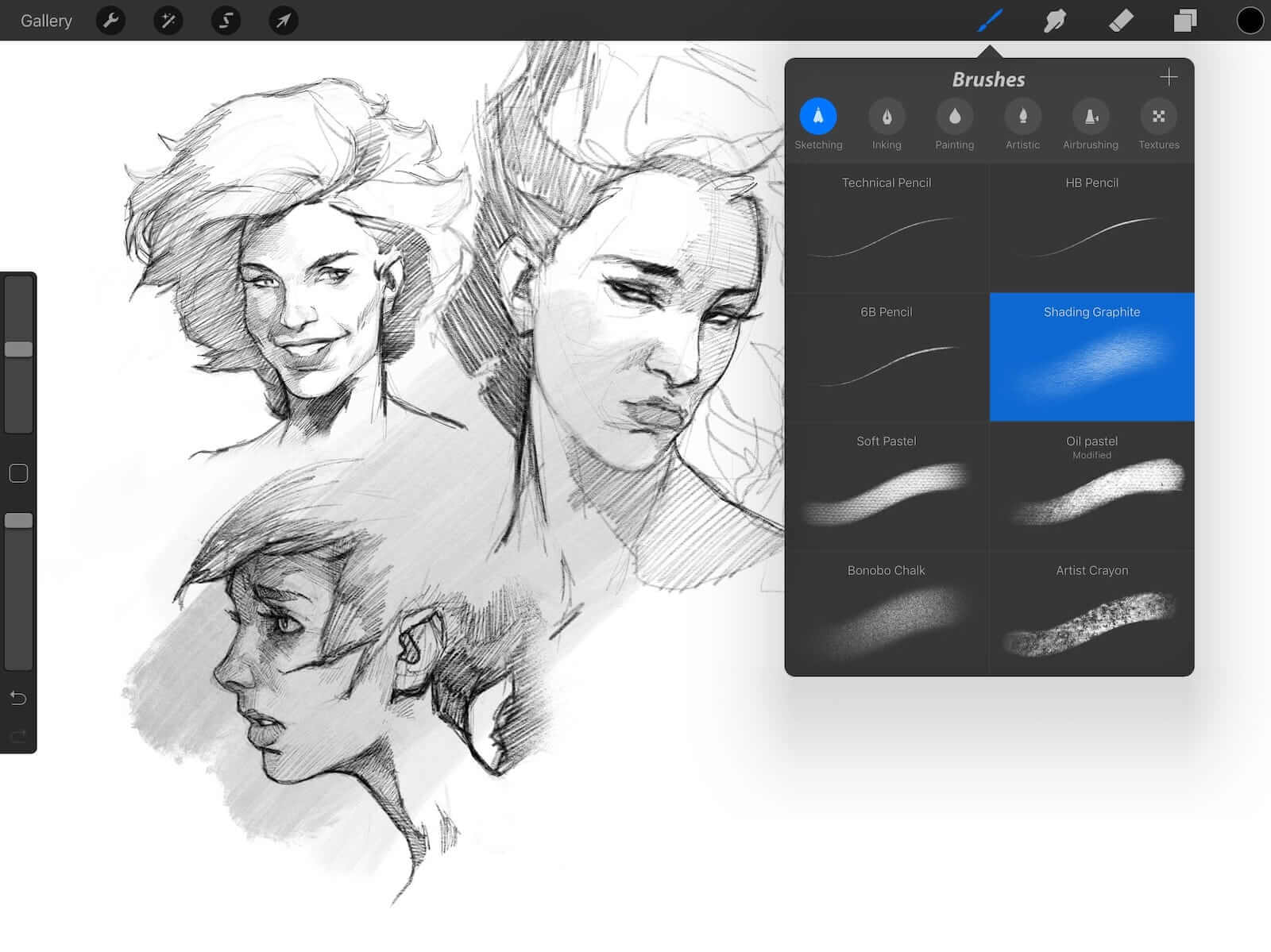 What makes it a great addition to your storyboarding tool is its cool program, which includes painting, illustration and sketching only for the creative professionals. The presence of 130 realistic brushes and auto-save options power it for an unsurpassed outcome.
Thumbs up:
Works flawlessly on iPhones and iPads, enabling storyboarding on the go
Feature 4K canvas resolution
Thumbs down:
Not available for widely-used operating systems like Windows, Android etc
| | |
| --- | --- |
| Supported Platforms | only for iOS |
| Price | around 10$ |
| Scores from Capterra | 4.7/5 |
| Link of official website | https://procreate.art/ |
Choose Your Favorite Storyboard Creator
As always, it's a matter of choice. If the following three are your priority, then the consequent software should be your preferred tool.
Best Overall - Edraw Max
It's a no brainer given the host of advantages it accompanies. Moreover, it supports almost all export formats and essentially works on all three operating systems. Even the Capterra score of 4.6 is promising enough for a user to choose it as the desired storyboarding software.
Best App – Penultimate
It's the best of the lot in terms of usability and customer service and the fact that it's cross-platform compatible. It supports almost all the widely used operating systems and the greatest of all – it's free!
Best Online - Boords
If you are not an avid fan of downloads then this is just the right thing to start with for your storyboarding project. Great for people working together on a common project, it lets all team members collaborate and make modifications in real-time.
Final Thoughts
Now that you have cue on what to go for and what not to pick, go ahead and take your video production process to the next level with storyboarding. Ditch the traditional pen and paper job and switch to the all-new and revolutionary list of software. Let us know your experience because we are eager to hear.