Diagram
Best 5 Fishbone Diagram Maker
Help you identify root causes and conduct cause and effect analysis.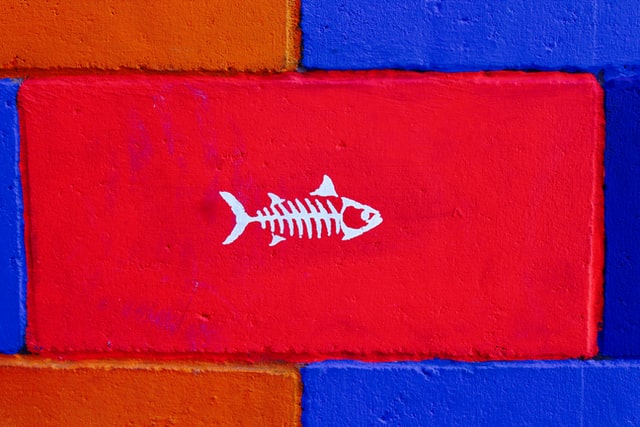 Fishbone diagrams are also called cause and effect diagrams. These were initially invented in Japan and named as Ishikawa diagrams. They help determine the root cause of a challenge or a problem. This article lists several excellent fishbone diagram maker to help you find the best tool to improve your business.
Why is Fishbone Diagram Important?
There are different uses of fishbone diagram creator in educational and business cycles. Their uses are several such as:
They help identify the different root causes of a problem.
It can help brainstorm to form an effective solution to a situation.
Teams and individuals can collaborate on overcoming a challenge or a problem with such a tool.
It helps in dissecting different causes into sub causes so that all aspects of a problem are thought of.
Best 5 Fishbone Diagram Maker
For effective fishbone diagrams, one can look at the following products in the market. Each has unique advantages to offer along with different pricing models and other options.
1. EdrawMax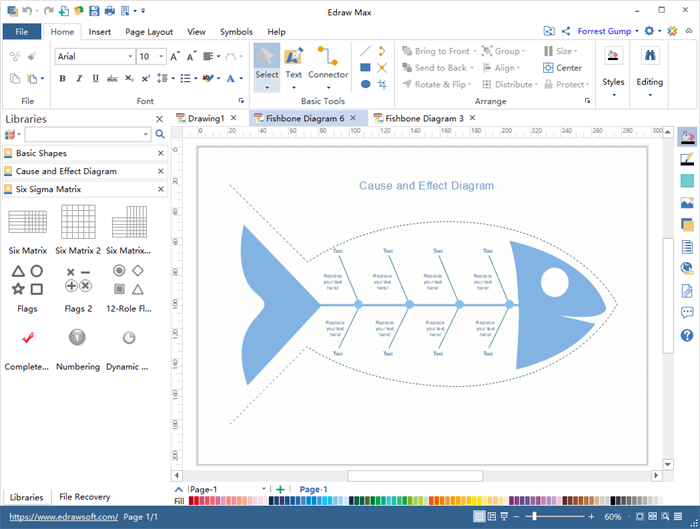 It is a popular fishbone diagram creator for creating effective visualizations or illustrations. There are different features that the software offers:
There are step by step instructions.
Wide range of templates to choose from.
UI is intuitive and user friendly; it is similar to working with ms word.
It is compatible with different platforms.
It works with Visio file formats.
Pros and Cons
This software has a large repository of images, templates and editing tools to offer. The UI being intuitive and similar to MS Word is also a distinct advantage. It offers easy export to other applications like MS Office. The only limitation is that its subscription price is a tad high compared to competitor products.
One can opt for a perpetual license at a cost of around $139. The software has a high rating in the industry, about 4.6/5. More details can be found at https://www.edrawsoft.com/edraw-max/.
EdrawMax
All-in-One Diagram Software
Create more than 280 types of diagrams effortlessly
Start diagramming with various templates and symbols easily
Superior file compatibility: Import and export drawings to various file formats, such as Visio
Cross-platform supported (Windows, Mac, Linux, Web)
Security Verified |
Switch to Mac >>
Security Verified |
Switch to Linux >>
Security Verified |
Switch to Windows >>
2. Miro
This fishbone diagram creator is suitable for software designers, coaches, product managers, and owners. It comes from web design, graphics media, and other marketing professionals. Features that it offers are the following:
It acts as a collaborative and whiteboard platform.
Teams can work on it together from different locations.
It offers easy integration features and step by step formation of different diagrams and illustrations.
Pros and Cons
It is an ideal tool for brainstorming and discussion boards. One can conduct video conferencing with this tool as well. It offers real-time editing functions as well. It works equally well on Windows OS as well as on iOS devices. There is no version control, task management features on offer.
The software comes with a reasonable price of $10 per month as a subscription fee. It has a high-reliability rating of 4.8/5. One could opt for the trial version as well by visiting the official site: www.miro.com.
3. EdrawMind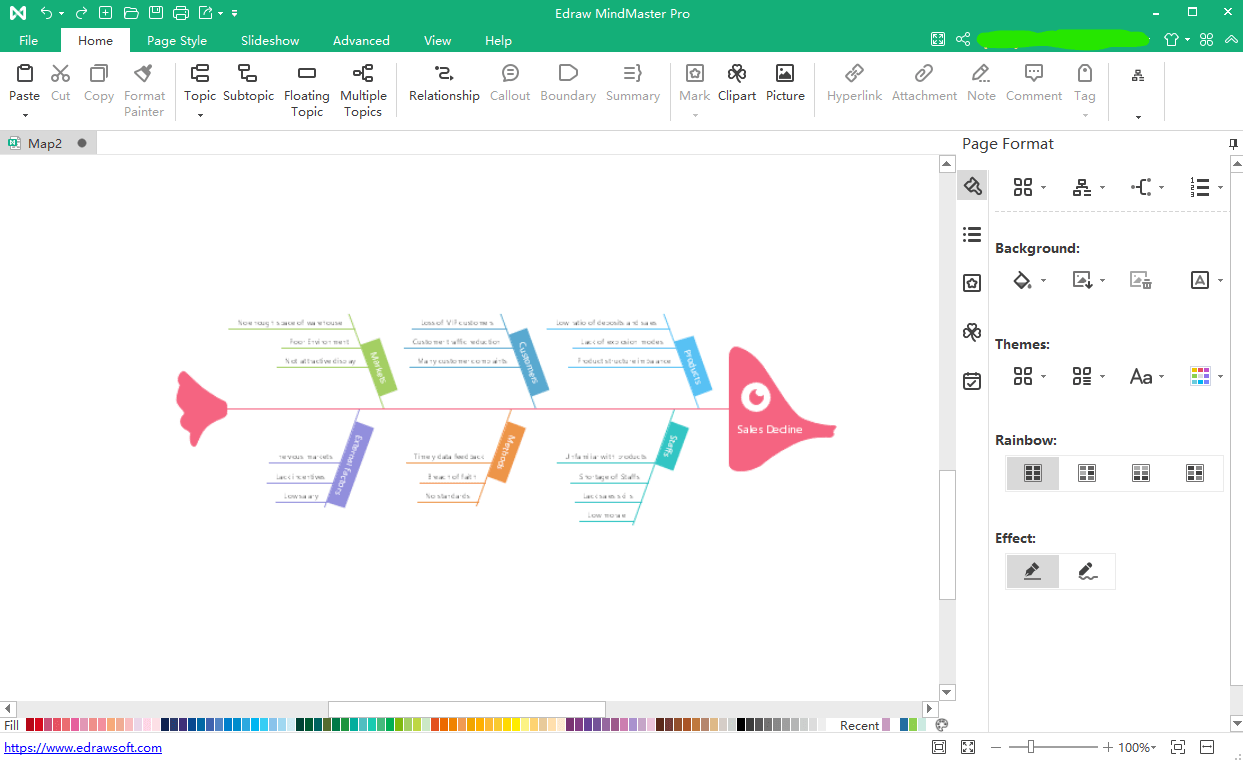 EdrawMind is a versatile illustration tool. It can help create mind maps including fishbone diagrams.This software is a versatile illustration tool. It can help create mind maps, including fishbone diagrams. However, it also assists you ideate and brainstorming while in real-time collaboration. You can quickly share on social media, embed on websites, and export to devices. And to integrate with mobile devices, it is possible to save the files on Cloud or Dropbox. The features that it offers are the following:
Create diagrams and maps online, even in the free mode.
Offer several amazing features in the download version.
Support a wide range of colors and themes.
Let you explore the brainstorming and branch styling options.
Allow you to opt for slideshows and Gantt views as well.
Provide you with the valuable multilingual support.
Pros and Cons
The fishbone diagram creator is one of the reputed suites of offerings from EdrawMind. It is a versatile tool that works on Windows, Mac, iOS, and Cloud. It lets you add multiple topics, pictures, formulas, and more. You can benefit from multiple export options like PDF, Graphics, HTML, Office, etc.
The file recovery and encryption function make it stand out beyond competitors. Also, you can improve business efficiency by gathering data in an impressive style, like by creating presentations and slideshows.
The software comes with a high rating of 4.7/5. It is a reliable product with a reasonable subscription price of $5 per month. There are no training options, so it is mostly suitable for professionals to use.
4. Coggle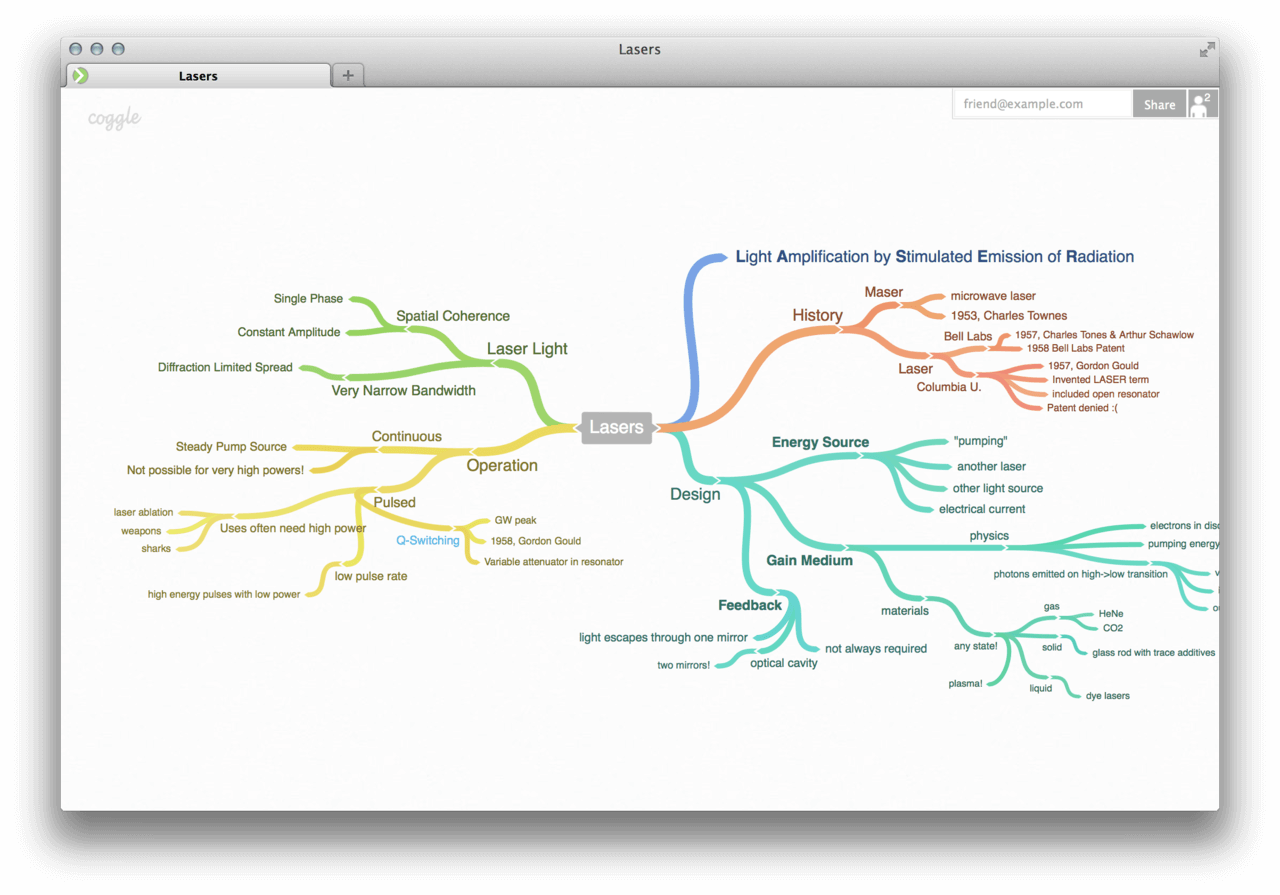 This fishbone diagram creator is ideal for different businesses, especially for planning or management projects. It is a versatile suite that finds use in different industries such as creatives, education and consulting.
Features of this software are the following:
It can be used for mind mapping.
It is a tool that can help manage complex information and put it in diagrammatic forms.
It is open-source software.
It includes a large repository of templates.
It is an ideal tool for flowcharts, brainstorming and project planning.
It offers ease of publishing and several sharing options.
Pros and Cons
Coggle comes as an ideal Ishikawa diagram maker for diagrammatic solutions that are required for project planning, brainstorming sessions, designing flow charts and others. The main limitation of this software is that it is only a cloud-based application.
The software comes with an industry review rating of 4.6/5. One can opt for an annual subscription of this product at $50 per year. More details can be obtained at the official site: https://coggle.it
5. SmartDraw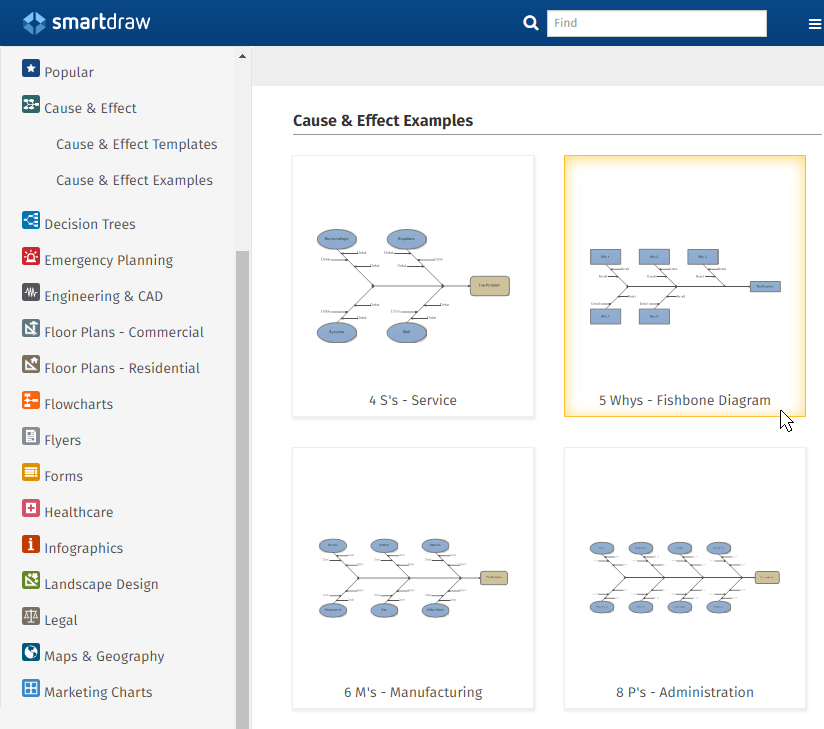 This is a software that is versatile when it comes to creating different diagrams and mind maps. The features it offers are several:
It is used by project managers, architects, contractors, and business executives.
The library resources are extensive for templates, symbols, and tools.
It is easy to use for CAD drawings, org charts, floor plans, spider diagrams.
Pros and Cons
The main advantage that this software offers is its applicability to different professionals and projects. Its limitation lies in its being not compatible with Mac devices and only works on Windows OS and Cloud.
The software has an industry rating that is average, 4.1/5. It comes with a reasonable monthly subscription price of $5.95. The official website link is https://www.smartdraw.com/.
Choose Your Favourite Fishbone Diagram Creator
With several products in this category, if you were to choose the one Ishikawa diagram maker that is best suited for you, it would depend on your specific need or preference. Here are some recommendations from us:
Best Overall: Edraw Max
This software is a robust solution with a high rating received from business professionals. It offers advanced features that help to deal with complex diagrams and in smooth execution of the same.
Best Visual Design: Miro
It acts as a virtual whiteboard which captures brainstorming sessions very well. It is an effective tool for those who wish to capture the fishbone creation process in a well defined and visualized manner.
Best Online: Mindmaster.io
This is the best tool for online problem-solving projects. The lightweight application can be used entirely online, allowing ease of real-time collaboration and sharing across different locations.
Conclusion
The above sections showcase the different tools for fishbone diagrams. They differ in their distinct tools and functionalities; accordingly one can choose a product that is best suited to their needs.
Related Articles
Get ready to create a fishbone diagram with EdrawMax. Try it Free!
LEARN MORE