How to Draw an Azure Diagram in Visio
Do You Want to Make Your Azure Diagram?
EdrawMax specializes in diagramming and visualizing. Learn from this article to know everything about how to make an azure diagram in Visio and an easier way. Just try it free now!
Microsoft Azure is a public cloud computing platform provided by Microsoft. It is one of the fastest-growing and most powerful cloud computing platforms in the market right now. It is basically an online portal through which you can access, manage and store resources and services.
Azure delivers a series of internet-hosted services, including computations, analytics, networking, and storage. You can also build, deploy, and manage your own applications through Azure infrastructure. For this, you need to design an azure diagram. The Azure architecture diagram is a blueprint for designing and implementing app solutions on Microsoft Azure. You can use Microsoft Visio to create an azure diagram. Visio offers stencils and hundreds of shapes. If you want to learn how to create Visio azure diagrams, continue reading this article. We will also introduce the best Visio alternative -- EdrawMax.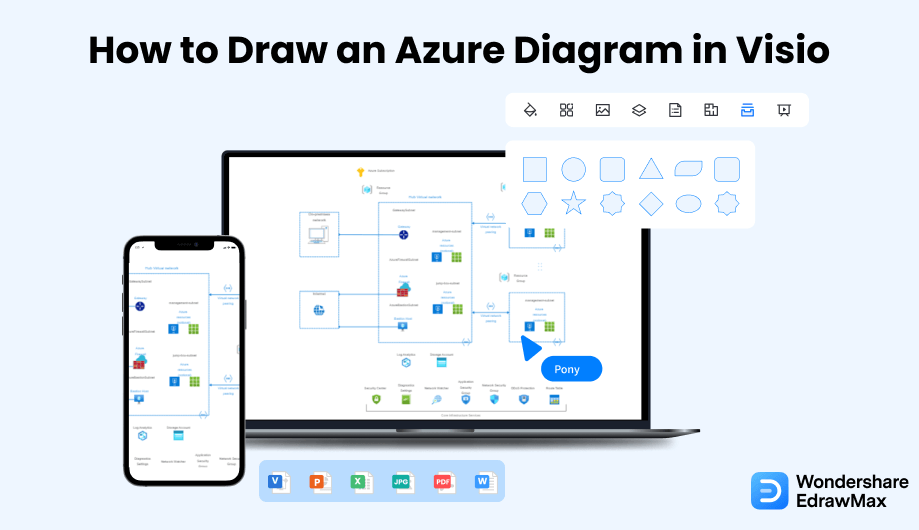 1. How to Draw an Azure Diagram in Visio
Visio is a popular diagramming software by Microsoft Windows offering templates and symbols to make Azure Visio diagrams and other technical diagrams. Visio has twenty stencils and hundreds of shapes, giving you everything you need for web apps, azure architecture diagram Visio, network topologies, virtual machine configurations, operations, and much more. Follow these steps to create an azure architecture diagram in Visio:
Open Visio:

Install Microsoft Visio on your computer and click on the icon to launch the app. Templates make it quicker and easier to create a diagram. Microsoft Visio comes with many built-in templates that you can use. Go to 'New' to find templates. Then, go to 'Network', and then choose a template for the type of directory diagram you want to make.

Get Stencils:

To create azure diagrams in Visio, you first need azure Visio stencils or templates that you can get directly from the Microsoft Office website.

Create and Edit Your Azure Diagram:

Use some basic shapes and icons like virtual networks, subnets, network security groups, etc. You can add different icons or symbols to your drawing until you get a basic layout of your azure diagram. Next, open the ribbon, and under the home tab, you will find different editing tools in Font, Paragraph, Tools, Shape, Arrange, and Editing sections, which you can use to edit and customize your azure drawing.

Save the File:

Once your azure diagram is complete, go to the File tab and click on "Save" to save your azure diagram. Now, let's move and introduce the best Visio alternative.
How to Draw an Azure Diagram in Visio:
Open Visio;
Get Stencils;
Create and Edit Your Azure Diagram;
Save the File;
2. How to Draw an Azure Diagram in EdrawMax
Now that you have seen the method to draw an Azure Diagram in Visio, let us show you the easiest way of creating a similar azure diagram in EdrawMax.
Step1
Open EdrawMax & Login
The very first step that you need to follow is to install EdrawMax in your system. Go to EdrawMax Download and download the azure diagram software depending upon your operating system. If you need remote collaboration with your office team, head to EdrawMax Online and log in using your registered email address.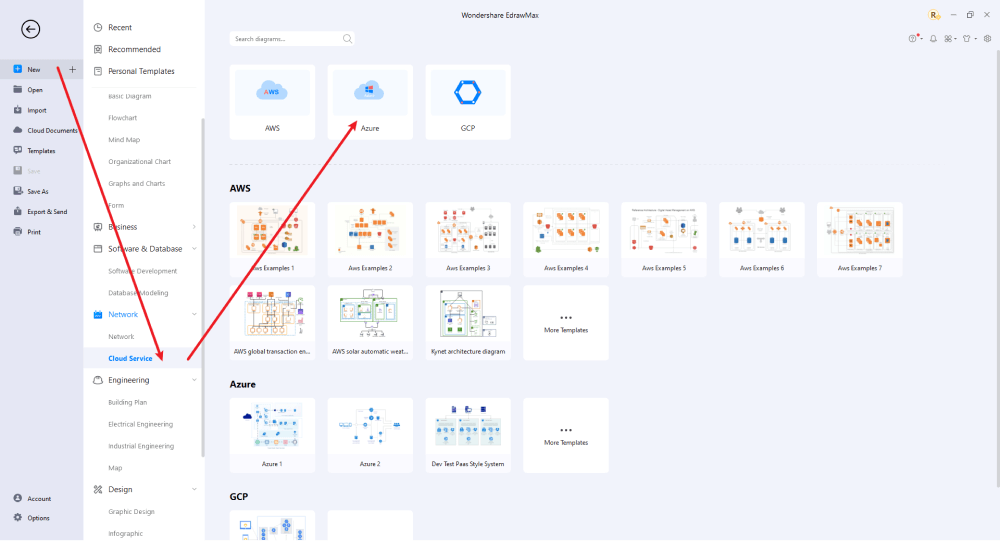 Step2
Select a Template
Scroll down the diagram category list, click "Network Diagram," and then go to "Cloud" and select the "Azure" option. You will get some pre-designed Azure diagram templates in the template gallery.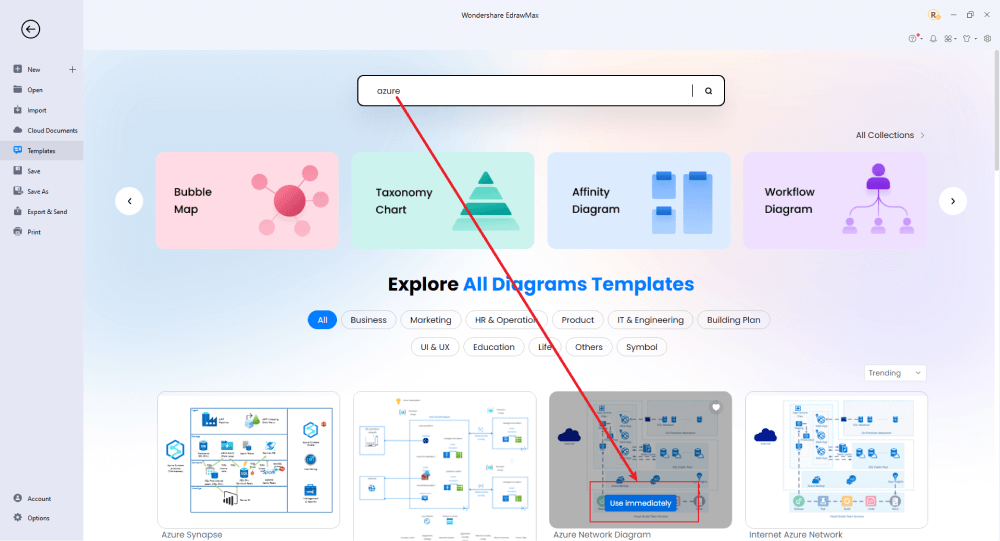 Step3
Create From Scratch
From the EdrawMax homepage, you will find the '+' sign that takes you right to the canvas board, from where you can start designing the azure diagram from scratch. Use your technical expertise and the tools offered by EdrawMax to create the azure diagram.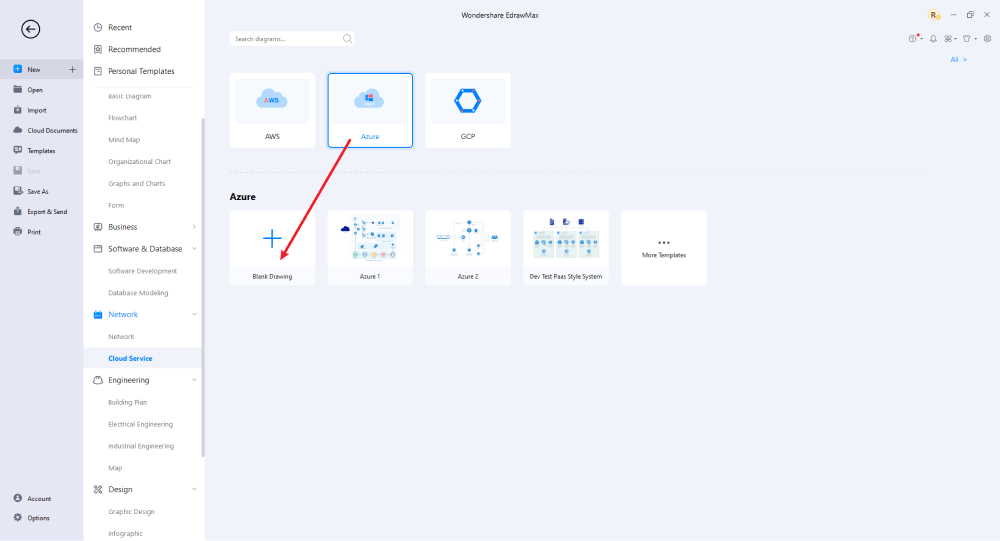 Step4
Edit Azure Diagram
All the symbols are available in the 'Symbol' section in the toolbar. You can also search for more symbols in the symbol library on the left side of the screen. Click "Symbol>Predefined Symbol>Azure Diagram". Select the type of azure diagram icons you want to import to the symbol library on the left side of the screen. After building the basic structure of the Azure drawing, you can customize and edit your azure diagram with the help of different formatting tools available in EdrawMax Online. Meanwhile, you will find various editing options in the navigation pane on the right side of the screen. These include style, layers, theme, page setup, image, property, etc. You can also add charts, watermarks, tables, images, QR codes, and more by clicking on the Insert tab.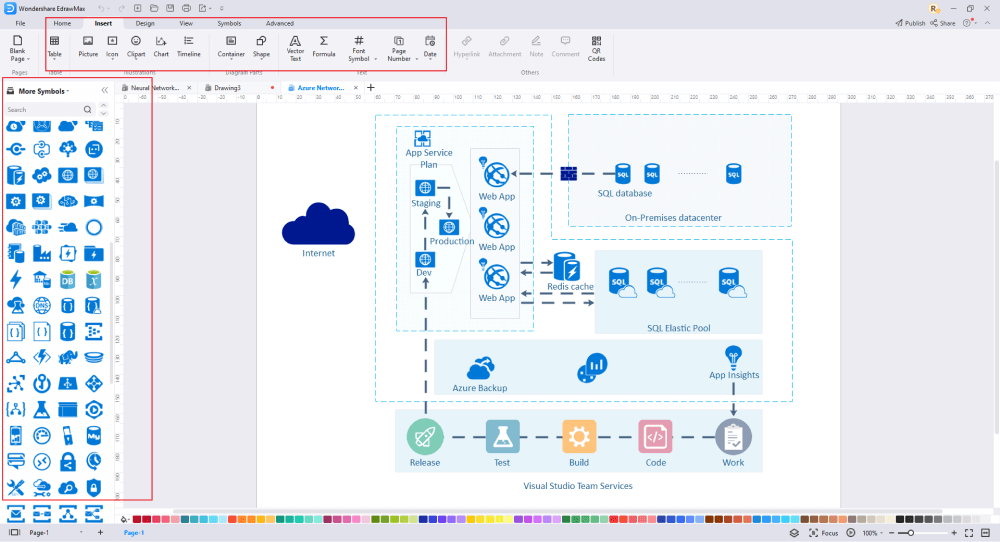 Step5
Export & Share
Once you are satisfied with your azure diagram, you can export it into multiple formats, like JPEG, JPG, PNG, PDF, and other Microsoft formats, like MS Word, MS Excel, PPTX, etc. Just back to the main menu, and find "Export" button, You can also share the azure diagram on different social media platforms, like Facebook, Twitter, LinkedIn, etc. Moreover, you can print your azure diagram for showing with others.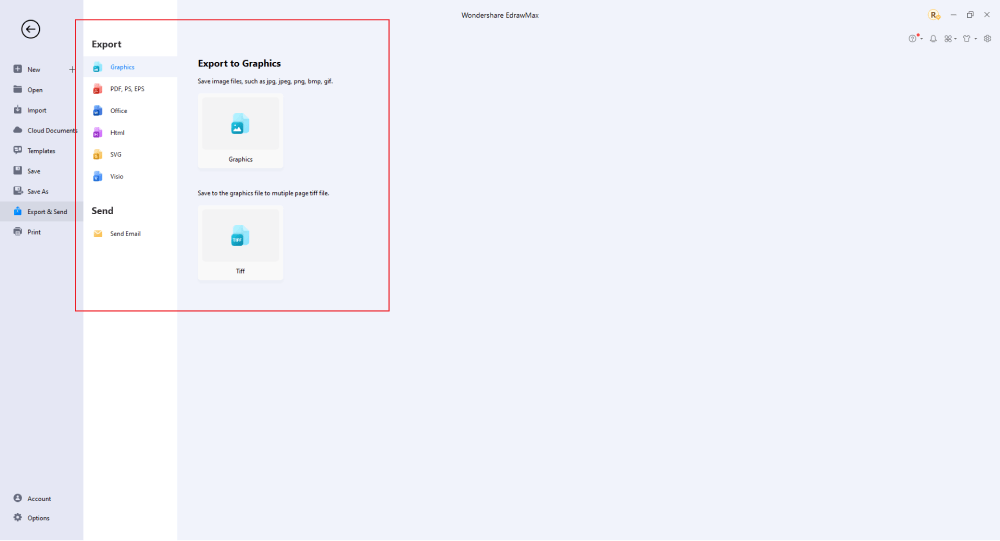 Basically, it is simple to draw an azure diagram in EdrawMax, just grab a template and keep customizing, drag and drop professional Azure icons to make your drawings better. If you are still confused about how to draw an azure diagram in EdrawMax, just check the video below.
3. EdrawMax vs. Visio
Both Visio and EdrawMax are listed as 'one of the best online drawing tools.' They offer all the necessary features for creating attractive and engaging visual content. Both these software tools have their own pros and cons. Let's take a closer look at their features to decide which one stands out.
While Visio is a popular diagram tool by Microsoft, it is complicated to use and can be very time-consuming. EdrawMax, on the other hand, offers a user-friendly interface with an efficient drag and drop feature, making it easy to create any visual content within minutes.
As compared to Visio, EdrawMax offers an affordable subscription plan. Edraw charges $99-$139 per year for unlimited users, giving them full access to all software functions. On the other hand, Visio costs $13 per month per user.
Abundant symbols and templates are available at Edraw for over 280 types of drawings. EdrawMax has 26000+ symbols, while Visio offers limited symbols, stencils, and other elements.
When it comes to ease of use, EdrawMax stands out due to its intuitive interface, organized layout, and smooth navigation. In comparison, Visio has an outdated interface with a complicated layout. Therefore, Visio is not suitable for beginners.
Cross-platform accessibility is another excellent feature offered by EdrawMax. You can download Edraw on Linux, Windows, and Mac OS desktops. In contrast, Visio is exclusively available for Microsoft and Windows users only.
EdrawMax includes a large number of symbol libraries. You may quickly build any type of diagram with over 26,000 vector-enabled symbols. If you can't locate the symbols you need, you can easily import some images/icons or build your own shape and save it as a symbol for later use. Simply go to the 'Symbols' part of EdrawMax and select the 'Predefined Symbol' section from the top toolbar. Hundreds of symbol categories are accessible for you to utilize and incorporate into your azure diagram.
Moreover, EdrawMax features a large library of Azure diagram examples. We have more than 25 million registered users who have produced thorough Templates Community for each design. Simply go to the left panel's template section and type any template you're looking for into the search bar. It will bring up hundreds of pre-built templates that you may utilize right away to meet your needs.
Draw an Azure Diagram in Visio:
Time-consuming with a Slow Learning Curve

Poor Interface and Layout

Limited File Formats, Templates and Symbol Library

High Subscription Plan
Draw an Azure Diagram in EdrawMax:
Thousands of Built-in Templates and Symbols

User-friendly and Intuitive Interface

Affordable Yearly Subscription Plans for Individual, Business, and Education

Hundreds of Free Templates for 280+ Diagram Categories and Multiple File Formats
4. Free Azure Architecture Diagram Tool
EdrawMax by Wondershare is a powerful all-in-one diagramming tool for desktop and online use. You use EdrawMax to create various diagrams, graphs, charts, and other types of visual content. As stated earlier, it also works as a great azure architecture diagram tool. Here are a few reasons why EdrawMax is the best azure diagram tool out there:
Supports Multiple File Formats: EdrawMax boasts extensive file compatibility for both file import and export. You can import/export your files in Visio, Word, PowerPoint, HTML, PDF, etc. Edraw also supports image formats like JPEG and PNG.
Huge Symbol and Template Library: EdrawMax has pre-existing libraries of industry-standard symbols for all kinds of diagrams. These symbols are also easy to edit and customize so that you can change their color, size, and line styles.
Free Desktop Software: EdrawMax offers a FREE desktop version. All you have to do is download the software for FREE and get started! No hidden charges, no advance payments, etc.
Cloud Storage and Collaboration: EdrawMax is based on cloud storage and comes with a storage capacity of 1 GB. This allows users and their team to collaborate and work remotely on the same project at the same time from any device.
Quick To Learn: EdrawMax has a quick learning curve, unlike most graphic design and desktop publishing tools like Visio and Adobe Illustrator. It is super user-friendly and easy to use.
Offers User Guides: EdrawMax hosts a lot of helpful material like user guides and tutorials to assist its users. If you have trouble drawing anything, simply search the website for a guide!
EdrawMax Desktop
Create over 280 types of diagrams
Windows, Mac, Linux (runs in all environments)
Professional inbuilt resources and templates
On-premises software for business
Enterprise-level data security
EdrawMax Online
Create over 280 types of diagrams online
Access diagrams anywhere, anytime
Team management and collaboration
Personal Cloud and Dropbox Integration
5. Final Thoughts
Visio is a helpful software to represent complex ideas visually. However, it lacks some basic features such as poor interface, limited symbols, etc. While there are many alternatives to this software, one that remains a top contender is EdrawMax. EdrawMax is a versatile, fully-featured drawing app with powerful tools. It offers thousands of customizable templates for its users to create any graphical diagram they want. It also comes with excellent functionality for users and organizations that need to create a large variety of diagrams regularly.
Unlike Visio, where you have to pay for every user in your organization, EdrawMax provides affordable options for all the businesses and organizations that create diagrams regularly. Head to the download option and treat yourself to the best Azure diagram today.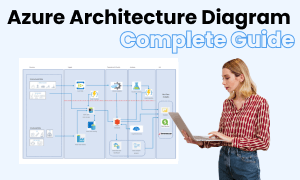 Azure Diagram Complete Guide
Check this complete guide to know everything about Azure diagram, like Azure diagram types, Azure diagram symbols, and how to make an Azure diagram.