How to Draw an Azure Architecture Diagram
Do You Want to Draw Your Azure Architecture Diagram?
EdrawMax specializes in diagramming and visualizing. Learn from this article to know everything about how to draw your Azure architecture diagram with ease. Just try it free now!
An Azure architecture diagram is a simple way to visually represent a business's Cloud computing services. It visualizes the deployment and hosting of any application on Azure cloud services. Almost 500 fortune companies are using this service. The primary purpose of using Azure architecture is cost-effective, quick, and flexible.
Creating and maintaining an Azure architecture diagram helps users quickly understand the network design at all levels. The layout of azure simplifies the work for new engineers and consultants who need to understand the network design and quickly start troubleshooting the problem. Creating an Azure diagram can be a time-consuming task, but EdrawMax allows you to create an Azure architecture diagram hassle-free.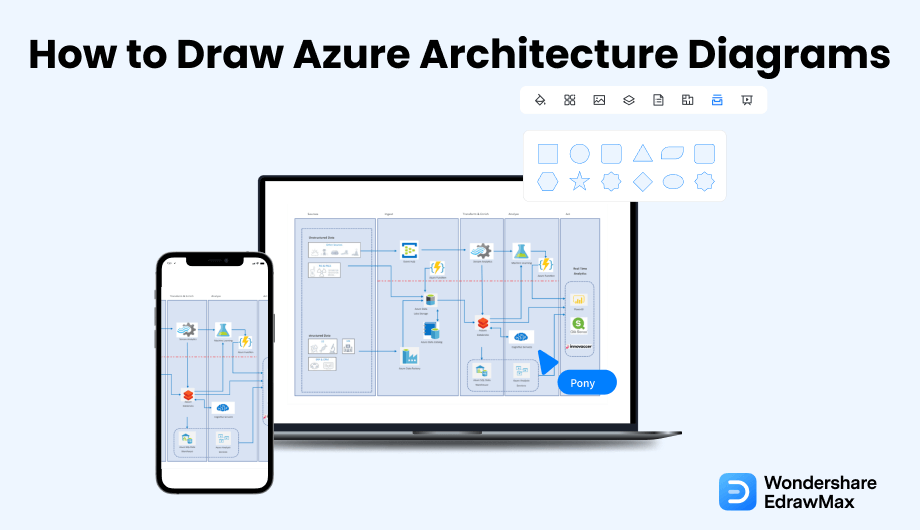 1. What Includes in an Azure Architecture Diagram
When creating an Azure architecture diagram for your organisation's networking, you should consider a few things. These are complex diagrams with a significant accumulation of information. It requires greater attention to detail. So, while drawing Azure diagrams, you should keep a couple of things in mind.
Edge network:

It acts as a bonding point between Microsoft networking and other networks such as the internet and the Enterprise network. It also provides internet and ExpressRoute peering into Azure diagram.

Wide area network:

It acts as a Microsoft intelligent backbone network covering the globe. It provides you with connectivity between Azure regions.

Regional gateway:

It is a point of aggregation for all data centres in an Azure region. It provides massive connectivity between datacenters within an Azure region, such as multi-hundred terabits per centre.

Datacenter network:

It provides connectivity between servers within the data centre with low oversubscribed bandwidth.

The above network elements are designed to provide maximum availability to support always-on, always-available cloud business. The redundancy of these components is intended and built into the network from the physical aspect up to control etiquette.
What Includes in an Azure Architecture diagram:
Edge network;
Wide area network;
Regional gateways network;
Datacenter network;
2. Preparations for Drawing an Azure Architecture Diagram
Now that you have understood the critical elements of contemplation, it's time to proceed with the preparation you need to do before starting with your azure architectural diagram. Remember that these are just essential points and can vary according to your resources, network organisation and environment.
Recognise the Connections

As you know, networking is all about connections, and you have got to understand them. Before starting, you should create a rough map of how everything is placed. Take a record of all the networking infrastructure you have and how they are linked.

Consider the Information You're Conveying

We must know about our audience and consider what information we're conveying. That's why we should not represent a physical and logical view for its sake. These diagrams should be clear so that everyone gets an accurate message. We don't need to explain practical and exemplary architectural diagrams to the audience.

Consider the Networking Layout

The Azure architectural diagrams can be classified into the scenario view, logical view, physical view, development view, etc. Each view offers an unusual imminent into the networking system. So, you should consider your point and see which type of view best fits in.

Plan for Future

When it comes to Cloud Networking, it is credible that you will need to increase your computing assets in the future. So, you should create a layout that would not need many changes if you need to add new components or relationships.
3. How to Draw an Azure Architecture Diagram in General
There are two ways of drawing an Azure architecture diagram. One is the traditional way to go out to the site location, analyze the place, and start drawing using our architectural expertise. Another way is where we use EdrawMax and the free templates provided by this popular software. Before we help you understand how easy it is to create an Azure architecture diagram using free templates and symbols, let us walk you through the traditional methods first.
Define the architecture of your application:

Before drawing an Azure architecture diagram, you have to envisage and describe the architecture of your purpose. Since the layout of cloud services changes now and then, it is vital to think about the planning before you start designing it. You can make a better diagram with a precise design in mind. You can get it as laying a base for your illustration.

Identify main components:

The next step is to explain the primary mechanism of your azure diagram. When it comes to the cloud, you require adding many rudiments that communicate with your architecture design. It would be good to have an optimised azure diagram to perfect your diagram. In this step, you need to choose the crucial components and eliminate those not. You can also use symbols and icons to depict the components.

Draw information flow:

After adding the main elements to the diagram, the next step you need to take is to attach these components to create an information flow. To indicate the flow of data and information, you can draw an arrow between constituents. You can also group those elements, draw a box around them, and connect them with lines by using some elements belonging to the same category. You may also need more details for a better explanation.

Maintain cloud architecture:

If you created an easy-to-inform and update Azure architecture diagram to give accommodation when you try to add a mechanism easily, it would help. It will also help to modify them for better understanding. Even if you don't do this step, your diagram will work just fine, but in this step, you can vary between your architecture's existing state and future states.

Review:

After completing the azure diagram, the final step is to review it. It is as necessary as any other step when creating an azure architectural diagram. You have to check the overall design, every component, and the information flow from the start. Ensure to get it reviewed by one of your trusted contemporaries to come across any mistake. So that you can modify it if there is any mistake in the diagram.
How to Draw an Azure Architecture Diagram in General:
Overview of the standard method of drawing Azure architecture diagrams:
Define the architecture of your application;
Identify main components;
Draw information flow;
Maintain cloud architecture;
Review;
4. How to Draw an Azure Architecture Diagram in EdrawMax
Now that you have seen the complicated steps, let us show you two easy approaches to creating an Azure architecture diagram in EdrawMax.
4.1 Draw Azure Architecture Diagrams from Scratch
Step1
Open EdrawMax & Login
If you are using the offline version of EdrawMax, then open the tool in your system. If you wish to have remote collaboration, head to EdrawMax Download and log in using your registered email address. If this is your first time using the tool, you can register yourself using your personal or professional email address. Go to 'Network' and click on 'Azure.'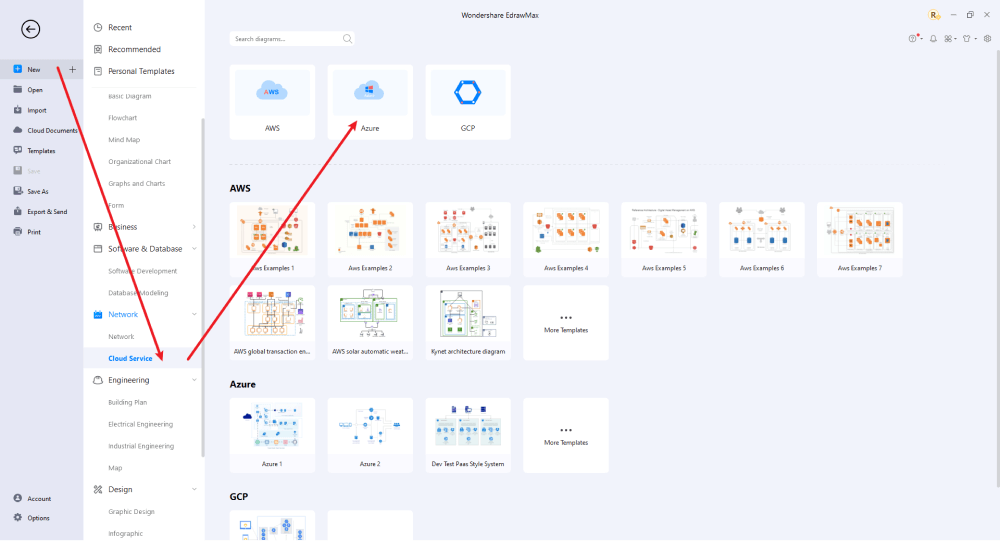 Step2
Open a New Canvas
You can also create Azure architecture diagrams quickly and professionally in this drawing program from scratch. The program has a simple user interface and many features, like importing images, adding and modifying shapes, changing colors, pencil drawing, and more. It's easy to create a basic outline and scale it according to your measurement.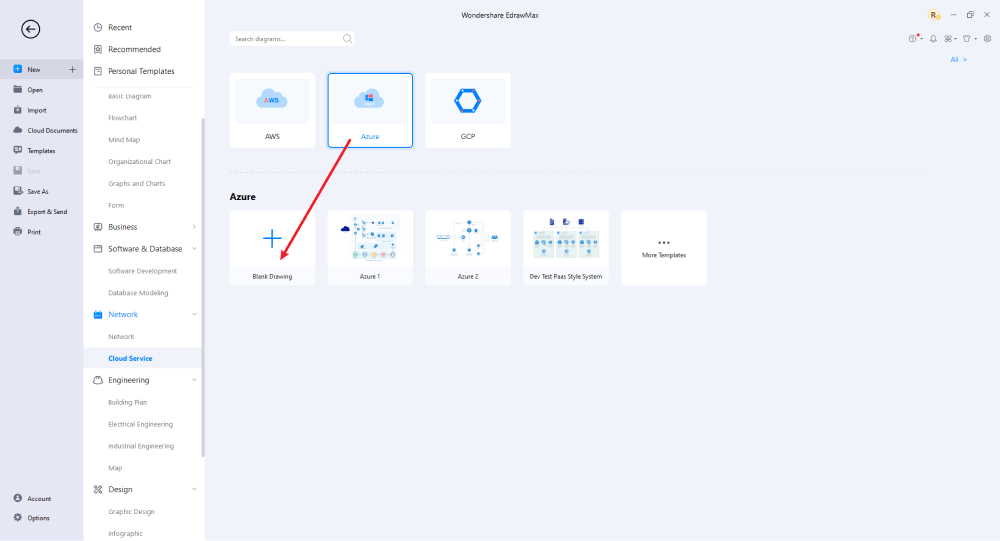 Step3
Select Symbols
To enhance your Azure architecture diagrams, you'll need to include symbols. Check out the 'Symbols' section, and find 'Predefined Symbol.'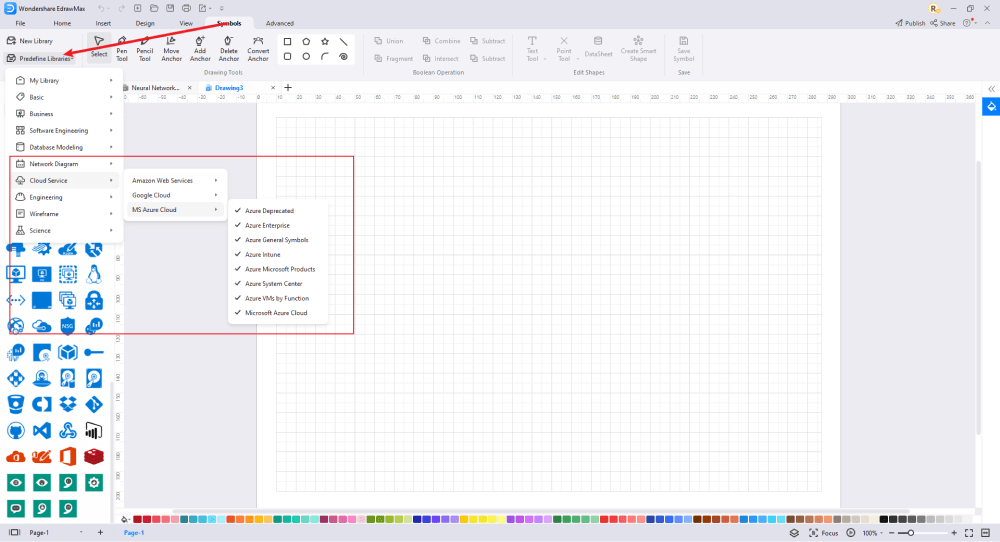 Step4
Add Elements
After you've imported all of the symbols into the Azure architecture diagram drawing, you can place them on the canvas. You can add hardscape and softscape drawings and all the other elements in the Element section of the Network Drawing Plan. Use the toolbars on the right side of the screen to change the color, size, font, etc.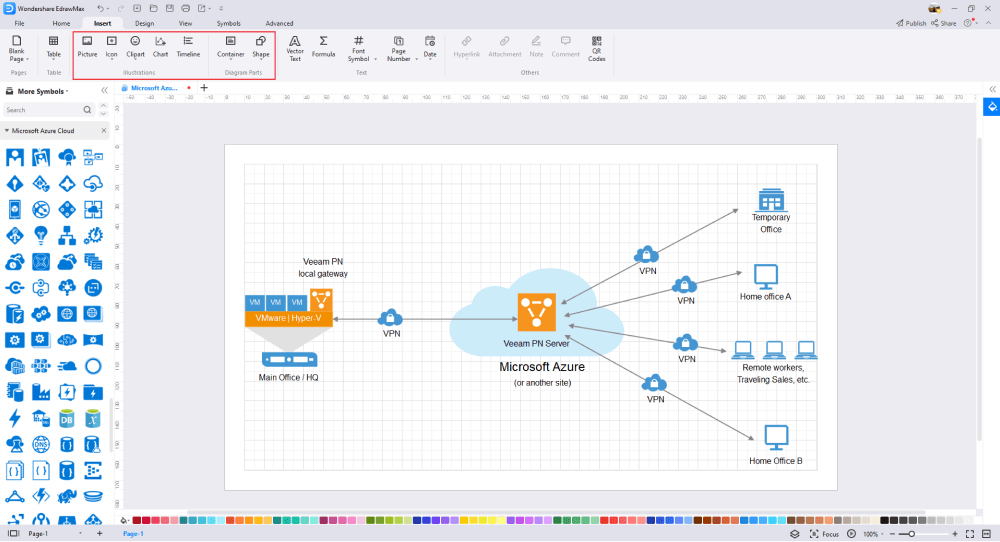 Step5
Save & Export
After designing your Azure architecture diagram, you can export it into several formats, like JPG, PDF, PNG, and many more formats that come with Microsoft Office. You can also share the network layout design on social media platforms, like Twitter, Facebook, LinkedIn, etc.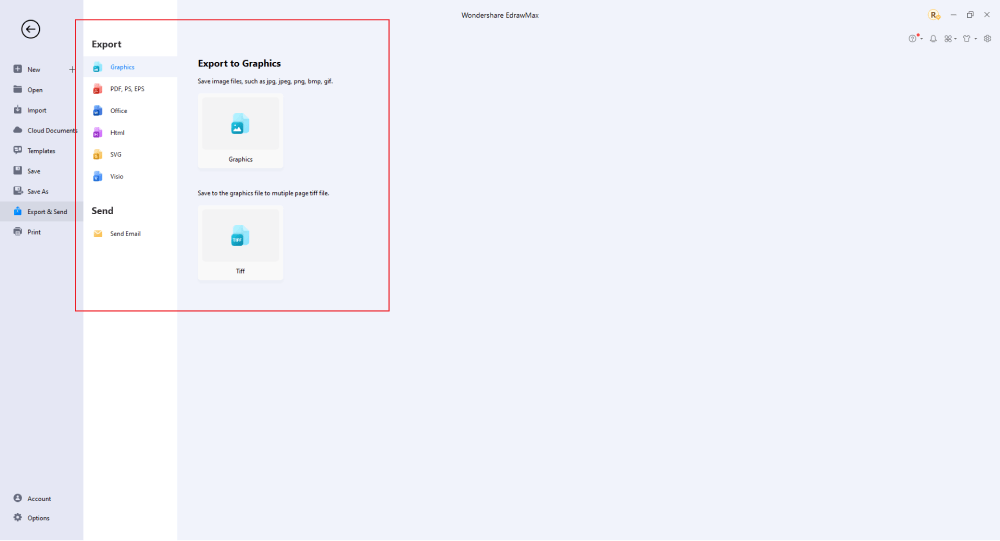 4.2 Draw an Azure Architecture Diagram from Built-in Templates
Step1
Login to EdrawMax
If you are using the offline version of EdrawMax, then open the tool in your system. If you wish to have remote collaboration, head to EdrawMax Download and log in using your registered email address. If this is your first time using the tool, you can register yourself using your personal or professional email address. Go to the "New" and click on the "cloud-based service" category. Then click "Azure"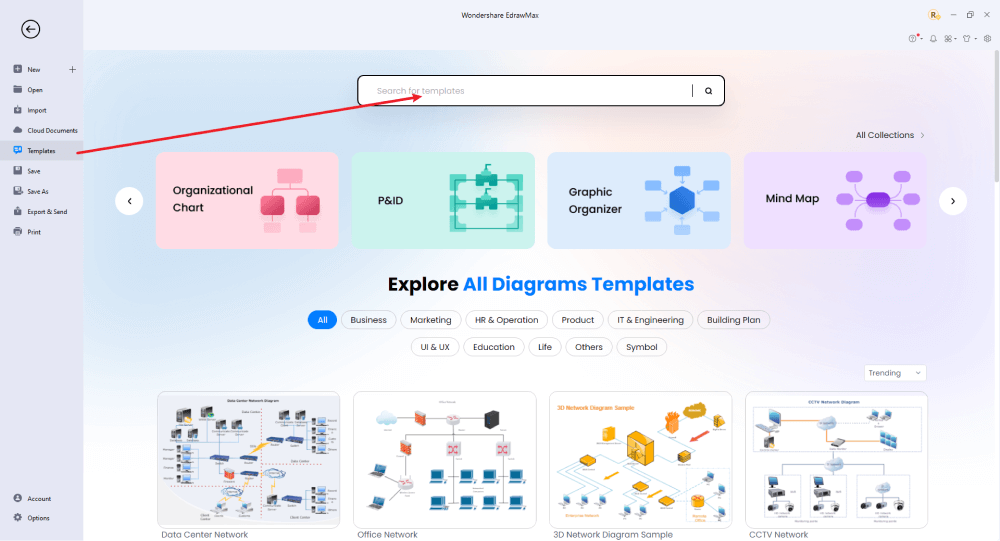 Step2
Choose a Template
In the template community, you will find hundreds of built-in templates readily available to use. Choose any templates that closely resemble your ideal, Azure architecture diagram and duplicate it to 'Use Immediately.'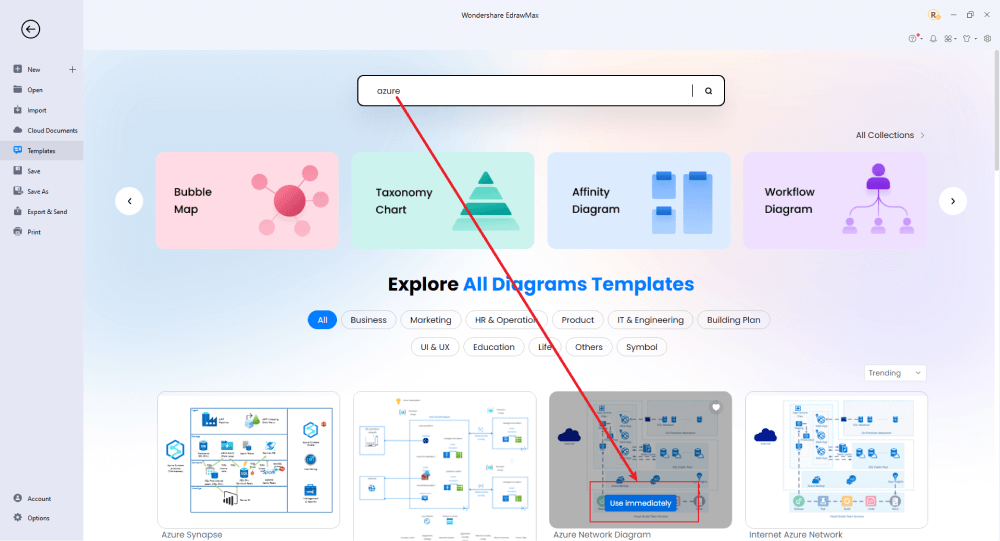 Step3
Add Components
First, make sure that you've imported the free built-in template to the EdrawMax canvas, and then you can change basic details. You can modify the background color, text, and layout. You can draw different types of Azure architecture diagrams based on your vision, using, for example, the 3D Network Diagrams symbol. Just choose the toolbars on the top or right side of canvas, and find the functions you want.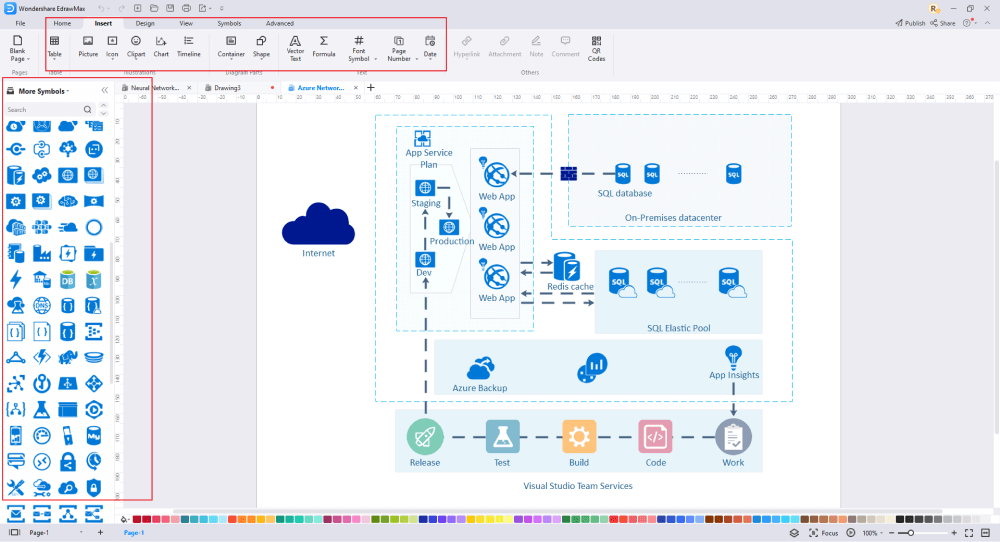 Step4
Export or Publish
Once your Azure architecture diagram is complete, you can save it to multiple file formats as described in the instructions or post it to the template community for the other 25 million registered users to see and get inspired by your Azure architecture drawing. Click the "Publish" button on the top right area of the canvas, and fill in your template details, like template title, description, and tag to share your drawing with others.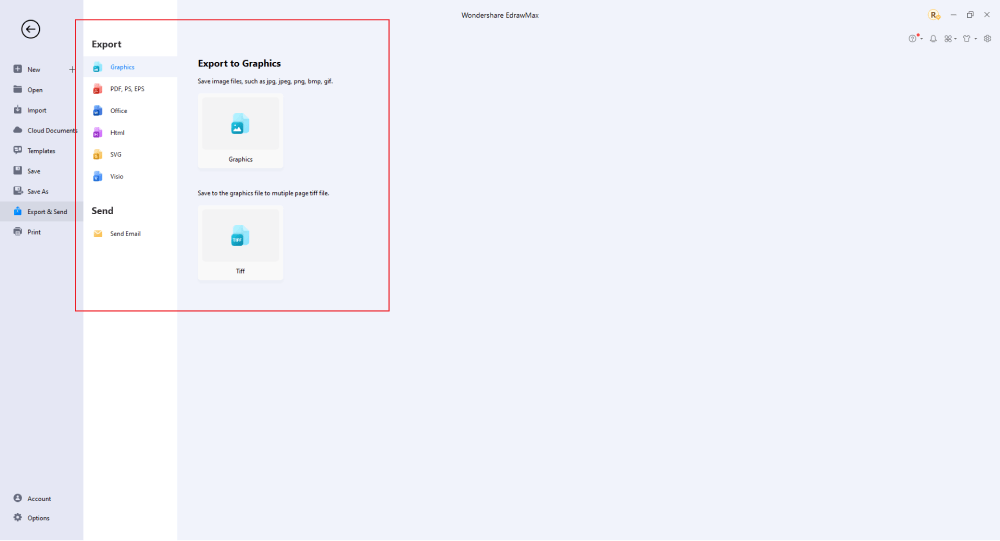 Basically, it is simple to draw a Azure architecture diagram in EdrawMax, just grab a template and keep customizing, drag and drop professinal Azure icons to make your diagrams better. If you are still confusing about how to draw a Azure architecture diagram in EdrawMax, just check the video below, or learn more from our Youtube channel.
5. Tips & Considerations
Whether you create your diagram from scratch or use a template, EdrawMax offers a variety of tools to make the whole process seem easy for beginners and professionals. Nevertheless, if you are a beginner, we recommend starting with a Azure template. But, if you are a professional who would like to discover his creative side, then starting with a blank canvas is the perfect decision. Here, we have listed the benefits of using each method.
Advantages of Creating Azure Architecture Diagrams from Scratch:
It is suitable for professional diagram makers.
It helps you explore your creative side.
You will understand all the intrinsic details by creating it yourself
You don't need to spend time ordering and customizing the components as per your need.
You can create your unique diagrams and instigate others to do so too.
Advantages of Working with a Template:
It is the best way for beginners to start with a template.
It also eases out the load and boosts efficiency.
It can imitate the designs.
Technically, these diagrams will be correct.
It provides uniformity with pre-determined structure and layout.
5.1 Symbol Libraries
A symbol library is like a toolbox for designers: a place to store all the symbols and templates necessary to do certain kinds of tasks. Several important symbols fall under Azure architecture diagrams. EdrawMax has built an enormous symbol library with hundreds of thousands of symbols for designers to use and share, which plays a vital role when planning to create Azure architecture diagrams. Also, the symbol library consists of useful features like the ability to embed your graphics, rotate, resize, and color them as per your canvas board.
At EdrawMax, you will find all these detailed symbols that will help you create the Azure architecture diagram. If in certain cases, you do not find the symbols, you can easily create your own house symbol just by importing the icons or shapes and saving them to your personalized symbol library.
5.2 Template Community
EdrawMax has a rich template community that expands to 25 million registered users. It gives users a quick start. These efficiently designed templates are entirely customizable. It also gives you the freedom to change them as per the project requirement. When you create your diagram, this free Azure architecture diagram software also lets you publish your design to the template community, where it can inspire other designers just like yourself.
6. Free Azure Architecture Diagram Software
Creating the azure architecture diagram could be a challenging task. These diagrams require lots of effort and technical details that need to be addressed. Moreover, this may not be a big deal if you have the right tool like EdrawMax by Wondershare. With this all-in-one diagramming tool and surprising features, template communities, and a symbol library to create diagrams like professionals in no time at all. Here are some features of EdrawMax, the perfect tool to create an Azure architecture diagram:
While dragging the shape on the canvas, it supports showing the dimensions and position of a shape.
It adds a watermark to the top layer of the diagram.
It also supports deleting a flowchart symbol and also keeps other symbols.
It helps you optimize the sharing function by sharing QR codes and setting an expiration date.
It has a user-friendly interface with intelligent automated alignment.
It is also compatible with various formats such as PDF, PPT, VISIO, GIF, etc. It allows you to export and share files without the restriction of the platform.
EdrawMax Desktop
Create over 280 types of diagrams
Windows, Mac, Linux (runs in all environments)
Professional inbuilt resources and templates
On-premises software for business
Enterprise-level data security
EdrawMax Online
Create over 280 types of diagrams online
Access diagrams anywhere, anytime
Team management and collaboration
Personal Cloud and Dropbox Integration
7. Final Thoughts
An azure architecture diagram is technical and requires a coarse layout before starting with the new templates. It will help you consider your audience and the plan's purpose while drawing the diagram.
EdrawMax is quite powerful and includes many features that make it possible to create very sophisticated models that can be used to create artificial intelligence apps. This all-in-one tool helps users create professional diagrams in just a few minutes. Unlike other applications, it offers free customizable templates and a gamut of standardized icons to create seamless Azure architecture diagrams.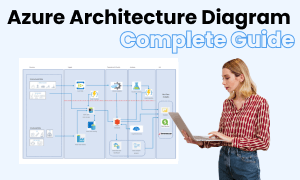 Azure Architecture Diagram Complete Guide
Check this complete guide to know everything about Azure architecture diagram, like Azure architecture diagram types, Azure architecture diagram symbols, and how to make an Azure architecture diagram.