Cisco Network Design Tool

Draw Cisco Computer Network Diagrams with Edraw in no time! Plenty of pre-made symbols and example are free for use and customization in Edraw Cisco network diagram software.
Cisco Network Diagram
Cisco uses its own brand of networking symbols. Since Cisco has a large Internet presence and designs a broad variety of network devices, its list of symbols is exhaustive. For CISCO specific network drawing diagrams, Edraw is supplied with CISCO specific diagrams shape library.
Cisco Network Diagram Software
Edraw Max can use the built-in Cisco symbols to create and present your Cisco network diagrams in minutes. It is ideal for network engineers and network designers who need to make Cisco network diagrams. The intuitive interface helps to draw accurate Cisco network diagrams rapidly. Just drag and drop pre-drawn shapes and double-click to set equipment data. Then draw and auto connect lines representing data.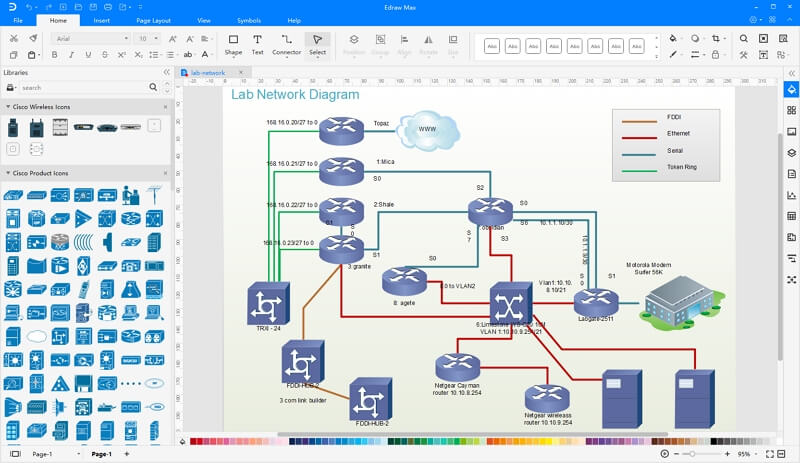 EdrawMax
All-in-One Diagram Software
Create more than 280 types of diagrams effortlessly
Start diagramming with various templates and symbols easily
Superior file compatibility: Import and export drawings to various file formats, such as Visio
Cross-platform supported (Windows, Mac, Linux, Web)
Security Verified |
Switch to Mac >>
Security Verified |
Switch to Linux >>
Security Verified |
Switch to Windows >>
System Requirements
Works on Windows 2000/2003/2008/Vista/7/8/10 (32bit/64 bit)
Works on Mac OS X 10.10 and later
Works on Linux (Debian, Ubuntu, Fedora, CentOS, OpenSUSE, Mint, Knoppix, RedHat, Gentoo and More)
Supports to design on Web
More Features of Edraw Cisco Network Diagram Software
Vector-based shapes and templates that are pre-designed
An all-in-one diagram maker that can make over 280 types of diagrams and serve all of your purposes.
Easy to use with the drag & drop interface, abundant symbol libraries and automatic formatting tools
Run on common operating systems and work on different devices.
Seamlessly integrated with MS Programs
Accompanied by a plethora of well-designed templates and examples and premade symbols
Export documents into various file formats and has great compatibility.
Cisco Network Shapes
Draw Cisco computer network diagrams with Edraw in no time! Pre-drawn network shapes in Edraw symbol libraries can help you create accurate and professional-looking diagrams and schematics. There are special libraries of highly-detailed symbols for drawings, including servers, hubs, switches, printers, mainframes, faceplates, routers, etc. For seeing more useful Cisco network symbols, you can download Edraw Max and open its large symbol libraries.
Cisco Network Topology Icons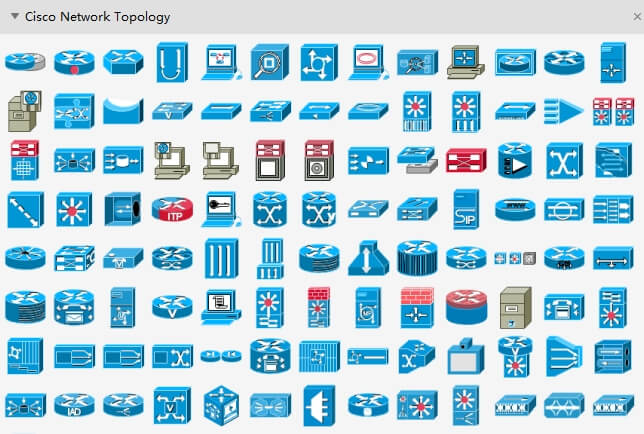 Cisco Product Icons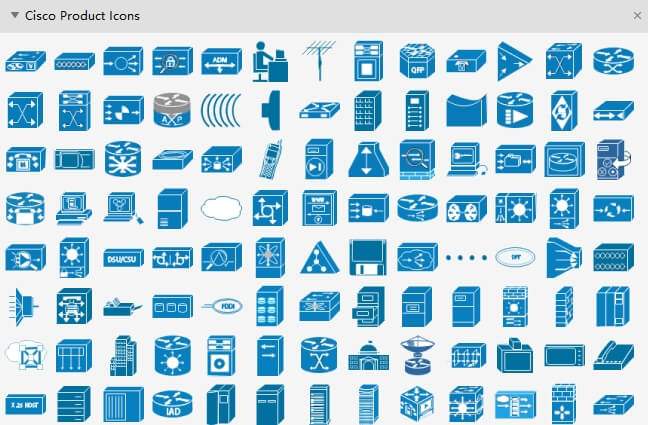 Cisco Telepresence Icons

Cisco Security Stealthwatch Icons

Cisco Safe Design Icons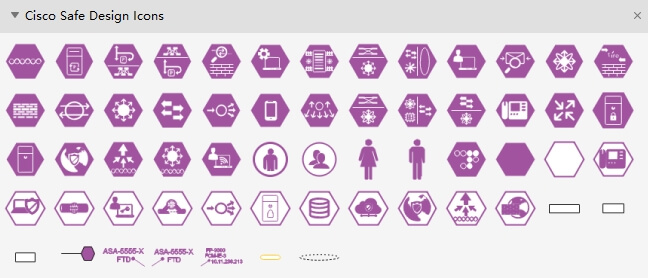 Cisco Safe Threat Icons

Examples of Cisco Network Diagram
Edraw includes lots of Cisco network symbols. All the symbols can be recolored. You can select the sub shapes to fill or change its shape. See some network diagram examples:
Detailed Cisco Network Diagram
Identifiable network icons are used to depict common network appliances. For example, the router and the style of lines between them indicate the types of connection. Clouds are used to represent networks external to the one pictured to depict connections between internal and external devices, without showing the specifics of the outside network. The server is further connected to a printer and a gateway router, which is connected via a WAN link to the Internet.
Cisco Network Topology
Cisco Lab Network Diagram
Cisco WAN Network Diagram
More Related
Logical and Physical Network Diagram