Knowledge
Annual Report
Know it All about Annual Report
Part 1: What is an Annual Report?
An annual report is a several paged document provided to all the shareholders of a company yearly. The report concisely highlights the performance and financial progress made in the preceding year and its views for the upcoming year. Such reports are considered grey literature.
They help assess the company's position and its capability for prospects. As a requirement by the Securities and Exchange Commission (SEC), annual reports are published by all types of businesses and organizations- profit and non-profit.
Part 2: History of Annual Reports
There is not much information about the history of the annual reports but it is believed that the first corporate annual report was issued in 1903 by US Steel. The report's financial accuracy was certified by Price, Waterhouse & Co.
Part 3: What do Annual Reports Include?
Annual reports provide an overview of the company's performance and contain any necessary information for the stakeholders. Typically these documents are divided into three parts: the general overview, operational performance, and financial performance.
Usually, the initial few pages portray the chronicles of the brand in the previous year, while the later pages discuss the financial and operational performances.
A typical annual report often includes the following:
A general description and overview of the company, its sponsors, and affiliates.
Insights into the general corporate.
A brief performance report/message by the director for all the shareholders.
Listing of the directors and executive committee along with their concerned departments and occupations.
Management discussion and analysis (MD&A) of the current financial conditions.
Information related to different business areas.
Audited Income statements, cash flow statements, and balance sheets.
An auditor's report.
Notes to the financial statement.
The market value of the companies shares and the paid dividends.
A detailed summary of the financial data.
Accounting policies.
Besides all this data, the annual reports can also sometimes mention corporate social responsibilities if the company has any environmental or socially sensitive operations going on. These reports are detailed yet written very concisely, excluding any unnecessary information.
Part 4: Who uses an Annual Report?
While the shareholders and investors remain the primary audience and users of such reports, other people that are in some way connected with the company are also targeted. This secondary audience can include the company employees, customers, social workers, suppliers, etc.
Shareholders
Mainly the report is written for all the shareholders, to inform them about the progress, policies, loss, and gains. While being a stakeholder, it is their basic and legal right, the report helps them guage the company's capability and is it suitable for future investments.
Suppliers and Customers
Annual reports help clients evaluate the company's image and how popular their products are within the community. The reports are used to assess their financial strategy and check how well-priced the products are. This gives the supplier an idea about the company and the quality of the product. They can also check their capability and commitment as a supplier and are they suitable for the long term or not.
Employees
Surprisingly, the employees of a company also use an annual report. The document gives an overview of the company and its policies. It also gives an employee an insight into the form he is working with. Besides, the annual reports help them analyze how much credit is given to the team and workforce behind the company's progress.
Part 5: Why are Annual Reports Important?
Annual reports are a key component for any business. They serve as a marketing tool for the company and attract investors and clients towards it. Besides, they have been declared mandatory for all public companies after the crippling crash of the stock market in 1929. This intends to provide the company's financial and operational progress and success in the preceding year.
For Investors and Stakeholders
The reports help investors in gauging their investments and the stock value of their shares. They can assess the performance, and in case the company is not doing well, can sell their shares or withdraw any future investments. It is necessary to share annual reports with all the concerned parties as per their legal right.
A Great Marketing Tool
Besides this, the annual reports are an excellent marketing strategy and are very beneficial in attracting investors. Some companies also write reports to target their secondary audience. They use this document as an effective marketing tool to publicize their prospects, relate and influence economic issues. This attracts customers and investors to the company.
Keeping the Employees Informed
For the company's employees, the report serves as an opportunity to praise their commitment, appreciate the teamwork, and introduce them to new policies. Annual reports also help in improving their understanding of the company's business and stock value.
Part 6: How To Prepare An Annual Report?
Annual reports are very crucial for a company since they represent transparency and accountability. The document can vary in length depending on how ponderous or concise it is. They can be specific and direct to the stakeholders or may accommodate a broader group of people.
So without further ado, let's learn how a basic annual report is written.
Establish a Tone
This is the key component of writing an annual report, especially when too many people are involved in one document. Establish a style guide to maintain consistency in tone and writing patterns. Since it can be crucial for the future of your business, keep the tone formal yet friendly and attractive.
Keep the Message Clear
Instead of making your audience 'discover' your message, keep it clear. The sentences should be short with minimum jargon. Keep the paragraphs short and avoid any cliched sentences too much flowery language. Make sure to highlight positivity even in the most negative areas. The content should keep the reader interested in the brand.
Create Drafts
Unlike a brochure or an advertisement, an annual report cannot be written in one go since it needs to include a message from directors, reports from auditors, comments from the finance team, a review from management, and much more.
Before writing the report, start collecting all the drafts from the respective people. Make rough drafts and see how you would arrange all the content. The layout of the data and stats should be well arranged and complementing each other.
Include Images and Statistics
An annual report serves many purposes hence needs to be informative yet captivating to the reader. Make sure to add images that keep it attractive and provide visual evidence for your projects and performance. It should also include stats that support your written content. This improves the credibility of a brand.
Proof-Read your Report
Proofreading is a crucial step for an annual report since it helps to check for errors that could affect the accountability of your business. You could employ a professional proofreader or take help from an editor in the office to work through mistakes and changes. It would be best to consider a legal counselor to check for compliance with law and regulations.
EdrawMax
All-in-One Diagram Software
Create more than 280 types of diagrams effortlessly
Start diagramming with various templates and symbols easily
Superior file compatibility: Import and export drawings to various file formats, such as Visio
Cross-platform supported (Windows, Mac, Linux, Web)
Security Verified |
Switch to Mac >>
Security Verified |
Switch to Linux >>
Security Verified |
Switch to Windows >>
Part 7: How to Find an Annual Report?
For providing information to shareholders, analysts, and prospective investors, companies make their annual reports public through their websites. These documents are usually available in the investor information area and maybe in PDF form that can then be downloaded. However, you can also contact the company for a hard copy of it.
For example, if you are interested in checking the performance of Amazon in a specific year, download their annual report with the following steps:
1. Search and open Amazon on your browser.

2. Drag down and select Investors Relations.

3. Select Annual Reports, proxies, and shareholder letters.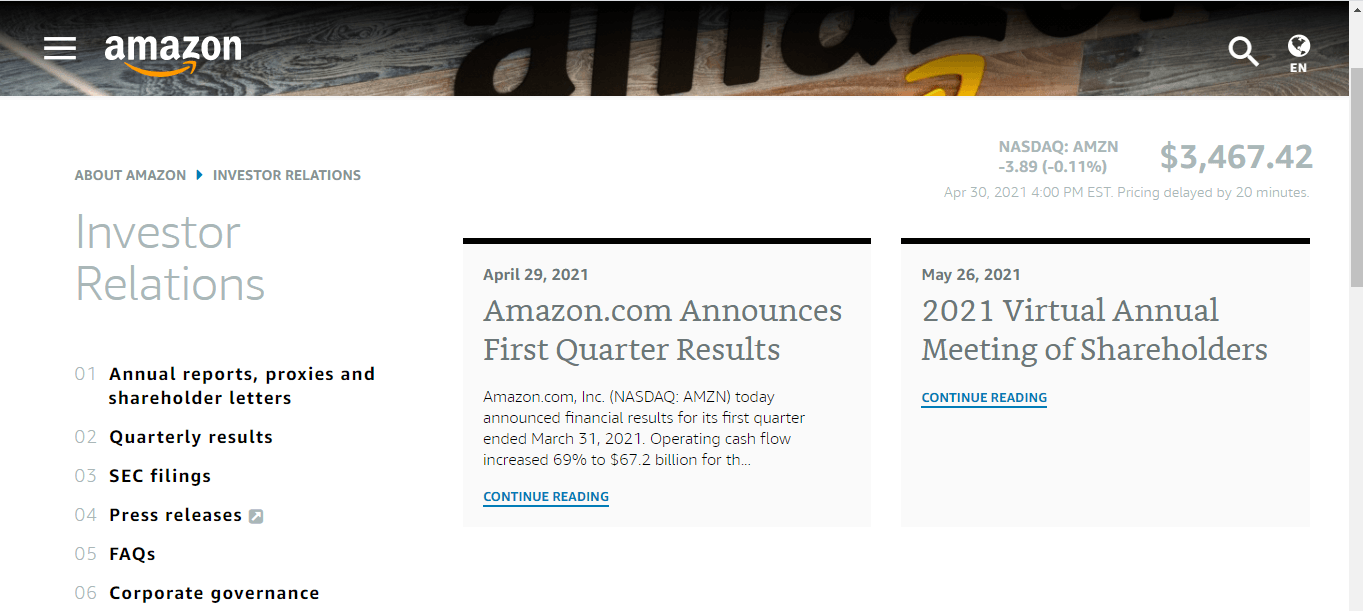 4. Reports of all the all previous years are available. Click to download them.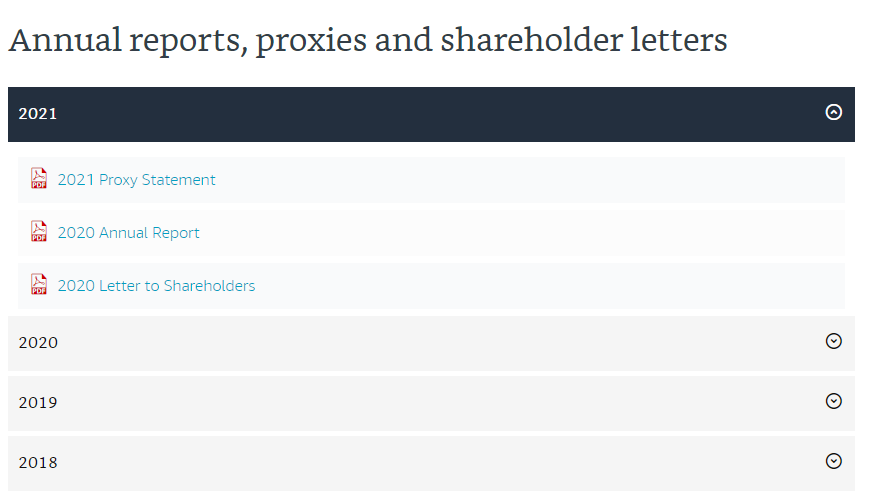 Part 8: Templates for Annual Reports
Here are some design templates to give you inspiration for creating a visually attractive annual report.
Annual Shareholder Bussiness Report
This template helps in differentiating between the different shareholder returns. Such reports are a great way to guage the total returns for a specific year. The report is colorful and includes images to keep it attractive and interesting.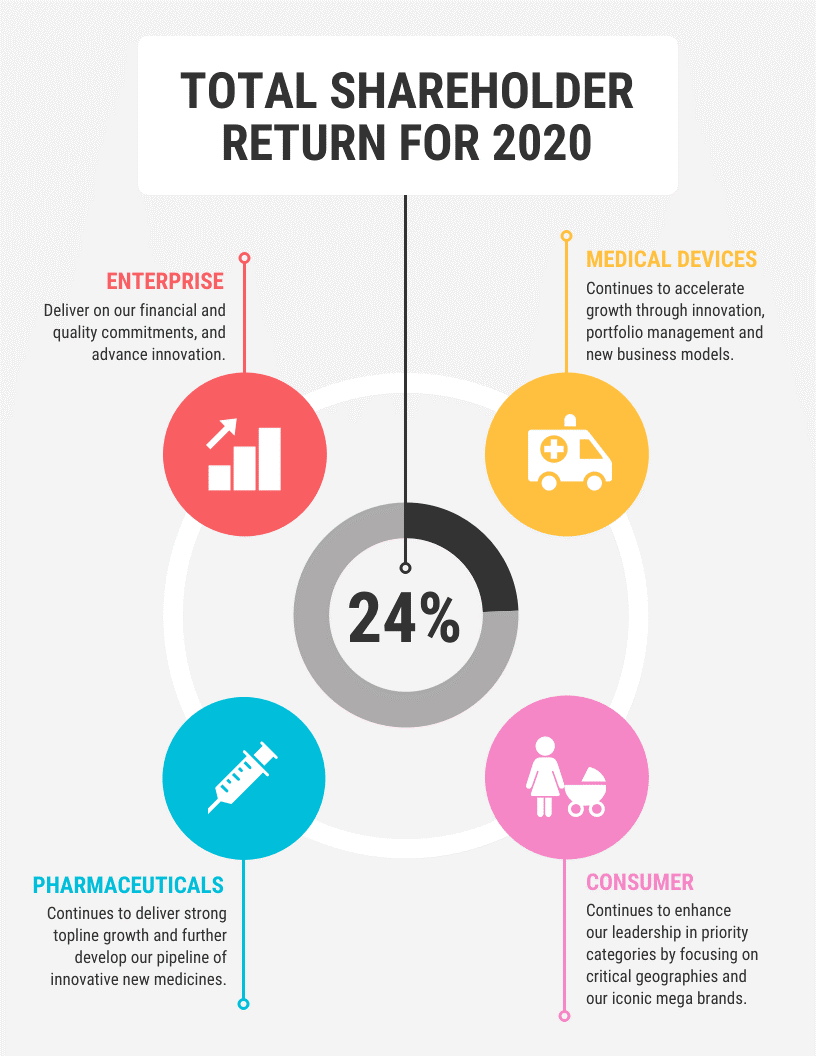 Green and White Annual Report
This green and white annual report is a cool and minimalist template for plant nurseries and gardening suppliers. The layout is easy, and the colors are well-matched with the purpose of this report. With simple and easy instructions, the template can be easily customized to adjust according to your business.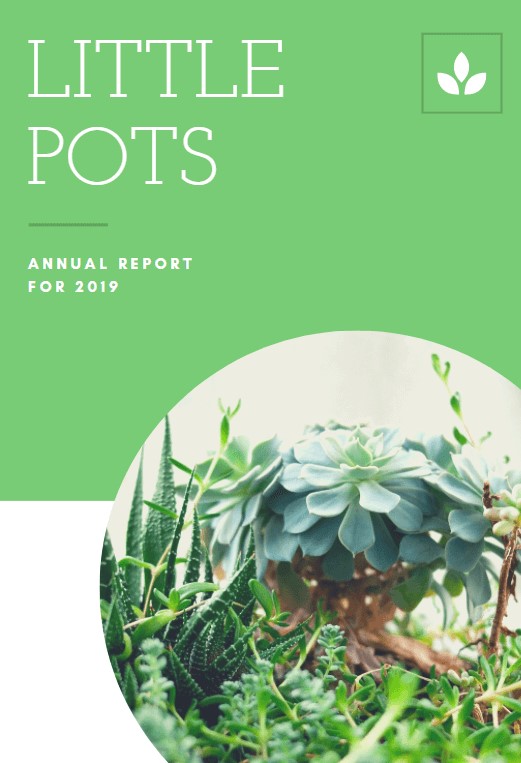 Part 9: Conclusion
Annual reports are important for businesses to keep the shareholders, potential investors, and customers informed about the performance. Create your reports from scratch or use a template and customize it according to your business. Make sure the message is clear and concise, and the tone is not monotonous. With informative and interesting content, attract customers and investors for your business.
Related Articles
Know More about Annual Report with EdrawMax. Try it Free!
LEARN MORE