Accounts Payable Flowchart Complete Guide
Do You Want to Make Your Accounts Payable Flowchart?
EdrawMax specializes in diagramming and visualizing. Learn from this accounts payable flowchart complete guide to know everything about the accounts payable flowchart. Just try it free now!
Every business' accounts payable process is crucial. But the accounting department often faces a lot of challenges when managing this aspect of accounting. For one, as the company grows, the number of documents the department needs to handle also grows. Not to mention an inefficient internal process affects your business finances and productivity.
To develop an efficient workflow, you need an accounts payable flowchart. Using flowchart helps you see how transactions move through a particular area of the accounting department. The flowchart's visual aspect helps to identify barriers in a process, allowing you to spend resources more efficiently. To make the most out of this tool, know how it can help the accounting department reach its goals. Let's get started.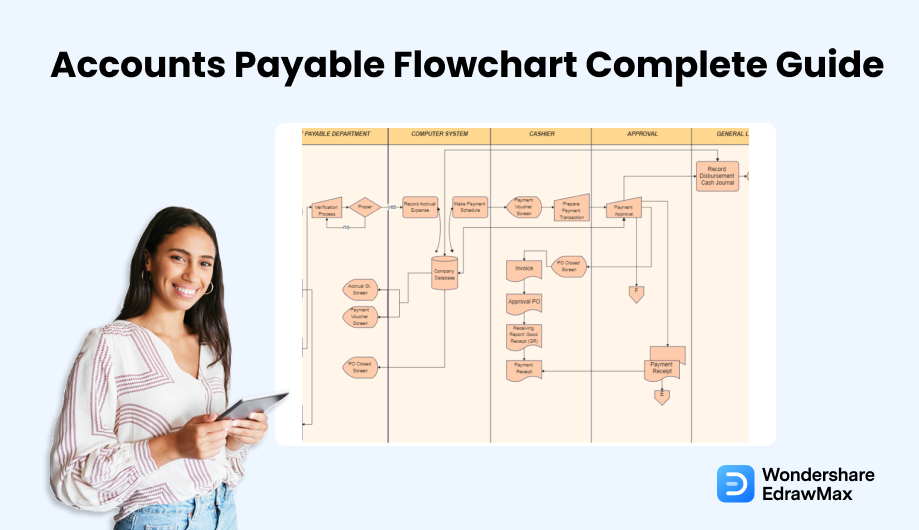 1. Benefits of Accounts Payable Flowcharts
For accounts payable professionals, seeking approval for invoices and payments is the biggest challenge. An invoice requires the authorization of two to five individuals and takes 14.1 days to process. However, research shows that extra time spent on approvals does not always translate into a more accurate payment. Despite spending more time on payment authorization, suppliers dispute one-tenth of it.
Here's how you can use accounts payable flowcharts to solve this problem.
Streamlines Complex Process
Accounts payable processes can get complicated because it's often a department with disparate systems and processes. Yet there is little time for employees to process all payments. Such an instance is typical of an outdated accounts payable process where most steps are manual, including invoice processing.
With numerous vendors and a long list of bills, it is tough for accounts payable employees to keep track of everything. Using an accounts payable flowchart, you can see exactly how the steps fit together. Then you can figure out which actions caused the issues and make improvements.
Encourages Simpler Communication
Accounts payable flowcharts provide people with a convenient way to convey processes, actions, and directions. It also gives participants a means to discuss the best ways to accomplish their goals. By letting them know the connectivity of their tasks through visualization, 67% of employees perform better at their work. This tool also helps managers mediate issues, break down weak links in team communication, analyze results, and track progress.
Helps Better Understand the Workflow
The flowcharts for accounts payable are easy to understand. Instead of reading long documents, you can look at the flowchart, which saves you a lot of time. Also, accounts payable flowcharts show data in logical steps, making it easy for the user to grasp the steps logically as they follow the sequence using symbols.
EdrawMax Desktop
Create over 280 types of diagrams
Windows, Mac, Linux (runs in all environments)
Professional inbuilt resources and templates
On-premises software for business
Enterprise-level data security
EdrawMax Online
Create over 280 types of diagrams online
Access diagrams anywhere, anytime
Team management and collaboration
Personal Cloud and Dropbox Integration
2. What Is the Full Cycle of the Accounts Payable Process?
A full-cycle accounts payable process is one area where firms can improve. Accounts payable is about paying only accurate bills and invoices, regardless of the size of a company. Here are the essential steps for designing accounts payable flowchart.
Receive Invoices
The accounting department receives and encodes the invoices from the purchasing department. Here you review the invoice and decide if it's acceptable or not. You may report any discrepancies, such as differences between what you ordered and what you received or any damage.
Approve Invoices
Next, route it to the person or department who received the product. It is for verification of receipt and to resolve any issues with the details. It is also necessary to route the invoice properly to avoid delays.
Authorize Payment
Paying invoices depends on priority and deadlines. The payment approval process starts with those with high-priority status. Typically, the invoice gets routed to the finance team, then to the controller or CFO for review and approval.
Process Payment
Payment processing can start after the payment approval. The mode of payment depends on the accounting department's processes and the vendor's preference. You can send payments to suppliers automatically or manually.
3. How to Create an Accounts Payable Flowchart with Diagram Software
Whether you want to streamline the process or restructure a long-in-the-tooth accounting system, EdrawMax makes it easy to get started. This powerful flowcharting tool helps you cut down on time-consuming steps when planning an accounting system overhaul. Using EdrawMax's fine-tuned features, you can accomplish your goals in no time.
One of the most relevant features of EdrawMax is its customizable accounts payable flowcharts and user-friendly interface. You can create effective change management plans with EdrawMax. It helps you optimize processes and create an organized workflow system by giving you a clear picture of your business today.
Through EdrawMax online and software, creating sophisticated accounts payable flowcharts is easy. EdrawMax supports several file formats, including PDF, Visio, Microsoft Office, and more. You can import and export elements with ease.
Let's see how to create an accounts payable flowchart with EdrawMax.
Step1
Visit EdrawMax Online or Download the Software
Sign up for an account if you've never used EdrawMax. After that, you can use EdrawMax for free. You can use basic features to create accounts payable flowcharts. For more features, you can always upgrade to a premium membership.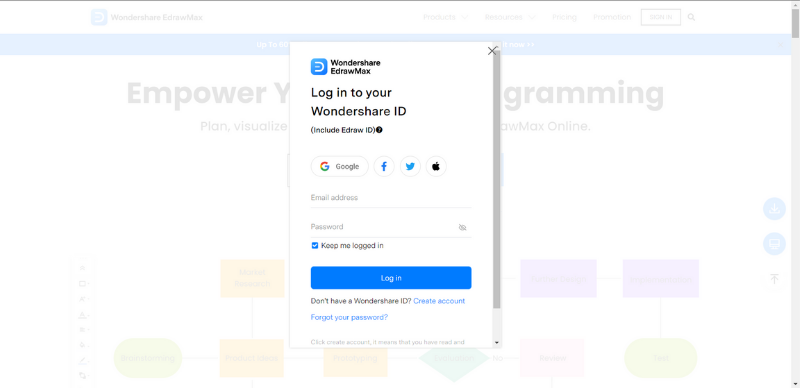 Step2
Using a Template or Choose a Basic Flowchart
You can start with a blank drawing page in EdrawMax and create a new accounts payable flowchart from scratch. To do so, click "+" above Blank Drawing or click Basic Flowchart.
You can also create an accounts payable flowchart by using a pre-made template from our template library. You can edit some accounts payable flowchart examples to make them your own by adding other elements. Just click Templates from the left-side navigation bar.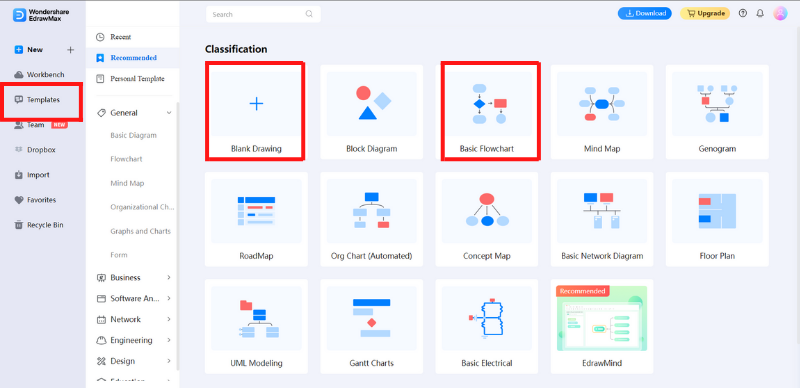 Step3
Design the Accounts Payable Flowchart
Add text, customize colors, size, and position, and streamline the accounts payable flowchart in any way you want. This way, you can create a process presentation that reflects your company's branding.
Format Shape: Click Style to open the Fill/Line/Shadow pane and customize a shape. You can also click on the shape you want to edit. It will open the Style/Fill/Line pane.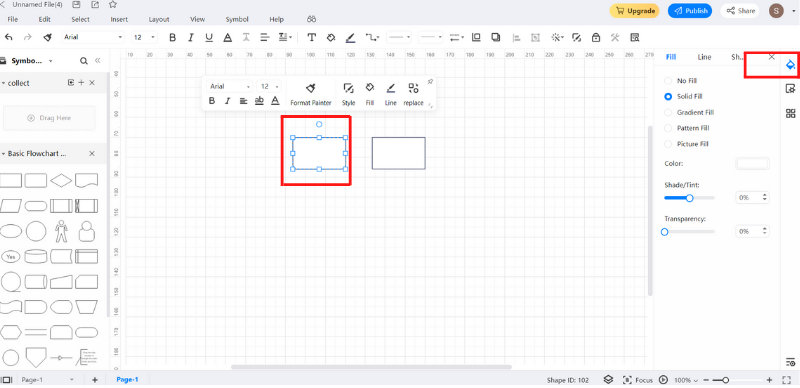 Insert Text: To add text to your accounts payable flowchart, click T in the top navigation bar. Then click on the shape where you will add the text. Alternatively, you can right-click on the shape you want to edit. Select Insert to add text, notes, comments, hyperlinks, or attachments to your accounts payable flowchart.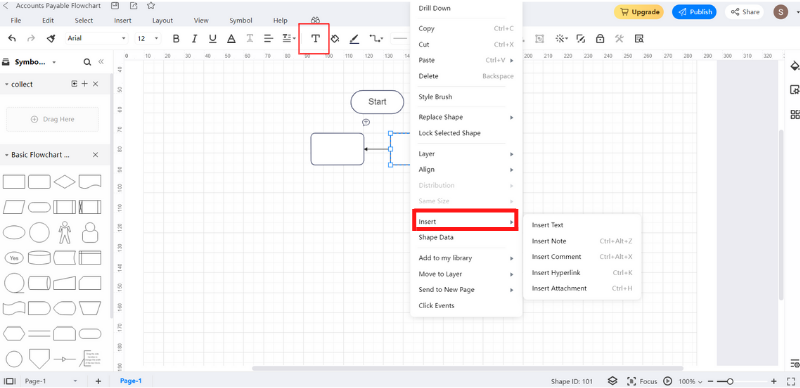 Step4
Decide Whether to Save/Export/Print/Share the File
EdrawMax allows you to easily get the flowchart you've made. You can save it as a cloud file or as a personal template. Exporting it to graphics, PDF, Word, PowerPoint, or another format is simple with EdrawMax online or software. You can even share it through social media.
To do so, click File in the top navigation pane. Then select whether you want to save, export, print, or share your accounts payable flowchart.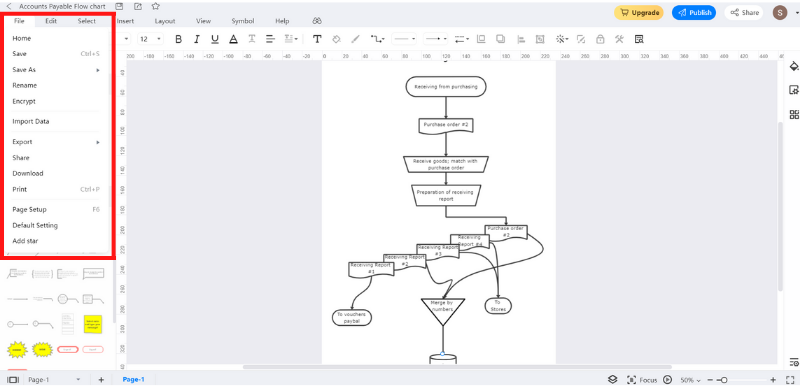 4. Free Accounts Payable Flowchart Examples
The accounts payable flowchart examples in this section will give you some ideas. You can use them, especially if you want to optimize your accounts payable process.
Example 1. Accounts Payable Process
This accounts payable flowchart example involves four common steps: invoice capture, invoice approval, payment authorization, and payment execution. When a business buys items on credit, its AP department pays vendors, suppliers, and creditors. Following this accounting flowchart process presents to creditors that you can properly structure your payment schedules, improving your reputation. Aside from that, it secures businesses against erroneous or illegal invoices by comparing them to purchase orders.
Example 2. Accounts Payable Flowchart
This accounts payable flowchart shows how the purchasing department works with the accounting department, including accounts payable. Accounting will get a memo from purchasing saying the purchase was on credit. Those in charge of accounts payable will review the invoice. Once validated on their end, they create a payment request from there.
The accounts payable department submits a vouched invoice or payment request and a check to the company check signer. After that, the check signer decides whether to approve and sign the payment request. Upon approval by the check signer, the accounts payable department sends the check to their creditors and records the invoice as paid.
Example 3. Accounting Flowchart Template
Here's a simple accounts payable flowchart. The accounts payable process also considers vouchers when receiving an invoice from the purchasing department and reconciling everything after a credit payment. Also, this process involves matching purchase orders with goods and services received.
EdrawMax
All-in-One Diagram Software
Create more than 280 types of diagrams effortlessly
Start diagramming with various templates and symbols easily
Superior file compatibility: Import and export drawings to various file formats, such as Visio
Cross-platform supported (Windows, Mac, Linux, Web)
Security Verified |
Switch to Mac >>
Security Verified |
Switch to Linux >>
Security Verified |
Switch to Windows >>
5. Understand the Accounting Flowchart Symbols
Before you build one, you need to understand what is involved in the accounts payable flowcharting process. In the accounting workflow, the symbols show the path to follow to get the job done. Different shapes represent different operations or steps in a flowchart. An arrow and line indicate the order in which the steps are done, along with their interactions.
Although there are different accounting flowchart symbols available, here are the most commonly used accounting flowchart symbols you need to know:
Terminal Symbol: An oval shape represents the beginning and ending points in a process. It frequently contains the words "Start" or "End."
Decision Symbol: A diamond shape represents a step in a process where you should answer a question and reach a decision. Typically, this is a yes/no or true/false question.
Process Symbol: A rectangle shape represents a step in a process.
Document Symbol: A document icon represents the additional points of reference involved. It can be a printed document or a report.
Flowline Symbol: An arrow represents directional flow and unique connections between the steps of a process.
6. Understand the Accounting Flowchart Symbols
The most crucial step in creating an accounts payable flowchart is finding a good flowcharting program that fits your needs. Multiple options are out there, including online solutions like EdrawMax. Its accounts payable flowcharts are a quick, easy, and proven method of keeping track of those accounts payable transactions. With so many templates already available, you are bound to find what suits your needs.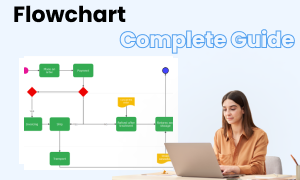 Flowchart Complete Guide
Check this complete guide to know everything about flowchart, like flowchart types, flowchart symbols, and how to make a flowchart.