Customer Service Process Flowchart: Types, Examples, Tutorials
Do You Want to Make Your Customer Service Process Flowchart?
EdrawMax specializes in diagramming and visualizing. Learn from this article to know about what is customer service process flowchart, types of customer service process flowchart, example of customer service process flowchart, and how to make customer service process flowchart. Just try it free now!
Do you know what the secret to the success of a business is? It is good customer service! The first solution coming into your mind as a failing business owner should be a customer service boost. But it isn't a single-step process. You must assess the whole process by stepping into the customer's shoes. It will enhance your perception of the chart.
All that is possible through customer service process flowchart examples. If you want to know how to create one easily, you have come to the right place. We have covered all related topics in a simple flowchart format. So, you'll know what a customer service process flowchart is and why it's vital.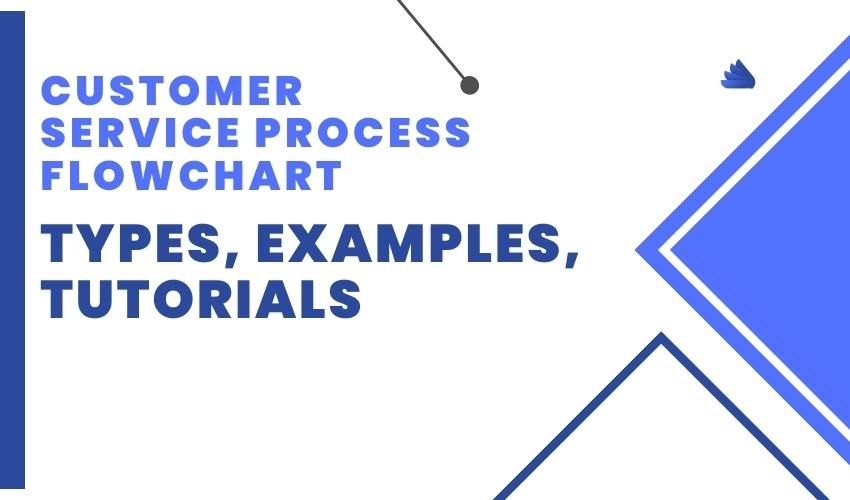 1. Why Is Customer Service Process Flowchart Necessary
The customer service process flowchart is a visual tool. It helps spot the different stages of a customer service link. Also, it is helpful to create standard use methods. It improves relations between agents and superiors. These customer service process flowchart examples help visualize and understand the process of your customer service department. These can help all agents in reducing errors and improve customer content.
That is not all! These charts make it clear how you can handle an inquiry or problem. They are useful for increasing employee interest and reducing costs.Customer service process flowcharts are ideal for anyone involved in providing customer support. That means the diagram will serve its purpose for everyone. It does not matter if it's your employees or someone from outside the company. For example, if you have a help desk team that responds to questions about products and services on your website, having one of these diagrams would be helpful for them too!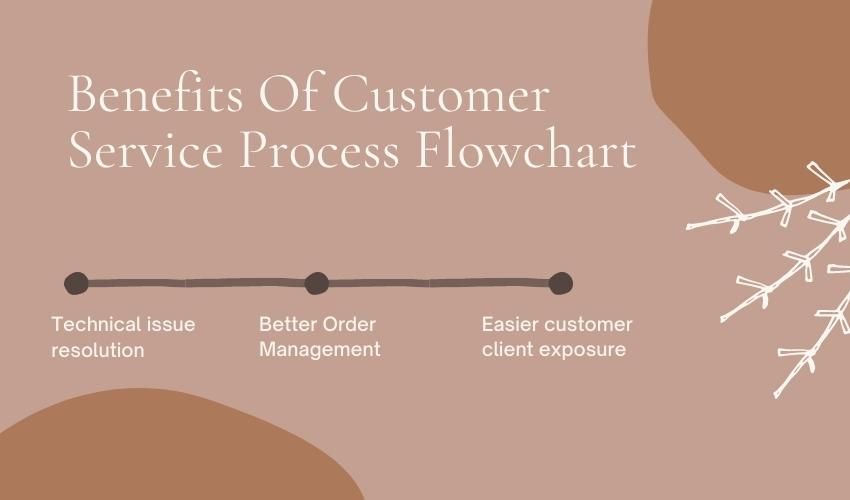 Customer service process flowchart examples can help you improve customer exposure. Some of its benefits are as follows:
A customer service team can use this tool to create a common thought among employees. It can help them solve problems or answer questions related to their job duties.
A diagram is an effective tool for training new employees. It guides them through each step in a clear manner. Therefore, it ensures everything is clear about the next task. For example, it tells how much time you should spend on each task.
The crucial benefit of this type of diagram is that it helps reduce time spent on processing customer requests. It is possible by allowing employees to know exactly where they need to go after submitting an inquiry. This clear way helps them direct their attention toward vital matters.
2. Customer Service Process Flowchart Types
There are different types of customer service process flowchart examples with one thing in common; they all help you know customers' steps of working with your company. By making that criterion a base, here are several flowchart types you can use in your business.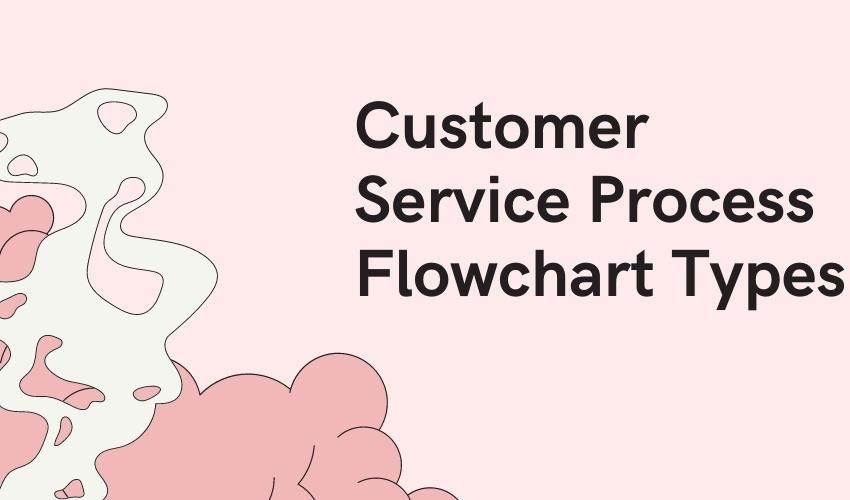 2.1 Customer Service Journey Map
Customer journey maps visually represent the customer's experience with your company. They help you understand how your customers interact with your business. This type of diagram shows the business progress and helps pinpoint areas where upgrades are possible. It also shows what each customer does during their daily tasks at business exposure. Therefore, it allows employees to make informed decisions about serving customers. Plus, these customer service process flowcharts help describe how people can interact. An organized roadmap will assist them in making better decisions about doing business with your firm.
2.2 Customer Complaint Resolution Process Flowchart
These customer service process flowchart examples show the process of solving customer complaints. It shows how to handle customer complaints in the collective journey. The first step of its creation is to spot the complaint. It might involve gathering data from the customer. Plus, it includes judging what happened or was expected to happen. The next step is to make sure that there are no problems between the two parties. It is vital because it helps prevent future problems. With the above knowledge in hand, you can also keep track of customers' feedback process. These break down the steps for you to remember what must happen next.
2.3 Technical Issue Resolution Process Flow Chart
This flow chart is a graphical image of the steps involved in resolving a technical issue. The process begins with an incident report and ends with an intent document. It has three distinct phases: incident reporting, study, and purpose. The process starts with collecting data related to the issue. It helps discover the problem. After the survey, you can select a solution based on the issue's strength. The last step is to enlist its imposing process for the readers. You can use these customer service process flowchart examples. They can help you to understand your customers' needs. As a result, you can ideally work with them on finding solutions that meet those needs.
2.4 Customer Billing and Orders Process Flow Chart
The customer billing and orders process flow chart is a form of a diagram. It shows how the business deals with customers' business assets. In simple words, it helps you understand how your company works. Plus, it tells you how to handle all those pesky questions about shipping costs and payment plans. This flow chart is a great way to map out the steps you must take when your customer purchases a product. It will help account for each step and ensure that every customer receives their order on time. Also, it includes customer creation, order creation, and order processing.
3. How To Create Customer Service Process Flowchart With EdrawMax
Creating customer service process flowchart examples starts with defining the issue. Before you start writing down your solutions, ask yourself: what's the problem? What to solve? And if there are multiple problems, which one to tackle first? Once you've addressed these questions, it is time to create goals and priorities. It's best to focus on one goal at a time until they're all complete.
There are no hard-and-fast rules here. You only need some directions. It'll help you to know where things stand when something comes up suddenly. Moreover, it tells how far each project has come since its inception. Several programs are in the market to create customer service process flowcharts. Yet, there are very few that are ideal for visual creation. It is because these charts need a vast set of helpful symbols that are only present in some programs.
EdrawMax provides all useful tools for the customer service process flowchart creation. Here are the simple steps for its creation.
Step1
First things first, you must have an account to start. So, start by signing up and then logging into the account. You can download the program or use the online portal to create the account.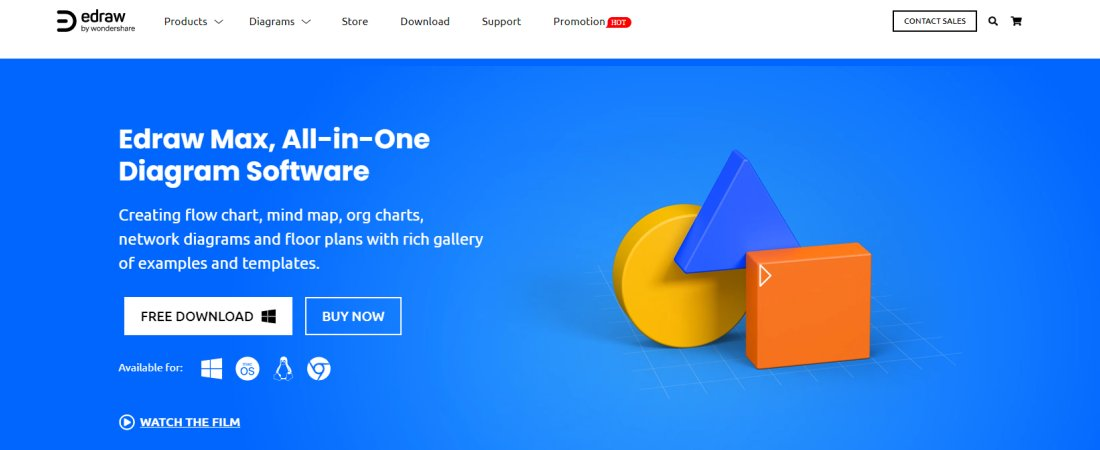 Step2
Once logged in, you will reach the main menu screen. You'll see a tab with multiple bars on the left. Click "New" and find the "Customer Journey" layout by searching the keyword in the search box. Click on the template layout to get various customer service process flowcharts. Now, click on any of these to transfer it to the edit screen.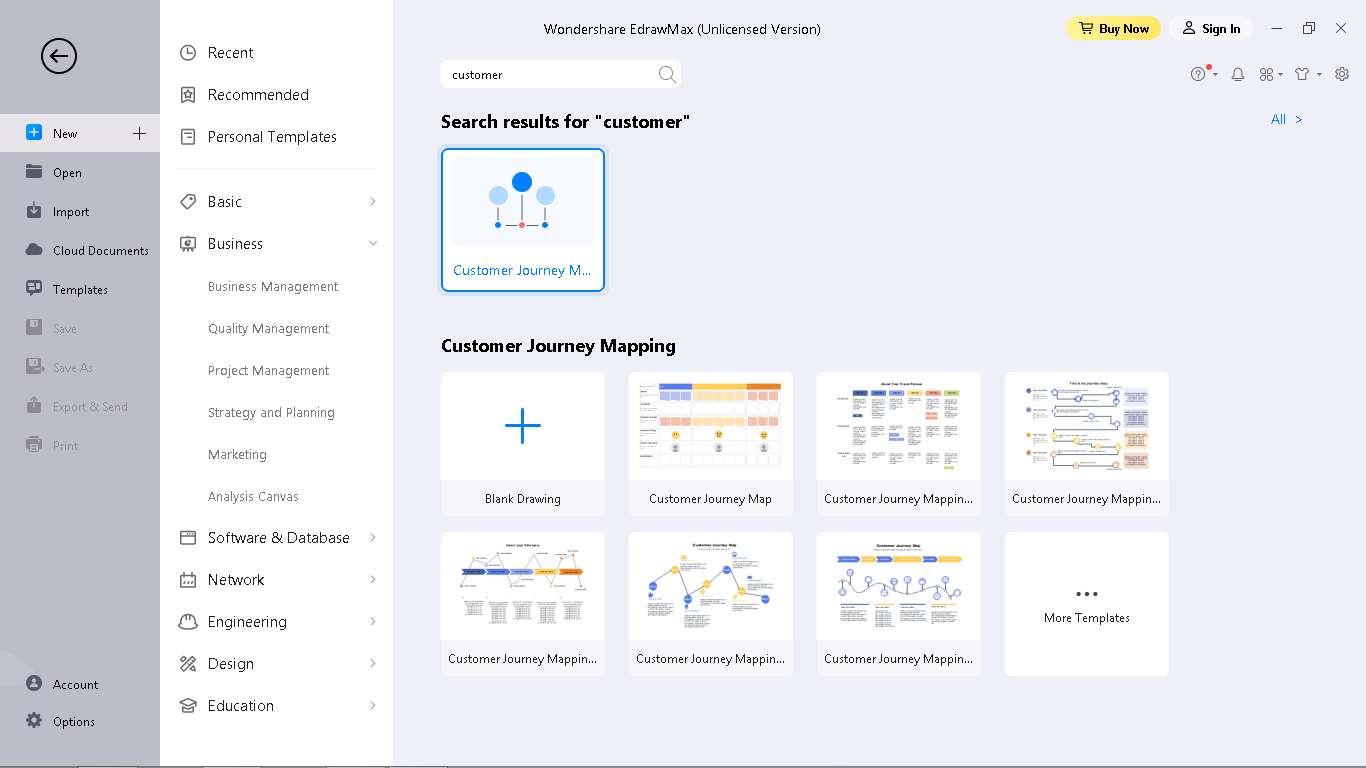 Step3
Another way to create customer service process flowchart examples is through a pre-made template. A few options below the "New" tab, you'll see the "Template" bar. Click on it and search for your specific flowchart. After selecting your choice from thousands of free chart examples, click "Use Immediately" to get it on your edit screen.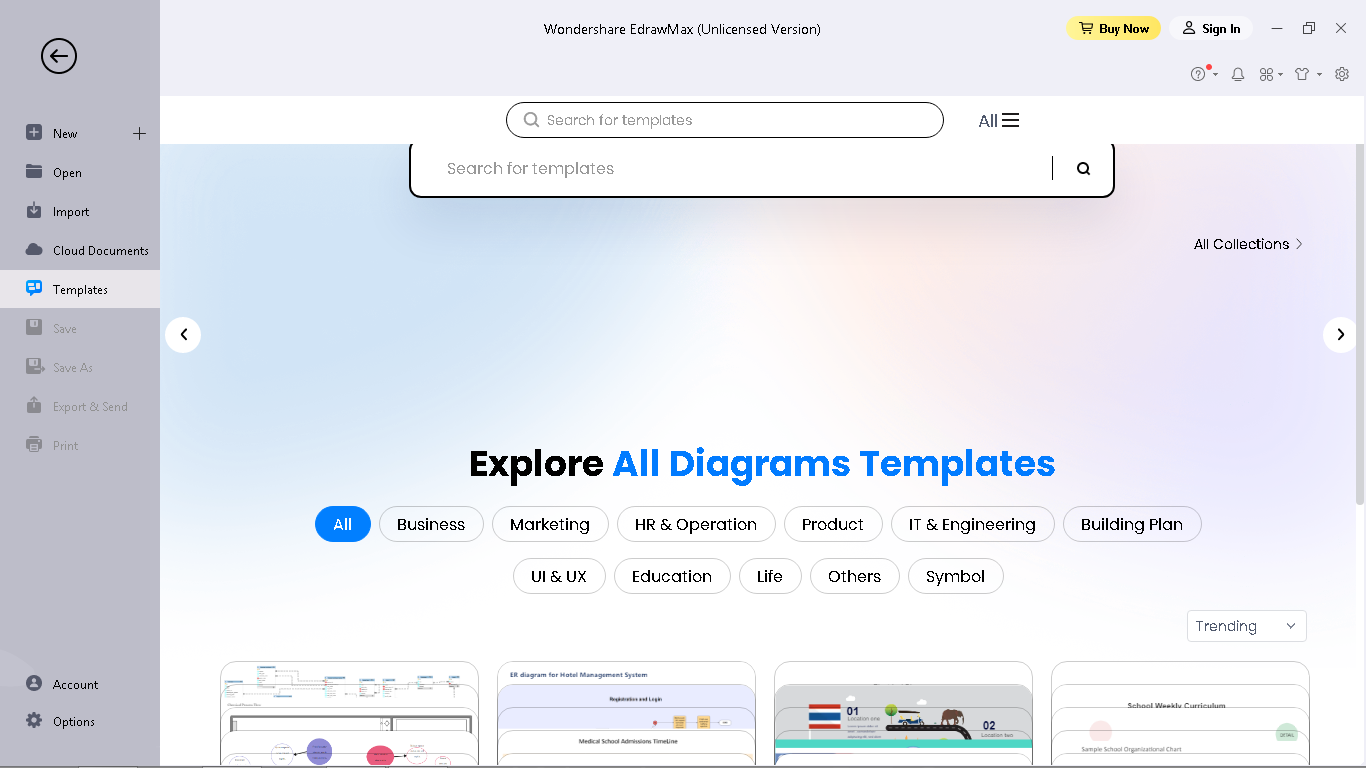 Step4
After getting the template to your edit screen, insert data inside its components. You can do so by hovering your mouse over them and exploring connected options. Customize the template by adding, removing, or replacing components. Plus, you can add symbols from the huge 25000-symbol collection library of EdrawMax.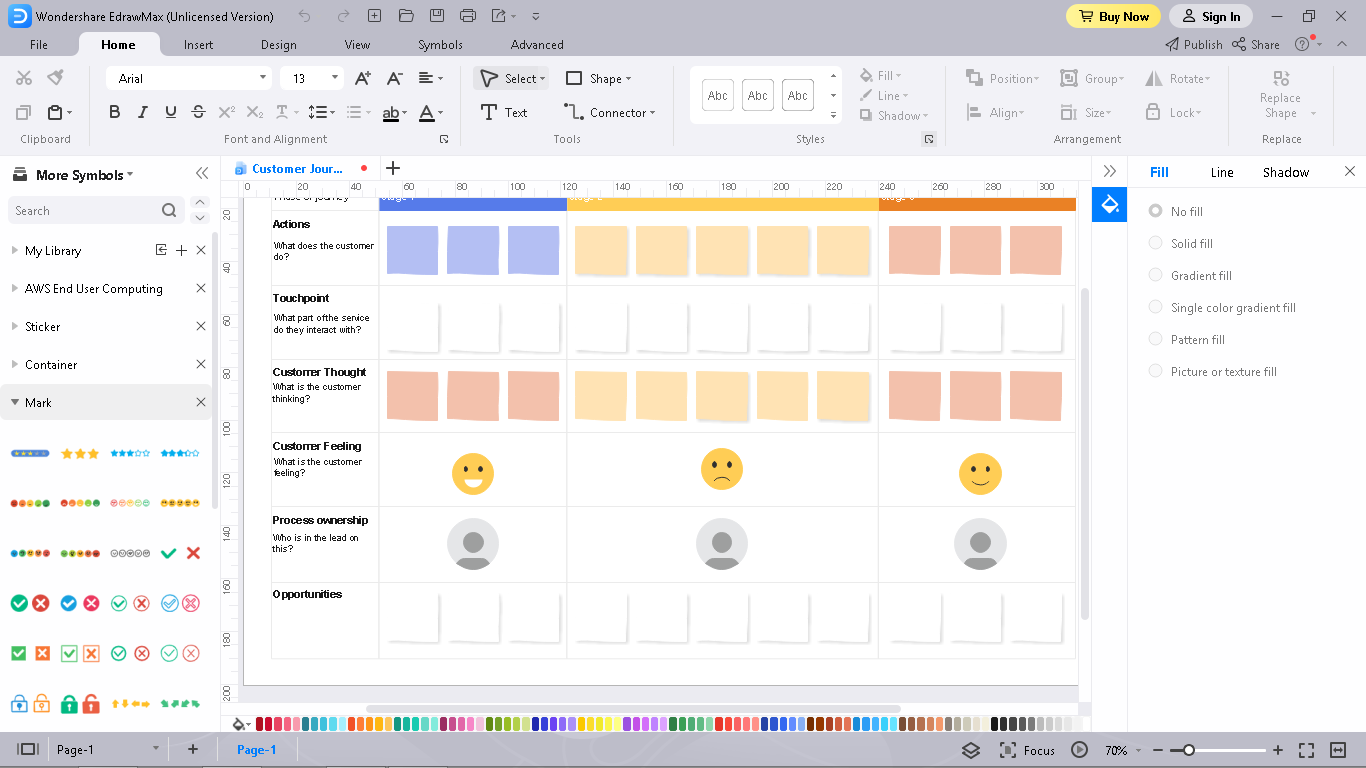 Step5
Now, click "File" in the top left corner after you finish making a flowchart. Finally, click "Save As" to browse for the file location and export your design in a specific format. EdrawMax offers 14 format choices, making it easy to use the diagram in any software. Customer service process flowcharts ppt, Docx, jpg, and pdf are some of their examples. Moreover, you can also share your design with the world. Click "Publish" in the top right corner to name your example and shoot it in the template league.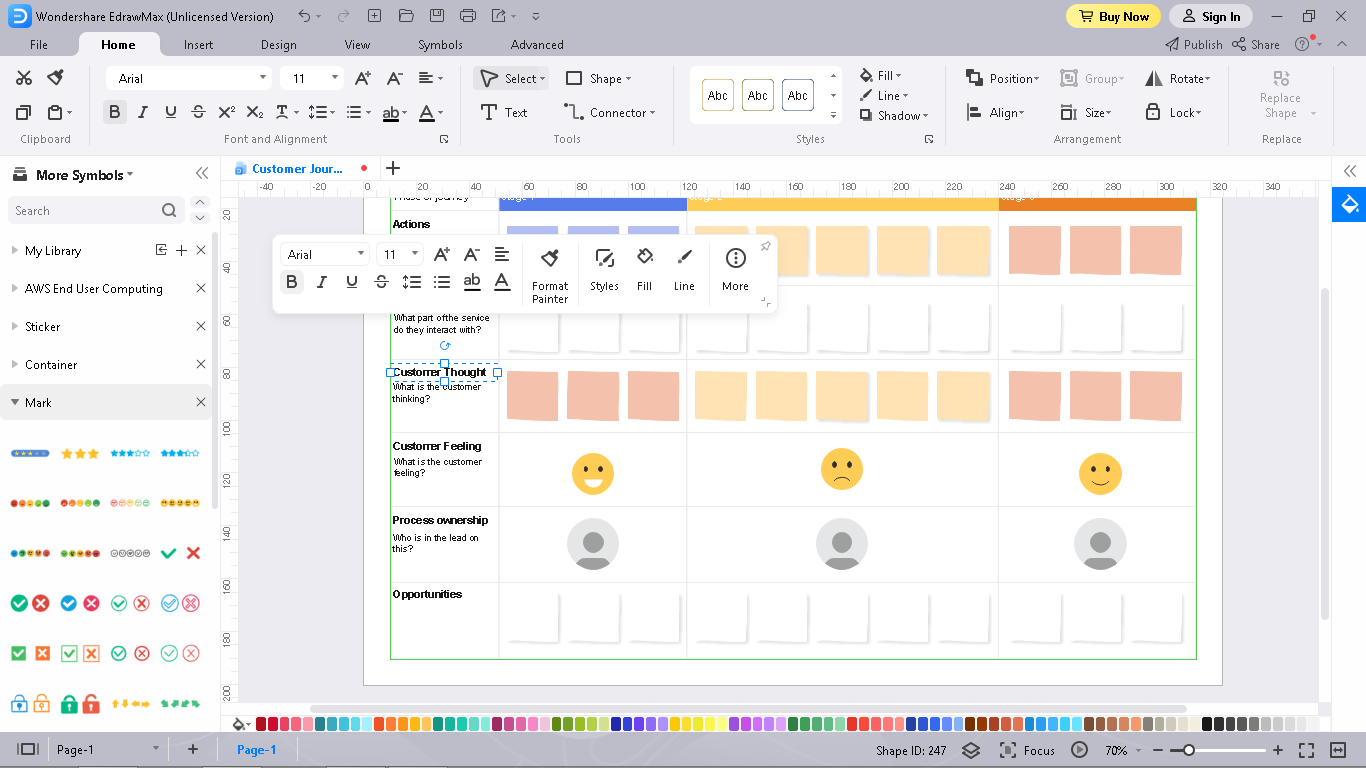 EdrawMax Desktop
Create over 280 types of diagrams
Windows, Mac, Linux (runs in all environments)
Professional inbuilt resources and templates
On-premises software for business
Enterprise-level data security
EdrawMax Online
Create over 280 types of diagrams online
Access diagrams anywhere, anytime
Team management and collaboration
Personal Cloud and Dropbox Integration
4. Conclusion
The customer service process flowchart is a great tool. It helps your agents serve your customers better. It can help you pick areas of upgrade. Moreover, it enhances your overall customer experience. Plus, you can use it to create a training program for new hires and ensure everyone is on the same page.
These customer service process flowchart examples must act as a guide. That means it must help in creating processes that work from both sides of the counter. That is possible only if you complete them with the ideal strategies of a perfect program - just like the well-known EdrawMax. So, download it and get all its benefits for free!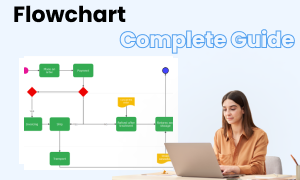 Flowchart Complete Guide
Check this complete guide to know everything about flowchart, like flowchart types, flowchart symbols, and how to make a flowchart.