Knowledge
What to Write in a Birthday Card?
Know it All about Birthday Card
Some people can write a long birthday wish like merely running an errand while for some; it becomes hard to write beyond a simple "Happy Birthday to you."
Birthday cards are for those who matter, they involve emotions and essentially depict the relationship between the sender and recipient.
While keeping in mind the kind of relationship you have with the birthday person, the wishes can be exceptionally subjective.
Part 1: Simple Birthday Wishes
These birthday wishes could be as simple as adding one extra word e.g., "happy" and making it "Happy, Happy Birthday" or maybe "Happy Birthday, may you have many many more."
One very basic tip to enhance the impression yet keeping it simple could be choosing the card very carefully, keeping in mind for whom it is. This will save you the hassle of coming up with a detailed birthday message.
Part 2: Milestone Birthday Wishes
This is special! The person with a milestone birthday might not even realize or feel it but you can do this for them with your exciting birthday message.
Usually, the ages 16, 18, 21, 30, 40, and so on up until 100 are considered milestone birthdays. Highlight the age in the card e.g., change the size, font, and color of the number wherever it is mentioned in the birthday wish.
One very precise example to begin a milestone birthday wish for someone who just turned 30 could be about how they are old enough to manage to pay for a good life on their own and young enough to still have fun.
Part 3: Birthday Wishes for Different People
1. Birthday Wishes for Parents
Your parents are the reason you exist.
Do you joke around with your mom or maybe spend some quality time together for tea in the afternoon? The birthday message for your mom will depend on the kind of relationship you have with her. You can mention some memories that you cherish with her or you could remind her to smile more.
Moms can solve anything! This is the most appropriate time to make her feel seen and special. However, generally, the wish should express warmth, love, affection, and most importantly appreciation for her. She should genuinely feel the queen that she is!
For your dad, the birthday message should include warm wishes, gratefulness, and love. The track to put together the most meaningful wish would be according to your relationship with him. He is your hero, and this is the perfect occasion to mention it to him.
Some people do not have very expressive dads or maybe the expressive kind of relationships with them, a birthday card
2. Birthday Wishes for Kids
The attention span and the ability to read are quite low when it comes to kids. Therefore, the birthday message for your kid should be precise and catchy.
Focus on the design or theme of the card rather than long and emotional text (that they might not even fully understand). Address them by their pet name (if any) to make the card seem homier.
Just like parents, kids also require the importance and realization of being heard, the card could include how you appreciate the little efforts they put in to light up your day.
3. Birthday Wishes for Friends
For some, friends are essential to have fun in life while for others they are closer than family, as they say, "Friends are the family we choose for ourselves."
Friendships usually are flexible. Nonetheless, the key to a perfect wish for your friend is mentioning how important they are and thank them for being there at a certain point (or throughout). The wish can include a roller coaster of emotions with laughter and even sadness, both in one.
4. Birthday Wishes for Your Significant Other
Do you like someone? Do you wish to spend eternity with someone? This wish is an excellent way to strengthen your relationship with your one and only.
You can keep it simple yet full of love, you can be a little flirtatious with a few lines that suit the nature of your relationship and that would make sure the other one has a wide grin on their face. You can tell them how grateful you are to have them by saying "Happy Birthday, I am grateful to have you in my life and would love to be with you for the rest of it."
On the other hand, you can be a little quirky by adding some generic one-liners e.g. "Are you French? Because Eiffel for you." Just express your love for them and you will be all set with a great birthday wish.
5. Birthday Wishes for Professional Relationships
Professional birthday wishes would depend on the nature of your relationship with that person i.e., you can be as casual if it is a colleague with whom you are close. However, for your boss or manager, its best to keep it formal.
For a colleague, you can use "Don't work too hard, it's your day! Hope it's happy!" For a formal one, you can use "Happy Birthday, all the best for upcoming years."
Part 4: Different Kinds of Birthday Wishes
Belated Birthday Wishes
Better late than never? There could be a thousand reasons why your card might not reach the recipient on time. You could add some amusing apology, make up a promising reason or simply tell the truth.
However, for the card to bring the same or more delight to them, you can mention, "It reached you late because you are special, and I wanted your birthday to last longer than usual. I know I'm the best."
Funny Birthday Wishes
There are people with whom you share many inside jokes and those with whom you are very close. They are the ones who deserve the funniest wishes with a hint of warmth.
Writing a message in your talking style will elevate the whole conversation i.e., the person reading would feel like they are hearing your voice while reading. Also add some fun-filled memories to the card to crack them up with laughter.
Giving the card with an empty envelope with no money, calling dibs on the gifts they do not like, and adding prayers like "May all your wishes come true, even the weird ones" are all examples of what you can add to enhance the birthday message.
Warm Closings
This may be the end of your card, but it can become the most interesting part.
Right before doing your signature e.g., for a friend you could add a "Yours obediently" to make them laugh or for others, you could add a pet name they gave you after a "Your" to make it as homely as possible.
This part of the card is highly subjective but equally important.
Part 5: How to Create a Birthday Card in EdrawMax?
Step 1: Install and launch the EdrawMax software on your PC. The picture below is the home screen of the software.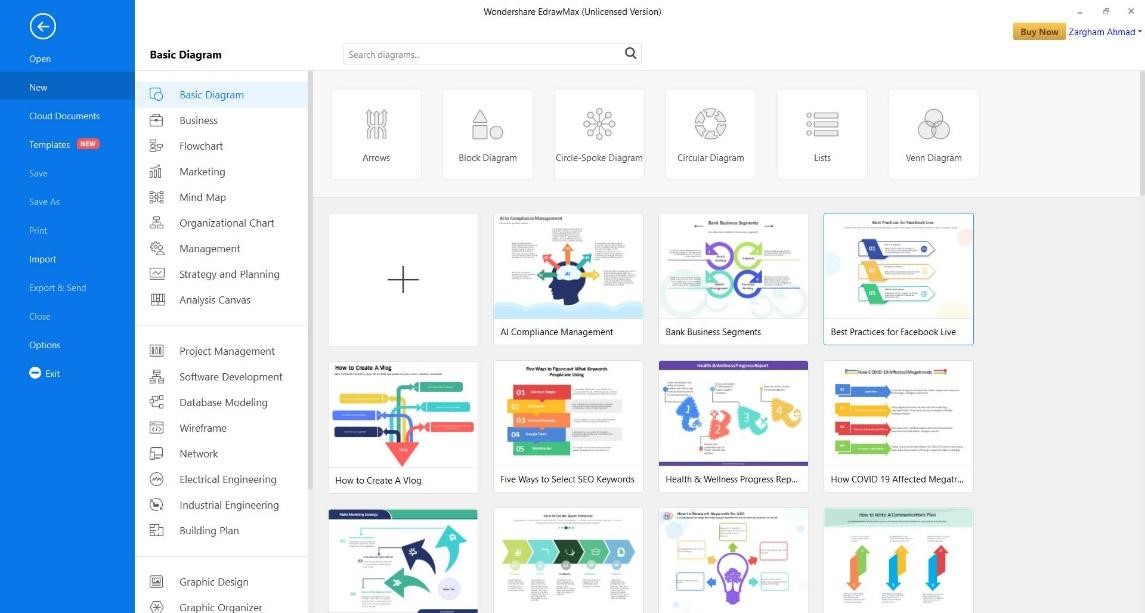 Step 2: Click on "templates" and then select diagram types", this will display a drop-down menu that includes many different options.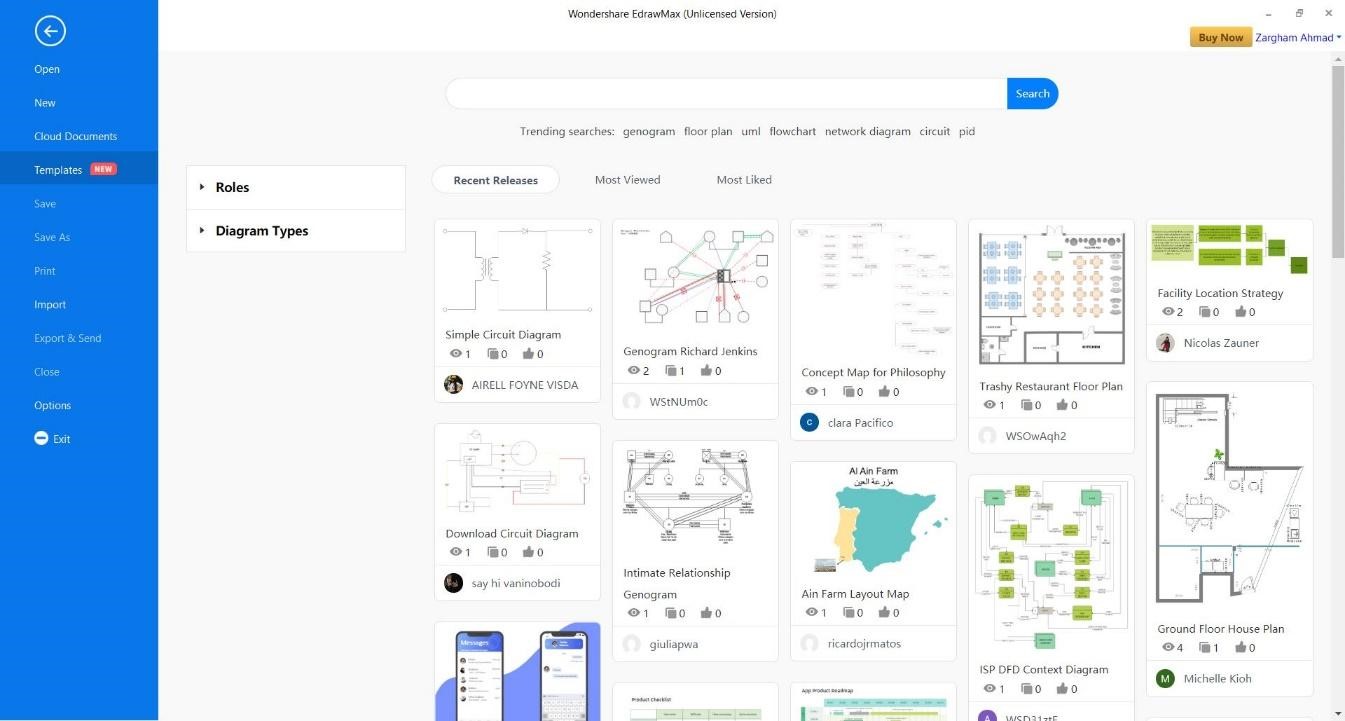 Step 3: Click on "Card" and then click on "Birthday Card". This will display many different templates for birthday cards. Now you can choose your preferred template.
Step 4: After finalizing your preferred birthday card template, click on "use immediately" (in blue on the top of the screen).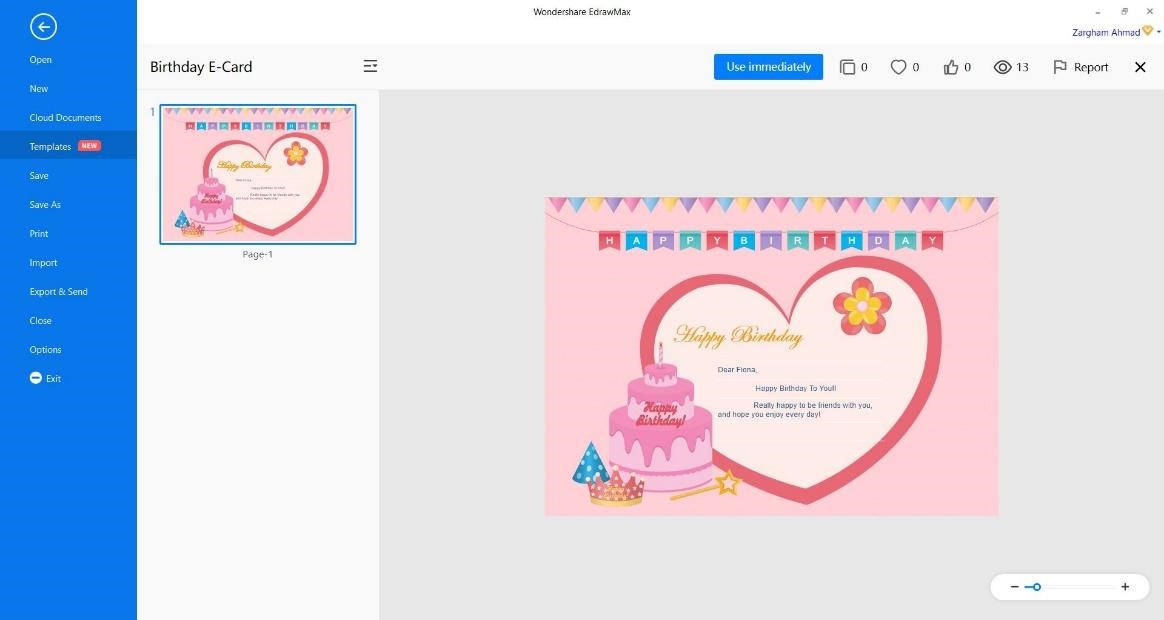 Step 5: After selecting your template of choice, it will lead you to the screen for final formatting as shown in the image below. Here you will be able to enter all your sweet birthday wishes for your loved ones, move around the text, choose text styles, etc. A color grid is available at the bottom to change the color of the text and other interactive shapes.
On the left-hand side, there is an option available to import, add different symbols and shapes. Whereas on the right-hand side, there are multiple editing options such as filling of shapes or text boxes, adding photos to the card, change sizes of the interactive items, add, delete or edit layers, add textures or change the colors, shade, tint or transparency of all the different objects in the card.
After all required editing, you can import the final card in pdf, jpeg, or any desirable format from the File option in the top left of the screen.
EdrawMax
All-in-One Diagram Software
Create more than 280 types of diagrams effortlessly
Start diagramming with various templates and symbols easily
Superior file compatibility: Import and export drawings to various file formats, such as Visio
Cross-platform supported (Windows, Mac, Linux, Web)
Security Verified |
Switch to Mac >>
Security Verified |
Switch to Linux >>
Security Verified |
Switch to Windows >>
Part 6: Conclusion
Not everyone has a knack for writing birthday wishes and we totally understand. That's why we have given you some tips and tricks for writing a birthday card
You can also use EdrawMax to make an Ecard so go on and do your magic!
Related Articles
Create a Birthday Card with EdrawMax. Try it Free!
LEARN MORE