How to Create a Birthday Card
Celebrate someone's birthday and send your wishes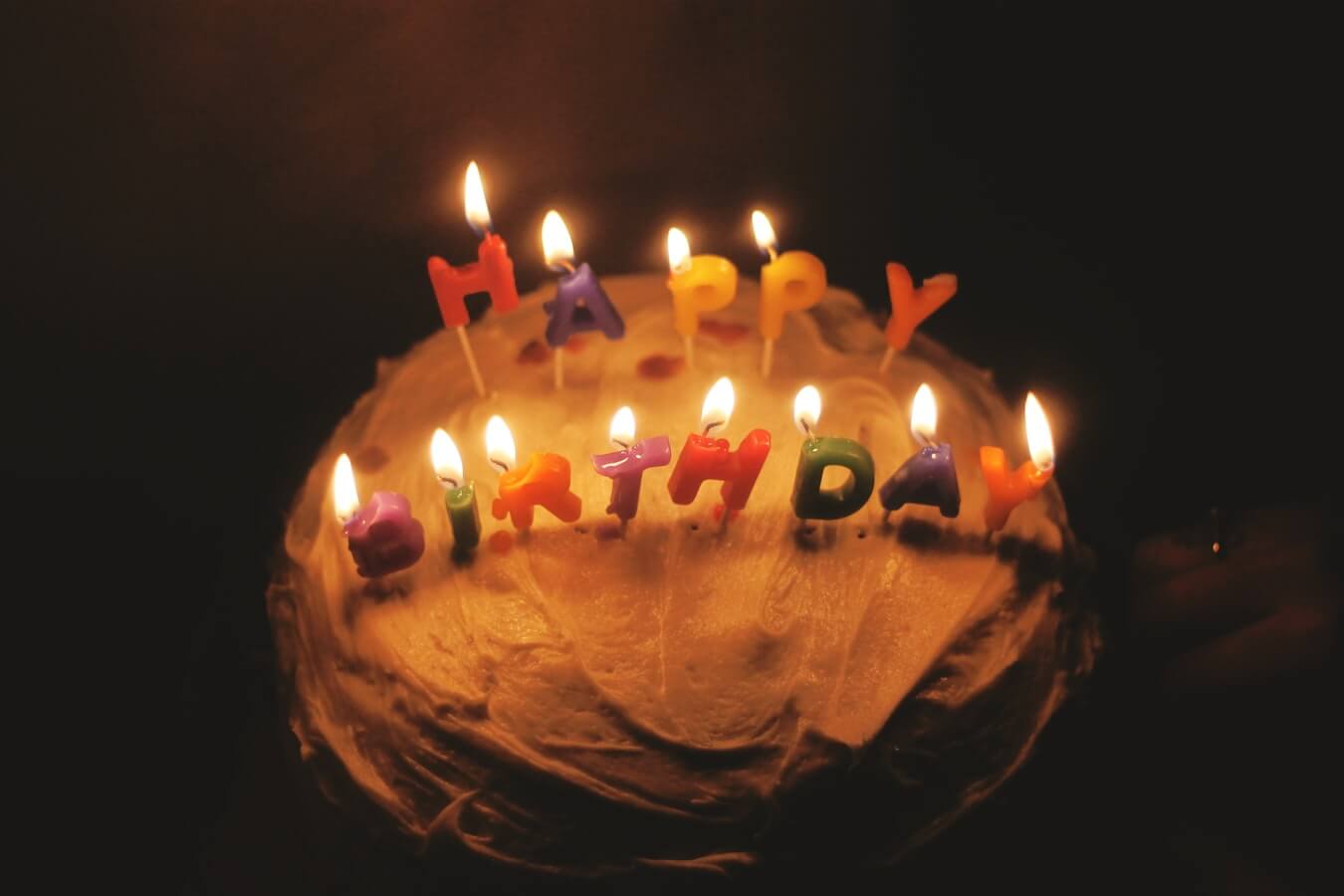 Part 1: What is Birthday Card?
A birthday card is a birthday-themed card with text and images relating to a certain person's birthday. It is given to the recipient in celebration of their birthday. A birthday card will include text of a celebratory and congratulatory nature. They can be sent out physically (if printed), or digitally (if virtual).
Sending a birthday card can demonstrate your strong bond with the receiver, as receiving a physical birthday card lets someone know that you are thinking of them, and is much more personal than simply writing an email.
Part 2: How to Make a Birthday Card with Photo?
Birthday cards with related photo made by yourself are often more meaningful. Next, there are detailed steps to teach you how to make a birthday card with photo in EdrawMax.
EdrawMax
All-in-One Diagram Software
Create more than 280 types of diagrams effortlessly
Start diagramming with various templates and symbols easily
Superior file compatibility: Import and export drawings to various file formats, such as Visio
Cross-platform supported (Windows, Mac, Linux, Web)
Security Verified |
Switch to Mac >>
Security Verified |
Switch to Linux >>
Security Verified |
Switch to Windows >>
Step 1: Open a New template in EdrawMax. After clicking on "New," there is a list of built-in templates on the left side. You can choose "Card" under "Design," then choose "Birthday Card." You can create a blank drawing and design all works yourself or use a template.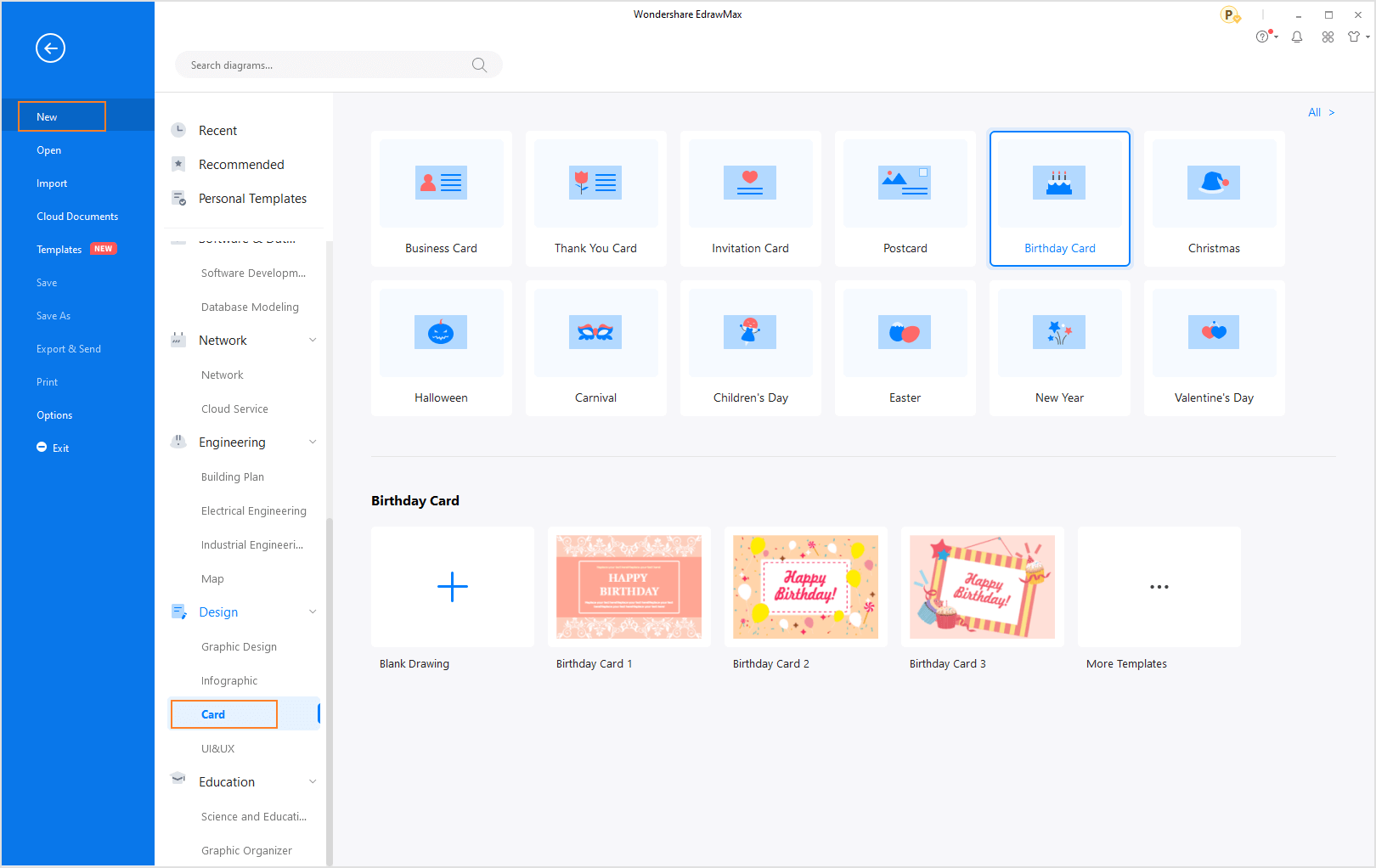 If you want more choices, you can click "More Templates" or "Templates" tab on your left side and pick a suitable one. Once you select a template, choose "Use Immediately," then you can begin your designing.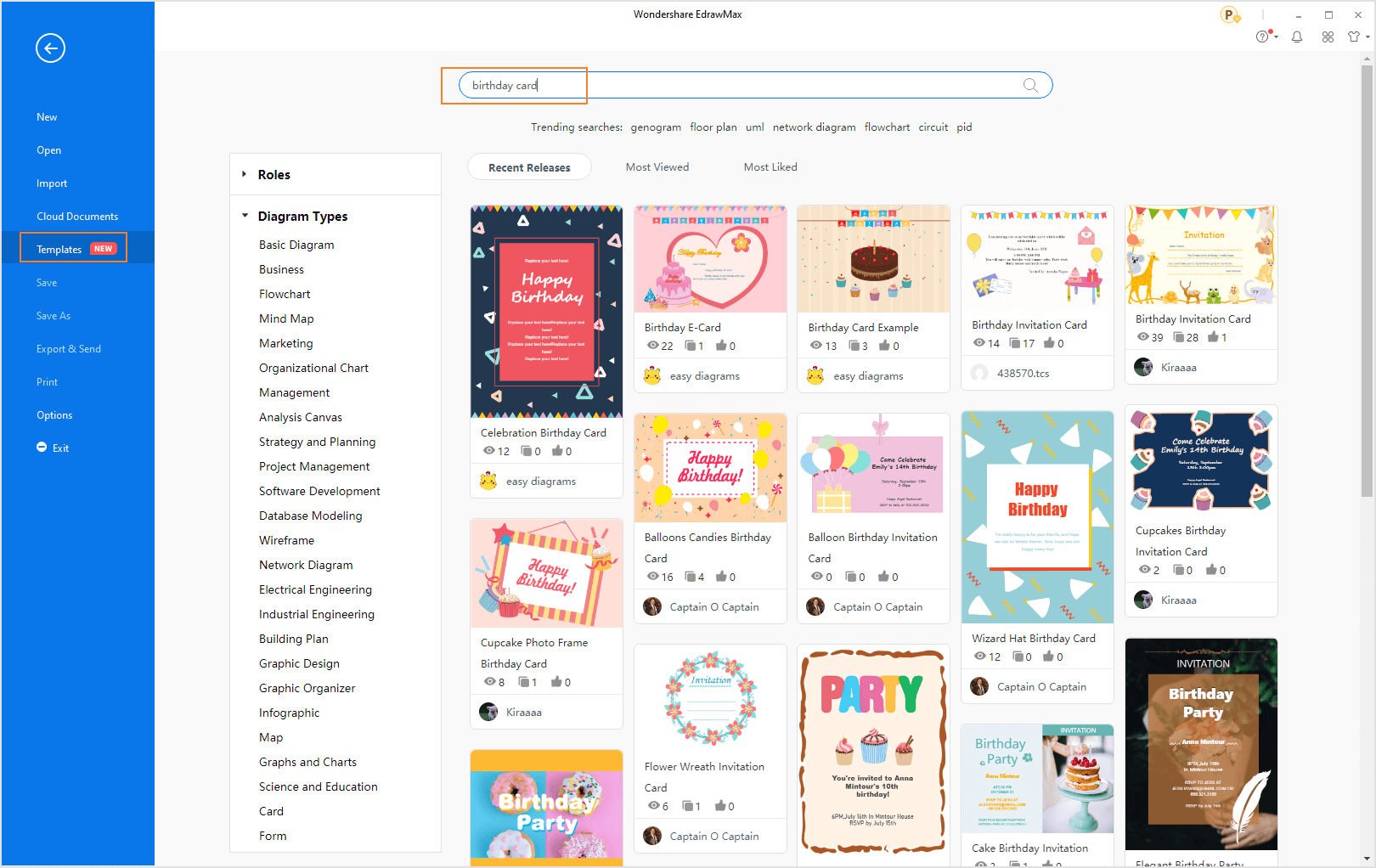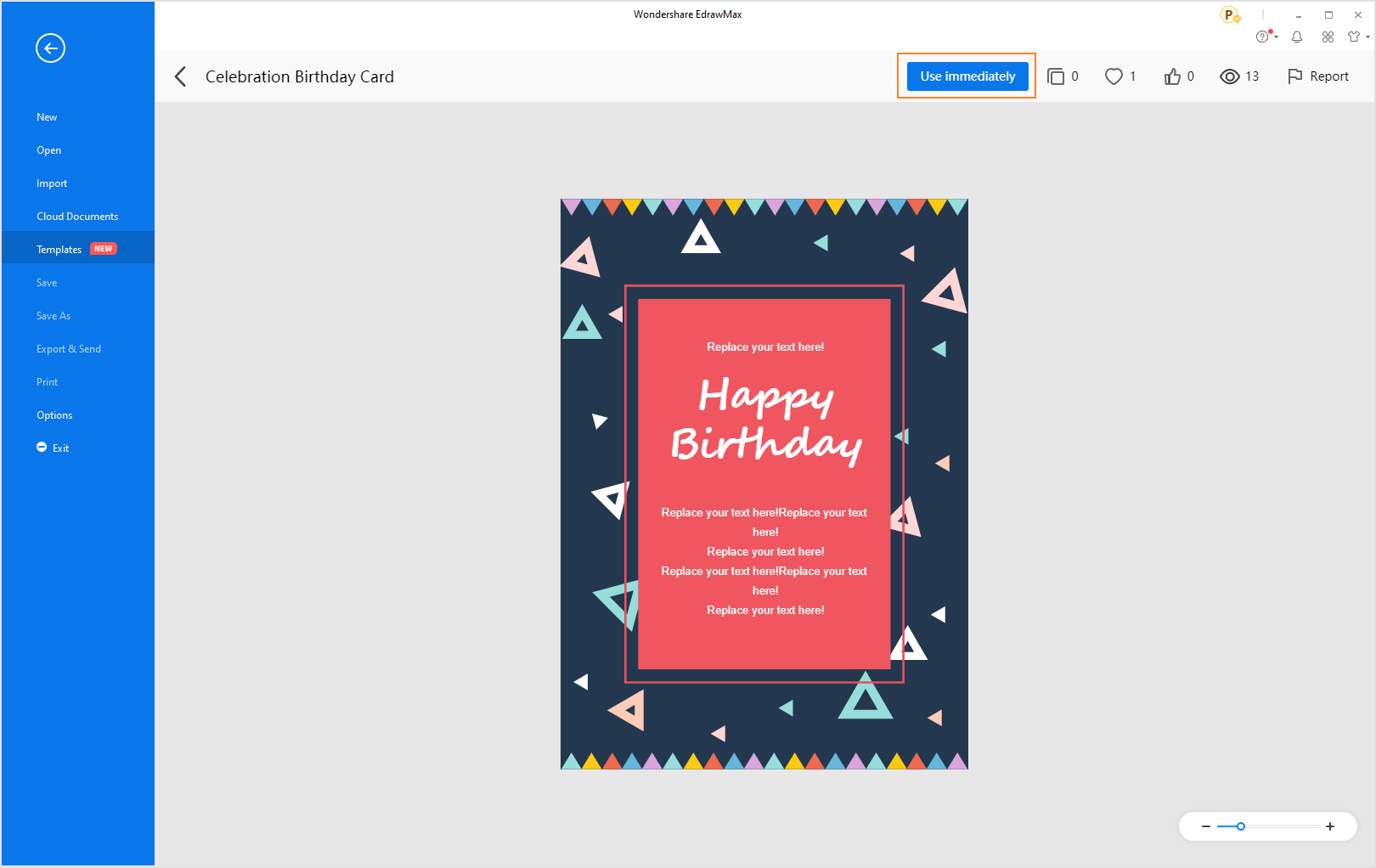 Step 2: Replace the text as you want. You can type the text with your personal wishes. Click once the main text box, then click on the text you want to replace. You can change text size, text format, text alignment and font on the "Home" tab.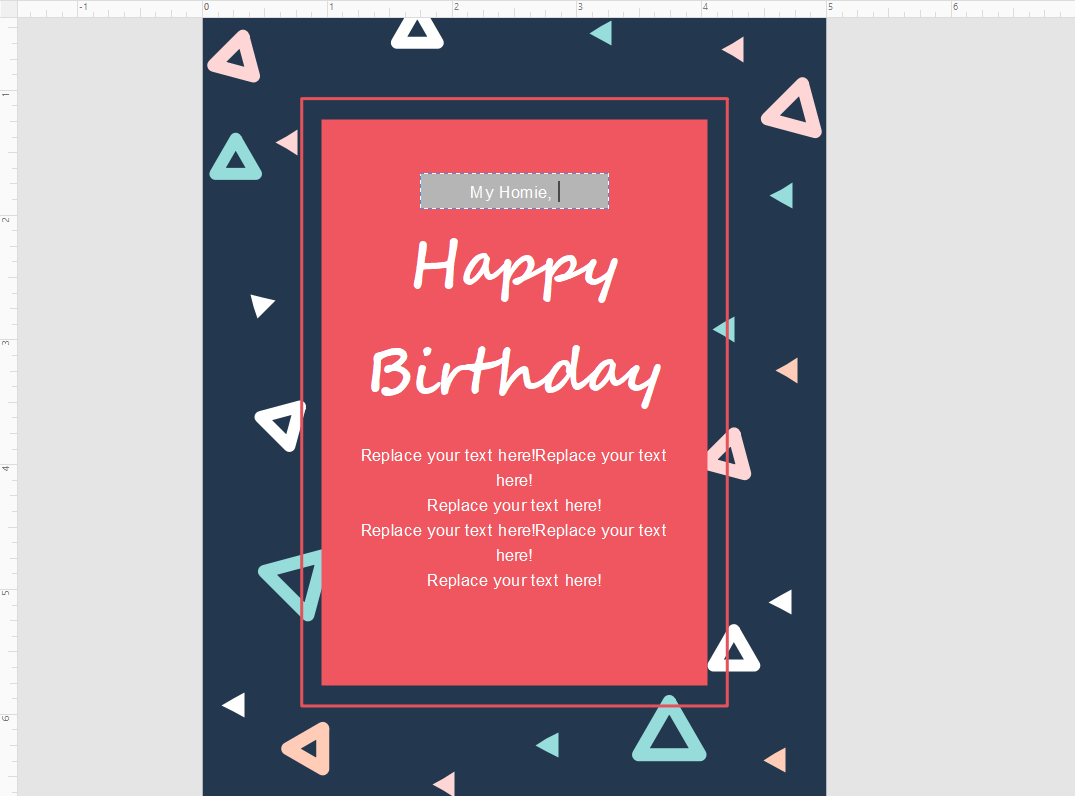 If you don't know what to write on it, you can read this article What to write in a birthday card to get inspiration.
Step 3: Add clip art on card. EdrawMax has a free clip art library, and it's on the left side. You can search for clip arts with keywords on the search bar or click on buttons that look like file boxes to browse the clip art list.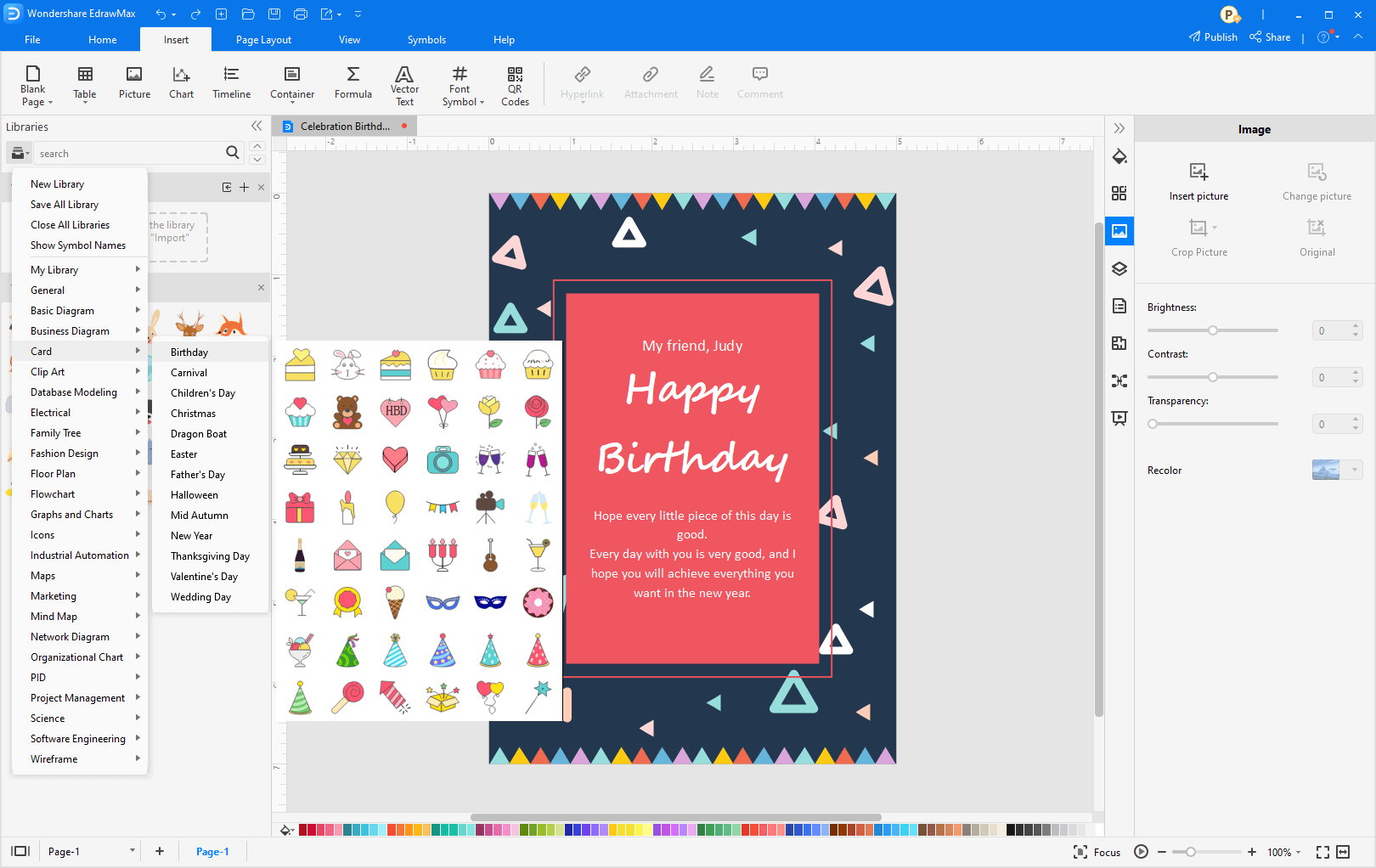 Step 4: Drag the clip art to the position you want, don't worry about the canvas is not enough. You just need to move the clip art to the desired position, and the canvas will be automatically adjusted to the appropriate size in proportion. And you can click once on clip art, drag small white boxes to resize it.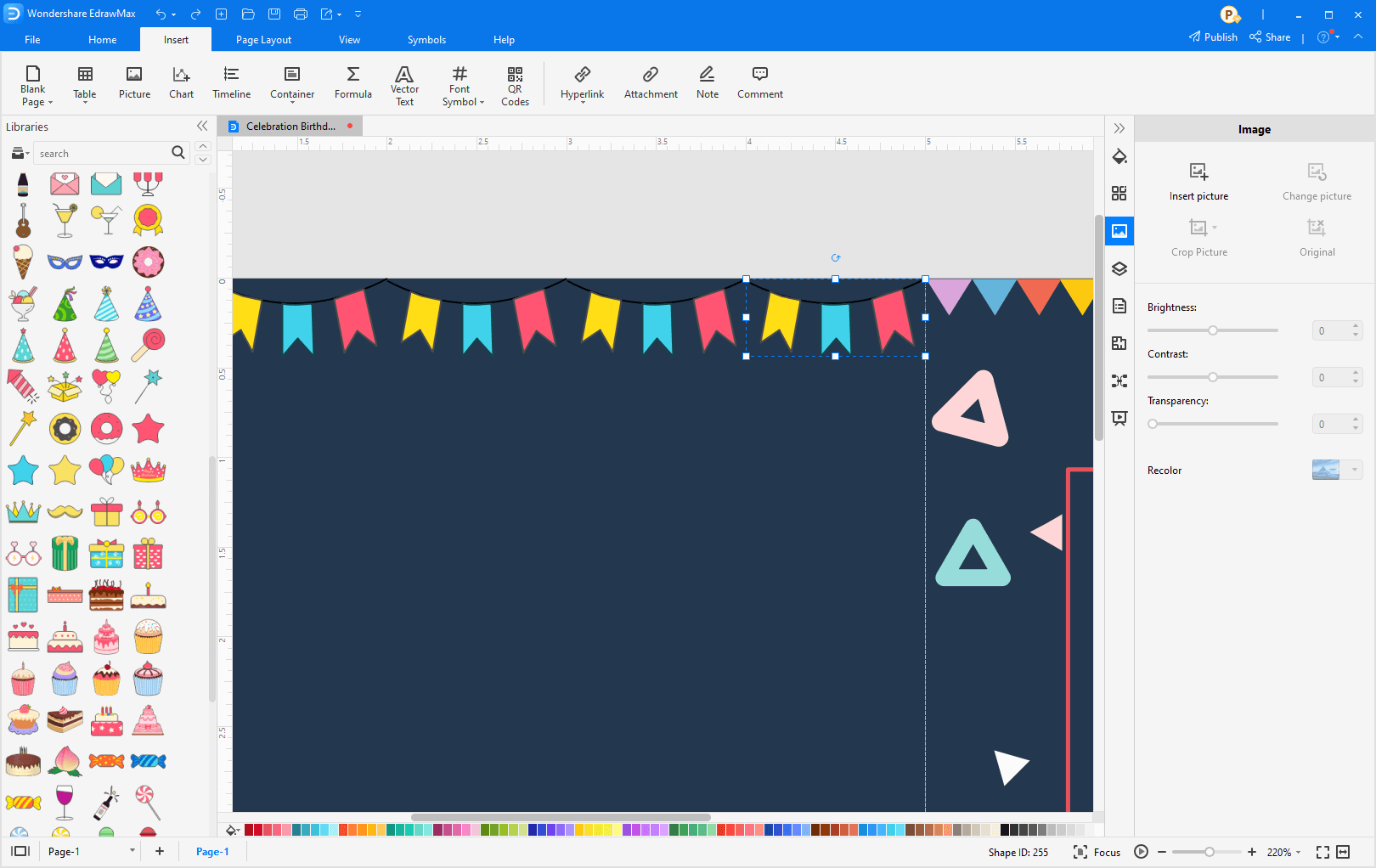 Step 5: Enrich the card background and adjust color. Click "Shape" on the "Home" tab, and form a shape you like.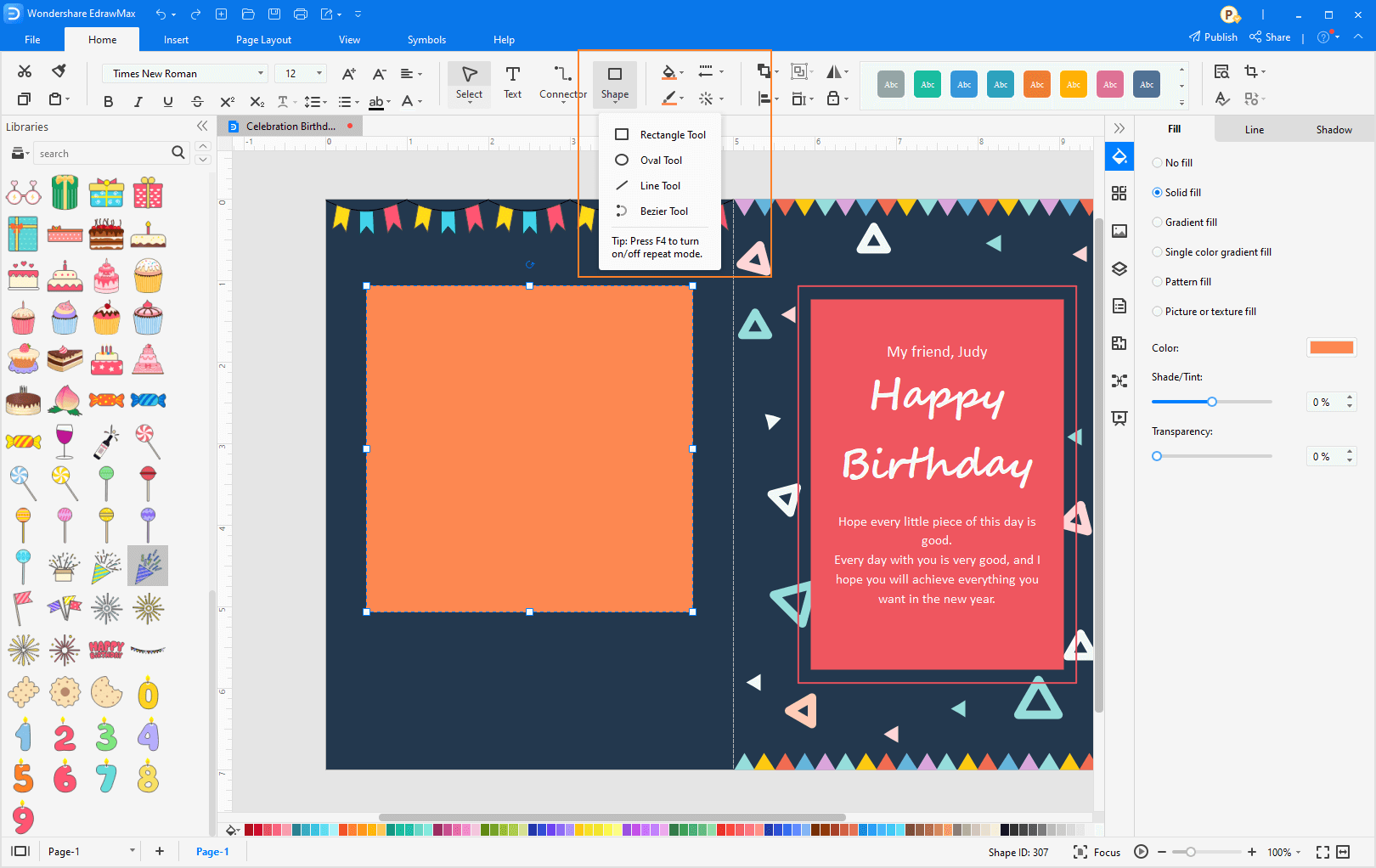 Then click on buttons that look like paint buckets. Under "Fill," you can change the color style, color, shade, and transparency of shape. If you aren't satisfied with the provided color, you can click "More Colors" to choose more. Click "Pick Screen Color" allows you to pick the color you want directly by moving your mouse to the color, clicking once, and getting it.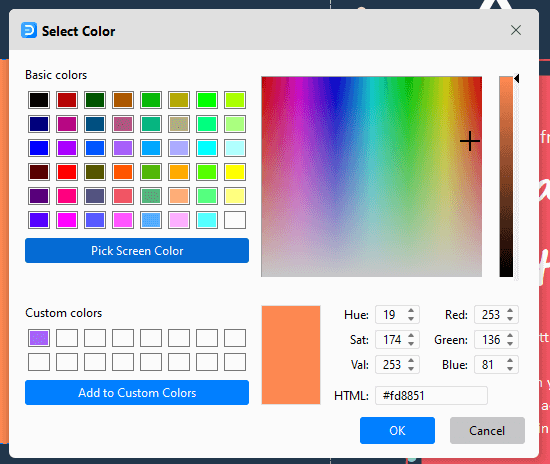 You can customize lines in the same way.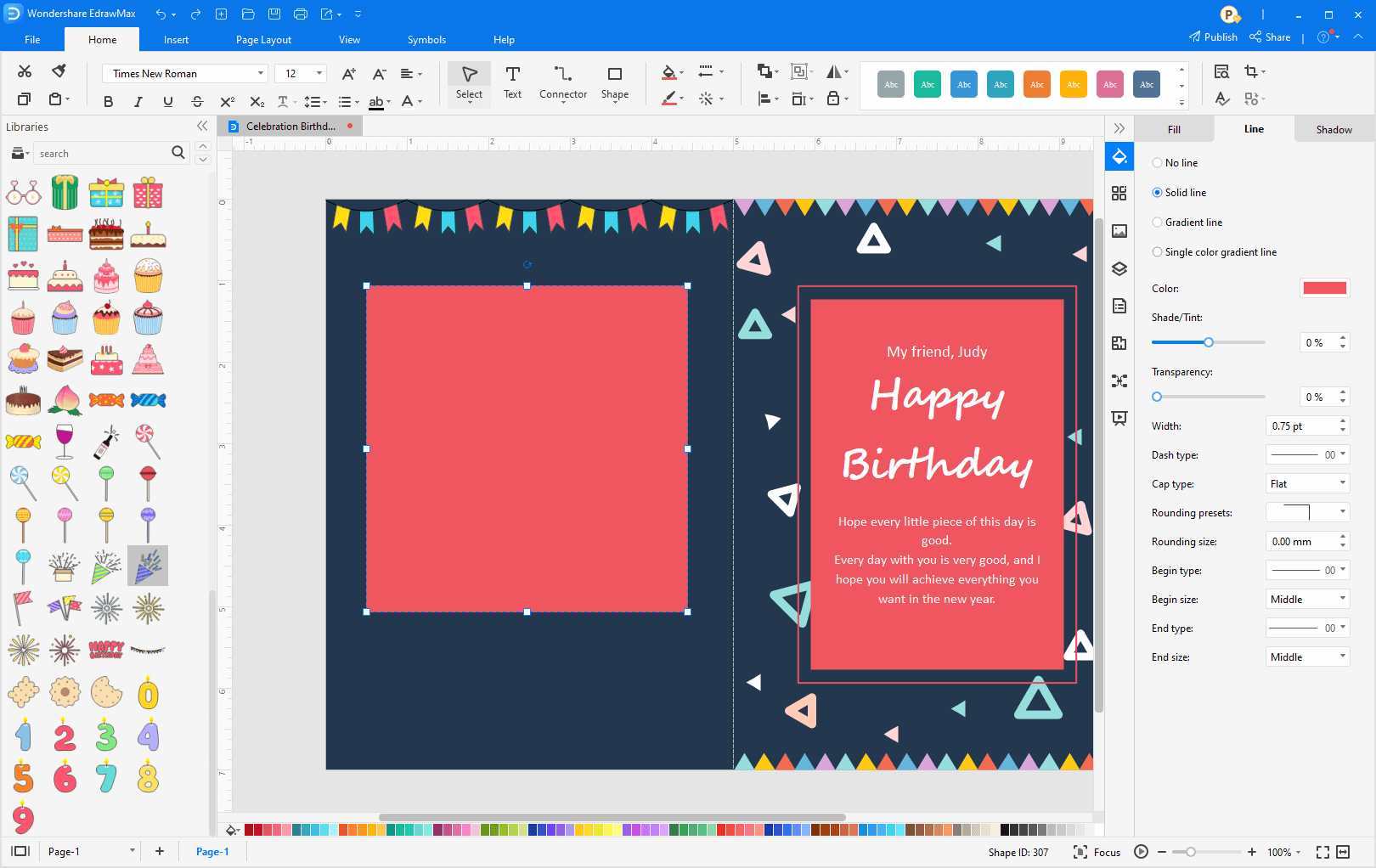 Step 6: Add your own image (photos, paintings). Go to the "Insert" tab, and you can insert a picture (or even a QR code with a cyber-gift).

Or click on the picture button and choose "Insert Picture." Then change its size, and drag it to the right place.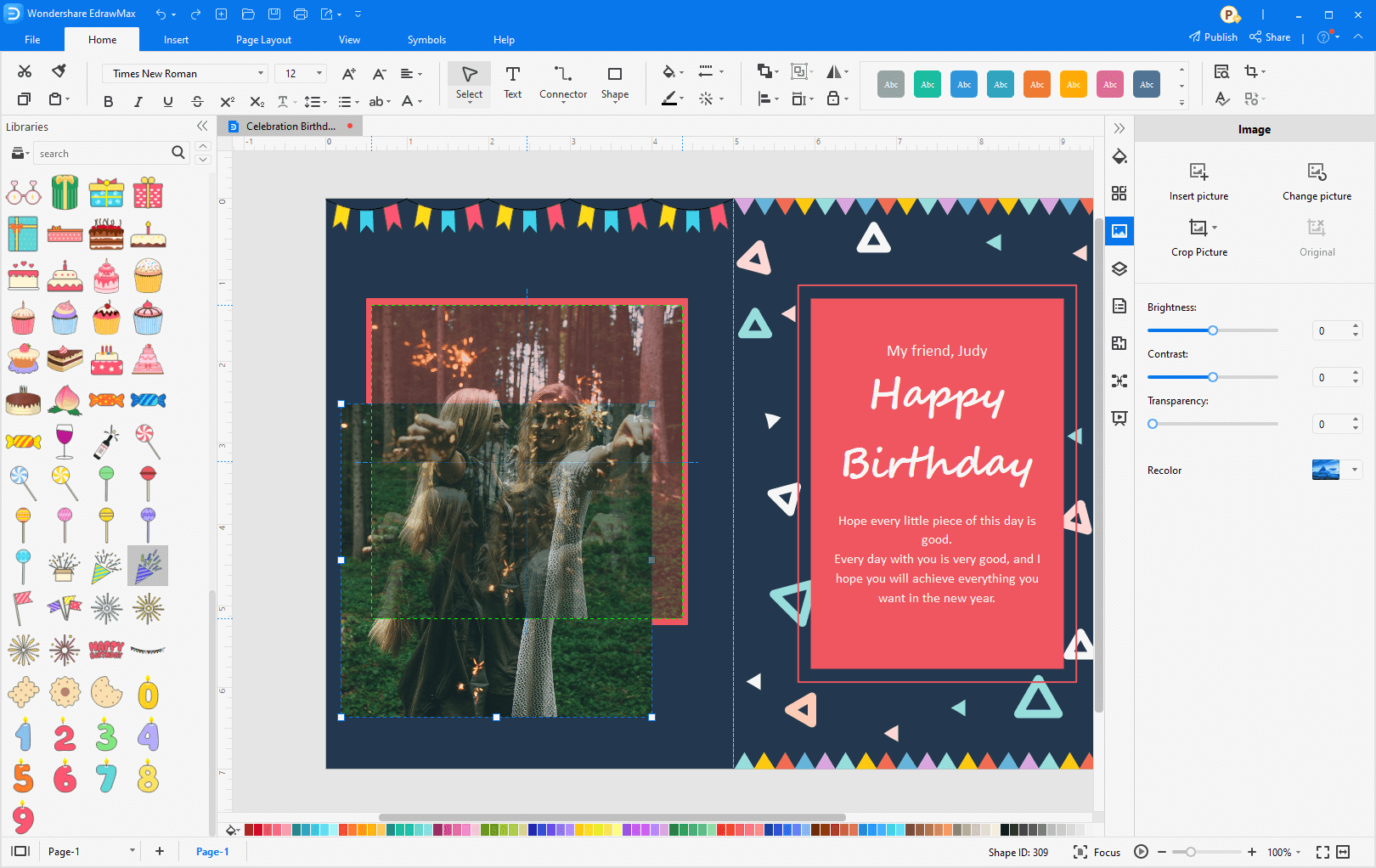 Step 7: Customize the layout and background color. Go to the "Page Layout" tab, and you can make a watermark, customize the layout size, and change background color.
With the below skills, you can design a birthday card all by yourself.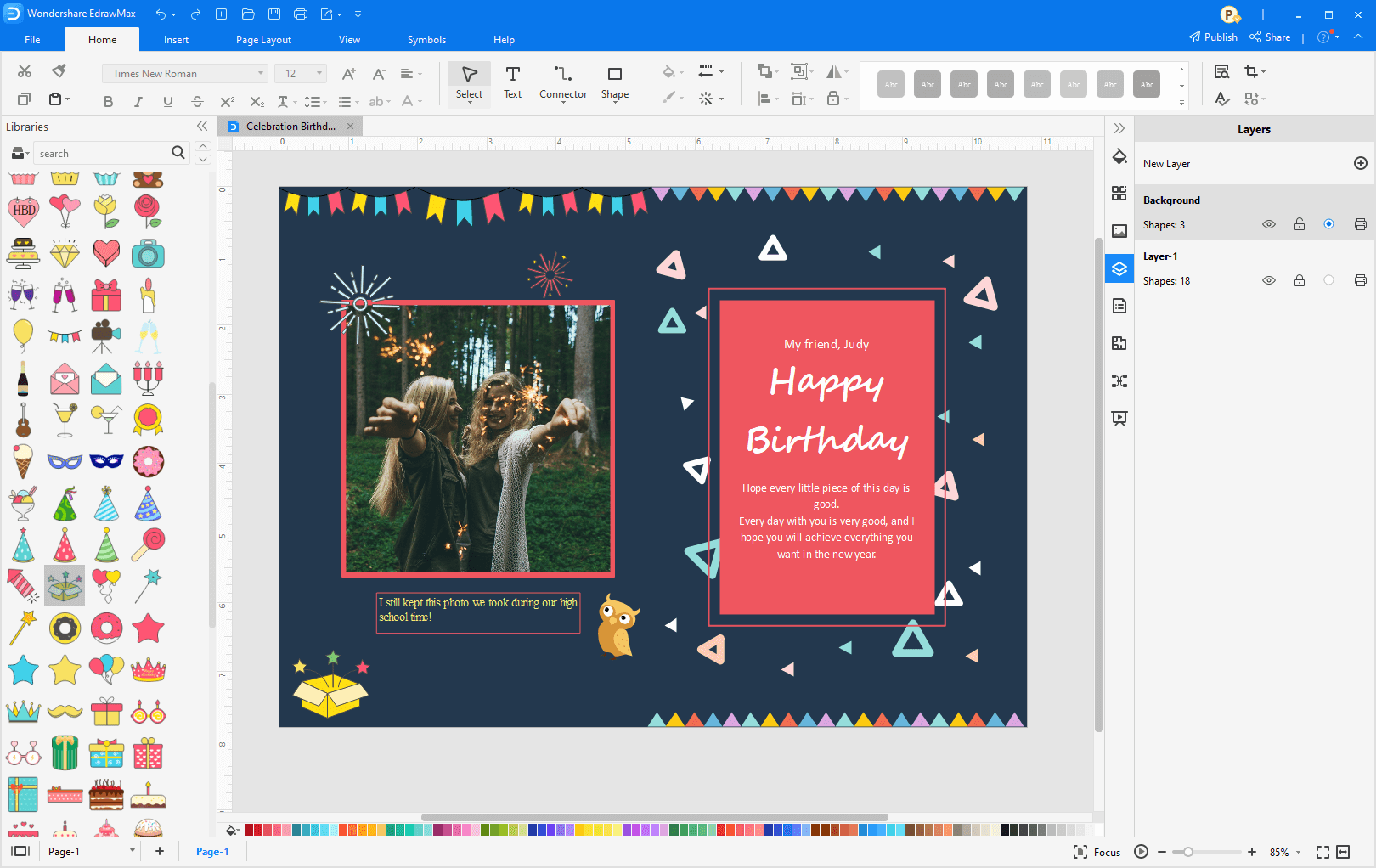 After finishing it, you can do the following things to give it to the Birthday person.
1, Export it to another format, or send an email to the Birthday person. Under the "File" tab, you can see the "Export&Send" button.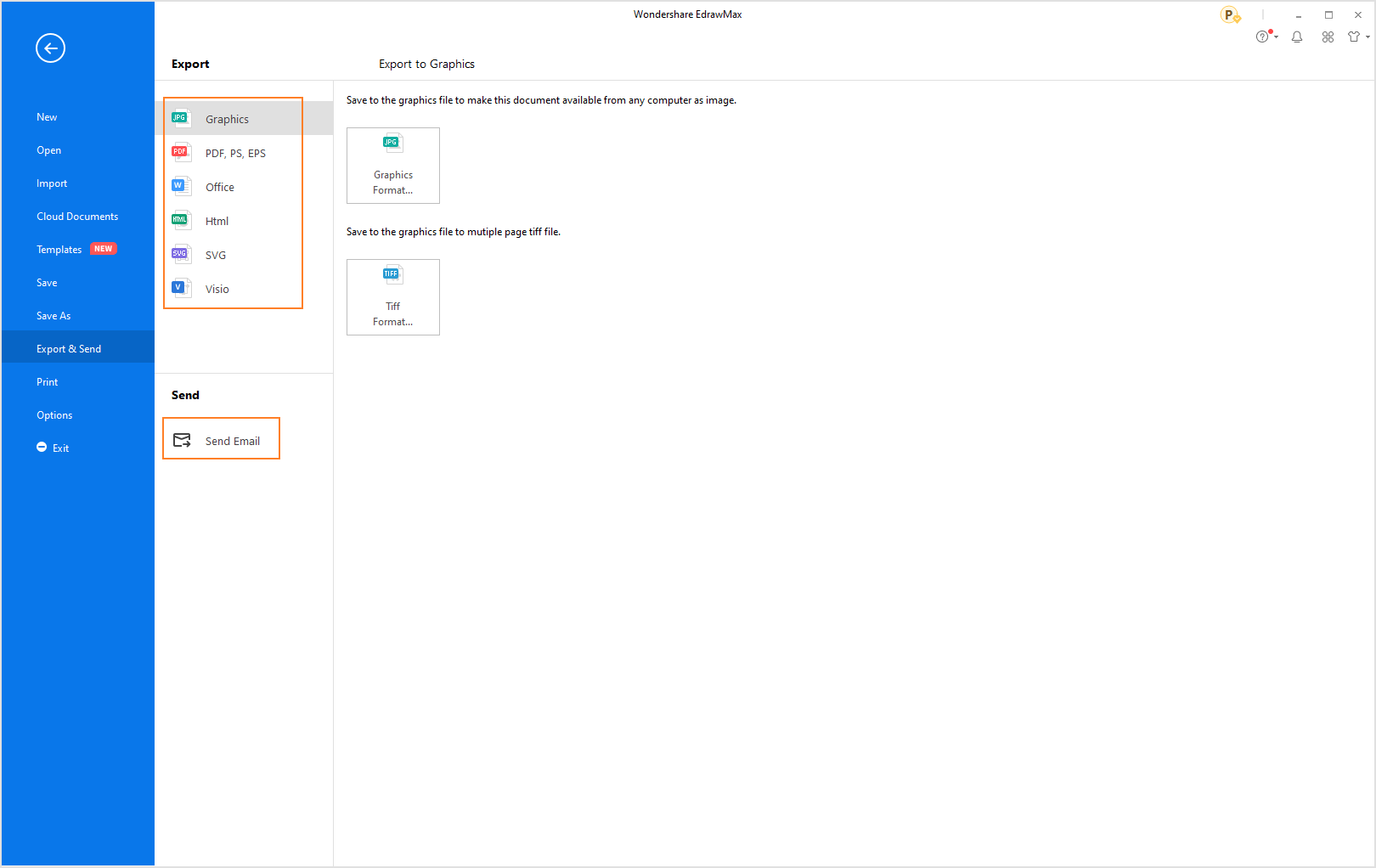 2, Below "Export&Send," there is a "Print" button, click on it. Then you can choose the "Printer" and "Settings." Select "More Print Setup…" option. You can change print zoom and page margins.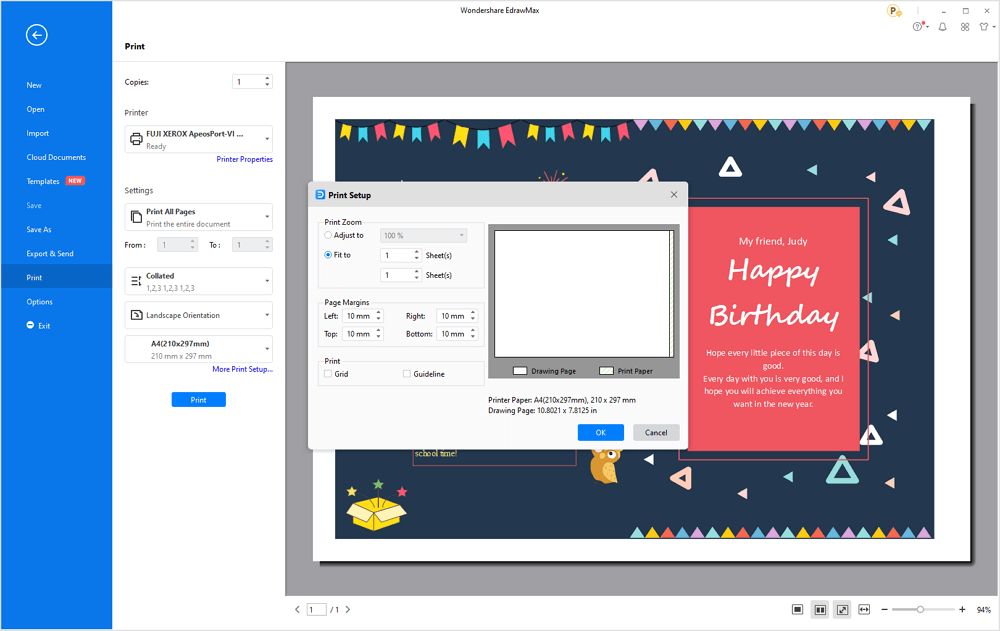 Print on a cardstock paper will be a better chocie, hope you create a birthday card successfully.
Part 3: Birthday Card Examples
There are some birthday card templates, you can use them.
Example 1: Cupcake Photo Frame Birthday Card
Example 2: Colorful Wizard Hat Birthday Card
Part 4: Conclusion
According to this article, there are mainly three parts to illustrate what birthday card is, to tell you how to create birthday cards and to show you some birthday card examples. By sending birthday cards, people can express their wishes.
EdrawMax is an easiest all-in-one diagramming tool, you can create birthday cards and any other type diagrams with ease! With substantial birthday card symbols and clip arts, making birthday cards could be as simple as possible. Also, it supports to export your work in multiple formats and share your work with others. Get started to create your birthday cards now!