Knowledge
Greeting Card Size
Know it All about Greeting Card Size
Christmas is coming? Or is it Thanksgiving? Maybe it is someone's Birthday? Whatever the case, one of the most important part of all these events are greeting cards. Do not worry if you are worried about which one is the perfect size for a greeting card, because we got you covered.
Part 1: Standard Sizes Around the Globe
It is essential to be aware of the standard sizes that you can choose from while making a greeting card. You can digitally make one and print it on paper. While you can also send e greeting cards as well. The dimensions for both are discussed below
Dimensions for Greeting Cards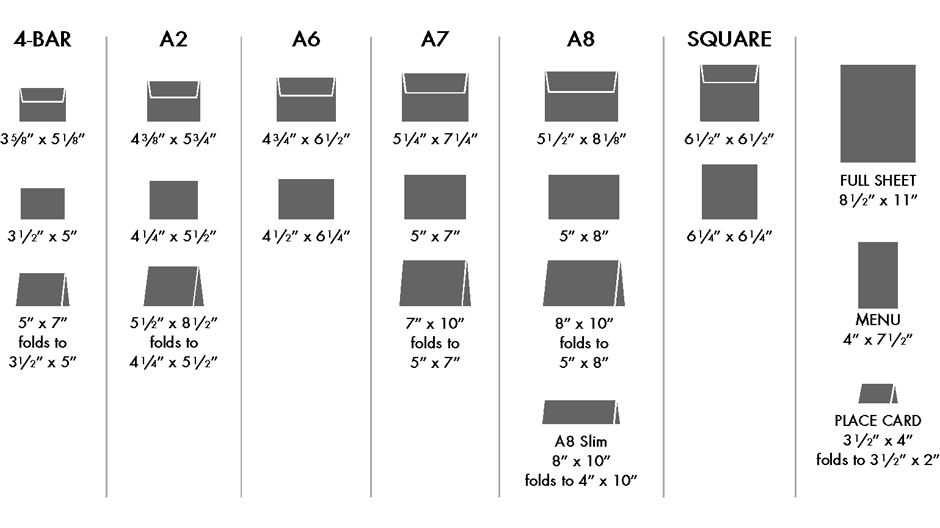 Greeting cards dimensions depend on the envelope that is supposed to be used, so the dimensions for each are as follows
4-Bar Envelope (3.625" x 5.125")
3.5" x 5" Card or 5" x 7" card that folds into 3.5" x 5"

A2 Envelope (4.375" x 5.75")
4.25" x 5.5" Card or 5.5" x 8.5" that folds into 4.25" x 5.5"

A6 Envelope (4.75" x 6.5")
4.5" x 6.25" Card

A7 Envelope (5.25" x 7.25")
5" x 7" Card or 7" x 10" that folds in 5" x 7"

A8 Envelope (5.5" x 8.125")
5" x 8" Card or 8" x 10" that folds into 5"x 8"

Square Envelope (6.5" x 6.5")
6.25" x 6.25" Card

Part 2: Most Popular Greeting Card Sizes
Designing a greeting card may not seem like a difficult task but in reality, a lot of work and thought process is put into even the simplest ones.
A-2 (4.25 x 5.5 card)
A-6 (4.5 X 6.25 card)
A-7 (5 x 7 card)
These are the most common and most used greeting card sizes amongst all the choices.
Part 3: Design Guidline
1. Choose a Proper Greeting Card Size
As discussed, there are several greeting card sizes you can choose from, so choose the best one, that fits your preferred criteria. If you prefer sending an e greeting card, it is better if it is of a smaller size ratio than the others.
2. Use the Right Colours
Using the right color scheme matters a lot on the case of greeting cards. Making sure that it stands out and would be appealing to who it is addressed to. Furthermore, greeting cards for Christmas have a vibrant palate they have to follow.
3. An Attractive Front
The front of the card is essentially the most important and most visible part of the card. It is necessary that the front of the card is made with proper care and considerations. Use different design elements to make it more attractive and appealing.
4. Use Catchy text
The text is the real body of the card. Try to add phrases or catchy texts for your greeting card. Making sure that you have the right words matters a lot. Also, the font of the text used and the design of the text.
5. Adding a little personal touch
You can personalize your card online, but adding a little personal touch just makes it much more precious. That little handwritten text in the card adds a lot of sentimental value to them, also making them relatively more unique.
6. Align all your designs
In digital designs, all that matters is that the content present on the card is aligned properly. This includes the images, text, borders and other components.
Part 4: Printing Tips
Here are some important tips that you need to consider as you print your Greeting Card.
TIP 1: Customize Print Size

When you give the print command you can customize the page size. By selecting custom, you can have your card printed on the exact dimensions you want. So instead of printing it on default and then making amends, it is better to print on the exact same dimensions that you need.
TIP 2: Printing the Inside first
It is ideal that the inside of the card is printed before the outside. This is essential for cards that are to be folded. The reason why the inside should be printed first is, usually the front has images and has more graphic content. If the outside is printed first, during the printing of the inside, there is a chance that the outside gets scratched.
TIP 3: The Right Paper for the Cards
Remember that usually cards have a special type of paper, and even in that variety there are several options you can choose from. This is very vital depending on how many images you want to print, as images require a lot of ink and saturation thus it is wise to use a better quality which is known as double sized.
Tip 4: High Resolution Image
When you are making a card, it is necessary to remember that the resolution of the images used it high. In the present cases it should be 300 dpi. A high-resolution image also comes out in great form on the printed card!!
Part 5: How to Make a Greeting Card in EdrawMax
EdrawMax is one of the most useful software that you can use for making greeting cards. It has inbuilt templates that help you choose the best greeting card from a very wide variety of choices. The following steps will help you make a greeting card in EdrawMax.
Step 1: Install EdrawMax
Go to the official website EdrawMax and download the software.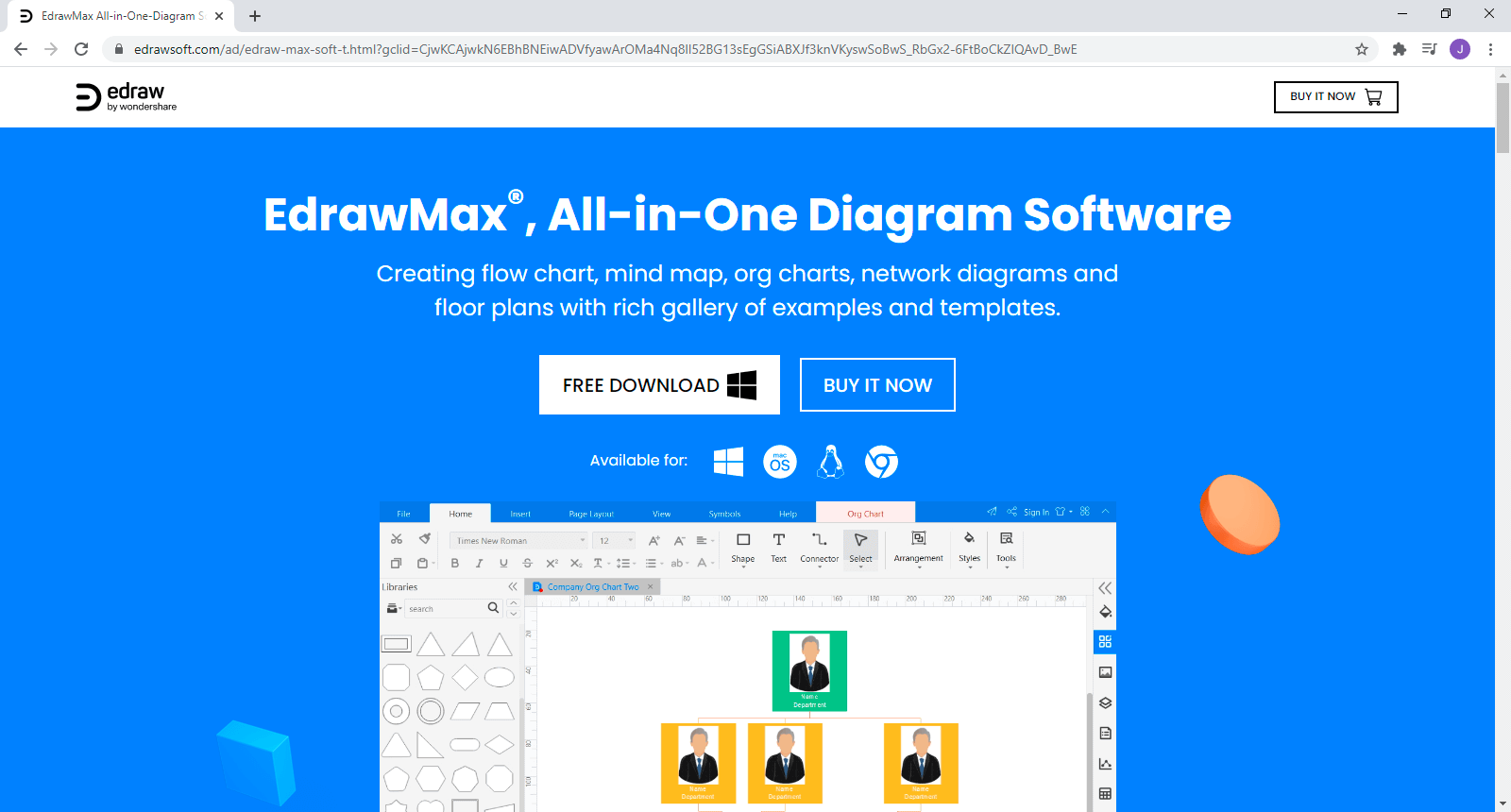 You have both the free and paid version available. For basic tasks, the free version is sufficient.
Step 2: Launch the App
Once the software has been installed, open EdrawMax. The interface will look like this.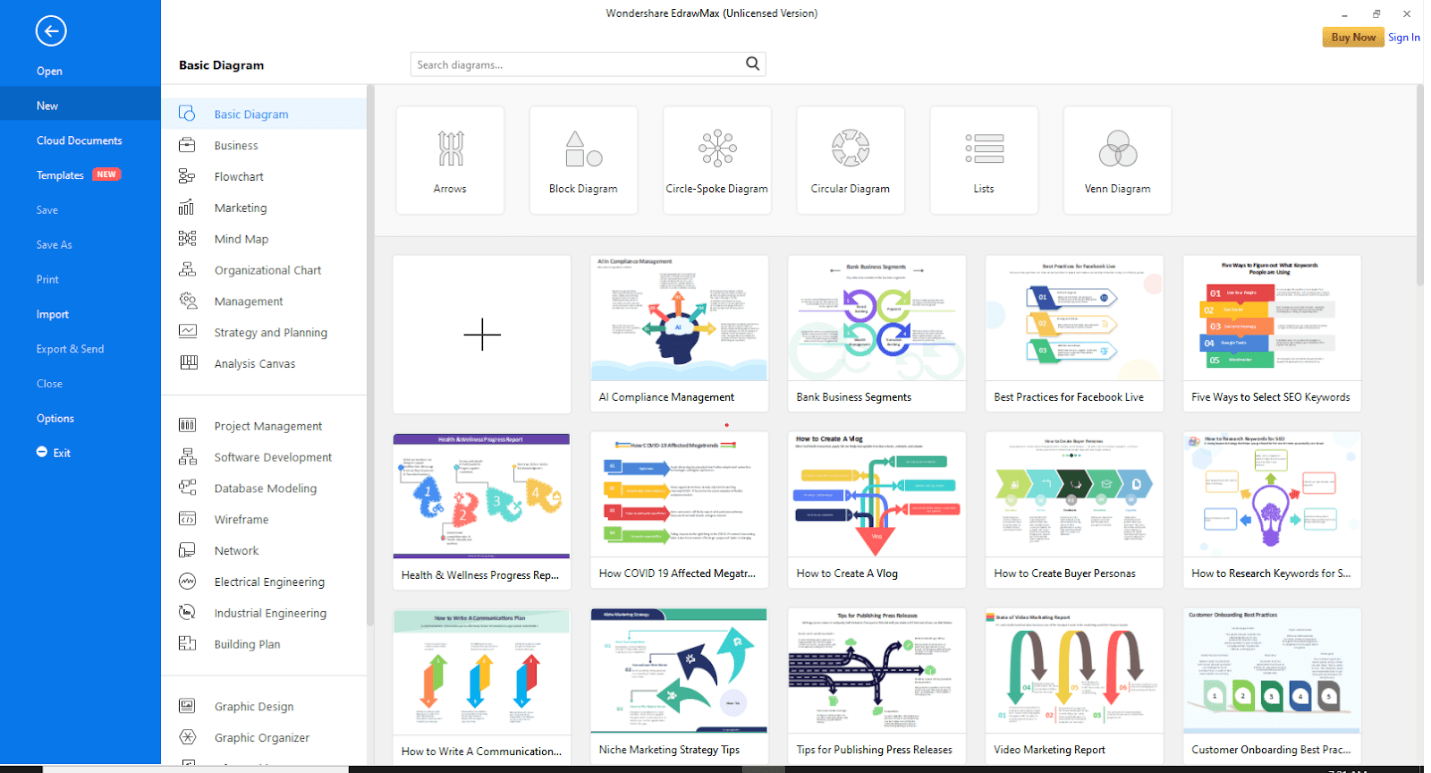 At the top right corner, there is an option of signing in. This will enable cloud storage. However, you can use EdrawMax without signing in as well.
Step 3: Open a New Canvas
Click on the "+" sign to open an empty workspace.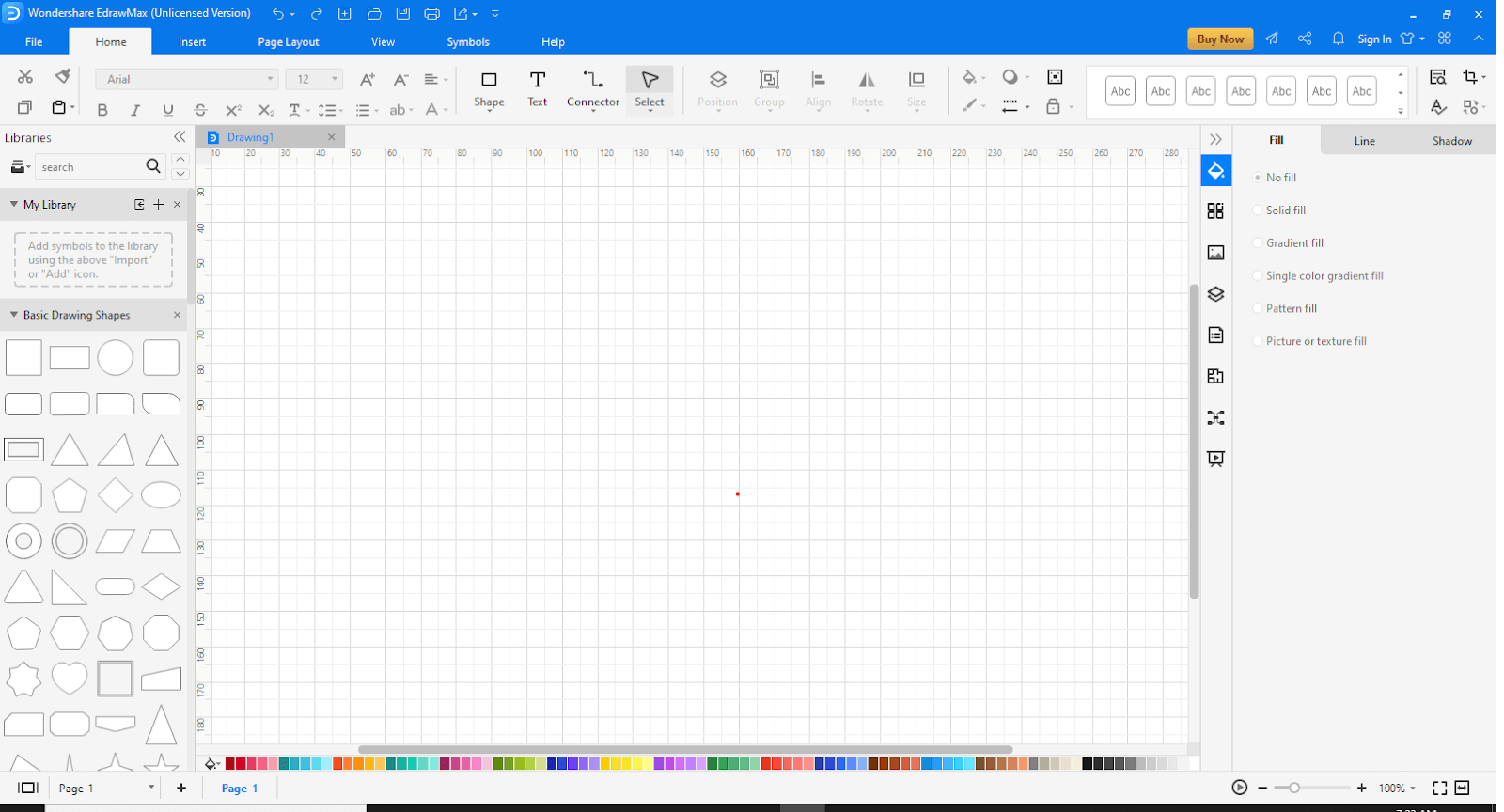 Step 4: Getting to work
On the left side there are shapes that you can use to form the outline of your card. There is an option "My library" which has several images and pre stored images that you can use. Apart from that the insert option above can also be used to make images part of your card.
You can also choose from preexisting greeting card templates present on EdrawMax. The guide to that is as follows.
Step 1: Click on Templates

The next step is to click on templates, and you will see a several options. The best way is to use the search bar.

Step 2: Search for "Greeting Card"

After you have searched for greeting card, there will be a wide range for you to select from. Scroll and try to find the best of the batch for you.
EdrawMax
All-in-One Diagram Software
Create more than 280 types of diagrams effortlessly
Start diagramming with various templates and symbols easily
Superior file compatibility: Import and export drawings to various file formats, such as Visio
Cross-platform supported (Windows, Mac, Linux, Web)
Security Verified |
Switch to Mac >>
Security Verified |
Switch to Linux >>
Security Verified |
Switch to Windows >>
Part 6: Conclusion
Greeting cards become a necessity in times of special holidays and occasions. This makes knowing the information very essential for the formulation of a good greeting card. So now that everything is clear, time to make the perfect greeting card!!
Related Articles
Know More about Greeting Card Size with EdrawMax. Try it Free!
LEARN MORE