Quality Control Flowchart
Do You Want to Make Your Quality Control Flowchart?
EdrawMax specializes in diagramming and visualizing. Learn from this Quality Control Flowchart complete guide to know everything about the Quality Control Flowchart. Just try it free now!
According to a simple approach, quality control is related to the department that monitors the composition of any product. However, it is a department that works for the smooth flow of working according to manufacturing plans. It makes sure quality product servicing. It has become an essential part of leading companies. It also improves the quality of the product or service with proper maintenance.
A flowchart is a visual and graphical representation of organized steps to follow a process for a specific task. The quality control flowchart is an arranged set of various parts to manage the quality of products or services during their manufacturing. You have options of different templates and styles according to their business plan.
There is different software available on the internet to represent data diagrammatically. EdrawMax has built-in editable templates and symbols of various types to help you create your own quality control flowchart.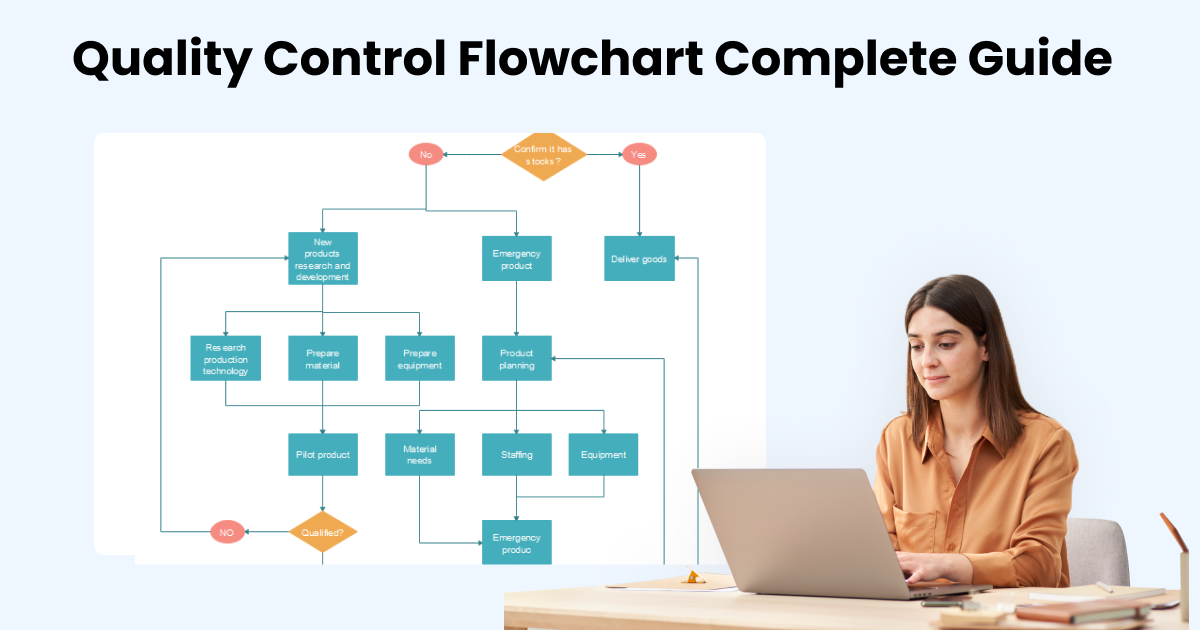 1. What is a Quality Control?
Quality Control (QC) is not only about manufacturing businesses monitoring product flaws and ascertaining corrective actions. It is a process that strives for business perfection through well-defined controls. A quality control process ensures your business is delivering a consistent product, service, and customer experience. It makes it easier to monitor your operations, delegate duties, and even expand to new locations. The process forms a key component of a well-run business.
Quality control processes can be used for all types of businesses, whether product-based or service-based. Business growth demands quality products, exceptional services, and careful attention to keeping customers happy. Substandard products or services will, in the long run, cut your profit margins, making it harder to attract and keep customers or employees.
Defined quality control processes help you standardize your products and services. Such programs also help you execute appropriate reactions to quality issues. It becomes easy to specify which production activities are to be completed by which personnel, thereby limiting room for error.
2. Differences Between Quality Assurance (QA) and Quality Control (QC)
QA and QC both form important parts of quality management. QA relates more to how a product is made or how a process is performed, while quality control takes more of the inspection aspect of quality management. Quality assurance provides confidence (both internally to management and externally to customers and other regulators) that the quality requirements will be fulfilled.
Briefly, QC can be taken as the operational activities or techniques used to fulfill quality requirements. On the other hand, quality assurance is all the planned and systematic activities implemented within the quality system that demonstrate that the product or service fulfills quality requirements.
Quality Control (QC):
Quality control works on the products after their manufacturing to fix the problems.

It is a reactive measure that occurs after the complete formation of the product and shows effects.

It is only applicable after the complete formation of the product for quality assurance.

Different tools and tests are applied to detect the defects in the product. For instance, Canary testing.

It involves software testing metrics that help to detect the reliability of the software testing.

Test reports are made according to software testing to analyze the data quality.
Quality Assurance (QA):
Quality assurance is a part of management that works for the smooth flow of the formation processes.

It is a preventive measure to detect and fix the issues found during the manufacturing process.

It is a consistent part of the software development life cycle (SDLC) that ensures product quality.

Quality metrics are used to analyze the quality of the QA process to make all the steps accurate.

Quality reviews help to determine the customer reviews. It helps in increasing and maintaining product quality.

Quality auditing implies the standards given by the government during product production.
3. Types of Quality Control
If you're still wondering how quality control works, we break them down for you to understand how they might be used. QC requires strategy, investment in time and money, and a commitment to quality standards.
There are different approaches to quality control. Your specific product or service dictates the type you use. The management can opt for internal or external quality control inspections depending on your systems.
Internal Vs. External Quality Control
The internal quality control process relies on a protocol established in-house to check the system. The protocols can regularly range from running standards and controls, routine checking of equipment to employee data analysis.
xternal quality controlE chips in when products or data are sent outside to businesses affiliated with your company. For instance, a food-producing company may verify the nutritional value analysis of a specific product by sending the product to an outside lab. Third-party verification is important in establishing if the production methods are sound.
Statistical Quality Control
This type of QC requires extensive usage of statistical methods. Statistical tools are automated to work on a model that requires less manual intervention. Acceptance Sampling forms an important part of statistical quality control. It is done post-production to assess quality parameters defined by the organization's standards on attributes and variables.
Process Control
Just as all products start with pieces, this type of quality control ascertains that the company's processes are functioning correctly to end with a well-finished good. It checks whether the activities at each process are operating within acceptable variation. It is an important part of quality management that ensures machines are operating correctly and products do not have flaws.
Types of Quality Control Process (With Examples)
The quality control process is divided into 3 separate processes, which are IQC (incoming quality control), IPQC (in-process quality control), and OQC (outgoing quality control).
IQC - Incoming Quality Control

Incoming quality control is the process of inspecting the raw and component materials from suppliers upon arrival. When you found the defective parts, you need to negotiate with the supplier for return or exchange, and the ultimate purpose is to make sure your product quality will not be affected. Below is a sample flowchart of the IQC process.

IPQC - In-process Quality Control

IPQC refers to quality control during the assembly process. It is crucial because you can detect and handle the problem that occurs ahead of time.

OQC - Outgoing Quality Control

OQA is the inspection of products before shipping. It's a crucial step in ensuring the shipment is defect-free.
4. Quality Control Flowchart Symbols
There are various flowchart symbols used in quality control flowchart. Understanding the meanings and usages of those flowchart symbols will help you to create your own flowchart quickly and correctly. You can click Flowchat Symbols to learn more symbols and more types.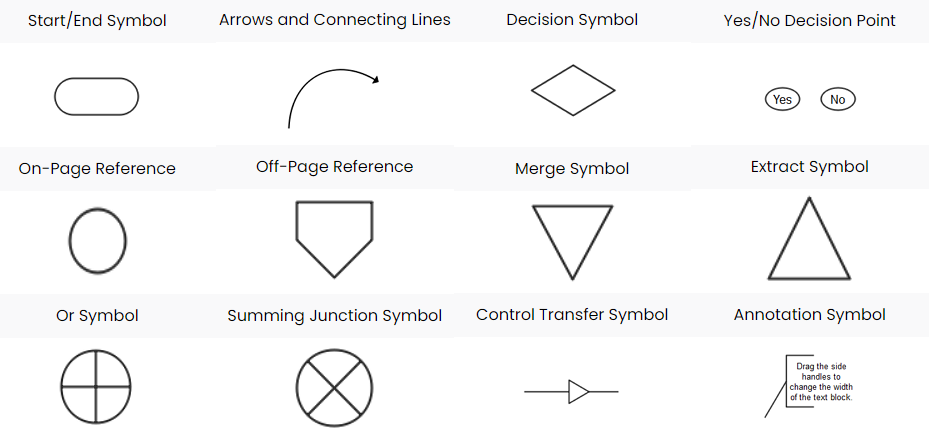 Source: EdrawMax.com
5. How to Make a Quality Control Flowchart?
Though it may seem complicated to create a quality control flowchart, online flowchart maker tools can quickly help the designs create a quality control flowchart. Here are some easy steps that the designers and engineers can follow to create their flowcharts.
Step1
Open EdrawMax and Login
The very first step that you need to follow is to install EdrawMax in your system. Go to EdrawMax Download and download the Quality Control Flowchart software depending upon your operating system. If you need remote collaboration with your office team, head to EdrawMax Online and log in using your registered email address.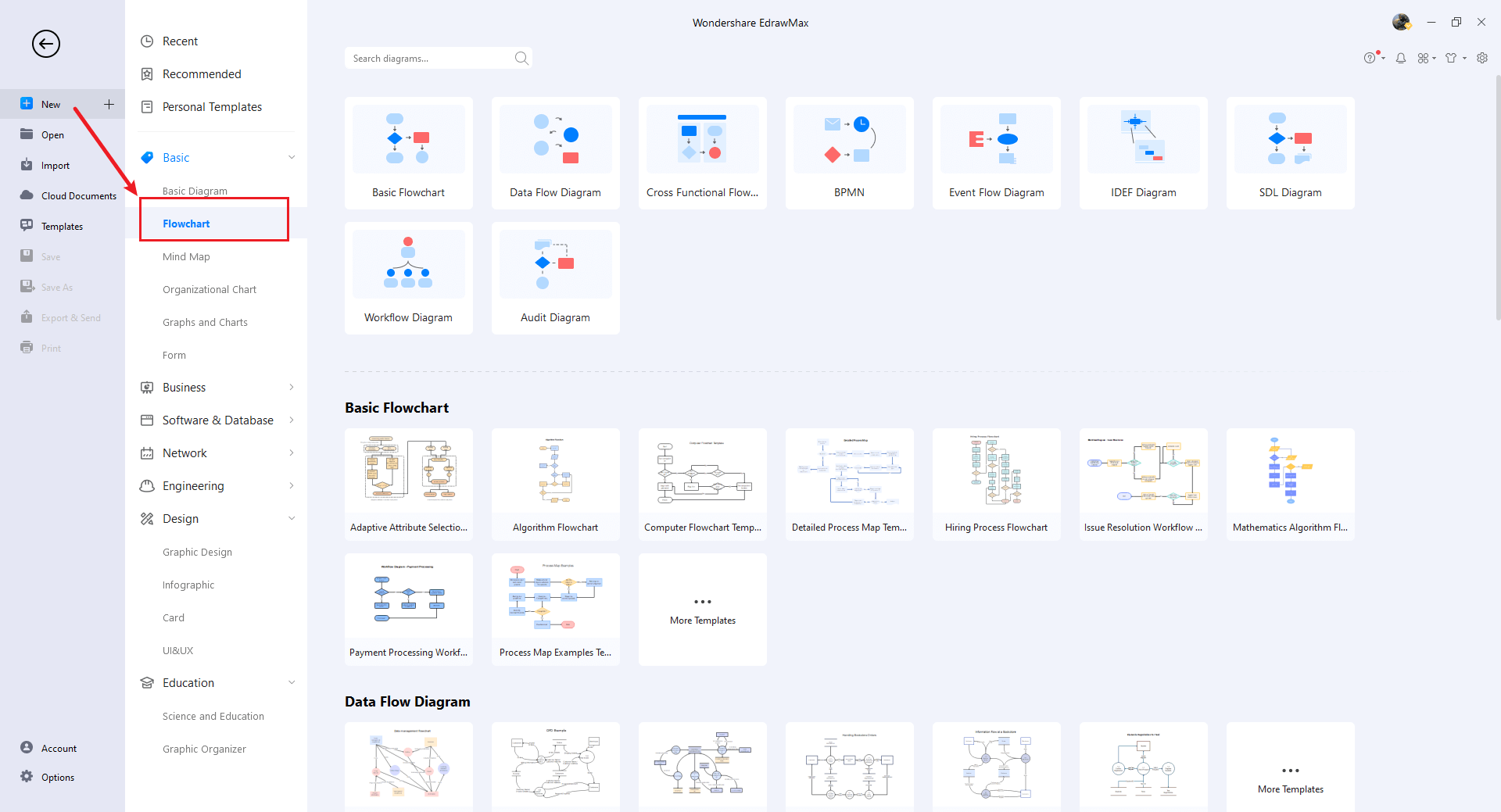 Step2
Select a Template
After launching, the Home screen opens by default. Head to the Template bar and search for Biology Diagrams in the search box. In-built templates specific to your search will appear on the screen. EdrawMax features a large library of templates. We have more than 25 million registered users who have produced thorough Templates Community for each design. Select the template you like and click Use Immediately to open it in a new window for customization.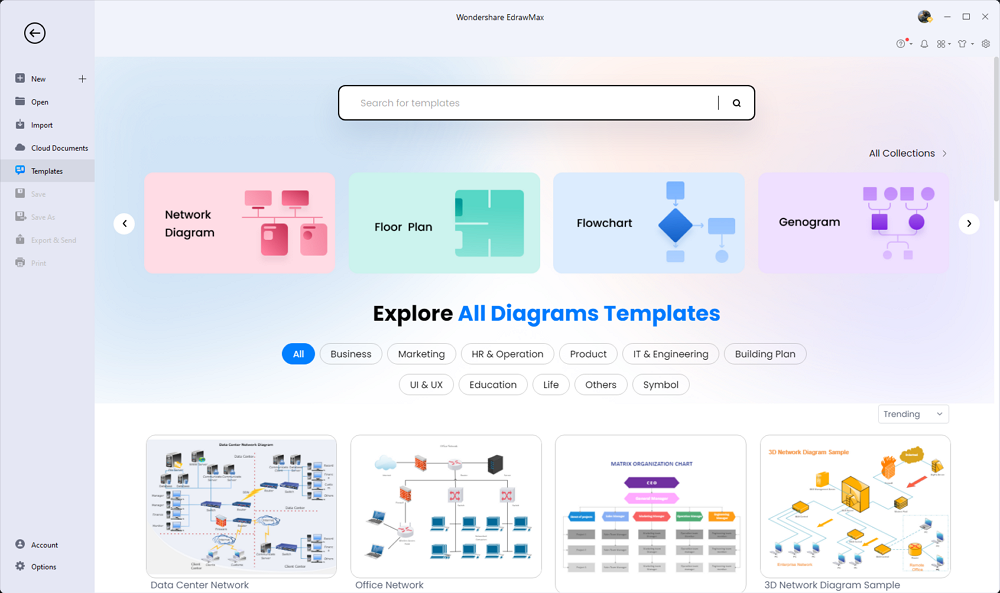 Step3
Create From Scratch
From the EdrawMax homepage, you will find the '+' sign that takes you right to the canvas board, from where you can start designing the Quality Control Flowchart from scratch. Coupled with your technical expertise, you can use a wide range of symbols to draw a detailed Quality Control Flowchart.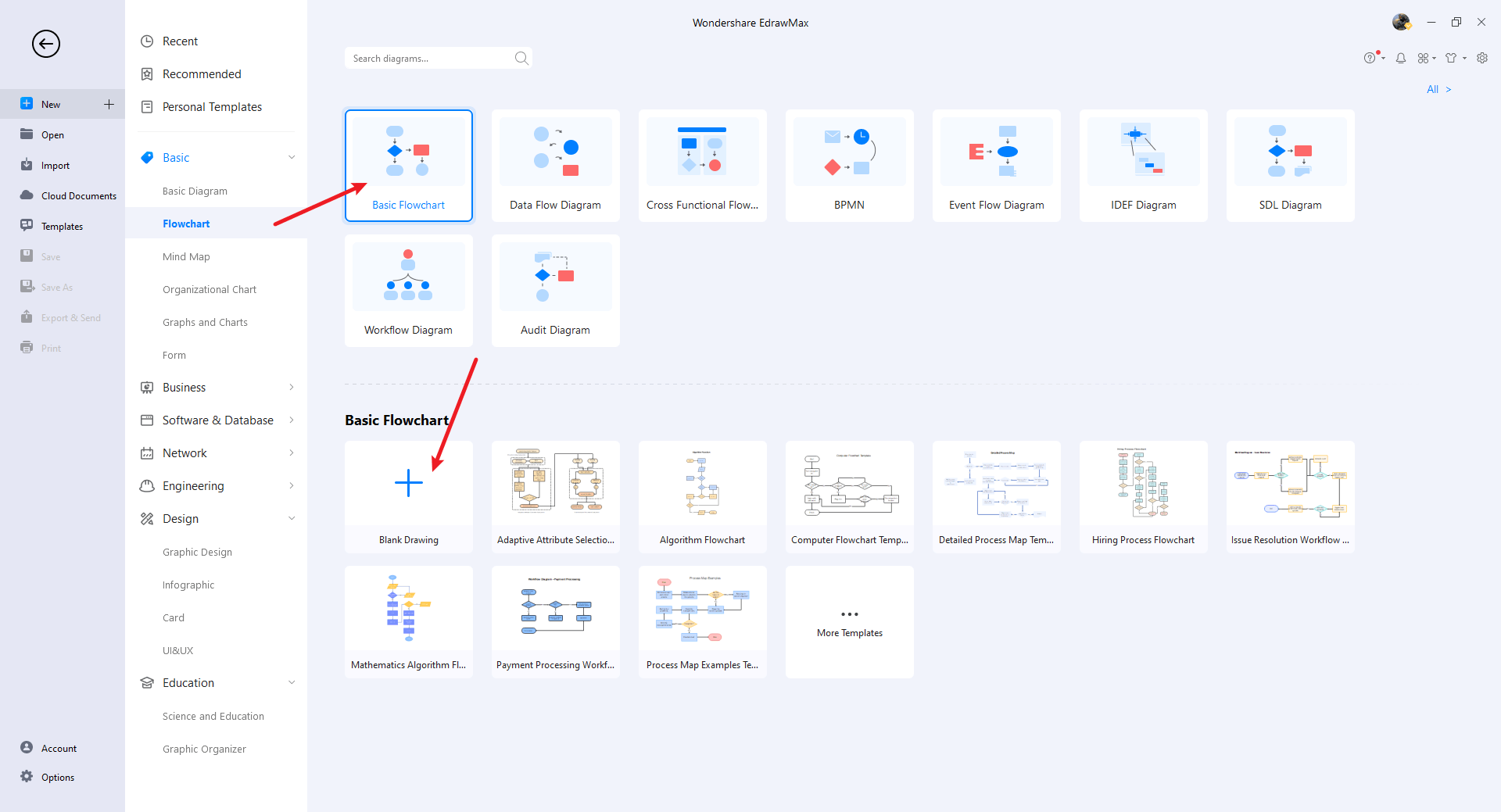 Step4
Select Symbols
EdrawMax includes a large number of symbol libraries. You may quickly build any type of diagram with over 26,000 vector-enabled symbols. If you can't locate the symbols you need, you can easily import some images/icons or build your own shape and save it as a symbol for later use. Simply go to the 'Symbols' part of EdrawMax and select the 'Predefined Symbol' section from the top toolbar. Hundreds of symbol categories are accessible for you to utilize and incorporate into your Quality Control Flowchart.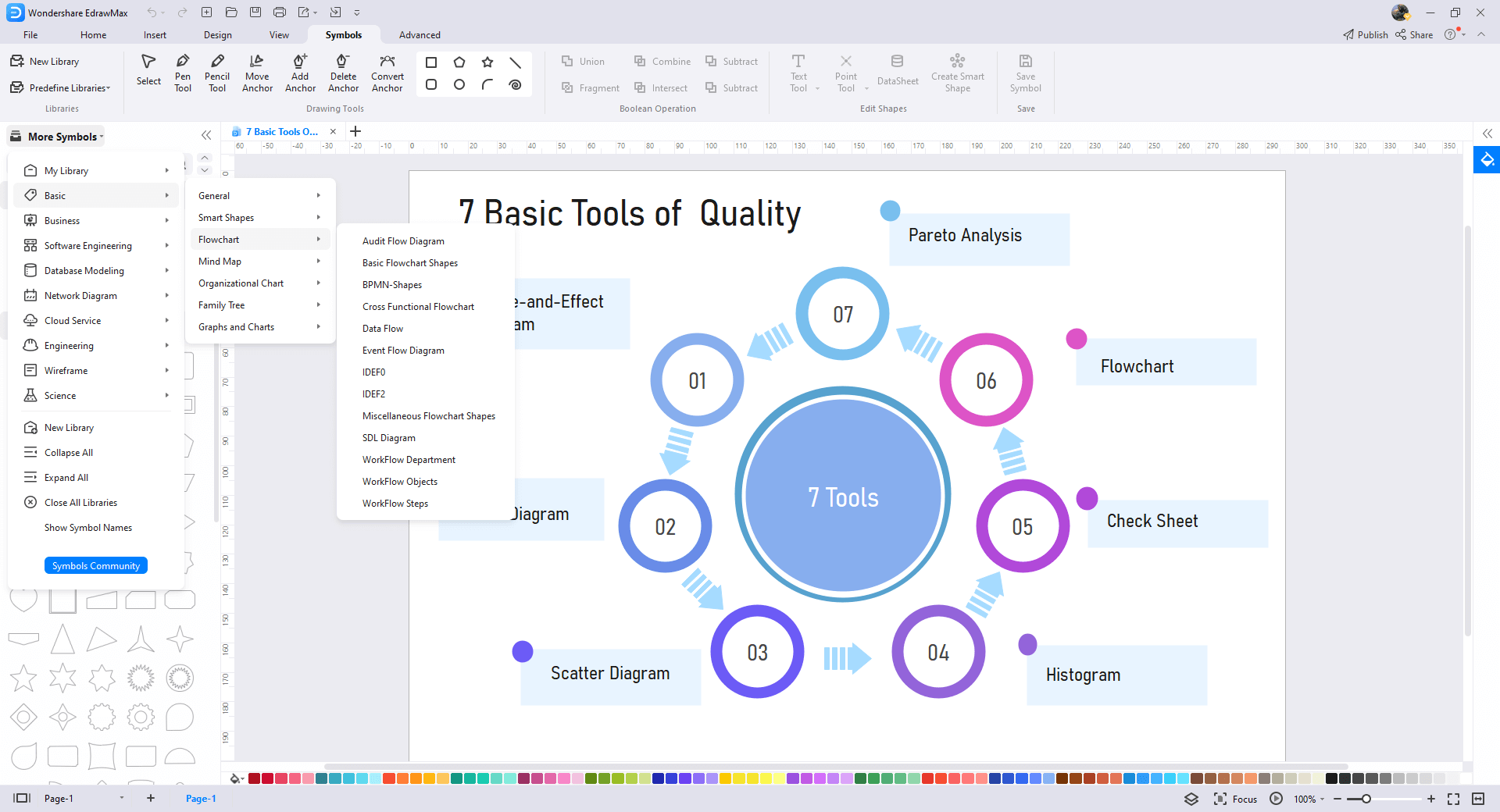 Step5
Add Components
After you have sketched out the basic pieces, you may customize the typefaces, colors, and other details by selecting the right or top menu to make your key design more visually appealing. Also, feel free to draw ideas from other layouts on Templates Community and transfer some of the photos or features that you think would go well with your key design.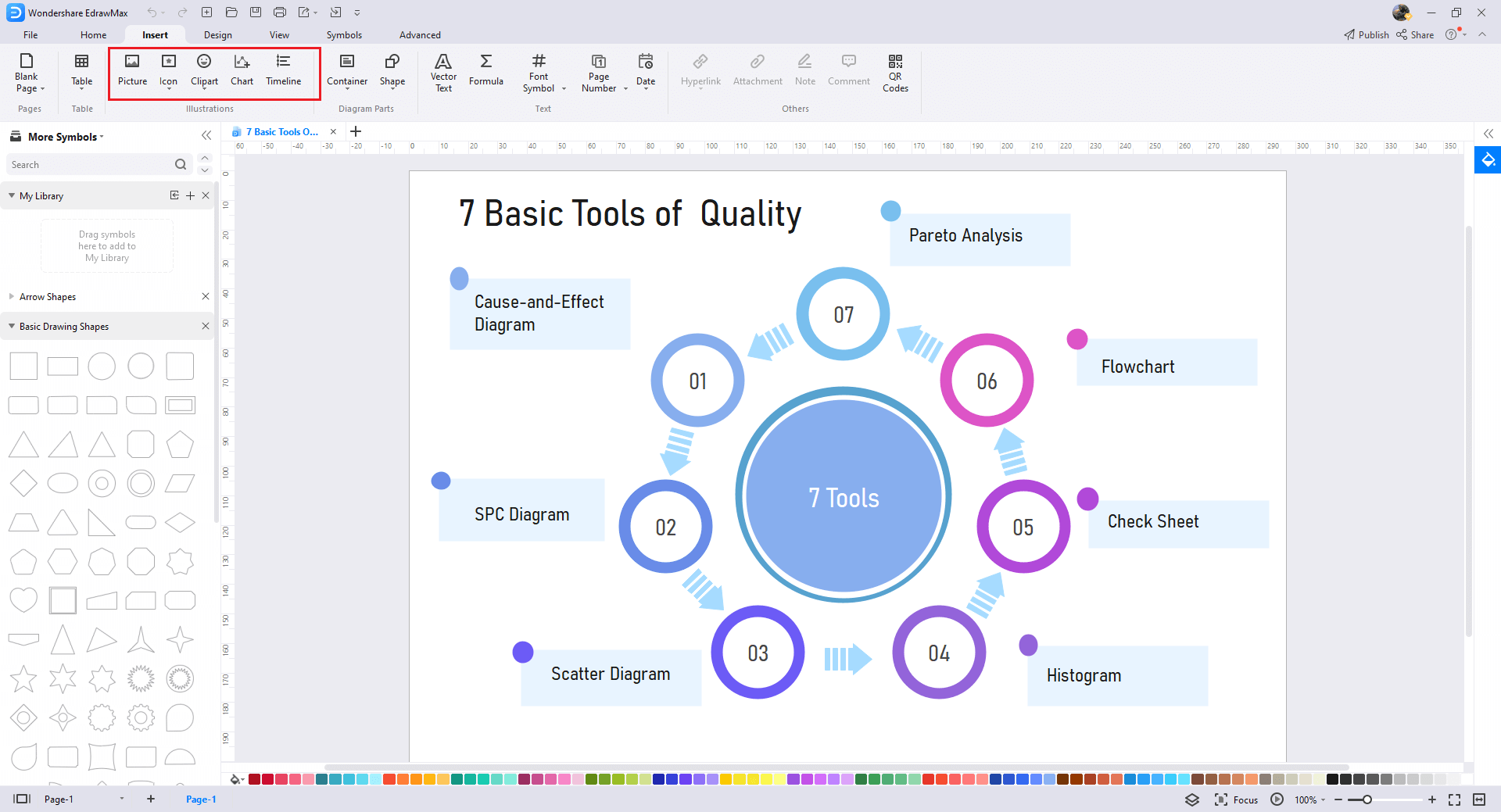 Step6
Wrap it up
Once the Quality Control Flowchart is complete, you may engage with your workgroup to get their feedback by using our Cloud-based files; EdrawMax supports exporting data into a variety of categories, including Graphics, Microsoft Office, HTML, PDF, Visio, and others. You can also share via social networks or emails. You can also print it or display it to others by utilizing "Presentation Mode."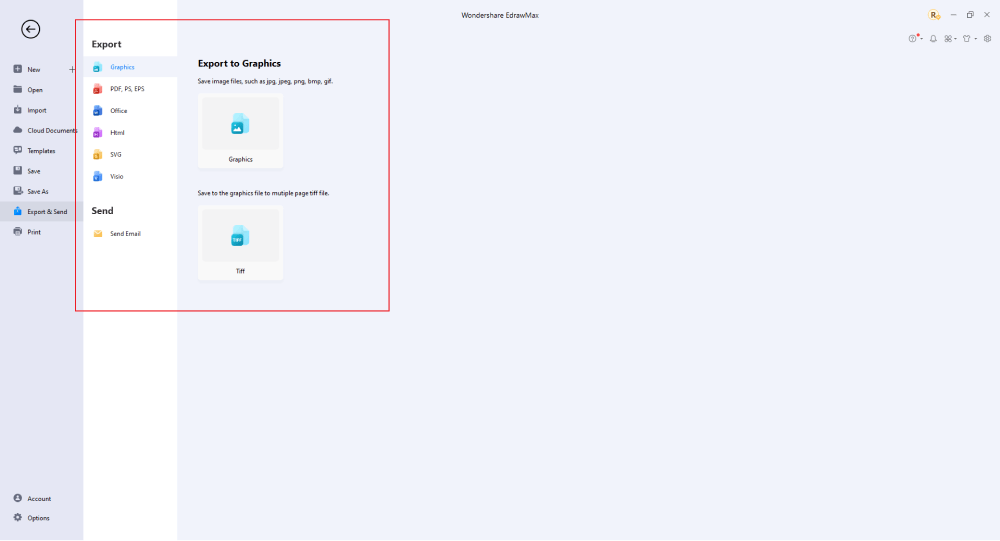 Basically, it is simple to create a Quality Control Flowchart in EdrawMax, just grab a template and keep customizing, drag and drop professinal Quality Control Flowchart symbols to make your plan better. If you are still confusing about how to make a Quality Control Flowchart in EdrawMax, you can find more tutorial videos from our Youtube.
6. Quality Control Flowchart Examples & Templates
There are various tools available for process controlling and solving different issues. The most favorable one among the 7 prominent tools is the quality control flowchart. Quality Control Flowchart Example is an easy way of understanding a long process. They show the connection between different steps.
If you expect for more flowchart examples and templates, you can check this article Flowchart Examples to get more!
Example 1: 7 Basic Tools Of Quality
A quality control flowchart is beneficial in any business plan. EdrawMax is a flowchart generating software that offers you 10 verities of different templates, including workflow and data flow diagrams. You can tell your stories in the form of charts, rack diagrams, and visual content using EdrawMax.
Example 2: Event-Driven Process Diagram Template
EdrawMax offers free downloading and printing options of a customizable event-driven process diagram template. It provides a starting point while creating a flowchart template for your ease. You just need to go forward with easy steps and processes, which is the duty of EdrawMax.
Example 3: Production Planning and Control Process Template
The production planning and control process template are one of the useful templates of EdrawMax. It allows you to make a flowchart for new products and equipment. You can also create developmental materials according to your business plans using this EdrawMax template.
Example 4: Quality Control Flowchart Template
The manufacturing flowchart example can help you visualize the flow for a product and identify process opportunities for improvement. It also makes it easy to collaborate with colleagues on how to improve the process inefficiencies.
7. Free Quality Control Flowchart Software
EdrawMax is a free software used for the production of customized visual representations. You do not need a pencil and paper to draw quality control flowchart of your business plan because EdrawMax will help you and give you an amazing result. It has various distinctive features for which people mostly prefer it.
EdrawMax is an all-inclusive diagramming tool that you can use to create not only a quality control flowchart but other graphical illustrations as well. With well-equipped rack symbols, fonts, and so much more, making server rack representations could be as simple as possible. Moreover, with EdrawMax, users can customize their diagrams and save their work in multiple formats.
The best EdrawMax features that can assist you in your Quality Control Flowchart:
EdrawMax Quality Control Flowchart software is compatible with multiple devices including Windows, Linux, and Mac devices. So, you can access diagrams online anywhere and at any time.
Over 280 types of diagrams including flowcharts, tree diagrams, mind maps, architectural diagrams, wiring plans, and more.
You can download or export your desired file in different formats, including PDF, PNG, PPTX, MS DOCS, and JPEG.
EdrawMax has a huge library of customizable templates to meet everyone's needs. Professionals always update these templates with creative ideas. It offers completely customizable templates free of cost.
Advanced user-friendly UI. You will feel right at home even with no experience in design. A complete set of symbols and general art tools to help you to tailor your drawings according to your liking.
EdrawMax population has reached around 25 million people. They work and present unique templates using their creative minds and approaches. You can easily find maps, design models, organize charts, and create network diagrams.
EdrawMax Desktop
Create over 280 types of diagrams
Windows, Mac, Linux (runs in all environments)
Professional inbuilt resources and templates
On-premises software for business
Enterprise-level data security
EdrawMax Online
Create over 280 types of diagrams online
Access diagrams anywhere, anytime
Team management and collaboration
Personal Cloud and Dropbox Integration
8. Final Thoughts
Quality management has two essential components of processing methods and activities to maintain the quality of the product. The quality control flowchart is a combination of 7 useful tools for the quality control process. It provides an understandable image for the processing of products or services. It helps you to detect the apparatus and methods essential for the procedure. If you want to impress your companions and colleagues, you should try EdrawMax for the formation of an attractive flowchart. It will make an easily understandable diagram that will help you to illustrate each point clearly.
The moment you start using EdrawMax , you will realize that the tool comes with several amazing features that ease your efforts in creating the Quality Control Flowchart and help you share the designs using the easy sharing option. With EdrawMax, you can export your file into multiple formats, and share your works on different social media platforms, like Facebook, Twitter, LinkedIn, and Pinterest. All in all, EdrawMax is a wonderful tool that caters to all of your designing and drawing needs.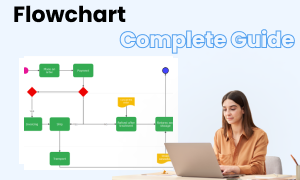 Flwochart Complete Guide
Check this complete guide to know everything about the flowchart, like flowchart types, flowchart symbols, and how to make a flowchart.