Quality Control Flowchart

What is Quality Control?
Quality Control (QC) is not only about manufacturing businesses monitoring product flaws and ascertaining corrective actions. It is a process that strives for business perfection through well-defined controls. A quality control process ensures your business is delivering a consistent product, service, and customer experience. It makes it easier to monitor your operations, delegate duties, and even expand to new locations. The process forms a key component of a well-run business.
Quality control processes can be used for all types of businesses, whether product-based or service-based. Business growth demands quality products, exceptional services, and careful attention to keeping customers happy. Substandard products or services will, in the long run, cut your profit margins, making it harder to attract and keep customers or employees.
Defined quality control processes help you standardize your products and services. Such programs also help you execute appropriate reactions to quality issues. It becomes easy to specify which production activities are to be completed by which personnel, thereby limiting room for error.
Differences Between Quality Assurance (QA) and Quality Control (QC)
QA and QC both form important parts of quality management. QA relates more to how a product is made or how a process is performed, while quality control takes more of the inspection aspect of quality management. Quality assurance provides confidence (both internally to management and externally to customers and other regulators) that the quality requirements will be fulfilled.
Briefly, QC can be taken as the operational activities or techniques used to fulfill quality requirements. On the other hand, quality assurance is all the planned and systematic activities implemented within the quality system that demonstrate that the product or service fulfills quality requirements.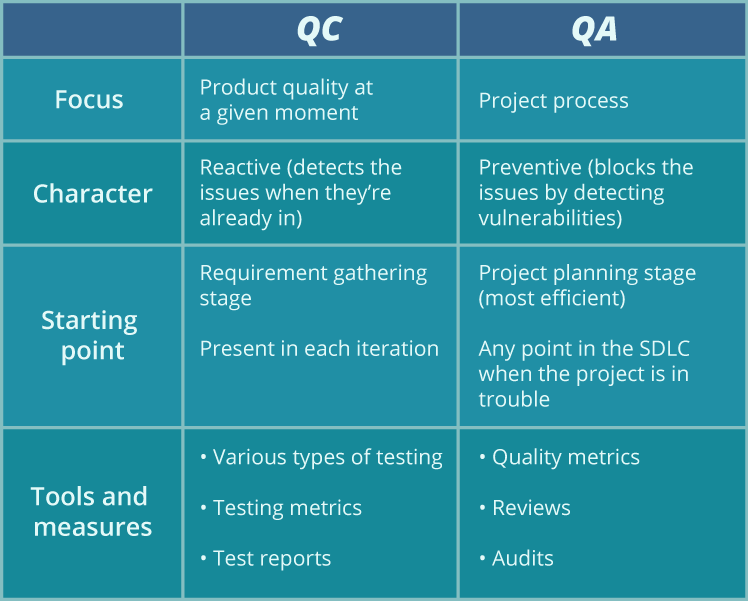 Source: scnsoft.com
EdrawMax
All-in-One Diagram Software
Create more than 280 types of diagrams effortlessly
Start diagramming with various templates and symbols easily
Superior file compatibility: Import and export drawings to various file formats, such as Visio
Cross-platform supported (Windows, Mac, Linux, Web)
Security Verified |
Switch to Mac >>
Security Verified |
Switch to Linux >>
Security Verified |
Switch to Windows >>
Types of Quality Control
If you're still wondering how quality control works, we break them down for you to understand how they might be used. QC requires strategy, investment in time and money, and a commitment to quality standards.
There are different approaches to quality control. Your specific product or service dictates the type you use. The management can opt for internal or external quality control inspections depending on your systems.
Internal Vs. External Quality Control
The internal quality control process relies on a protocol established in-house to check the system. The protocols can regularly range from running standards and controls, routine checking of equipment to employee data analysis.
External quality control chips in when products or data are sent outside to businesses affiliated with your company. For instance, a food-producing company may verify the nutritional value analysis of a specific product by sending the product to an outside lab. Third-party verification is important in establishing if the production methods are sound.
Statistical Quality Control
This type of QC requires extensive usage of statistical methods. Statistical tools are automated to work on a model that requires less manual intervention. Acceptance Sampling forms an important part of statistical quality control. It is done post-production to assess quality parameters defined by the organization's standards on attributes and variables.
Process Control
Just as all products start with pieces, this type of quality control ascertains that the company's processes are functioning correctly to end with a well-finished good. It checks whether the activities at each process are operating within acceptable variation. It is an important part of quality management that ensures machines are operating correctly and products do not have flaws.
Types of Quality Control Process (With Examples)
The quality control process is divided into 3 separate processes, which are IQC (incoming quality control), IPQC (in-process quality control), and OQC (outgoing quality control).
IQC - Incoming Quality Control

Incoming quality control is the process of inspecting the raw and component materials from suppliers upon arrival. When you found the defective parts, you need to negotiate with the supplier for return or exchange, and the ultimate purpose is to make sure your product quality will not be affected. Below is a sample flowchart of the IQC process.

IPQC - In-process Quality Control

IPQC refers to quality control during the assembly process. It is crucial because you can detect and handle the problem that occurs ahead of time.

OQC - Outgoing Quality Control

OQA is the inspection of products before shipping. It's a crucial step in ensuring the shipment is defect-free.
How to Establish Quality Control Processes?
Business growth requires in-depth attention to the production process. This covers employees, machines, input materials, and a seamless harmonization of their contribution to the processes.
The following are essential steps to help you establish a quality control process.
1. Outline Your Quality Standards
Most industries will have the quality standards set by an outside body such as governments, health bodies, or other regulatory agencies. In cases where official quality standards don't exist, you'll need to set your own. Each department will have different quality control standards, all objectively measurable.
2. Focus on the Most Important Measures
All the quality standards are essential in your operations, but you can decide which ones to focus on for a particular course. These are the ones with huge impacts on your profits and customer experience. This is one way to register positive results quickly.
3. Optimize Operational Processes to Achieve Results
Well-designed processes lead to high-quality products and services. Create operational processes to deliver quality and continuously measure the results. If you and your company work consistently to improve the processes, your product or service will get better and better.
4. Review Your Results
Review your results regularly to see how well the business is meeting its quality standards. Act on the collected data for continuous improvement.
5. Use Measurable Feedback
Get feedback from external sources for a fuller picture of your product or service quality. You could rely on external sources like online ratings, net promoter scores, reviews, and customer surveys.
6. Make Improvements
You don't stop where you're meeting the quality control standards, no matter how well the processes are running. There's always room for improvement. Even small changes can pay off in big ways.
Flowchart Examples in Quality Control
The 7 basic tools of quality for process control represent a fixed set of graphical tools used for troubleshooting issues related to quality.
Flowcharts are perhaps the most popular of the seven. Flowcharts make it easy to visualize the sequence of steps in a process. Flowcharts also highlight the relationship between various steps or processes.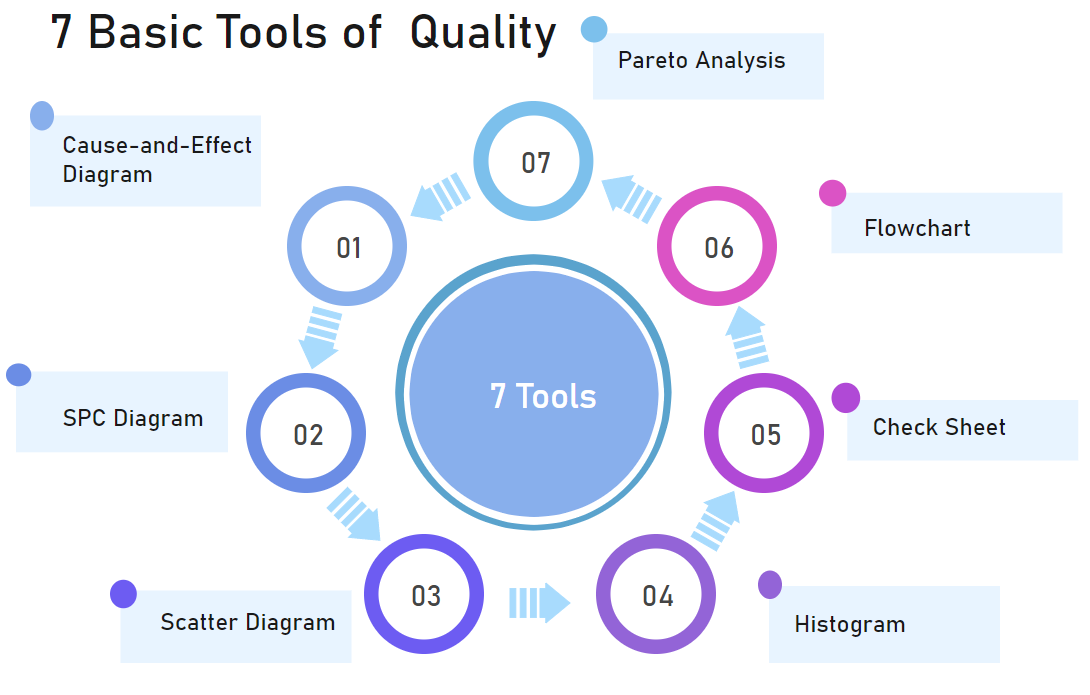 More Flowchart Examples
Example 1: Quality Control Flowchart Template
The manufacturing flowchart example can help you visualize the flow for a product and identify process opportunities for improvement. It also makes it easy to collaborate with colleagues on how to improve the process inefficiencies.
Example 2: Event-Driven Process Diagram Template
Example 3: Production Planning and Control Process Template
Conclusion
The operational techniques and activities that are necessary for fulfilling quality requirements form an indispensable part of quality management. Forming the 7 basic tools of the quality control process is a process flow diagram.
Flowcharts make it easy to understand the product or service process, outline quality control, and increase efficiency. You could try EdrawMax and build the quality control process with flowcharts that deliver results. Flowchart made simple clearly illustrates the equipment and materials included in the process. It also makes it simple to know every personnel contribution at each stage.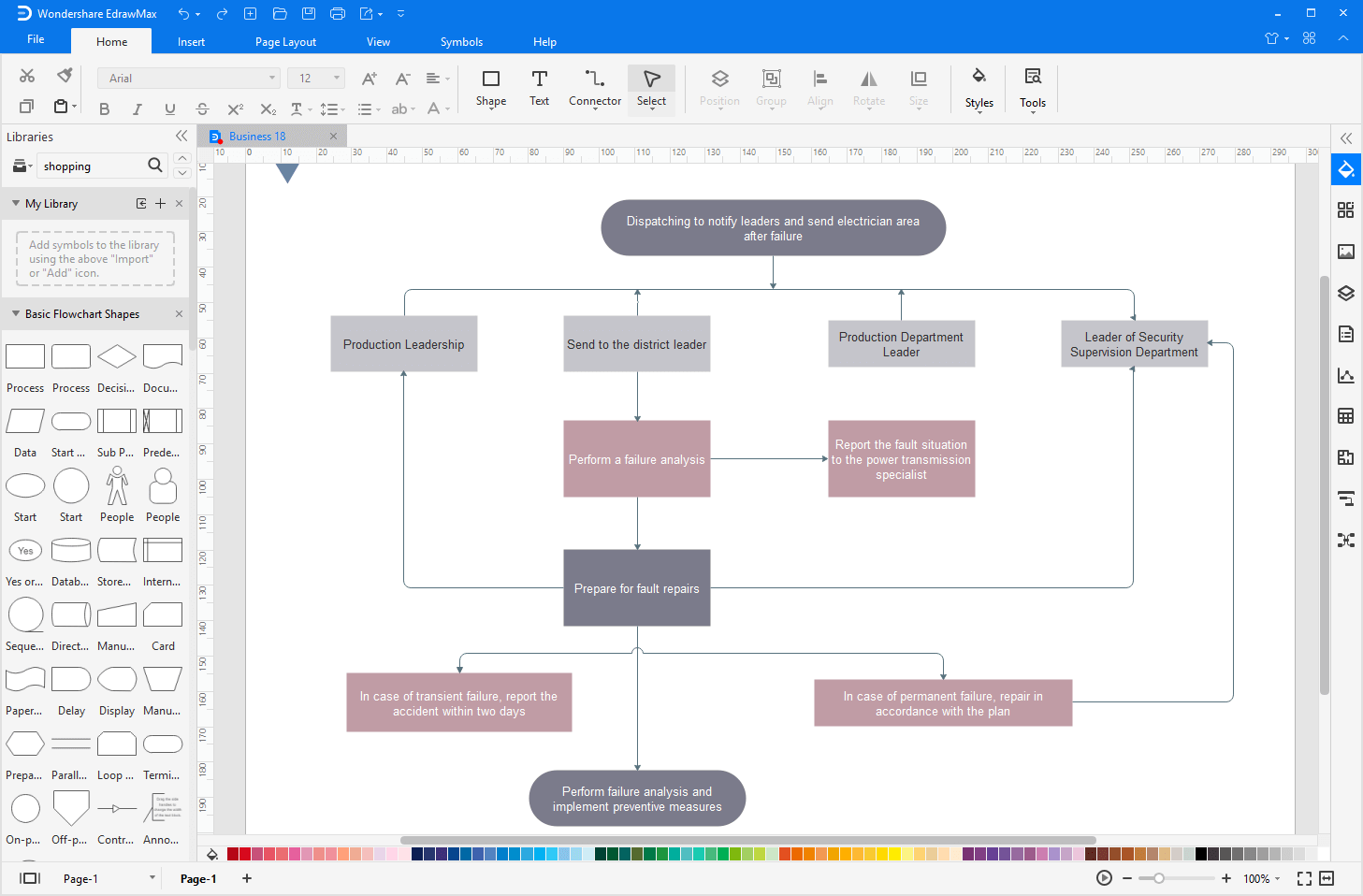 Related Articles
Create Flowchart for Document Management
Create Flowchart for Resignation Process