Quality Control Process Flowchart

How to draw a quality control process flowchart and present the procedure visually? Read about this major introduction on quality control and view the flowchart examples to help you start.
What is Quality Control Process?
Quality control is a process intended to ensure that product quality or performed service adheres to a defined set of criteria or meets the requirements of the client. Through the quality control process, the product quality will be maintained, and the manufacturing defects will be examined and refined.
The quality control process is divided into three separate processes, which are IQC (incoming quality control), IPQC (in-process quality control) and OQC (outgoing quality control).
IQC - Incoming Quality Control
Incoming quality control is the process of inspecting the raw and component materials from suppliers upon arrival. When you found the defective parts, you need to negotiate with the supplier for return or exchange, and the ultimate purpose is to make sure your product quality will not be affected. Below is a sample flowchart of the IQC process.
IPQC - In-process Quality Control
IPQC refers to quality control during the assembly process. It is crucial because you can detect and handle the problem that occurs ahead of time.
OQC - Outgoing Quality Control
OQA is the inspection of products before shipping. It's a crucial step in ensuring the shipment is defect-free.
How to Draw Quality Control Process Flowchart?
Before creating a quality control process flowchart, we recommend a flowchart maker.
After installing this software, let's start making flowchart as the following steps:
1. Identify each step in the process you want to illustrate.
2. Draft the process out using a pen and paper.
3. Choose a professional flowchart maker to draw the process. The picture below shows the basic drawing steps:
Flowchart Software
It's fast and easy to
design flowchart
for quality control process using our software which contains amazing features to help you begin. It has embraced as one of the top flowchart makers due to its large collection of
symbols
and easy users interface. Through years of hands-on experience, Edraw has introduced many improvements and new technologies to its new generation of the
flowchart program
. You will experience a much easier and smarter way of making flowchart.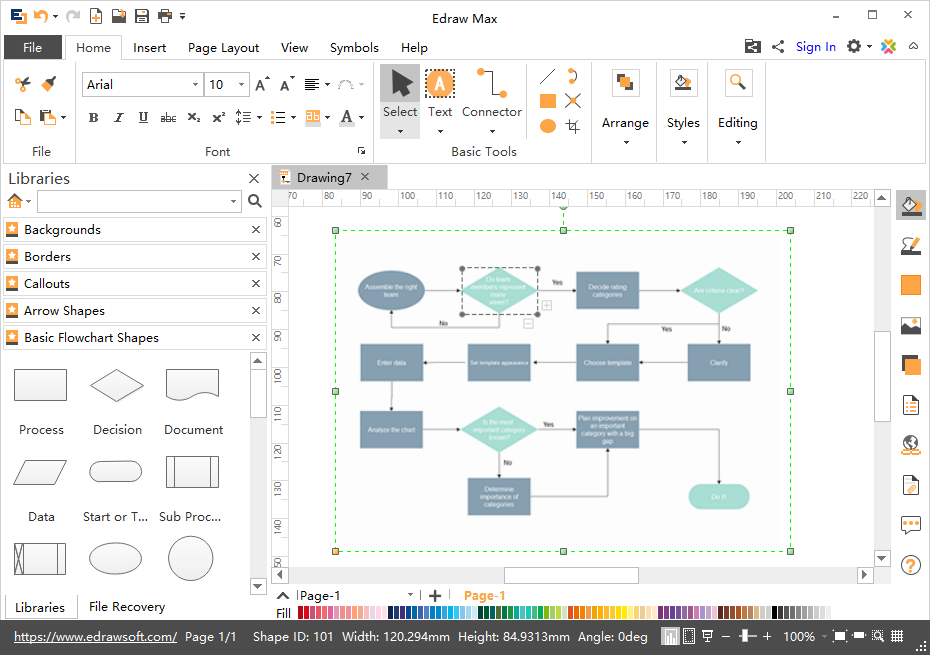 If you want to make flowchart from examples, you can click Flowchart Example Center to view and download more examples. If you need to export the flowchart to other formats, you can click Export Flowchart to Excel, Word, or Powerpoint.
You may also want to read Create Flowchart for Document Management, Use Flowchart to Manage Projects, and Create Resignation Process Flowchart.