How to Draw a Network Diagram in Visio
Do You Want to Make Your Network Diagram?
EdrawMax specializes in diagramming and visualizing. Learn from this article to know everything about how to make a network diagram and easier way. Just try it free now!
A network diagram is a visual representation of the various elements of a computer network connection. The diagram makes it easy for an individual to understand how connecting devices form a computer network. It maps out the structure of a computer network using different symbols and connectors. A network diagram is a visual way of picturing a task, process, or path. It graphically shows and displays the workflow in a series of steps of creating a network system.
This guide extends steps to create a network diagram with pre-made templates and libraries of symbols that you might need and introduces a Visio alternative so that you can create Visio Network Diagrams for FREE!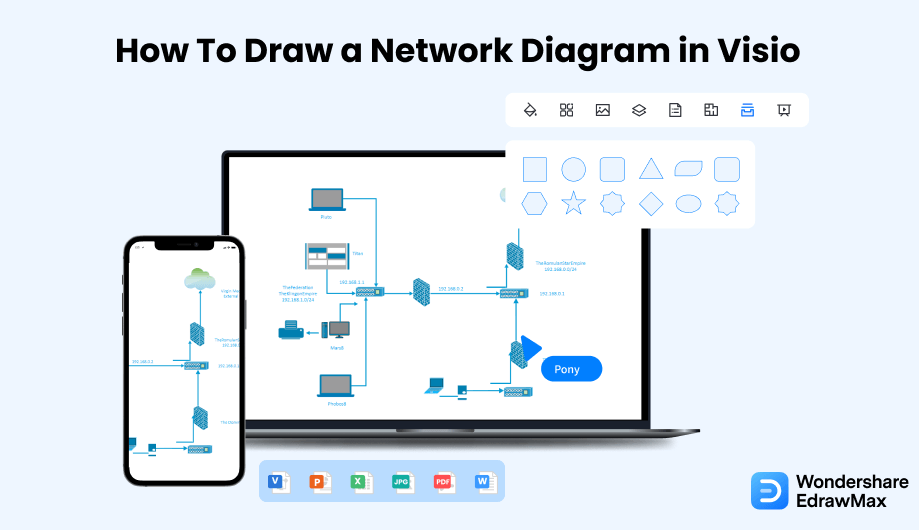 1. How to Draw a Network Diagram in Visio
Drawing a network diagram in Visio involves many specific elements like server equipment icons and symbols. Usually, only expert professionals are able to create a Visio network diagram, but today, we will teach you how to make one easily in Visio. Follow these step-by-step instructions to create a network diagram using Visio stencils:
Open Microsoft Visio:

To create a network diagram in Visio, launch MS Visio on your desktop and select a blank page.

Get Stencils:

To create a network diagram in Visio, you first need Visio stencils or templates that you can get directly from the Microsoft Office website or you can go to the File menu and select New > Network. Then, click on 'Network Diagram'.

Add More Shapes:

From the Network and Peripherals and Computers and Monitors stencils, drag shapes onto the drawing page. Select a shape on the page, and label it. To finish, select a blank area of the drawing page. Select [Home] > [Connector]. Draw a line between two shapes. To finish, select [Home] > [Pointer Tool].From the Network and Peripherals stencil, drag the legend shape onto the drawing page. Select Legend Subtitle, and type a new subtitle. To finish, select a blank area of the drawing page.

Save and Export the File:

After you are satisfied with your diagram, it is time to save it and exit the application. Go to the File menu and click 'Save As'. This will open a new window. Add a name and location for your document and click 'Save'.
How to Draw a Network Diagram in Visio:
Open Microsoft Visio;
Get Stencils;
Add More Shapes;
Save and Export the File;
2. How to Draw a Network Diagram in EdrawMax
Now that you have seen the method to create a Network Diagram in Visio, let us show you the easiest way of creating a similar network diagram in EdrawMax.
Step1
Open EdrawMax & Login
The very first step that you need to follow is to install EdrawMax in your system. Go to EdrawMax Download and download the network diagram software depending upon your operating system. If you need remote collaboration with your office team, head to EdrawMax Online and log in using your registered email address.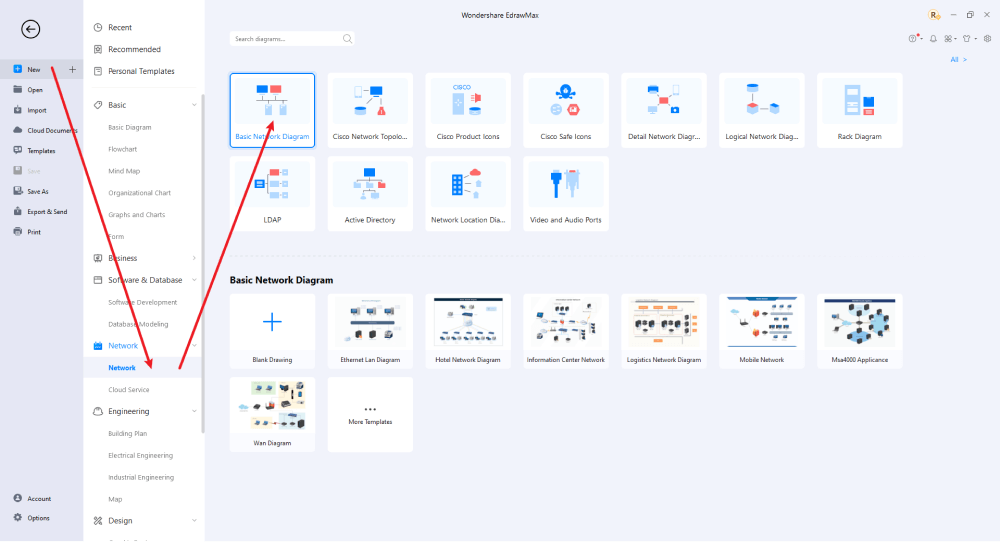 Step2
Select a Template
After launching, the Home screen opens by default. Head to the Template bar and search for Network Diagrams in the search box. In-built network diagram template specific to your search will appear on the screen. Select the template you like and click Use Immediately to open it in a new window for customization.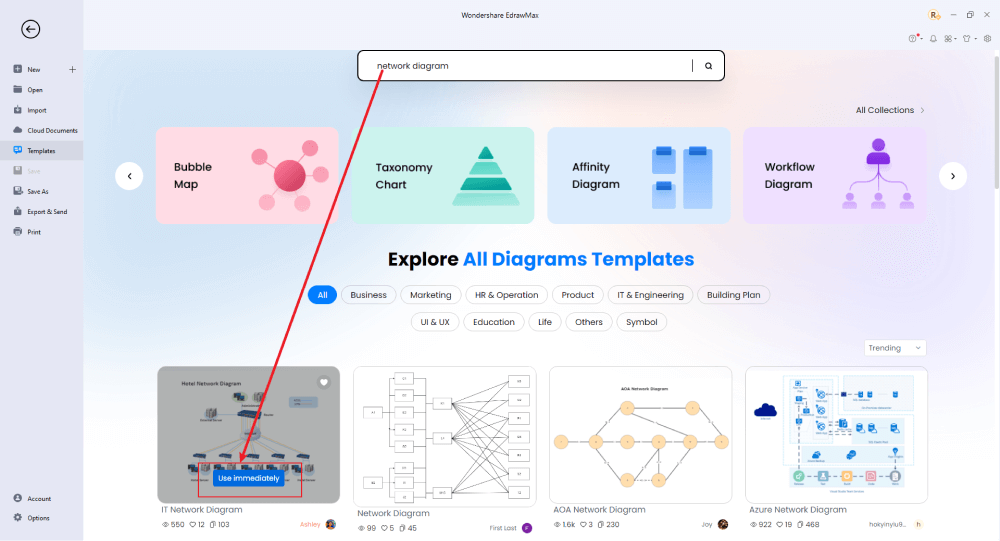 Step3
Create From Scratch
From the EdrawMax homepage, you will find the '+' sign that takes you right to the canvas board, from where you can start designing the network diagram from scratch. Coupled with your technical expertise, you can use a wide range of symbols to draw a detailed network diagram.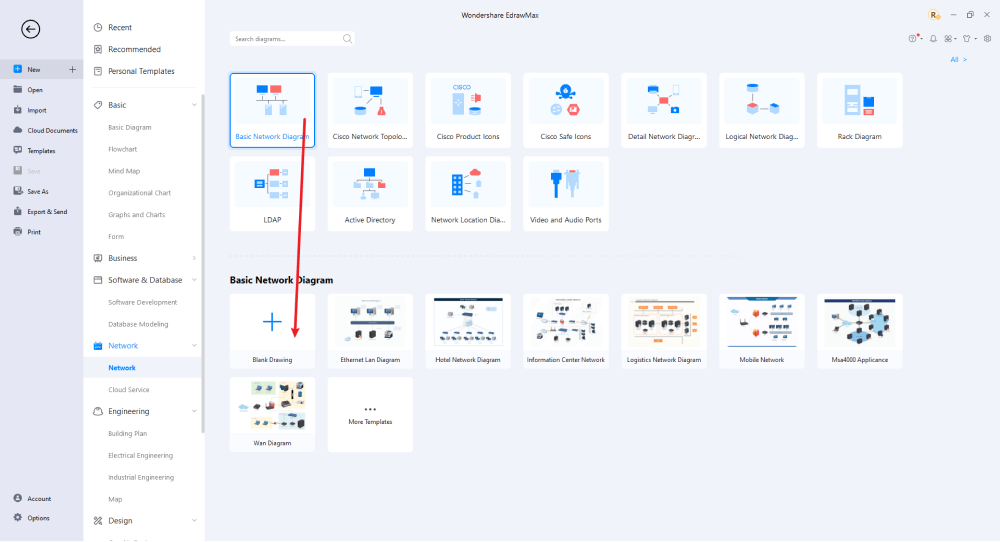 Step4
Add Components
All the symbols are available in the 'Symbol' section in the toolbar. You can also search for more network diagram symbols in the symbol library on the left side of the screen. Click "Symbol>Predefined Symbol>Network Diagram". Then, choose the network diagram icons you want to import to the symbol library on the left side of the screen. You just need to drag and drop the symbol where you want it to be and double-click on it so you can label it according to your needs.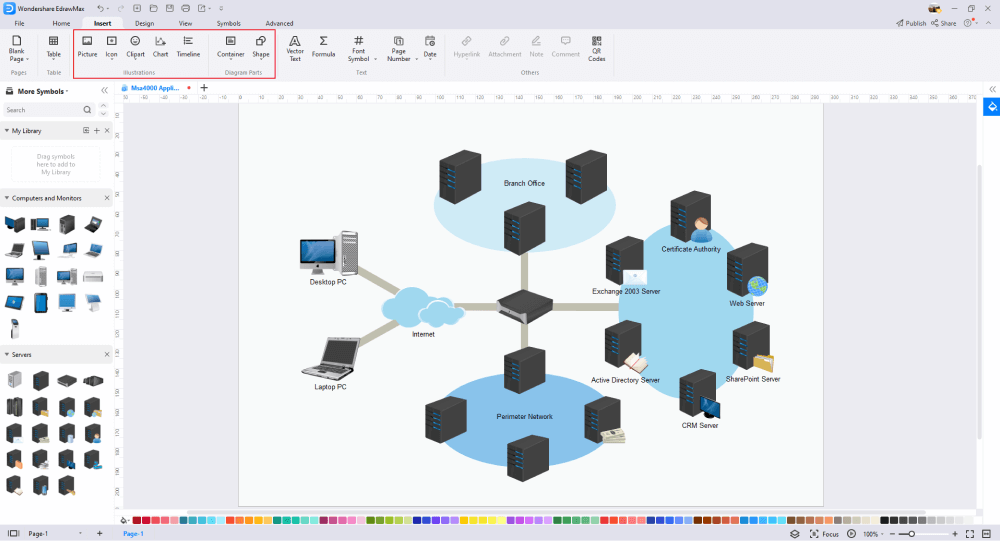 Step6
Export & Share
Once you are satisfied with your network diagram, you can export it into multiple formats, like JPEG, JPG, PNG, PDF, and other Microsoft formats, like MS Word, MS Excel, PPTX, etc. Just back to the main menu, and find "Export" button, You can also share the network diagram on different social media platforms, like Facebook, Twitter, LinkedIn, etc. Moreover, you can print your network diagram for showing with others.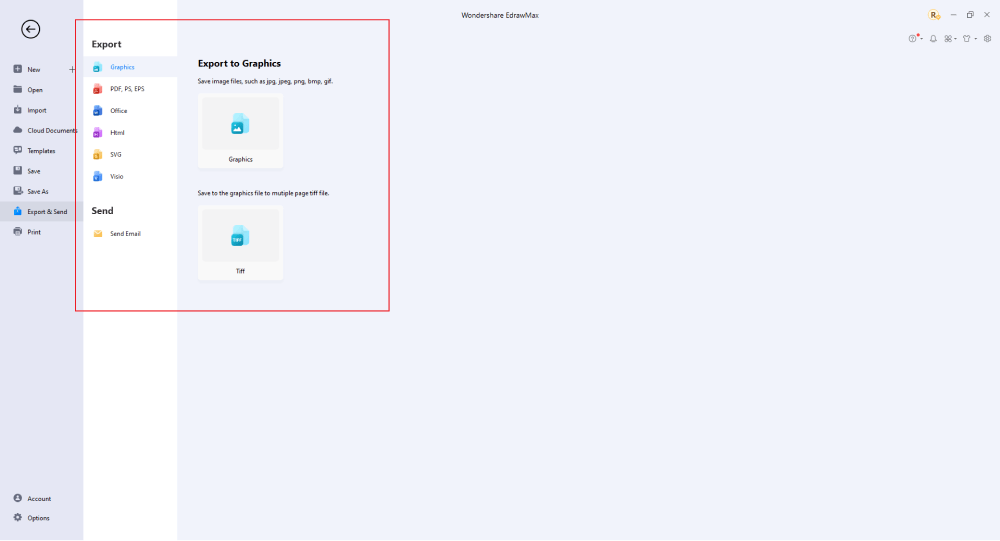 Basically, it is simple todraw a network diagram in EdrawMax, just grab a template and keep customizing, drag and drop professional network diagram symbols to make your plan better. If you are still confused about how to draw a network diagram in EdrawMax, just check the video below.
3. EdrawMax vs. Visio
Microsoft products are commonly used in the business world, especially the Microsoft Office suite. While Visio has remained one of the first tools that come to mind for diagramming networks, it is no longer the best one. There are plenty of other options available today to anyone who needs to regularly create diagrams and visual content. One of those options is EdrawMax. Let's compare Visio and EdrawMax to find out which is better:
EdrawMax comes at less than half the cost of Microsoft Visio. It delivers A wide assortment of features without the extra charges. You can also download EdrawMax for FREE and enjoy a free trial period before investing in the subscription.
Both Visio and EdrawMax can handle the same task, but Visio lacks ease and flexibility. It is complicated to use with limited resources.
EdrawMax finds itself much more at home with the average user. EdrawMax allows you to create presentation-quality diagrams and graphs without any hassle. Beginners and professionals can both use it comfortably. On the other hand, Visio is more suitable for seasoned users and can be hard to handle for beginners.
EdrawMax has next to no learning curve. So, users can create network diagrams and other technical drawings in no time. In comparison, Visio's complicated layout and advanced interface make it hard to adopt the features. This makes it time-consuming and requires a lot of practice to take full advantage of its features.
Users find Viso a bit frustrating when the diagram gets cluttered as moving the elements ruins the assembly of the diagram. This is where EdrawMax can solve this problem. It offers a smooth transition and does not distort the diagram when you move around any element.
EdrawMax includes a large number of symbol libraries. You may quickly build any type of diagram with over 26,000 vector-enabled symbols. If you can't locate the symbols you need, you can easily import some images/icons or build your own shape and save it as a symbol for later use. Simply go to the 'Symbols' part of EdrawMax and select the 'Predefined Symbol' section from the top toolbar. Hundreds of symbol categories are accessible for you to utilize and incorporate into your network diagram.
Moreover, EdrawMax features a large library of templates. We have more than 25 million registered users who have produced thorough Templates Community for each design. Simply go to the left panel's template section and type any template you're looking for into the search bar. It will bring up hundreds of pre-built templates that you may utilize right away to meet your needs.
Comparison of Network Diagram Features
| OS Comparison | Visio | Edraw |
| --- | --- | --- |
| Windows | | |
| Mac | | |
| Linux | | |
| Overall Comparison | Visio | Edraw |
| Network Diagram Symbols | About 1000 network symbols | More than 1800 network symbols |
| Network Diagram Examples | Less than 10 examples | More than 100 examples |
| Price | $297 + | $99 + |
| Upgrade | Pay on a subscription basis | Lifetime plan with life time upgrade |
| Network Diagram Types Comparison | Visio | Edraw |
| Basic Network Templates | | |
| Rack Diagram | | |
| LDAP | | |
| Active Directory | | |
| Logical Network Diagram | | |
| Detail Network Diagram | | |
| Cisco Network Topology | | |
| 3D Network Diagram | | |
| AWS Network | | |
| Network Location Diagram | | |
| Video and Audio Ports | | |
| Network Topology Features Comparison | Visio | Edraw |
| Drag and Drop Operator | | |
| Layers | | |
| Shape Snap | | |
| Grids Setting | | |
| Automatic Spacing & Alignment | | |
| Replace Existing Network Diagram Shapes | | |
| Add and Edit Connector Texts | | |
| Add Connector Points to Symbols | | |
| Move Connector Points | | |
| Junction Jogs | | |
| Multiple Pages | | |
| Add Hyperlinks to Shape | | |
| Expandable Canvas | | |
| Edit Properties of Network Symbols | | |
| Attachment/Notes/Comments | | |
| Expand & Collapse Shapes | | |
| Team Cloud Collaboration | | |
| Design Tools Comparison | Visio | Edraw |
| Text Formatting | | |
| Paragraph Formatting | | |
| Theme and Effect | | |
| Quick Style | | |
| Quick Action Button | | |
| Define Default Connector Style | | |
| Clip Art Gallery | | |
| Automatic Text Extend | | |
| Create Your Own Network Symbols | | |
| Add Symbols from Images | | |
| CCTV Diagram Support | | |
4. Free Network Diagram Software
EdrawMax is free network diagram software offering various templates for all scenarios, from flowchart, to UML, presentations templates, and many more. Now it's time to transform your ideas into visuals to better picturize what you are looking for. It helps to schedule and track your plans, business projects, and processes for all industries. You can make more than 280 types of diagrams, from technical diagrams to dynamic infographics. It includes a huge number of professionally designed templates and symbols, which helps you to create and better visualize your ideas. Here is why it is the right choice:
It offers an extensive template gallery with thousands of customizable templates ready for use.
The multi-collaboration feature helps different teammates mutually work on a project. You can also use the in-built Live feature to share and discuss the layout with the team.
EdrawMax offers a variety of different diagrams like Floor Plans, Charts, Graphs, ceiling plans, etc.
With a quick drag-and-drop tool, it becomes easier to add symbols to the canvas and adjust them.
EdrawMax allows users to annotate icons to fix them as per the project's requirement. All the shapes can be resized, recolored, and reformatted as the user wishes.
The software makes it easier for users to repeat a specific command by pressing the F4 key. This helps save a lot of time and offers flexibility in repeating the command.
EdrawMax Desktop
Create over 280 types of diagrams
Windows, Mac, Linux (runs in all environments)
Professional inbuilt resources and templates
On-premises software for business
Enterprise-level data security
EdrawMax Online
Create over 280 types of diagrams online
Access diagrams anywhere, anytime
Team management and collaboration
Personal Cloud and Dropbox Integration
5. Final Thoughts
Creating a network diagram can be arduous, considering the technical aspects involved. Are you looking for a budget alternative to Visio network diagrams and examples? Try EdrawMax! EdrawMax has a massive capability of providing all kinds of professional network diagram templates, symbols, and shapes. In addition, all diagrams can be converted to MS Visio with ease.
Unlike Visio, where you have to pay for every user in your organization, EdrawMax provides affordable options for all the businesses and organizations that create diagrams regularly. Head to the download option and treat yourself to the best network diagram today.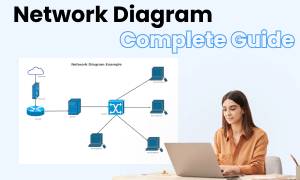 Network Diagram Complete Guide
Check this complete guide to know everything about network diagram, like network diagram types, network diagram symbols, and how to make a network diagram.