How to Draw a Project Network Diagram in Excel
Do You Want to Make Your Project Network Diagram?
EdrawMax specializes in diagramming and visualizing. Learn from this article to know everything about how to make a project network diagram and easier way. Just try it free now!
A project network diagram is a graphic representation of how a project related tasks interrelate. It is a visual tool that allows you to understand the structure and flow of a project plan.
For project managers, nothing works better than a network diagram to connect different processes that are parts of a whole. For creating project network diagrams, Excel is one of the tools project managers rely on. But, the same can be done using EdrawMa - much more efficiently. In this article, we'll show you how to draw a network diagram in Excel and EdrawMax. Let's start with Excel first.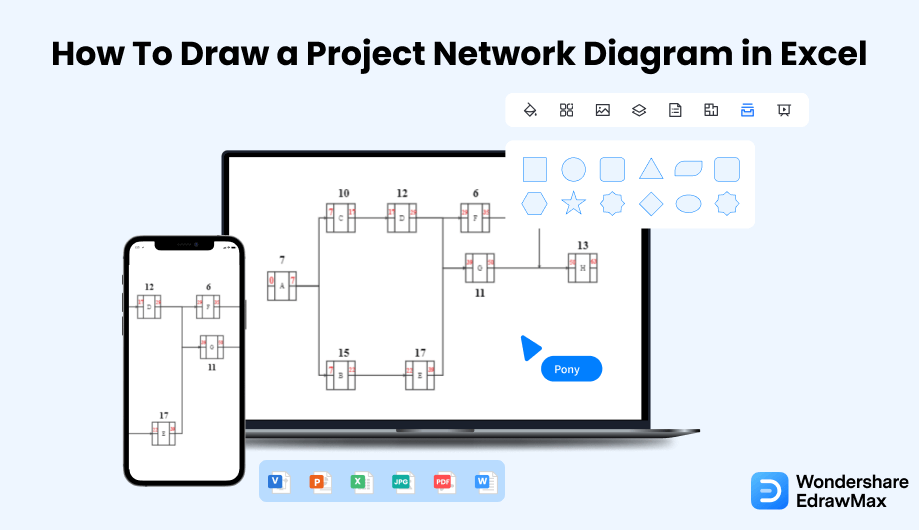 1. How to Draw a Project Network Diagram in Excel
Microsoft Excel is a widely used tool for accounts and finance for its calculation and computation capabilities. But did you know it can be used to create network diagrams from Excel data? Here, we'll show you the step-by-step process of drawing a network diagram in Excel. To create a network diagram in Microsoft Excel, follow the below steps:
Open Microsoft Excel:

If you've Microsoft Office installed on your computer, then you must have Excel as well. Go to its launch icon and double-click to open it.

Define Activities:

The most important thing that'll set the foundation of your project network diagram template in Excel is to define project activities. It's best done when you already have the work breakdown structure of your project. Once you've defined activities, you need to define activity attributes (predecessors) and estimate activity durations using your best knowledge of project management.

Use Shapes to Draw Diagrams:

Excel provides SmartArt Graphics and a range of shapes as well. You can use these shapes to draw your diagram. To draw a network of activities, create a start box and link it to activity A using an arrow. Mention all activities in different boxes and connect each activity with its predecessor using arrows.The simple way is to use SmartArt Graphics and choose Horizontal Hierarchy to create a network diagram.

Save and Export the File:

Now, use the editor to simply mention your activity names along with their durations. Once you have created a project network diagram, you can save it on your desktop for future edits and sharing. Click on File and save the file in VSDX file format.
How to Draw a Project Network Diagram in Excel:
Open Microsoft Excel;
Define Activities;
Use Shapes to Draw Diagrams;
Save and Export the File;
2. How to Draw a Project Network Diagram in EdrawMax
Now that you have seen the method to create a Project Network Diagram in Excel, let us show you the easiest way of creating a similar project network diagram in EdrawMax.
Step1
Open EdrawMax & Login
The very first step that you need to follow is to install EdrawMax in your system. Go to EdrawMax Download and download the project network diagram software depending upon your operating system. If you need remote collaboration with your office team, head to EdrawMax Online and log in using your registered email address.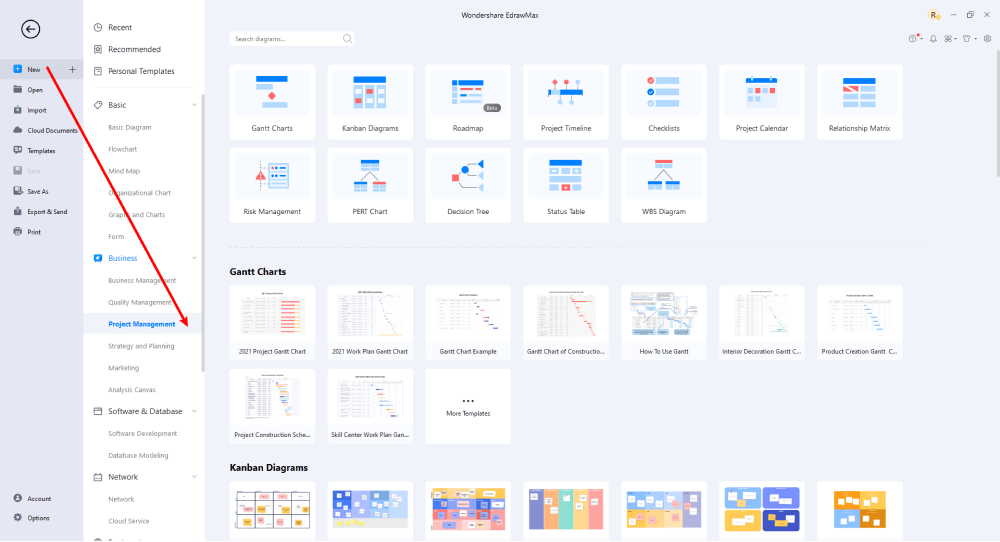 Step2
Select a Template
Since a project network diagram is used in project management, you'll explore its Business section and find a suitable pre-made template available in different sub-sections of the Business category. If you want to take a quick route to find a project network diagram template, then click the File tab, select the Templates tab, and write "project network diagram" in the search bar.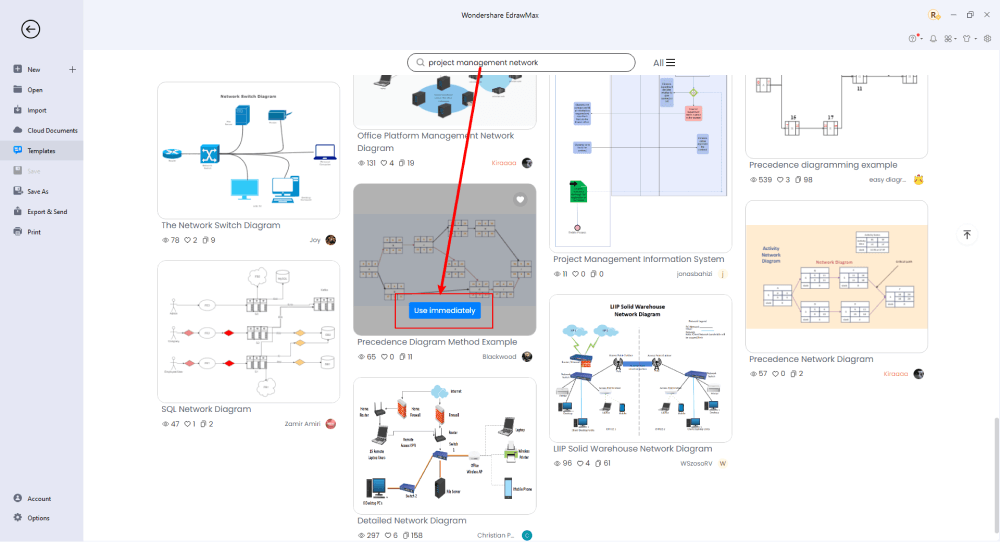 Step3
Create From Scratch
From the EdrawMax homepage, you will find the '+' sign that takes you right to the canvas board, from where you can start designing the Project Network Diagram from scratch. Coupled with your technical expertise, you can use a wide range of symbols to draw a detailed network diagram.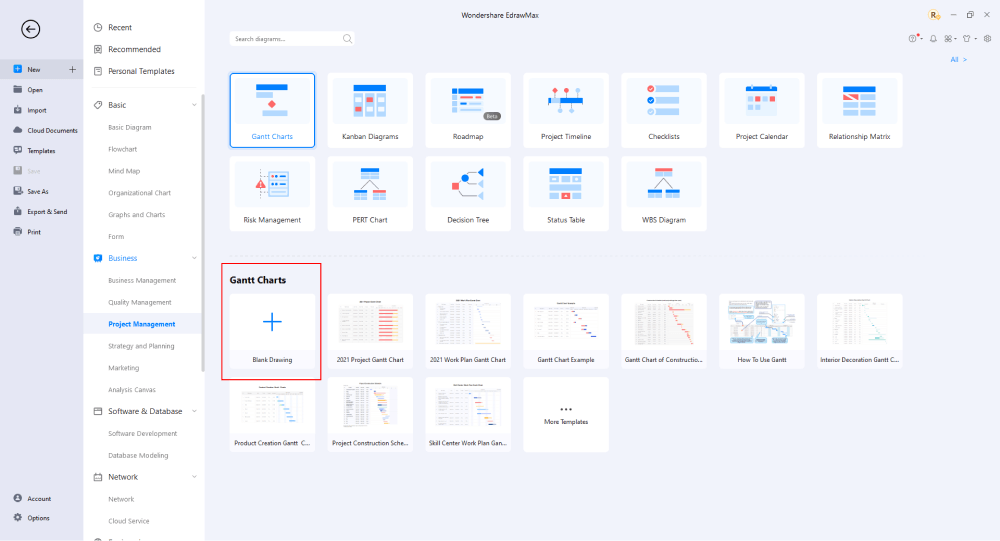 Step4
Add Components
All the symbols are available in the 'Symbol' section in the toolbar. You can also search for more symbols in the symbol library on the left side of the screen. Click "Symbol>Predefined Symbol>Project Management". Select the Network Plan Technology to acquire the network diagram icons you want to import to the symbol library on the left side of the screen. You just need to drag and drop the symbol where you want it to be and double-click on it so you can label it according to your needs.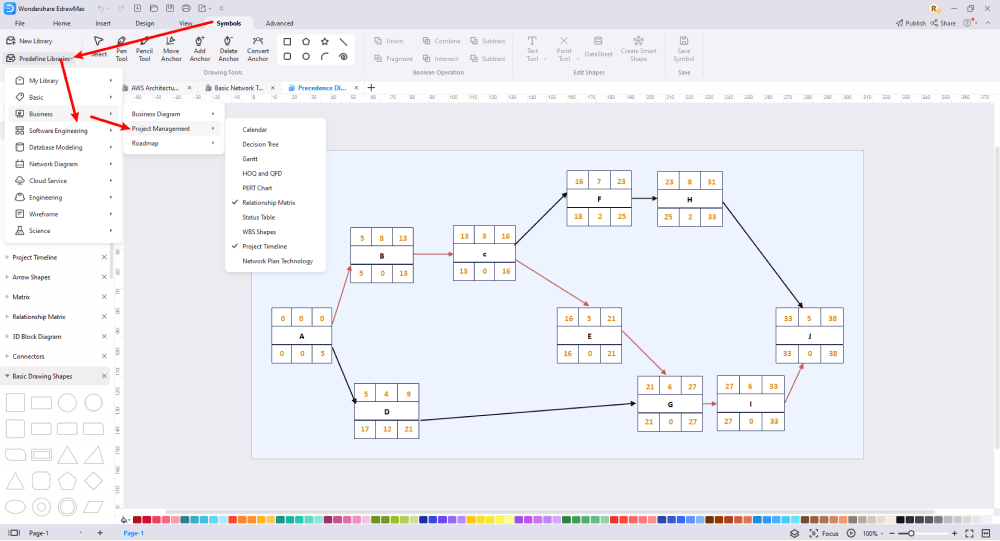 Step5
Export & Share
Once you are satisfied with your project network diagram, you can export it into multiple formats, like JPEG, JPG, PNG, PDF, and other Microsoft formats, like MS Word, MS Excel, PPTX, etc. Just back to the main menu, and find "Export" button, You can also share the project network diagram on different social media platforms, like Facebook, Twitter, LinkedIn, etc. Moreover, you can print your project network diagram for showing with others.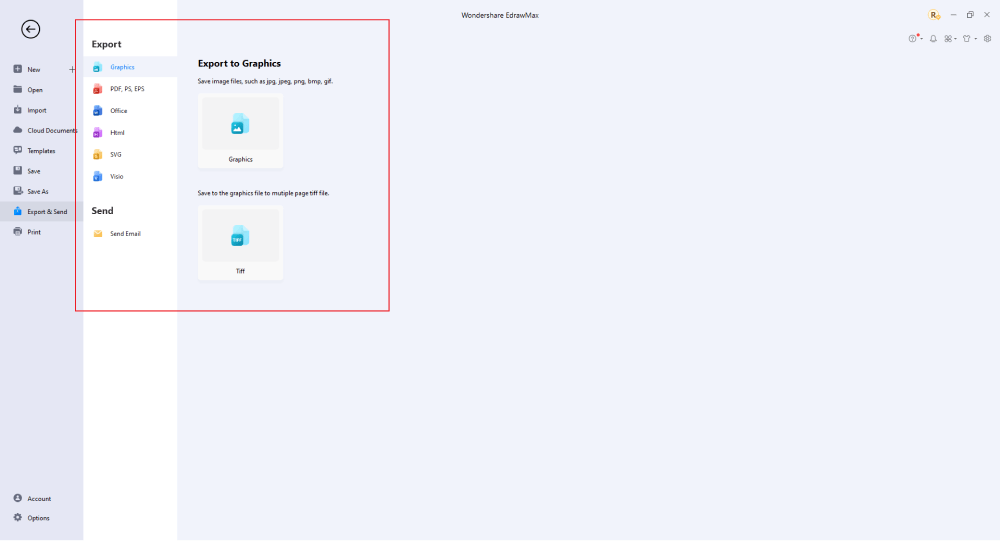 Basically, it is simple to draw a project network diagram in EdrawMax, just grab a template and keep customizing, drag and drop professional project network diagram symbols to make your plan better. If you are still confused about how to draw a project network diagram in EdrawMax, just check the video below.
3. EdrawMax vs. Excel
Did you see the difference between the project network diagrams of the two software? It's understood that MS Excel doesn't best serve the purpose of creating network diagrams. Here are some of the basic differences between MS Excel and EdrawMax for their ability to draw network diagrams:
The process of creating a project network diagram in EdrawMax works like a breeze while providing substantial creative freedom as well. MS Excel, on the other hand, is good enough to create a basic-level project network diagram. However, when it comes to drawing detailed diagrams, it doesn't beat the feature-richness of EdrawMax.
MS Excel doesn't have a self-explanatory interface that leads you to complete project network diagram creation. While EdrawMax offers a clean and beginner-friendly interface with drag & drop symbols to create professional-looking network diagrams.
EdrawMax includes a large number of symbol libraries. You may quickly build any type of diagram with over 26,000 vector-enabled symbols. If you can't locate the symbols you need, you can easily import some images/icons or build your own shape and save it as a symbol for later use. Simply go to the 'Symbols' part of EdrawMax and select the 'Predefined Symbol' section from the top toolbar. Hundreds of symbol categories are accessible for you to utilize and incorporate into your project network diagram.
Moreover, EdrawMax features a large library of templates. We have more than 25 million registered users who have produced thorough Templates Community for each design. Simply go to the left panel's template section and type any template you're looking for into the search bar. It will bring up hundreds of pre-built templates that you may utilize right away to meet your needs.
Create a Project Network Diagram in Excel:
MS Excel has excellent computational capabilities for finance and accounts-related tasks, but it lacks features for creating detailed diagrams.

There are no pre-made customizable templates for convenient diagram creation.

You need to have some technical expertise in using Excel to draw diagrams.
Create a Project Network Diagram in EdrawMax:
EdrawMax is a specialized diagramming tool with extensive project management tools.

It has hundreds of customizable templates and symbol libraries to create detailed diagrams.

You don't need prior technical knowledge to use EdrawMax for diagramming.
4. Free Project Network Diagram Generator
Project managers hugely rely on project network diagrams to ensure error-free project completion. Having an intuitive, feature-rich, and free project network diagram generator is what every project manager dream of. If you want to use a free project network diagram generator that takes the hassle out of creating professional-looking and easily understandable network diagrams. You can't go wrong with EdrawMax. Apart from being free, here are a few reasons that make EdrawMax a better choice over other diagramming tools:
There's an extensive collection of free and premium project management templates for creating scheduling diagrams, project timeline diagrams, Gantt & PERT charts, and much more.
There are hundreds of design elements in EdrawMax that can help you create detailed project network diagrams.
You can visit the Template Community of EdrawMax and use customizable templates created by others.
You can perform and high level of customization on pre-made templates to meet your needs.
You can export your project network diagrams in Visio VSDX format, so those without EdrawMax can use or edit them as well.
EdrawMax Desktop
Create over 280 types of diagrams
Windows, Mac, Linux (runs in all environments)
Professional inbuilt resources and templates
On-premises software for business
Enterprise-level data security
EdrawMax Online
Create over 280 types of diagrams online
Access diagrams anywhere, anytime
Team management and collaboration
Personal Cloud and Dropbox Integration
5. Final Thoughts
Earlier, project managers had to use MS Excel or non-intuitive diagramming tools to create project network diagrams. With the development of purpose-made diagramming tools like EdrawMax, project managers have taken a sigh of relief. We showed in this article how you could create project network diagrams in both Excel and EdrawMax. It's much more efficient and professional to use EdrawMax for its extensive template collection, ease of use, and ability to provide reusable diagrams in other diagramming tools.
Unlike MS Project, where you have to pay for every user in your organization, EdrawMax provides affordable options for all the businesses and organizations that create diagrams regularly. Head to the download option and treat yourself to the best project network diagram today.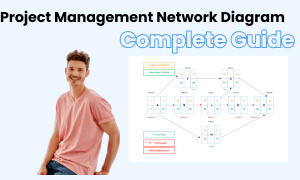 Project Network Diagram Complete Guide
Check this complete guide to know everything about project network diagram, like project network diagram types, project network diagram symbols, and how to make a project network diagram.